---
After flying from Sao Paulo to Detroit the previous evening, and then from Detroit to Atlanta to New York to Detroit, we were quite tired by the time we boarded our flight back to Sao Paulo. I do love Detroit Airport, and always find it ironic how nice it is given that's in… Detroit. Boarding for our flight started at around 7:15PM, 45 minutes before our scheduled departure time.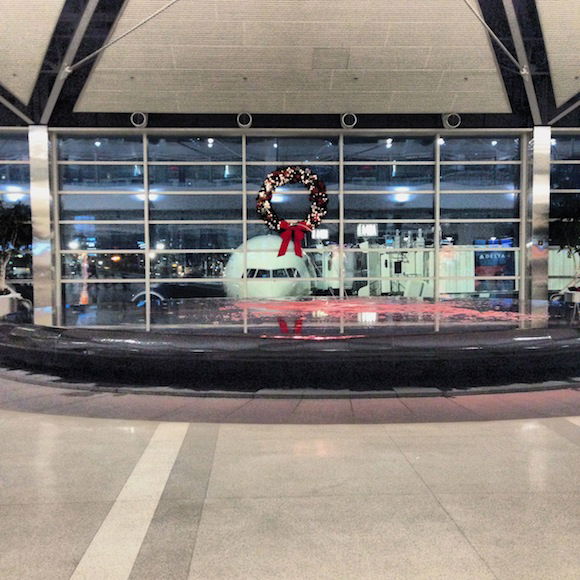 Delta 47
Detroit (DTW) – Sao Paulo (GRU)
Sunday, November 24
Depart: 8:00PM
Arrive: 9:45AM (+1 day)
Duration: 10hr45min
Aircraft: Boeing 767-300
Seat: 3D (BusinessElite)
This time around we selected individual window seats. I chose seat 3D, which I'd highly recommend. There are two types of seats by the windows, given that the cabin is "staggered" — some seats are closer to the aisle and some are closer to the window. The ones by the windows are extremely private, so I'd highly recommend them.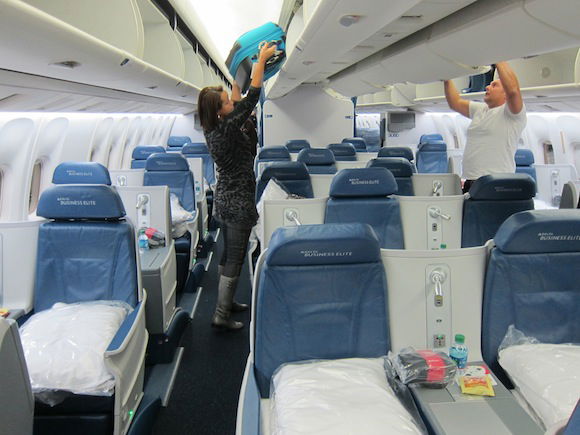 Delta 767 BusinessElite cabin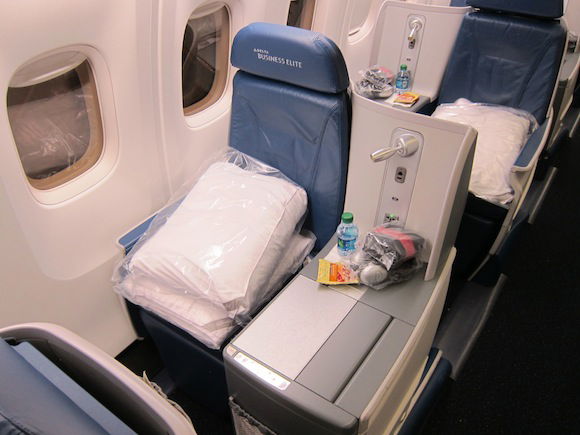 Delta BusinessElite, seat 3D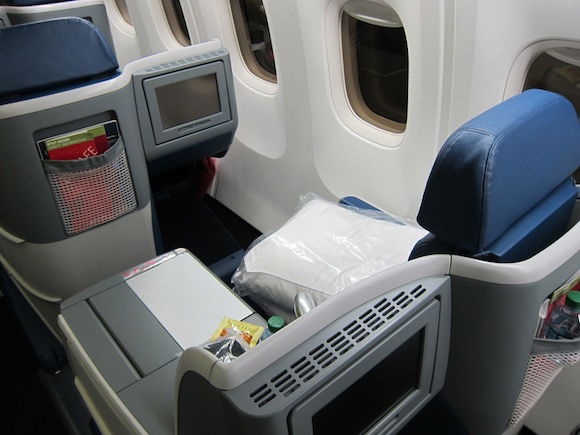 Delta BusinessElite, seat 3D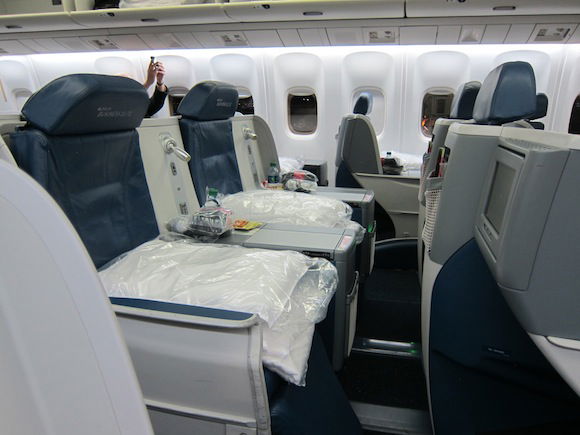 Delta 767 BusinessElite cabin
While the foot "cubby" isn't huge, it is a bit more spacious because you can angle your knees towards the fuselage of the aircraft.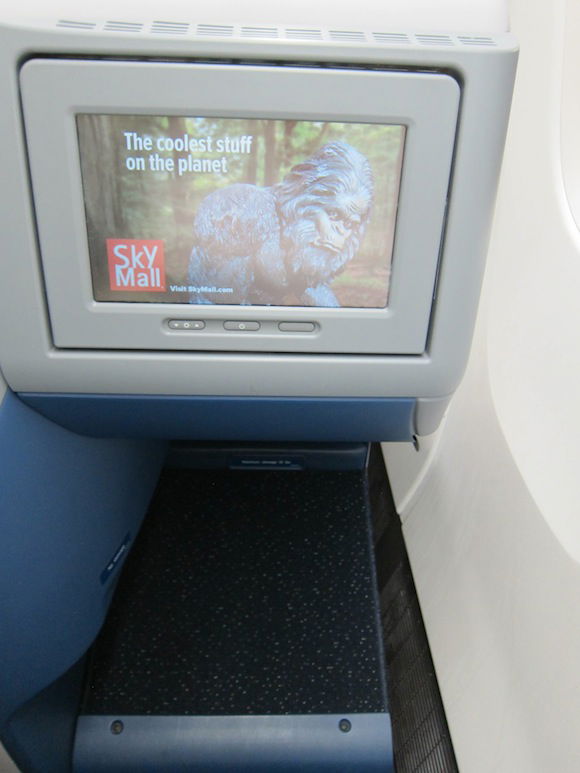 Delta BusinessElite legroom
Once again waiting at my seat was bottled water, almonds, a Tumi amenity kit, and headphones.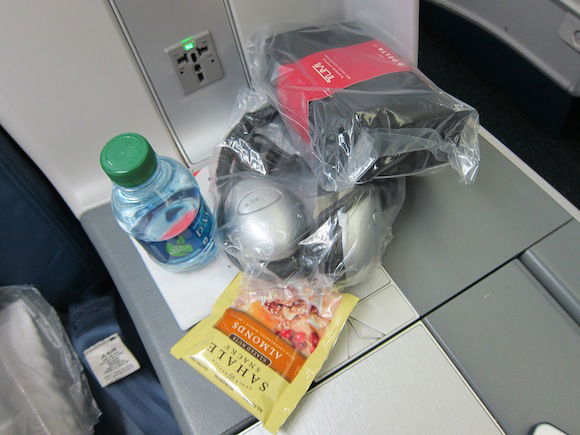 Delta BusinessElite water, nuts, headphones, and amenity kit
There was also the Westin Heavenly Bedding.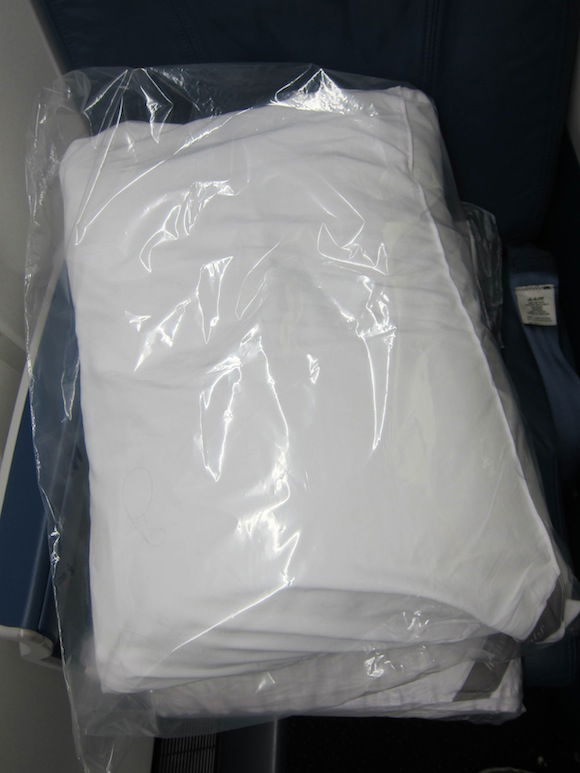 Delta BusinessElite Westin Heavenly Bedding
Unfortunately the cabin was pretty filthy. There was an empty bottle of water sitting on my seat cushion, and there were crumbs all over the floor.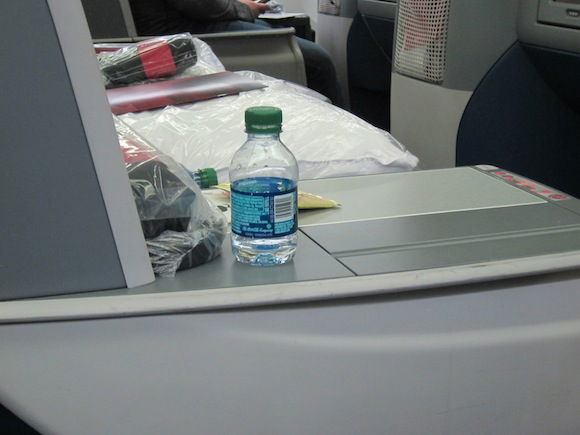 Empty bottled water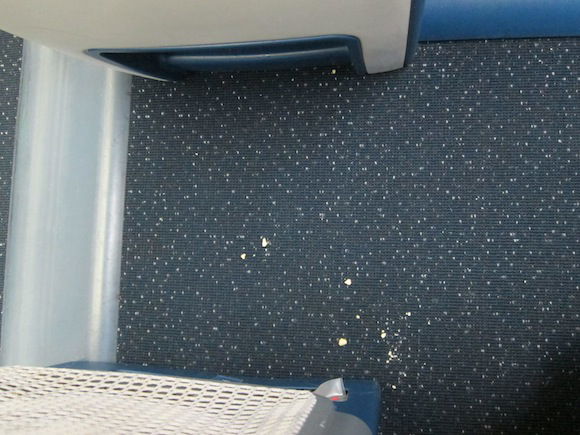 Crumbs
Eventually we were offered pre-departure beverages, and I selected a glass of champagne.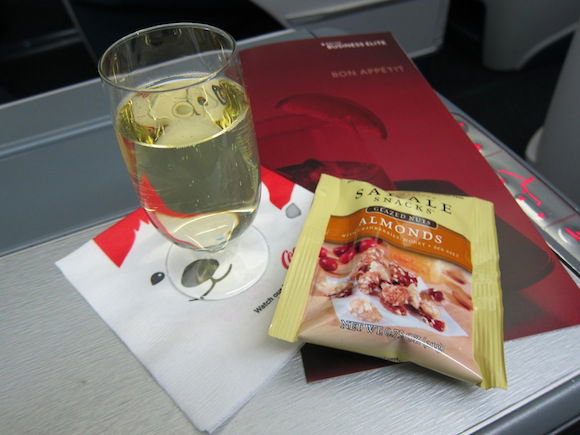 Delta BusinessElite pre-departure champagne, nuts, and menu
At around 8PM the captain came on the PA to inform us that we'd be delaying our departure by about 20 minutes to wait for late arriving passenger. He went on to explain that we had favorable tailwinds and our flight time was only 9hr49min, so we were still scheduled to arrive on time.
At around 8:20PM we commenced our pushback and taxi to the runway with a half empty BusinessElite cabin. By around 8:40PM we were airborne.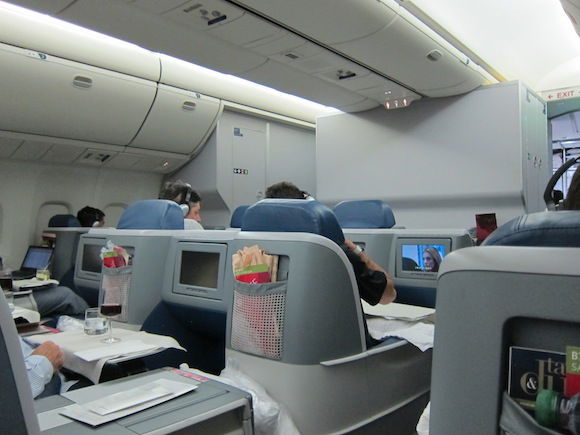 Delta 767 BusinessElite cabin
Our climb out was smooth, and about 30 minutes after takeoff the meal service began.
The dinner menu read as follows: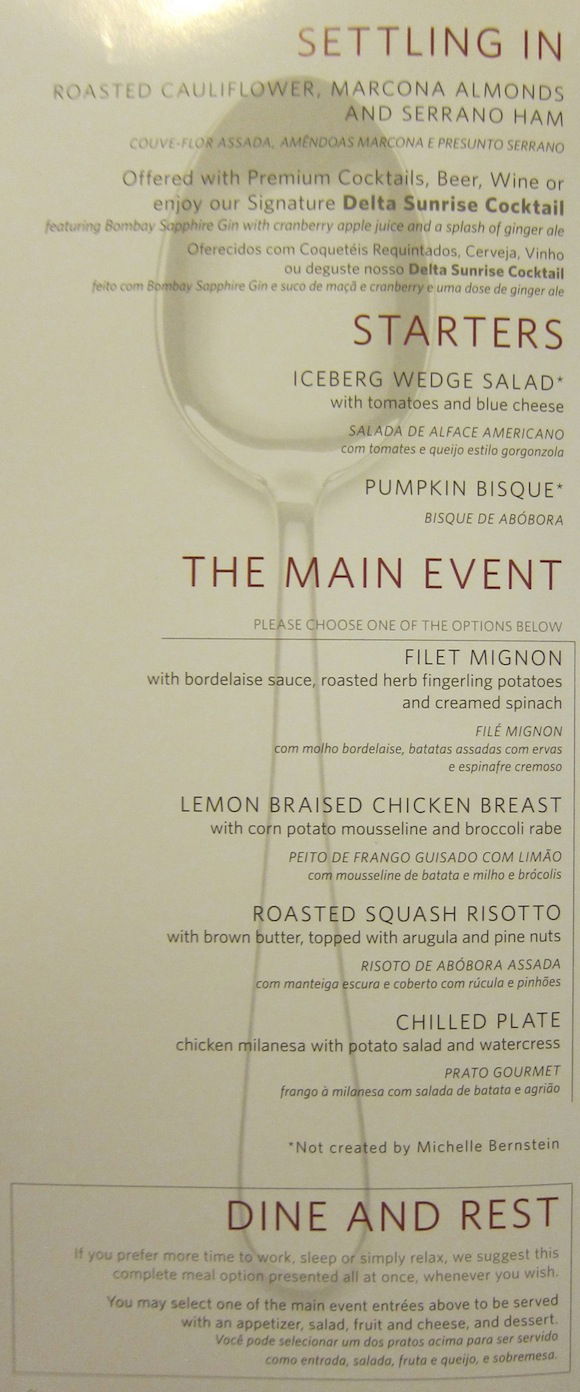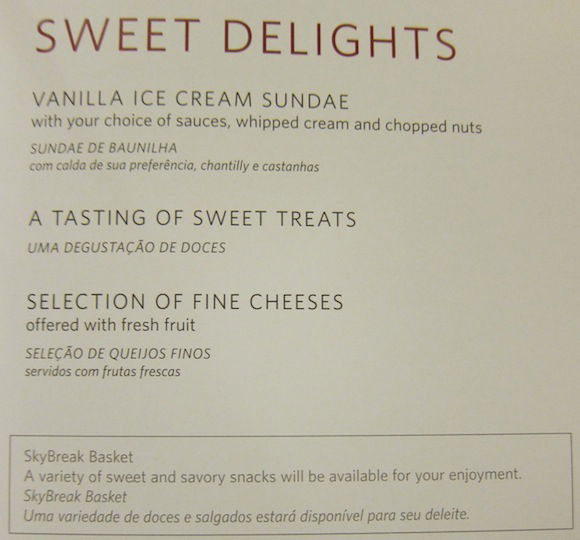 And the wine list read as follows: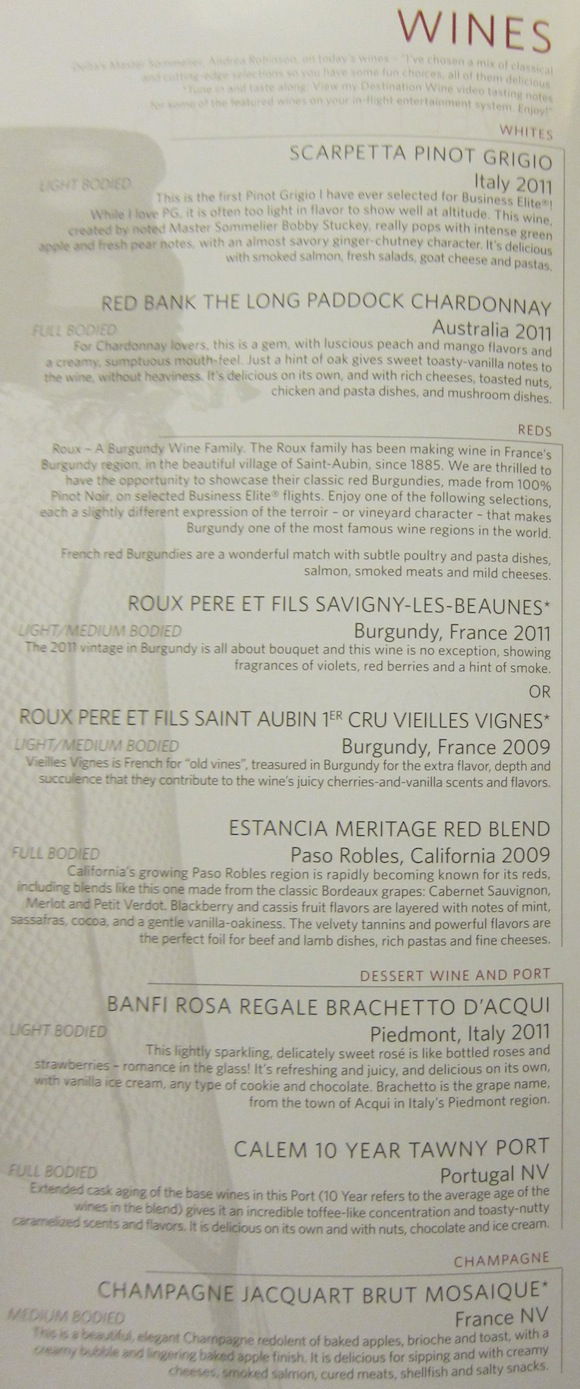 Service began with hot towels. That was followed by the flight attendants rolling the cart through the aisle to set trays. Drinks and appetizers were also offered at that point. The starter consisted of roasted cauliflower, marcona almonds, and serrano ham, and was quite good.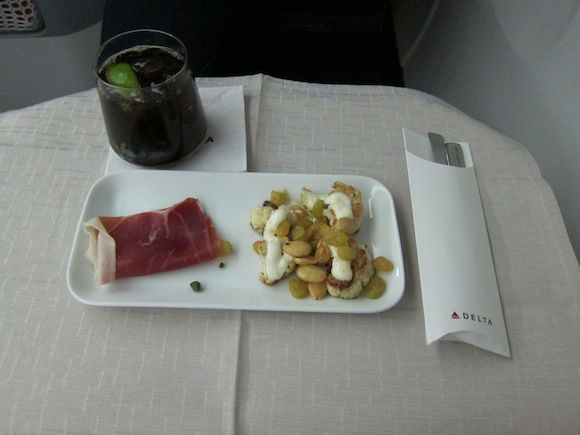 Delta BusinessElite appetizer — roasted cauliflower, marcona almonds, and serrano ham
Next the salad and soup were served. The pumpkin bisque was good, though I don't really like iceberg wedge salad, or creamy dressing for that matter. On the plus side they had pretzel bread!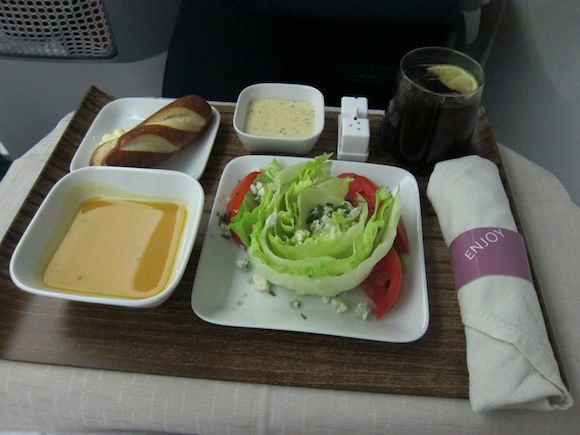 Delta BusinessElite salad and soup — iceberg wedge salad and pumpkin bisque
For the main course I ordered the filet mignon. After an incredible red wine braised beef on the flight up to Detroit I had high hopes, though this one disappointed. While the creamed spinach and potatoes were good, the beef was tough and overcooked.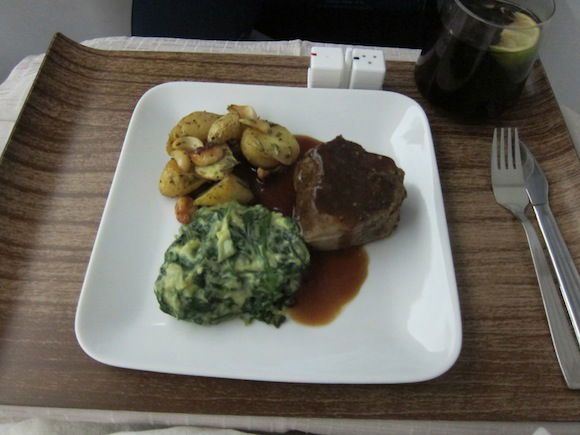 Delta BusinessElite main course — filet mignon
My friend had the lemon braised chicken, which he wasn't overly enthusiastic about either.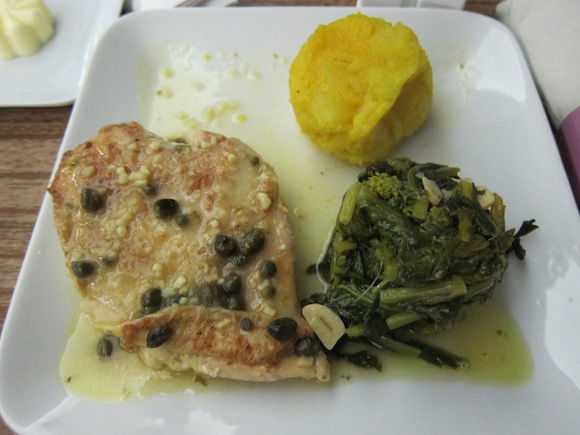 Delta BusinessElite main course — lemon braised chicken breast
To finish off the meal I had an ice cream sundae. Yum!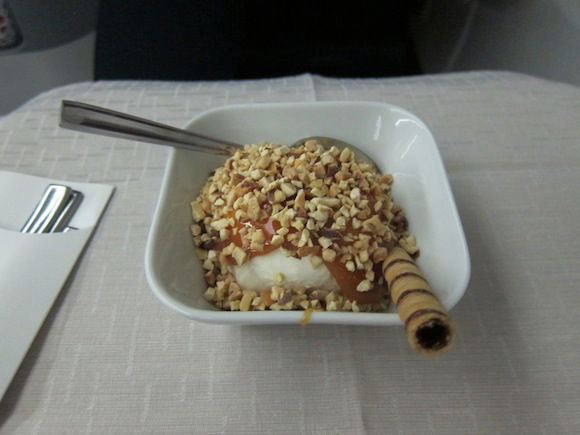 Delta BusinessElite dessert — vanilla ice cream sundae
Unfortunately the service throughout the meal wasn't good, and of the six longhaul flights I took on Delta, this is the only that I felt had a truly bad crew. The flight attendant working my aisle didn't smile once, and as she'd roll the cart through the cabin she'd just look at me till I said what I wanted. So when she offered drinks she didn't say "can I get you anything to drink?" but instead just stood there until I told her what I wanted. Very odd.
She seemed to be the worst of the bunch, though the rest of the crew wasn't great either. On top of all that the dinner service was only completed three hours after takeoff, despite the cabin being half empty.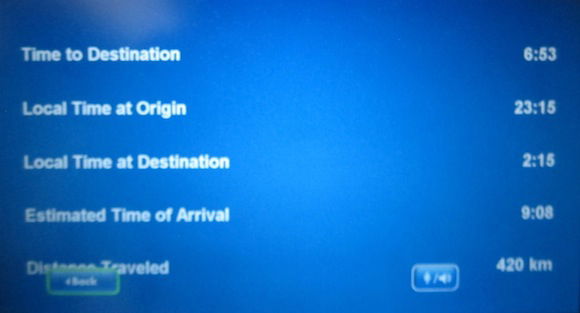 Delta BusinessElite airshow
Fortunately I was pretty exhausted on this flight after having flown in from Sao Paulo the same day, and managed to get a solid five hours of sleep. I fell asleep east of the Bahamas and woke up just over Brasilia, with about 90 minutes to go to Sao Paulo.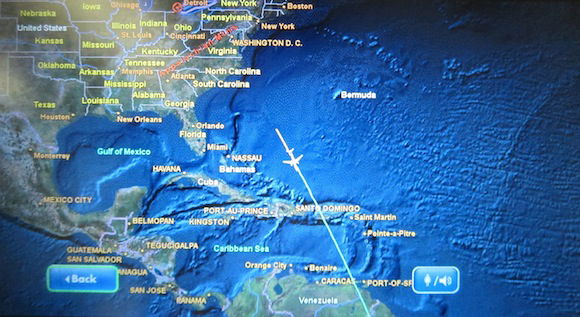 Delta BusinessElite airshow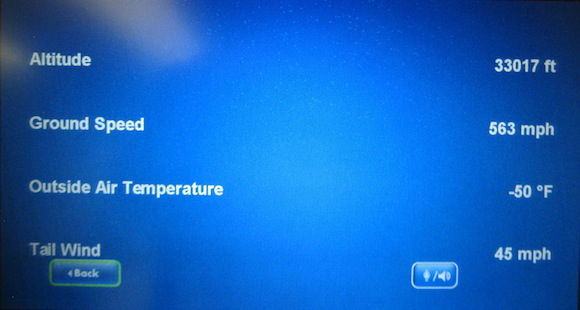 Delta BusinessElite airshow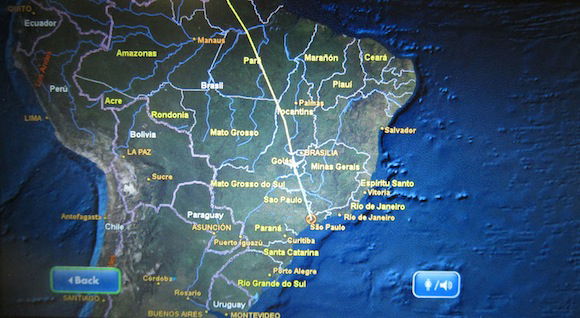 Delta BusinessElite airshow
I think it's worth mentioning that while I was really happy with seat 3D, a lot of people recommended the bulkhead seats in BusinessElite, saying they have much bigger cutouts for your feet. Since the bulkhead seat was empty on this flight I decided to briefly try it out. I have to say I wasn't that impressed. The cutout is marginally bigger, but I felt really claustrophobic since you're literally sleeping with at least a third of your body under the bulkhead. I'm sure some people will prefer it, but it totally felt like a casket to me.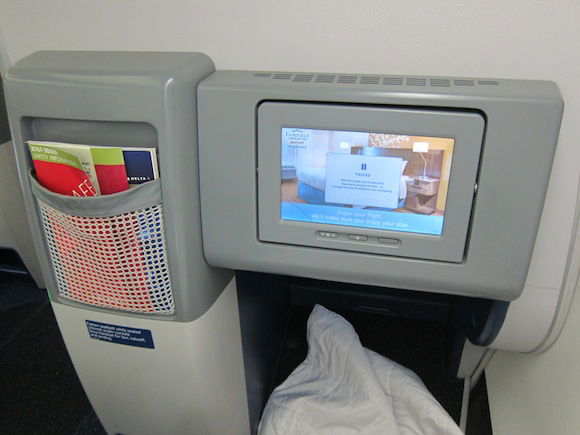 Delta BusinessElite bulkhead legroom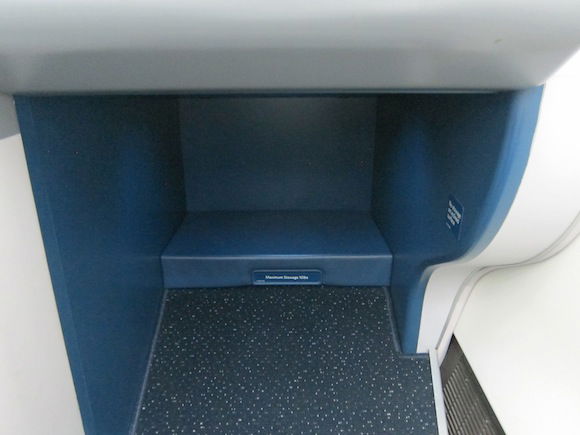 Delta BusinessElite bulkhead legroom
Anyway, shortly after I woke up the breakfast service began. The menu read as follows: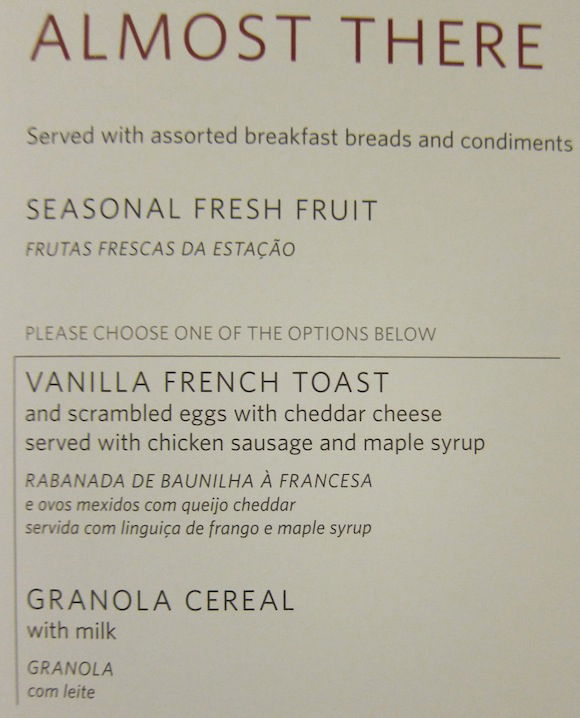 This time around everything was served at once. There were fresh berries and a selection from the bread basket (I chose a croissant). Then for the main course I selected the vanilla french toast, which was actually quite good. The scrambled eggs were good as well, and not too greasy.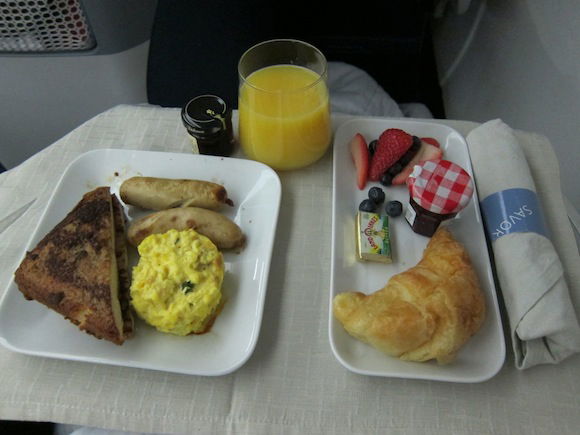 Delta BusinessElite breakfast — vanilla french toast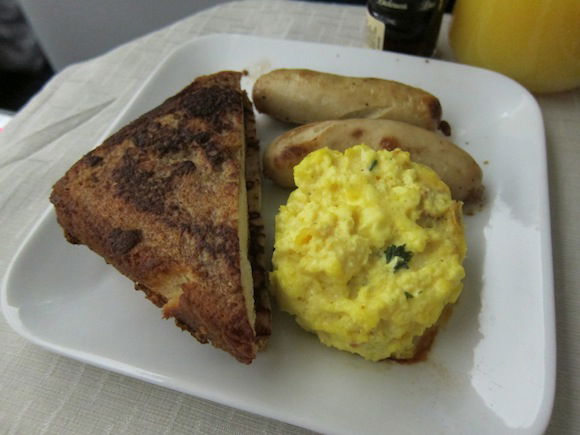 Delta BusinessElite breakfast — vanilla french toast
Over breakfast I watched some of the TED talks that Delta has in their in-flight entertainment system, including a pretty entertaining one about the origins of many Chinese dishes.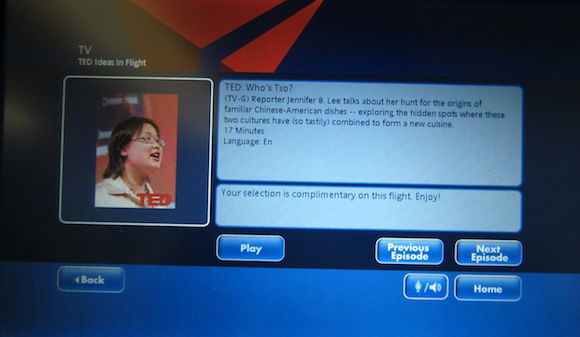 Delta BusinessElite entertainment screen
If anyone is interested in watching it, here's the clip (I especially love the part where she tapes the reaction of Chinese people opening fortune cookies):
About 30 minutes out we began our descent, and I was excited to have a window seat this time around, which I didn't have on my flight from New York to Sao Paulo a few days prior.
At this point the purser came around with a basket full of chocolates. On the last flight the purser that brought around the chocolates thanked each passenger for flying Delta. On this flight the purser just held out the basket without saying anything.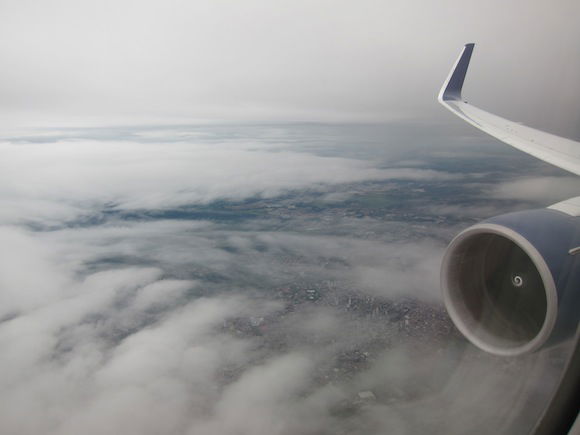 Approach into Sao Paulo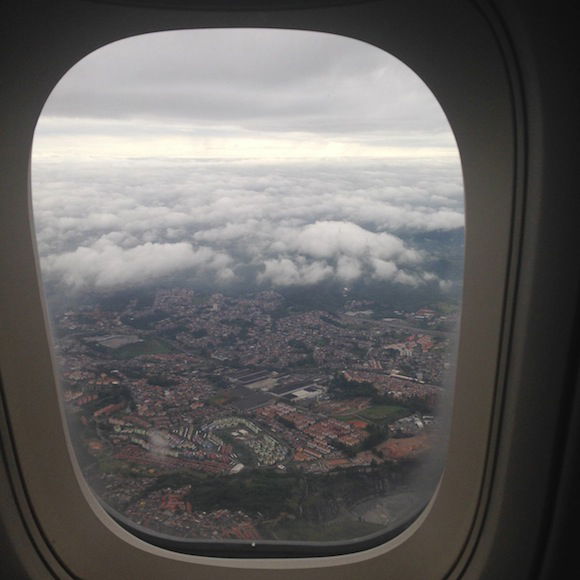 Approach into Sao Paulo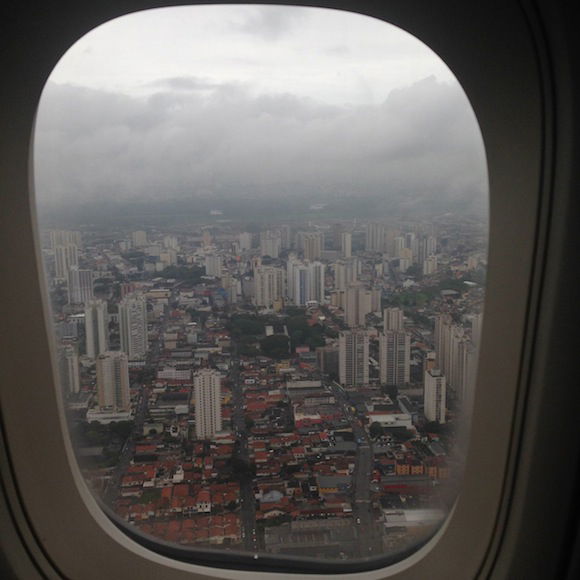 Approach into Sao Paulo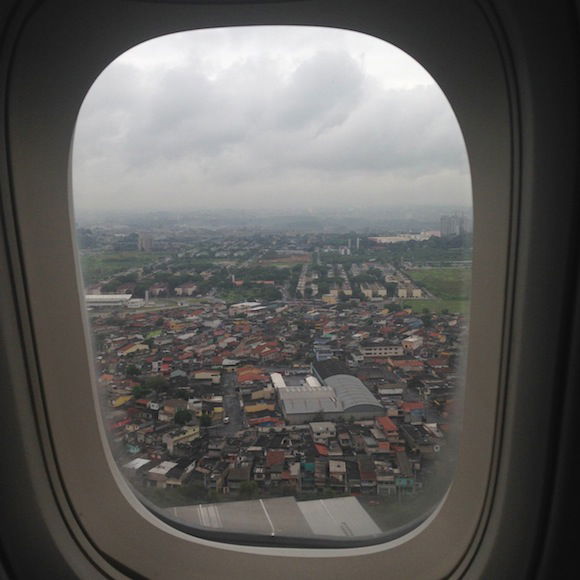 Approach into Sao Paulo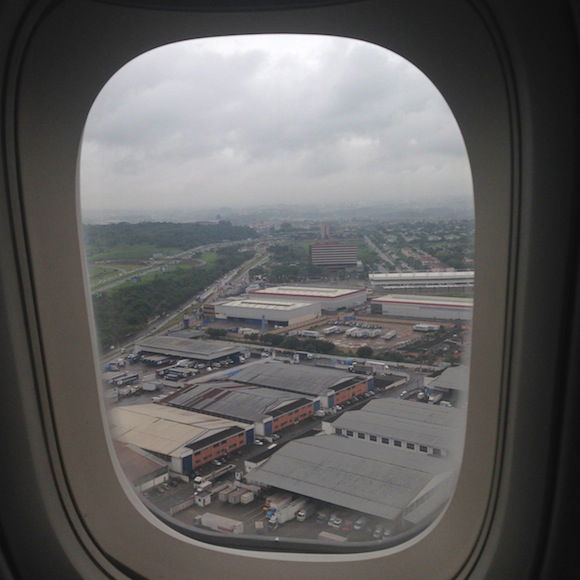 Approach into Sao Paulo
The views on the descent were pretty cool, and we touched down at 9:25AM, a bit ahead of schedule.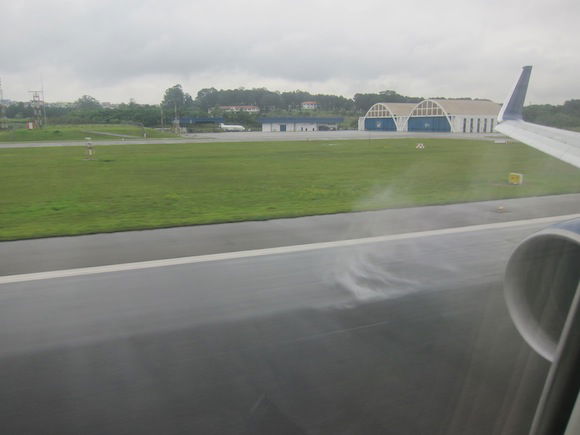 Touchdown Sao Paulo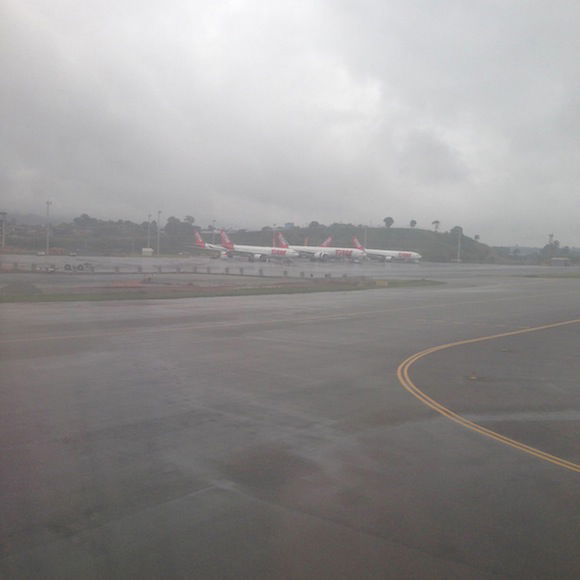 Taxiing to the gate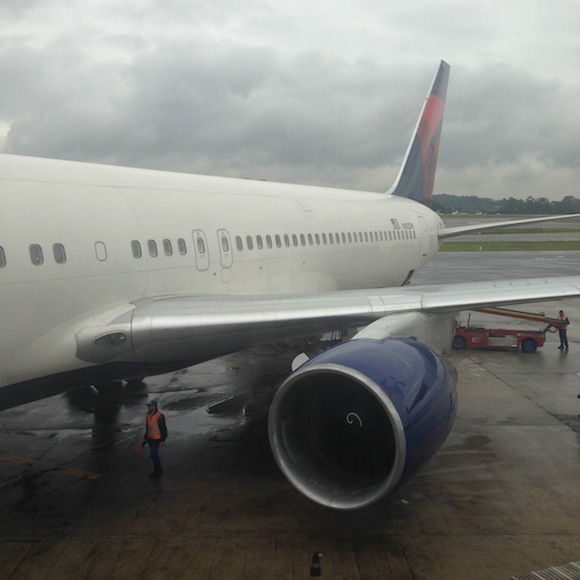 Delta 767 upon arrival
Immigration was once again really fast, and we were on the bus enroute to our hotel for the day within 30 minutes.
While this flight was still pleasant, it didn't leave me as impressed with the service and food as my last Delta flight did. That being said, I did like how private seat 3D is, and it certainly makes the staggered business class configuration more pleasant.