Introduction
Cathay Pacific First Class 777-300ER New York JFK To Hong Kong
Qantas Lounge Hong Kong Airport
Dragonair G16 Lounge Hong Kong Airport
SriLankan Business Class A330-200 Hong Kong To Bangkok
SriLankan Business Class A330-200 Bangkok To Colombo
SriLankan Serendib Lounge Colombo Airport
SriLankan Business Class A330-300 Colombo To Male
Beach Palace Hotel / Ui Inn Maldives
Domestic Maldivian Moonimaa Lounge Male Airport
Maldivian Dash 8 Male To Kooddoo And Park Hyatt Boat Transfer
Park Hyatt Maldives Park Villa
Park Hyatt Maldives Park Pool Villa
Park Hyatt Maldives Park Water Villa
Park Hyatt Maldives Breakfast & Diamond Cocktails
Park Hyatt Maldives Resort Overview
Park Hyatt Boat Transfer And Maldivian Dash 8 Kooddoo to Male
Leeli Lounge Male Airport
Cathay Pacific Business Class A330-300 Male To Hong Kong
Regal Airport Hotel Hong Kong
Cathay Pacific Business Class 777-300ER Hong Kong To Newark
---
So far I've reviewed the three types of accommodation at the Park Hyatt Maldives — the Park Villa, Park Pool Villa, and Park Water Villa — as well as the breakfast experience and evening Diamond cocktail reception.
Now let's talk about what I actually did at the Park Hyatt Maldives for six days.
Let me start by saying that I'm usually a pretty active traveler, in the sense that I'm not one for sitting at a beach or pool all day. I struggle to sit still for more than five minutes, which is why I almost always favor a city vacation over a resort vacation. So I was borderline terrified when I planned this trip, since I was worried I might be extremely bored.
The resort is truly secluded — it's the only thing on the island, so everything you do will be at the resort. And while I knew it was a small resort, frankly the public spaces were even more limited than I expected.
When you arrive at the Park Hyatt by boat, you first walk down the jetty, where the hotel's big sign is located.

Park Hyatt Maldives resort welcome jetty

Park Hyatt Maldives resort signage
Just past that is the reception pavilion, which looks like an upside down boat.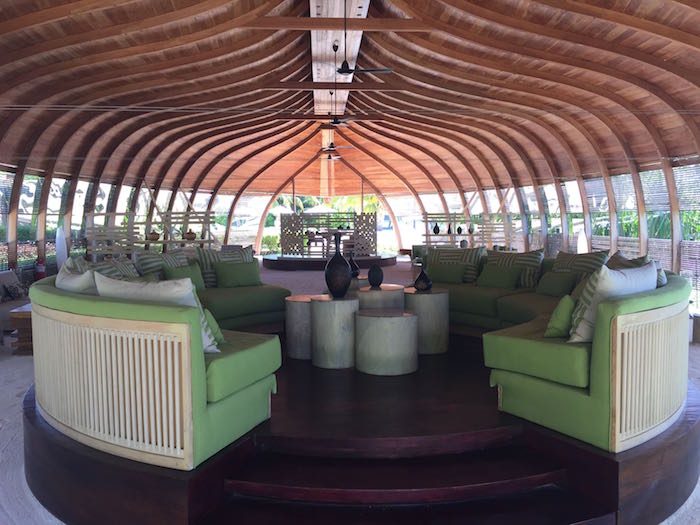 Park Hyatt Maldives reception area
To the side of that is an air conditioned media room, where you can rent DVDs, play games, use a computer, etc. There are usually some staff on hand there as well.

Park Hyatt Maldives media room

Park Hyatt Maldives media room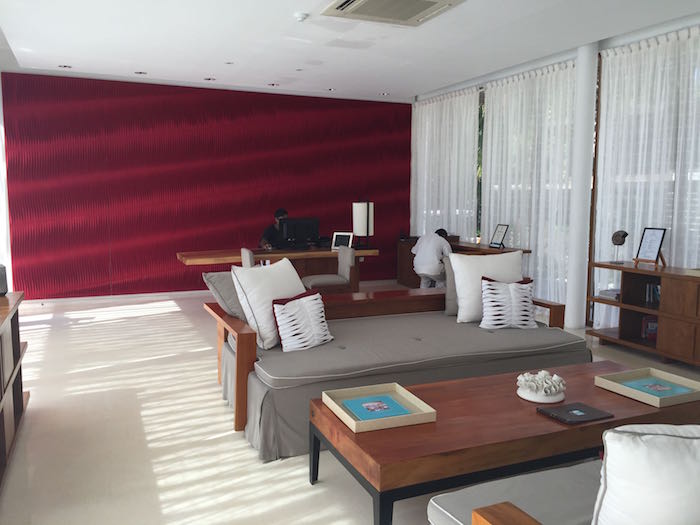 Park Hyatt Maldives media room
Opposite of the media room is some covered outdoor seating, overlooking the pool and beach in the distance.
Past that is the hotel's main pool, which borders the beach on two sides, the bar on one side, and the restaurant on one side. The pool is gorgeous, though frankly feels a bit "exposed" for swimming.
You're just a few yards from the restaurant, which usually has some people sitting on the "patio" area, so you almost feel like you're performing at Sea World if you swim there.
Instead I far preferred the spa pool, which was much more private and secluded.
And while I'm usually anything but a beach person, this property has an absolutely breathtaking beach — the sand is just perfect, and the water couldn't be clearer.
Back near the pool was the fitness room, which was basic though perfectly functional for a secluded island.
The hotel also has a second restaurant, The Island Grill, which is open for dinner. It's the "signature" restaurant, though I never did end up eating there.

Park Hyatt Maldives The Island Grill

Park Hyatt Maldives The Island Grill
As somebody who can't sit still for more than five minutes, this sort of sounds unpleasant, doesn't it? Well… surprisingly it wasn't. There's something incredibly calming about this place, which both pictures and words can't do justice.
Perhaps I can best explain it by outlining my days. By the last day I had sort of developed a routine and gotten used to "island life." The transition was tough for me, though it really did feel oh-so-good. I slept in until about 9AM, and then would go to breakfast and just kind of sit there for an hour and a half, enjoying the views and sipping coffee.
Then I'd get some work done for a few hours. Then I'd go to the pool or beach. Then I'd go to the gym. Then I'd go the evening Diamond happy hour, and just sit there for a couple of hours slowly watching the sunset.

Park Hyatt Maldives beach at sunset
The hotel even offers complimentary yoga a couple of times per week, which I took advantage of. I've never before done yoga in my life, though by the second time I was basically a pro I managed to balance myself on one foot all the way to the count of "three Mississippi."
On the surface none of this sounds that exciting, but this place does have some restorative effect which I can't put into words. When I sat at breakfast for 90 minutes, I wasn't refreshing my Twitter feed every 30 seconds, as I usually do. And in some cases I didn't even bring my laptop. I just kind of sat there and thought about life. And that's not something I usually do. I was oddly at peace and living in the moment.
Like, I don't think I've ever spent as much time in my life just wandering around and taking in the views as I did at this resort.

Park Hyatt Maldives overwater bungalows
One morning I got up early to watch the sunrise from the dawn jetty.

Park Hyatt Maldives dawn jetty
It was completely silent, all I could hear was a bit of nature. What's not to love about being able to take in the below view?

Park Hyatt Maldives sunrise view
So more concretely, what else was there to do at the Park Hyatt?
I got a spa treatment once (only once because I got pretty badly sunburned after a few days, at which point it wasn't practical anymore). The treatment was fantastic, and reasonably priced given the location.

Park Hyatt Maldives Vidhun Spa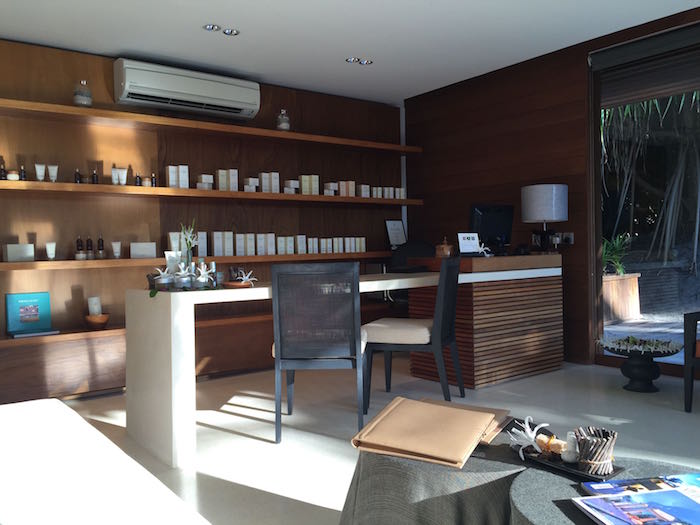 Park Hyatt Maldives Vidhun Spa
One of the absolute coolest things this hotel offers is a back of house tour, whereby you can get a behind the scenes tour of the hotel. Back in the day this was only offered once a week, though now they seem to offer it on demand. The head of engineering offers these, and it really provides some incredible insight into the resort, both in terms of how they try to keep it as sustainable as possible, and also in terms of how the employees live on property, etc. It was probably the highlight of my stay, and I'd highly recommend it.

Park Hyatt Maldives back of the house tour

Park Hyatt Maldives back of the house tour

Park Hyatt Maldives back of the house tour

Park Hyatt Maldives back of the house tour

Park Hyatt Maldives back of the house tour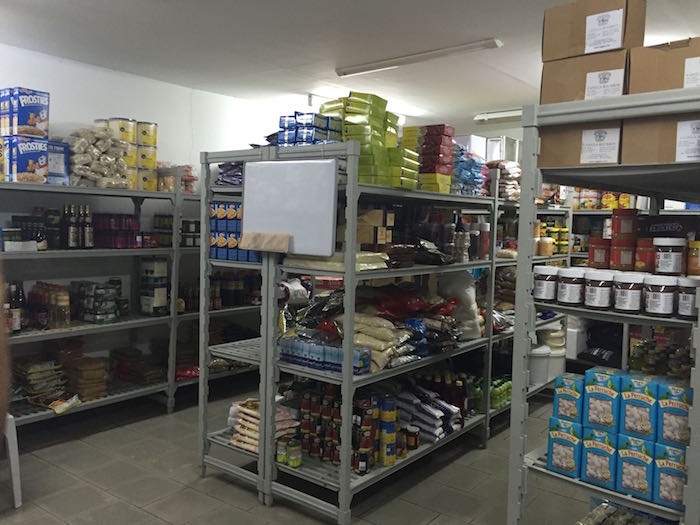 Park Hyatt Maldives back of the house tour
The Park Hyatt also has a new general manager as of the beginning of April, Mariano Silvestri. When I visited, it was his first week there, and he was fantastic. He's a career-long Hyatt guy, and has worked at the Park Hyatt Mendoza, Grand Hyatt Dubai, Park Hyatt Shanghai, etc. It's always great to have a GM who has worked his/her way up in the industry, so really understands all aspects of the operation.
And it's exciting that he's also a lifelong Hyatt guy. Hyatt does a fantastic job retaining talent, which is one of the reasons Hyatt delivers so well with on-property benefits. Lifelong Hyatt employees "buy into" the brand, including Gold Passport. That's good news for us. While the previous general manager was also great, based on what I've heard, he wasn't much of a Hyatt guy, as he was already with the hotel before it was rebranded as a Park Hyatt.
Mariano was extremely hands on, both with the staff and guests, which I really appreciated. He made the rounds just about all day every day to see how everything was, and was eager to learn. I'm confident things at this resort will only get better under his leadership.
In terms of the service from the staff, they were generally quite good. The property has a good mix of nationalities among their staff. I'd say at least half of them are Maldivian, while otherwise there's a good mix between Indian, Chinese, etc.
While I generally find Maldivians to be genuinely hospitable, I find sometimes service isn't especially polished. That was definitely true here, though it really did vary by person.
For example, Ashish at the bar and Deeksha in the spa were two staff who were especially awesome, and made for a memorable stay.
Bottom line
I had a lovely time at the Park Hyatt, much more so than I was expecting. Coming in, I didn't think I'd be able to relax, since it's not my personality. But by day six I found myself loving island life, and actually "disconnecting."
Is this a place I'd return to often to relax, given that I do think it's a great place to unwind? Probably not, because there are more places I want to see, and it is a real pain to get to.
But I'd definitely return at some point, either on a special occasion, or when I'm in the general area anyway. This is a great property, and I'd highly recommend it.