SriLankan 423
Bangkok (BKK) – Colombo (CMB)
Saturday, April 4
Depart: 9:05PM
Arrive: 10:55PM
Duration: 3hr20min
Aircraft: Airbus A330-200
Seat: 3C (Business Class)
As soon as we arrived at the gate the passengers terminating their travels in Bangkok deplaned. A vast majority of passengers seemed to get off, including the one other business class passenger. Interestingly the pilots seated across from me stayed on. I figured they'd be working the flight from Bangkok to Colombo, but instead they seemed to be deadheading all the way to Colombo.
Equally interesting was that there was a crew change in Bangkok. I figured the crews would work Colombo to Bangkok to Hong Kong, have an overnight, and then work Hong Kong to Bangkok to Colombo. But instead there was a crew change, so maybe they work Colombo to Bangkok, have an overnight, then work Bangkok to Hong Kong to Bangkok, have an overnight, and then work Bangkok to Colombo? I'm not sure, but they seem to have even more generous rest policies than US carriers. Or something.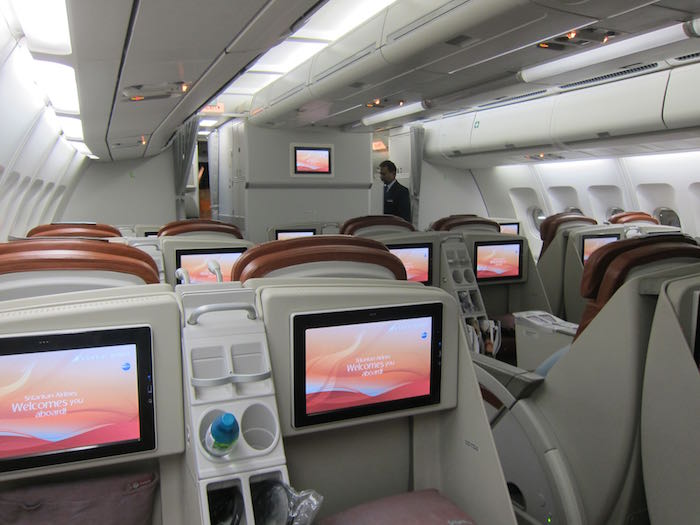 Empty SriLankan A330 business class cabin
As soon as all the passengers had deplaned cleaning crews got aboard. It's a bit awkward to be seated while they climb over you to clean seats and vacuum all around you. At the end of the day kudos to SriLankan for keeping their planes clean, I guess.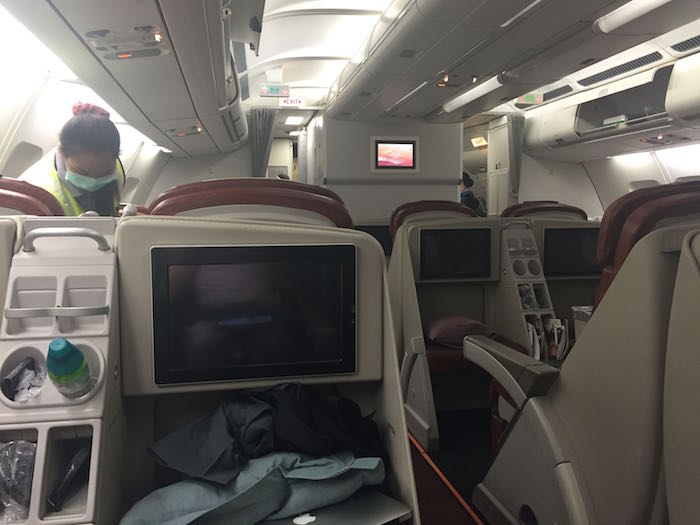 Cleaning crews during the Bangkok layover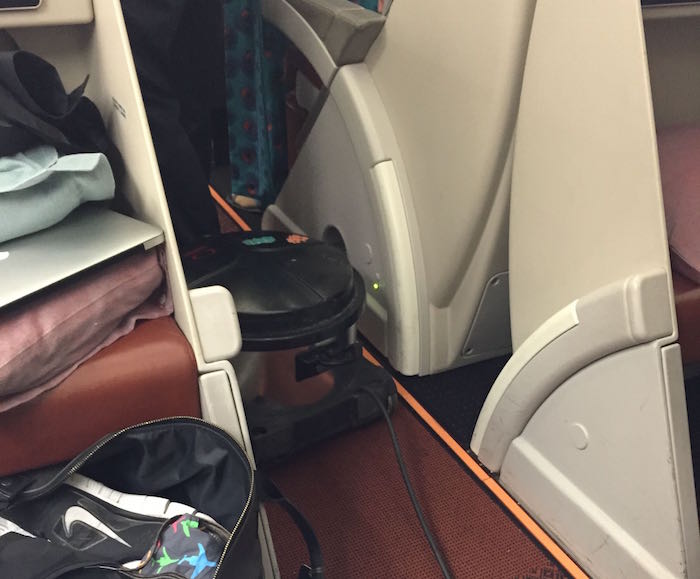 Cleaning crews during the Bangkok layover
At this point the crew was packing up their bags while the new crew came aboard. SriLankan must have some of the most unique uniforms out there. I realize they're local to Sri Lanka, but the whole exposed midriff thing sure is an acquired taste.
While the flight attendants packed up their bags, one of the young male flight attendants had a conversation with the two pilots, which was quite funny. It seemed to revolve mostly around how much he loves having layovers in Tokyo, because you don't have to "pay for the pretty ladies" there. Alrighy then…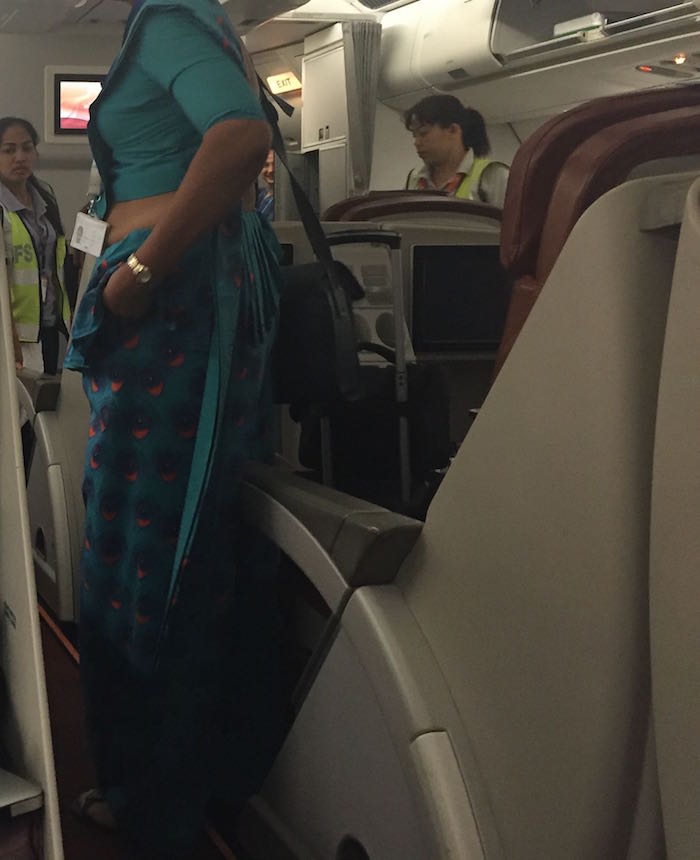 SriLankan flight attendant uniform
While the previous SriLankan crew was sassy but a bit indifferent, this new crew was just downright indifferent. Since I was the only passenger aboard, the flight attendant said "anything to drink?" I asked for some water, not realizing I had a bottle of water next to my seat. Instead of nicely pointing that out she said "why would you want that, you already have a bottle over there?"
The ground time was scheduled to be an hour, so after about 40 minutes boarding commenced. While business class was wide open on the last sector, it was packed on this one. One by one, every business class seat seemed to fill up… except the one next to me.
Eventually the main cabin door closed, and I figured I had lucked out with an empty seat next to me… woohoo!
Not so fast, because a moment later a Sri Lankan guy was brought up from economy to sit next to me. He was exceedingly nice, to a fault. His only goal for the three hour flight seemed to be to keep me company and entertained (or sell me stuff… who knows!). Unfortunately I had been traveling for about 24 hours at that point, and the last thing I wanted to do was have a conversation.
He explained that he knows a lot of people at SriLankan, and that he's a tailor who makes the airline's uniforms. After a bit of small talk I put on headphones, since I really just wanted to doze off.
There was another round of pre-departure beverages shortly before pushback — this time I selected apple juice. The new captain welcomed us aboard as well, and informed us of our flight time of 3hr5min.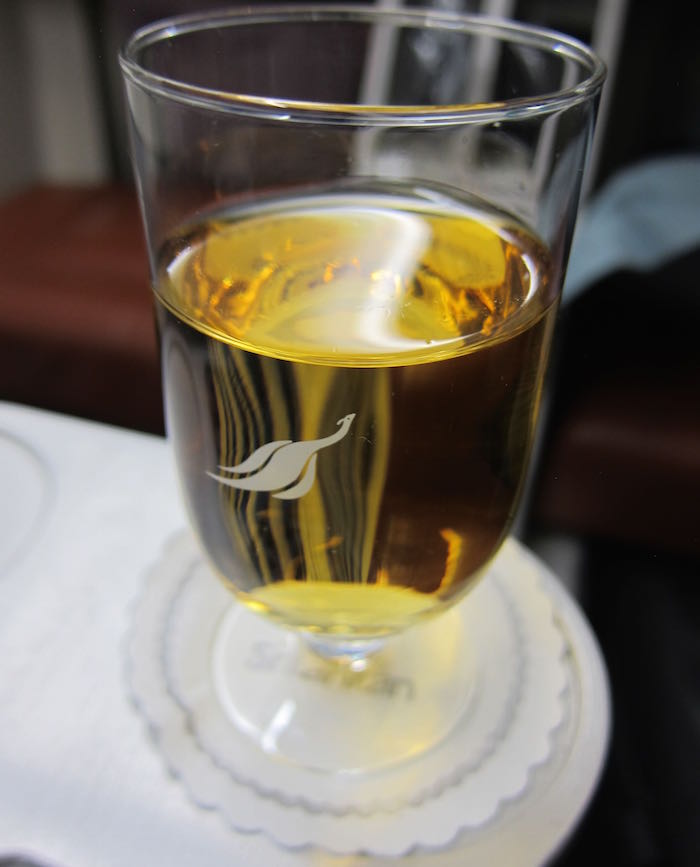 SriLankan business class pre-departure apple juice
We pushed back at 9:10PM, and from there had a very short taxi to our takeoff runway, where we were airborne at 9:15PM.
I napped for a bit as we climbed out with Bose noise canceling headphones on. Suddenly someone was poking my shoulder. The tailor next to me wanted to have a conversation. He asked if I might be interested in buying a suit from him. He explained how the quality is great, and he has "extra special price just for [me]."
While I'm a big fan of shady tailor shops, I prefer to have the option to walk out, and not to be forced to listen to a three hour sales pitch. 😉
After indulging him for 20 minutes I explained I was really tired since I had just flown in from New York, and that I wanted to rest. He acknowledged what I said — "oh you must be so tired" — and then continued talking. Gah!
Eventually dinner service began, so I figured I might as well eat if I'm going to have to listen to him.
The menu read as follows (while the beverage list was the same as on the last sector):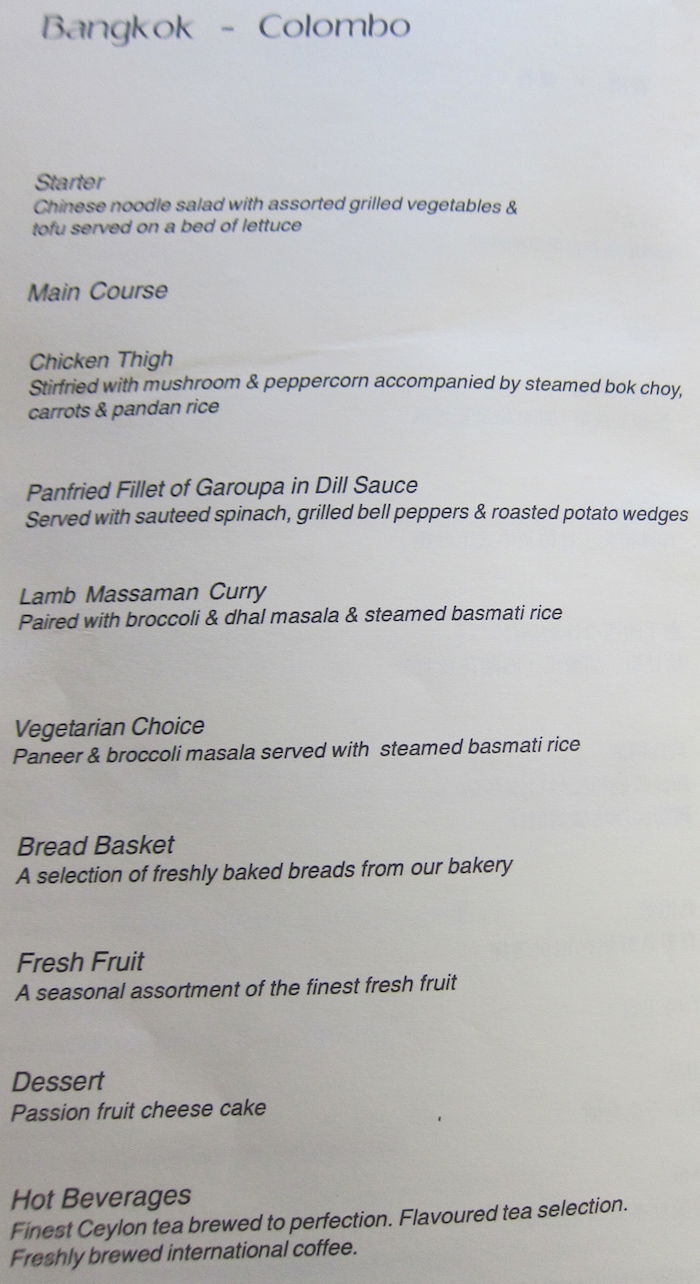 As on the last sector, service began with drinks and nuts.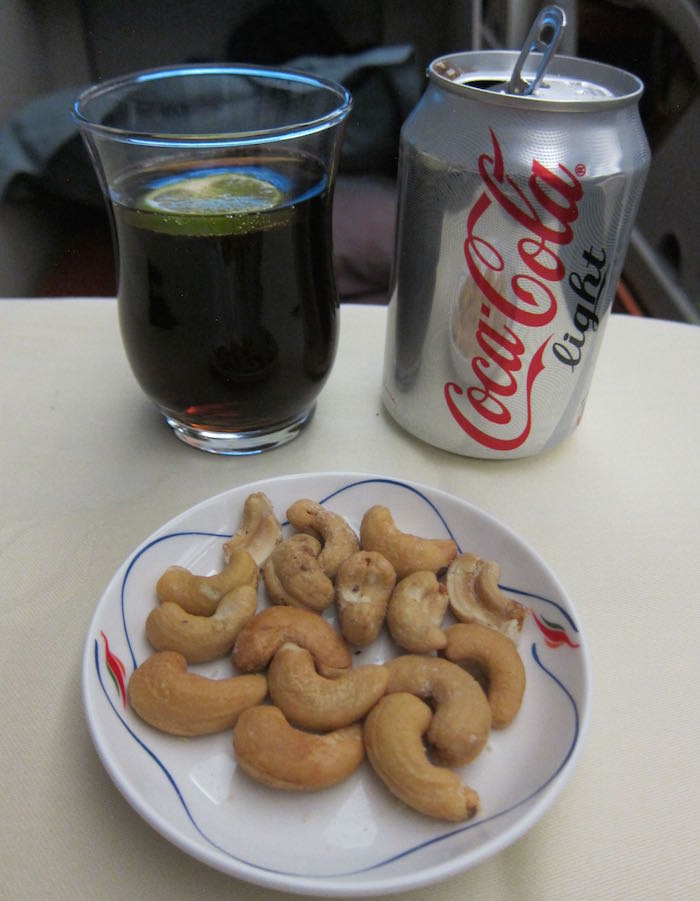 SriLankan business class dinner — Diet Coke & nuts
The starter this time consisted of a Chinese noodle salad.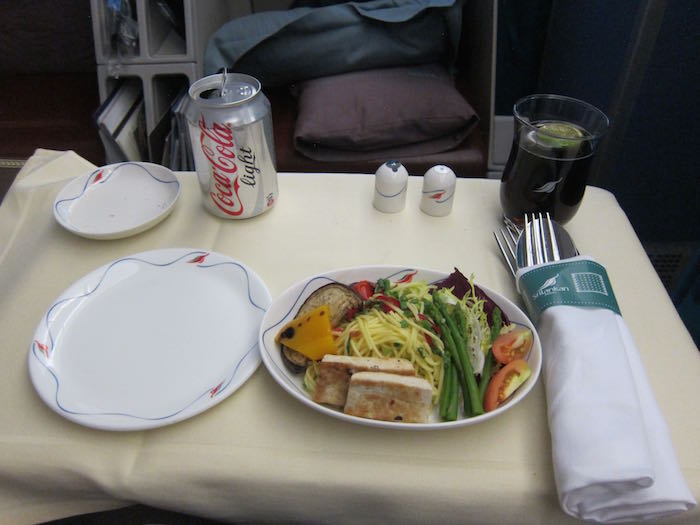 SriLankan business class dinner starter — Chinese noodle salad
It was fairly decent, though was very dry. It could have used dressing or some sort of sauce.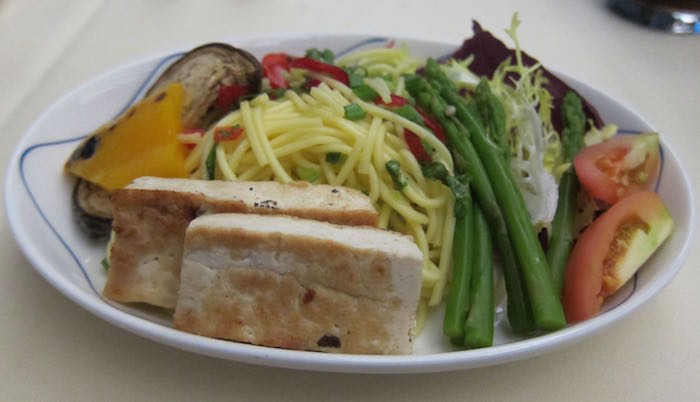 SriLankan business class dinner starter — Chinese noodle salad
For the main course I had the vegetarian choice, which was a delicious paneer & broccoli masala with rice. It was simple but tasty as hell.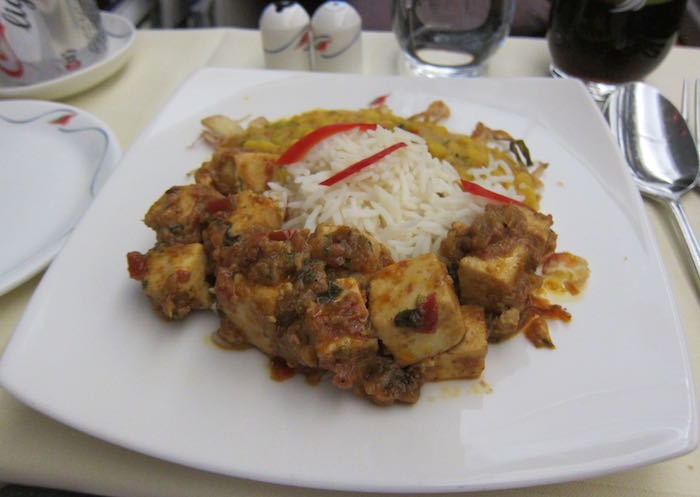 SriLankan business class dinner main course — vegetarian choice
Then for dessert I had the passionfruit cheesecake, which was also quite good.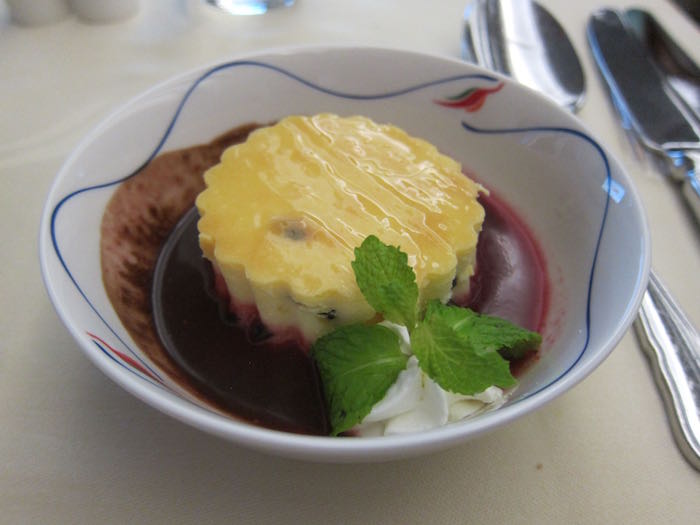 SriLankan business class dinner dessert — passionfruit cheesecake
Service throughout the meal was rushed and not very friendly. The cabin was full so I get the rushed part, but the crew didn't even pretend to care.
After dinner I ordered some coffee, which was brought to me on a tray. I feel like the tray is meant for the crew to carry the coffee on and not to present it on, since it was as large as the tray table.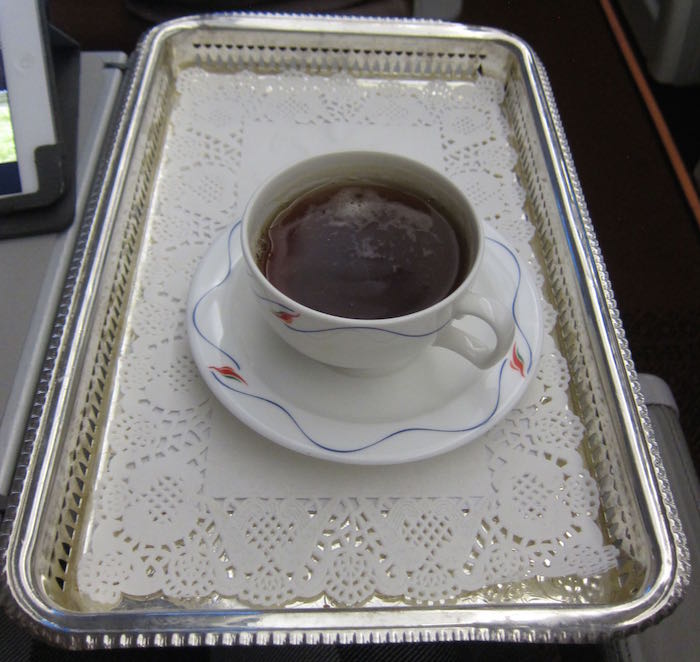 SriLankan business class dinner — coffee
After dinner there was 1hr45min left in the flight. The crew didn't dim the lights, despite most people reclining their seats (I tried to do the same, but my seatmate just kept talking and talking and talking and talking… and talking).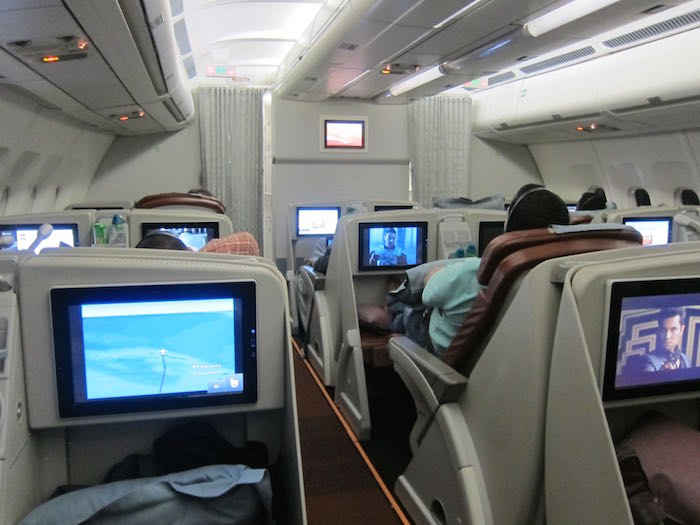 SriLankan A330 business class cabin enroute to Colombo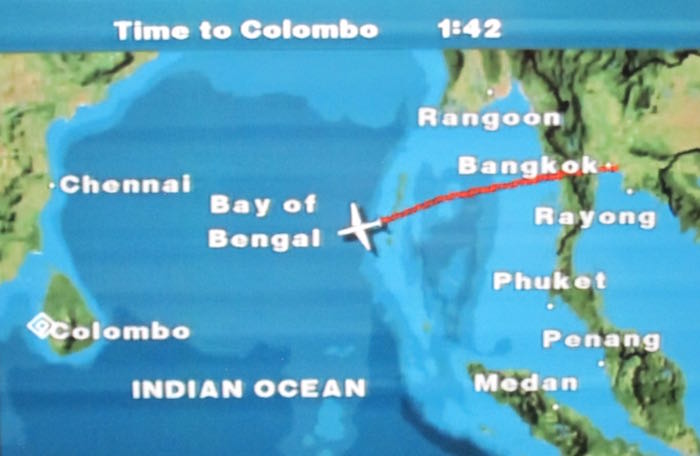 Airshow enroute to Colombo
Eventually, he stopped talking for a few minutes, at which point I reclined my seat and tried to sleep. A few minutes later I felt someone poking my shoulder, but I ignored it.
I managed to sleep until we began our descent, at which point I quickly headed to the lavatory. I always wear really ridiculous socks (other people might call them ridiculous, but I call them fun). When I went to the galley to change there were four flight attendants standing there, and they laughed at my socks. Not like in an "awww, how adorable" or "I like your socks" kind of way, but in a way that felt like they were laughing at me, and not with me. Not cool!
Our descent into Colombo was smooth, and we touched down there at 10:45PM, and were at the gate five minutes after that.
At this point I was excited to finally get on my last flight to Male, in hopes of getting sleep in a real bed.
SriLankan business class bottom line
I was happy to be able to try SriLankan's new A330-200 business class product, which was perfectly comfortable, even for a flight longer than the one I took. The food on both flights was edible, while the service left me a bit disappointed compared to what I've experienced on SriLankan in the past (I generally find Sri Lankans to be among the most hospitable people in the world). Though perhaps the worst part of this flight was my seat opponent, who Would. Not. Be. Quiet.
I should note that I could have flown Cathay Pacific's reverse herringbone fully flat business class product nonstop from Hong Kong to Colombo instead. Of course that would have been a more comfortable experience, though I wanted to review something new. So I'm happy I took SriLankan, even though it was less comfortable and more out of the way.
Little did I know the amazing surprise I'd be in for on my next flight from Colombo to Male.