---
As I explained in the introduction post, I unfortunately had virtually no flexibility with the outbound portion of this trip, since I had a commitment in New York two days before I was supposed to check into the Park Hyatt Maldives.
Due to how things worked out I ended up arriving at Male Airport at 1:25AM, and then had arranged a transfer to the Park Hyatt Maldives for 7:35AM, so had about six hours to kill. And to clarify, 7:35AM was the time at which the flight to the Park Hyatt Maldives departed, and not the time I had to wake up.
As a result it would be a very short night, and I decided to book the Ui Inn, which was really close to the airport and only $65 per night. There aren't many hotel options on the airport's island, so this seemed like the most logical option, given the circumstances.

Upon clearing customs I met up with one of my friends, who had just arrived from Dubai shortly before I landed. We had arranged for a car from the hotel to pick us up in advance, though we had to wait for the car in the arrivals area for over 30 minutes.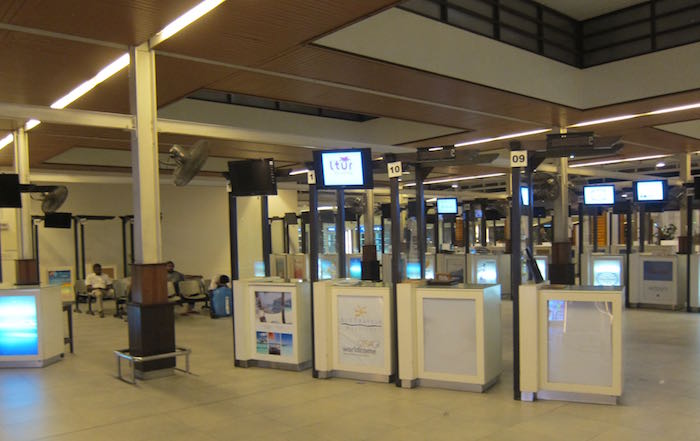 Male Airport arrivals area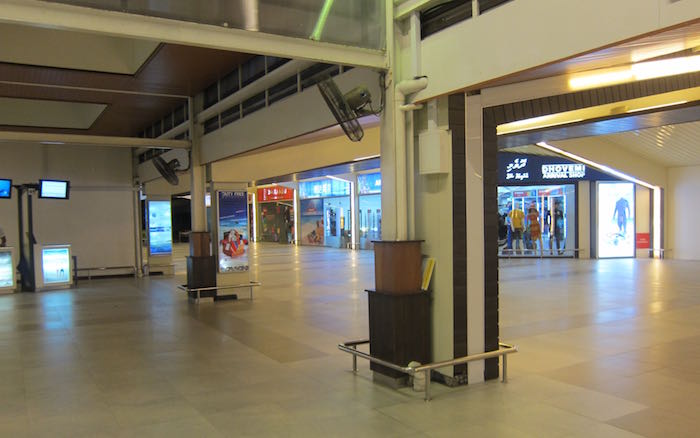 Male Airport arrivals area
Once the car finally arrived it was a 10 minute ride to the Ui Inn, so we got there at around 2:15AM.
Our bags were brought into the reception area, and we were invited to take a seat.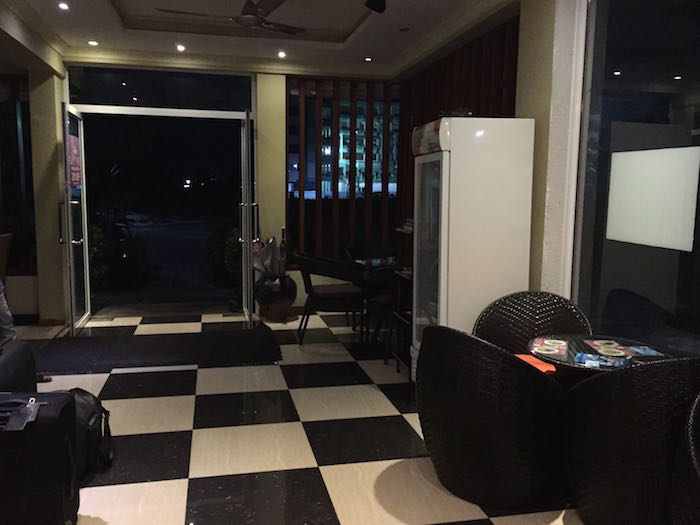 Ui Inn Male lobby
We were offered juice and cold towels. Of course at this point it was after 2AM and all we wanted to do was sleep.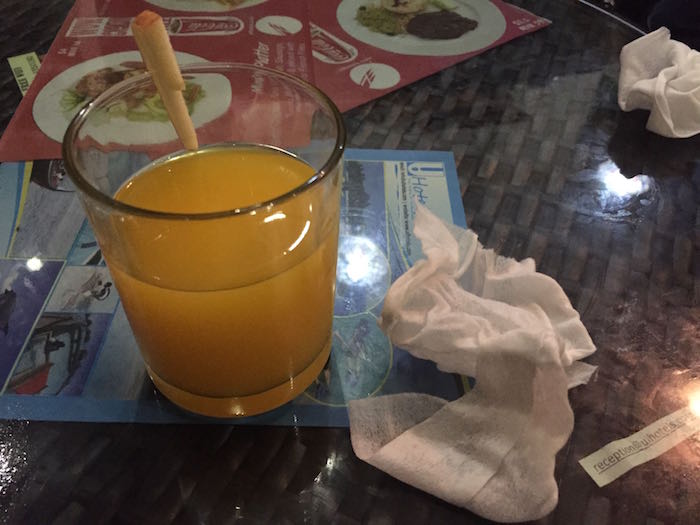 Ui Inn Male welcome drink & towel
After sitting there for about 15 minutes we were informed that we would actually be staying at a different hotel, which was a few minutes away by car. Presumably the Ui Inn was overold, so we were driven to the Beach Palace… with a name like that, I figured it had to be an upgrade!
The Beach Palace was a rectangular four story building…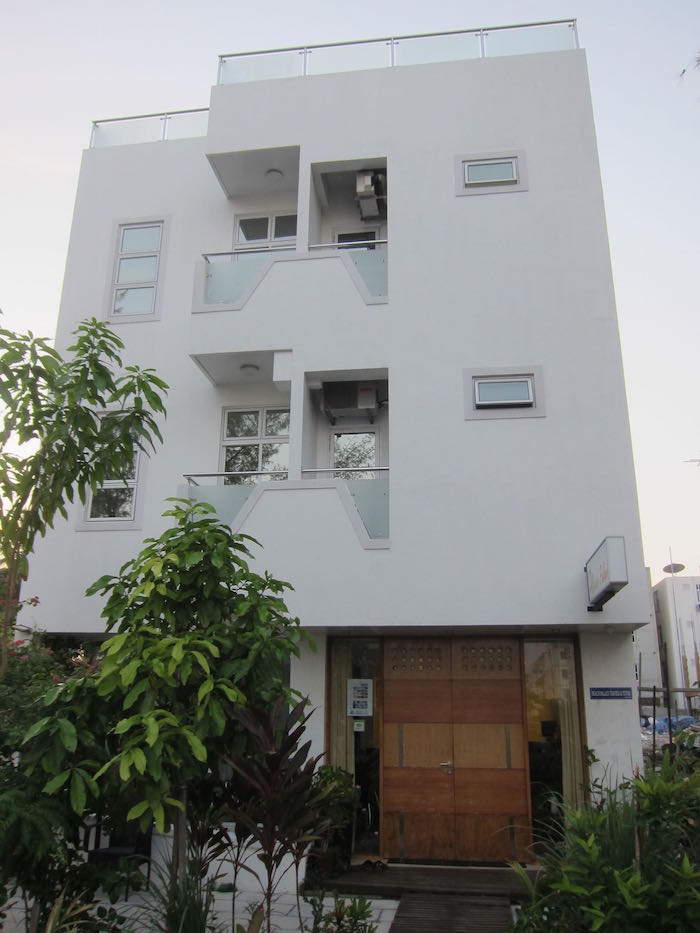 Beach Palace Male exterior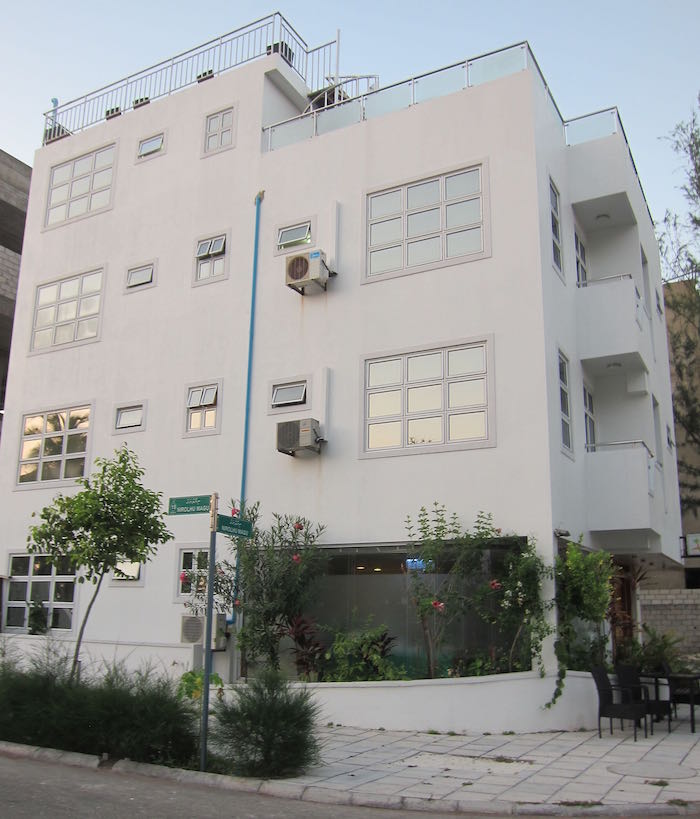 Beach Palace Male exterior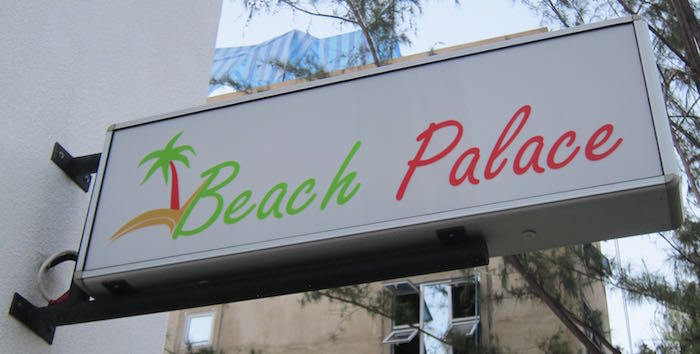 Beach Palace Male signage
…which had beautiful grounds.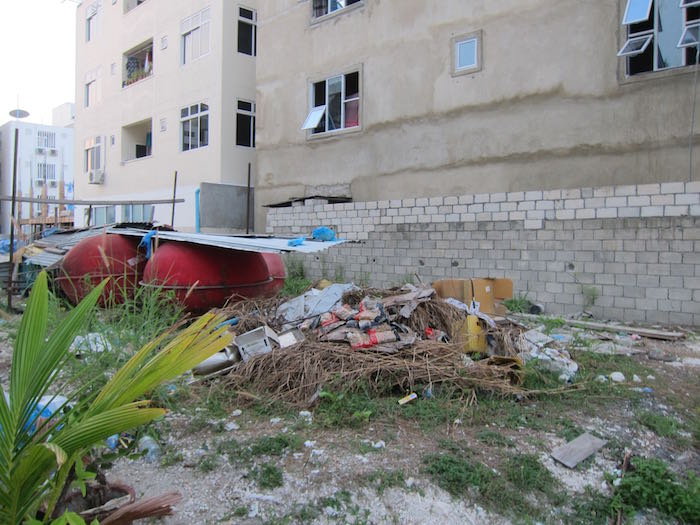 Beach Palace Male landscaping
In fairness, the guy working at the hotel was extremely friendly.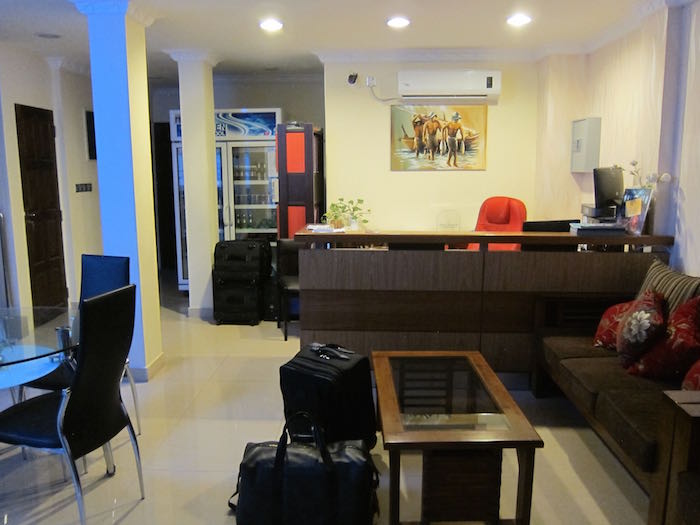 Beach Palace Male reception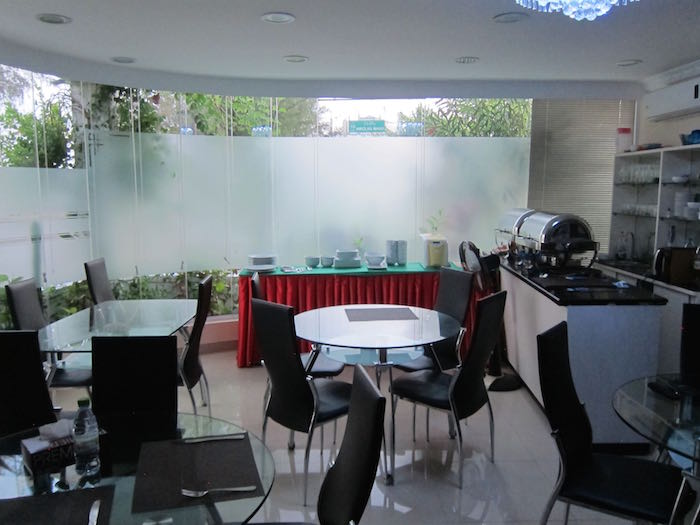 Beach Palace Male lobby
He insisted on carrying our bags up four flights of stairs to our rooms. On the plus side we had the floor all to ourselves, since the fourth floor is about half the size of the other floors and only has two guest rooms. The downside of being on the fourth floor was that the Wi-Fi didn't seem to work that high up.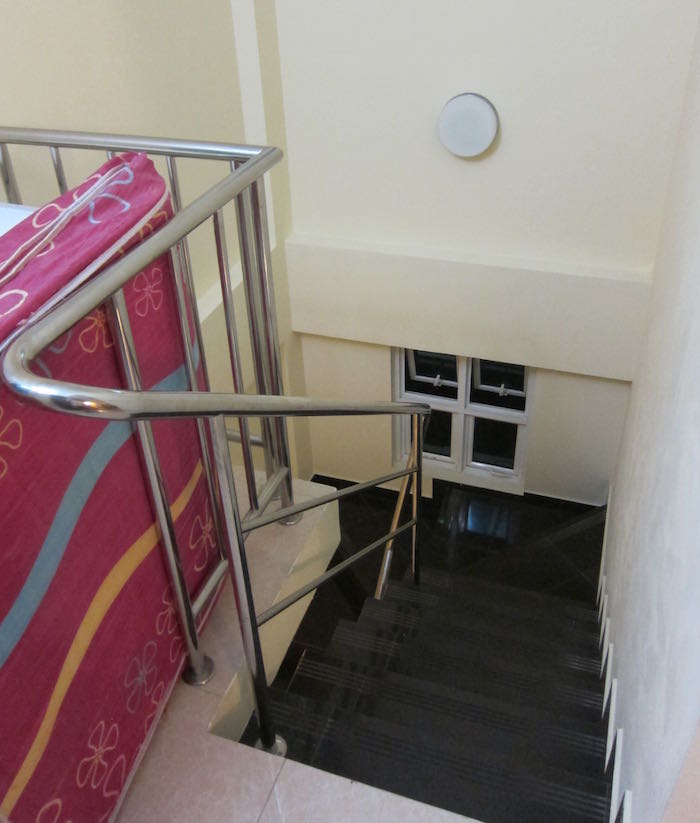 Beach Palace Male staircase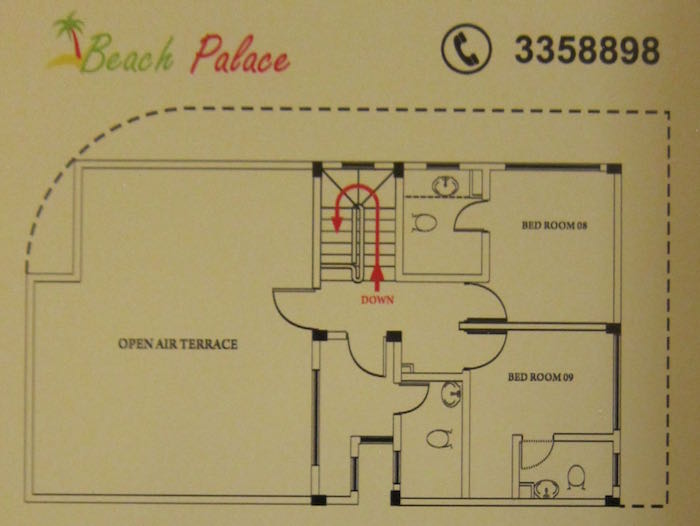 Beach Palace Male floorplan
The rooms had slightly different designs. One had a double bed with a nightstand next to it, which featured a couple of magazines about the Maldives and a box of tissues.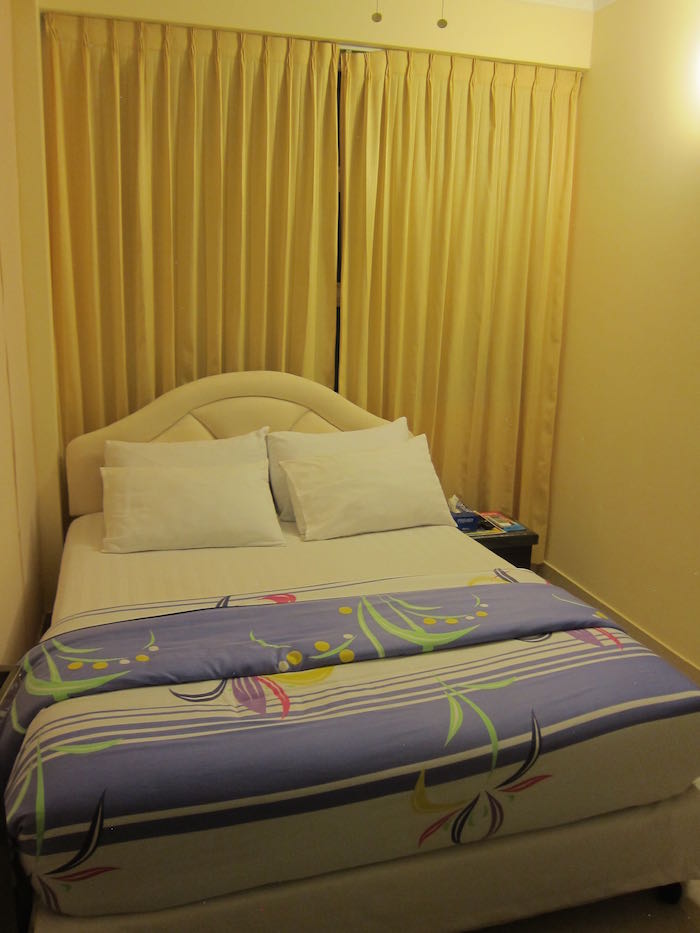 Beach Palace Male room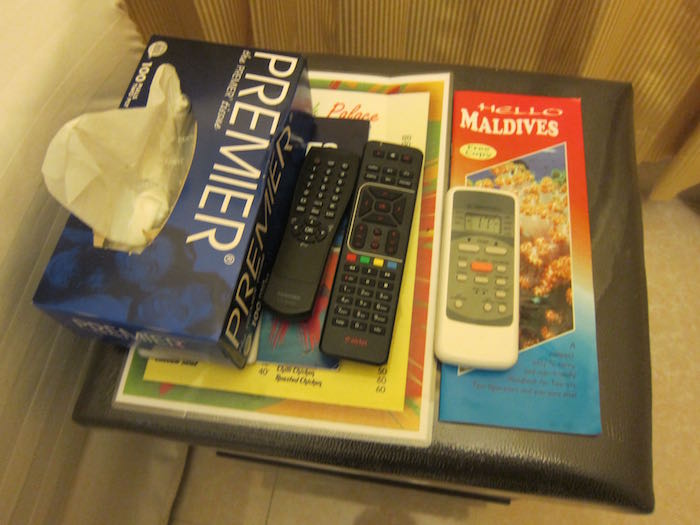 Beach Palace Male room nightstand
There was also a TV.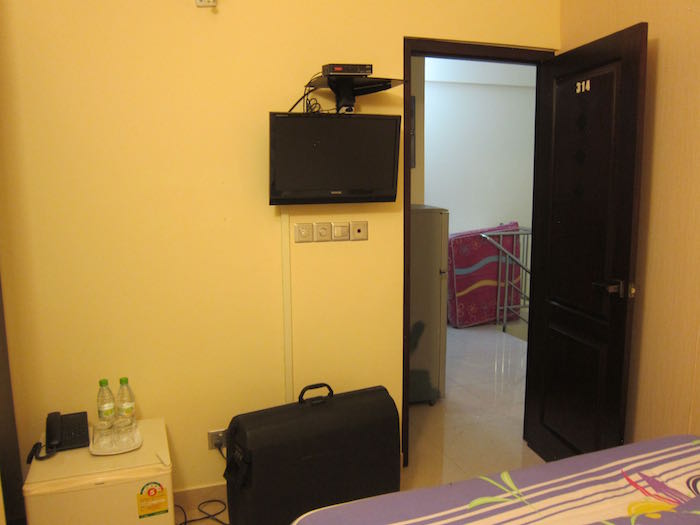 Beach Palace Male room
Then under the TV was a mini-fridge with two bottles of water and a phone.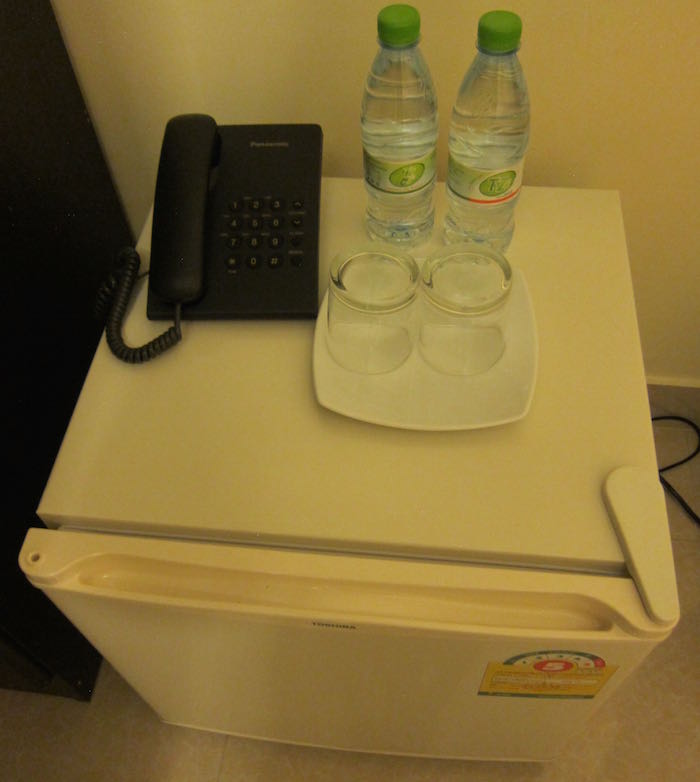 Beach Palace Male room fridge/nightstand
And in the corner was a closet which was basically useless, for reasons demonstrated in the picture below.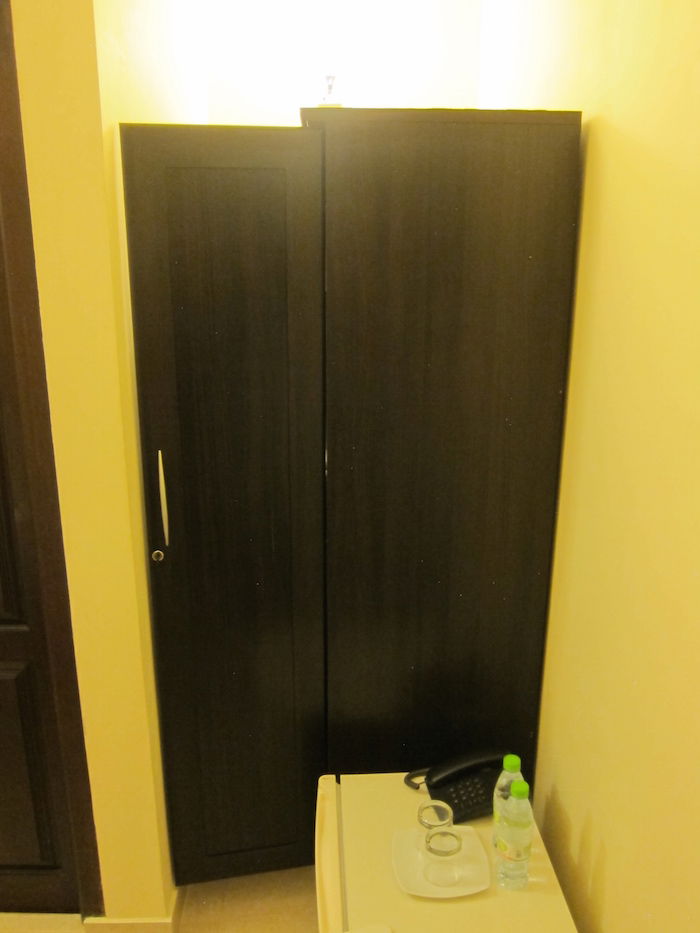 Beach Palace Male room closet
The room had a bathroom which literally smelled like death, so we left it closed for the entire stay.
Meanwhile the other room had similar features, though the closet could actually open due to how it was positioned.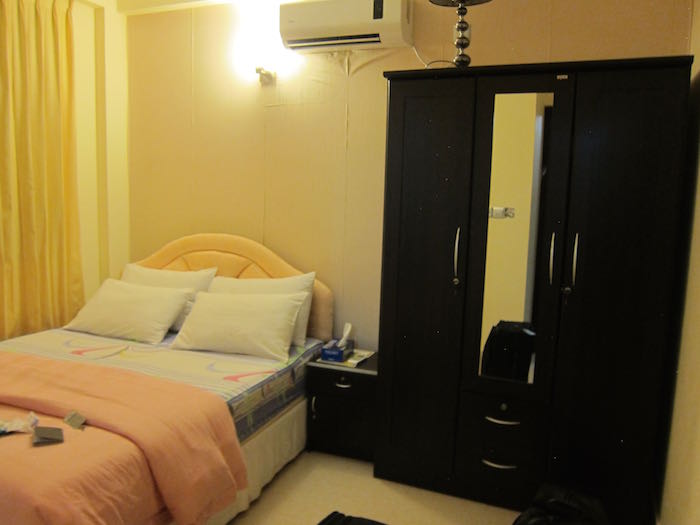 Beach Palace Male room
The bathroom in this room didn't smell quite as bad. It took me a while to figure out the hot water tank when trying to shower.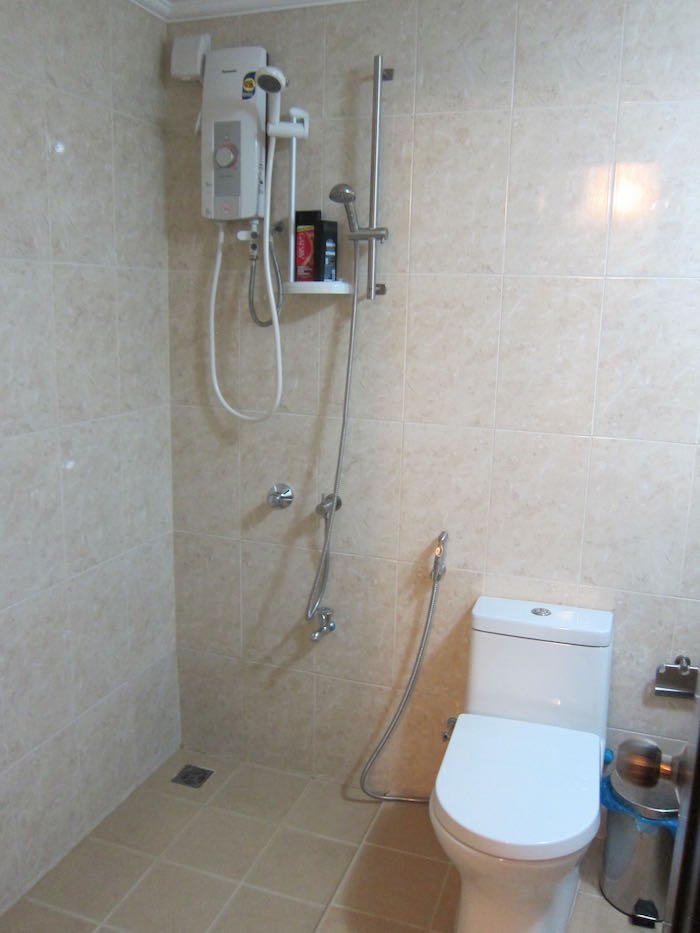 Beach Palace Male room bathroom
While we were both dead tired and wanted to sleep, the beds were full of bugs. I'm not saying they were bed bugs, but there were too many bugs for me to comfortably sleep. After surveying the situation we figured we were best off just staying up.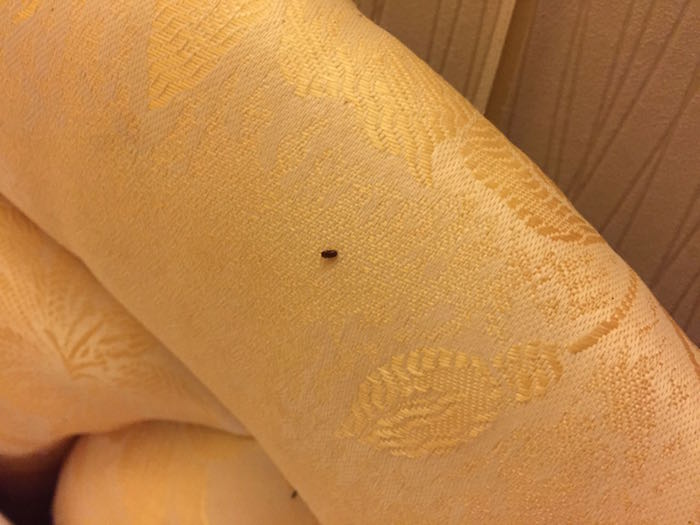 Beach Palace Male room inhabitants
We noticed that there was a beautiful patio across from our rooms, so we went to check that out.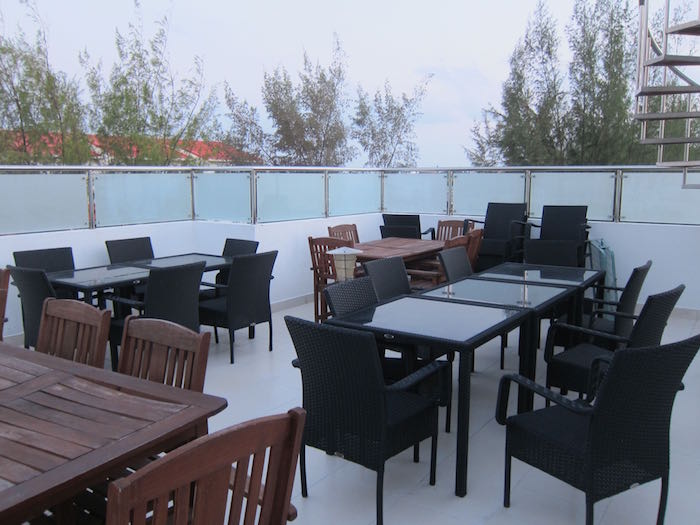 Beach Palace Male patio
In the morning it boasted some picturesque views over the water in the distance.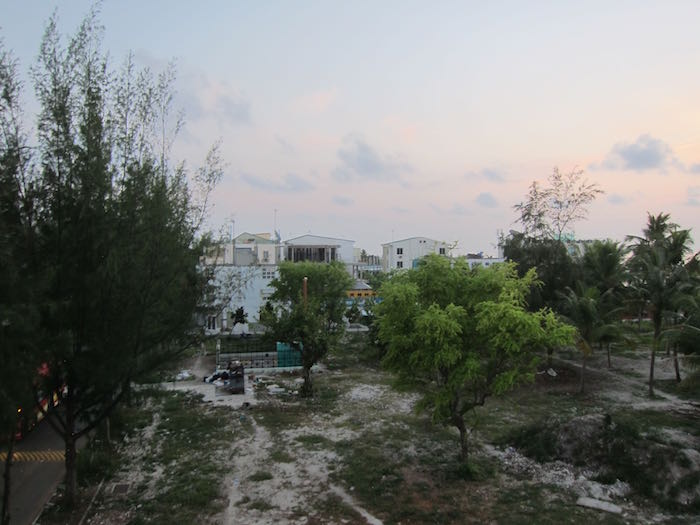 Beach Palace Male view from patio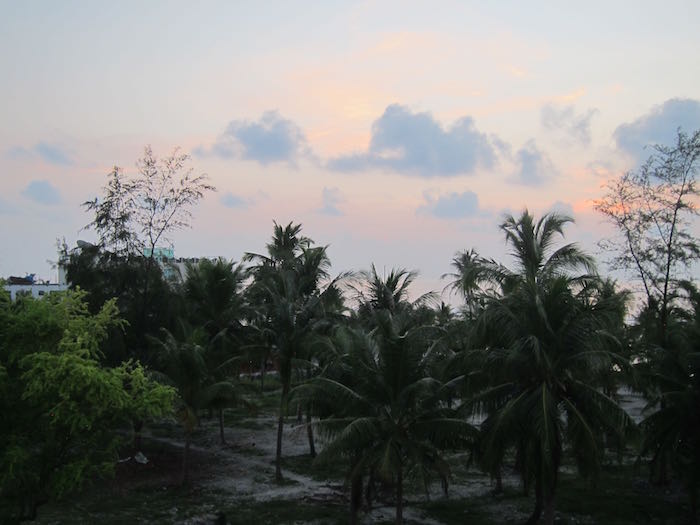 Beach Palace Male view from patio
We ended up staying up for most of the night watching the Comedy Central Roast of Justin Bieber (for the umpteenth time, in my case), which just seemed like a better idea than sleeping in those beds.
However, at about 5AM exhaustion really kicked in, and we took a 45 minute nap.
In the morning the host insisted on making us breakfast. I passed, though my friend at least had something to eat.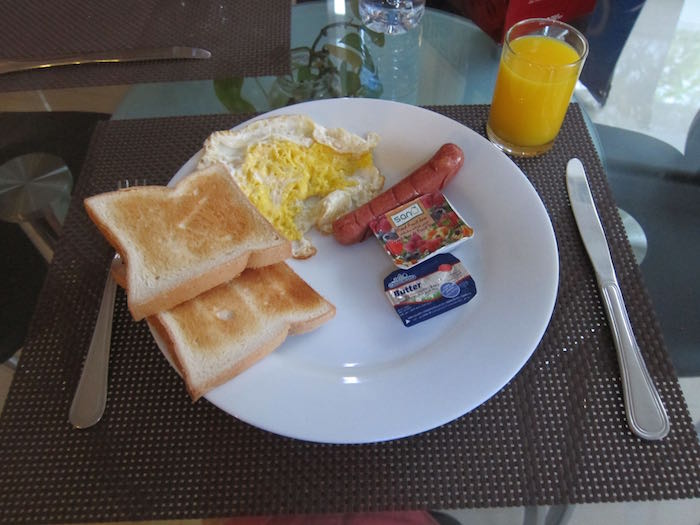 Beach Palace Male breakfast
At 6:15AM we had arranged a car to take us to the airport.
Ui Inn / Beach Palace Male bottom line
Getting walked from a hotel at 2AM sort of sucked. And beyond that these certainly aren't luxurious hotels. Many come to the Maldives seeking out luxury accommodation, and there's no denying that getting to the Maldives is a struggle. First you have to fly to a major hub airport, then you have to connect to Male, then you have to take a flight within the Maldives, and then you have to take a boat transfer to the resort (at least in the case of the Maldives).
If anything, it almost builds up the anticipation of when you actually get to your destination.
In the future I'd do everything in my power to arrives at Male Airport much earlier in the day so I could avoid an overnight near the airport and connect same day. And if I had a similarly timed overnight I might just stay at the airport next time.