---
My Cathay Pacific flight from Male to Hong Kong was departing at 10PM, which I had informed the hotel of for the purposes of the transfer to Male Airport.
Maldivian Airways, which operates the flights between Kooddoo (the closest airport to the resort) and Male only confirms schedules a day in advance, so the evening before my departure I was informed that I would be on a 6:20PM flight out of Kooddoo, which would get me to Male at 8PM.
While I lucked out with a nonstop flight on the outbound, on the return I was stuck with a flight connecting in Kaadedhdhoo. The flight from Kooddoo to Kaadedhdhoo (try saying that five times fast!) was only about 35 miles, and then from there it would be a roughly 250 mile flight to Male.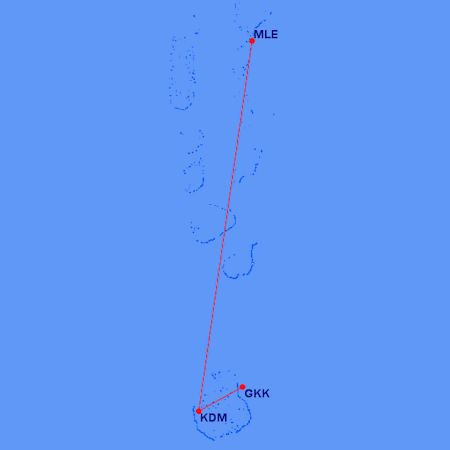 Map of flight from Kooddoo to Male
I was booked on a 6:15PM boat from the Park Hyatt, which would get me to Kooddoo Airport in time for my 6:20PM flight. The reason that "works" is because the Park Hyatt has created its own timezone to maximize daylight, so it's actually an hour ahead of Kooddoo Airport, even though it's just a couple of dozen miles away. So leaving the resort at 6:15PM is like leaving at 5:15PM Kooddoo time.
This seemed to be rush hour for departures, since there were two boats leaving at the same time. The second boat seemed to be exclusively filled with mainland Chinese guests, while on my boat it was me, a couple from somewhere on the west coast of the US, and a super-muscular family from New Jersey (like almost frighteningly so… the son couldn't have been more than 12, and he could probably beat me up with one hand).
Once onboard the boat we had to put on life vests. This time around there was no offer of towels or drinks (which is perfectly reasonable, since we were just leaving the resort).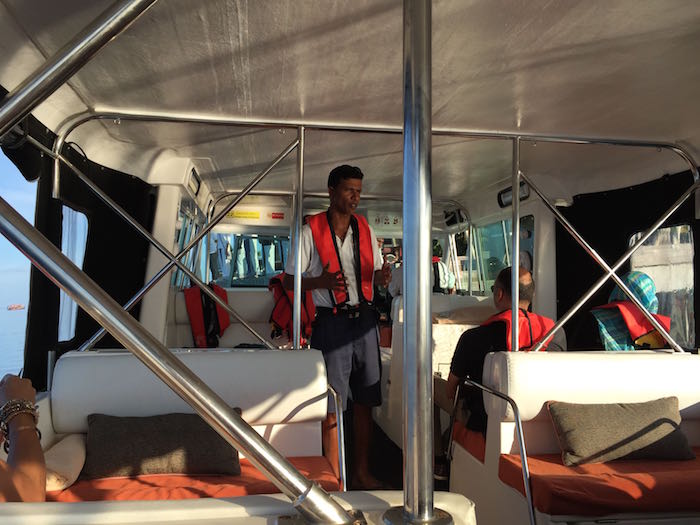 Boat transfer from Park Hyatt to Kooddoo Airport
As we departed, the lovely staff — including the GM — stood on the jetty to wave goodbye to us. I knew I'd quickly miss them, despite being ready to get back to civilization.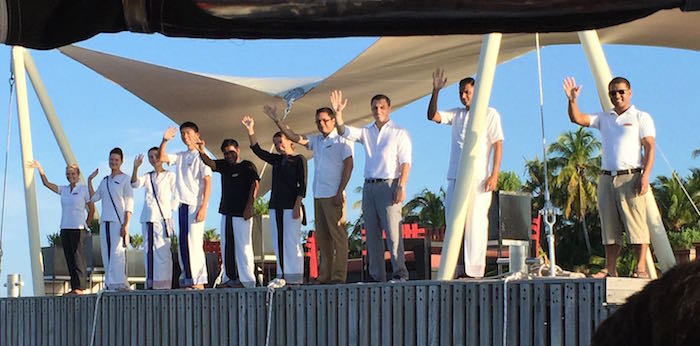 Park Hyatt staff waving goodbye
The ride to Kooddoo took about 25 minutes, and was much rougher than on the way out. It was an absolutely gorgeous ride, though, as the sun began to set while enroute.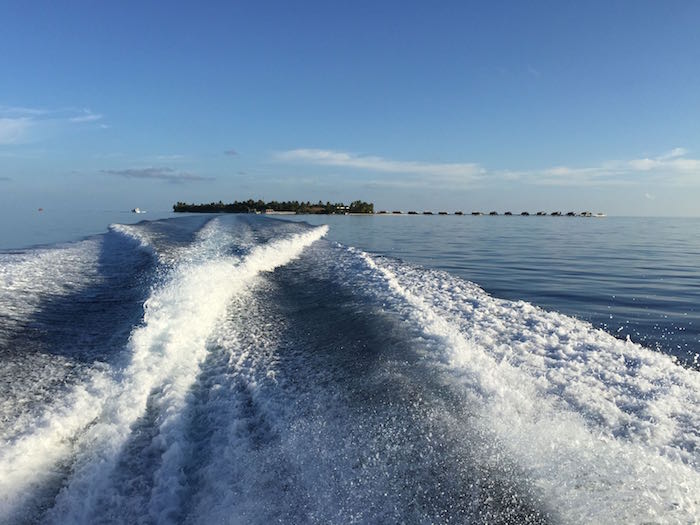 Speedboat to Kooddoo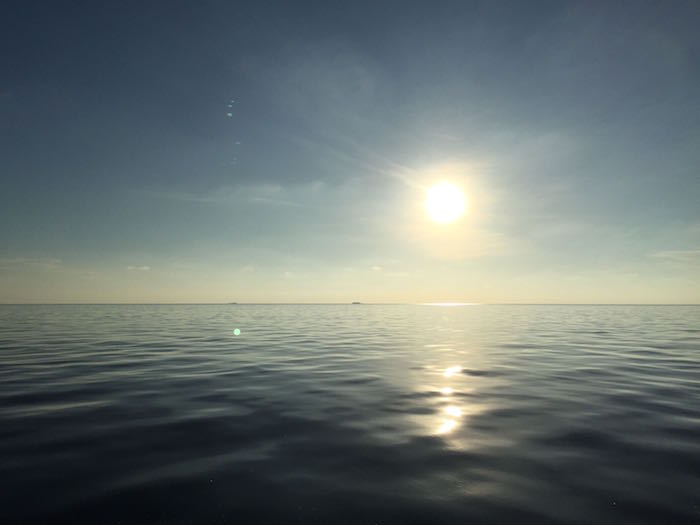 Speedboat to Kooddoo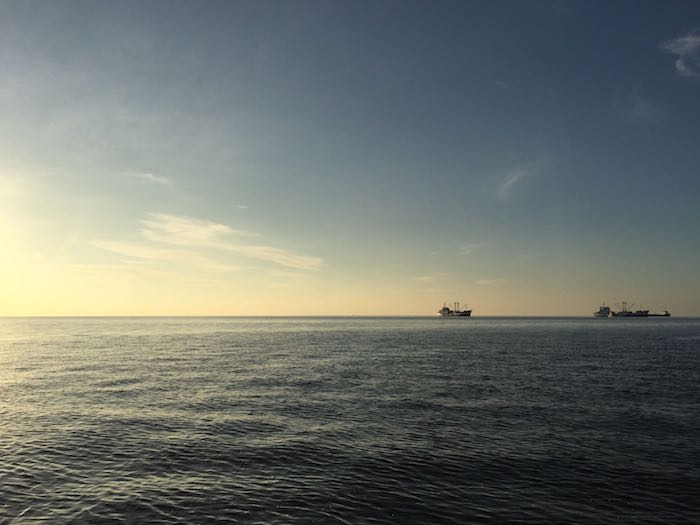 Speedboat to Kooddoo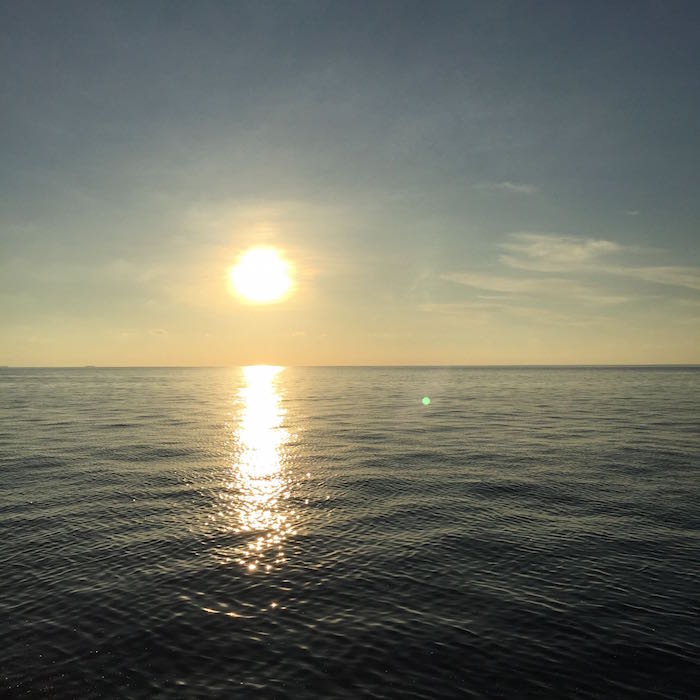 Sunset enroute to Kooddoo
We arrived at the port in Kooddoo at around 5:40PM, where another one of the Park Hyatt boats was docked.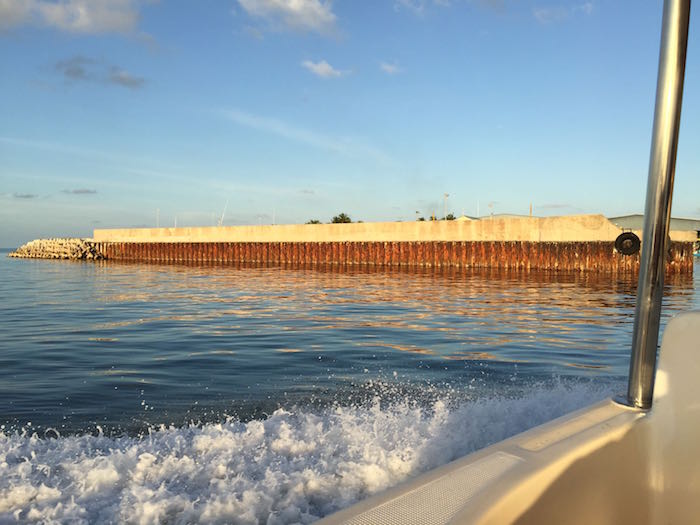 Approaching Kooddoo by boat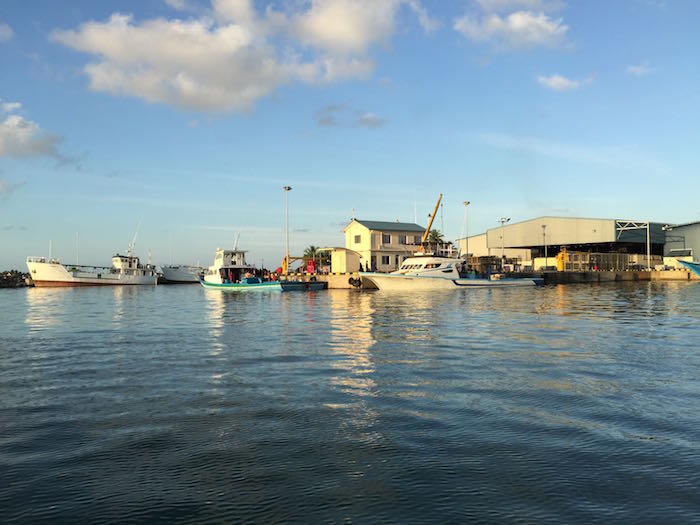 Approaching Kooddoo by boat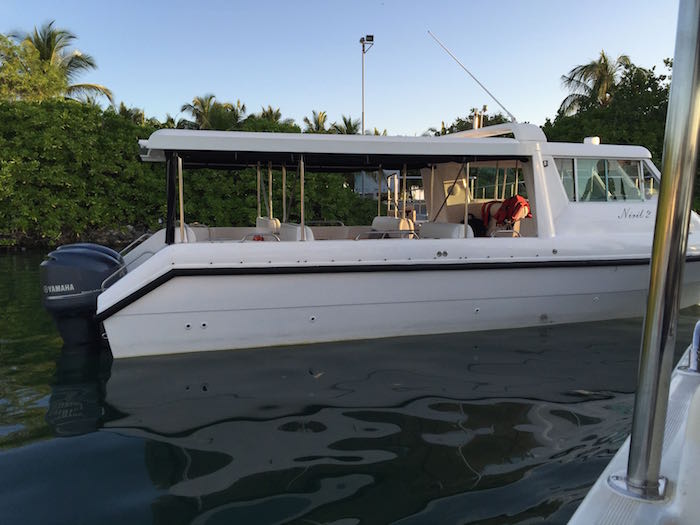 Docking in Kooddoo
We were all loaded onto a golf cart and driven to the airport, which took less than five minutes. Shortly thereafter the golf cart made another trip to collect our luggage.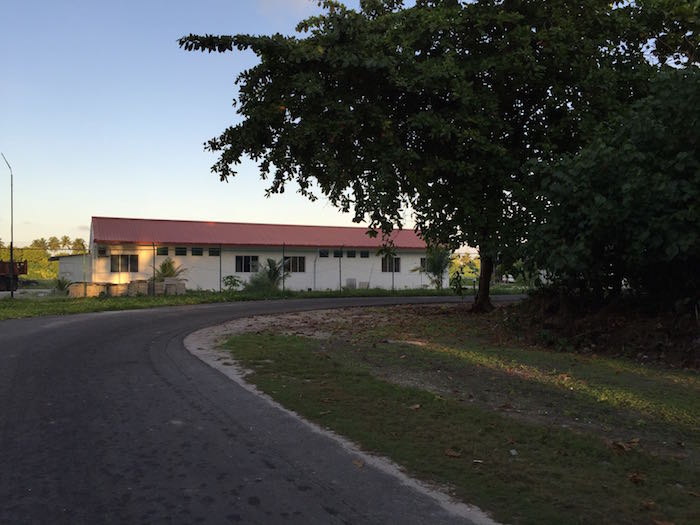 Golf cart transfer to Kooddoo Airport
The terminal at Kooddoo Airport is extremely basic.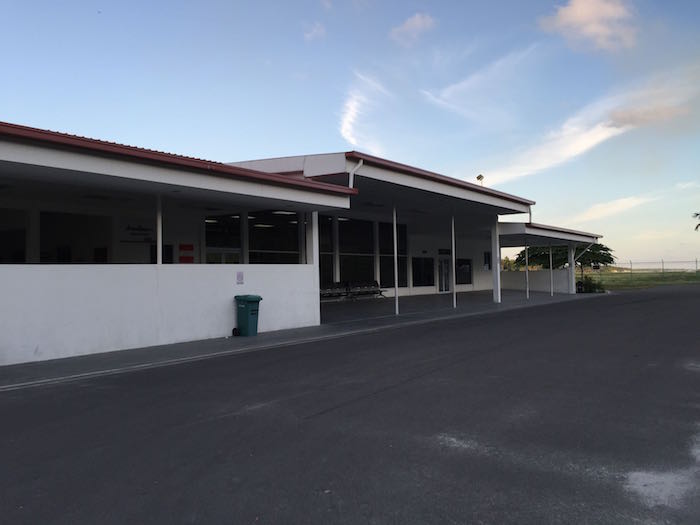 Kooddoo Airport terminal
We were told to have a seat in the "landside" section (if you can call it that), as the plane wasn't yet there, and "security" wasn't yet set up.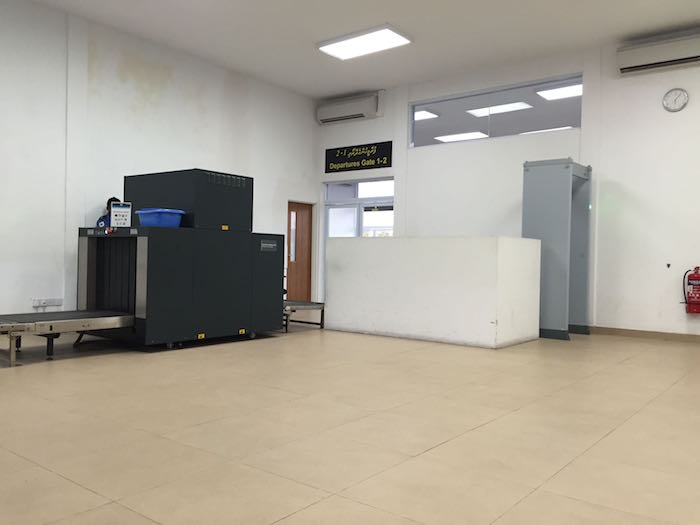 Kooddoo Airport security checkpoint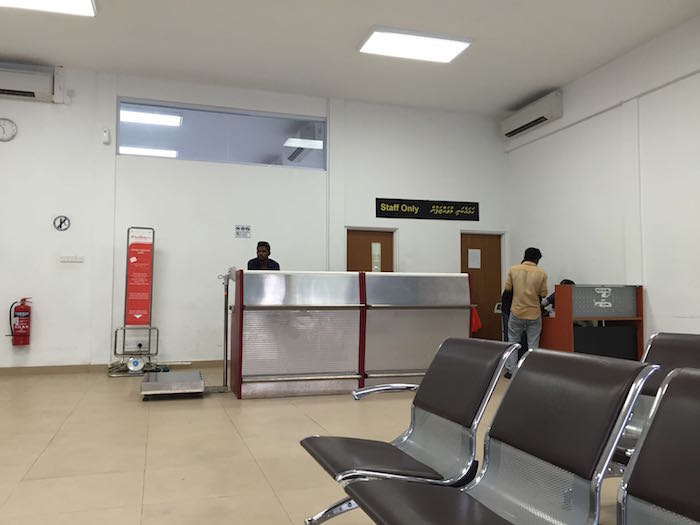 Kooddoo Airport "lanside" terminal
I needed to use the restroom, and was informed that the toilet was around the back of the airport to the right. The restroom was absolutely disgusting, with no towels or toilet paper.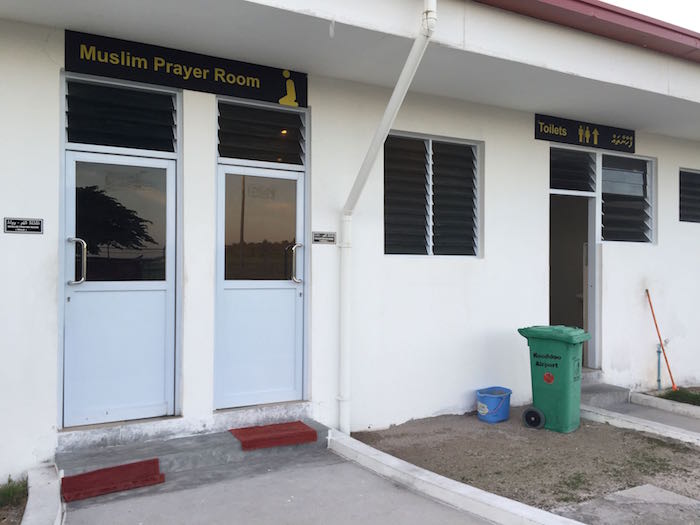 Kooddoo Airport bathroom
The door to the bathroom did boast nice views of the (empty) tarmac, though.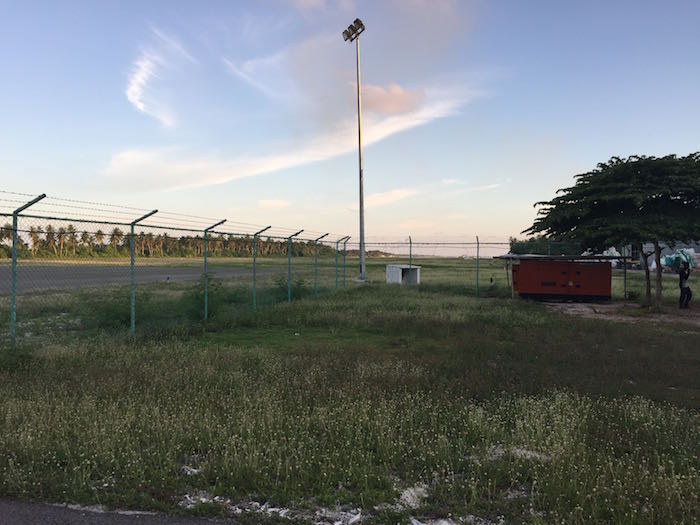 View from Kooddoo Airport bathroom
At 6PM the plane still wasn't there, so the guests from New Jersey wanted more info, since they were concerned they would miss their connection (they were actually booked on the same Cathay Pacific flight to Hong Kong as I was). The ground staff didn't seem to speak English, much less know when the plane would arrive.
Sure enough the plane landed a couple of minutes later, at which point we were invited to clear security, which was more a formality than anything, given that no one looked at the bag scanner, and I wasn't searched despite setting off the metal detector.
At that point we found ourselves in a small boarding area.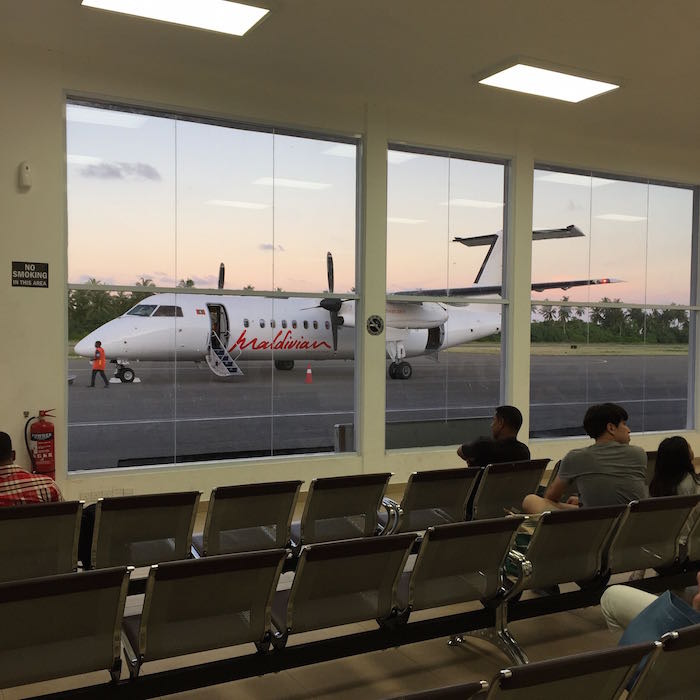 Kooddoo Airport terminal
At 6:15PM we were given the go ahead to board.
Maldivian 2261
Kooddoo (GKK) – Male (MLE)
Saturday, April 11
Depart: 6:20PM
Arrive: 8:00PM
Duration: 1hr40min
Aircraft: Dash 8-300
Seat: 12B (Economy Class)
It was just a very short walk across the tarmac to the waiting plane. While I had a Dash 8-200 on the flight out, this sector was being operated by the bigger 50 seat Dash 8-300.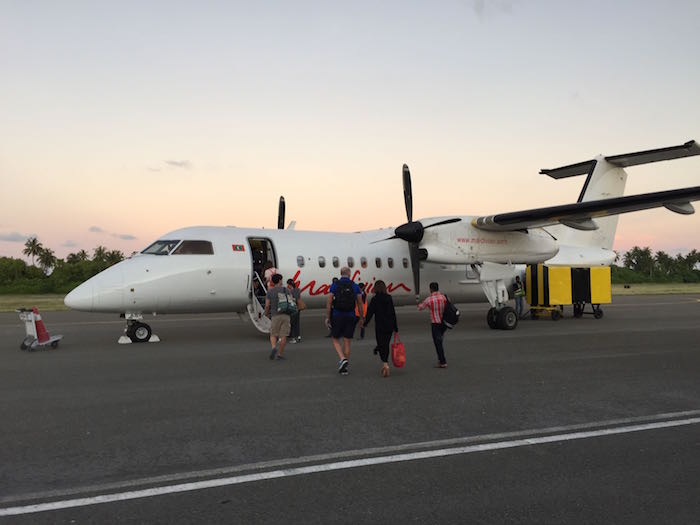 Maldivian Dash 8 Kooddoo Airport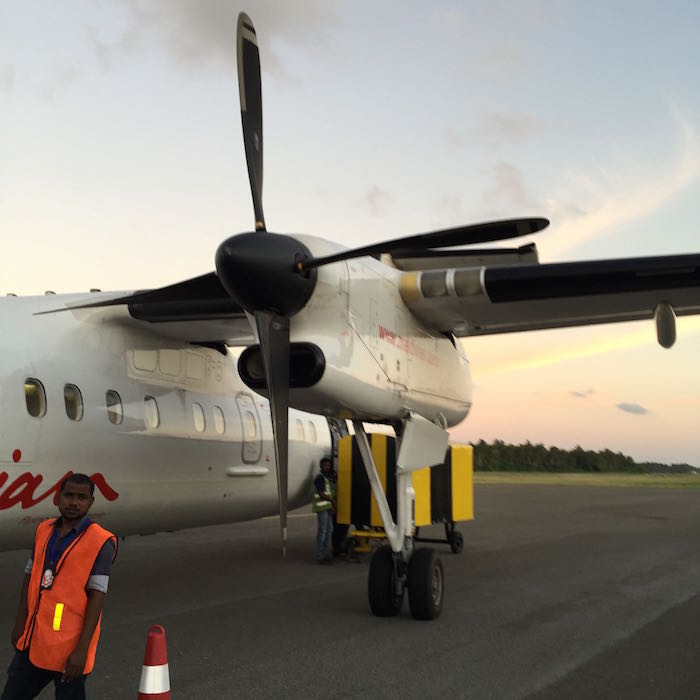 Maldivian Dash 8 Kooddoo Airport
The cabin had a very similar design, except for the fact that the first row had two rear facing seats. While the resort guests seemed to be assigned the front seats on the flight out, this time around we were in the back. And in this case I was in the very last row.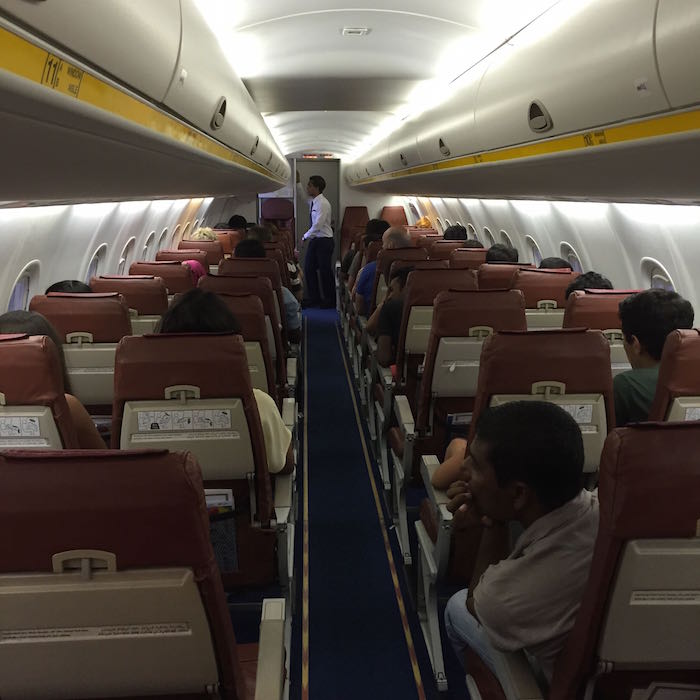 Maldivian Dash 8-300 cabin
On the plus side, that was sort of a blessing as an aviation geek, since I could admire the ExpressJet beverage cart.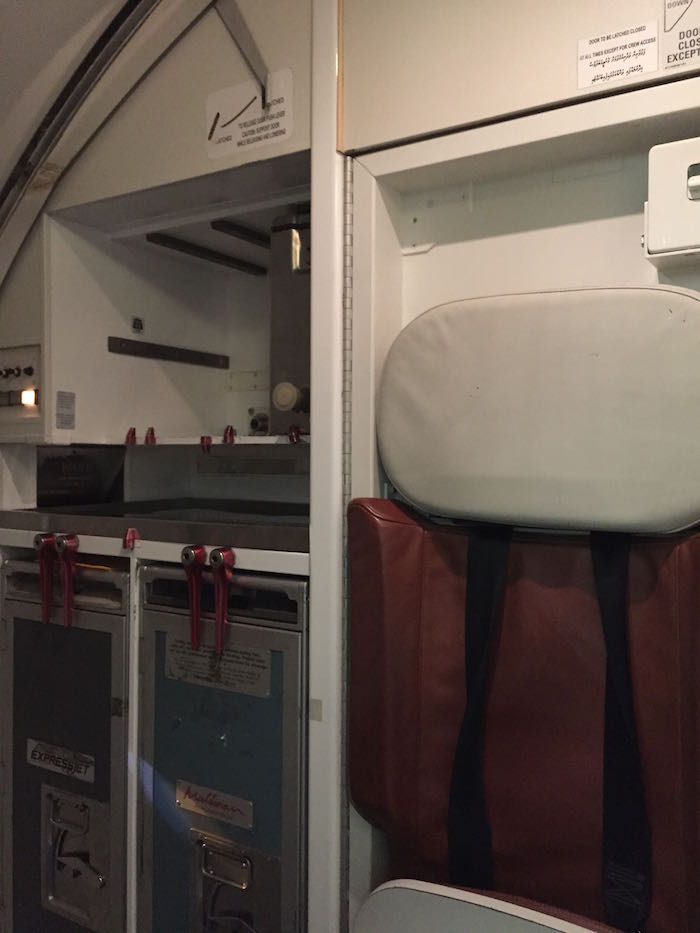 Galley carts on Maldivian Dash 8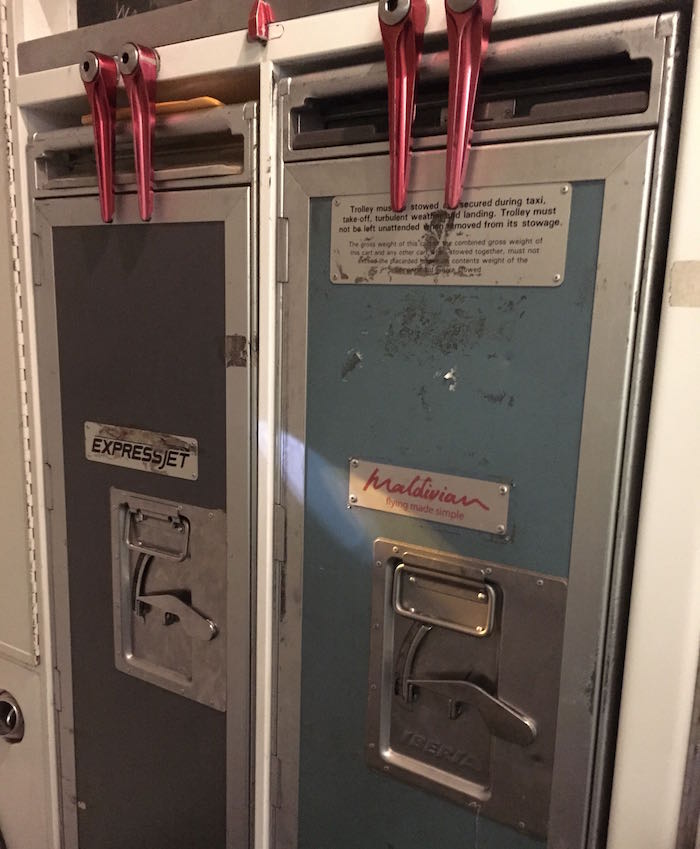 Galley carts on Maldivian Dash 8
The cabin was about half full when we boarded (I'm guessing those passengers were coming from Male, as this is a "triangular" flight), so by the time we left the cabin was maybe 75% full.
The seat next to me stayed empty, and at around 6:20PM the engines were started, and the pilot made a quick announcement, which I couldn't understand.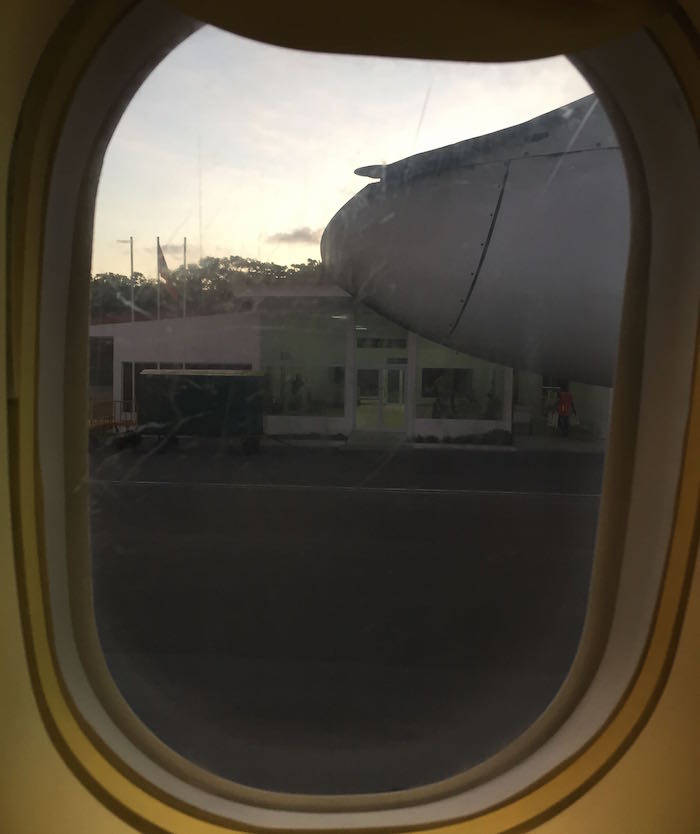 View departing Kooddoo Airport
We quickly taxied to the runway, during which time the travel prayer played over the PA, and the flight attendant did his safety demo. We began our takeoff roll while the flight attendant was finishing up his safety demo, and were airborne before 6:25PM.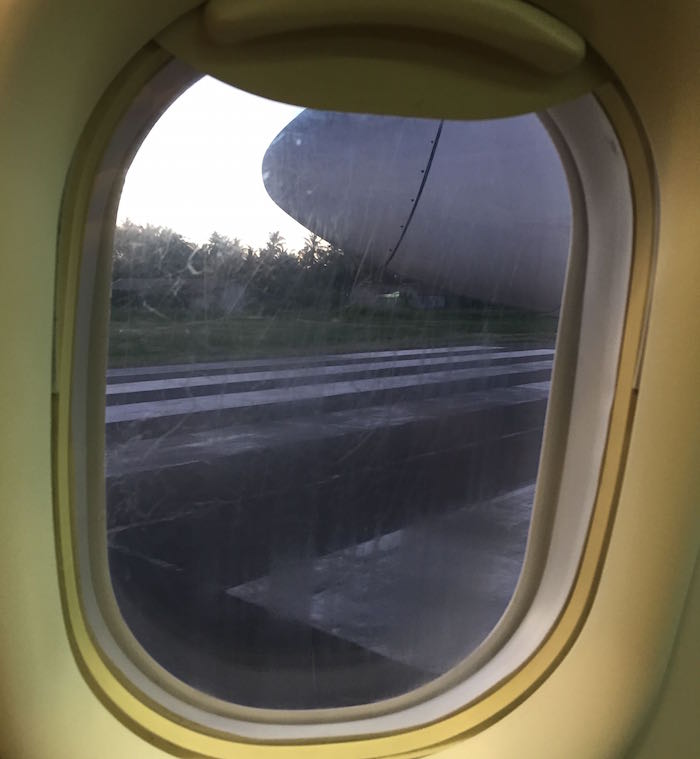 Taxiing Kooddoo Airport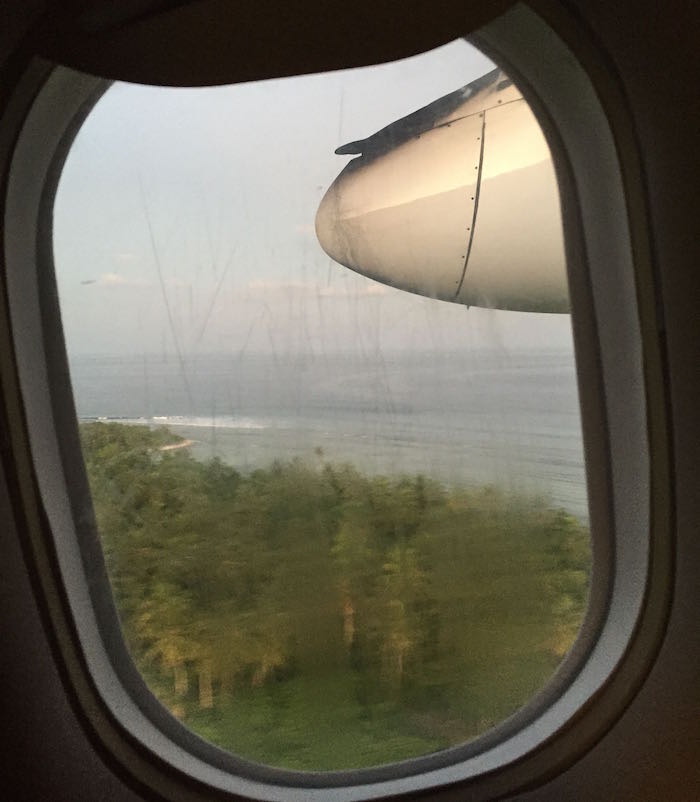 View after takeoff from Kooddoo
Less than 10 minutes later the landing gear dropped, as we prepared for our descent into Kaadedhdhoo.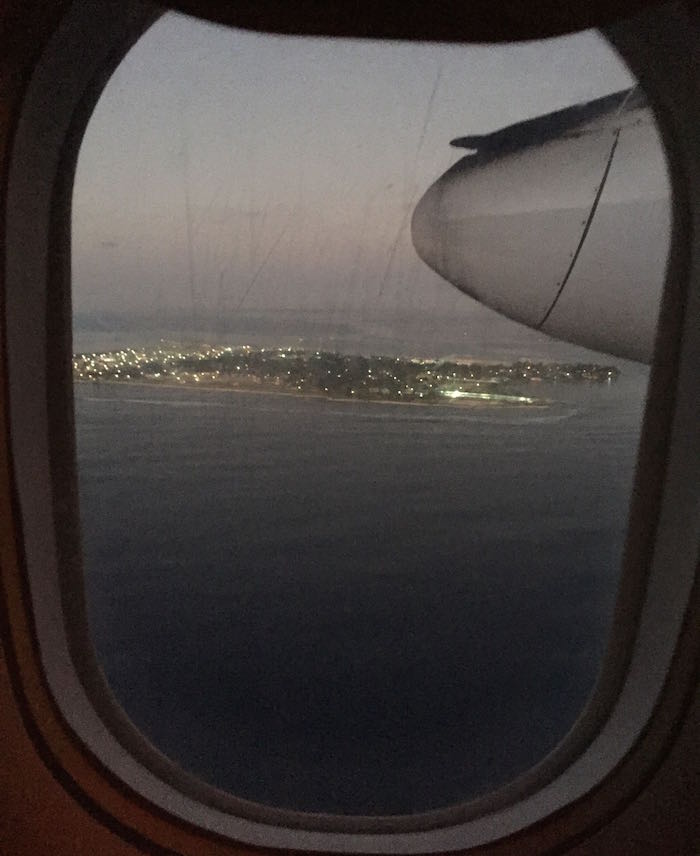 View approaching Kaadedhdhoo Airport
We touched down there at 6:35PM, and then had a total of five minute taxi to our arrival position, as we had to once again back-taxi on the runway.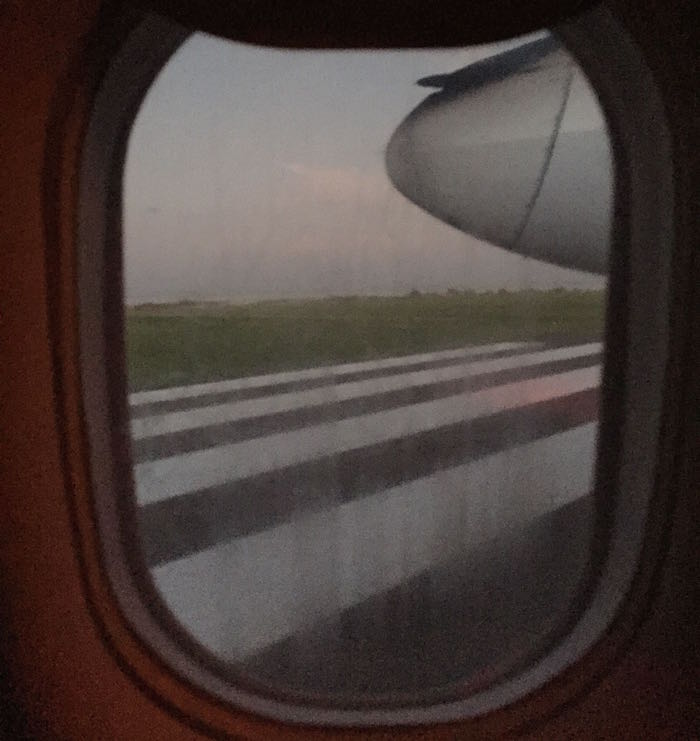 Taxiing Kaadedhdhoo Airport
At this point the sunset was finishing up, and the views were gorgeous.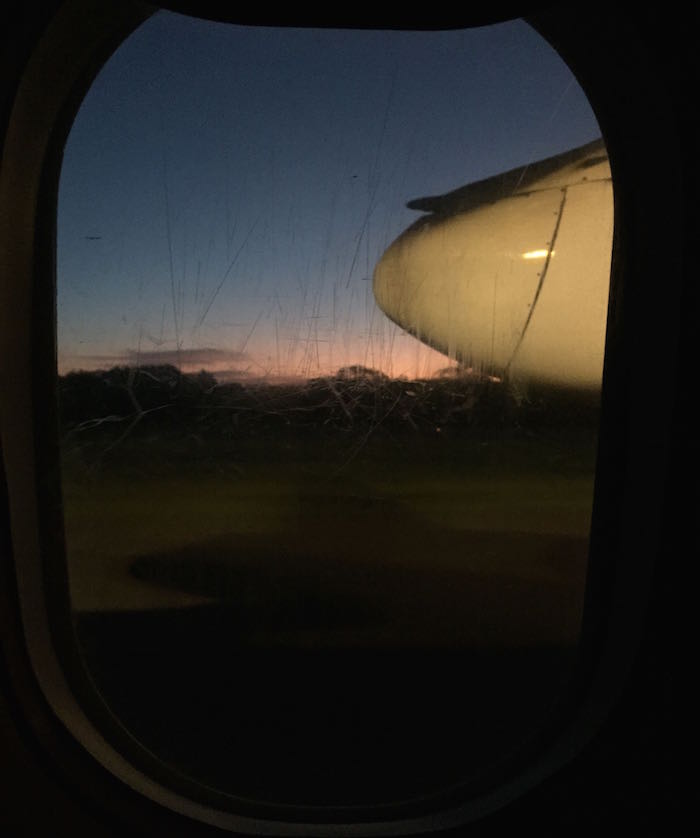 Taxiing Kaadedhdhoo Airport
Quite a few passengers were getting off in Kaadedhdhoo, so they immediately stood up. However, the cabin door didn't open for about 10 minutes.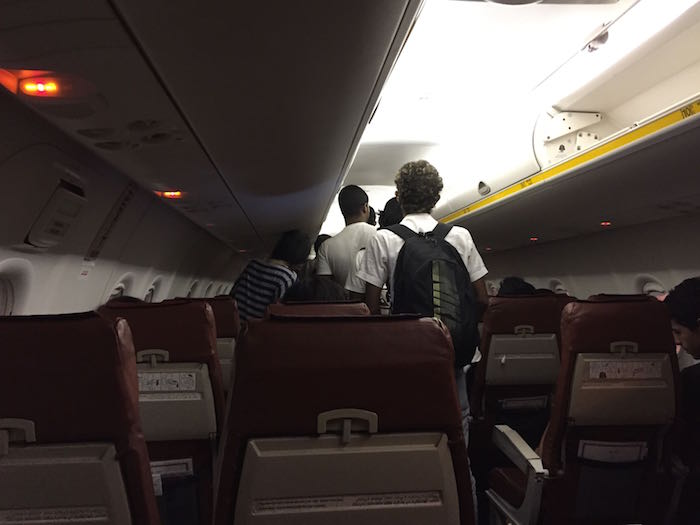 Passengers deplaning Kaadedhdhoo Airport
I figured it would just be a quick stop, though it ended up taking about 25 minutes. The cabin during the connection was sooooo hot, it was painful. The air was just standing, and it must have been over 100 degrees in the cabin. On top of that, the cabin just freaking reeked of sweaty ass. Reeked.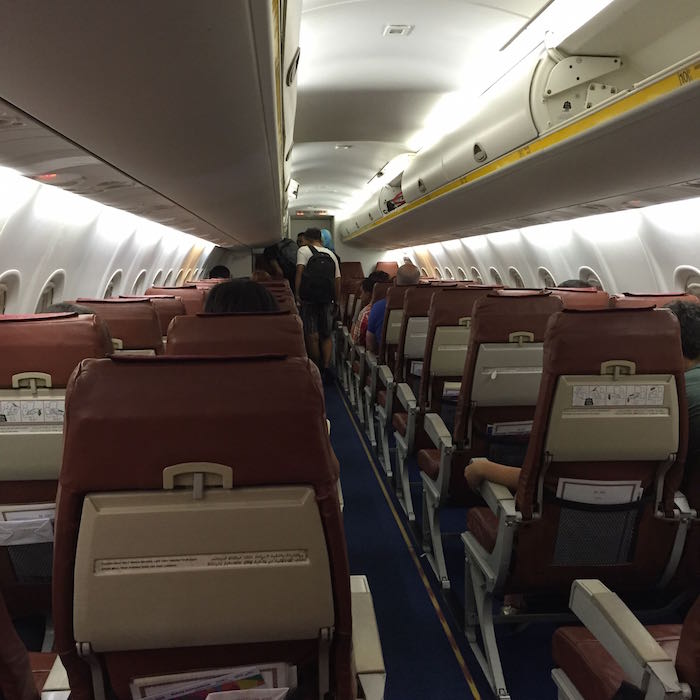 Passengers deplaning Kaadedhdhoo Airport
Eventually a new set of passengers joined us. This time every seat on the plane was taken. A French guy sat down next to me. Unfortunately he didn't really help with the smell in the cabin.
At 7:15PM the door closed, at which point "flight steward" (that's what he referred to himself as) Mohammed once again played the travel prayer and performed the safety demo.
At 7:20PM we made it to runway, at which point full thrust was applied while the parking breaks were still set, given that the runway is only 4,000 feet long. Once they were released we accelerated like crazy, though still used up almost the entire runway.
The flight was smooth and uneventful. The service consisted of cold towels and then a choice between water and three types of juice (mango, mixed fruit, or apple).
We touched down at Male Airport at 8:20PM, and then had a five minute taxi to our arrival stand. It was another five minutes before the door finally opened at 8:30PM.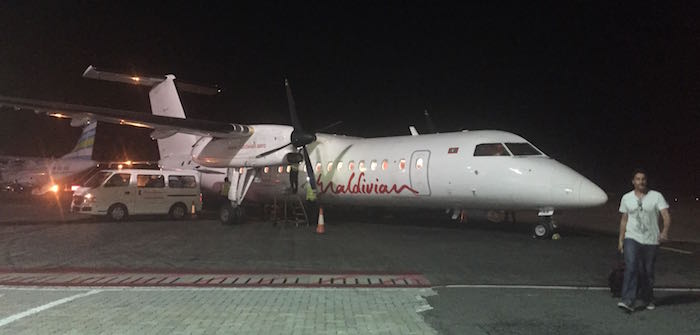 View upon arrival at Male Airport
You can't interline bags on Maldivian, so you have to wait for your checked luggage to arrive. Given that we landed half an hour late, I only had 90 minutes until my Cathay Pacific flight. I wasn't worried, though it was certainly getting tight.
It took a while for bags to arrive. Some bags from our flight came almost instantly, while it was a good 20 minutes before my bag arrived, even though the plane was parked maybe 50 feet away. For a second I was worried my bag had been lost.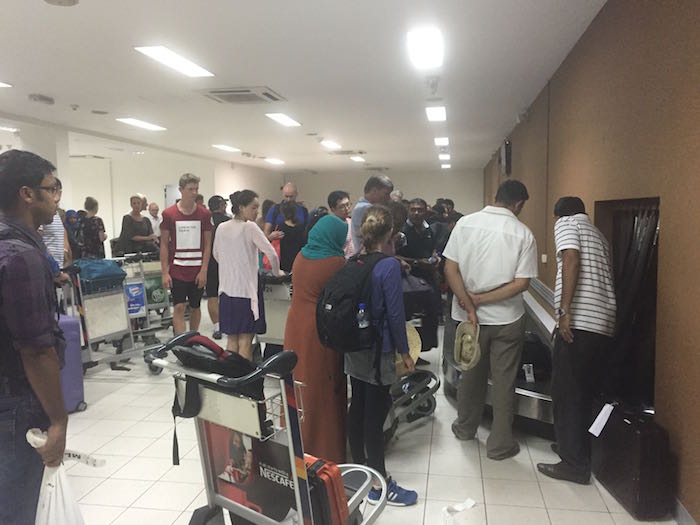 Baggage claim at Male Airport
And with that behind me, I was ready for a good night of sleep on Cathay Pacific!
Park Hyatt transfer & Maldivian bottom line
Ultimately the transfer to/from the Park Hyatt isn't a total deal breaker, though it is a significant inconvenience. On the way out I spent a night at a crappy hotel near Male Airport, while on the return I ended up spending over two hours on a boiling hot Dash 8, not including transfer times on both ends.
Like I said, it's not a deal breaker, but between the transfer cost ($510) and the inconvenience/unpleasantness of it all, it is something to factor in before booking a ticket to the Maldives.