As you guys know I'm presently enroute to the Maldives, and planning my outbound flight was a bit of a last minute ordeal. I had originally asked you guys which option you think I should take on the outbound.
Then I had a schedule conflict come up, which caused me to push back my trip by a day and actually have to choose based on schedule rather than which would make the most interesting story.
So in the end I booked an American AAdvantage 67,500 mile first class award from New York to Colombo.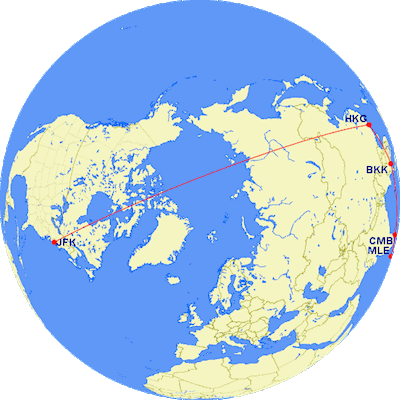 I booked Cathay Pacific first class from New York to Hong Kong, and then SriLankan business class from Hong Kong to Bangkok to Colombo. For the second segment I could have just flown Cathay Pacific nonstop in their reverse herringbone business class, but I figured the least I could do was take a bit of a detour to try out SriLankan.
That meant I just had to find a way to get from Colombo to Male. That's only roughly an hour-long flight so redeeming Avios seemed like the obvious option, until I looked at the cost. While economy would have cost 4,500 Avios, the taxes and fuel surcharges for the short flight were $90.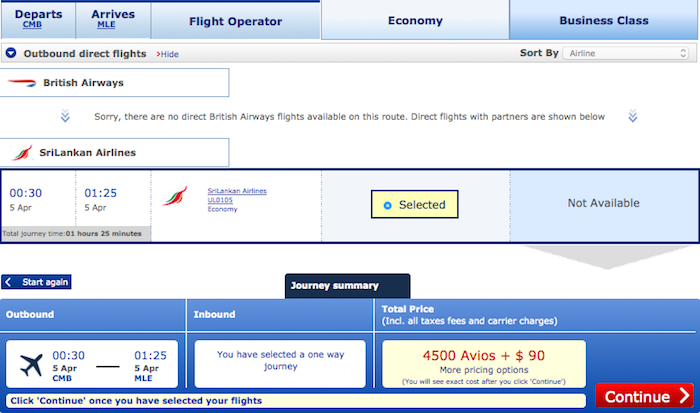 Meanwhile a paid ticket on the flight was $150. I'll gladly pay $60 to save 4,500 Avios, not to mention the fact that I earn elite qualifying and redeemable miles this way. I did look at the cost of business class, but it was prohibitively expensive — about three times the price of economy.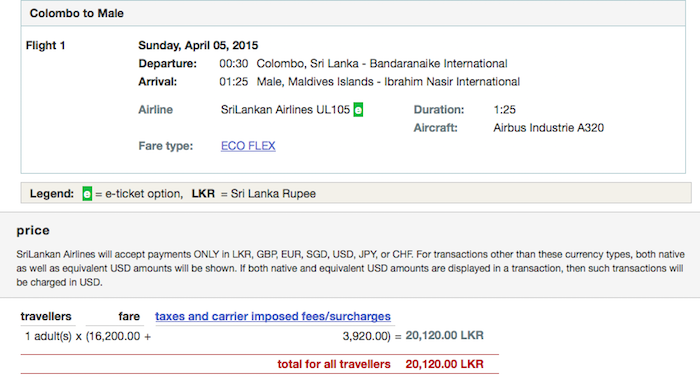 After ticketing I went online to select seats, and something caught my attention. I could bid for a cash upgrade to business class. As a matter of fact, SriLankan seems to offer paid upgrades almost across the board, and even has a website dedicated to it.

Despite my millions of flown miles, I don't remember the last time I had the opportunity to bid for an upgrade. That's because virtually all my travel is either:
Paid travel on American, where I'm eligible for complimentary domestic upgrades, or can use systemwide upgrades for my longhaul flights
On award tickets where I'm already traveling in a premium cabin
Even though there was limited value to an upgrade on such a short flight, I thought it would be a good experiment, if nothing else.
I visited SriLankan's paid upgrade website, where I entered my record locator and last name. The website explained that upgrade bids can be placed up until 48 hours before departure, and then if you're successful with your bid you'll be informed between 24 and 48 hours before departure.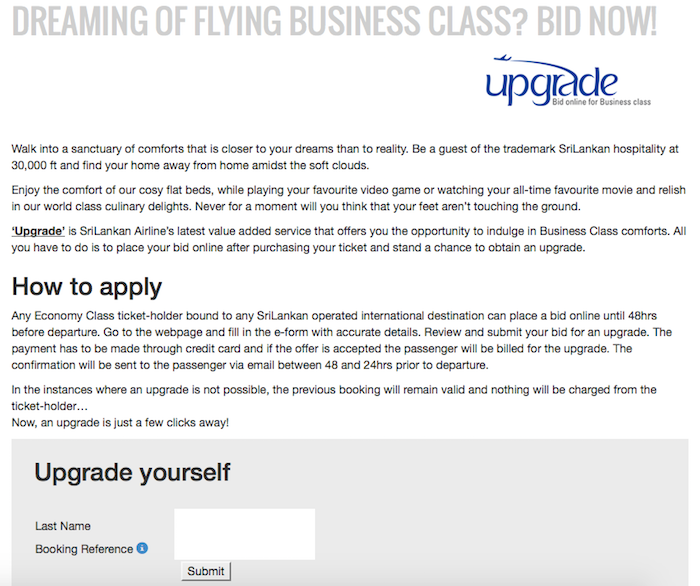 As luck would have it, I made my booking about 50 hours before departure, so literally right before the cutoff.
The upgrade scheme is interesting in that it gives you a range you can bid for the upgrade. In this flight's case, the range is anywhere from "No Offer" to $250. And there's an "odometer" of sorts which tells you the strength of your upgrade offer.
Mine defaulted to $115, which was in the "Fair" category, so I checked to see how much lower I could make it while staying in the "Fair" category. $100 seemed to be the lowest I could go and still be "Fair."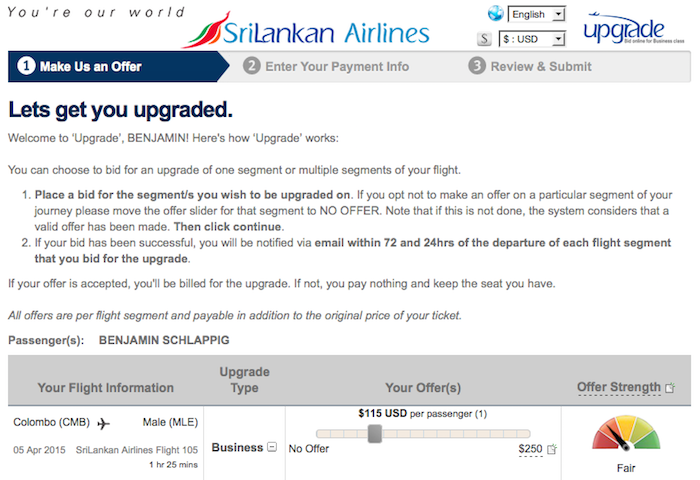 Now, these upgrade costs are actually quite high for a short-haul flight. Based on what I've read online, Colombo to Male is miscoded by SriLankan when it comes to paid upgrades, in that they view it as a mid-range flight rather than as a short-haul. So an upgrade on a flight to Kuala Lumpur, for example, might be cheaper than an upgrade to Male.
But I figured I'd give the upgrade a shot in the name of science. Once I entered my $100 bid I was brought to a payment information page, where I had to enter my credit card information and email address.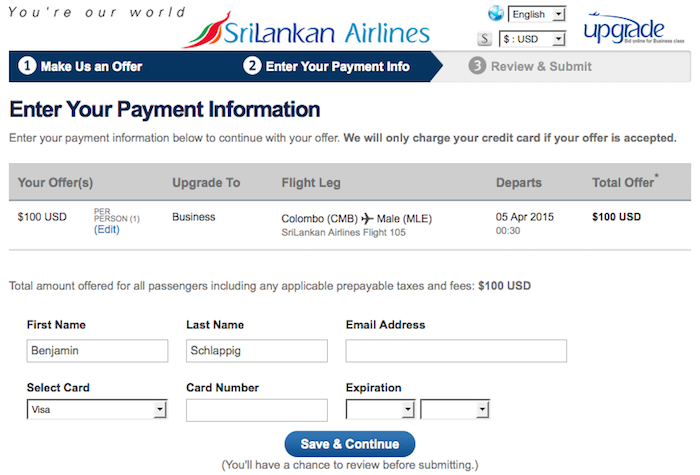 After that I was brought to a page confirming my offer.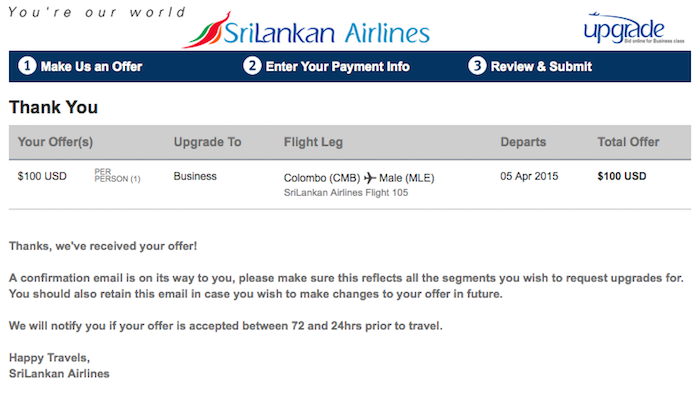 About 36 hours before departure I received an email from SriLankan confirming that my upgrade offer had been accepted.

What's interesting is that when your upgrade is accepted you're rebooked in paid business class — "I" class — so you would earn bonus miles based on that new class of service.

Admittedly $100 for an upgrade to SriLankan's regional Airbus A320 business class on a sub-90 minute flight isn't the greatest value in the world, but I was keen to finally experience the process of bidding for an upgrade.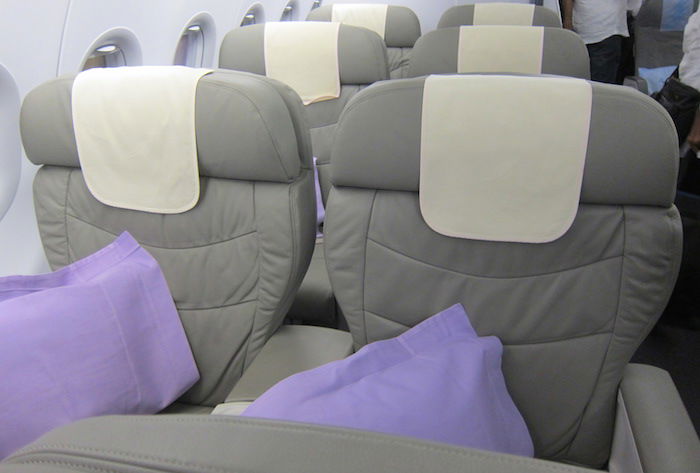 SriLankan's A320 business class
Bottom line
I think paid upgrades on SriLankan have the potential to be really useful. Based on all the routes I've searched, SriLankan doesn't seem to sell very many business class seats at all, so I think upgrading is damn near guaranteed.
This FlyerTalk thread has a lot of data points about upgrade costs on SriLankan, and as you'll see, most rates are much more reasonable than on this route.
Have you ever done a cash bid for an upgrade on any airline? If so, how was your experience?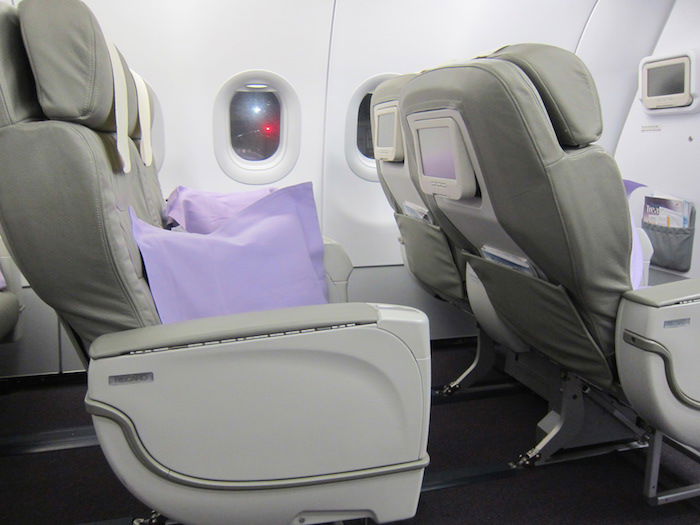 SriLankan's A320 business class