---
I can't even begin to explain how excited I was to fly SriLankan's brand new A330-300, which features their new reverse herringbone seats. SriLankan has a total of five of these planes on order.
Since this flight was being operated by an A330, there were two air stairs — one at the forward door and one at the rear door. I boarded through the forward door, after my boarding pass was checked at the bottom of the stairs.
SriLankan 105
Colombo (CMB) – Male (MLE)
Sunday, April 5
Depart: 12:30AM
Arrive: 1:25AM
Duration: 1hr25min
Aircraft: Airbus A330-300
Seat: 3A (Business Class)
Upon boarding through door 1L I was welcomed by the cabin manager and Renuka, the flight attendant working business class. I noticed the business class cabin was still empty, so told Renuka "I'm so excited this is the new business class product. If you don't mind I'm just going to snap a couple of pictures before the cabin fills up."
With a smirk Renuka responded "take your time, you're our only passenger today, Mr. Benjamin. And just so you know, this is the plane's first commercial flight."
Holy crap! So not only was my flight swapped from a regional A320 to an A330 with their brand new business class, but I was also the only passenger, and it was the plane's first commercial flight. That's the best $100 I've ever spent on an upgrade!
SriLankan's A330-300 features reverse herringbone seats in business class, so they're in a 1-2-1 configuration. There are a total of 28 seats spread across seven rows.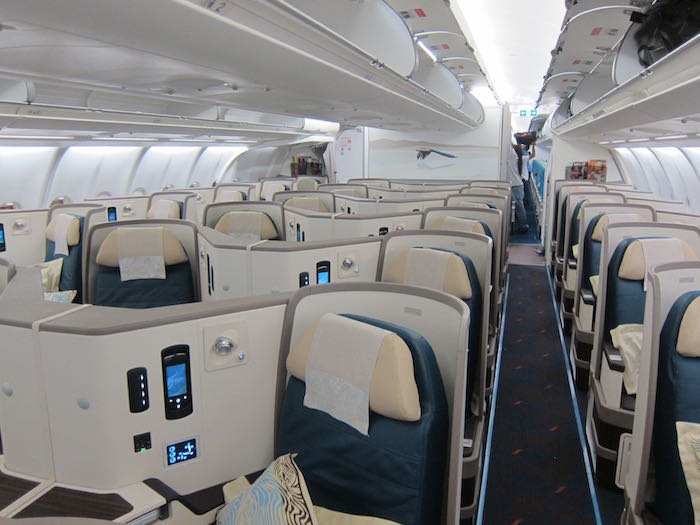 SriLankan's new A330-300 business class cabin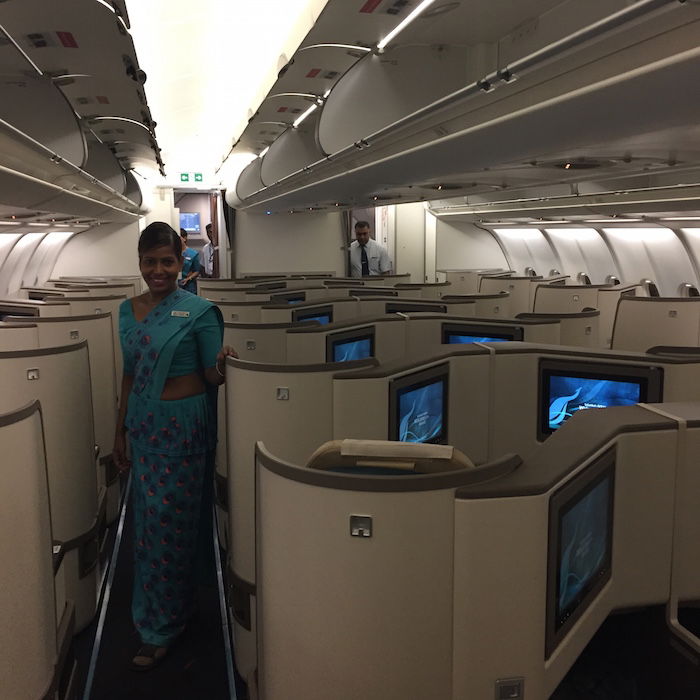 SriLankan's new A330-300 business class cabin
I eventually settled into 3A, which was the seat I selected for the sector. I love the finishes SriLankan chose for their cabins. They're so exotic and bright, in a non-obnoxious way.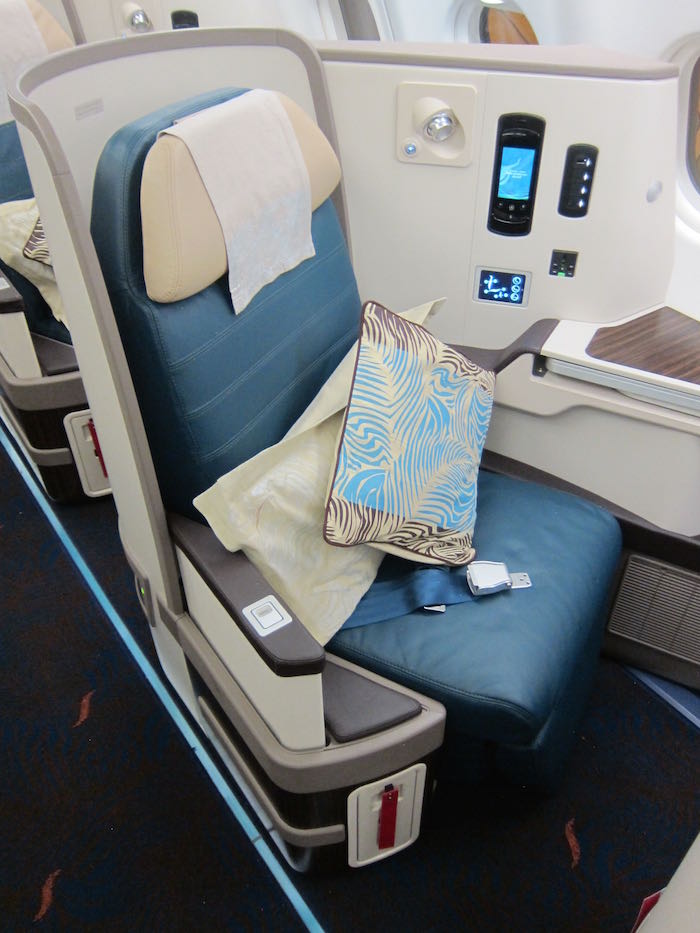 SriLankan A330-300 new business class, seat 3A
The pillow and blanket waiting at my seat perfectly complemented the rest of the design.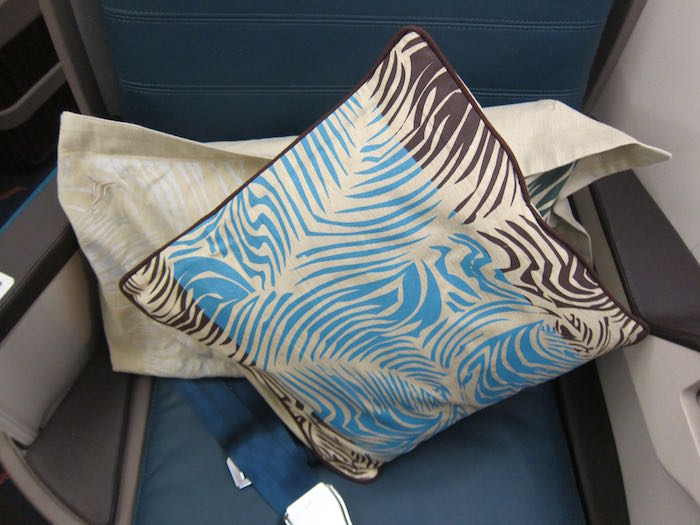 SriLankan business class pillow & blanket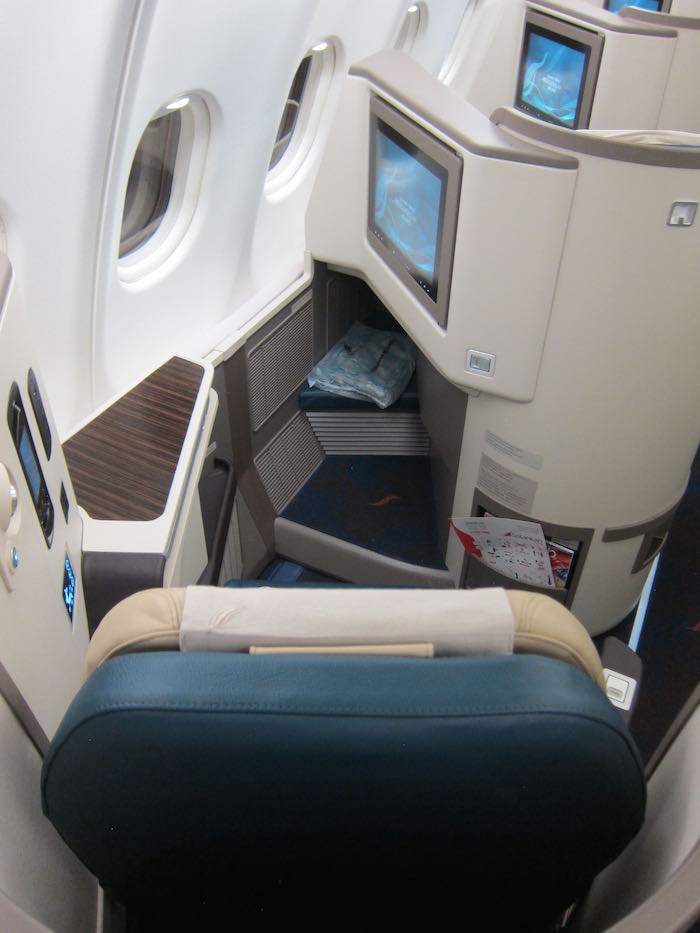 SriLankan A330-300 new business class, seat 3A
As is the norm with reverse herringbone seats, the personal entertainment screen could be deployed at the push of a button, though has to be stored for takeoff and landing.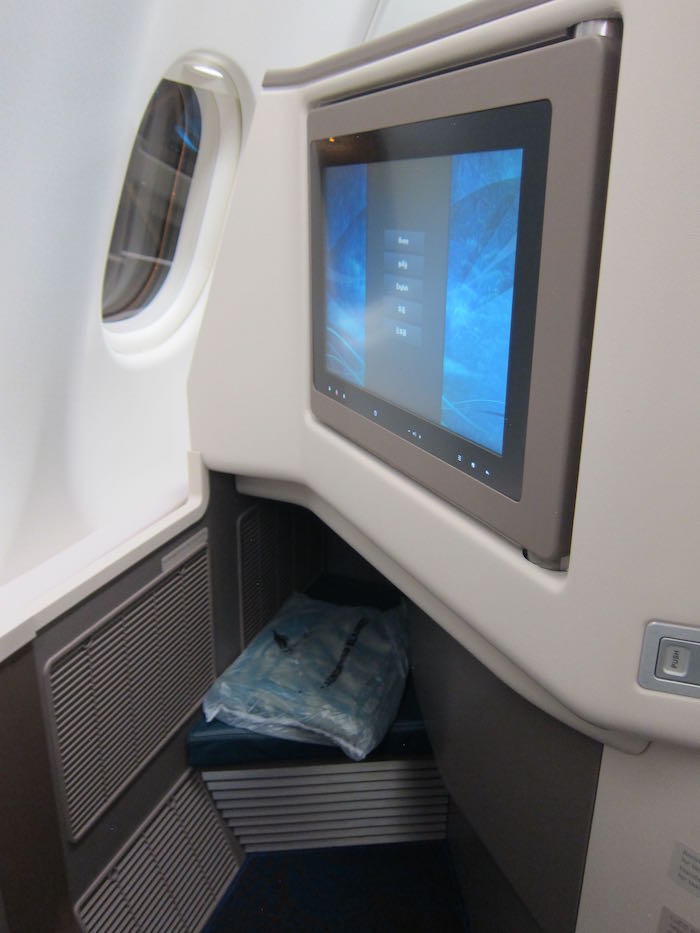 SriLankan A330-300 new business class, seat 3A
To the left of my seat were the controls, including the entertainment and seat controls, as well as a 110v and USB outlet.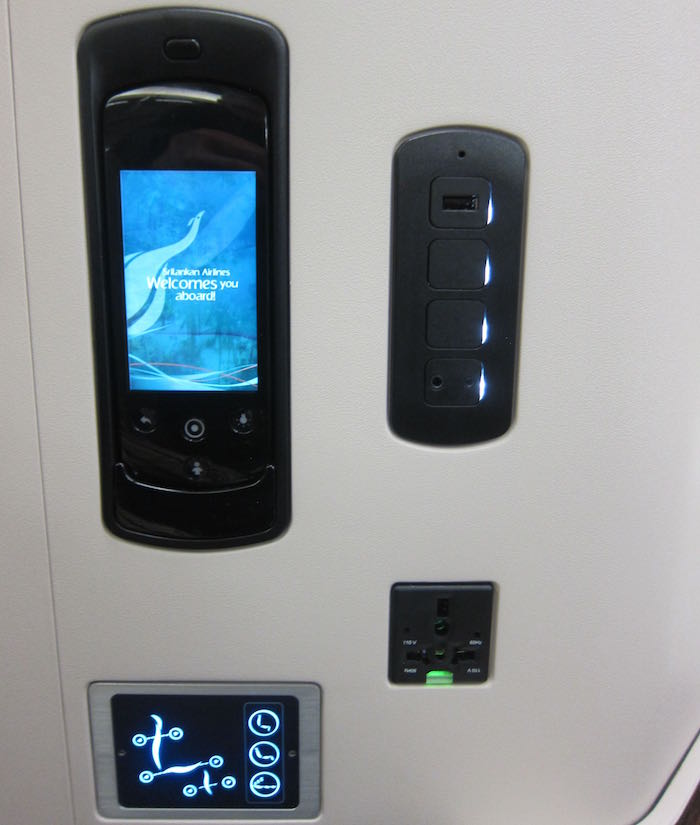 SriLankan A330 business class seat & entertainment controls
On the bottom left side of the seat was an "open" storage area.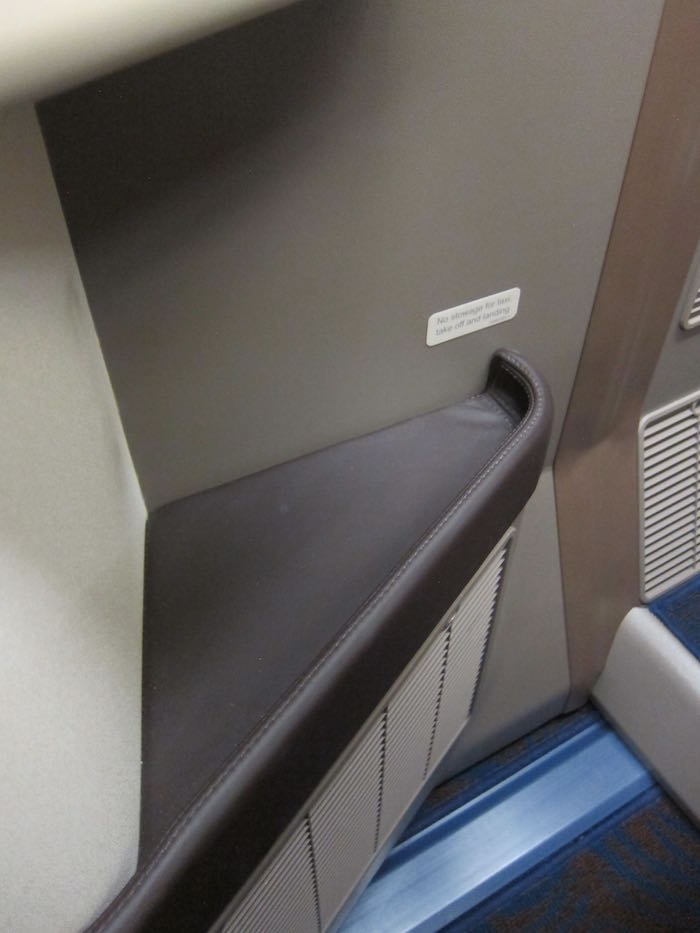 SriLankan A330 business class seat storage
The good thing about reverse herringbone seats (at least from the perspective of a solo traveler) is that they're private even if you're assigned a seat in the center section. You can't really see the person seated across from you.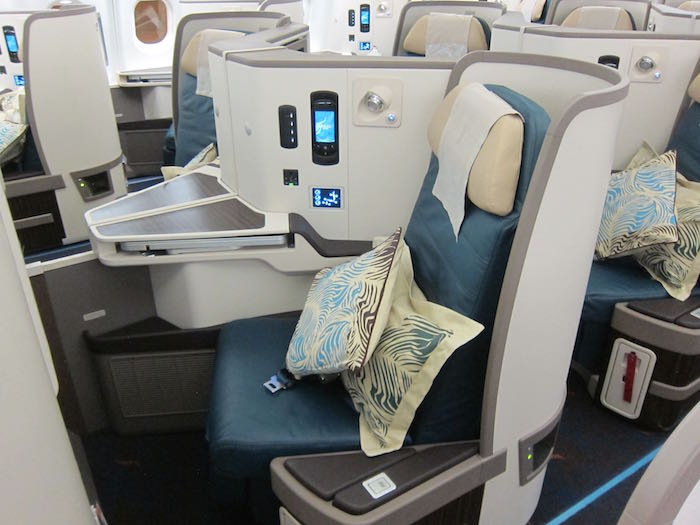 SriLankan A330 business class center seats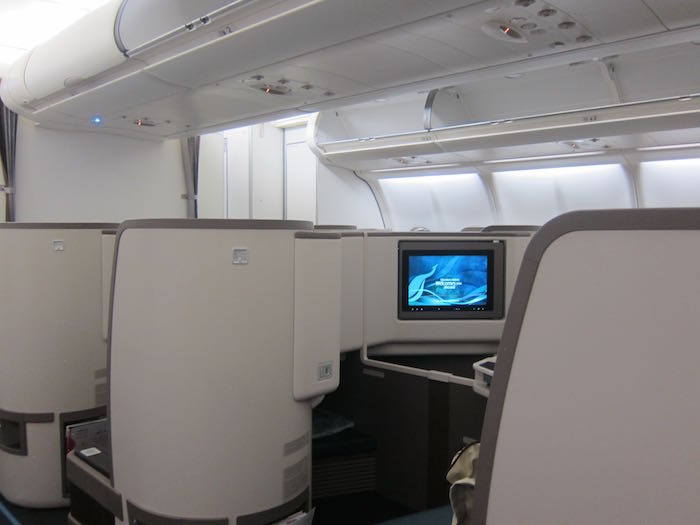 SriLankan A330 business class, view from 3A
Having just flown from Hong Kong to Bangkok to Colombo on SriLankan, I was underwhelmed by the service on the two sectors. On the first sector the crew was rather indifferent, while on the second sector they were borderline rude. That doesn't at all reflect my past flights on SriLankan, where I've always experienced warm, genuine hospitality.
Fortunately on this sector Renuka more than made up for the crews on the two previous sectors. She was fantastic. And not just because the cabin was empty and because she didn't have anything else to do, but clearly because she loves what she does. As much as I love great hard products, onboard Wi-Fi, and great food/champagne, there's nothing I love more than a flight with genuine hospitality. And Renuka was possibly the most genuine, warm, and hospitable flight attendant I've had.
"Mr. Benjamin, welcome to your cabin. Would you like a glass of bubbly or something else to drink?"
Moments later she served me a glass of Jacquart at my seat.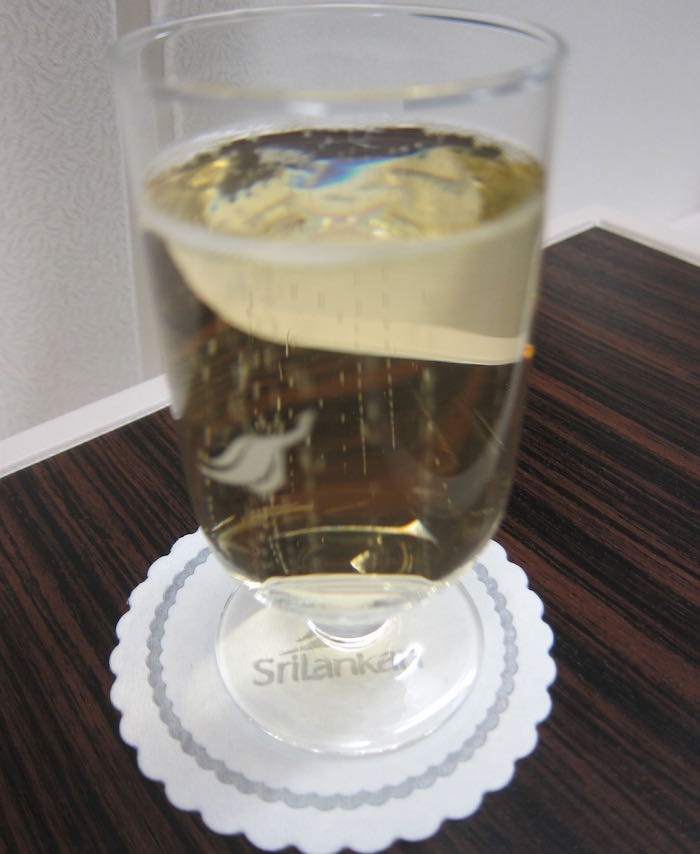 SriLankan Airlines business class pre-departure champagne
Not only did she offer me champagne, but she also brought me some cashews, eyeshades, socks, and headphones.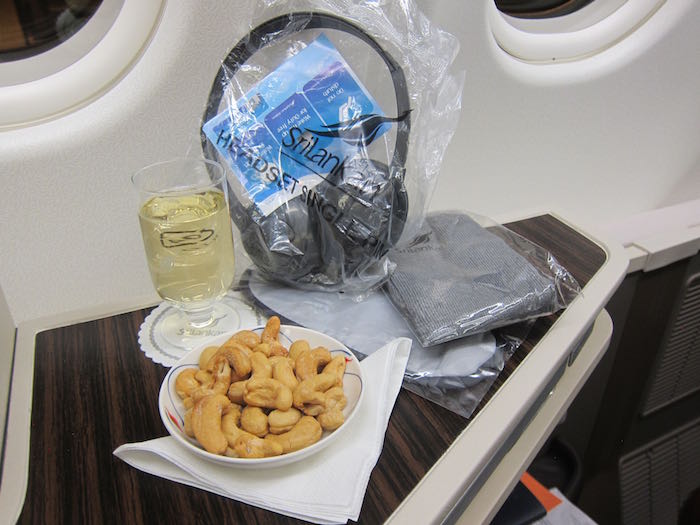 SriLankan Airlines business class pre-departure goodies
And then she brought me my choice of either hot or cold towels.
Then she presented me the menu for the flight.

SriLankan Airlines business class menu
I spoke to Renuka for a few minutes, and she explained that she had just flown in from Jeddah earlier in the morning, had 12 hours of rest, and now was working a quick Colombo to Male to Colombo turn. I said "wow, you must be tired." She just smiled and said "it's no big deal, I love what I do."
She then handed out landing forms for the Maldives. I asked if she had a pen I could borrow. She brought me two SriLankan-branded pens and also a writing kit.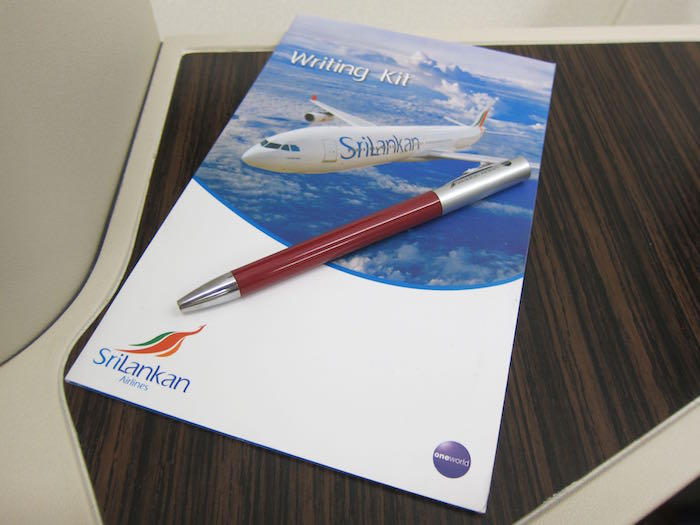 SriLankan Airlines business class writing kit & pen
Renuka kept my glass of champagne full throughout the boarding process. When there was only one glass left and departure was imminent, she said "Mr. Benjamin, will you do me a favor and have one more glass so that the bottle is empty? Then I can serve you a properly chilled one after takeoff." Now that's service! And for the record, they weren't full size bottles of champagne. 😉
At around 12:20AM the captain came on the PA to welcome us aboard this "brand new Airbus A330-300," and informed us of our flight time of 65 minutes, which would put us into Male on schedule.
At 12:25AM we began our pushback, at which point the safety video began to play. Once that was complete the cabin lights were dimmed and mood lighting was turned on, which was pretty spiffy.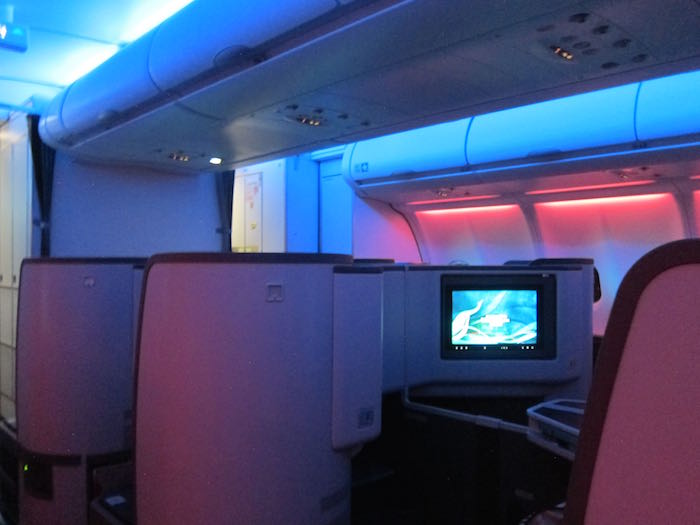 SriLankan A330 business class mood lighting
Our taxi took just under 10 minutes, and at 12:35AM we were airborne on runway 22.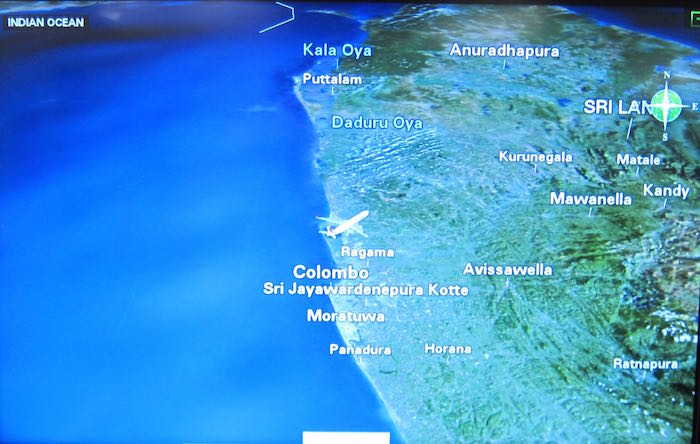 SriLankan Airlines airshow enroute to Male
As we climbed out I browsed the extremely extensive entertainment selection, which is much better than what's available on SriLankan's other planes.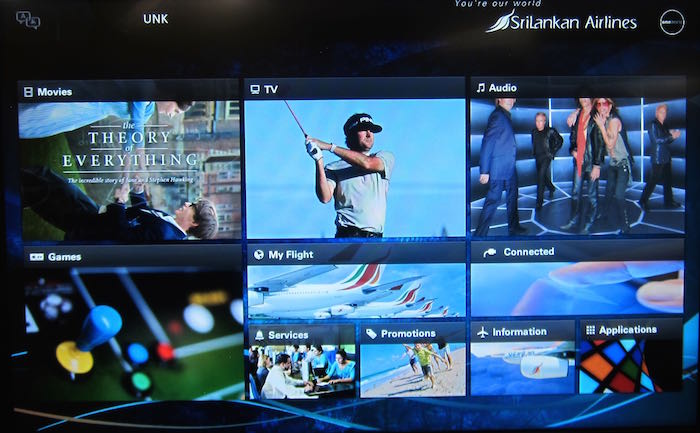 SriLankan A330-300 entertainment selection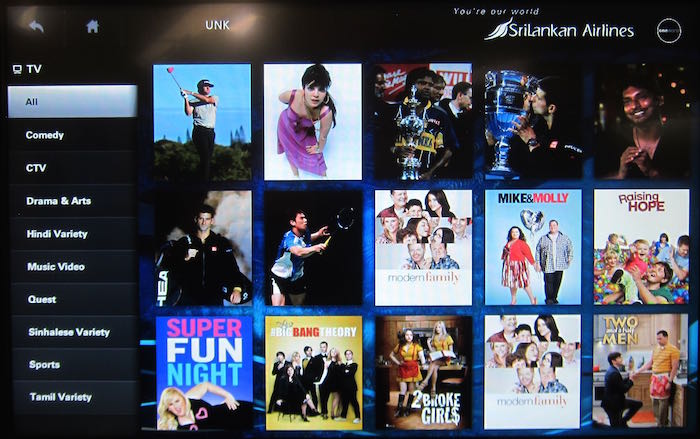 SriLankan A330-300 entertainment selection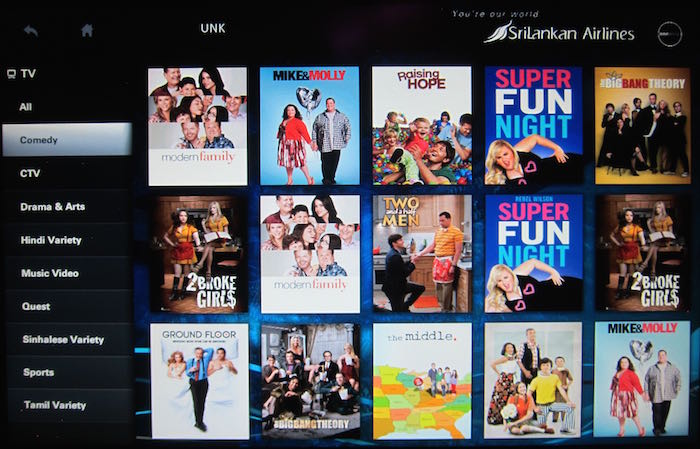 SriLankan A330-300 entertainment selection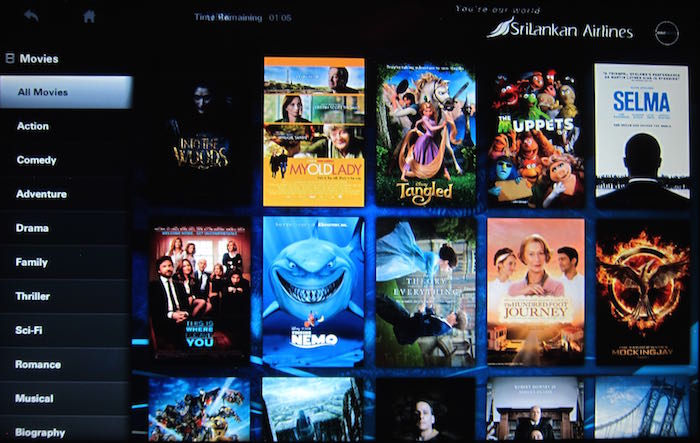 SriLankan A330-300 entertainment selection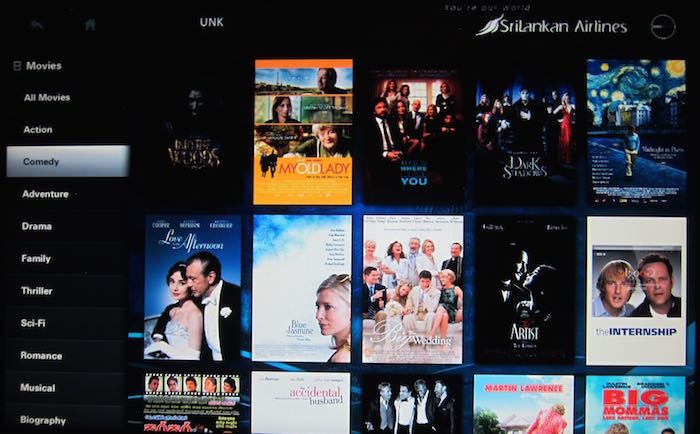 SriLankan A330-300 entertainment selection
They even have a couple of plane-mounted cameras, though that's less useful on a nighttime flight.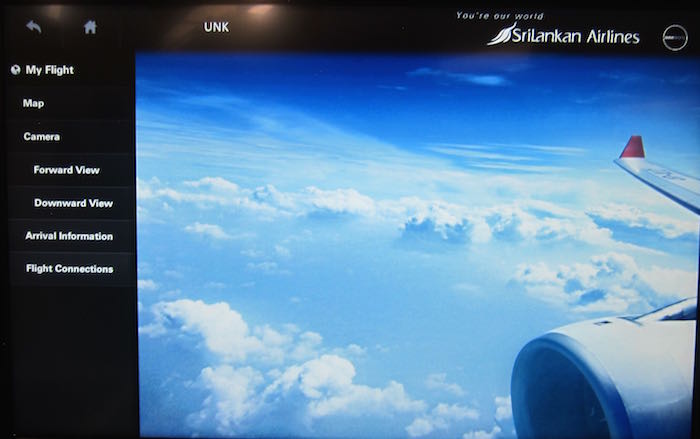 SriLankan A330-300 entertainment selection
Our climb out was smooth, and about 10 minutes after takeoff the seatbelt sign was turned off.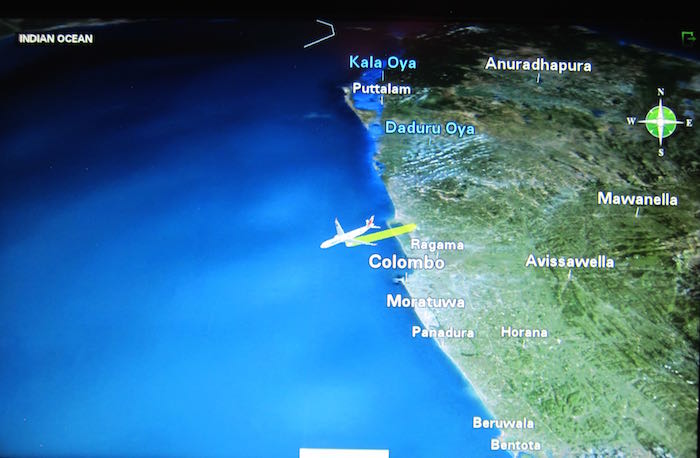 SriLankan Airlines airshow enroute to Male
The other cool feature of SriLankan's new A330-300s is that they feature onboard Wi-Fi. Of course I wasn't going to get real use out of it on an hour flight, but I figured I should give it a try.
It was my hope that they had an unlimited data plan (in case I fly SriLankan's A330-300 in the future on a longer flight), but unfortunately they didn't.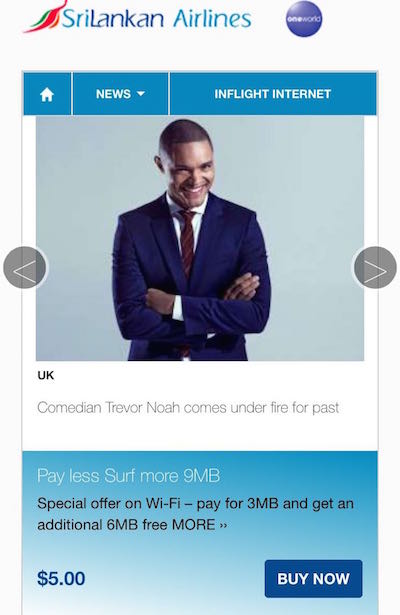 The Wi-Fi definitely wasn't cheap, though it's not the most expensive out there either. 100MB of data cost $25.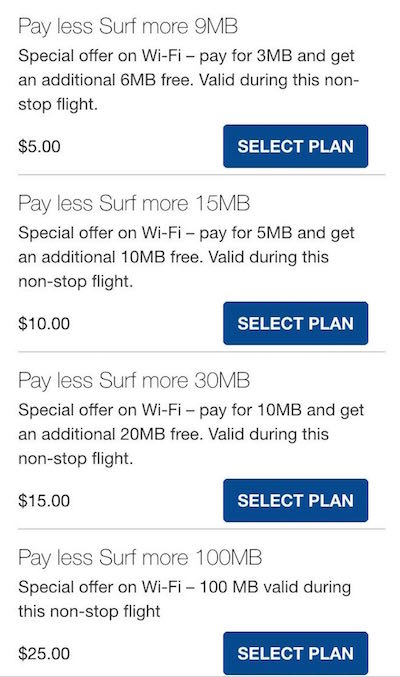 Once the seatbelt sign was turned off Renuka came by to take my snack order. The menu read as follows: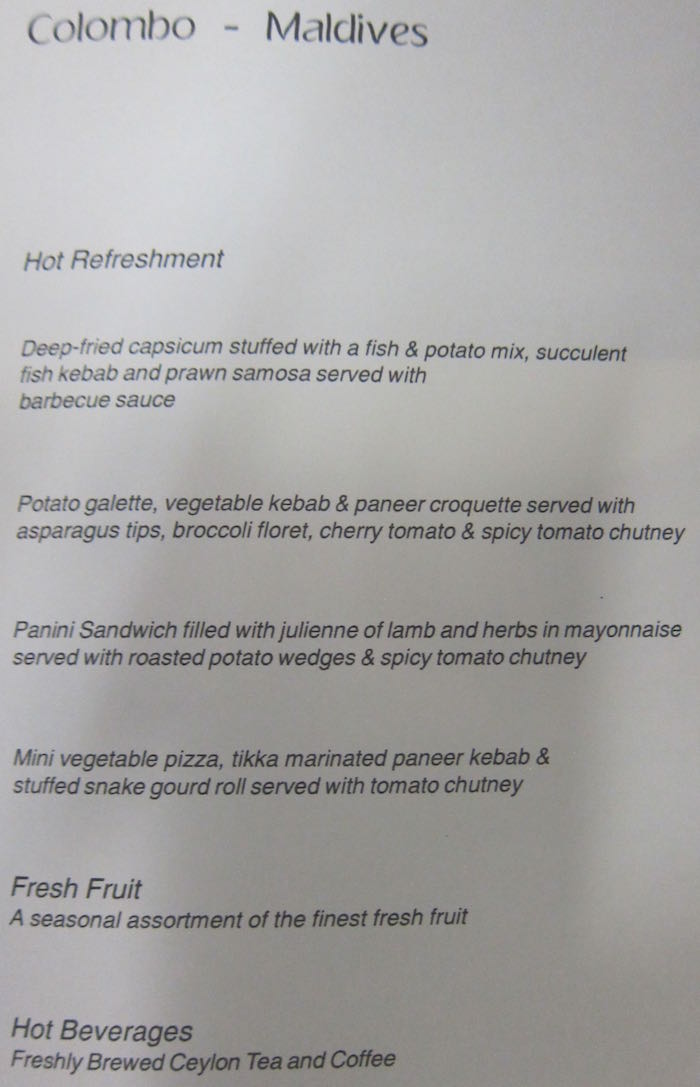 And the beverage list read as follows: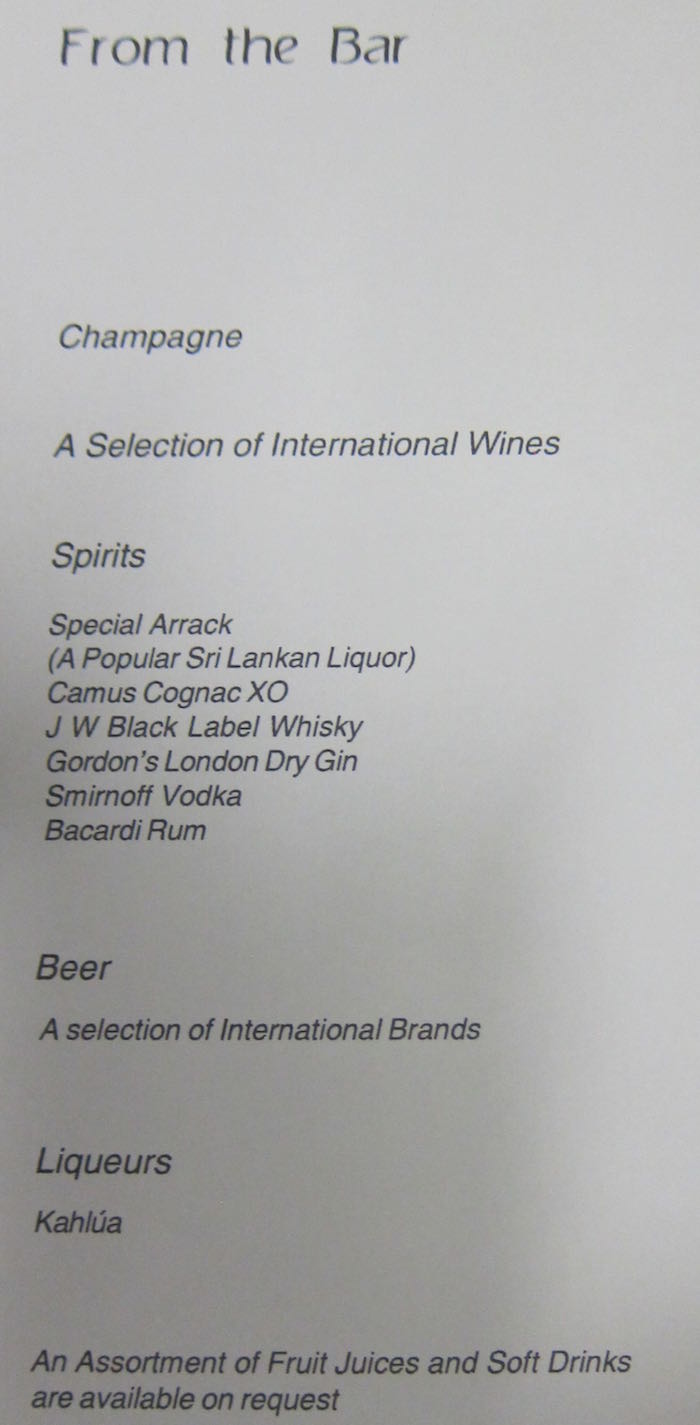 I know I'm a moron, but I did have to check with her to make sure the "stuffed snake" wasn't actually stuffed snake. She giggled, and assured me it wasn't.
Without even asking Renuka brought me another glass of champagne and some cashews after takeoff.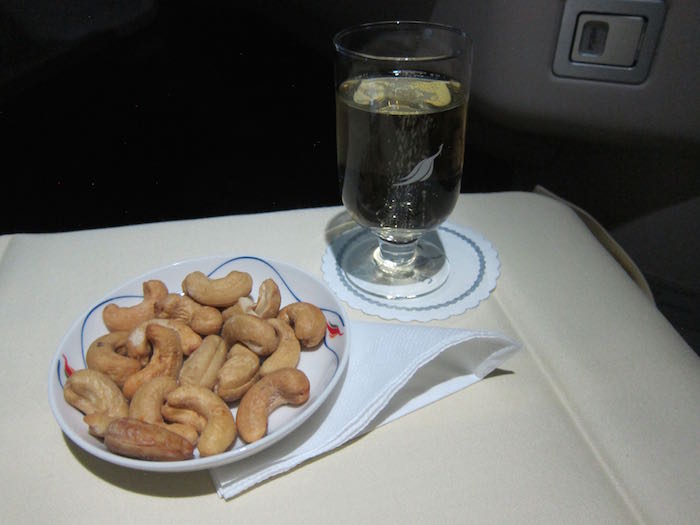 SriLankan business class champagne & nuts
Moments later I was served the snack. Since this was just an hour-long flight she said "may I prepare some coffee or tea for you to enjoy after your snack?" I asked for some coffee.
The snack was impressive for an hour-long flight leaving in the middle of the night. It wasn't gourmet, but actually tasted quite good.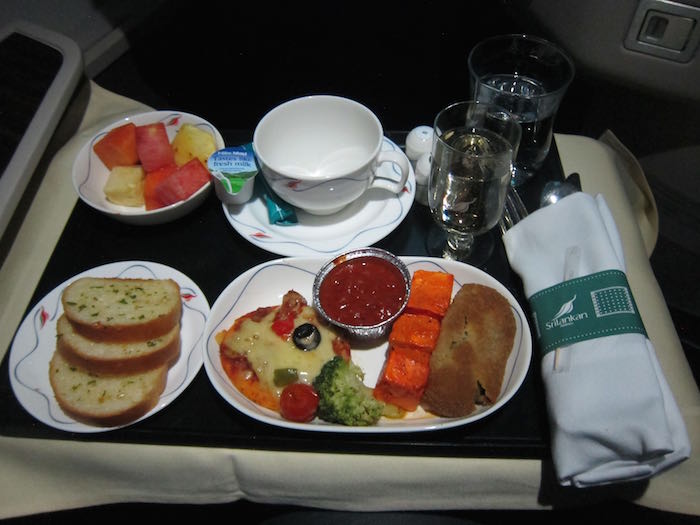 SriLankan business class snack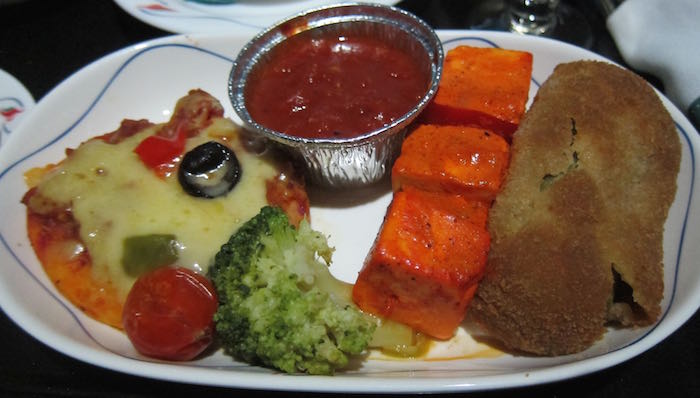 SriLankan business class snack
Once I was served coffee, Renuka came by to say "Mr. Benjamin, you know what goes really well with coffee? Champagne. May I bring you another glass?" Hah!
"Renuka, it's not often I turn down champagne, but I'm okay, thanks."
"Okay, then I insist you have some Kahlua with your coffee." She brought me a double.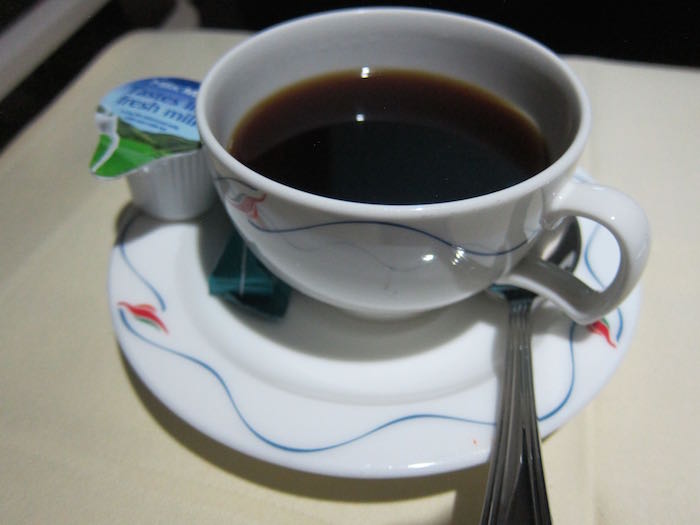 SriLankan business class coffee
I didn't want to waste it, so quickly poured it into my coffee. When she noticed the tumbler was empty, she brought me another one.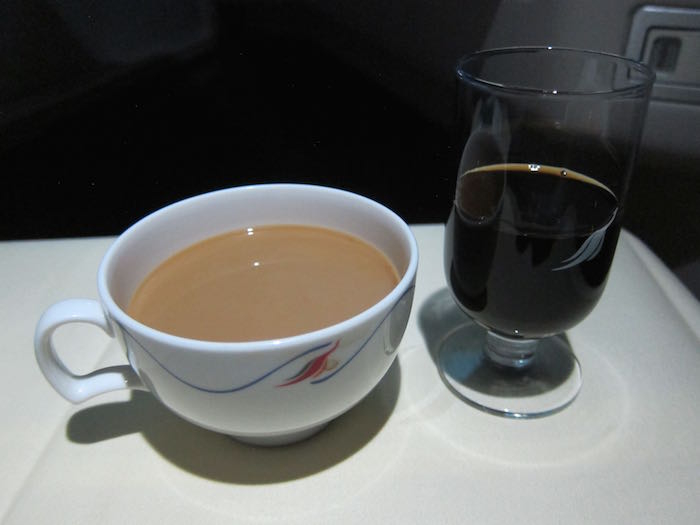 SriLankan business class coffee and liqueur
It's definitely one of those things where "you had to have been there to fully appreciate it," but Renuka was just awesome. She genuinely made me smile with her warmth. There's business/transactional hospitality, and then there's genuine hospitality, and Renuka was clearly serving hospitality realness.
As we began our descent the cabin manager stopped by my seat to see how I enjoyed the flight. I complimented the business class seats and in particular Renuka, and he responded "yeah, she's always like that."
There's a 30 minute time change between Colombo and Male, and we touched down into the North at around 1:10AM, and then had a roughly five minute taxi to our stand from there.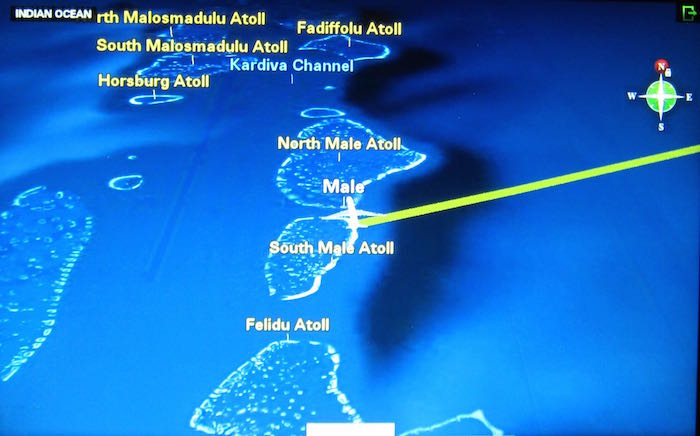 SriLankan Airlines airshow enroute to Male
Male Airport has a single runway and only has a taxiway in the center of the runway, so you touch down, back taxi the length of the runway, and then exit again in the middle.
We parked right by the terminal building, next to a FlyDubai 737.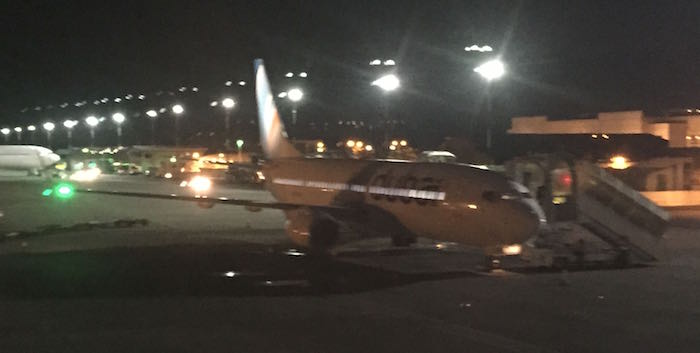 FlyDubai 737 Male Airport
Thanks to the proximity to which we parked at the terminal, there was no need to take a bus — we could walk directly to immigration.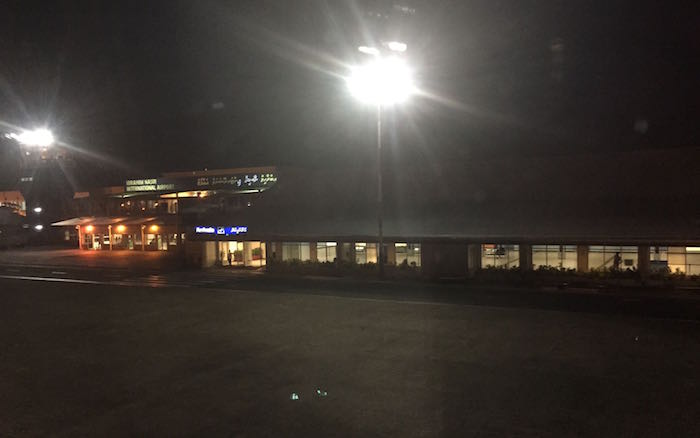 Male Airport terminal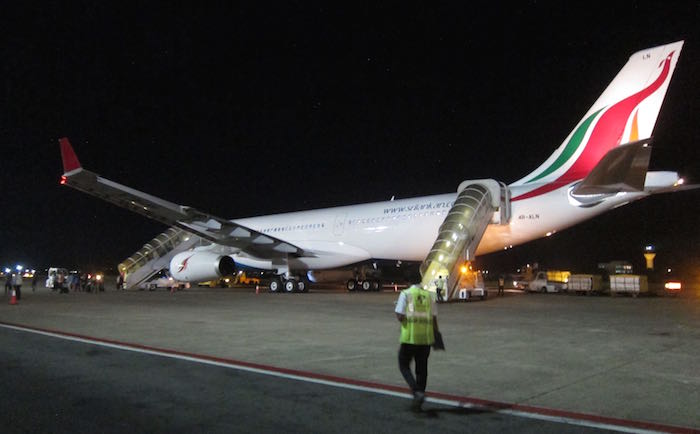 SriLankan A330-300 upon landing in Male
There were no queues there, and I was through within moments.
SriLankan's new business class bottom line
There aren't many things in life that are more enjoyable than a (pleasant) surprise. In this case I was expecting to get on a run of the mill A320 for the hour-long flight. If anything, it would be the most boring part of an otherwise long travel day.
Instead I got a surprise on so many levels — a plane swap to the flagship plane of SriLankan's fleet on its first flight, a business class cabin all to myself, and one of the best flight attendants I've ever had.
I can't wait until SriLankan has a few more A330-300s in their fleet. As of now they're flying them primarily to Tokyo Narita, Beijing, and Shanghai, and I'd definitely go out of my way to try and fly on one again.
While I'm at it, I should mention that I shared my initial impressions of SriLankan's new business class shortly after the flight, and I had mentioned Renuka in it. A SriLankan captain left the following comment on the post, which I thought was worth sharing:
It may seem bias to write about a fellow colleague, but I thought a few positive words were in order. I've known Renuka ever since I was a teenager at a time I was aspiring to fly as a airline pilot. In an industry that has so many variables, the one constant I've seen is Renuka's professionalism. She is a wonderful human being who is full of possitive attitude, certainly a role model to all those who aspire to be flight attendents. Congratulations Renuka, you make all Sri Lankans proud!