Australia can be one of the toughest destinations to get to on miles if originating in the US. It really isn't that difficult, though, assuming you plan in advance and are at least a little bit flexible.
I swear that half of people who contact our award booking service seem to want to plan a trip to Australia over Christmas about six months in advance with no date flexibility, and that's just nearly impossible.
Here are a few of the best ways to get to Australia in first or business class with a bit of planning:
But there's one other way that I think is often overlooked.
It's not the most direct way to get there, but it's an extremely comfortable way for anyone that thinks getting to a destination can be half the fun.
That's by booking Singapore Airlines Suites/First/Business class through Singapore's KrisFlyer program.
Singapore KrisFlyer miles are fairly easy to come by
Singapore KrisFlyer nowadays partners with all three "major" transferable points currencies, where you can transfer points at a 1:1 ratio:
American Express Membership Rewards
Chase Ultimate Rewards
Starwood Preferred Guest
KrisFlyer was just recently added as a Chase Ultimate Rewards transfer partner, so for tips on redeeming KrisFlyer miles, check out my recent posts:
Redeeming Singapore KrisFlyer miles for travel to Australia
Possibly the most lucrative way to redeem KrisFlyer miles for travel on Australia is exclusively for travel on Singapore Airlines (as opposed to travel on their partner airlines). If you're originating in New York or Los Angeles, you can fly all the way to Australia on the A380.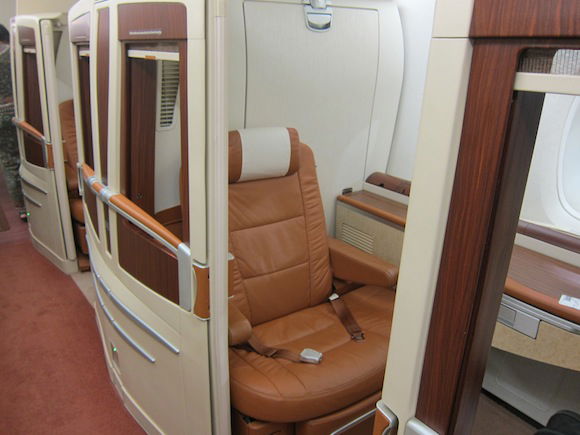 Singapore Airlines A380 Suites Class
First of all, per Singapore's KrisFlyer award chart for travel on Singapore Airlines, here are the redemption rates for first and business class, factoring in the 15% discount for booking online (these rates are for all destinations except Perth and Darwin, which are actually cheaper, but don't have first class service):

So it's by no means cheap, but it's not a half bad value when you think of how much flying is involved.
For example, if you fly from Los Angeles to Tokyo Narita to Singapore to Sydney in A380 first class the whole way, it would cost you 119,000 KrisFlyer miles plus $530.84 in taxes/fuel surcharges: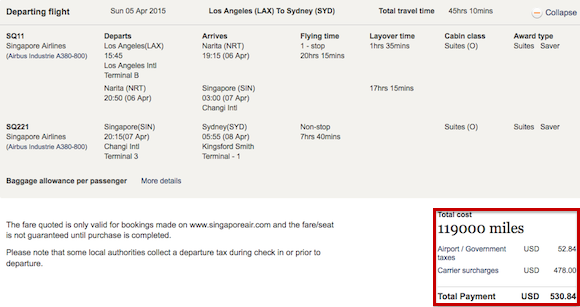 That's potentially 12,683 miles in Singapore Suites Class!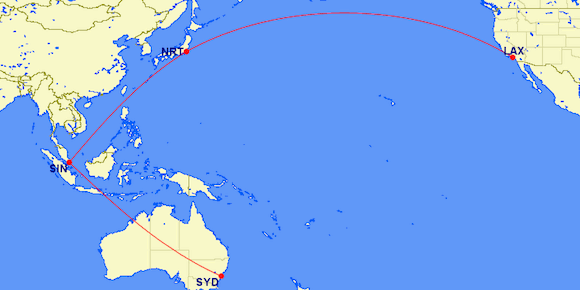 In terms of pricing oddities, when traveling to Australia, Singapore actually charges fewer miles for first class from New York and Houston than from Los Angeles and San Francisco.
So New York to Frankfurt to Singapore to Sydney would cost you 116,875 KrisFlyer miles plus $543.60 in taxes/fuel surcharges.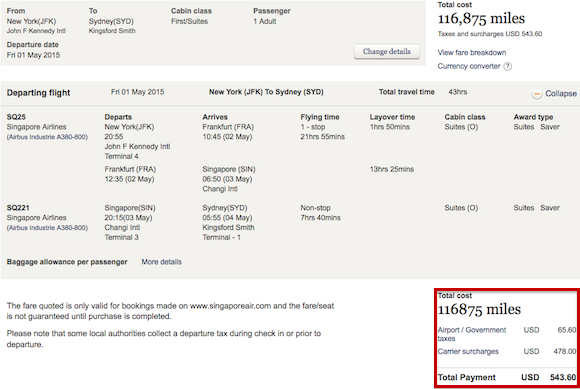 That's potentially 14,153 miles in Singapore Suites Class, and a journey that stops on four continents!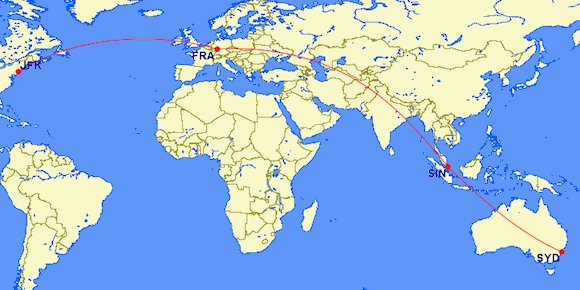 Cheapest way to "really" experience Singapore Suites
Assuming you don't have quite that many miles, Singapore Airlines also has very reasonable redemption rates for travel between Singapore and Australia. They charge just 63,750 KrisFlyer miles for Suites Class.
Ultimately there are shorter and cheaper routes on which you can experience Singapore Suites Class, like Hong Kong to Singapore, though I think this is one of the shortest routes on which you can actually experience the product and get some rest.
Singapore Suites award availability
Until somewhat recently, Singapore Airlines only released one Suites Class award seat per flight on routes to the US.
That was rather unfortunate, because one of the greatest benefits of Singapore Suites is the "double bed," which it's somewhat difficult to fully enjoy alone.
However, as of late Singapore has started sometimes releasing two Suites Class award seats per flight to the US, which is exciting.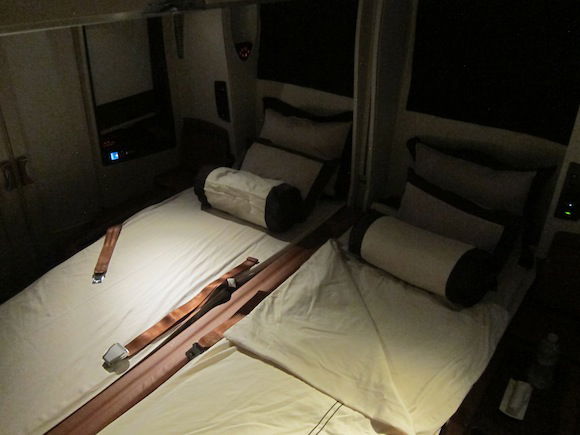 Singapore Airlines A380 Suites Class
Availability isn't good at all close to departure, but if you plan far in advance availability is good. For example, looking at availability for next May, more than two thirds of dates have two Suites Class award seats available from Los Angeles to Tokyo Narita to Singapore. Singapore KrisFlyer opens up their award calendar 355 days before departure.
Stopovers on Singapore Airlines awards
As a reminder, Singapore allows one stopover on a roundtrip award. If you just book a one-way then you're not allowed any stopovers of more than 24 hours.
To book a stopover, simply select the "Multi-City" option on the award search page.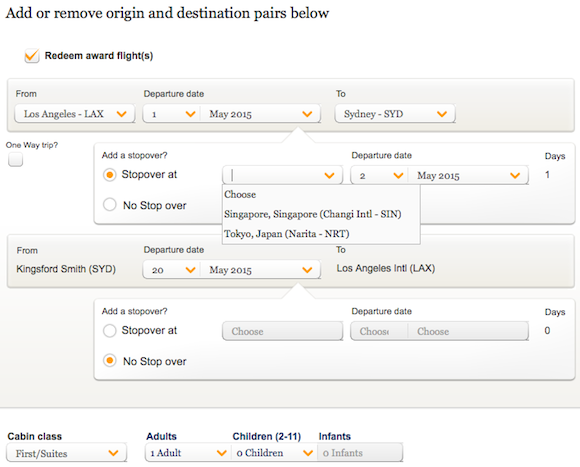 Bottom line
It's not the cheapest mileage option in the world, though if you're into premium cabin travel and think getting there is "half the fun," then it's definitely worth considering.
That's especially true for an aspirational trip, like an anniversary or honeymoon, assuming your significant other enjoys flying as well.
If you don't have enough miles to redeem for Singapore first class to Australia all the way from the US, you can instead redeem for travel between Singapore and Australia for fewer miles.