Recently Emirates finally revealed its new premium economy cabin, as well as refreshed other cabins on its new signature A380. We now also know the first route to get this plane, even if premium economy won't initially be sold.
A look at Emirates' new A380 cabins
The Airbus A380 that Emirates recently took delivery of is the first to feature all of these new cabins. Go figure that the airline has just five A380s left to be delivered, which will join the carrier's fleet in 2021 and 2022.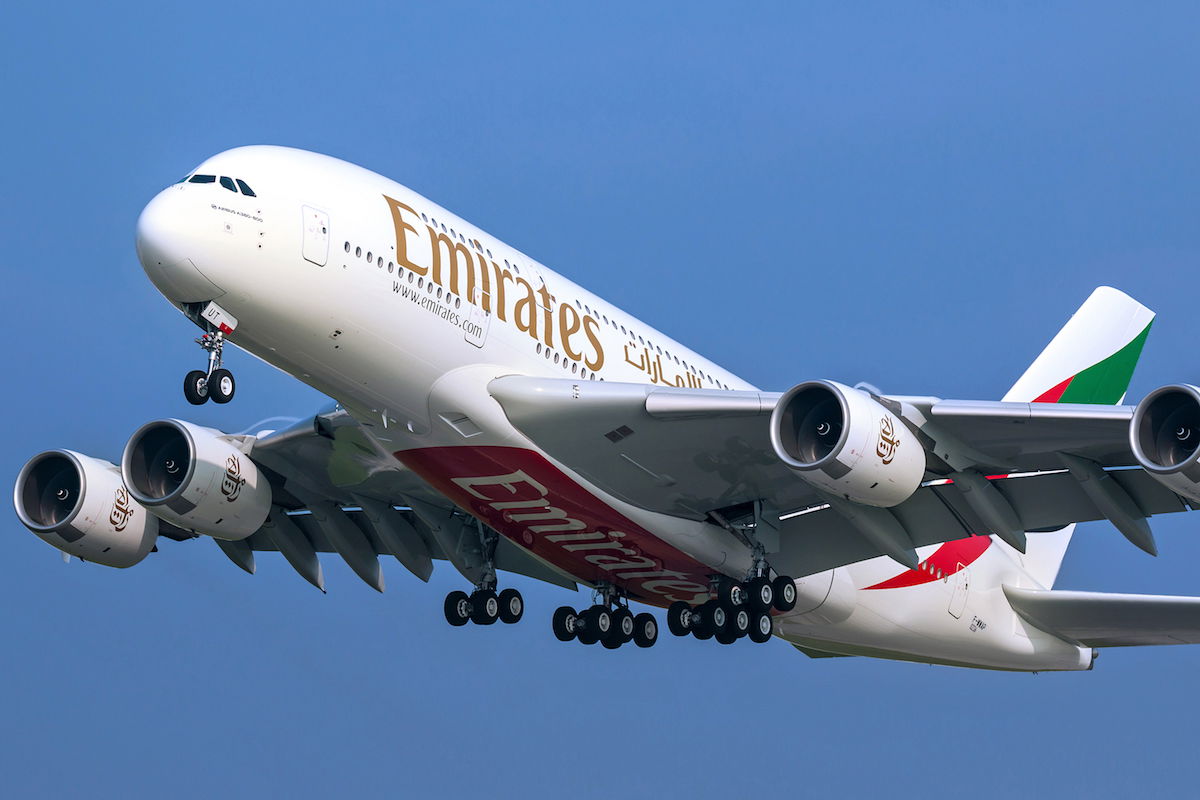 Emirates' newest A380 features premium economy
What can we expect from these new A380 cabins? Let's start with premium economy, since it's a new cabin altogether, and then we'll look at the other cabins.
Emirates premium economy A380
Premium economy is an all new cabin for Emirates, as the airline didn't previously offer this (and for that matter, no major Gulf carrier has offered a premium economy cabin). Emirates A380s will feature a total of 56 premium economy seats, in a 2-4-2 layout. The cabin is at the front of the lower deck, with two dedicated lavatories.
Here are some of the features you can expect in Emirates premium economy:
Seats with up to 40″ of pitch, up to 19.5″ of width, and up to 8″ of recline
Each seat has a 13.3″ screen with the latest ICE entertainment
The seats feature cream-colored anti-stain leather with stitching details and a wood panel finishing similar to business class
Each seat features a six-way adjustable headrest, calf rest, and foot rest
Each seat has in-seat charging points, a wide dining table, and a side cocktail table
For context, this seat is the RECARO PL3530, which is already available on some other airlines, like China Southern and Vistara (though of course the cabin finishes on Emirates are different).
Here are some pictures of Emirates' new A380 premium economy: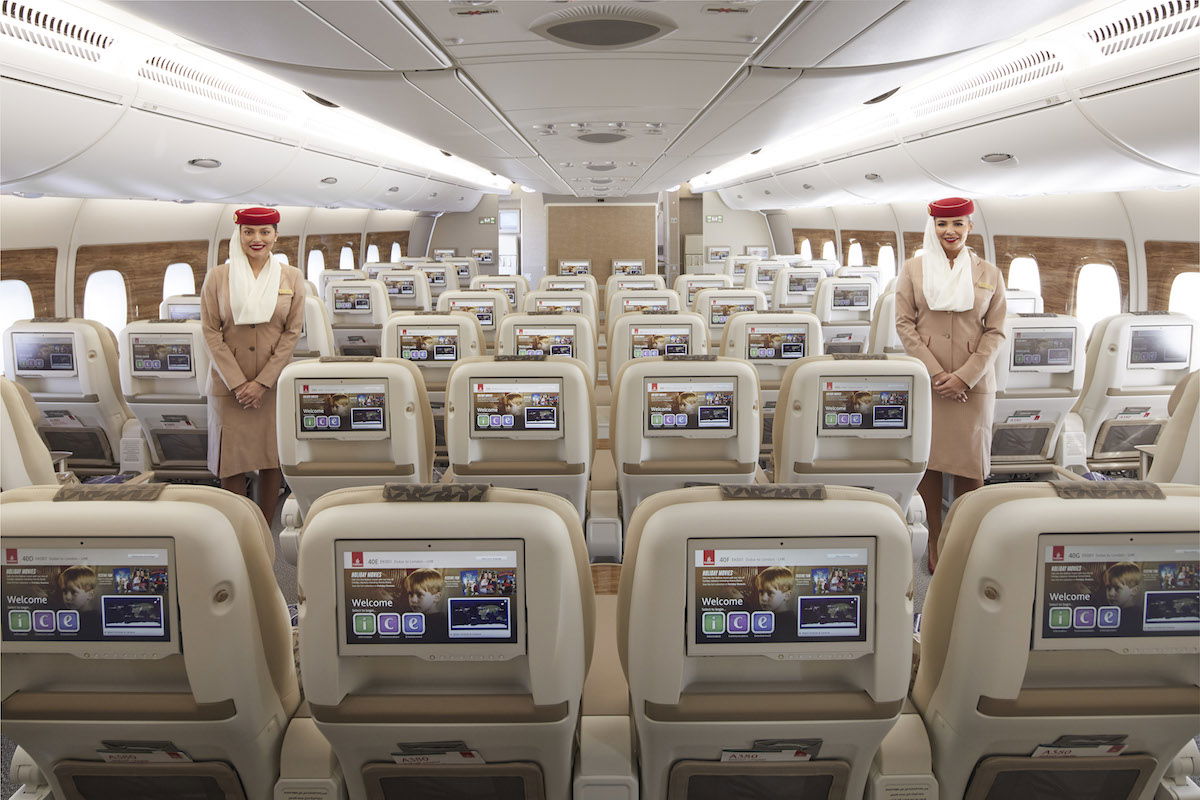 Emirates premium economy cabin A380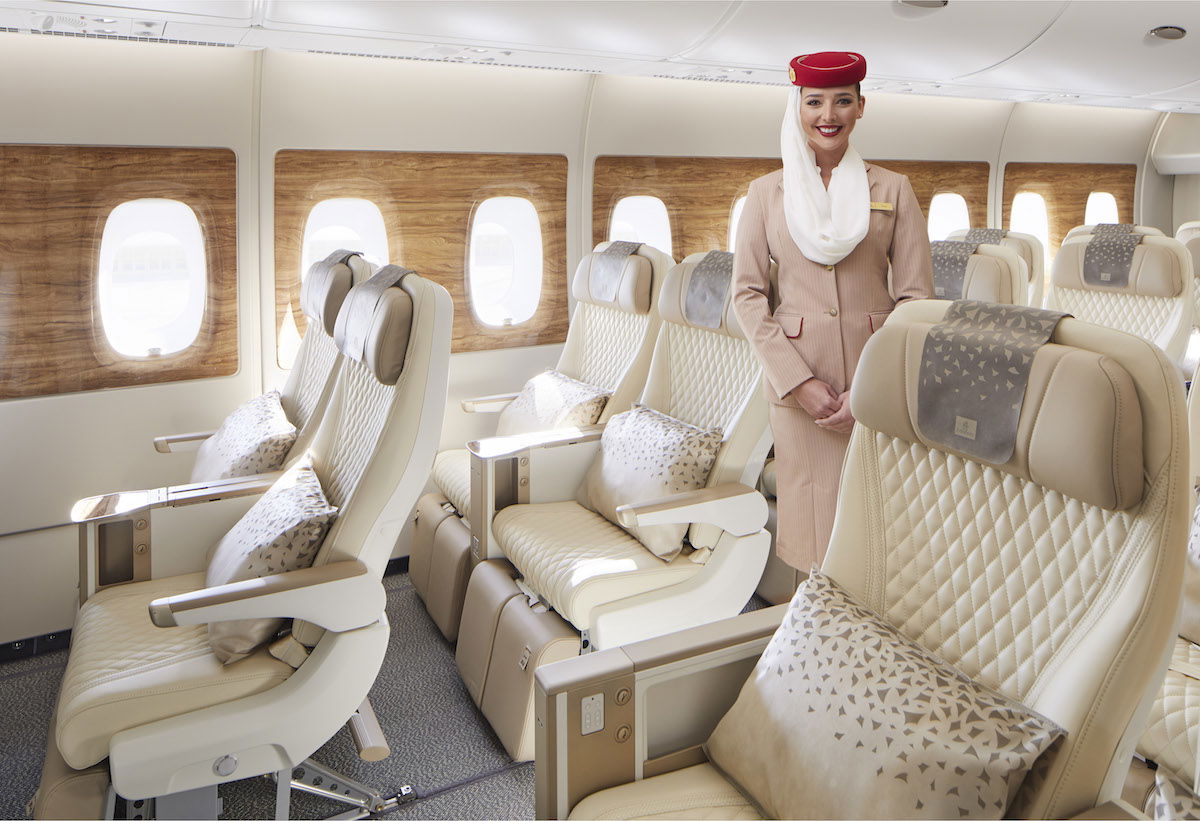 Emirates premium economy cabin A380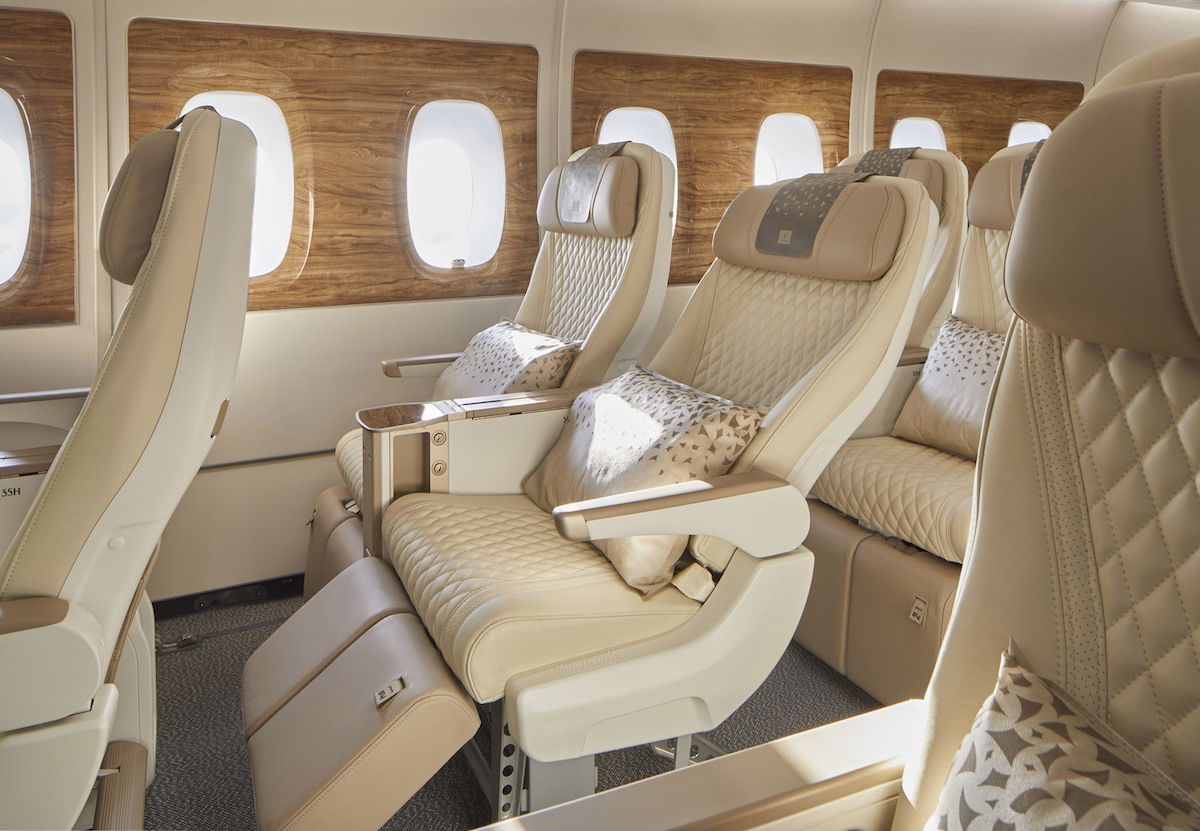 Emirates premium economy cabin A380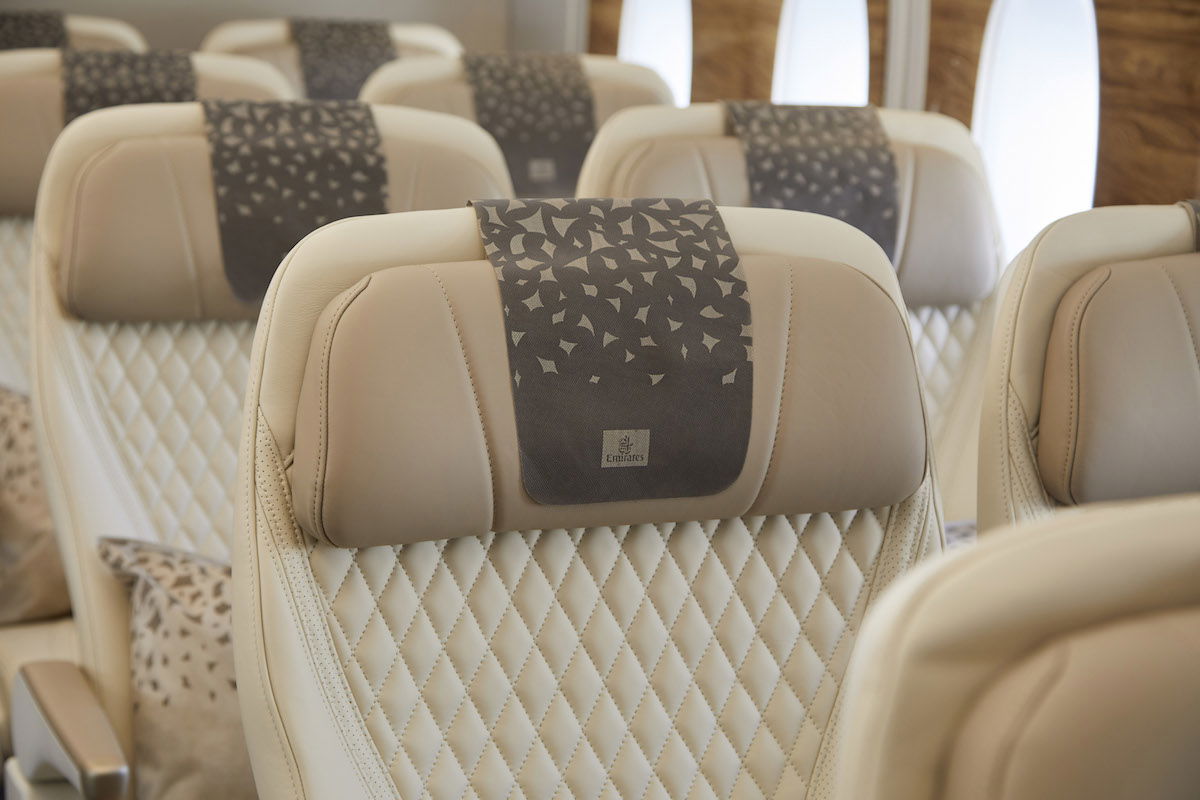 Emirates premium economy cabin A380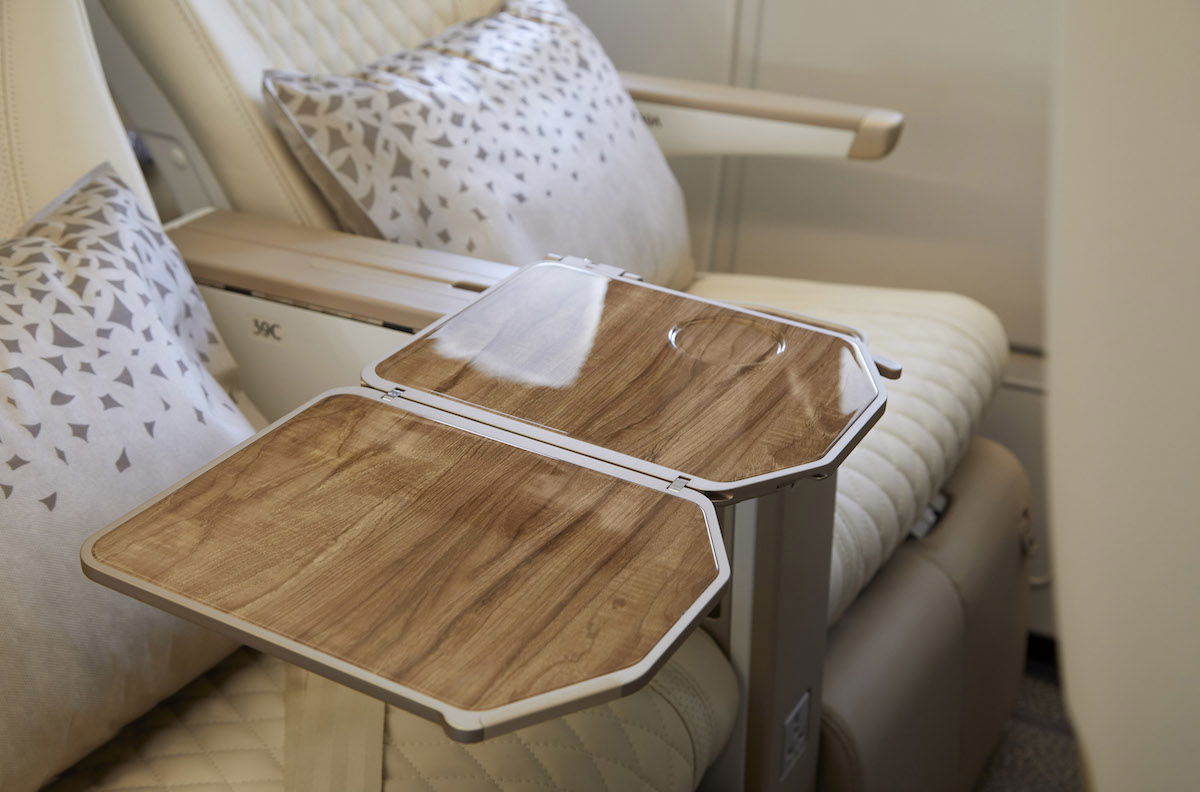 Emirates premium economy cabin A380
Here's a video of the new cabin:
While it was leaked a few weeks ago that this was the type of seat Emirates would choose, prior to that we were expecting a completely different seat, manufactured by HAECO. Why? Back in 2019, HAECO announced that the launch customer for the "Eclipse Cabin" would be a Middle Eastern airline that will begin flying the cabins in 2020.
To many of us that sounded a whole lot like Emirates. This staggered design would have been an incredibly innovative seat that we haven't yet seen at any other airline. It's too bad that this isn't the seat that Emirates has selected.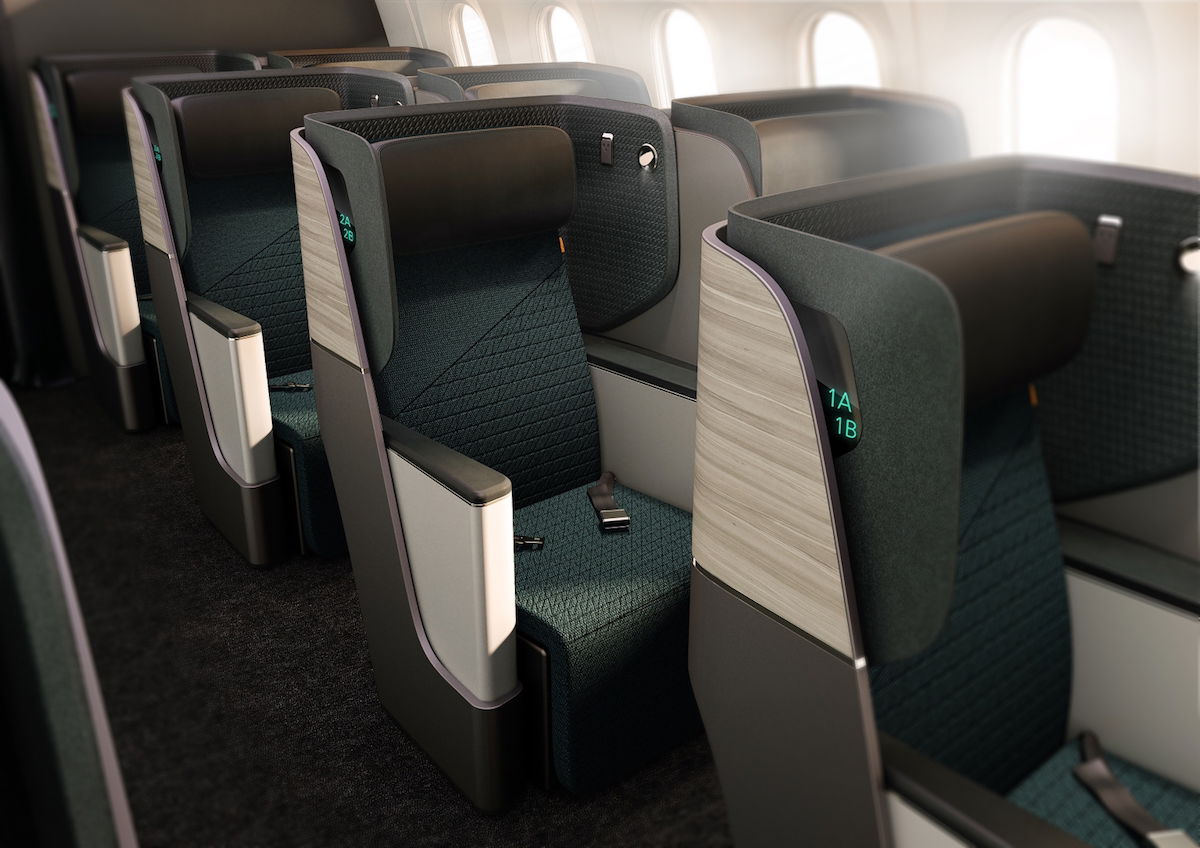 HAECO Eclipse premium economy seat
Emirates first class A380
Emirates has made some very minor changes to its A380 first class, and unfortunately the planes don't feature Emirates' new 777 first class suites.
Instead the 14 first class suites are slightly wider with taller doors, for even more privacy and comfort.
On top of that, you'll see changes to the cabin details, which have also been refreshed with new motifs and colors. You can expect to see more design touches featuring the Ghaf tree motif, as well as more of a champagne-colored scheme, with wood panelling and bronze accents.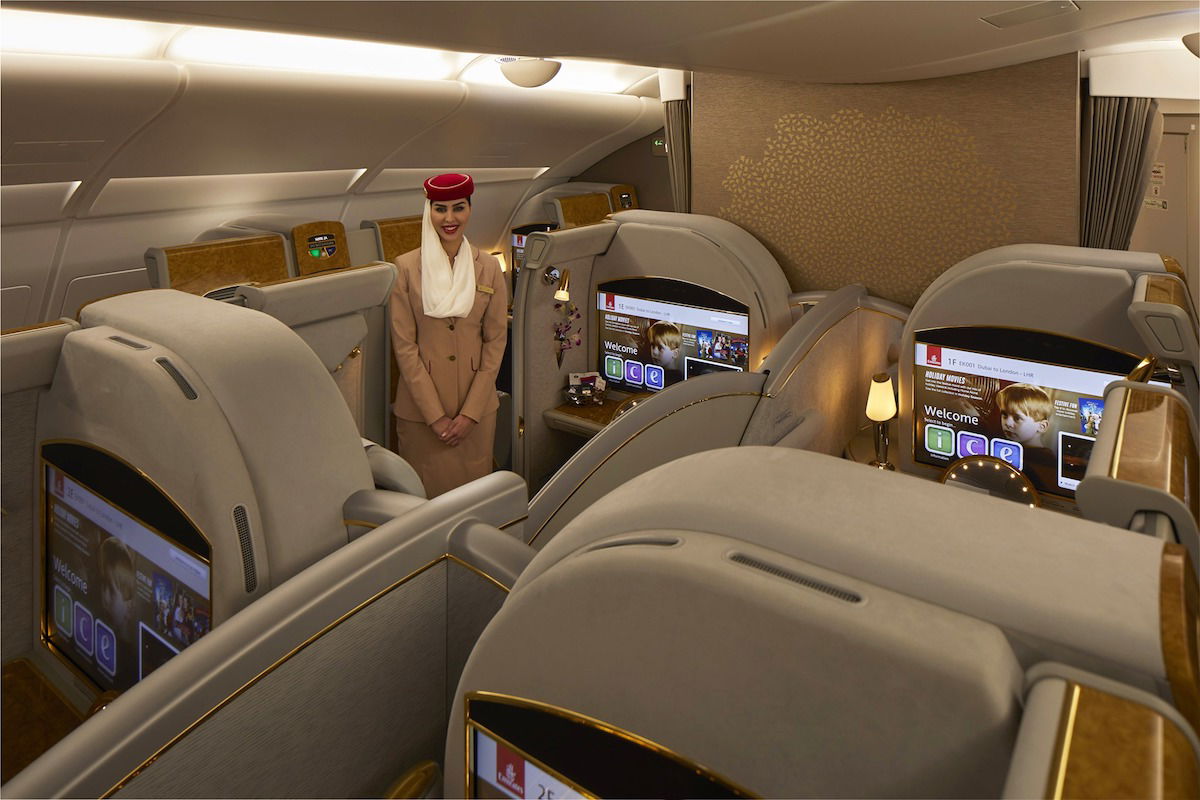 Emirates first class A380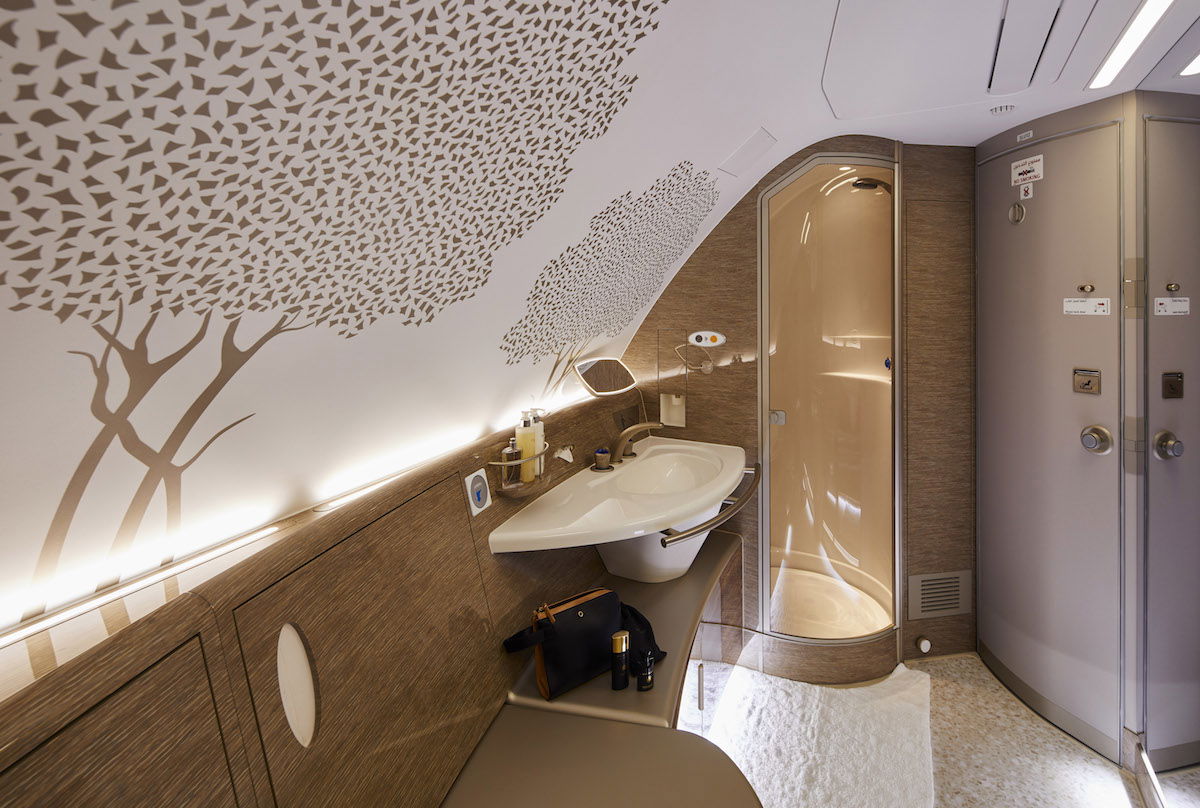 Emirates first class shower spa A380
Emirates business class A380
While the seats as such haven't changed, Emirates has updated the finishes on its A380 business class seats. The 76 seats now feature champagne-colored leather covers and wood finishing. That same color scheme has also been applied to the onboard lounge.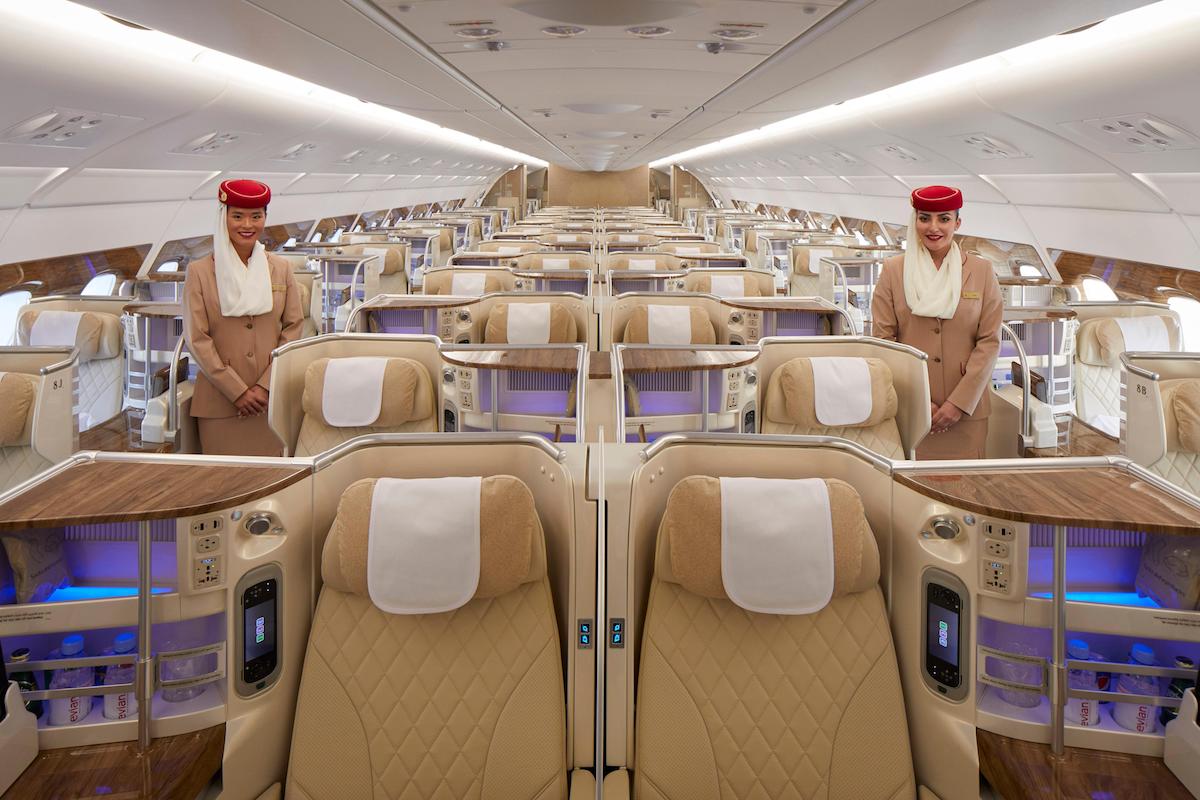 Emirates business class A380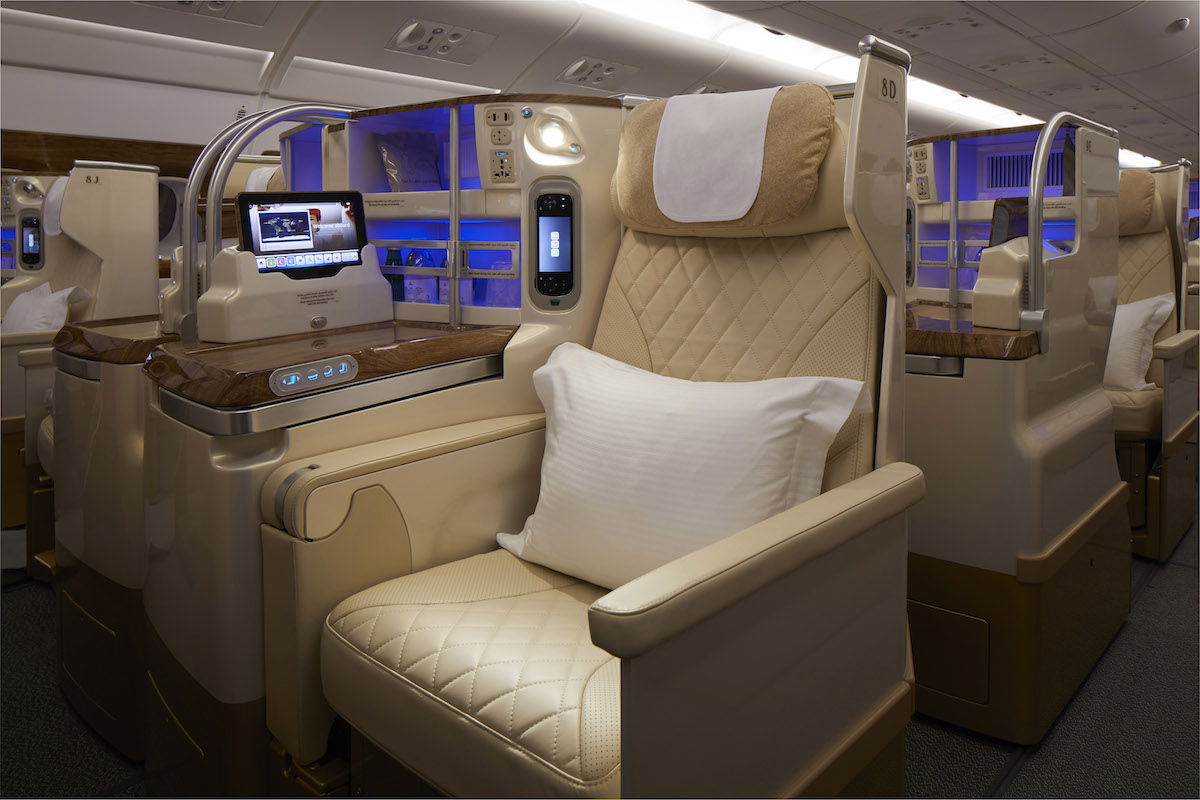 Emirates business class A380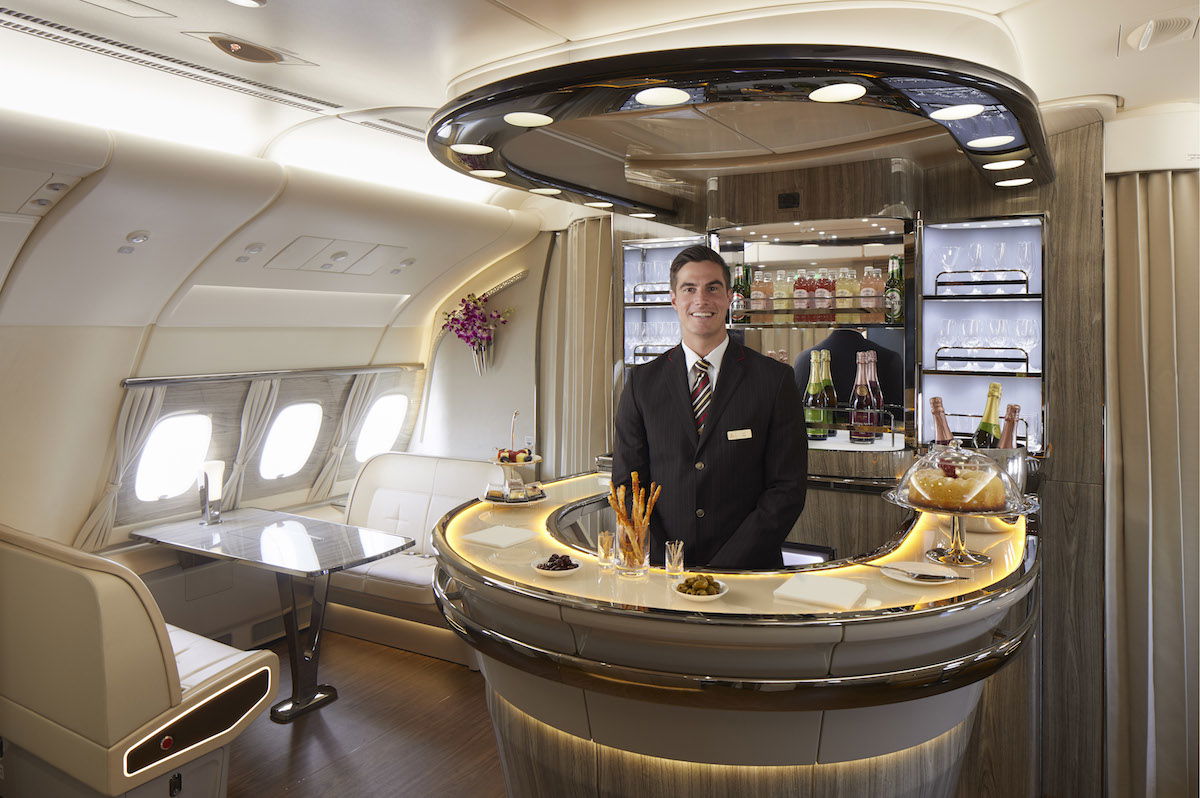 Emirates business class bar A380
Emirates economy class A380
All 338 A380 economy seats feature ergonomically designed seats that come with full leather headrests and flexible side panels, which can be adjusted vertically for optimum support.
Emirates claims that these seats are a step up from what's installed on Emirates' new 777s. The seats are lighter, and Emirates claims that's done without compromising comfort or function (which I'd want to test out myself before believing). 😉
The seats also feature 13.3″ TVs, which are huge for economy.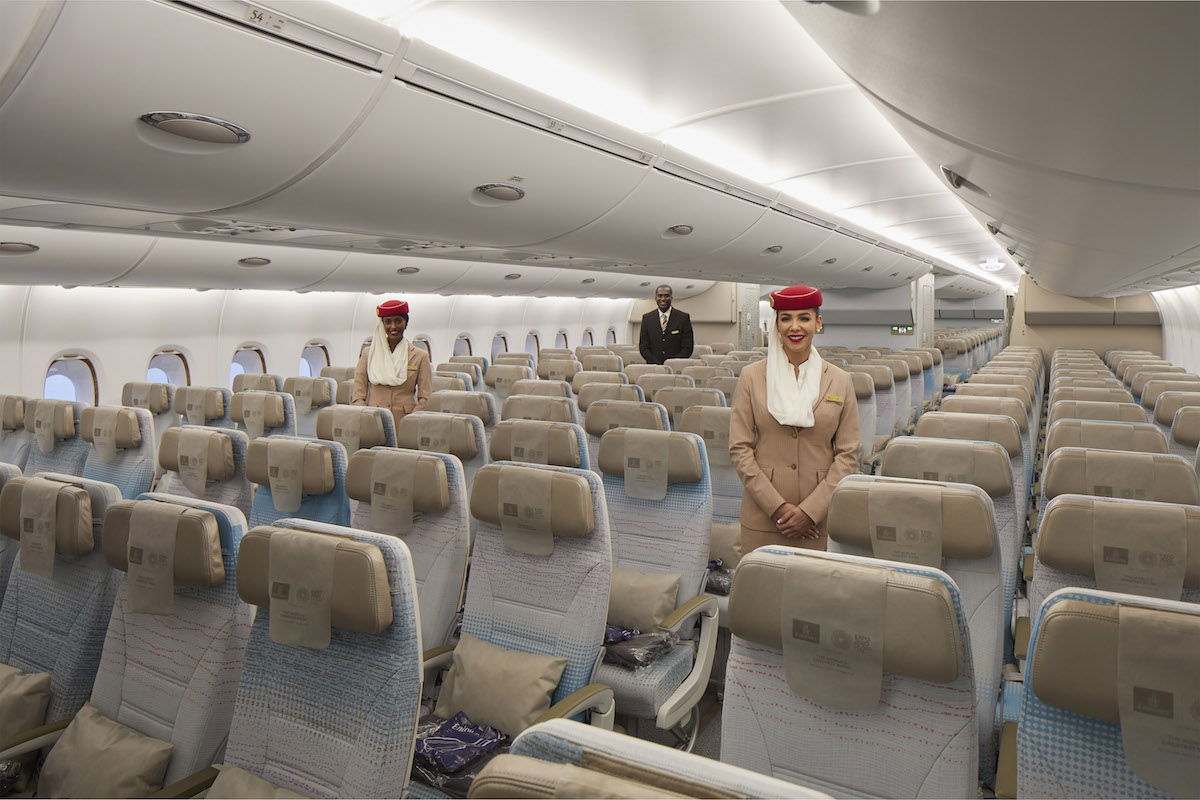 Emirates economy class A380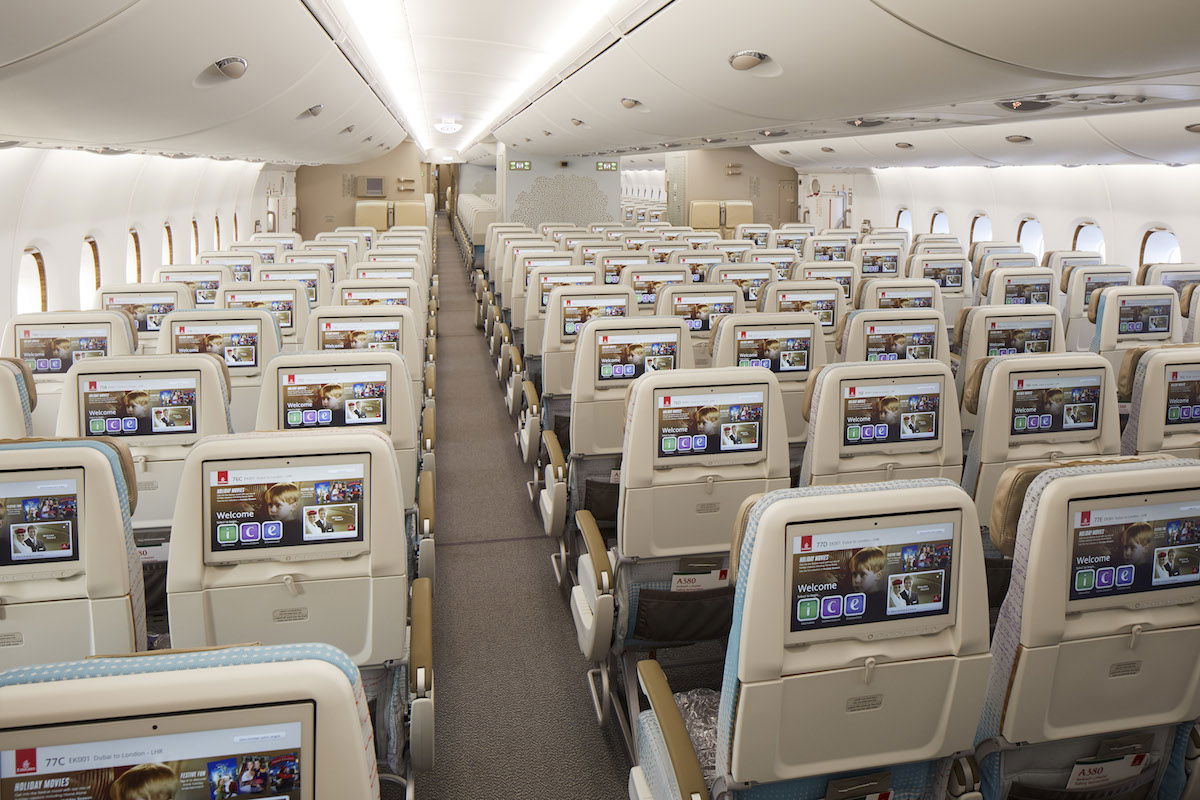 Emirates economy class A380
Which Emirates planes will have premium economy?
Emirates has been talking about introducing premium economy for years (it's the only Gulf carrier onboard with the concept), so when will this product actually go on sale?
First of all, we should expect that Emirates only starts selling premium economy around mid-2021 at the earliest. Executives at the airline believe that a critical mass is needed before it makes sense to start selling and marketing the product.
When could that critical mass be reached, based on other planes getting Emirates' premium economy cabin?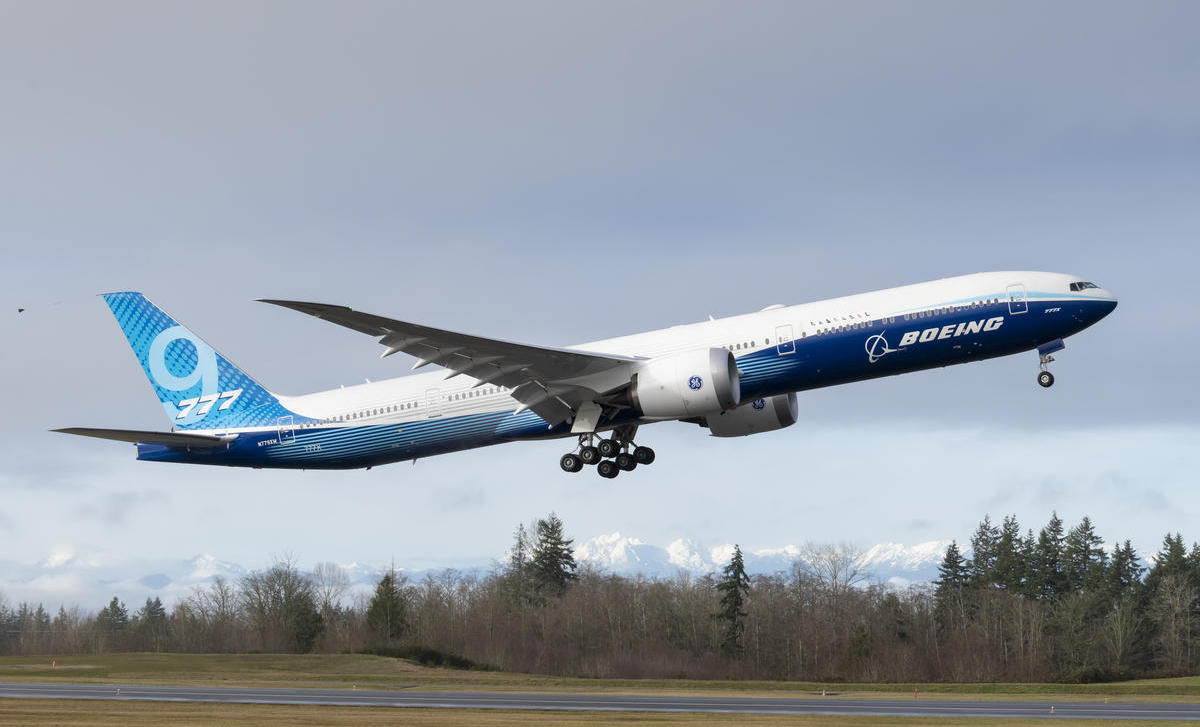 Emirates wont get its first 777-9 before 2023 at the earliest
Emirates sending new A380 to London Heathrow
Emirates has started flying its A380 with premium economy daily between Dubai and London Heathrow. Specifically, the plane operates the following frequency:
EK3 Dubai to London departing 2:30PM arriving 6:20PM
EK4 London to Dubai departing 8:20PM arriving 7:20AM (+1 day)
As mentioned above, Emirates isn't yet selling premium economy. The airline notes that it's offering these premium economy seats "as spot upgrades for valued customers on a discretionary basis."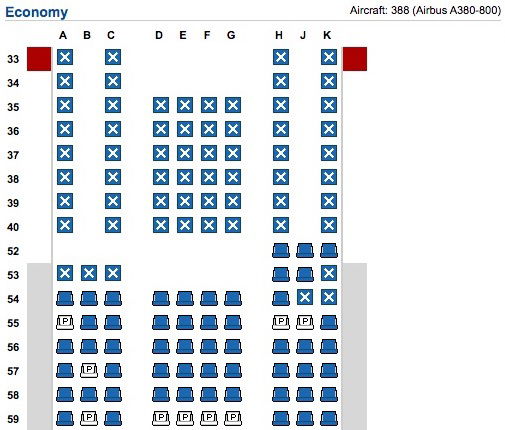 Seatmap for Emirates' A380 with premium economy
It's my understanding that these are only being offered to select elite members at check-in. Emirates isn't looking to just fill the premium economy cabin all the way unless economy is oversold.
Furthermore, for the time being the premium economy cabin will have the same soft product as economy, given that this cabin isn't actually being sold.
Still, if flying between Dubai and London it could be cool to try and book this frequency so you can enjoy the new cabins across the board.
My take on Emirates' new A380 cabins & premium economy
First let's talk about the cabin updates overall, and then we'll talk about premium economy specifically.
Personally I love Emirates' updated cabin finishes. The use of the Ghaf tree motif and the champagne-colored scheme is so much more understated and elegant than Emirates' initial cabin designs, which looked like a Las Vegas casino in need of a refresh (and I mean that in an endearing way). So I think Emirates did a great job there.
The issue will be inconsistency — we'll only get these updated finishes on five A380s. Emirates currently has several generations of A380 finishes (with different onboard lounges, different monitor sizes, etc.), so there really won't be much consistency here. While Emirates is great with fleet inconsistency in terms of the types of planes it has, the same can't be said for the interiors.
As far as premium economy goes, Emirates went with an average premium economy seat here, which is rather underwhelming for an airline that's just introducing this product in 2020, especially when there are several innovative products out there. That being said, I do think Emirates did a phenomenal job with the finishing touches of the seat, from the cocktail table, to the leg, calf, and foot rest.
Emirates' new premium economy is ultimately a nice middle-ground between economy and business class — it's not so nice that it will cannibalize much business class demand, but it's a huge step up from economy.
Bottom line
Emirates' first A380 featuring premium economy has now been delivered. It's expected that premium economy will go on sale as of mid-2021 at the earliest, as the airline feels a critical mass is needed before selling a new cabin. In the meantime, the new A380 with premium economy is flying between Dubai and London, and select passengers may be assigned premium economy seats.
On top of the new premium economy, Emirates has done a mild refresh to all cabins on the A380, and I sure do like the updates. It's exciting to see Emirates update its cabins in this way, though the only issue is that at this point only a handful of A380s are left to be delivered, and there are no certain plans to retrofit existing planes.
What do you make of Emirates' refreshed A380 and premium economy product?