2012 has been an awesome year for me, especially on the travel front. As you'll see on my Trip Report Index page, I've been on the road quite a bit, and logged over 300,000 butt-in-seat miles. I figured I'd share 10 flights of 2012 that stood out to me as especially memorable.
March: Asiana First Class Seoul to Frankfurt
Asiana doesn't have the world's most modern first class product, though they do probably have the best food and service of any airline. They're now flying their brand new first class suite to Chicago, so I can hardly wait to try it.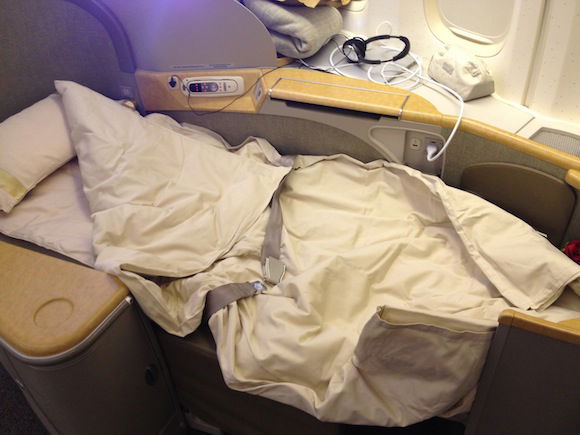 April: Lufthansa First Class New York to Frankfurt
In April I had the opportunity to fly from New York to Frankfurt on one of Lufthansa's reconfigured 747s. Lufthansa is slowly refreshing the first class cabins on their entire longhaul fleet, though there are a couple of different versions of the new product. One version is the product found on the 747-400, which features both a seat and a separate bed. I'm still not sure whether I prefer this or the other version of the new first class product, though you can't beat the novelty of having a seat and a bed.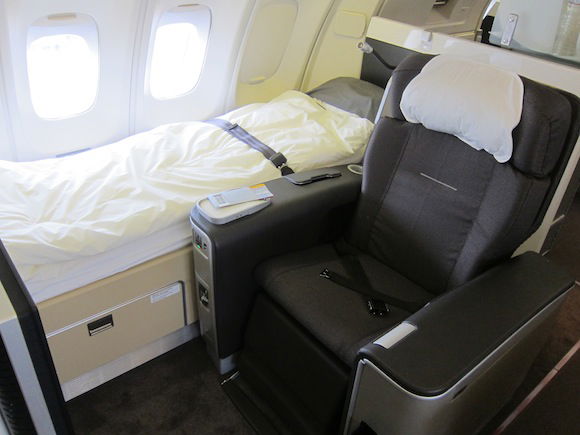 April: Singapore Airlines First Class Singapore to Tokyo
Later in the same trip from Singapore to Tokyo I had what was probably my most memorable flight. Not only was I the only passenger in first class, but this is also the flight where I met Janesis, who must be the most amazing flight attendant (and person) ever. After napping for a few hours on the short redeye I woke up to the below display, which has stuck with me to this day (and I've been fortunate enough to fly with her and meet her a couple of times since then).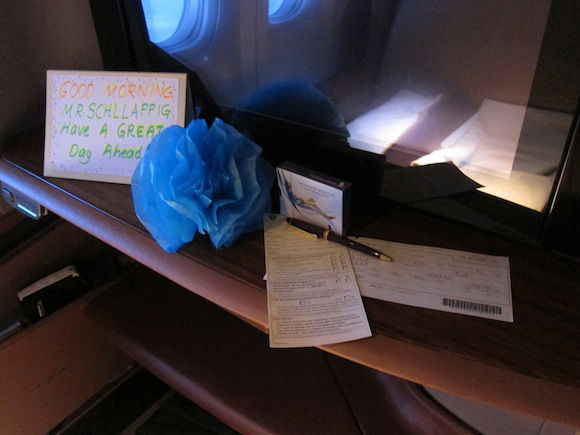 June: Aer Lingus Business Class Dublin to Boston
Okay, admittedly Aer Lingus business class isn't the world's most aspirational product, though I really enjoyed flying with them. There was just something really whimsical about flying Aer Lingus, after seeing their bright green planes at airports all over the place. The fact that a business class ticket cost just 25,000 Avios each way made it even more enjoyable.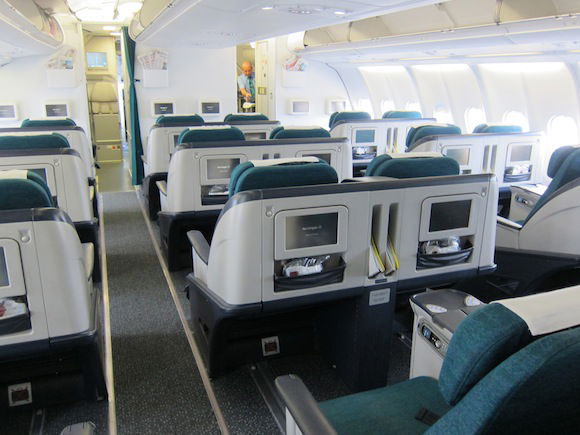 July: Singapore Airlines First Class Moscow to Singapore
I had the opportunity to fly with Janesis once again from Moscow to Singapore in July, and the flight was just as awesome (if not awesomer) than the first. Among leading products the difference between a good flight and an amazing flight is the crew, and Janesis and the rest of the crew certainly made this an amazing flight.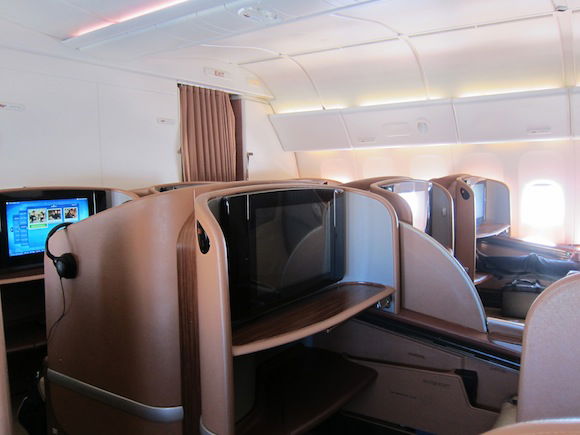 August: Lufthansa First Class Frankfurt to Washington
As much as I love the Airbus 380 from a passenger comfort perspective, the 747 remains the queen of the skies, in my book. Sadly 747s are a dying breed, as many airlines are retiring them in favor of planes like the 777-300ER. That's why I was thrilled to fly on one of Lufthansa's brand new 747-8 aircraft. Not only did I get to fly the newest version of my favorite plane, but I also got to fly one of my favorite airlines in their brand new first class product.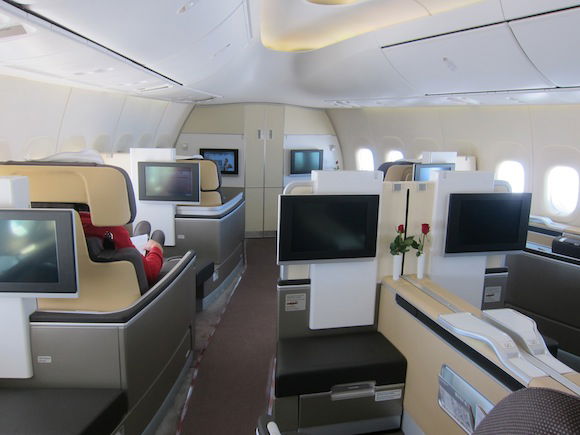 November: Thai Airways First Class Frankfurt to Bangkok
Sometimes flights are memorable not because they're experiences you're dying to repeat, but because they're experiences you're happy to have had. I lucked out with flying Thai's single 747 configured with their new first class from Frankfurt to Bangkok. The new product is definitely a step up over the old one, even if the quality of the seat materials make me feel like they were constructed by the three little pigs.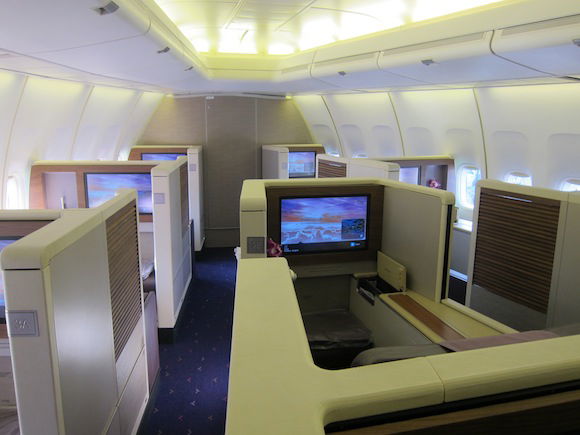 November: Cathay Pacific First Class Hong Kong to San Francisco
I consider Cathay Pacific to probably be the most well rounded airline in the world. I don't think they're the best in any single category, but they're a solid airline in just about every way. Other airlines have major shortcomings in certain categories, while Cathay Pacific has good food, service, entertainment, and seating. They're simply so reliable and predictable (in a good way) that it's always a pleasure to fly with them. And while they may not have fully enclosed first class suites, I do find their seats to be among the most comfortable in the sky for sleeping.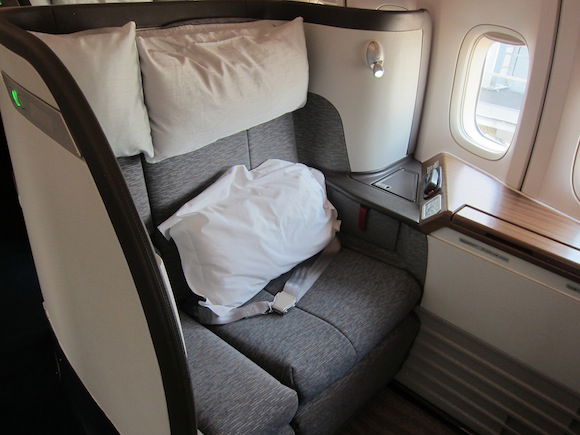 December: British Airways First Class Seattle to London
British Airways first class might not be the best first class product out there (I'd actually argue their first class is the best business class product out there), but it sure as heck is stylish. After years of being deterred from trying them due to the fuel surcharges, I finally had the opportunity to fly with them. While the food and seat weren't the most impressive I've experienced, I did enjoy the service and found the cabin to be stylish.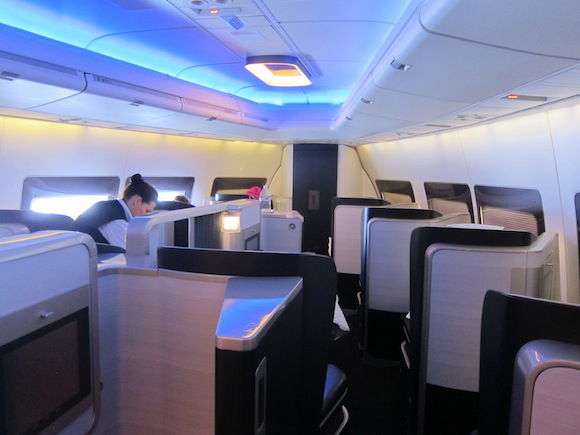 December: Emirates First Class London to Dubai
This flight was more or less the highlight of my life. I showered. On a plane. The end.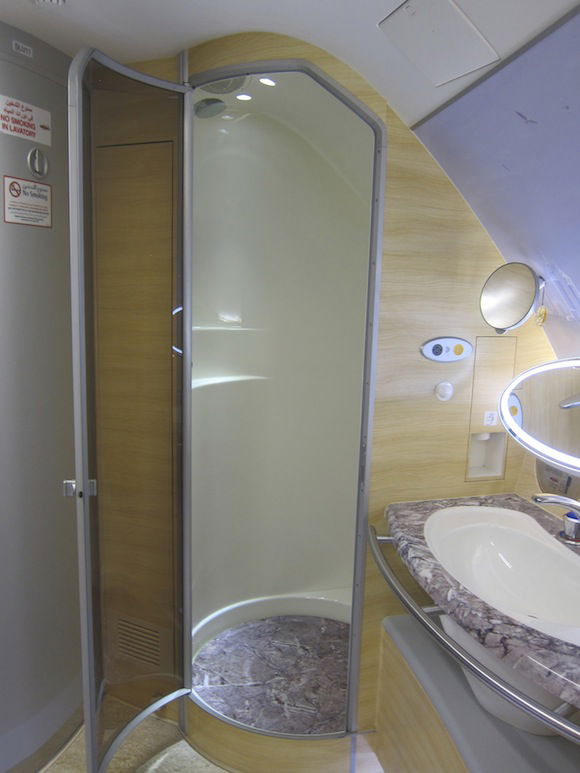 What were your most memorable flights of 2012?