Introduction: Montreal To New York, With A Stop In Italy
Review: Sheraton Montreal Airport
Review: Air Canada Maple Leaf Lounge Montreal Airport
Review: Lufthansa Business Class A330 Montreal To Munich
Review: Renaissance Naples Mediterraneo
Review: VIP Caruso Lounge Naples Airport
Review: Meridiana Business Class 767 Naples To New York
Review: Hyatt Herald Square New York
Review: The New York EDITION Hotel
---
Before I get too much into this report, I wanted to post a reminder that Meridiana typically has very reasonable business class fares, that are often in line with premium economy on other airlines, so adjust your expectations accordingly. I often see roundtrip business class fares from New York to Italy for ~$1,500.
Meridiana 3940
Naples (NAP) – New York (JFK)
Saturday, June 17
Depart: 8:50AM
Arrive: 1:00PM
Duration: 10hr10min
Aircraft: Boeing 767-300
Seat: 1A (Business Class)
While some airlines only have two sets of doors on theirs 767s (in the front and back), Meridiana has a mid-cabin entrance, through which boarding occurred. At the door I was greeted by a friendly flight attendant and pointed left towards the business class cabin.
Meridiana is one of only a few airlines to have a 2-4-2 configuration in economy on the 767, which is ridiculously tight (most airlines have 2-3-2). One other airline with such a configuration is Ukraine International, which I flew from Kiev to New York last year.
Meridiana's business class cabin consists of a total of 18 seats, spread across three rows in a 2-2-2 configuration. The cabin was like a blast from the past — this was like an untouched business class product from a few decades ago, and I sort of loved it. It was charmingly outdated.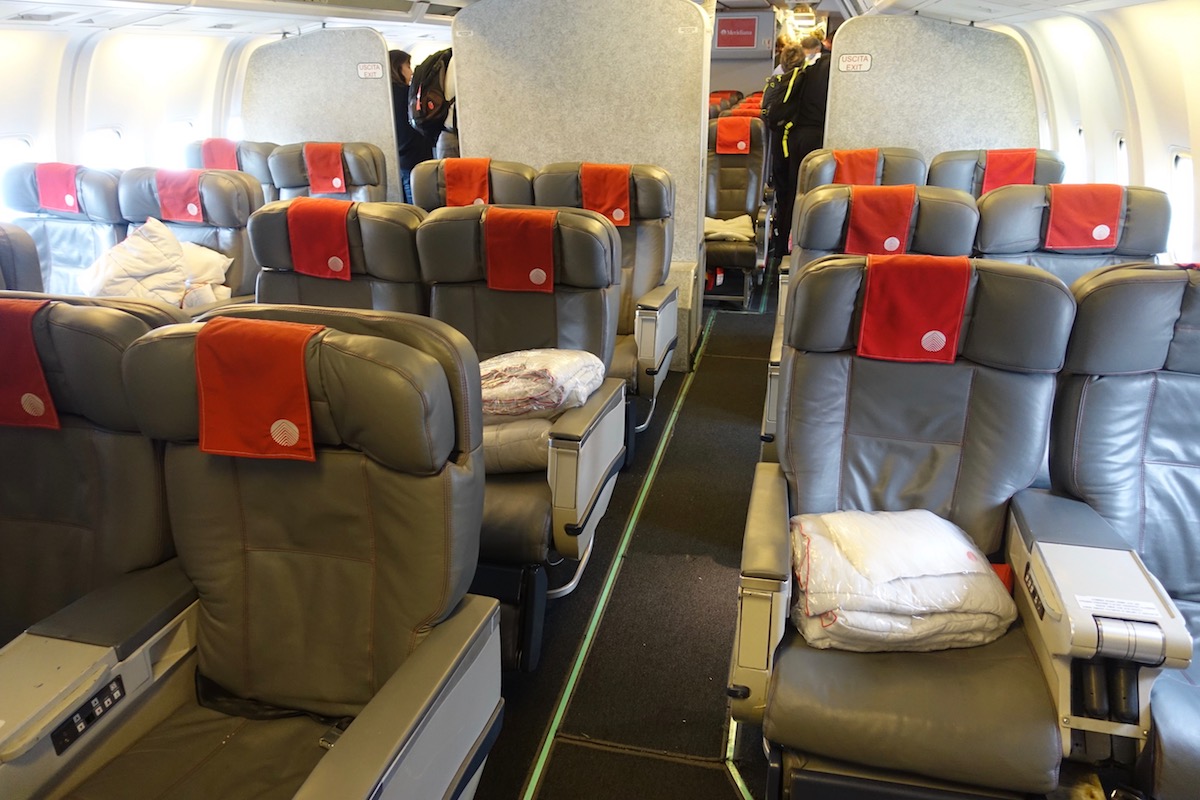 Meridiana business class cabin

Meridiana 767 business class cabin
The cabin consisted of big, puffy recliner seats. While the seats were narrow, I found the padding to be exceptional.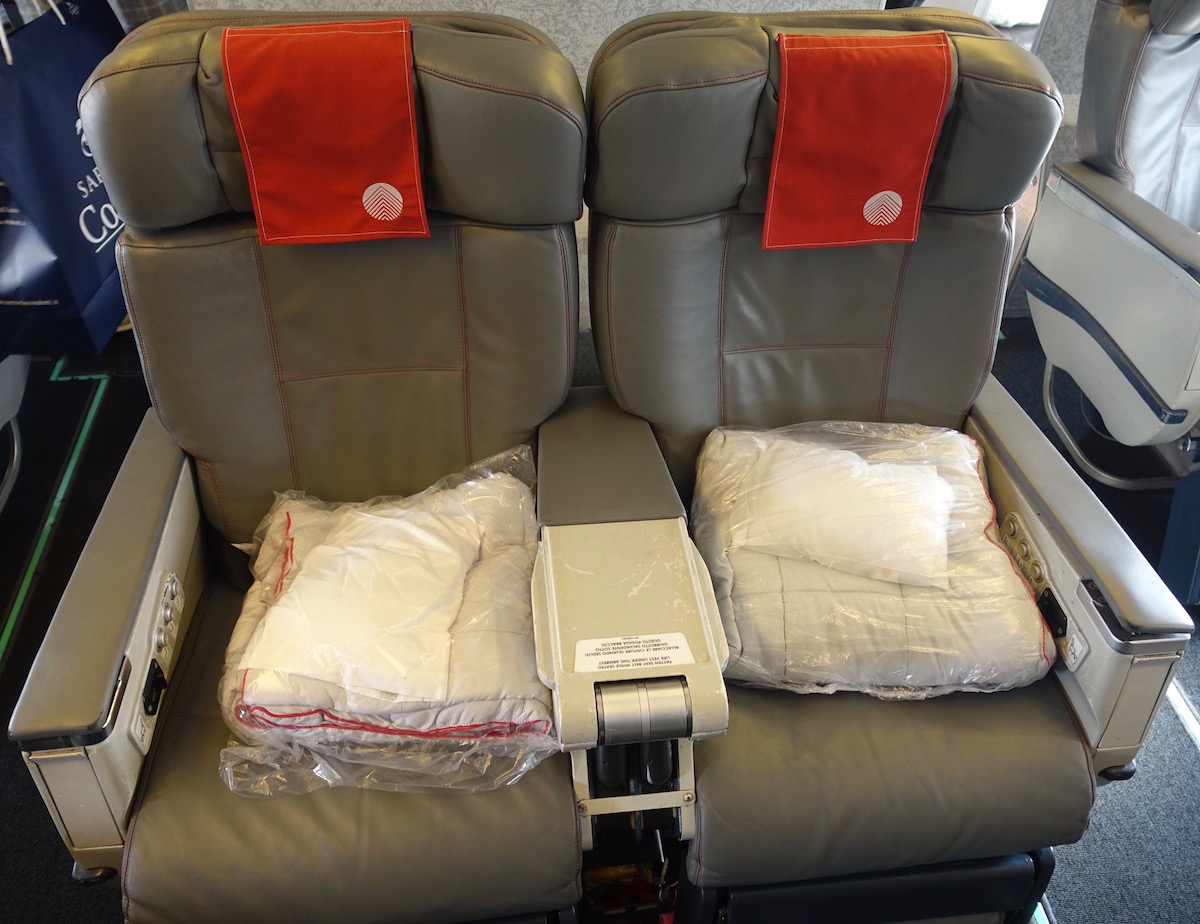 Meridiana 767 business class seats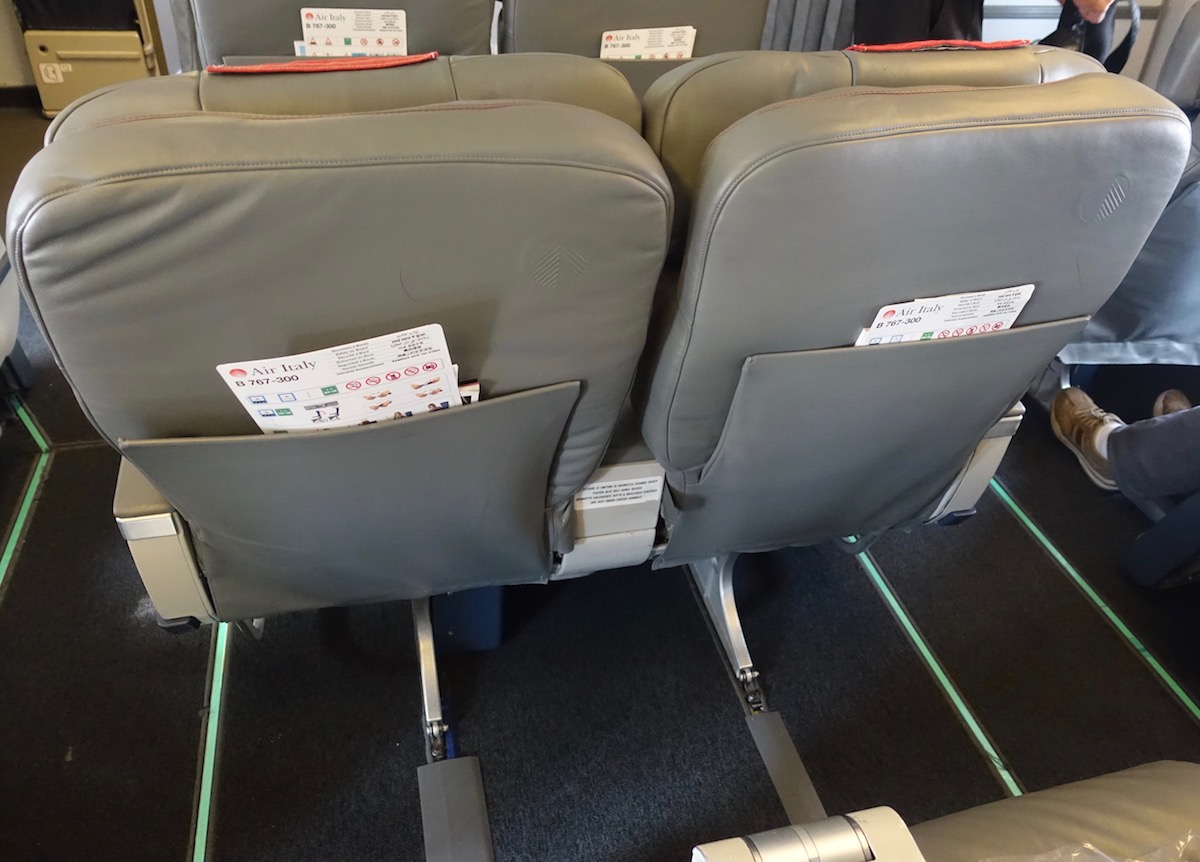 Meridiana 767 business class seats
Legroom was somewhere between what you'd usually get in premium economy and business class — in other words, pitch was more than 40″ but less than 60″. I'd estimate that there was maybe just under 50″ of pitch, or so.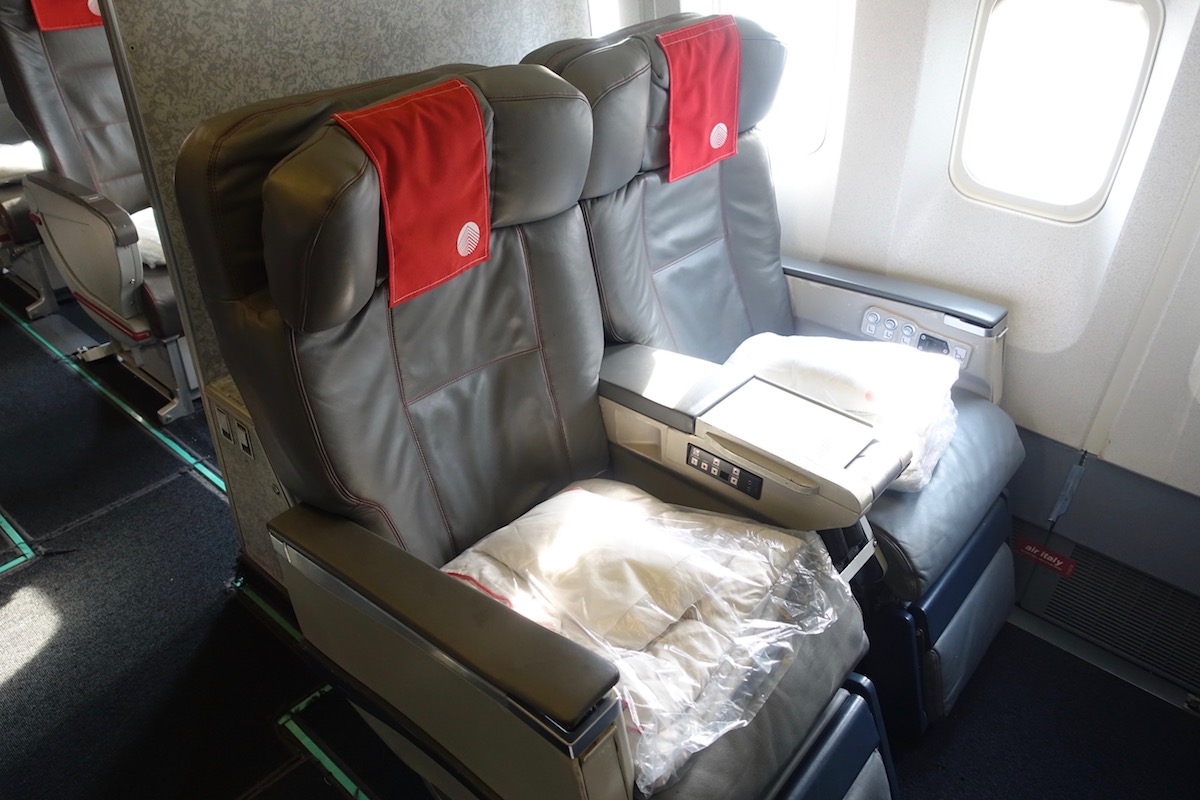 Meridiana 767 business class seats
The rows in the cabin are a bit staggered. While there are three full rows, the center seats start further up than the seats along the sides.

Meridiana 767 business class cabin
Originally I had assigned myself one of the center aisle seats, but when I noticed that the window and aisle seat in the first row remained empty, I switched to that, so that I'd have no one reclining into me, and so that I could look out of the window.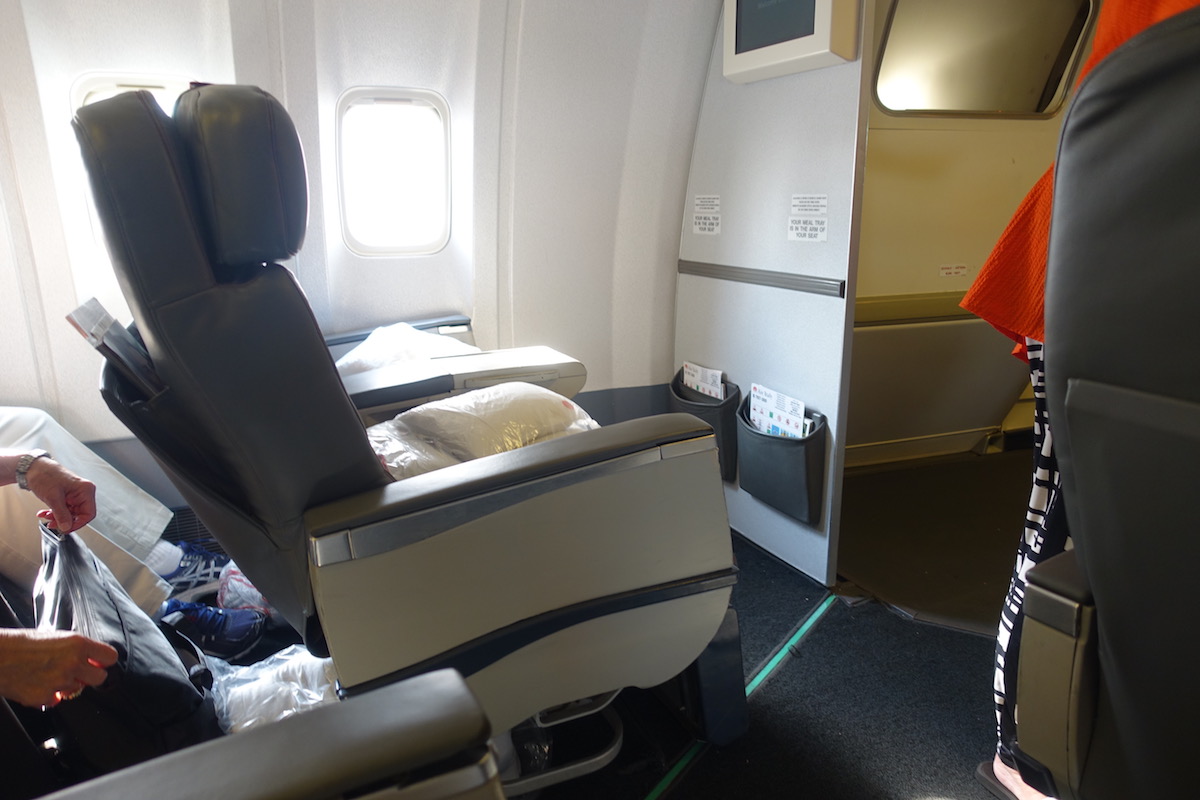 Meridiana business class legroom
I'd actually recommend the bulkhead seats in this configuration, as the seats further back can be tight if the person in front of you reclines.

Meridiana business class bulkhead legroom
The seats had old school audio controls, as well as manual recline buttons.

Meridiana business class audio controls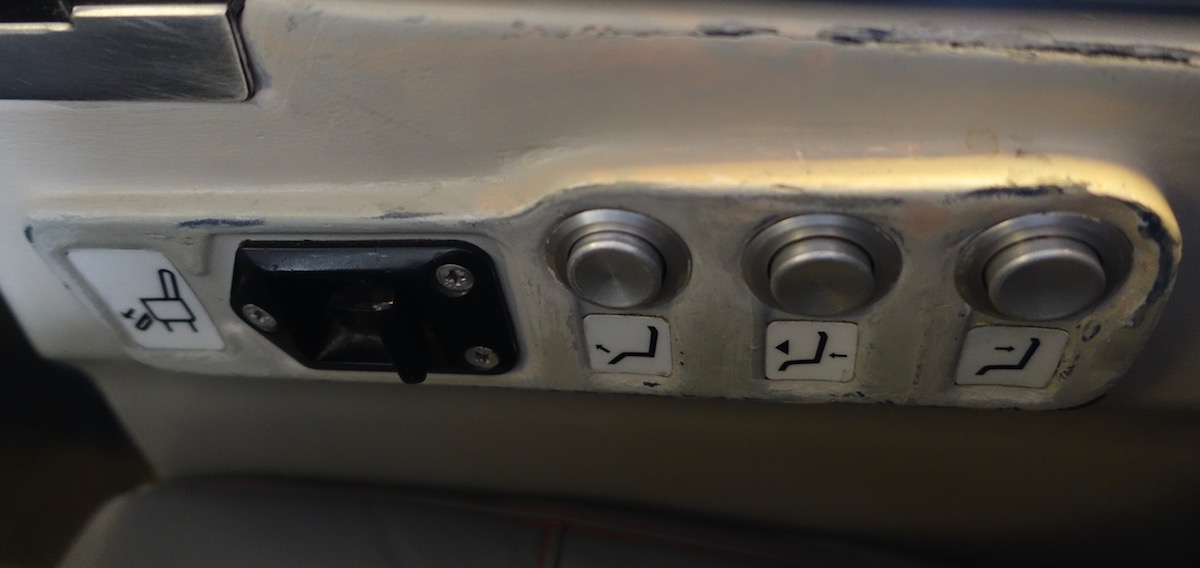 Meridiana business class seat controls
I'm not sure what exactly was going on with the life vest underneath my seat. Is this normal?

Meridiana business class life vest
The tray folded out from the side armrest, and was a bit floppy and could have probably used some lubrication, based on how hard it was to take out.

Meridiana business class tray table
Waiting at my seat was a big, puffy blanket, and a small pillow. The pillow wasn't very good, but I found the blanket to be very comfortable.

Meridiana business class pillow & blanket
Unfortunately Meridiana's 767s don't have any power ports at the seats, though the flight attendants were kind and offered to charge my phone in the galley if needed (fortunately I didn't need that, since I came prepared, fully expecting they wouldn't have power).
Speaking of the crew, working in business class were two (relatively) older guys, and they were fantastic. I sort of figured the crew wouldn't take much pride in their job given what an outdated product they have, but these guys were so friendly and attentive. I also loved their uniforms, as the wore the hats you usually associate with pilots.

Meridiana business class cabin
The overhead bins on the 767 are tiny to begin with, though in the case of Meridiana most of the space in the bins is taken up by emergency and entertainment equipment, so there's even less room than usual.

Meridiana business class overhead bins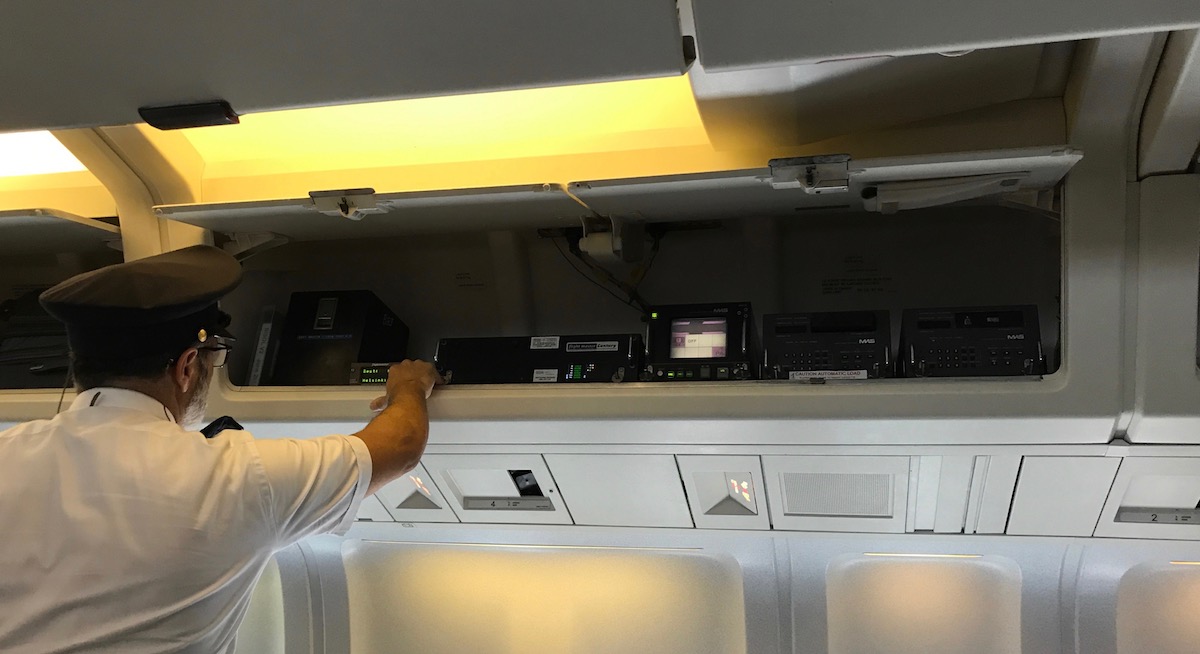 Meridiana business class overhead bins
Once settled in I was offered my choice of pre-departure beverage, and I requested some sparkling wine, which was served in glassware.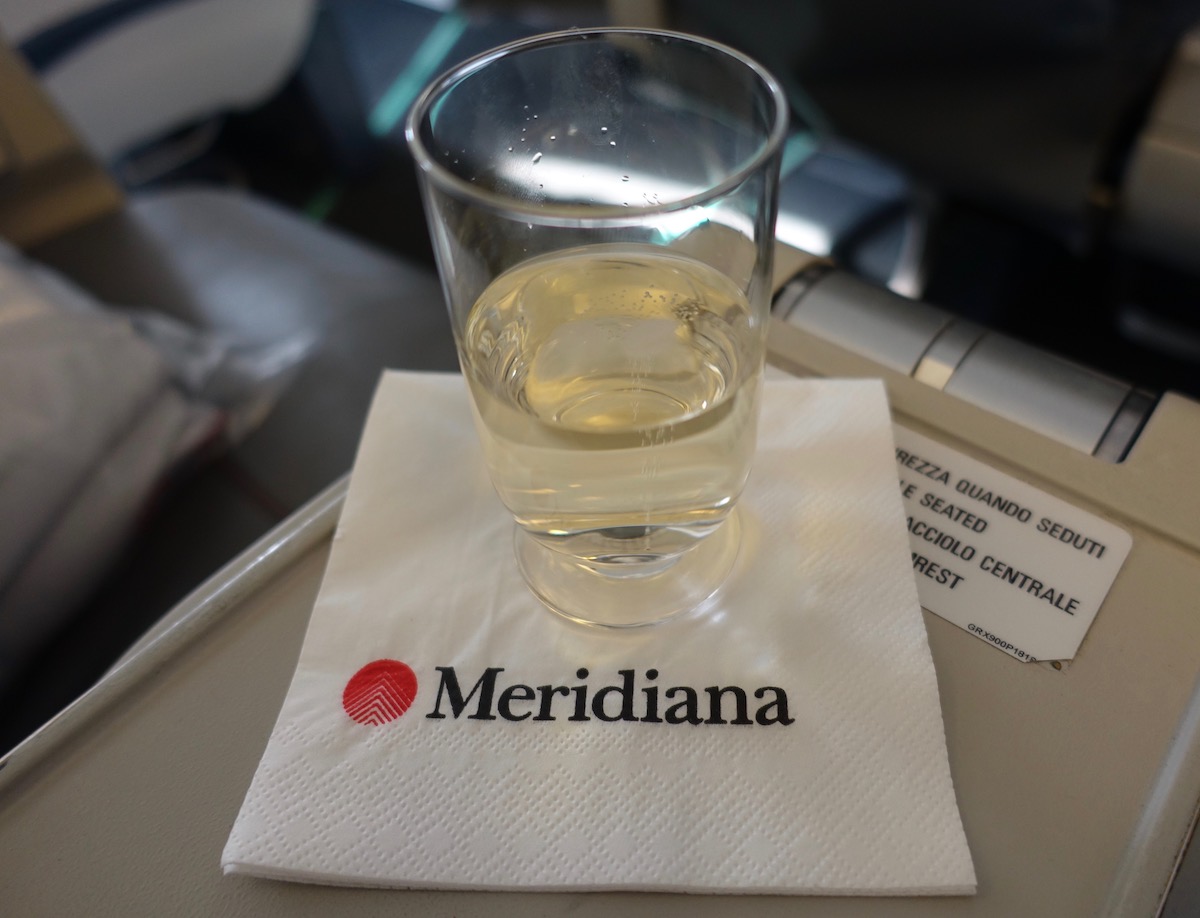 Meridiana business class pre-departure sparkling wine
Business class filled up pretty quickly. Eventually 14 of the 18 business class seats were occupied. This included four sets of adorable older couples, a young family with a kid, a couple with a wife who seemed to have been in a very bad accident in Italy (or something), based on the fact that she was all "bandaged" up and could barely move, and then me.
By 8:35AM boarding was complete, about 25 minutes after it started. The door finally closed at 8:45AM, at which point the safety video was screened. Meridiana has a surprisingly cute safety video, as it's done by kids in flight attendant and pilot uniforms.
By 8:50AM we began our taxi to runway 6. As you can see below, there were a lot of low cost carriers on the tarmac, including EasyJet, Ryanair, Vueling, Transavia, etc.

Transavia plane Naples Airport
By 8:55AM we were cleared for takeoff.

Getting ready for takeoff Naples Airport
After a long takeoff roll we began our gradual climb to our cruising altitude.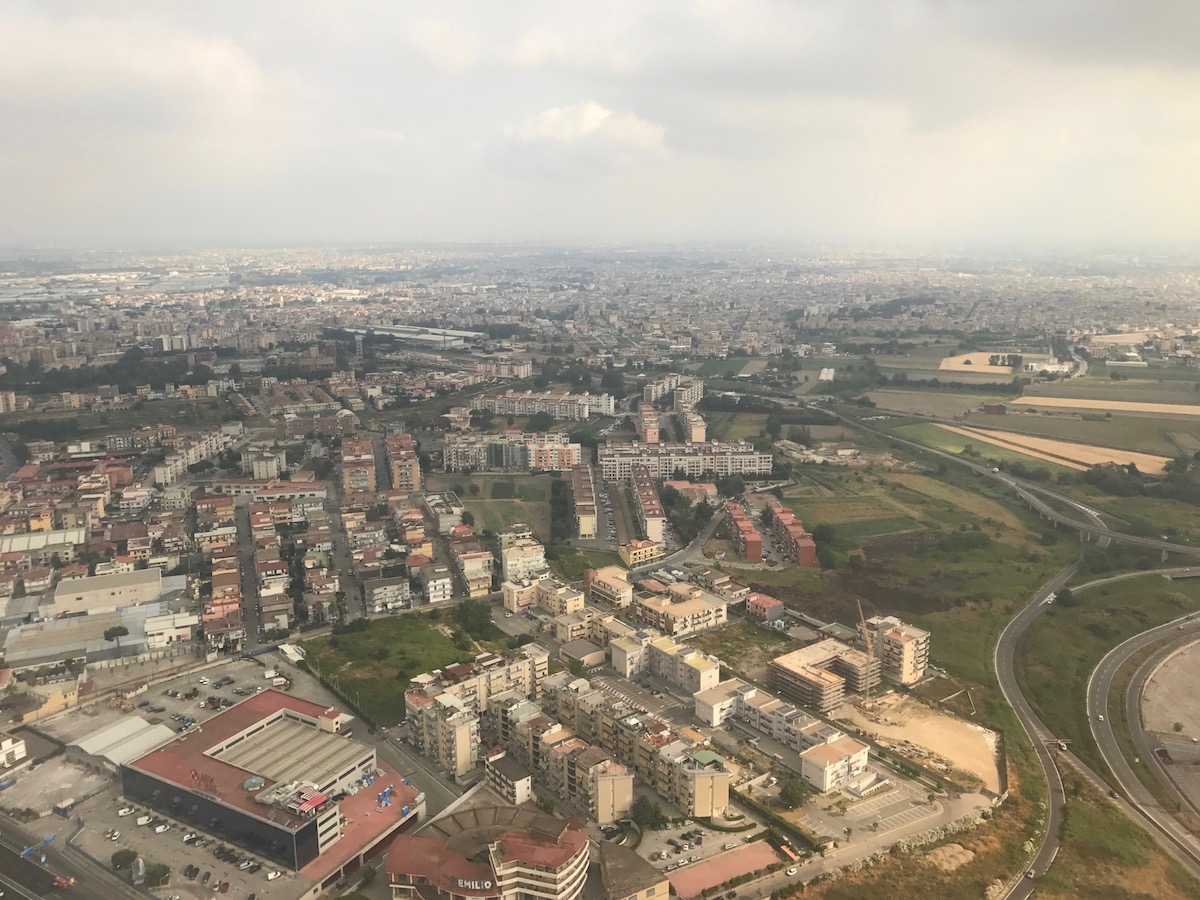 View after takeoff from Naples

View after takeoff from Naples
Despite a smooth ride, the seatbelt sign stayed on for about 20 minutes. At that point the captain made a welcome aboard announcement, informing us of our flight time of 9hr15min, and that we should arrive in New York early.

Reaching cruising altitude Naples Airport
Once it was off, I checked out the old school lavatory located at the front of the cabin.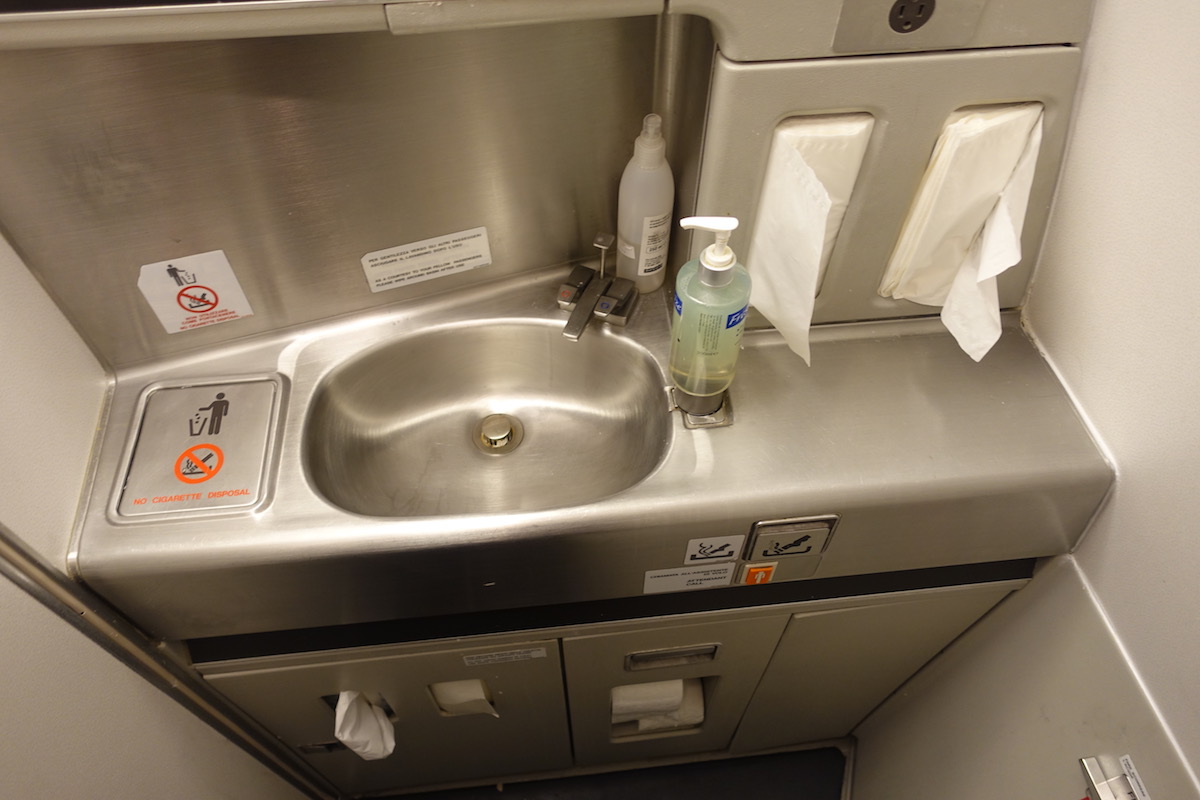 Meridiana business class lavatory

Meridiana business class lavatory
Once back at my seat I heard a request I don't think I've ever heard before. One of the ladies in business class asked if they had a row of empty seats in economy where she could sleep, and sure enough they did. She left moments later, and returned 90 minutes before landing.
The inflight entertainment began about 25 minutes after takeoff, which consisted of a couple of grainy movies and TV shows.

Meridiana inflight entertainment
About 30 minutes after takeoff the crew distributed Fedon amenity kits with Acca Kappa toiletries. The kit was fairly basic and had a toothpaste and toothbrush, socks, ear plugs, face moisturizer, and lip balm.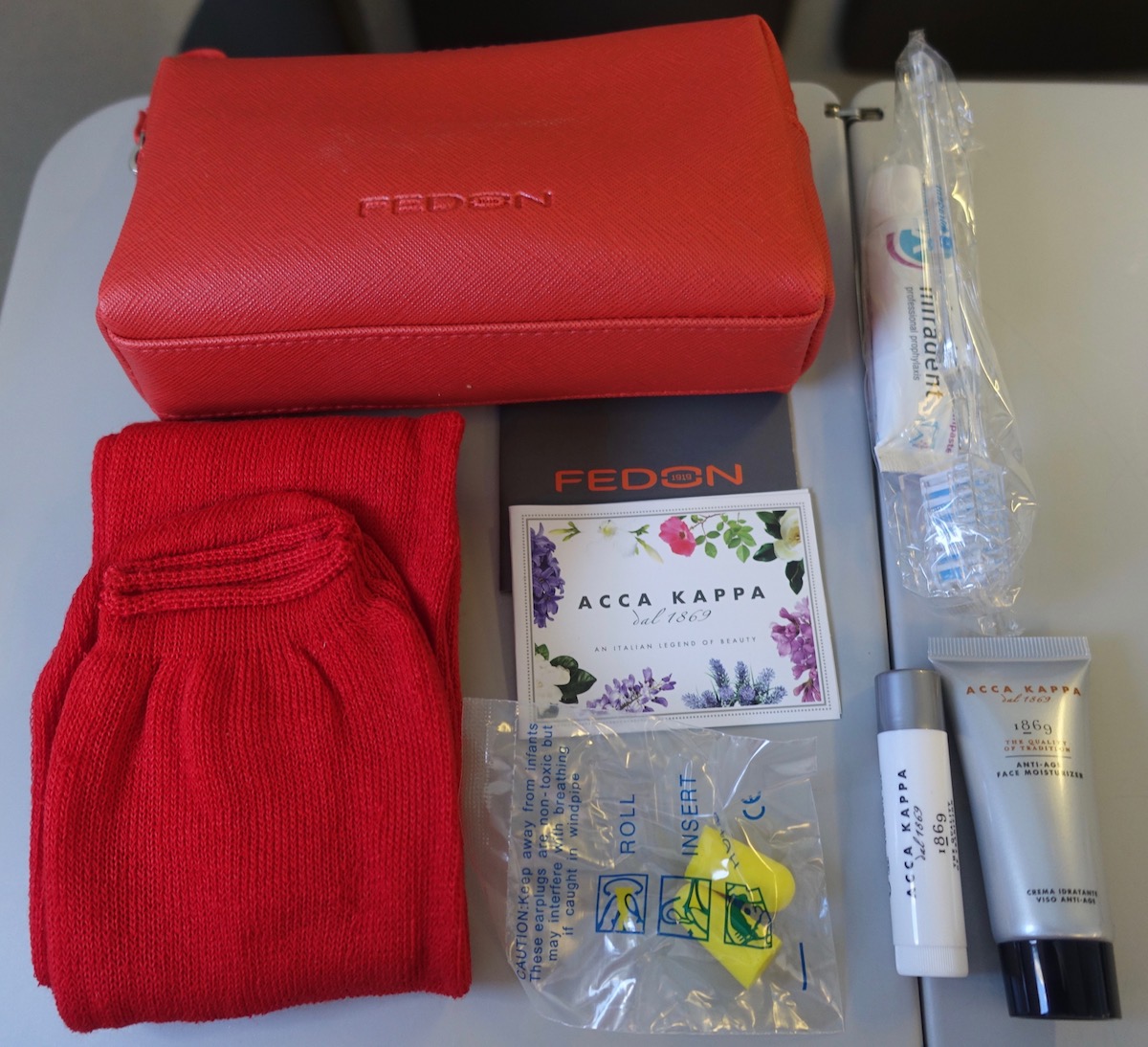 Meridiana business class amenity kit
After that the purser came to each passenger to introduce himself and to distribute the wine list. There wasn't a menu, and for that matter the online menu didn't reflect what was served on this flight. Then again, the Italians at least have their priorities in order by having a wine list but not an actual menu. 😉

Meridiana business class wine list
The wine list read as follows: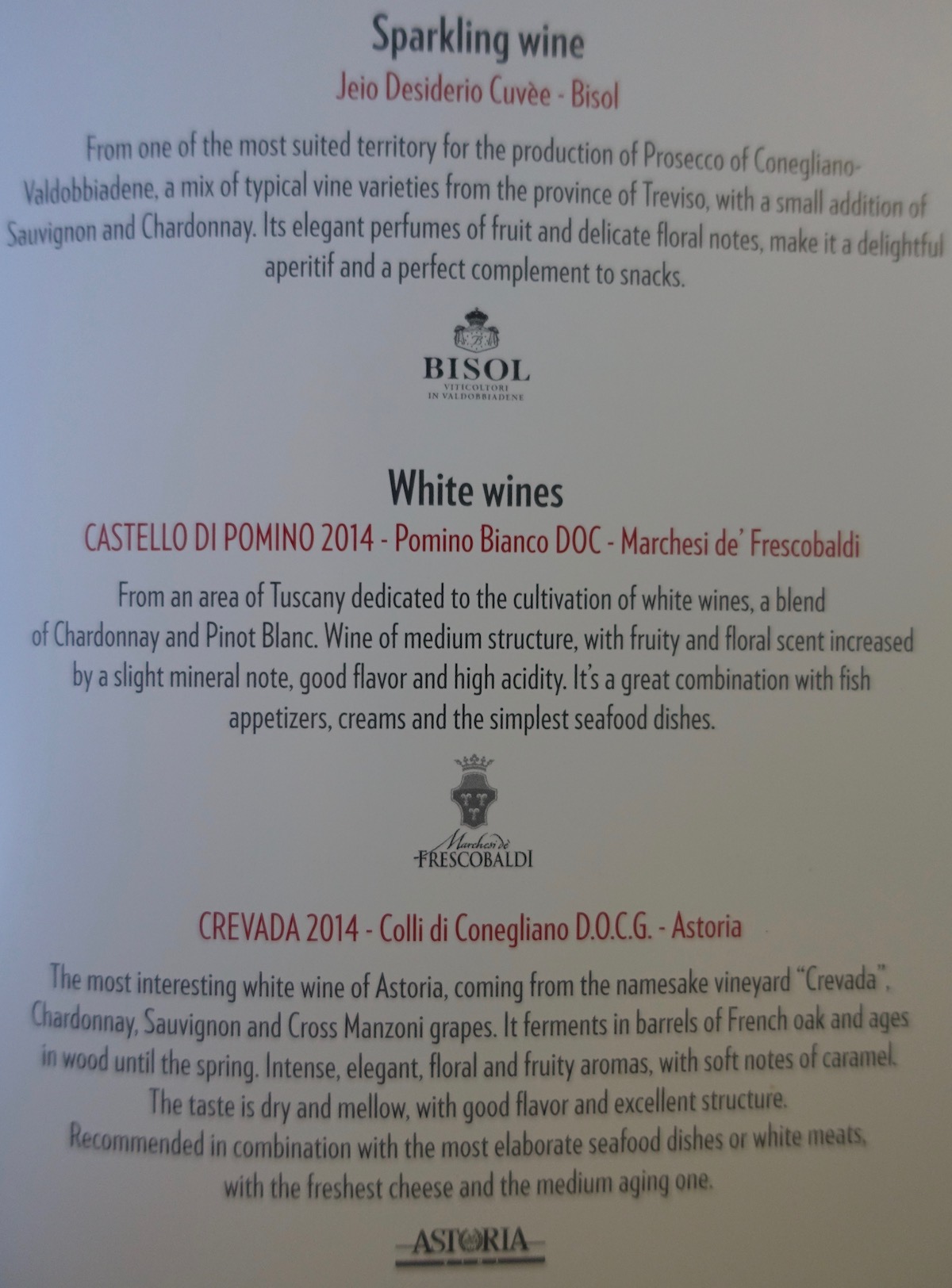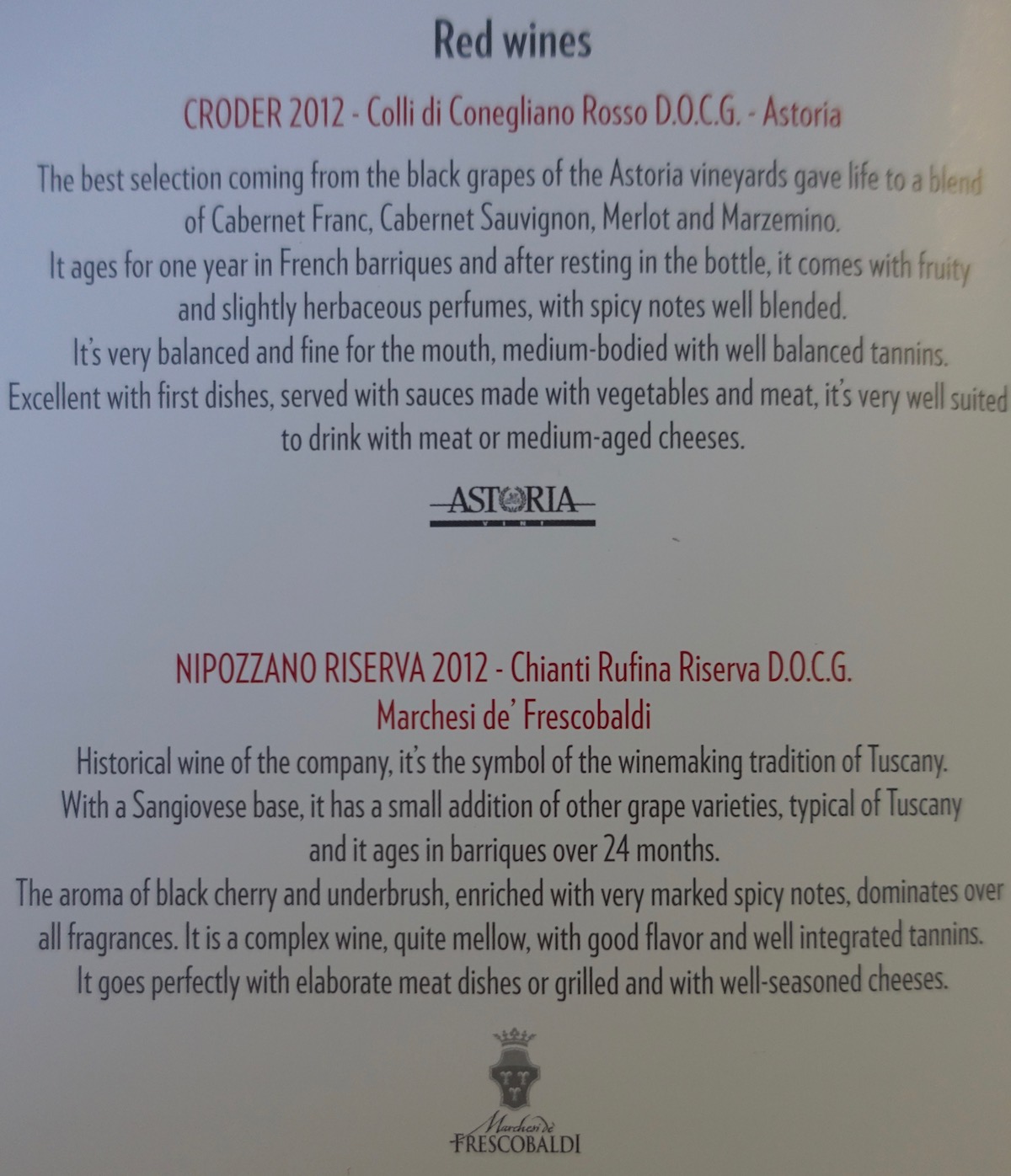 Service was initially slow, though I guess that's not necessarily a bad thing, because what the hell else are you going to do without flat beds, wifi, power ports, etc.? 😉
About an hour after takeoff I was served a drink of choice, and was asked if I wanted a sweet or salty snack. I ordered some sparkling wine and asked for the salty snack.

Meridiana business class sparkling wine & snack
I was offered a refill, and then about 90 minutes after takeoff was offered a warm towel.

Meridiana business class warm towel
A few minutes later, tablecloths were distributed.

Meridiana business class tablecloth
At that point the meal tray was brought out.
There was a lovely tomato & mozzarella appetizer, which I really enjoyed.

Meridiana business class meal — tomatoes and mozzarella 
There was also a cheese plate.

Meridiana business class meal — cheese course
For the main course I had the choice between chicken, fish, or parmigiana. I chose the parmigiana, which was reasonably good, though I think it could double as both a drink and a meal based on how oily it was.

Meridiana business class meal — main course
Since there wasn't much in the way of entertainment, I looked out the window and enjoyed the beautiful views, as we were flying over Spain.
Next up was dessert, which consisted of a piece of cream-filled cake. I'm not sure exactly what kind of cake it was, but it tasted good.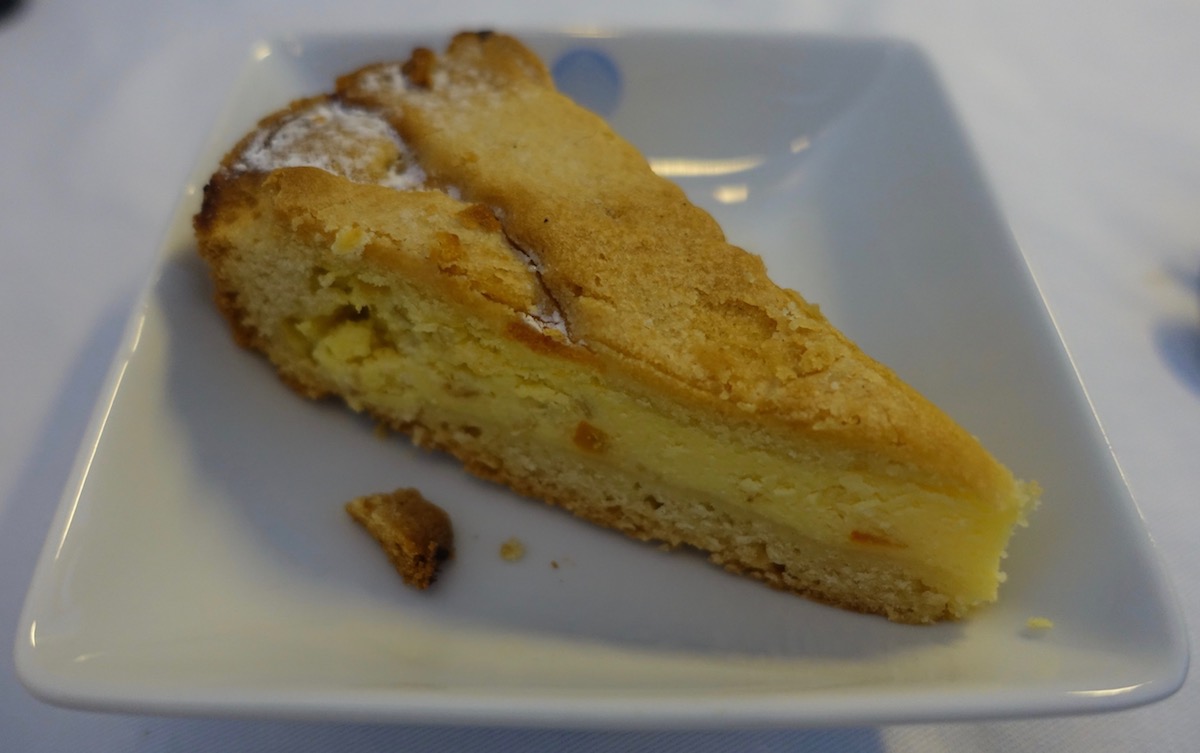 Meridiana business class meal — dessert
I also ordered a coffee to go along with the cake.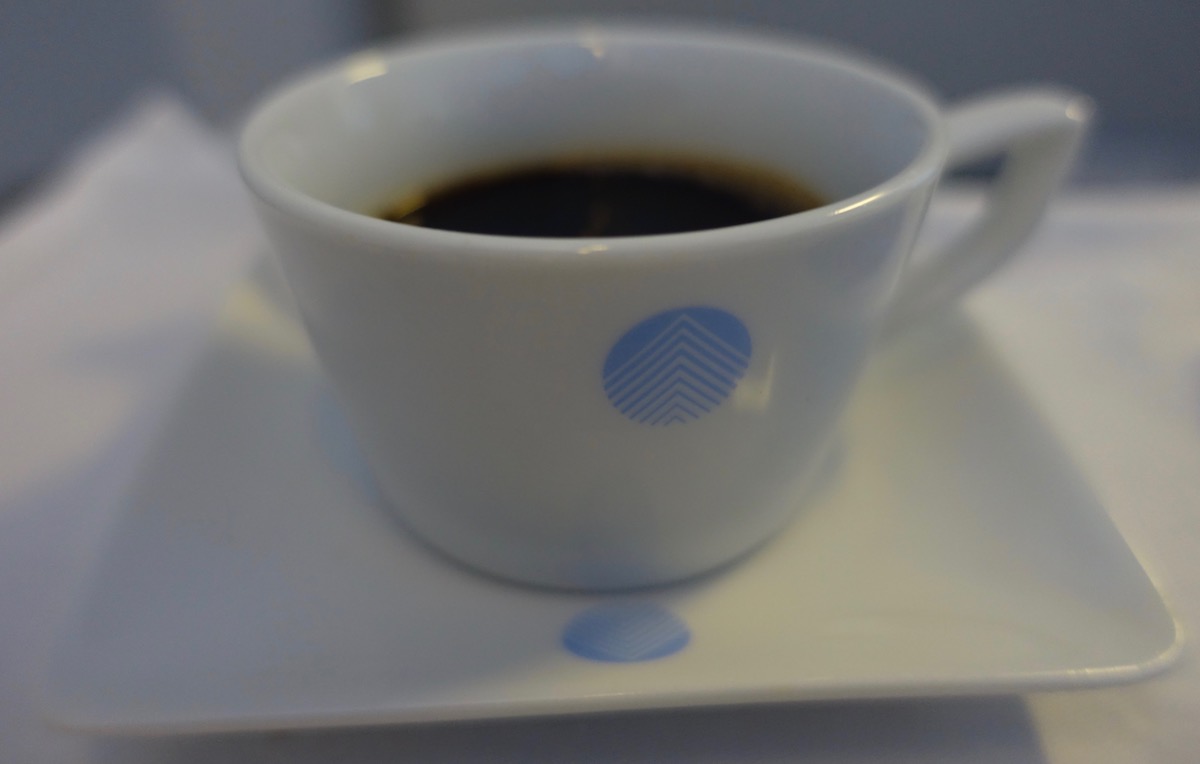 Meridiana business class meal — coffee
After the meal I was offered a bottle of water.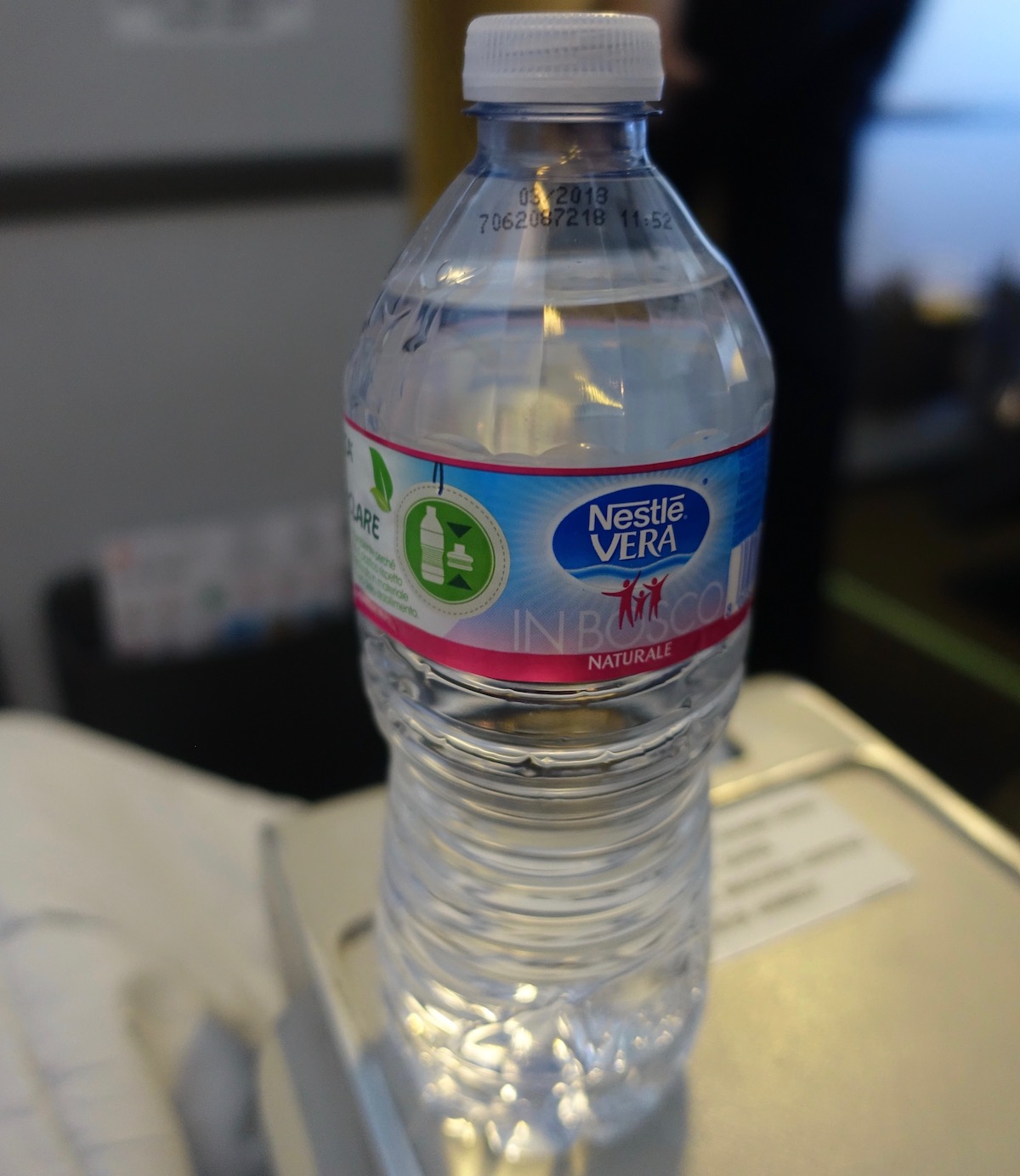 Meridiana business class bottled water
The meal service was done about 2hr30min into the flight, as we were starting our transatlantic crossing off the coast of Spain. I have nothing but good things to say about the service. The two guys working business class were so friendly. They weren't as efficient or attentive as you'd find on Singapore Airlines, for example, but they were charming and took their time with everyone. It was clear they took pride in their jobs, and it was almost like they were serving you in their home.
After the meal I tried to close my eyes for a bit. Usually I struggle to sleep if I don't have a flat bed, but much to my surprise I managed to get about three hours of rest. Personally I prefer these types of recliner seats to angled seats, since you can actually find a comfortable position in which to sleep. For anyone wondering, below is a picture of the seat fully reclined — it doesn't go that far back.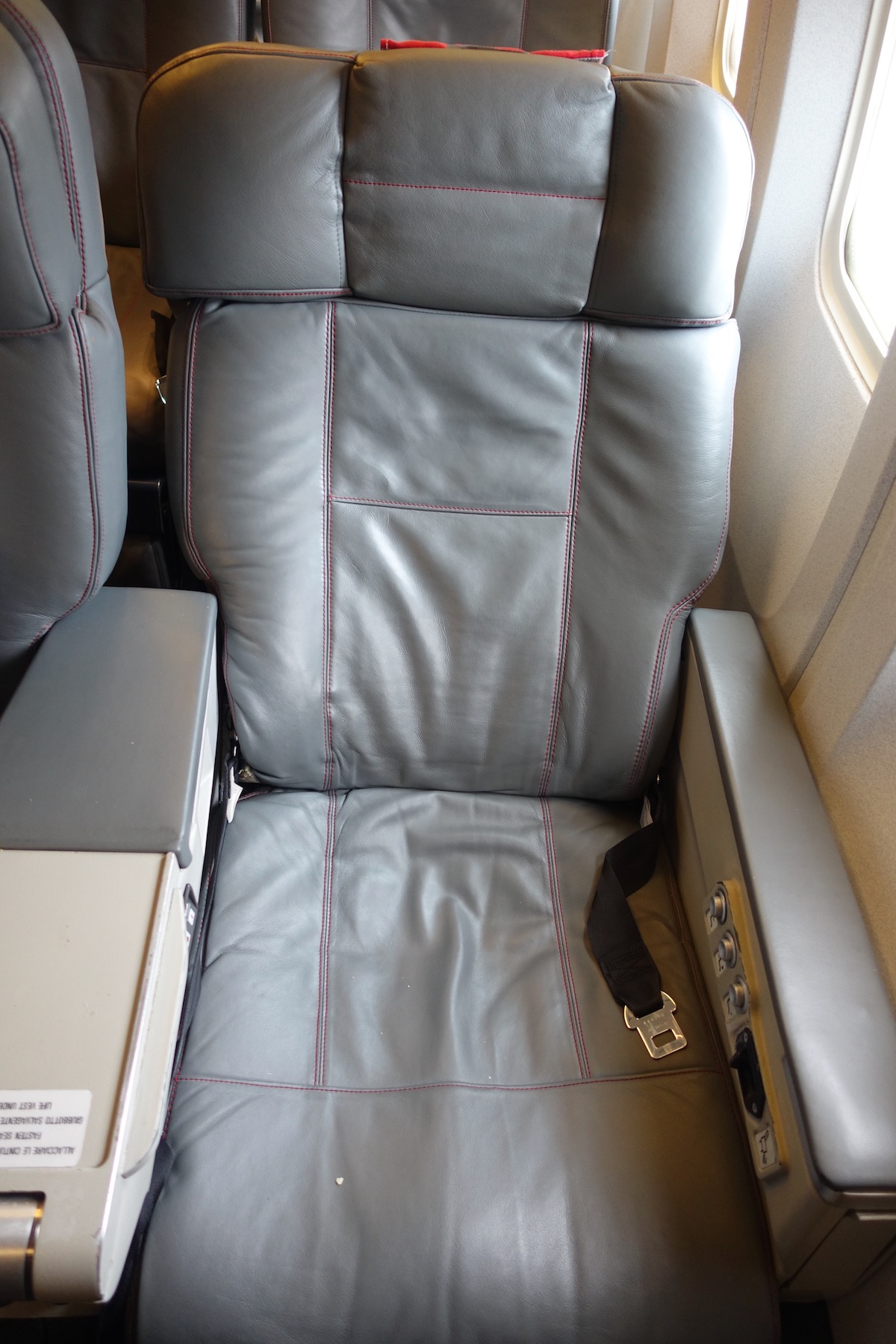 Meridiana business class seat recline
When I woke up I noticed that other people had portable entertainment devices, and asked the crew about it. They offered me one as well — I wish I had known about these earlier!

Meridiana business class inflight entertainment 
There were about 20 movies available, which isn't a huge selection, but at least there were some decent options.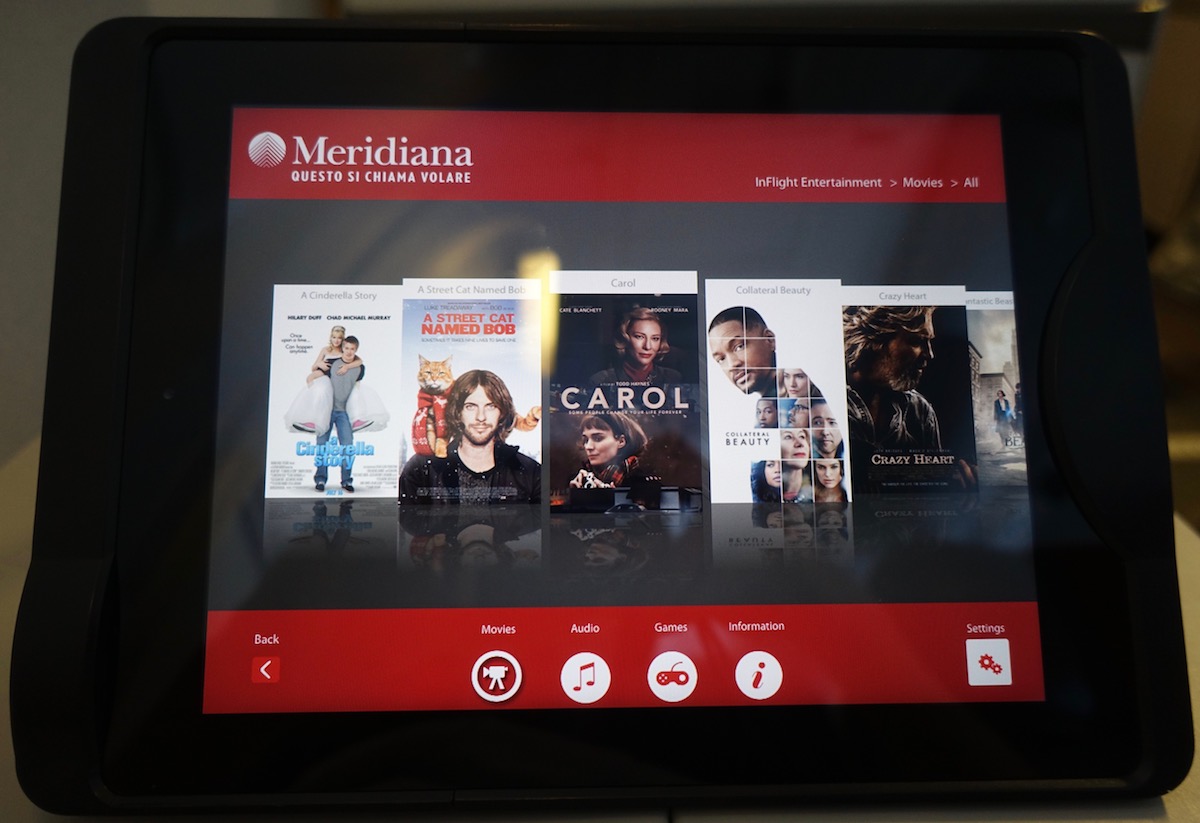 Meridiana business class inflight entertainment 

Meridiana business class inflight entertainment 
I ended up watching "Spy." I have terrible taste in movies, and I loved it. Really I just love anything with Melissa McCarthy.

Meridiana business class inflight entertainment 
After that was done I decided to watch "A Cinderella Story," partly because I used to love Hilary Duff (I say "used to" because I haven't heard anything about her in about a decade), and partly because what else are you going to do on a Meridiana flight?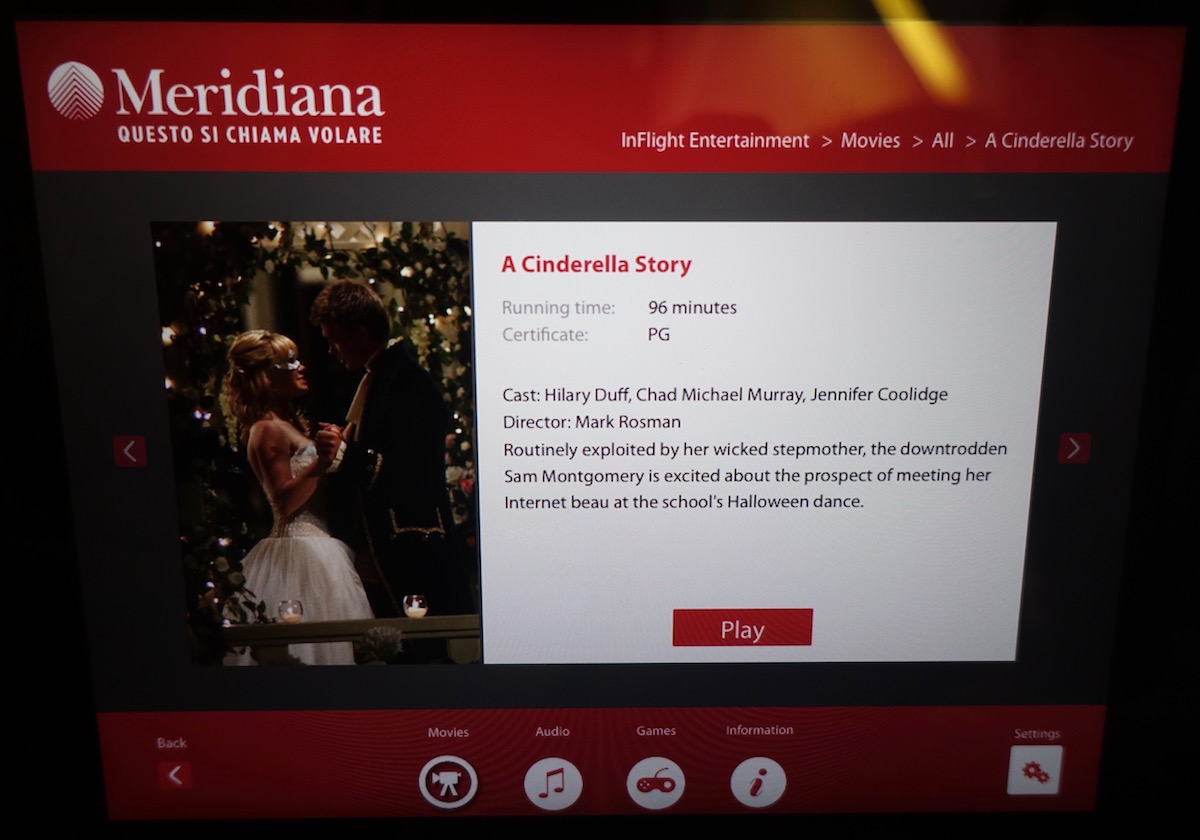 Meridiana business class inflight entertainment 
Before I knew it we were just under two hours from New York, and the pre-landing snack was served.
The pre-landing snack was all served on one tray.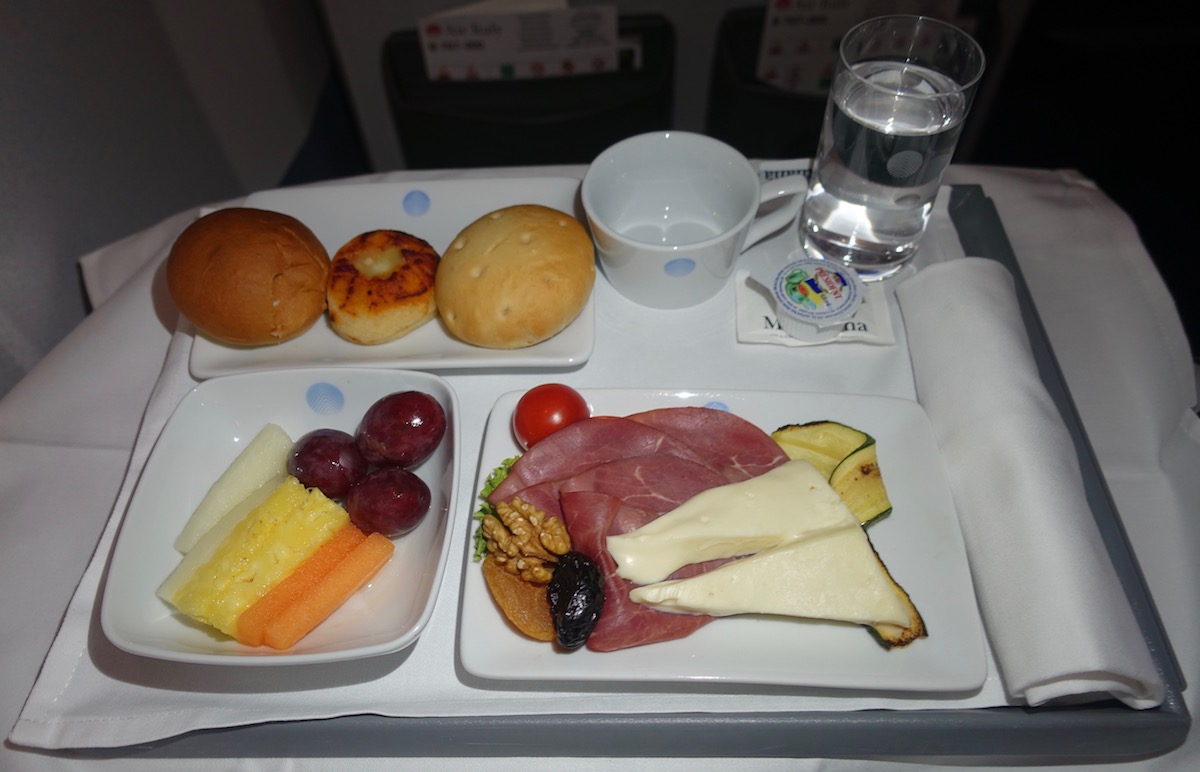 Meridiana business class pre-landing snack
It consisted of a variety of bread, cold cuts, and fresh fruit.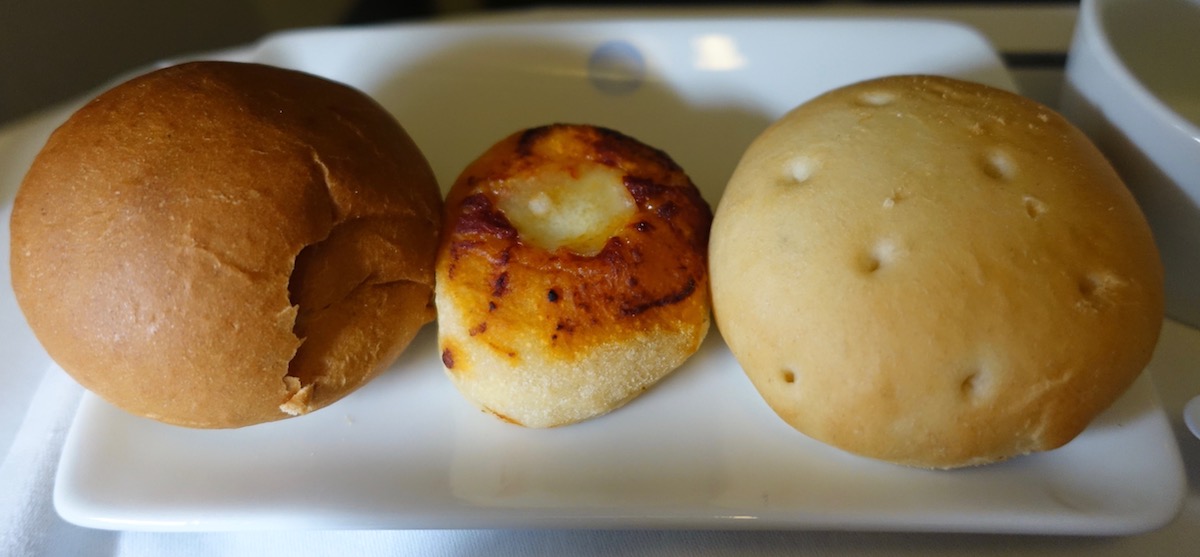 Meridiana business class pre-landing snack — bread selection

Meridiana business class pre-landing snack — cold cuts

Meridiana business class pre-landing snack — fresh fruit
Per the flight attendant's suggestion I ordered what he described as a "lime orange carrot juice."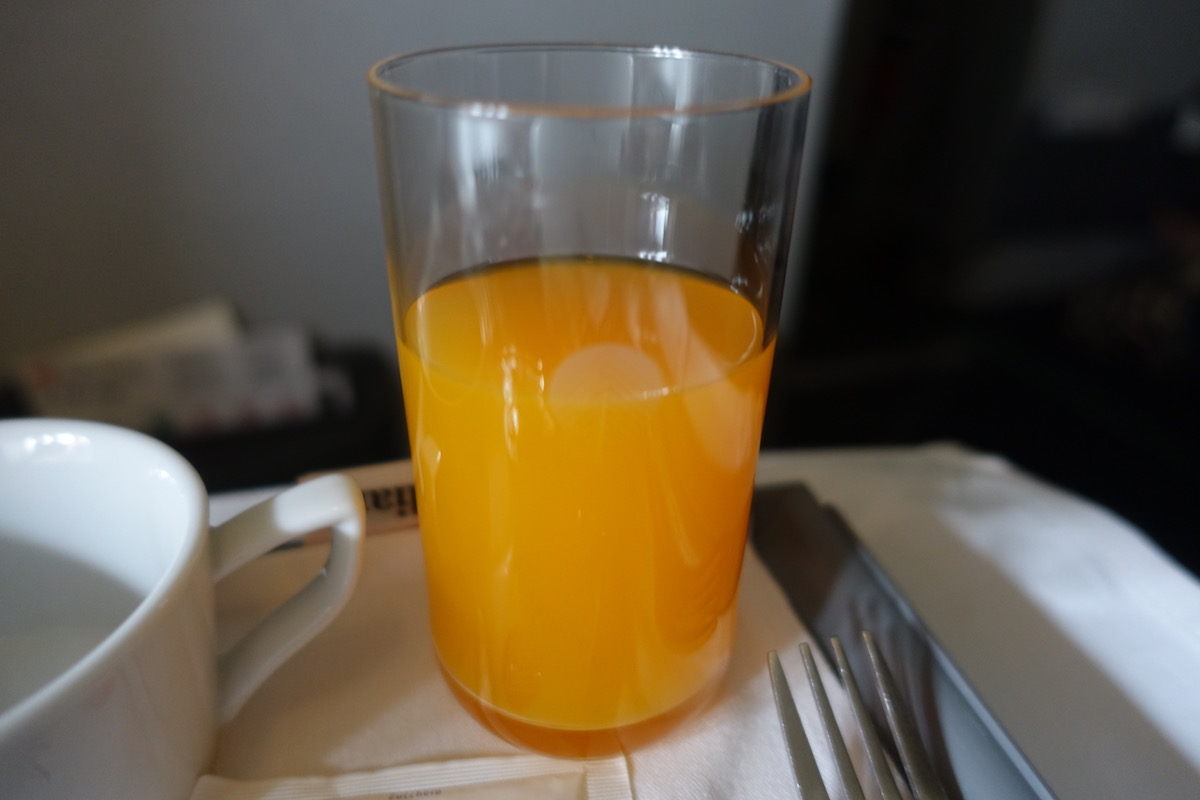 Meridiana business class pre-landing juice
I also had a cup of coffee.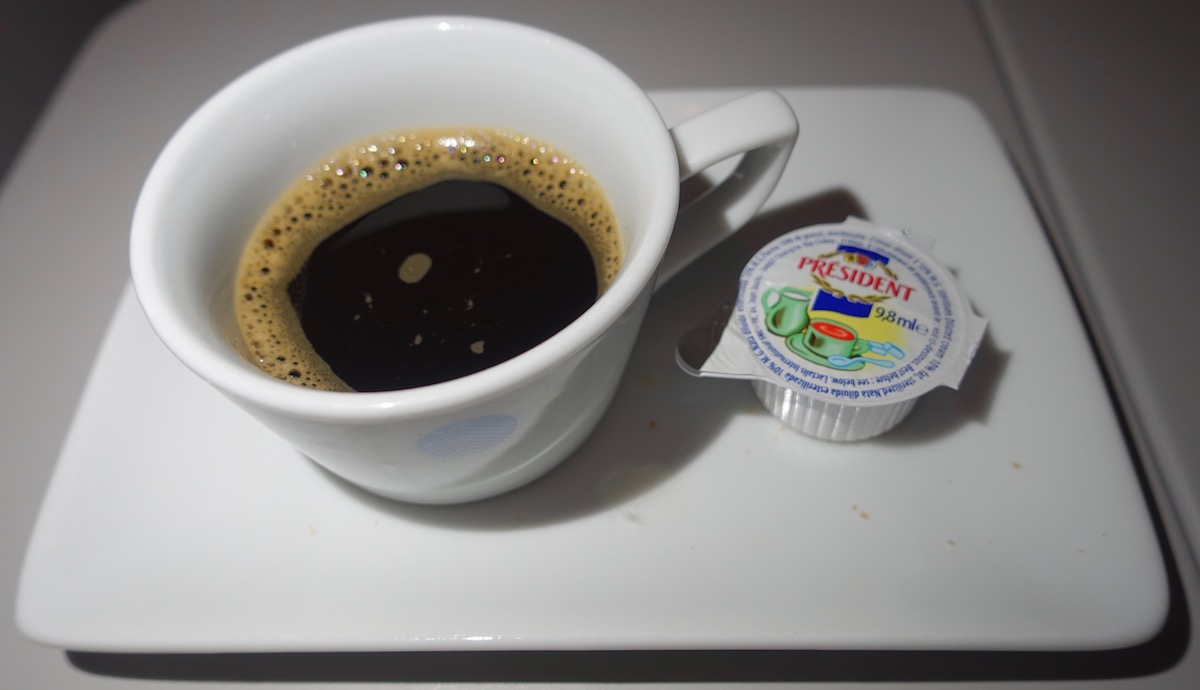 Meridiana business class pre-landing coffee
About 30 minutes before landing we began our descent, and a few minutes after that the portable entertainment devices were collected.
While the entire flight was smooth up until this point, we hit some chop on our descent, as it was a stormy day in New York. Fortunately that didn't cause any major delays, and we touched down at JFK at around 12:10PM.
From there it was about 20 minutes until we arrived at our gate, including waiting for about 10 minutes for our gate to open up. Unfortunately after being on the ground for a couple of minutes I couldn't get any good pics out the window anymore due to the rain.
I bid farewell to the crew, and as I exited the plane I overheard two of the couples talking to one another about how this was the best service they've ever had, and about how they'd fly Meridiana again in a heartbeat.
Meridiana business class bottom line
Meridiana business class exceeded my expectations. Going in I knew exactly what I was getting in terms of the seat. This isn't a competitive business class seat, but rather think of it as a really good premium economy product (well, minus wifi and power ports).
The reason I was impressed was because of the good food and excellent service. Furthermore, the portable entertainment device helped keep me entertained. My primary frustration otherwise was probably the lack of a power port, though I ended up coping with that just fine.
So, would I recommend Meridiana? If you're trying to fly between New York and Naples/Palermo, it's tough to beat the convenience of a nonstop flight in an attractively priced premium product. No, this won't be as good as many of the flat bed products out there, but flying those products will also require a 1-3 hour connection at a major European hub airport, and then a 1-2 hour flight in an intra-Europe business class product, which is basically just economy with a blocked middle seat. So everyone has to decide for themselves whether it's worth it or not.
With Qatar Airways' recent investment in Meridiana, and with Alitalia on the brink of liquidation, I wonder if Meridiana will do anything to improve their onboard product.
Regardless, I wouldn't hesitate recommending them if you're flying specifically between New York and Naples/Palermo, as the convenience of a nonstop flight is worth quite a bit. Just know that this isn't a true business class product.