---
I arrived at Naples Airport at around 5:30AM, plenty early for my 8:50AM flight to New York. The airport was much nicer than I was expecting, at least landside. The airport had a modern glass exterior, and the landside area had high ceilings.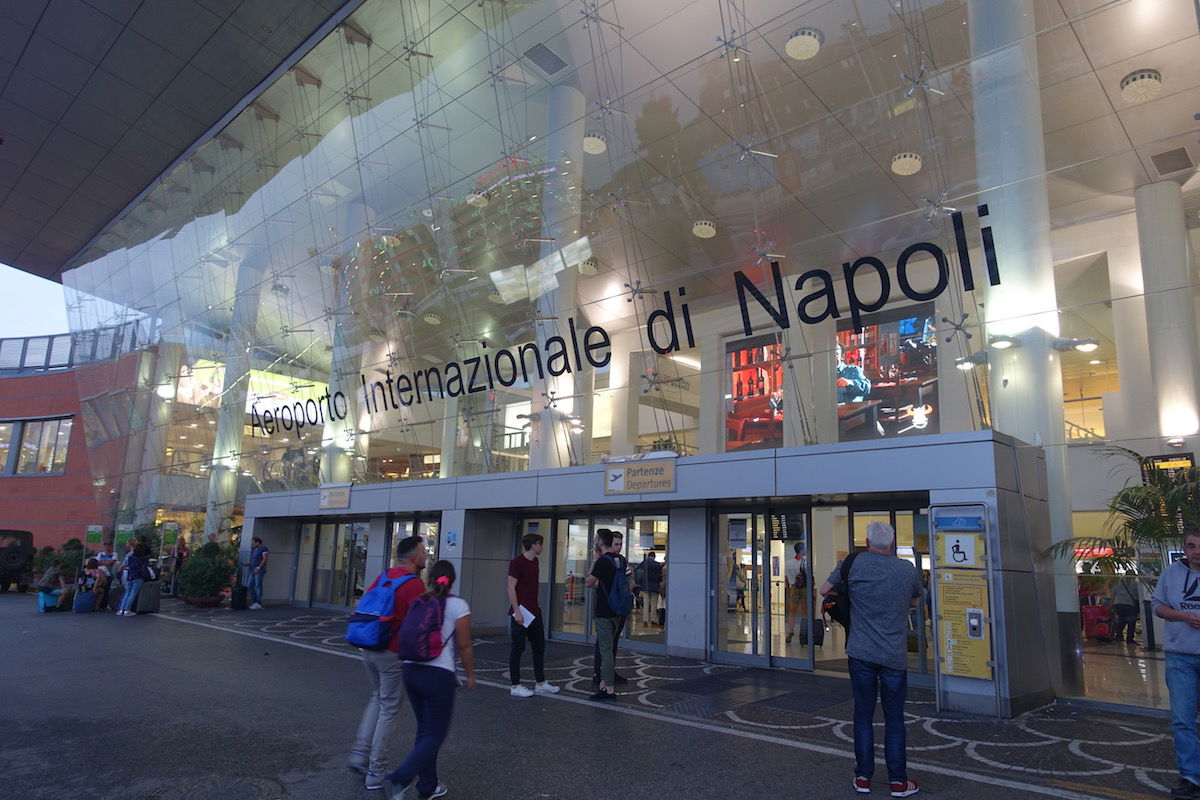 Naples Airport exterior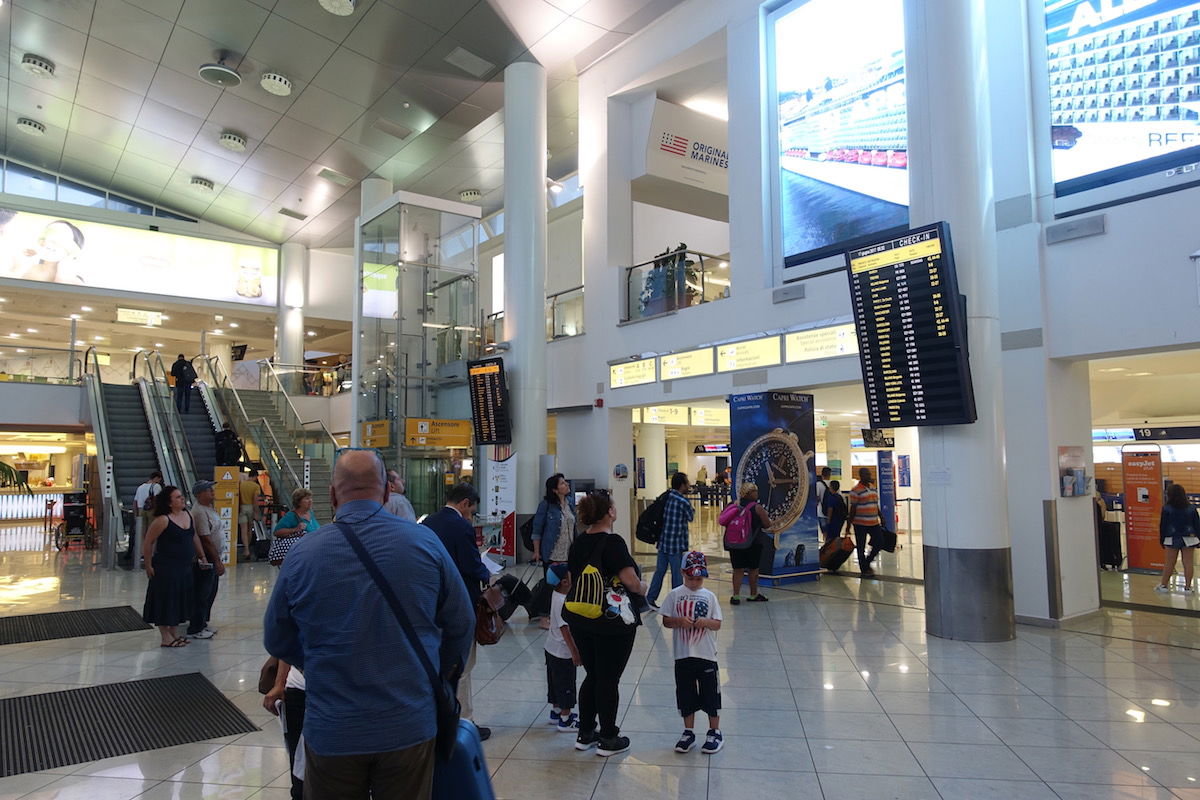 Naples Airport check-in hall
A majority of airlines serving Naples are low cost carriers, so many check-in counters were allocated to EasyJet, etc. I couldn't find Meridiana listed on the departures board, so it was only when I walked around the terminal that I found it.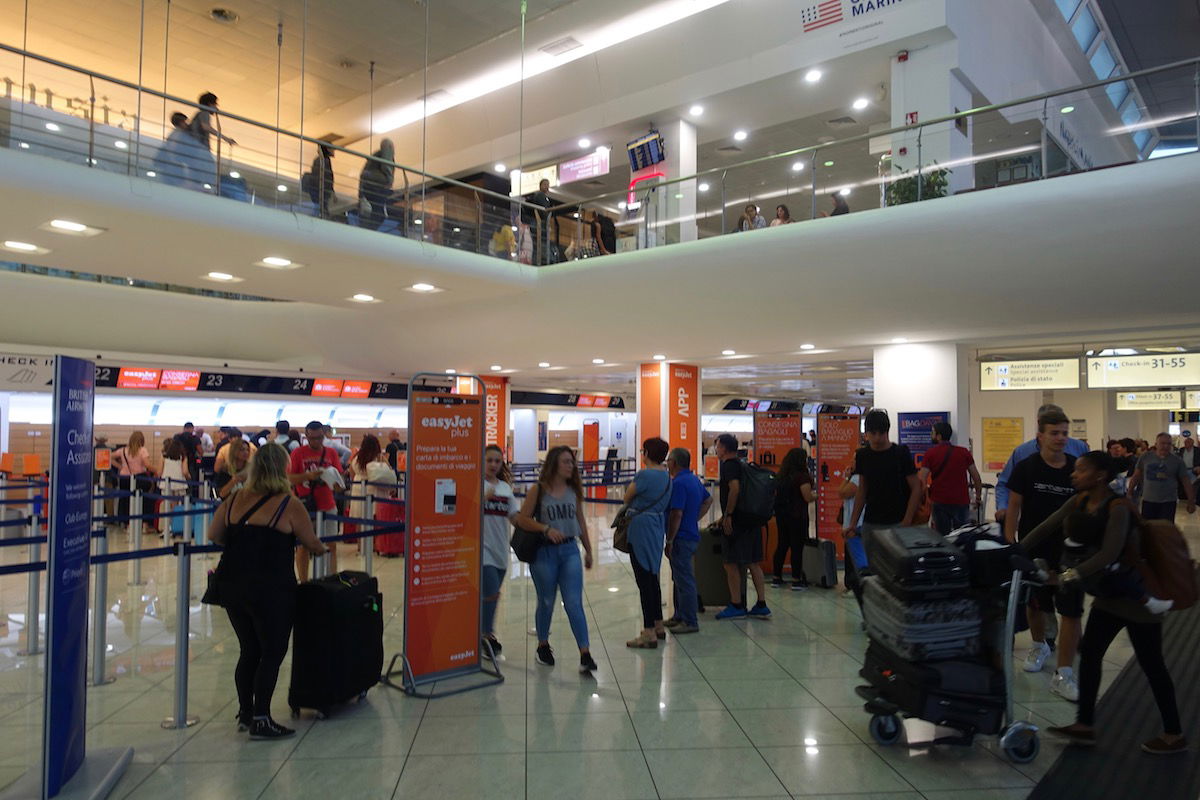 Naples Airport check-in hall
That's because Meridiana was just in the process of setting up their check-in area, which was at the far right of the terminal. The check-in area ended up opening at 5:50AM, three hours before departure.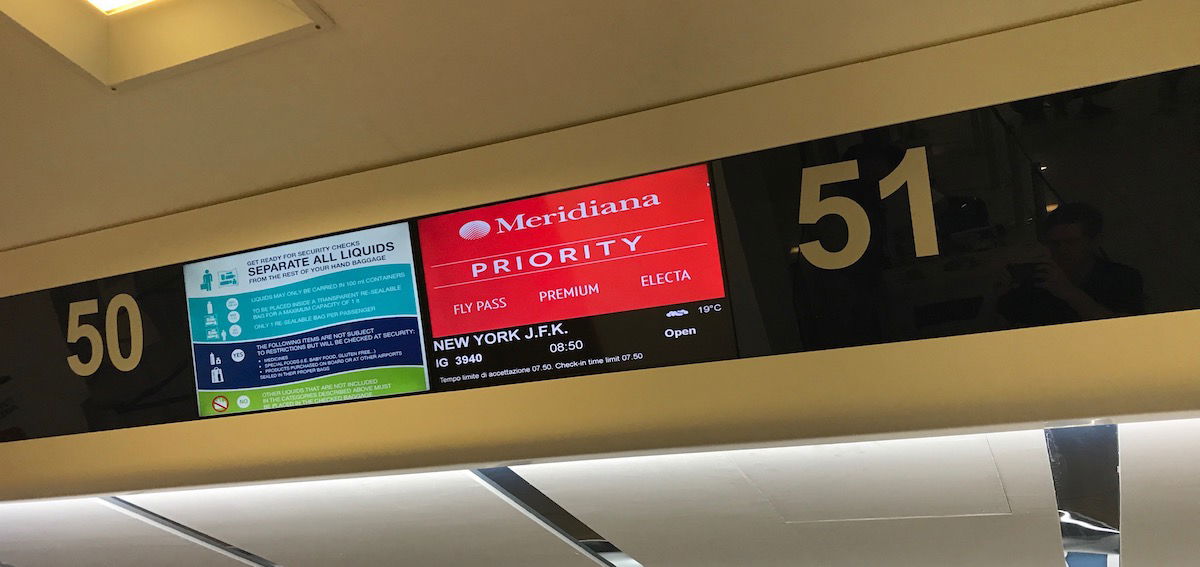 Meridiana check-in Naples Airport
The check-in process was quick, and within a minute I had my boarding pass and lounge invitation. I took the escalator up a level, and then followed the signage towards security.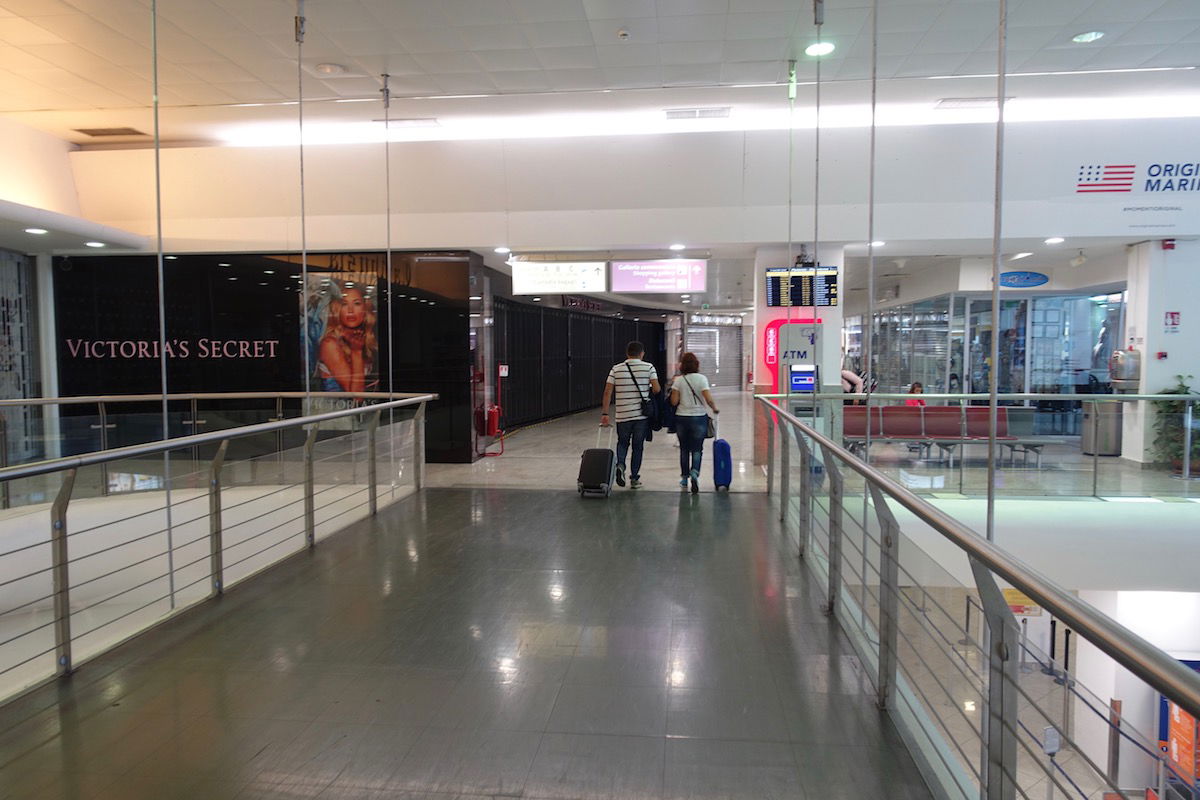 Walking to security at Naples Airport
There was a dedicated fast track line, though there wasn't much of a wait even in the regular line.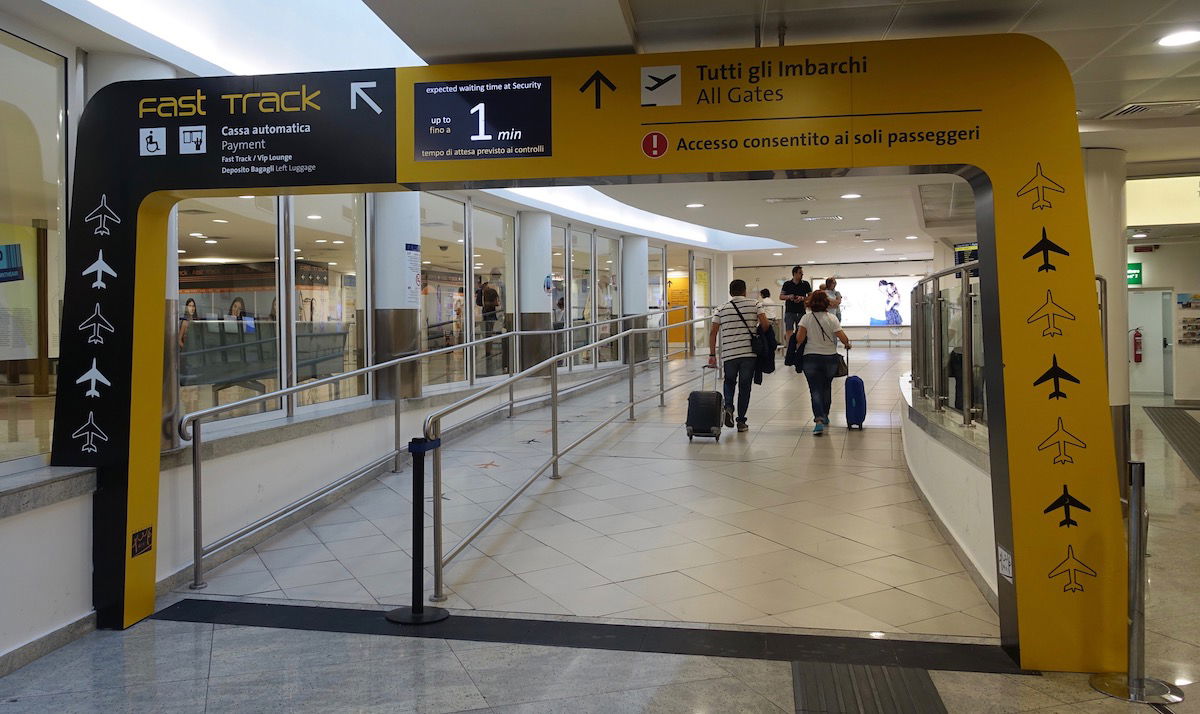 Naples Airport security fast track
The security process was painless, and soon enough I was in the terminal and walking past a bunch of duty free shops.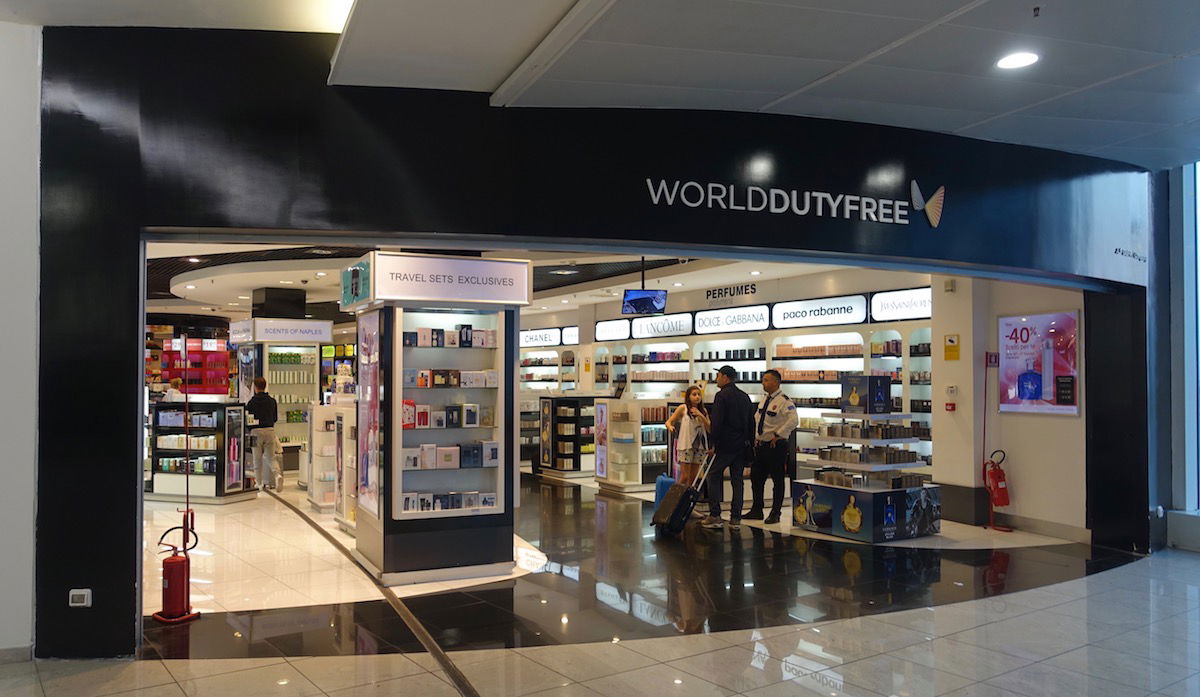 Naples Airport duty free shops
I followed the signage towards lounges — Meridiana uses the VIP Lounge Caruso for their business class passengers in Naples. The lounge is open daily from 5AM until 9PM.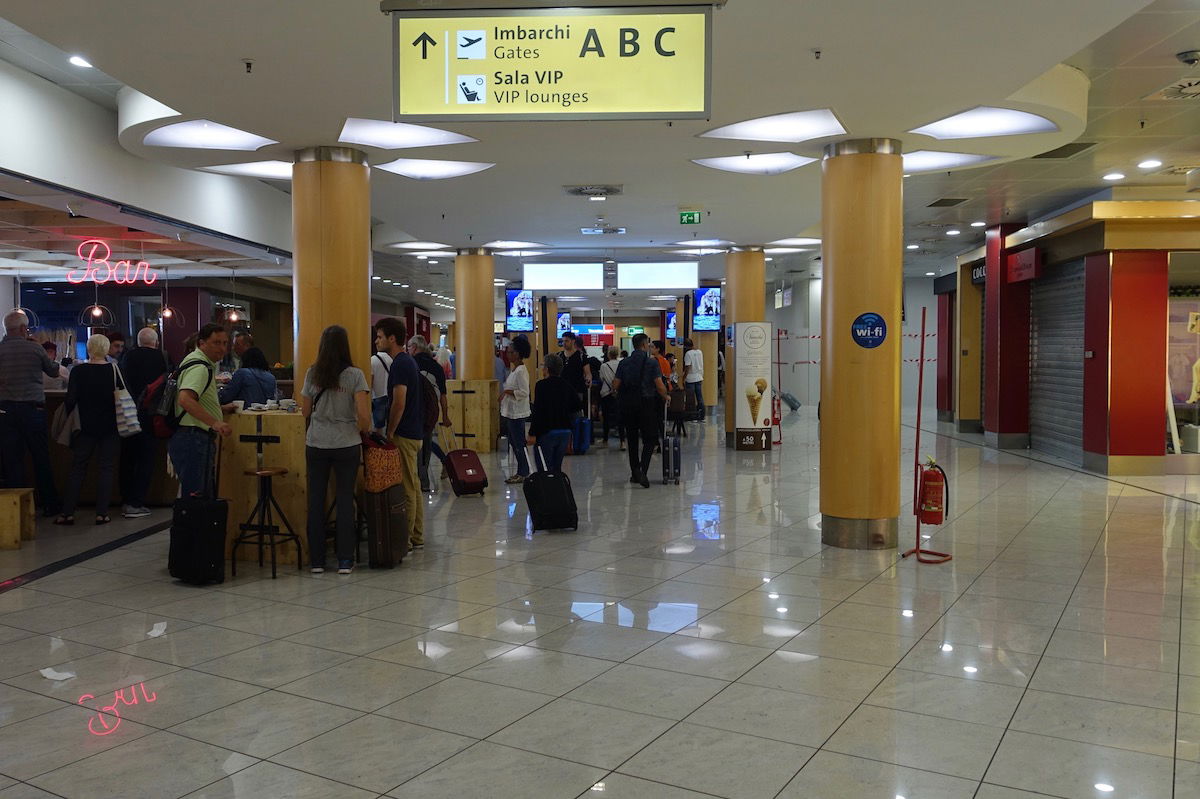 Naples Airport airside terminal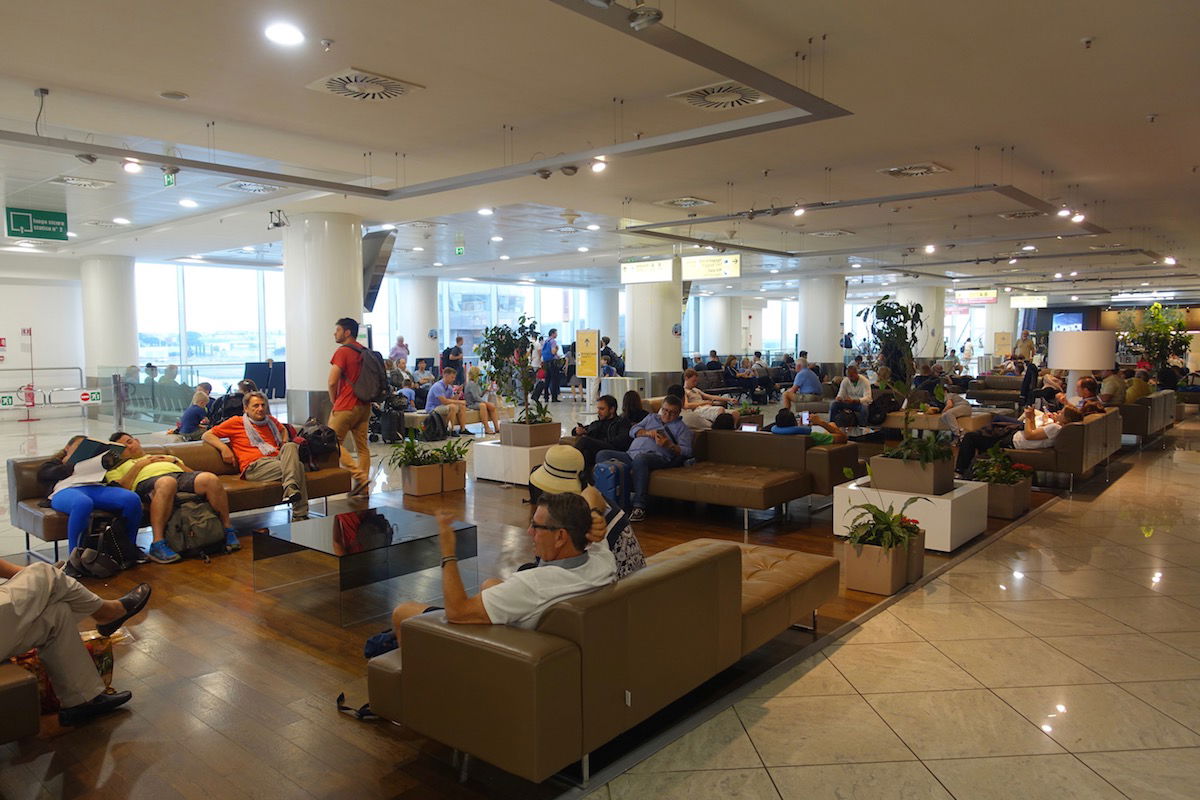 Naples Airport airside terminal
It was quite a walk to the lounge, which was located across from gate C16, though eventually I reached it.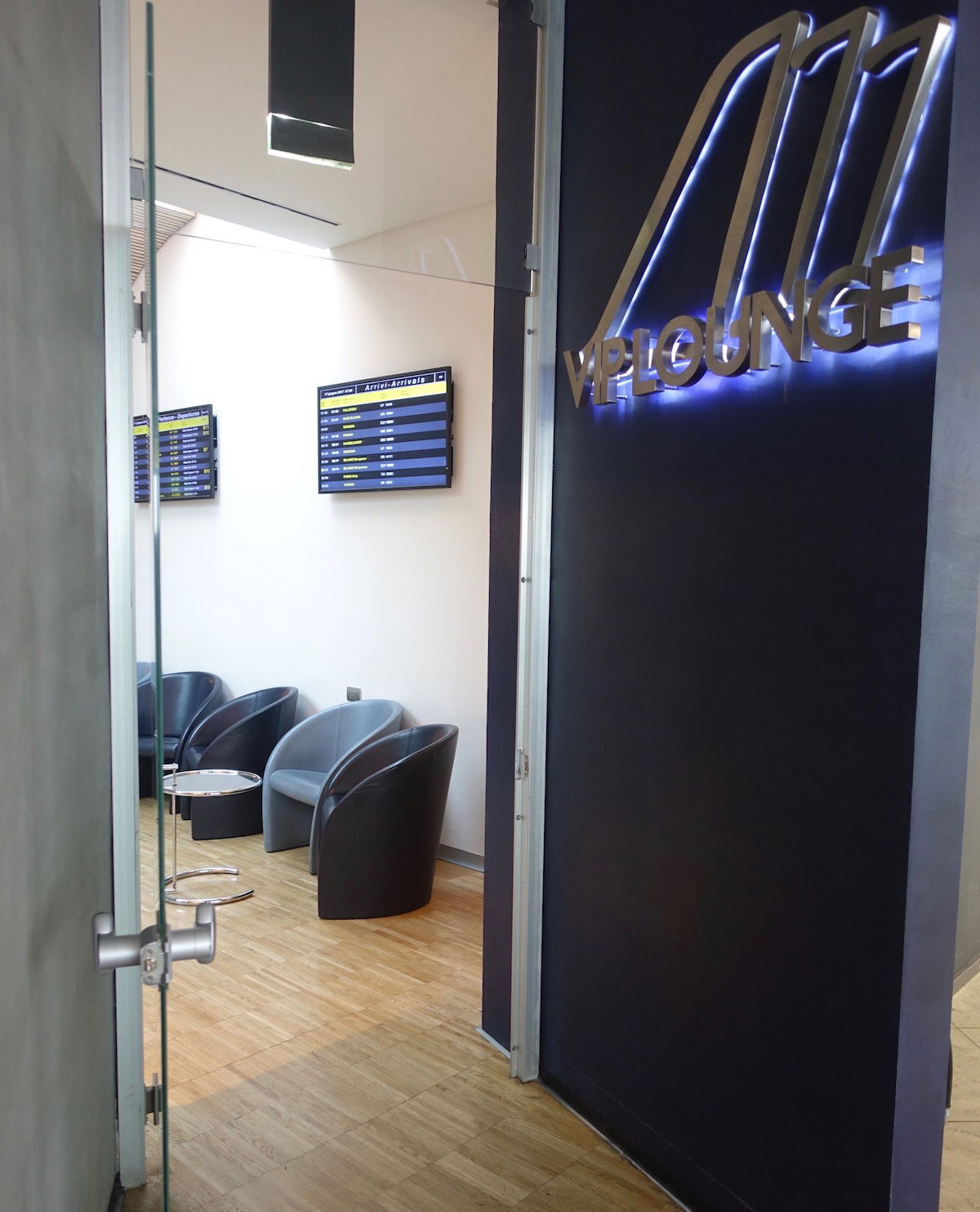 Naples Airport Lounge exterior
As you can see, a bunch of airlines use this lounge, including British Airways, Lufthansa, Swiss, Turkish, etc.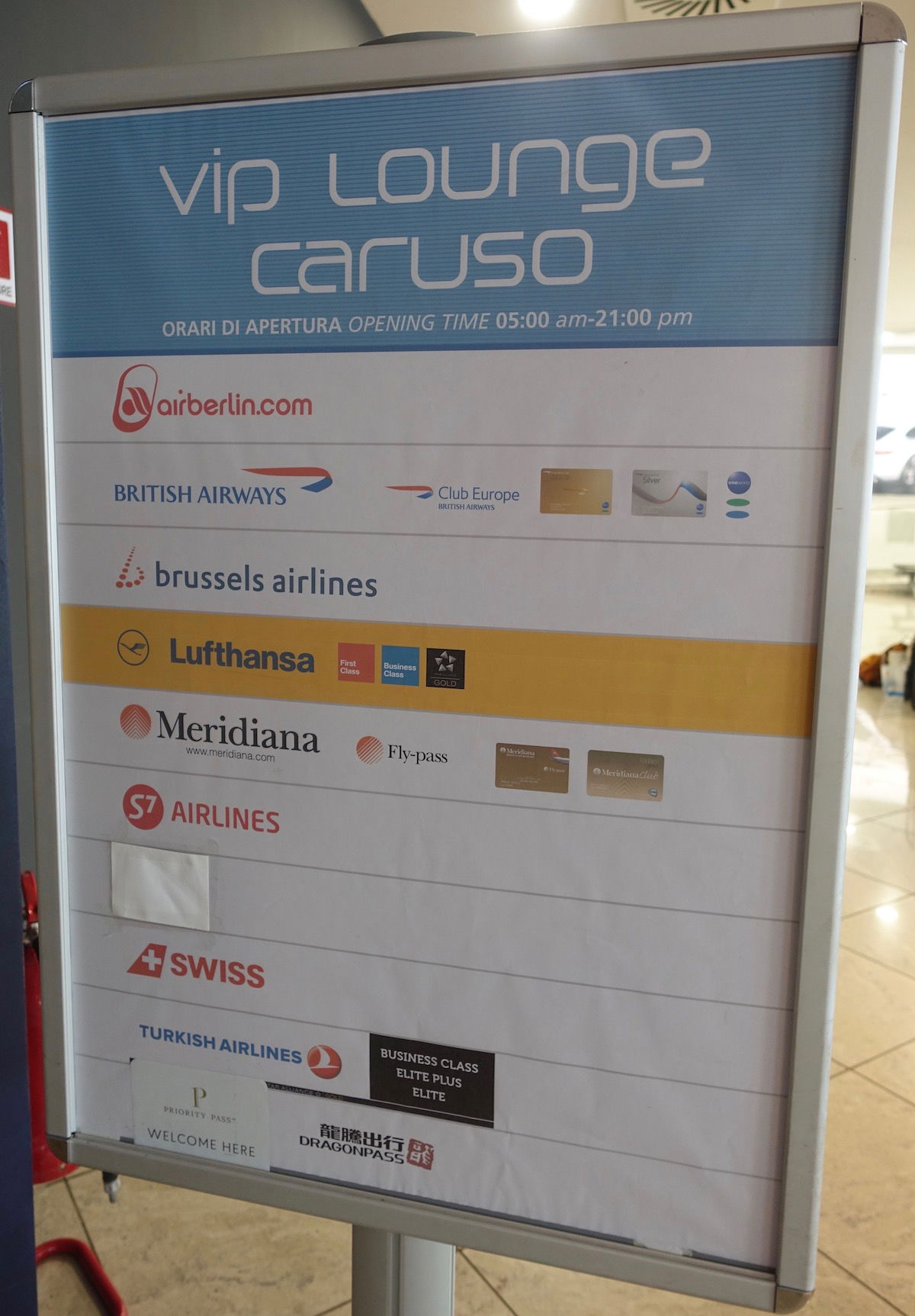 Naples Airport Lounge signage
For what it's worth, the VIP Lounge Caruso is also a member of Priority Pass, so you can easily gain entry thanks to any number of credit cards with lounge access. As a reminder, here's a table with some of the major credit cards offering Priority Pass memberships, as well as their respective guesting rules:
The associate at the desk scanned my boarding pass, though the lounge was packed. When I first arrived there was a single empty seat, though the lounge emptied out right at 6:30AM, I guess because most people people were traveling on the 7AM bank of flights to major European hubs.
Up until that point I'm pretty sure I was the only guest in the lounge not from New Jersey.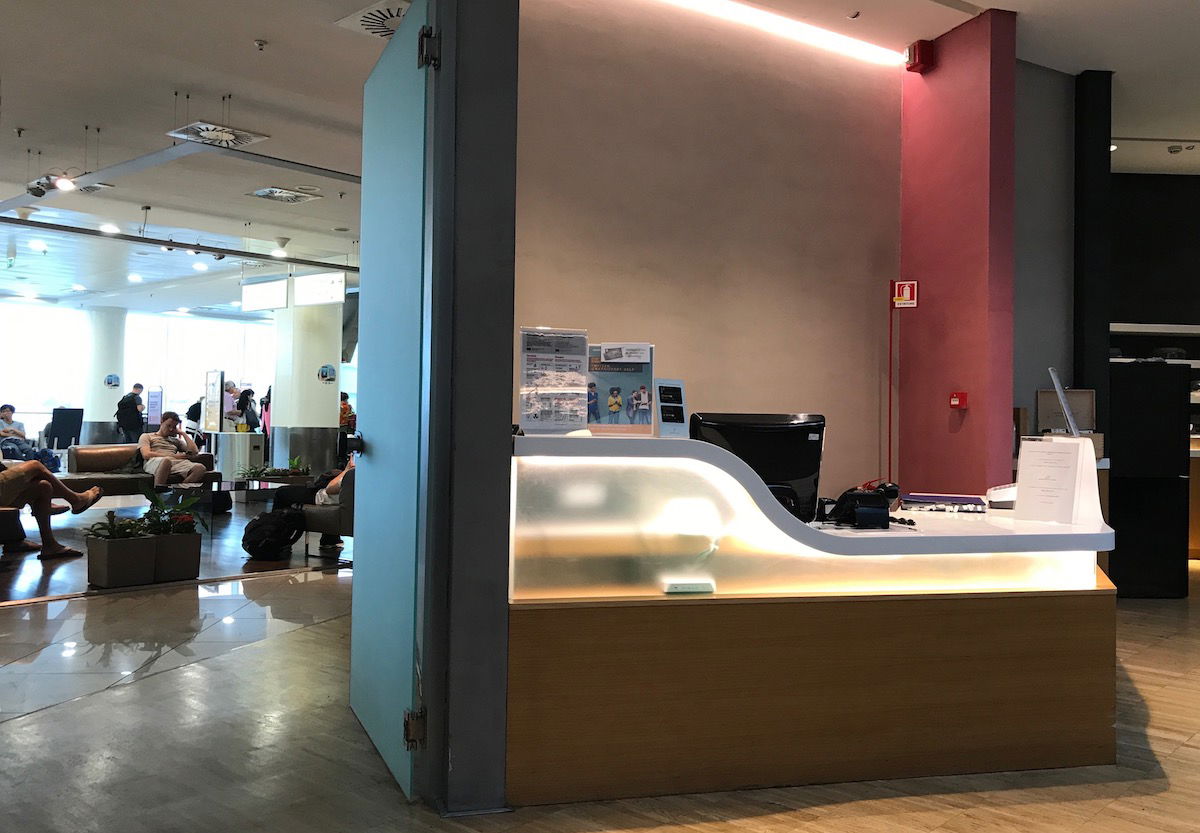 Naples Airport Lounge check-in
All of the below pictures were taken once the lounge emptied out. It was actually a pretty small lounge, with just a few dozen seats. Near the entrance were about about a dozen seats arranged pretty closely to one another.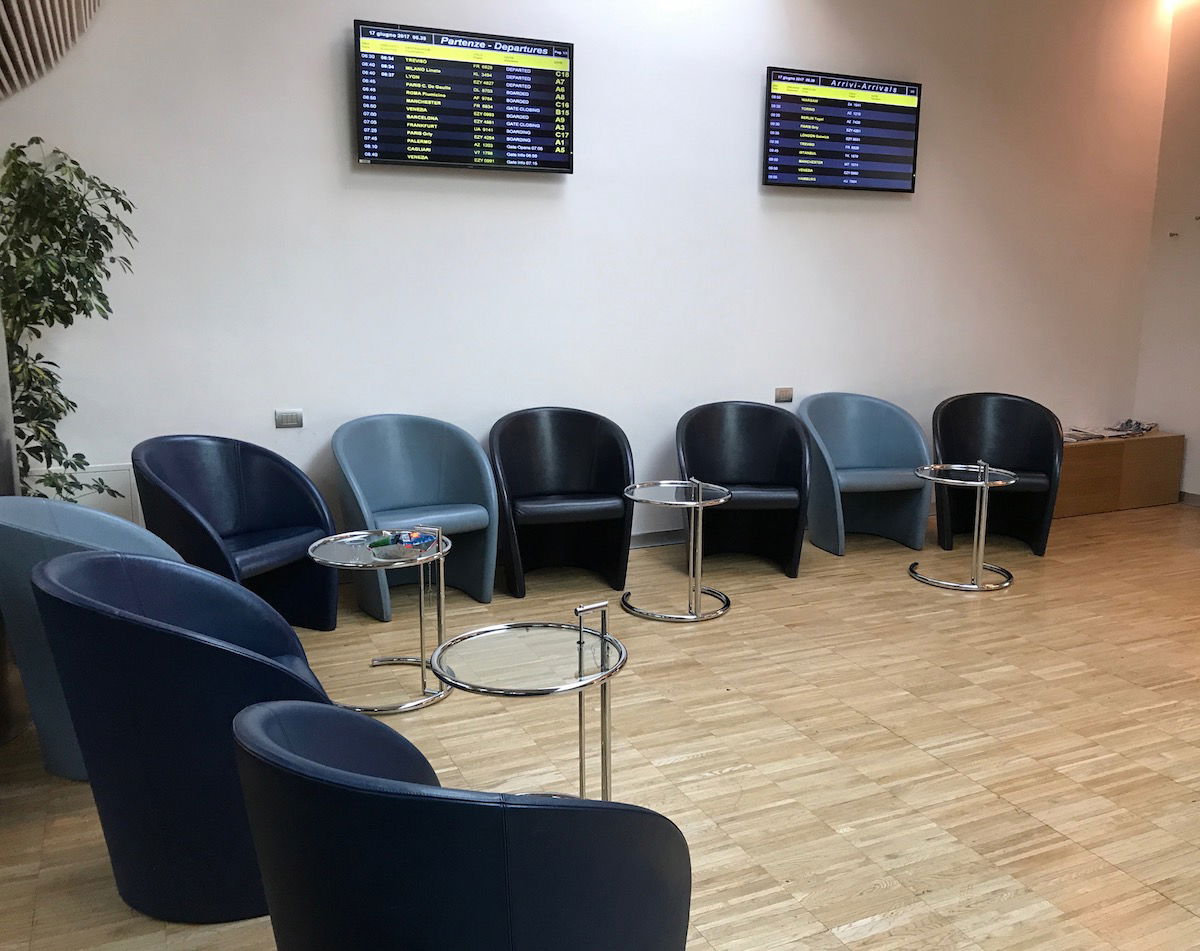 Naples Airport Lounge seating
Then there was the main room of the lounge, which had a few couches and leather chairs.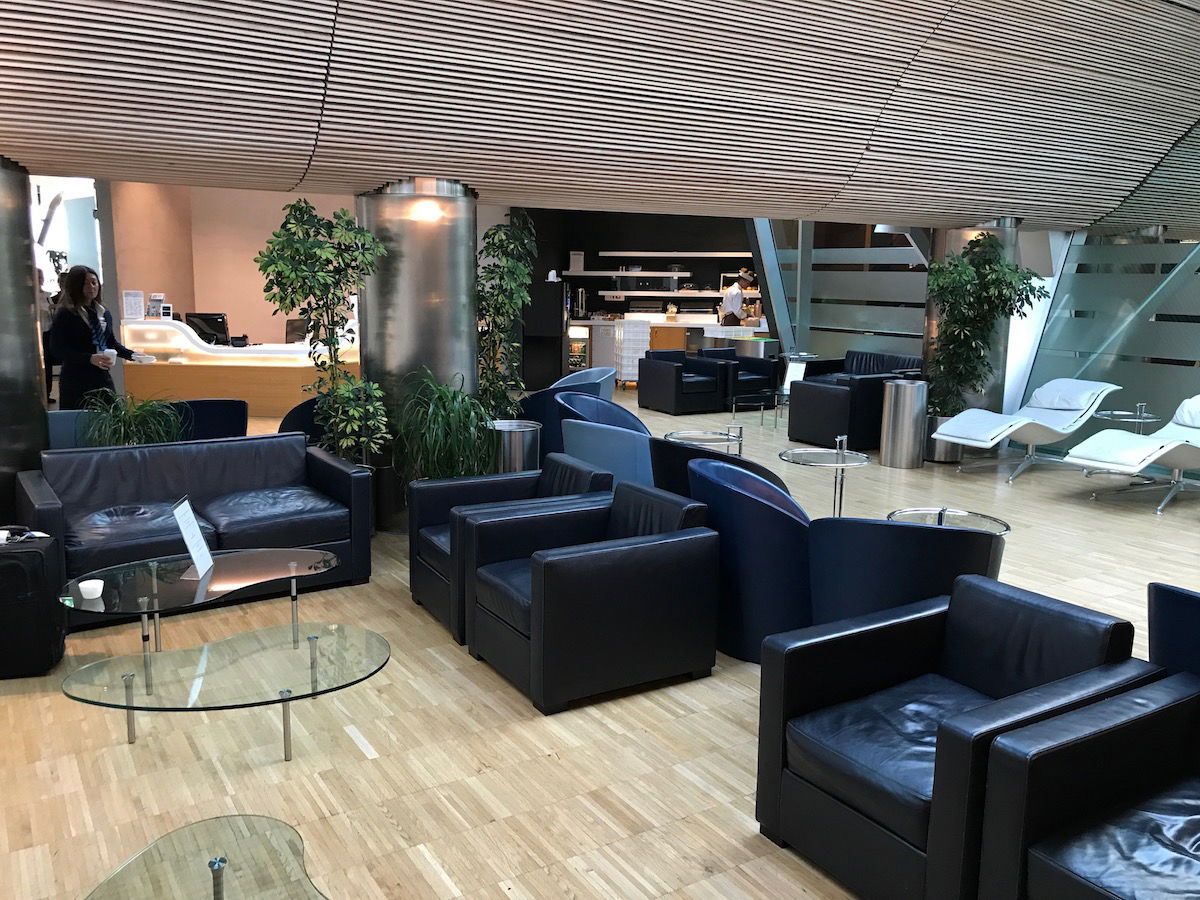 Naples Airport Lounge seating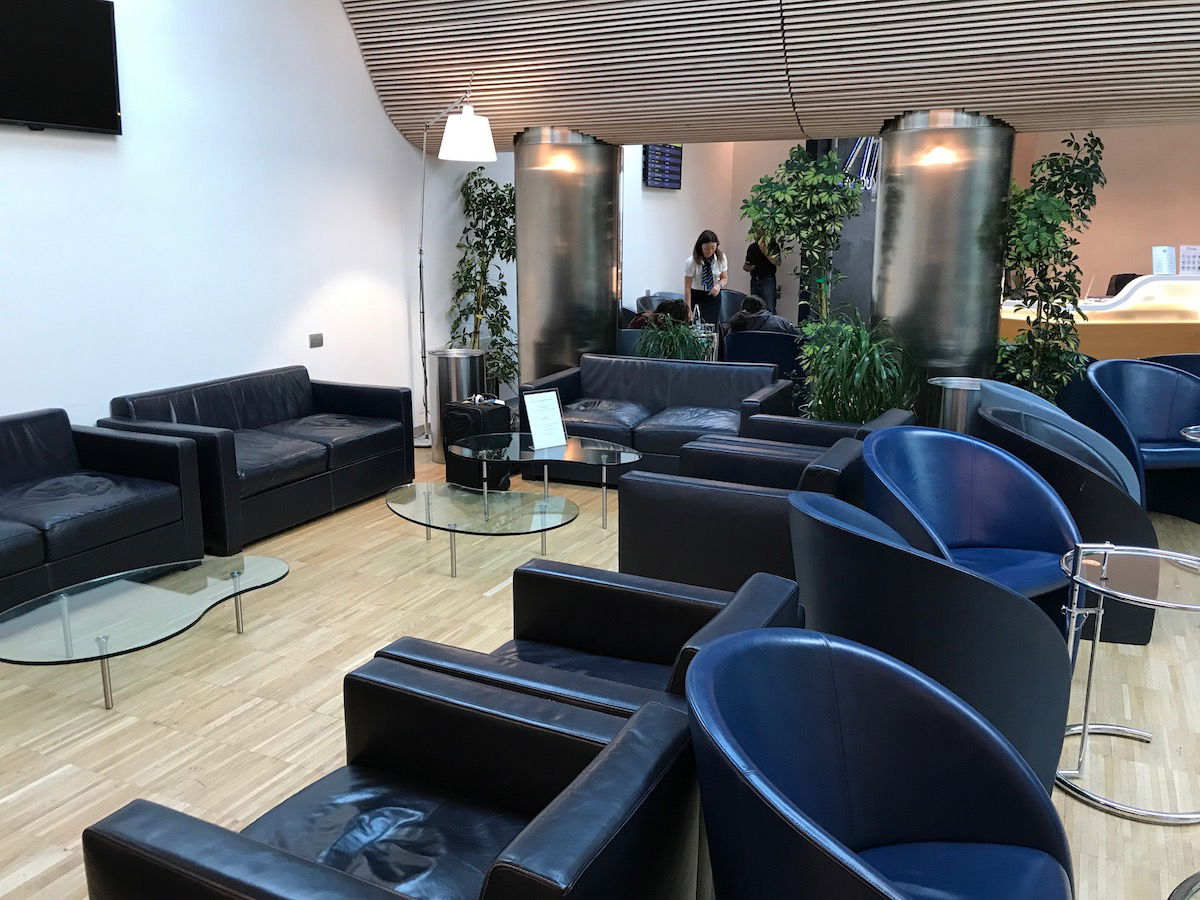 Naples Airport Lounge seating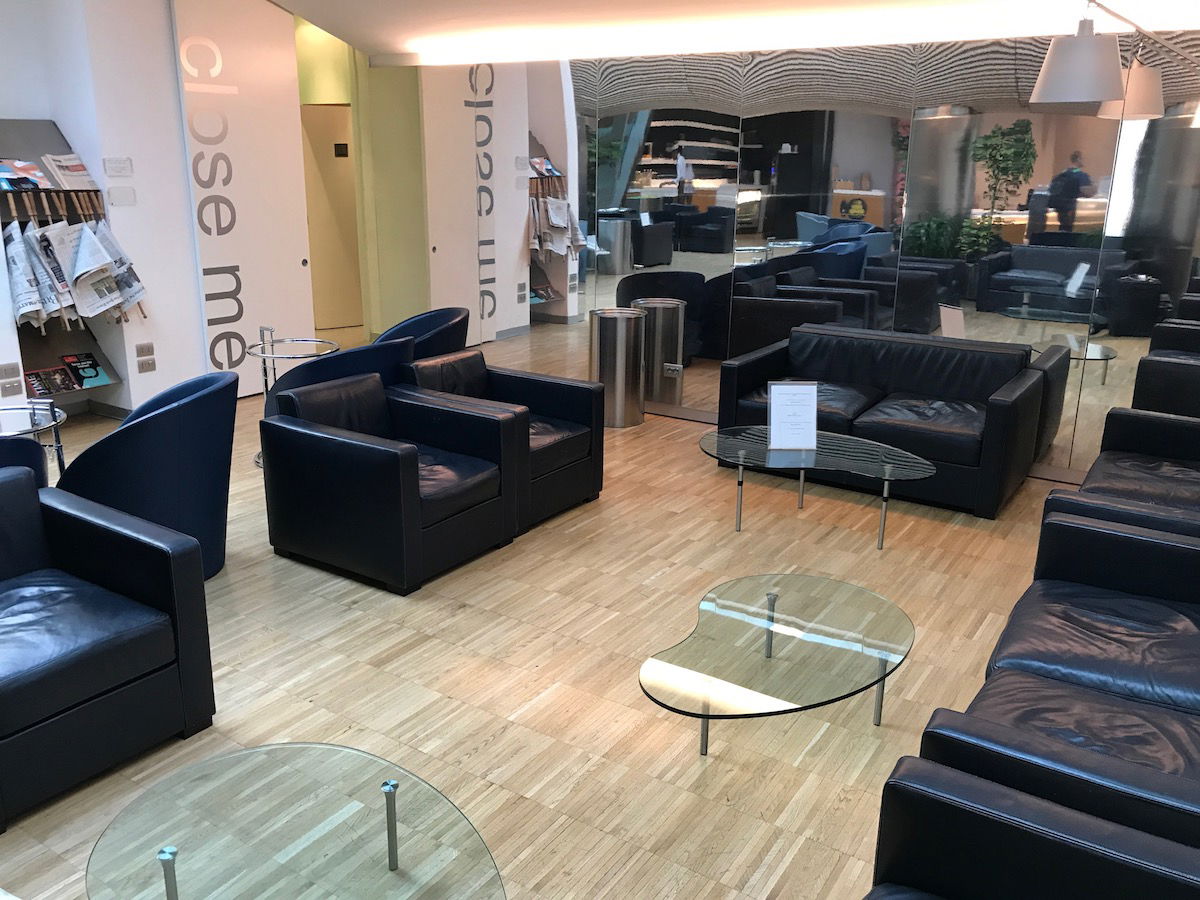 Naples Airport Lounge seating
Then in the corner of the lounge were three chairs that were intended for relaxing, though with the lack of privacy they just seemed sort of awkward to me.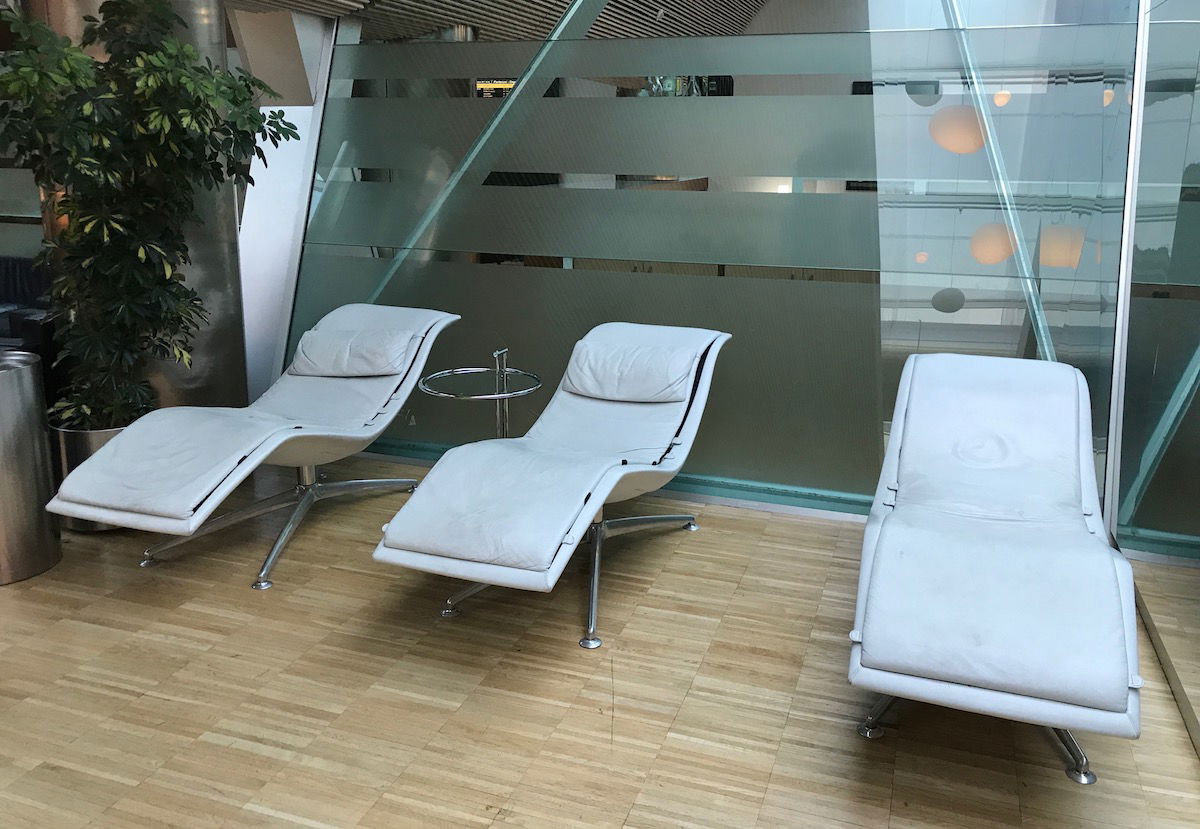 Naples Airport Lounge seating
The buffet was back near the entrance of the lounge.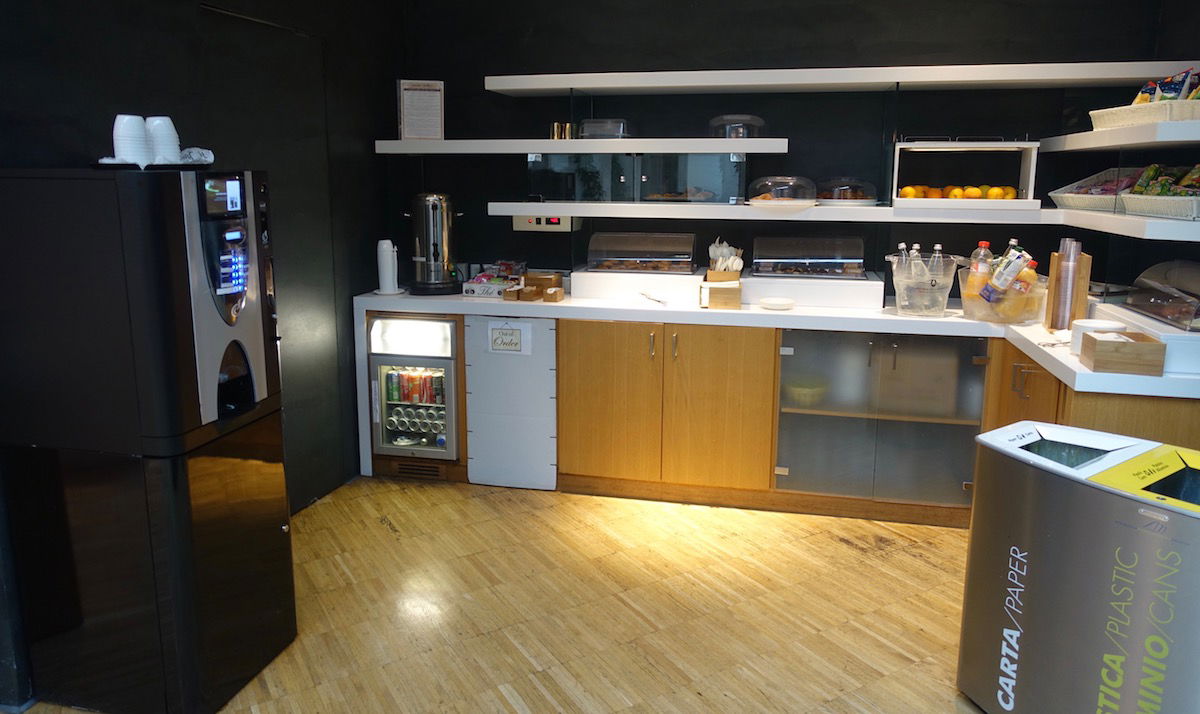 Naples Airport Lounge buffet
There were a selection of drinks, including bottled water, juice, tea, a coffee machine, wine, etc.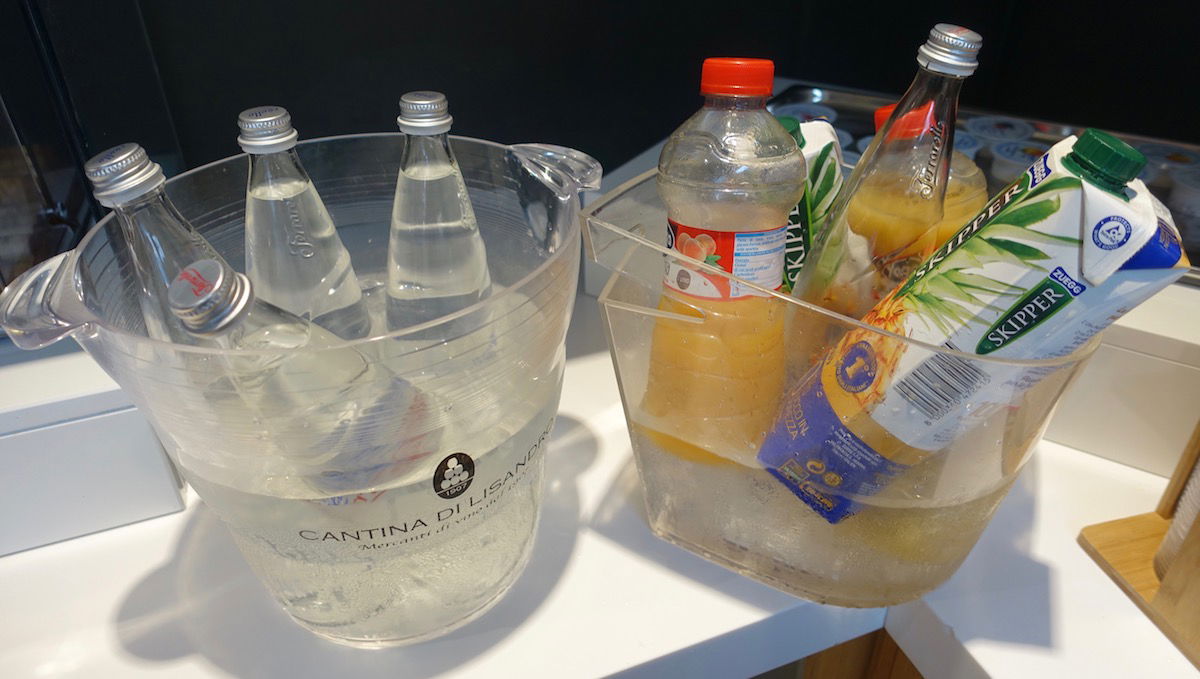 Naples Airport Lounge drinks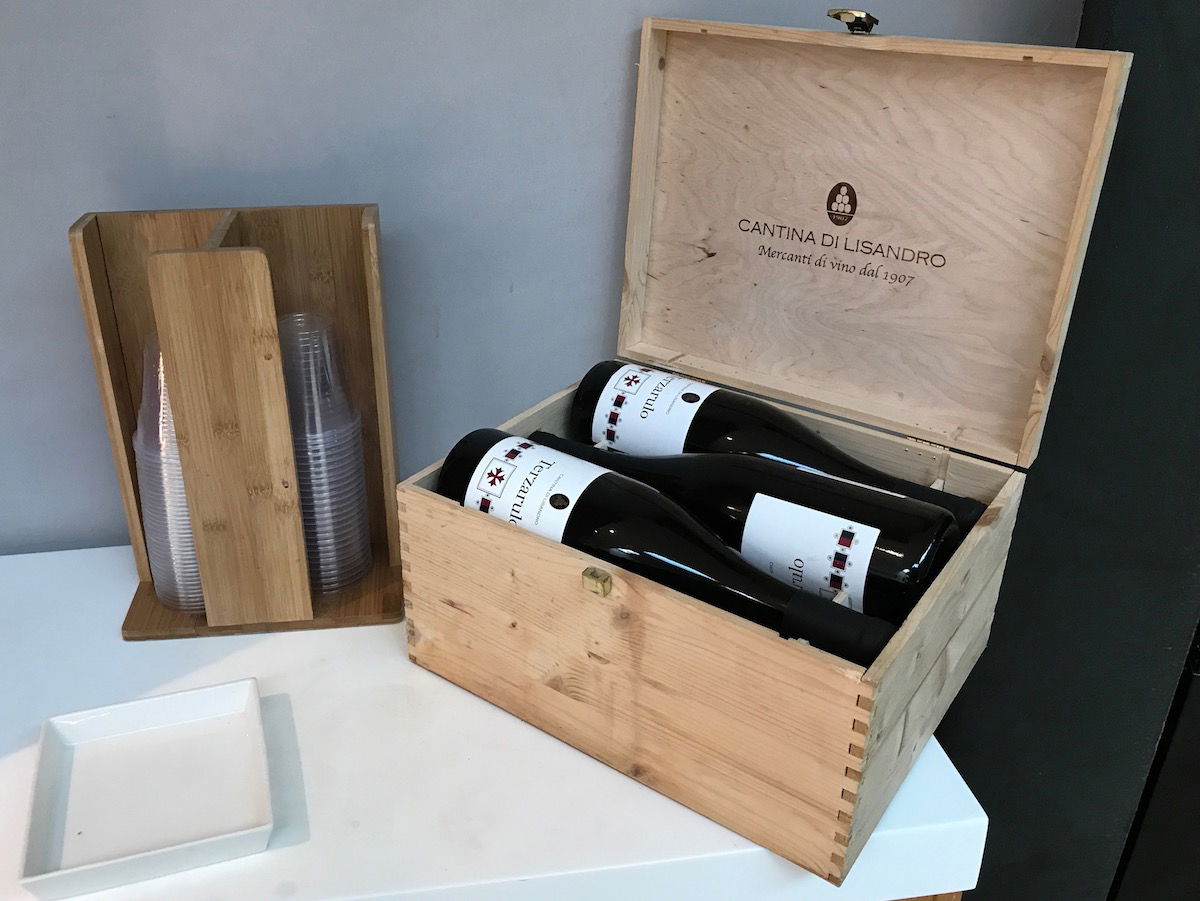 Naples Airport Lounge wine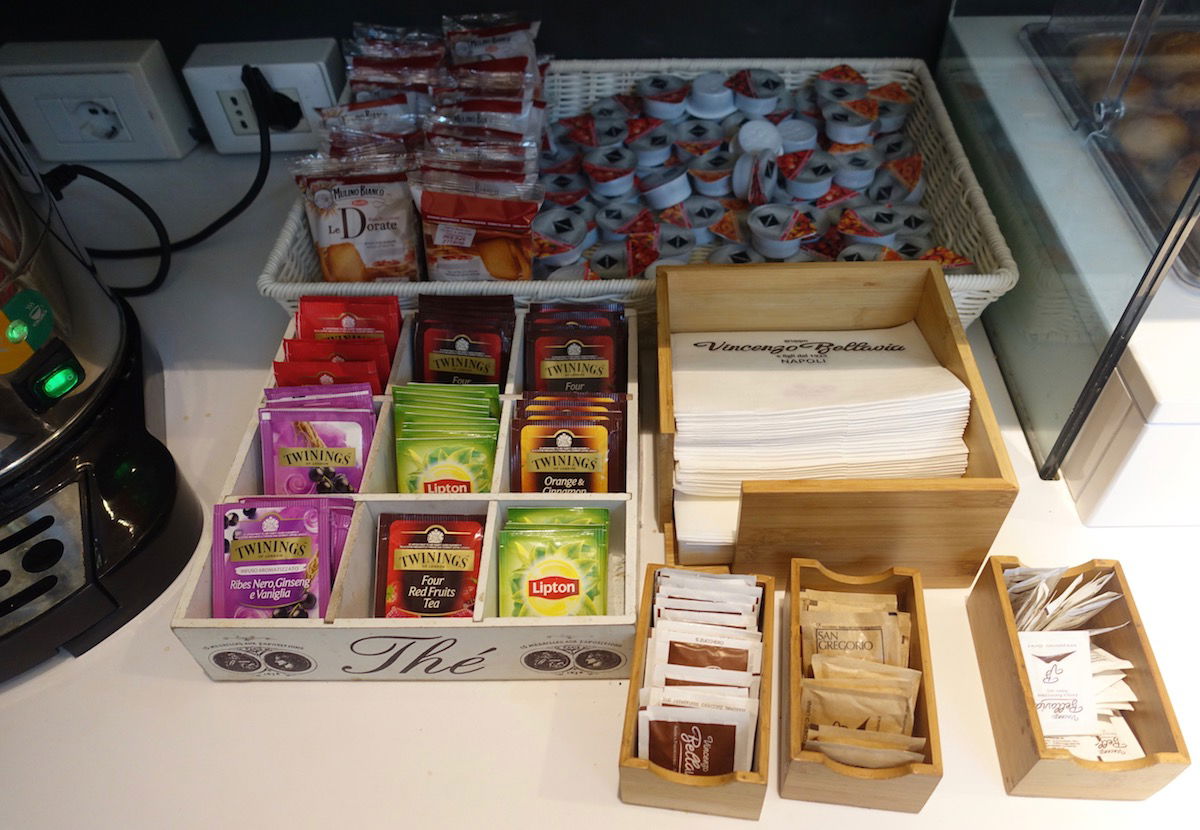 Naples Airport Lounge tea & snacks
For a country with such a strong coffee culture, I found the coffee to be disgusting.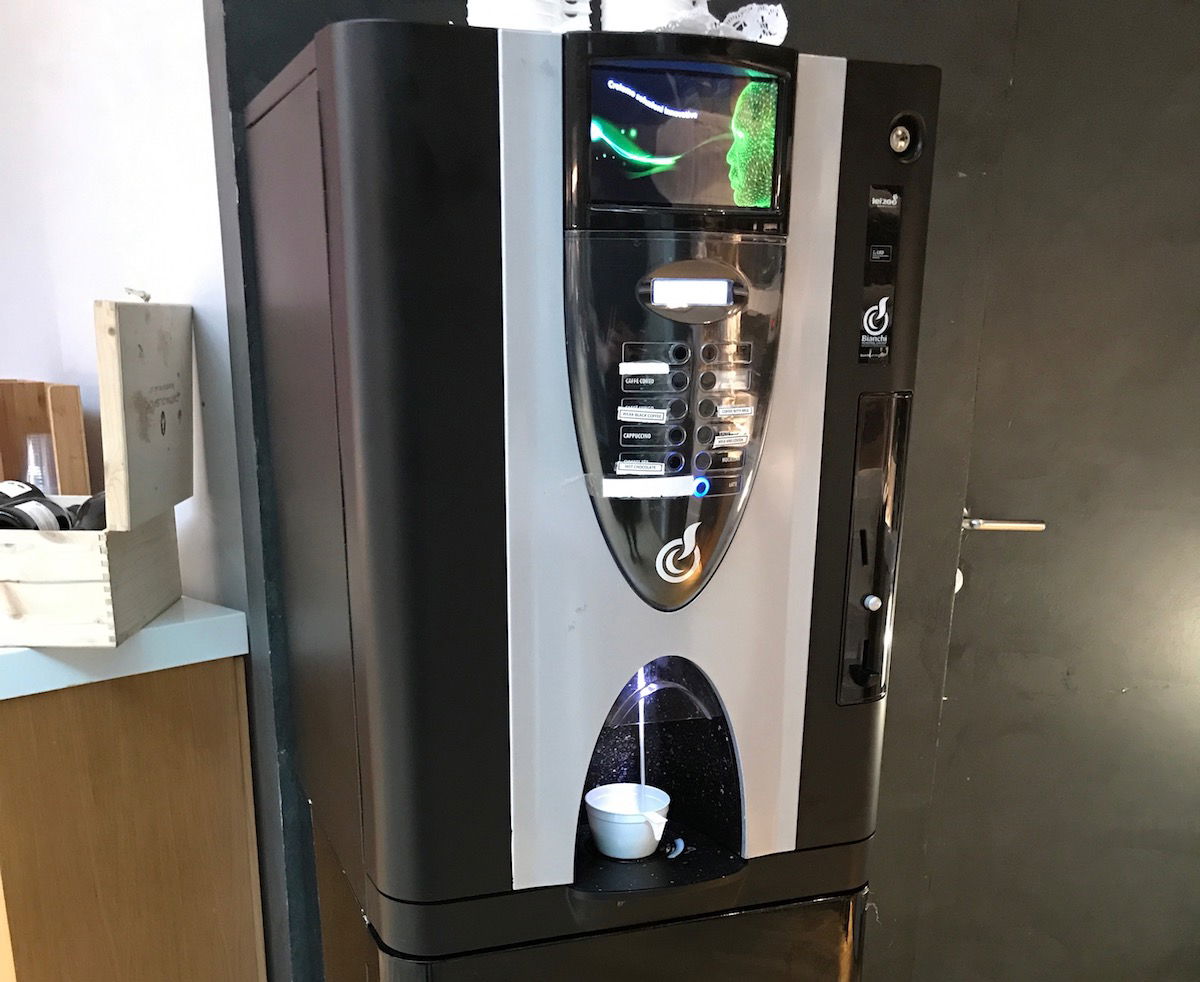 Naples Airport Lounge coffee machine
For a contract lounge the selection of snacks were decent. Yes, most of the were unhealthy, but at least they tasted good (which is better than snacks that are unhealthy and taste like cardboard).
There were a variety of packaged snacks.


Naples Airport Lounge snacks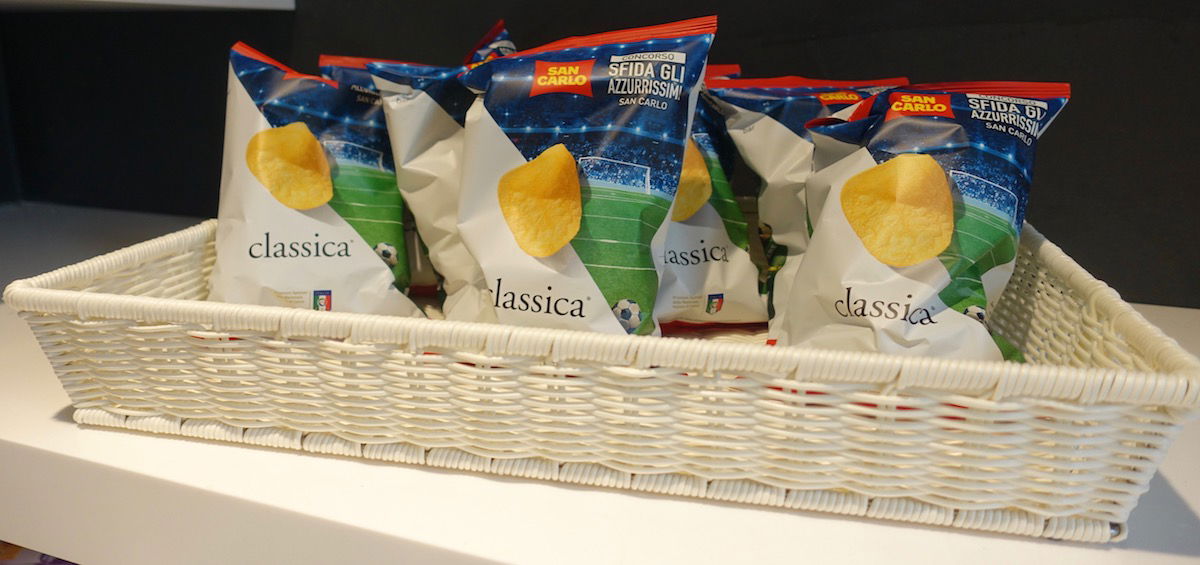 Naples Airport Lounge snacks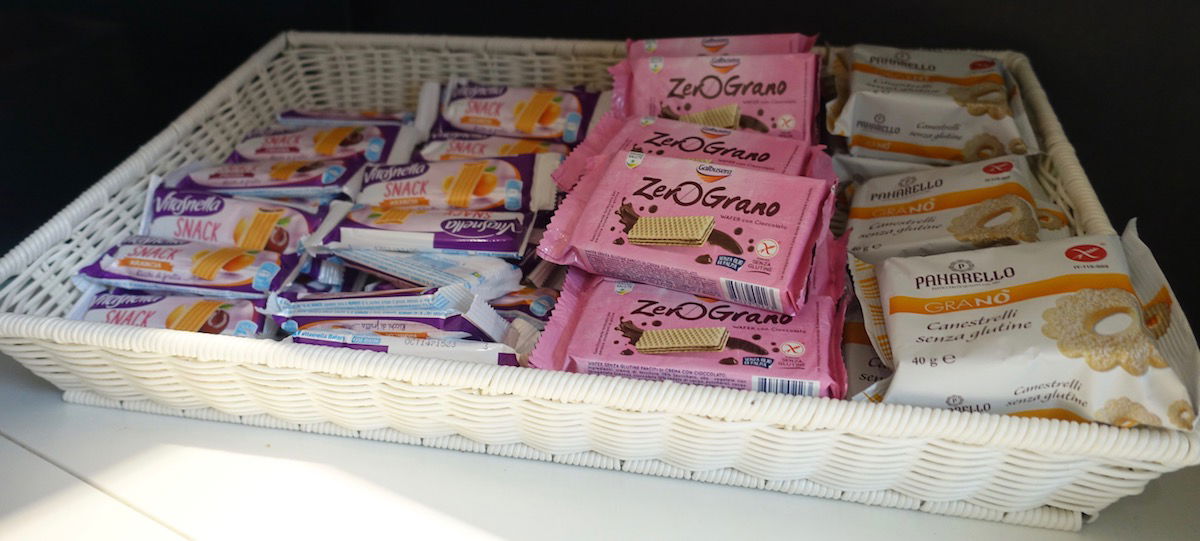 Naples Airport Lounge snacks
Then there was whole fruit, yogurt, cold cuts, and cheese.


Naples Airport Lounge fresh fruit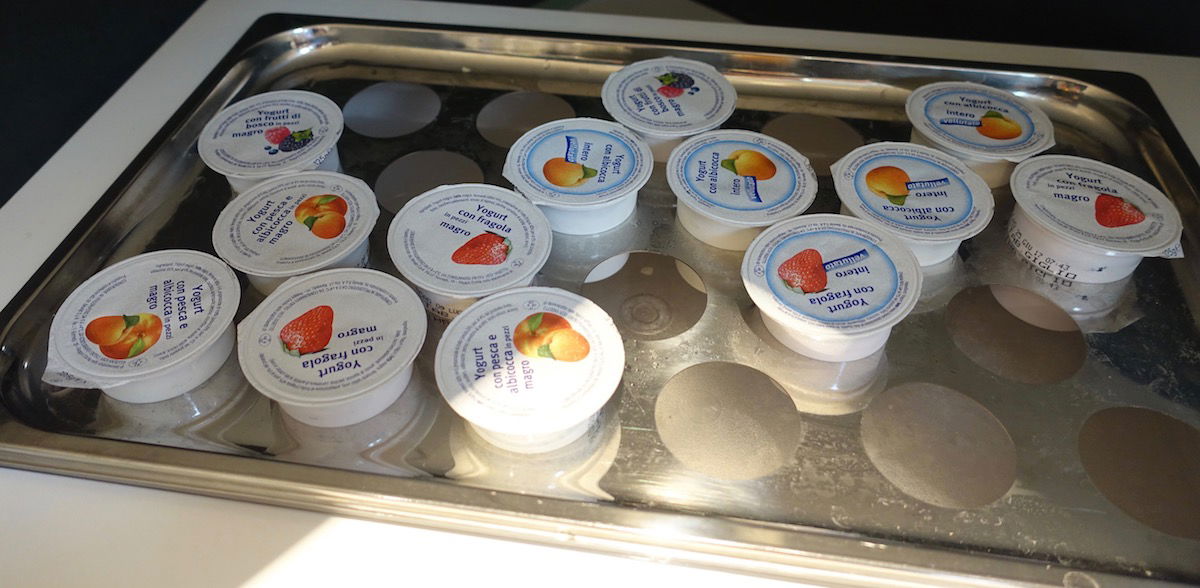 Naples Airport Lounge yogurt


Naples Airport Lounge cold cuts & cheese
Then there was a surprisingly tasty selection of carbs.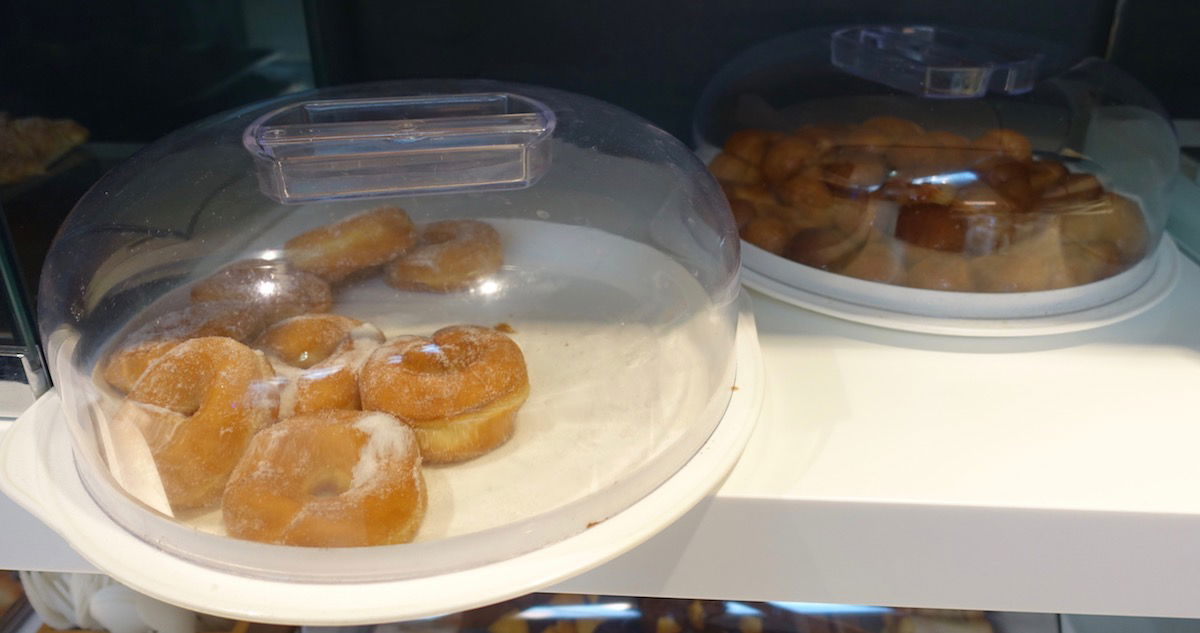 Naples Airport Lounge snacks


Naples Airport Lounge snacks


Naples Airport Lounge snacks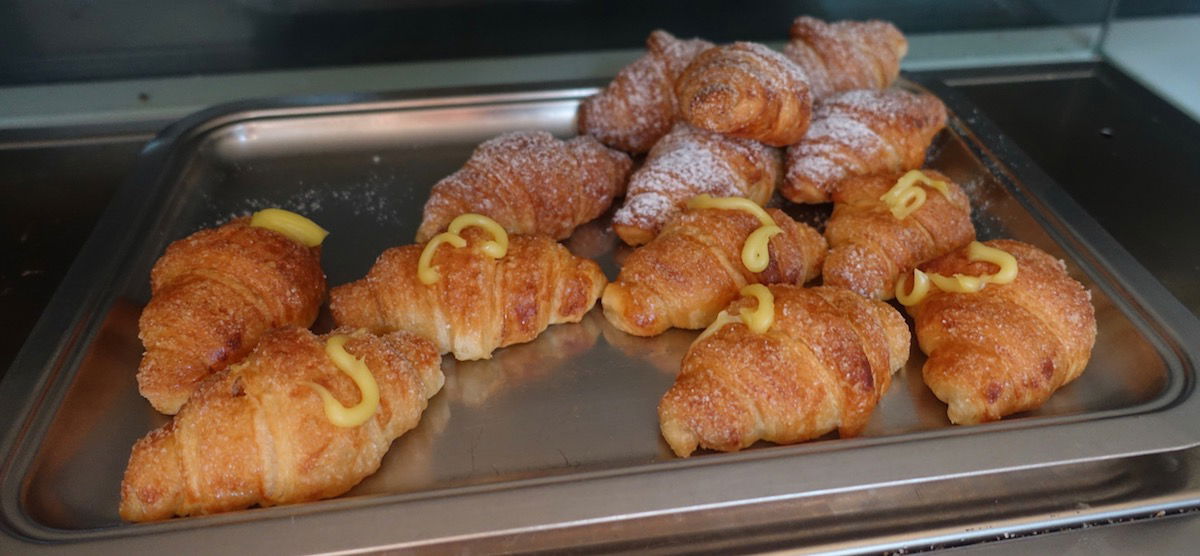 Naples Airport Lounge snacks
While the cappuccino was disgusting, the sweet croissant I had was tasty.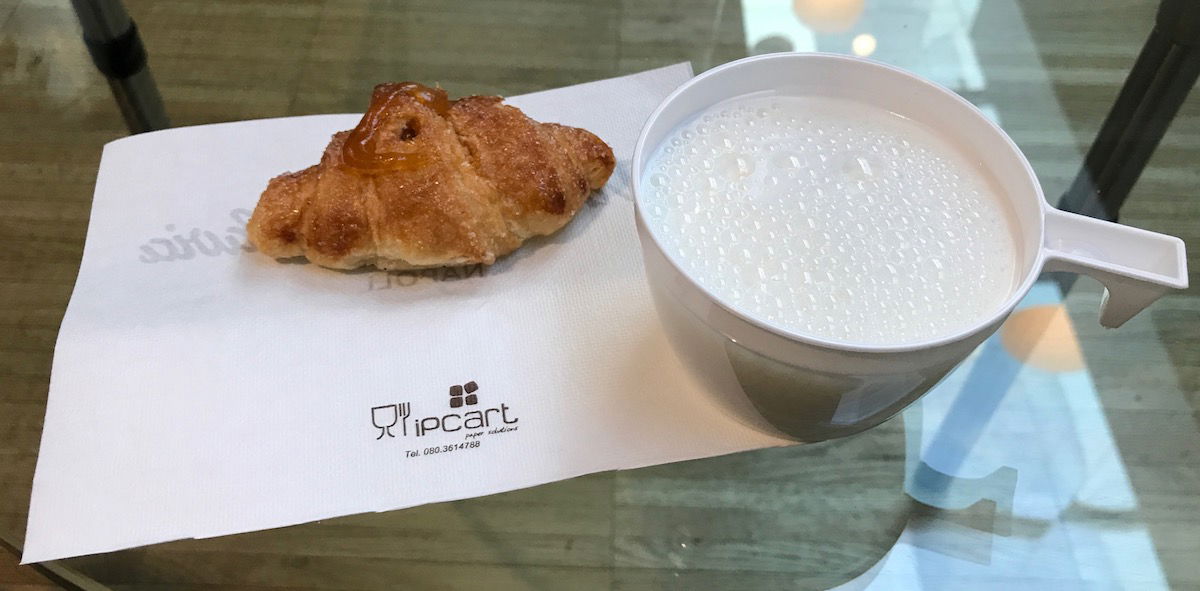 Naples Airport Lounge cappuccino & croissant
The lounge had a selection of newspapers hanging on wooden sticks near the bathroom.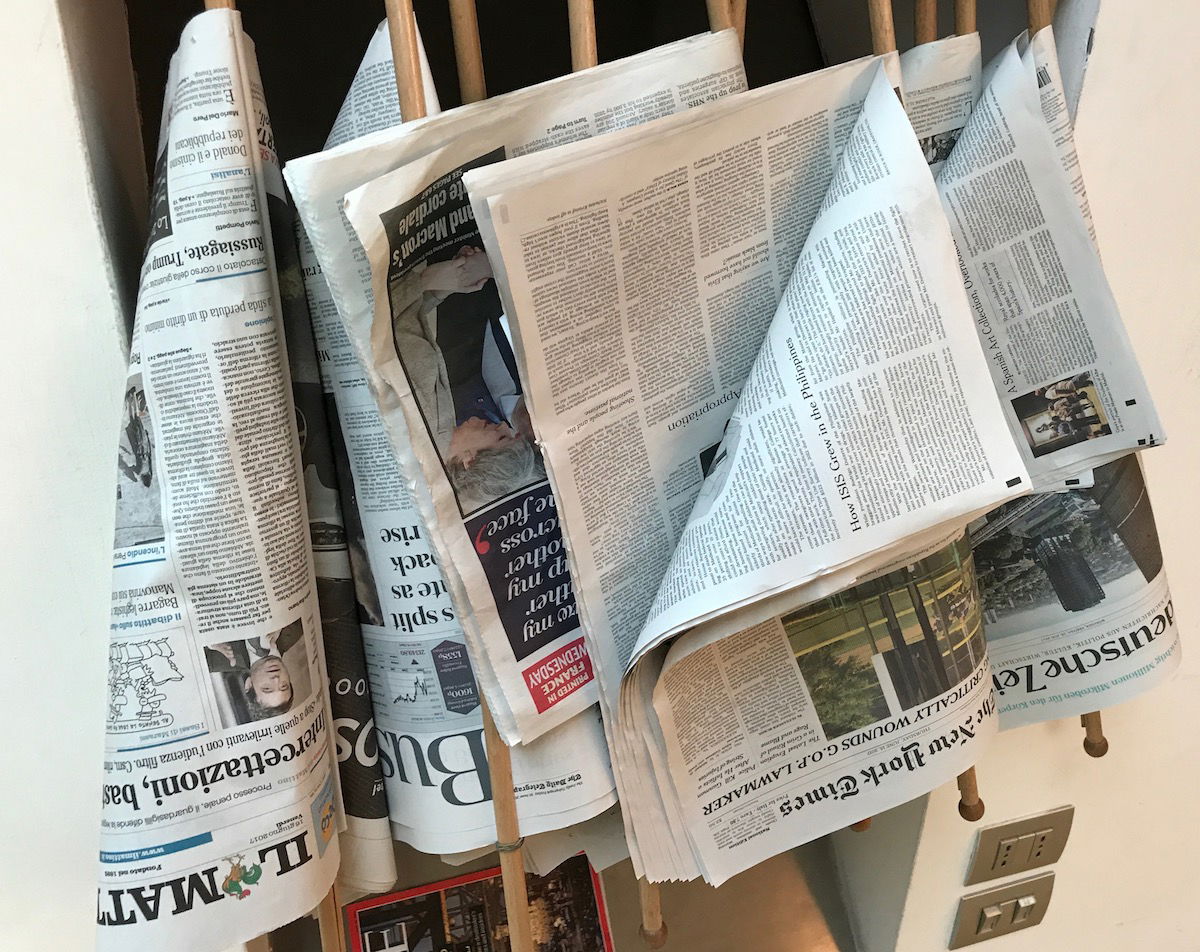 Naples Airport Lounge newspapers
Speaking of the bathroom, there were shared sinks that weren't really partitioned off from the rest of the lounge, but rather were in the open.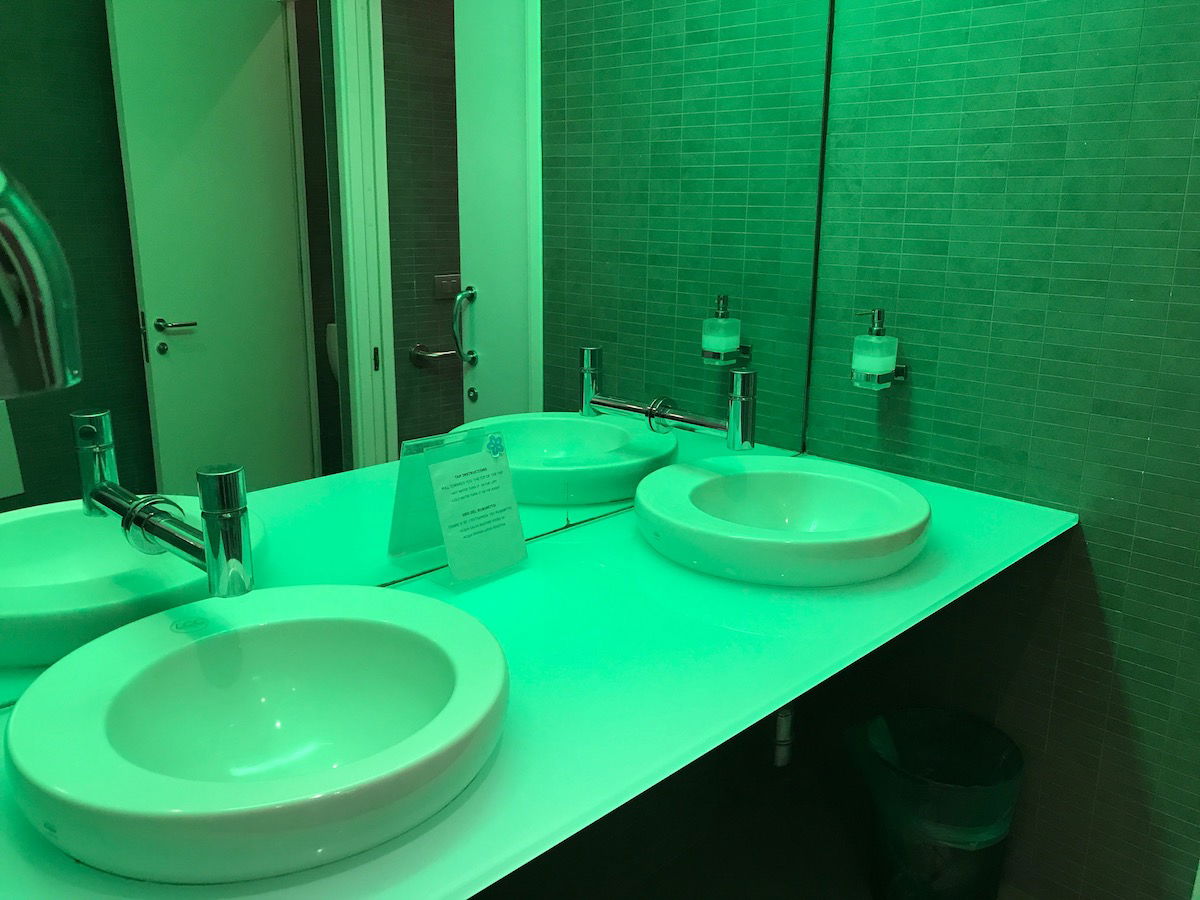 Naples Airport Lounge bathroom
Then there were just private bathrooms, as well as a single shower room.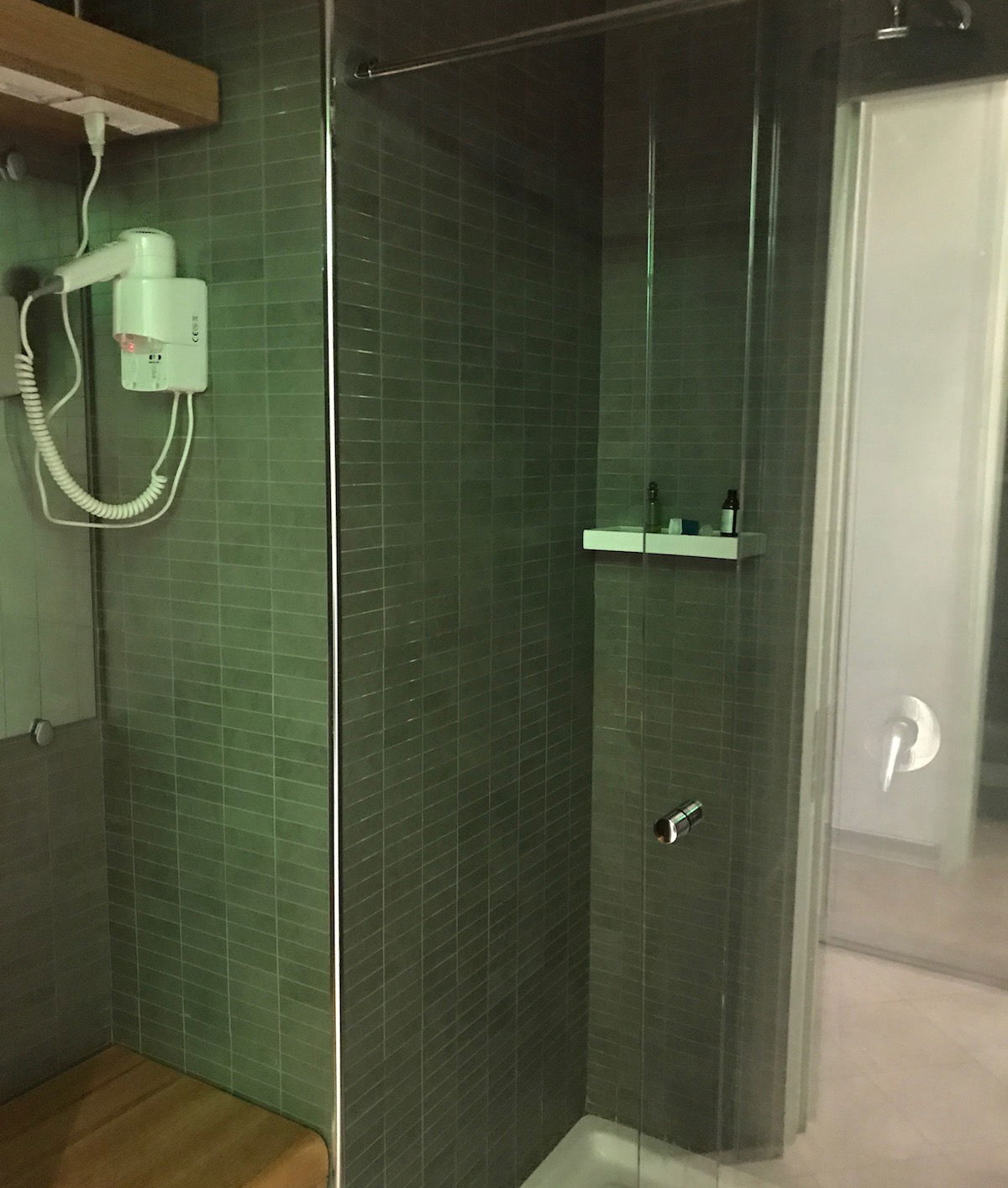 Naples Airport Lounge shower room
The lounge didn't have its own Wi-Fi network, though the airport's Wi-Fi was free and fast, so that did the trick.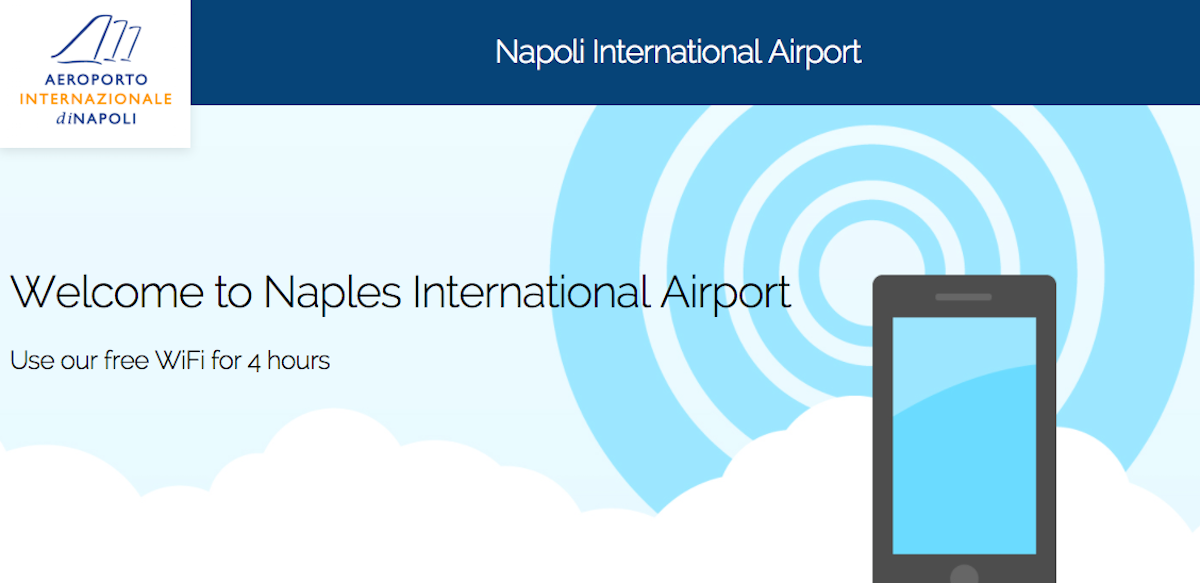 Naples Airport Wi-Fi
The lounge stayed mostly empty, with the exception of four older couples who were also on my flight to New York. There were two sets of two couples traveling together, and they were just so adorable. They just got back from vacationing in the Amalfi Coast, and the way they talked to one another, and the amount of fun they were having just couldn't help but put a smile on my face.
My flight was scheduled to depart from gate B10, with boarding scheduled for 7:50AM, an hour before departure. So I figured I'd head to the gate a bit early, and left at around 7:30AM.
Gate B10 was quite a haul from the lounge, and even at a fast pace it was probably a 10 minute walk.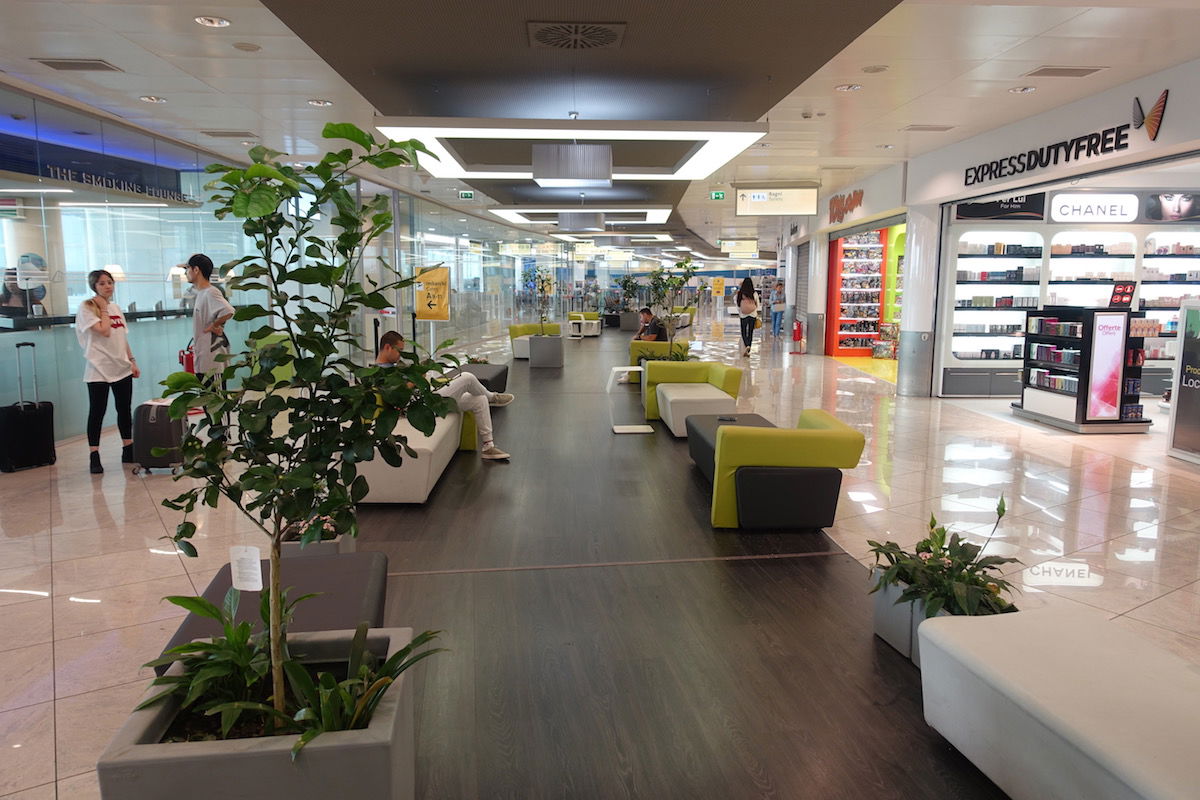 Naples Airport terminal
As I approached the gate I had to go through passport control, where there was no queue.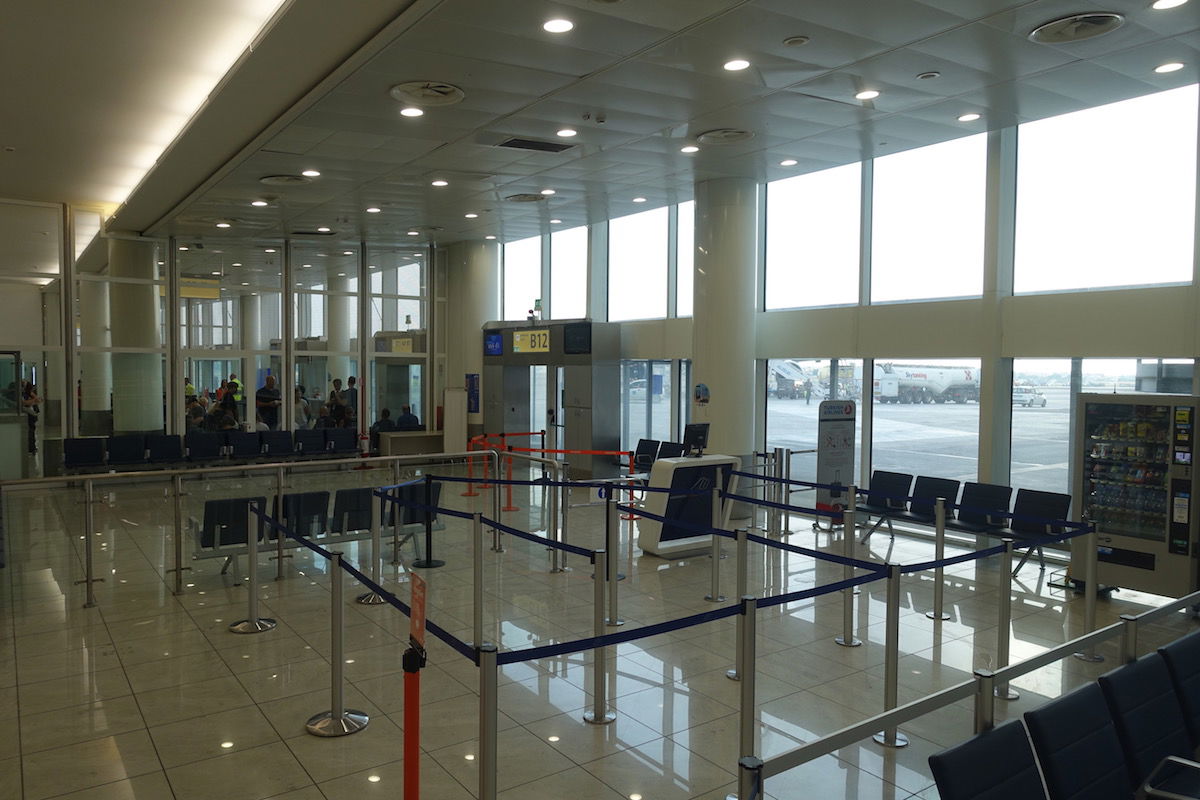 Naples Airport gate
The gate area was fairly small, and there wasn't a further security check for everyone. Rather there was a single security officer walking around the gate randomly swabbing people.
At 7:50AM the crew arrived at the gate, so boarding wasn't quite as early as expected. Boarding finally began at 8:10AM, 40 minutes before departure.
While Naples Airport doesn't have jet bridges, at least the gates are near the plane, so I could walk to the plane directly on the tarmac, rather than taking a bus.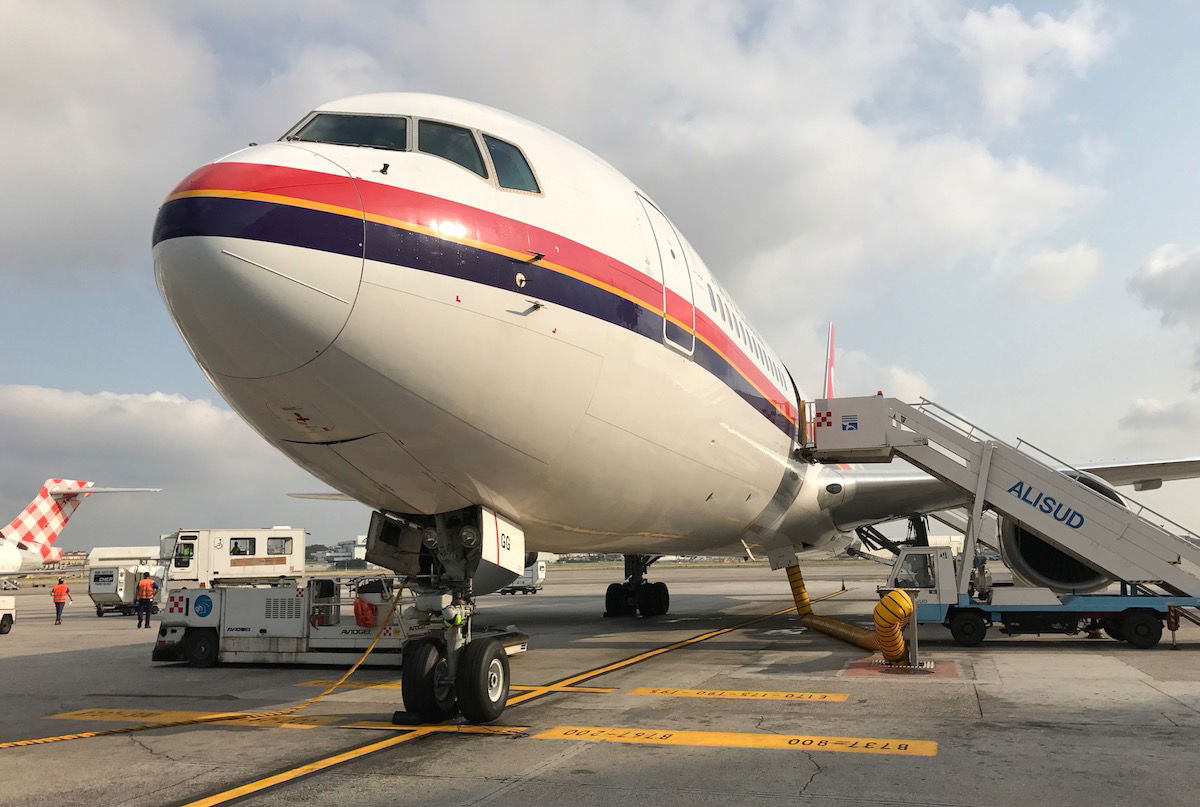 Meridiana 767 Naples Airport
Given how old Meridiana's 767s are, I was actually reasonably impressed by the livery, and thought it was charming in a way.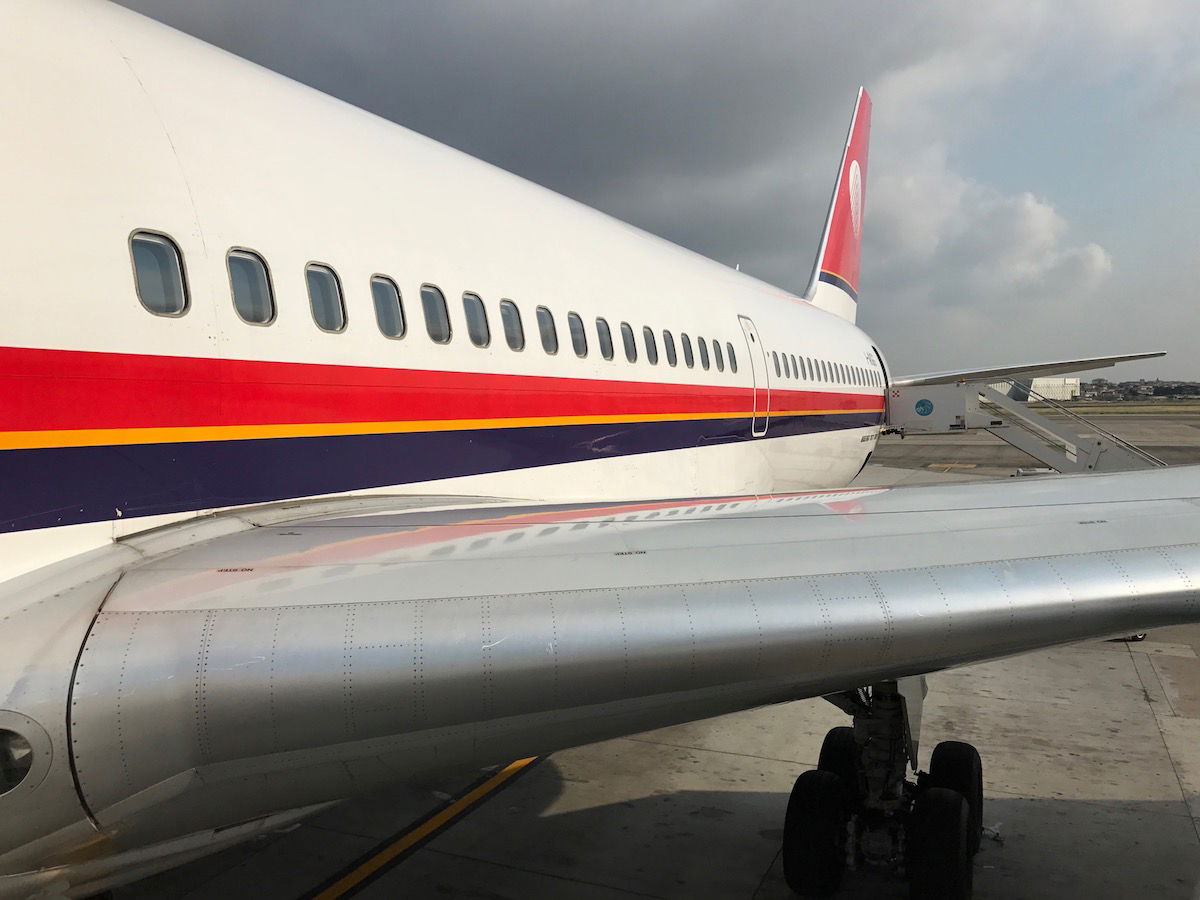 Meridiana 767 Naples Airport
Naples Airport Lounge bottom line
When I first got to the lounge I was really underwhelmed, as there was almost nowhere to sit. However, as the lounge emptied out I found it to be less bad, at least for a contract lounge. Otherwise I found Naples Airport super easy to use, as there was no line at security or immigration.
The following links will direct you to the rates and fees for mentioned American Express Cards. These include: The Business Platinum® Card from American Express (Rates & Fees), and The Platinum Card® from American Express (Rates & Fees).