---
I had just one night in Naples, as I landed from Munich at 12:10PM, and departed for New York the next day at 8:50AM. The city of Naples as such isn't much of a tourist hotspot, but rather the airport is largely used as a gateway to the Amalfi Coast, which isn't far away.
Naples isn't a terribly exciting hotel market, with very few luxury and/or chain hotels. As a Hyatt and Starwood loyalist, there are no options in Naples. The next best option was the Renaissance Naples Mediterraneo, where I'd at least receive some benefits as a Marriott Platinum member. The rate for my one night stay was a reasonable 120EUR, so that's what I decided to book.
Upon arrival in Naples I took a taxi to the Renaissance. The ride took about 20 minutes, and cost 25EUR. The hotel has a pretty simple exterior — for that matter, I found Naples to be one of the less charming cities I've visited in Italy, and much of the architecture wasn't especially inspiring.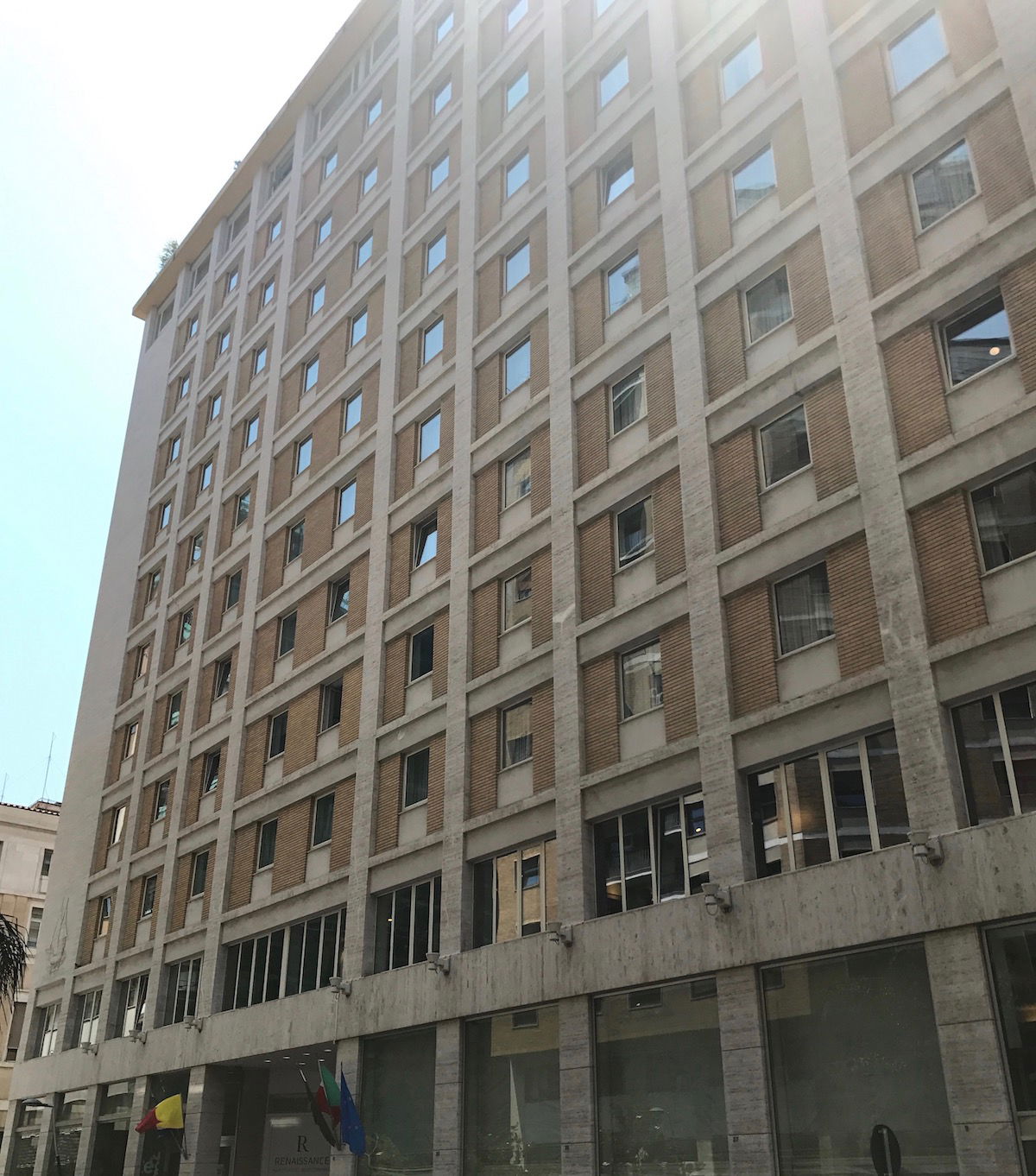 Renaissance Naples Hotel exterior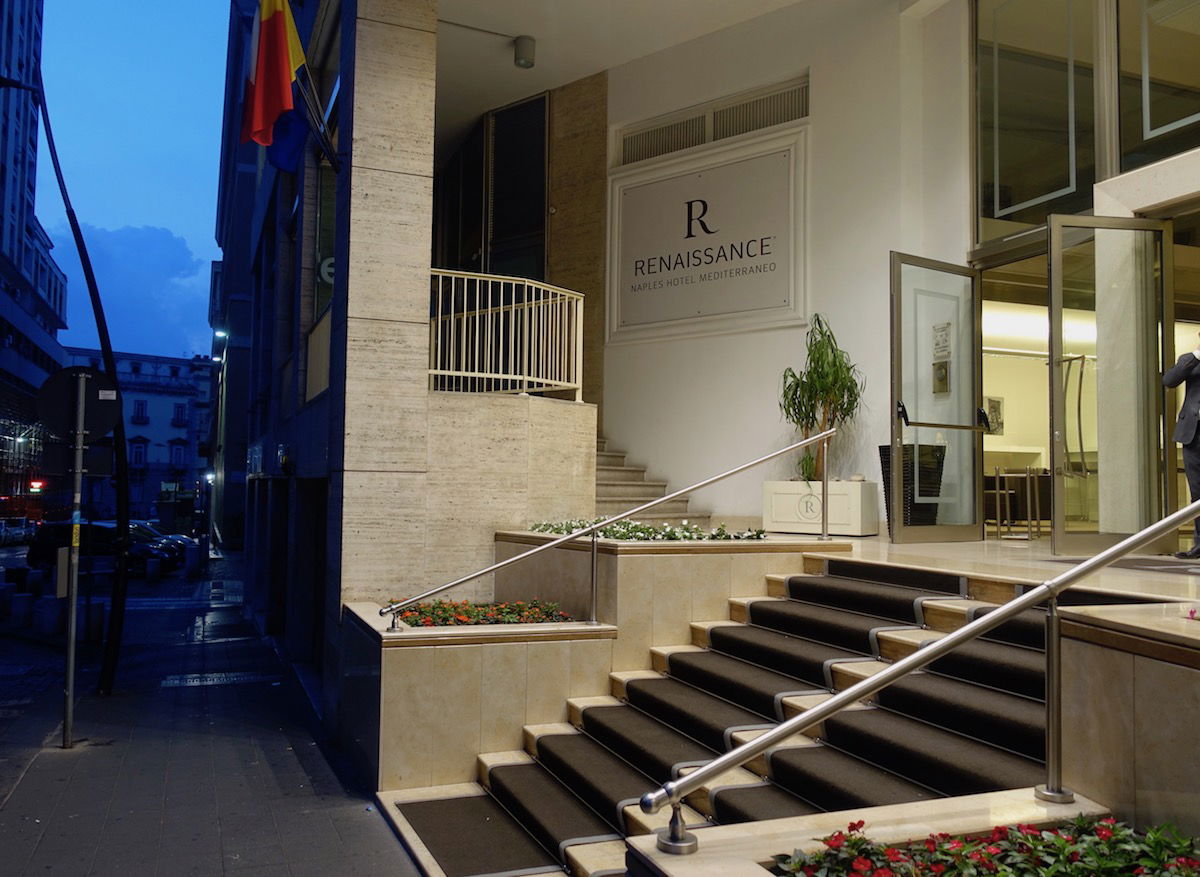 Renaissance Naples Hotel entryway
The hotel has a spacious lobby that was clearly recently renovated, and was the highlight of the hotel.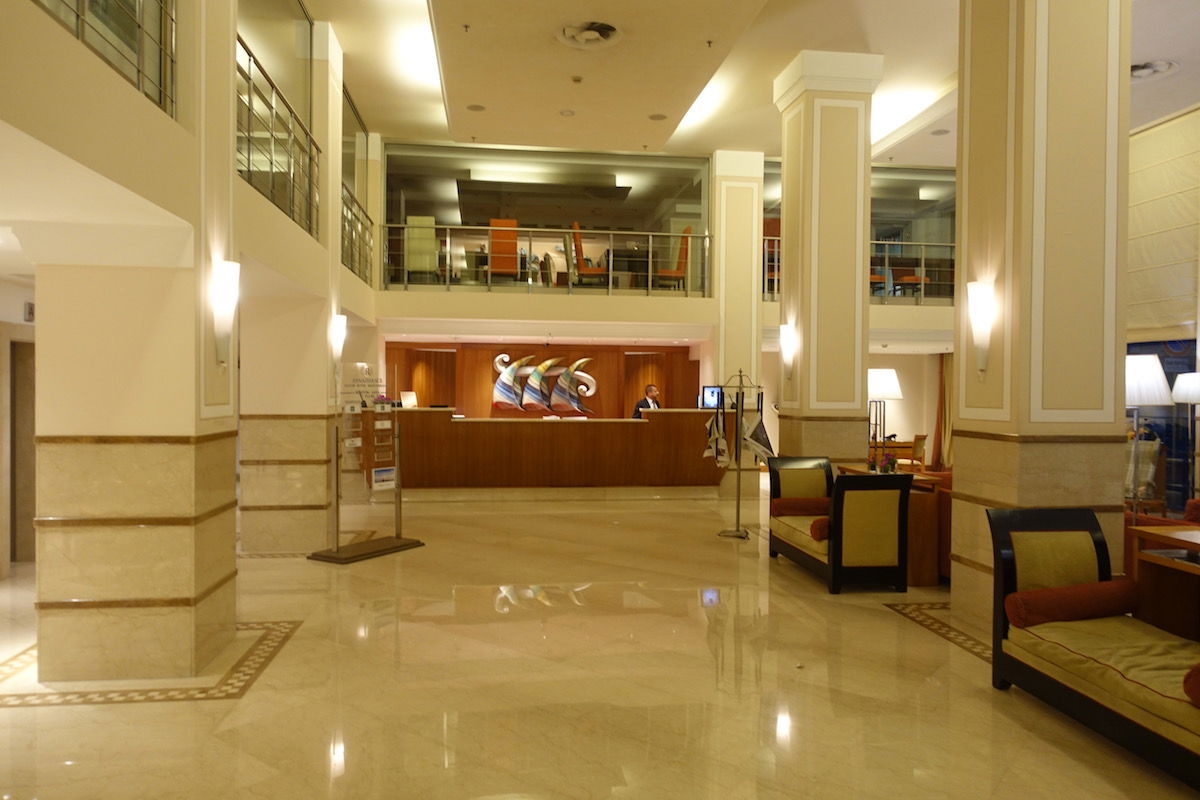 Renaissance Naples Hotel lobby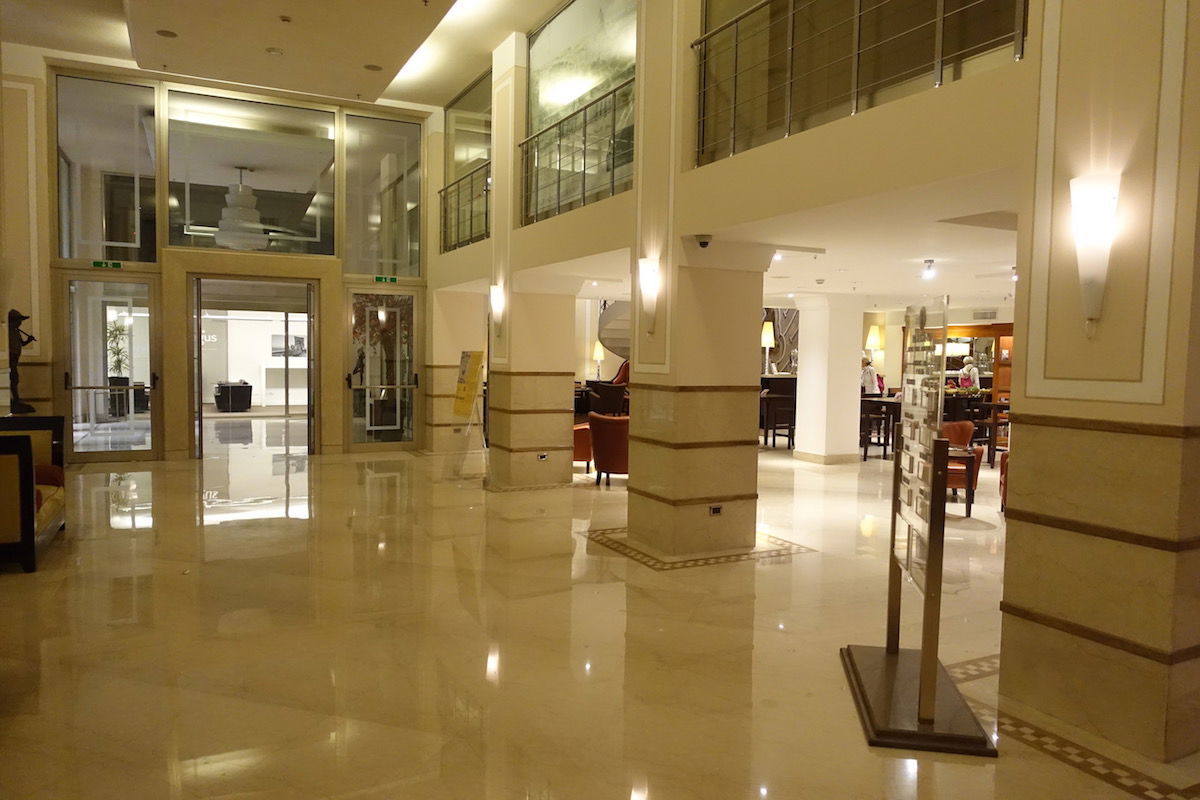 Renaissance Naples Hotel lobby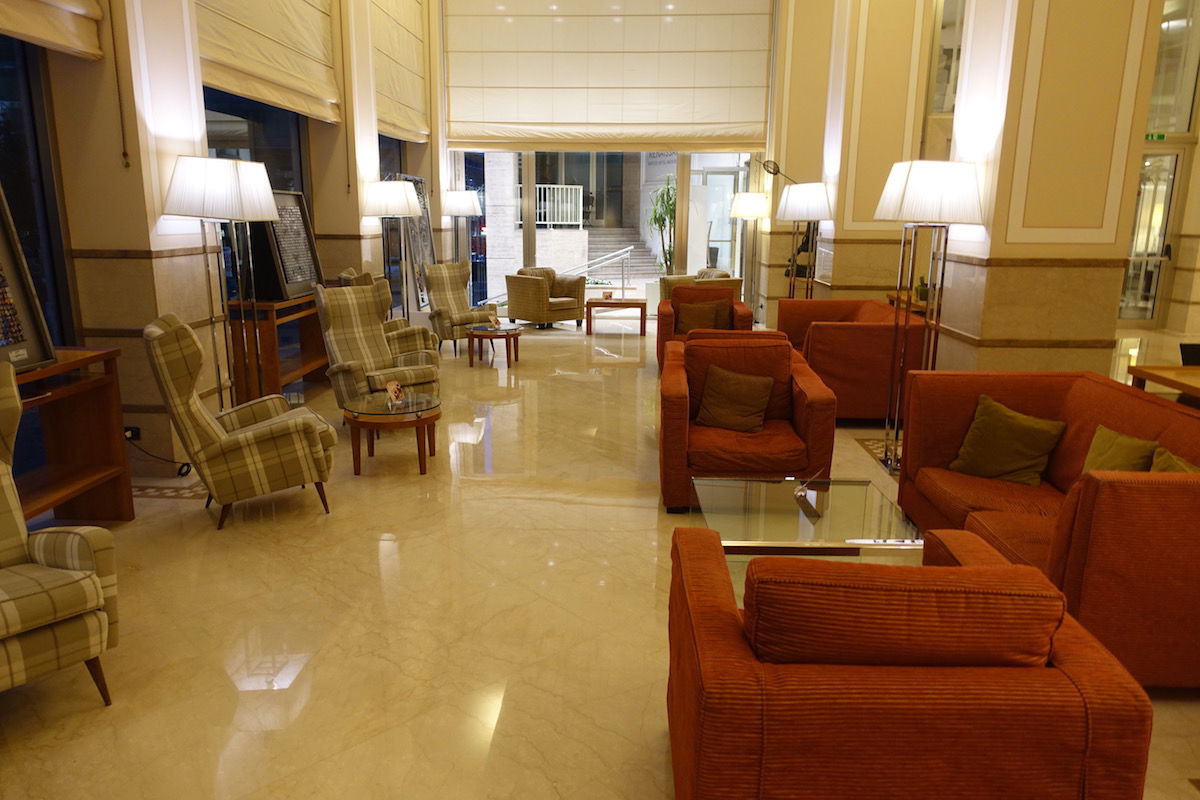 Renaissance Naples Hotel lobby
The check-in process was efficient, and as a Platinum member I was given the choice of a welcome amenity. I selected the 500 Marriott Rewards points. The associate also informed me I'd receive complimentary breakfast, though unfortunately it only started at 6:30AM, which was after I was planning on leaving for the airport the next morning. Oh well.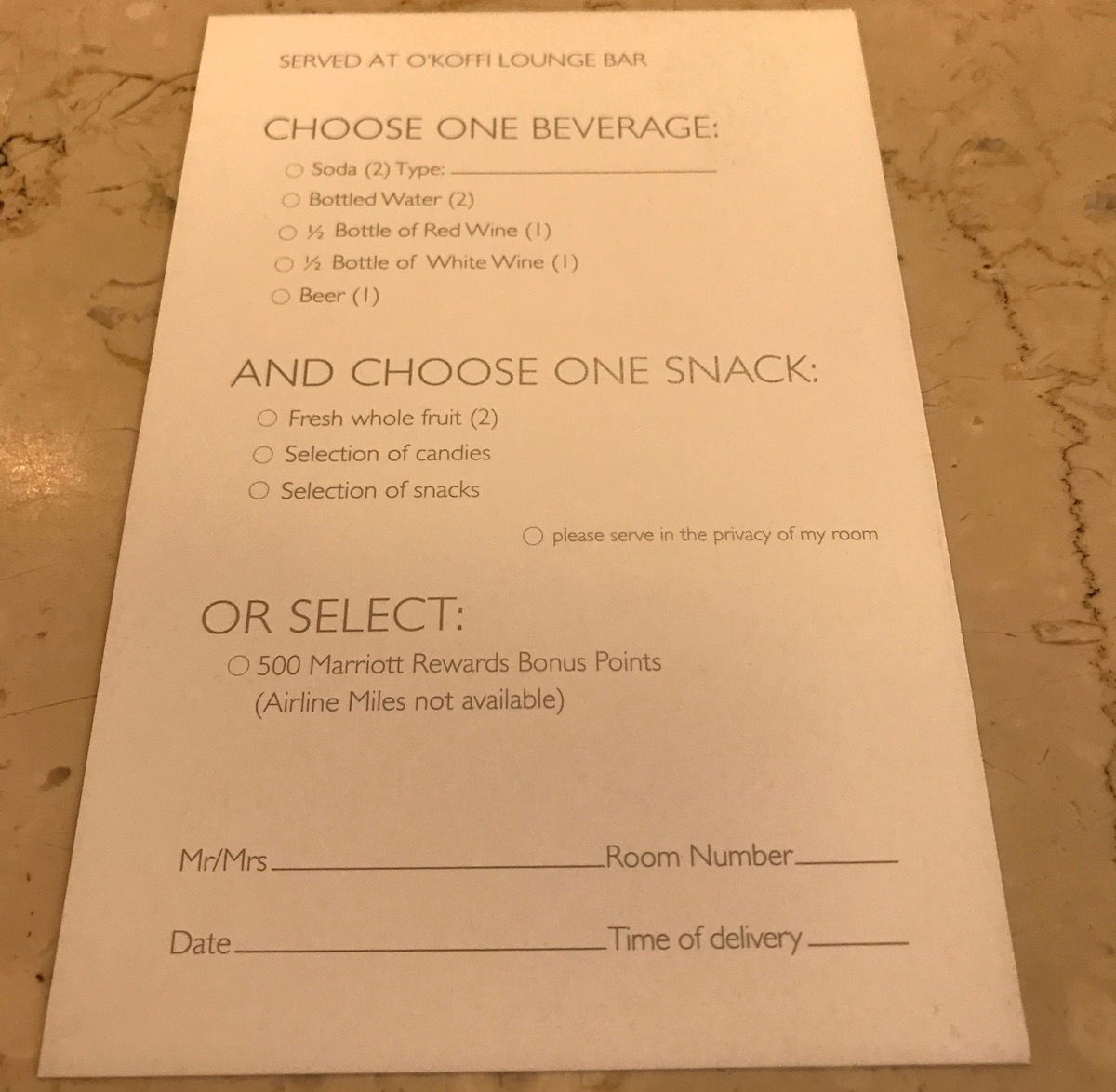 Renaissance Naples Hotel Platinum welcome gift
She also informed me that I had been upgraded to a "nice room," but warned me that it was on the floor immediately below the deck where there would be a party that night, starting at 7:30PM. She said that I was invited as well, and that the cover charge was 20EUR. She warned me that there may be some noise and asked if that was okay, or if I wanted to switch rooms. Against my better judgment I agreed.


Renaissance Naples Hotel party
The elevators were immediately across from reception, and the style where you key in the floor number you want to go to, and then it tells you which elevator to use. The elevators were tiny.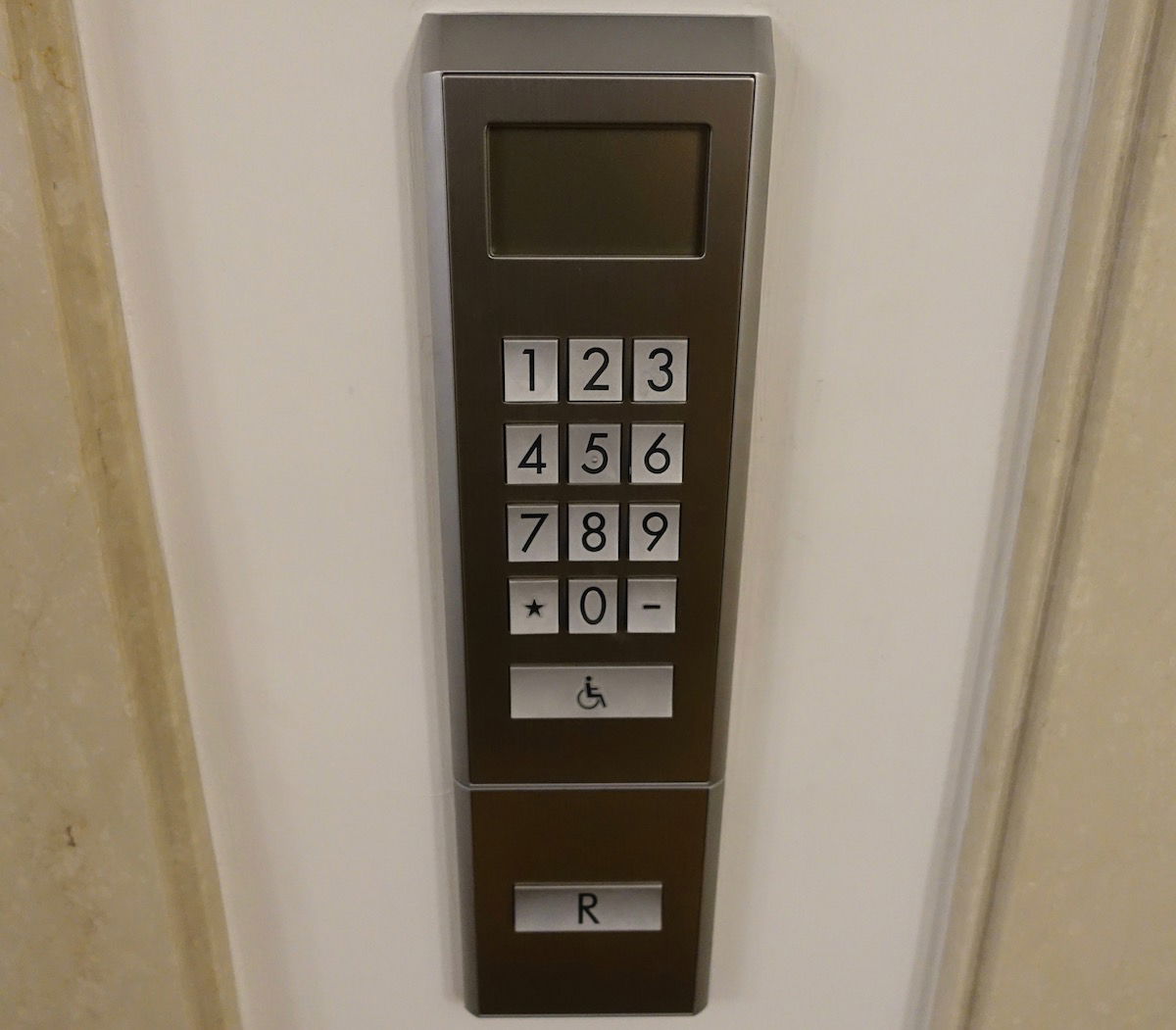 Renaissance Naples Hotel elevator buttons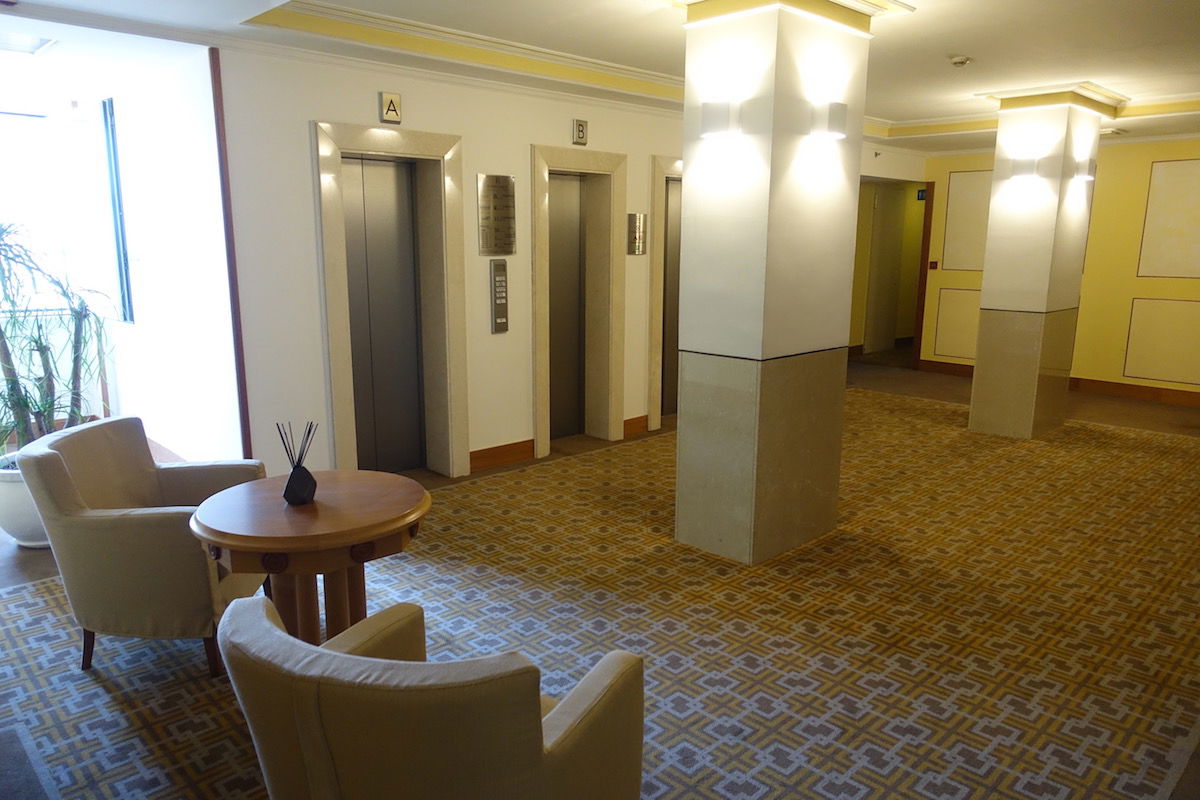 Renaissance Naples hallway
I was assigned room 1012, located at the far end of the hallway on the 10th floor. The hallways were rather uninspiring, and reminded me of a cruise ship. While the lobby felt fresh and recently renovated, the floors with guest rooms didn't — as you can see, the wallpaper was "bubbling" all over, and there were marks everywhere.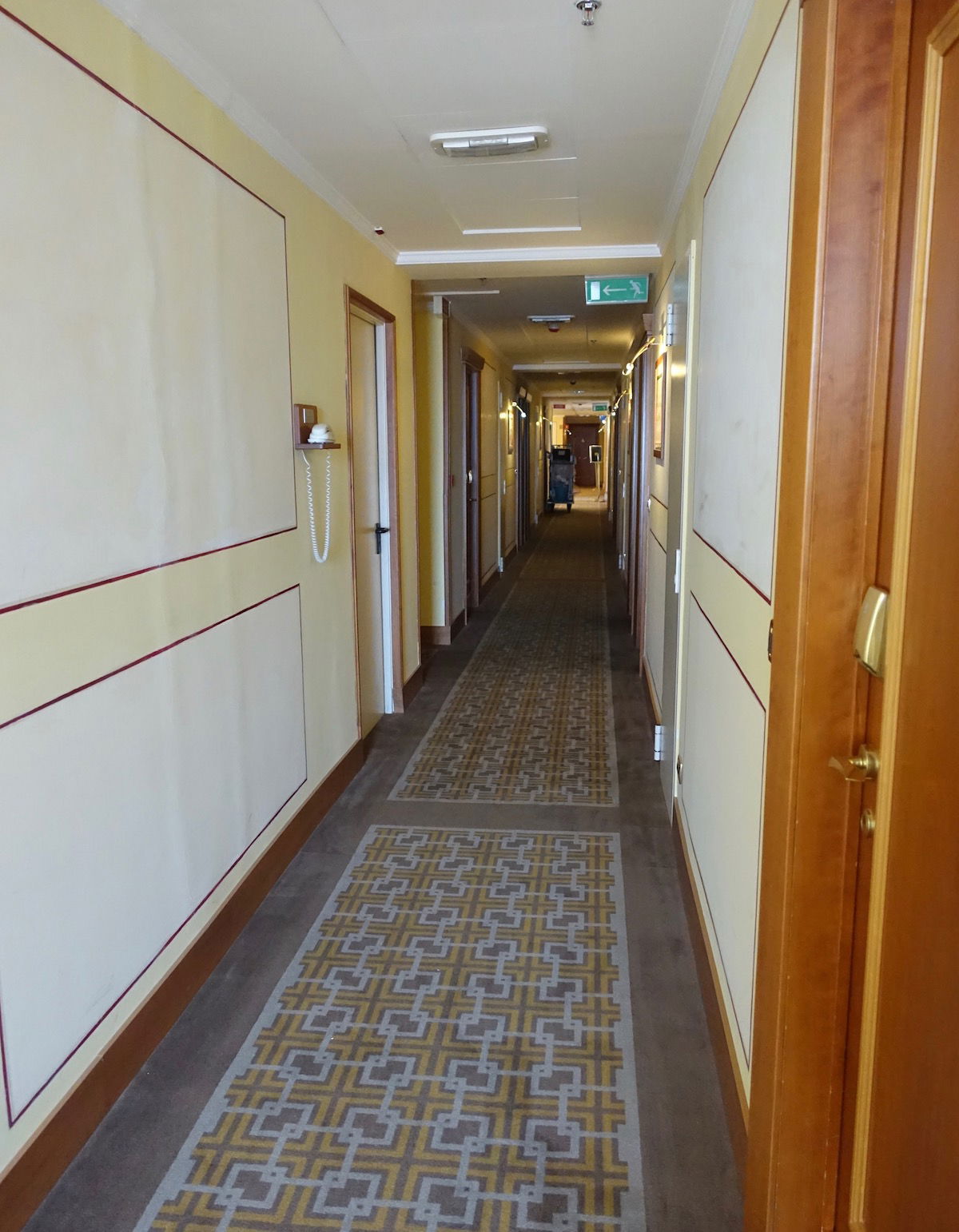 Renaissance Naples hallway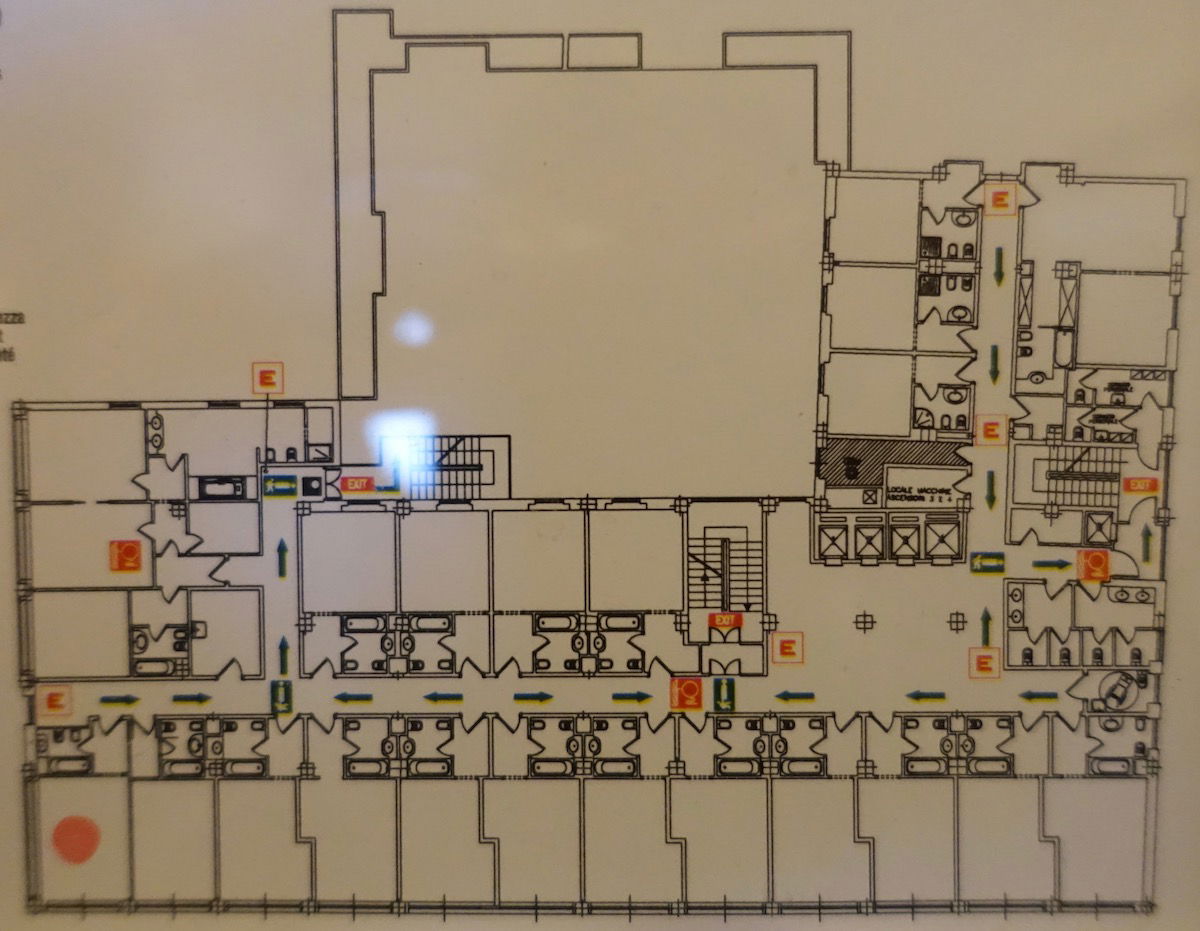 Renaissance Naples floorplan
My room wasn't much better, unfortunately. There was an entryway with the bathroom to the right, and then the rest of the room straight ahead.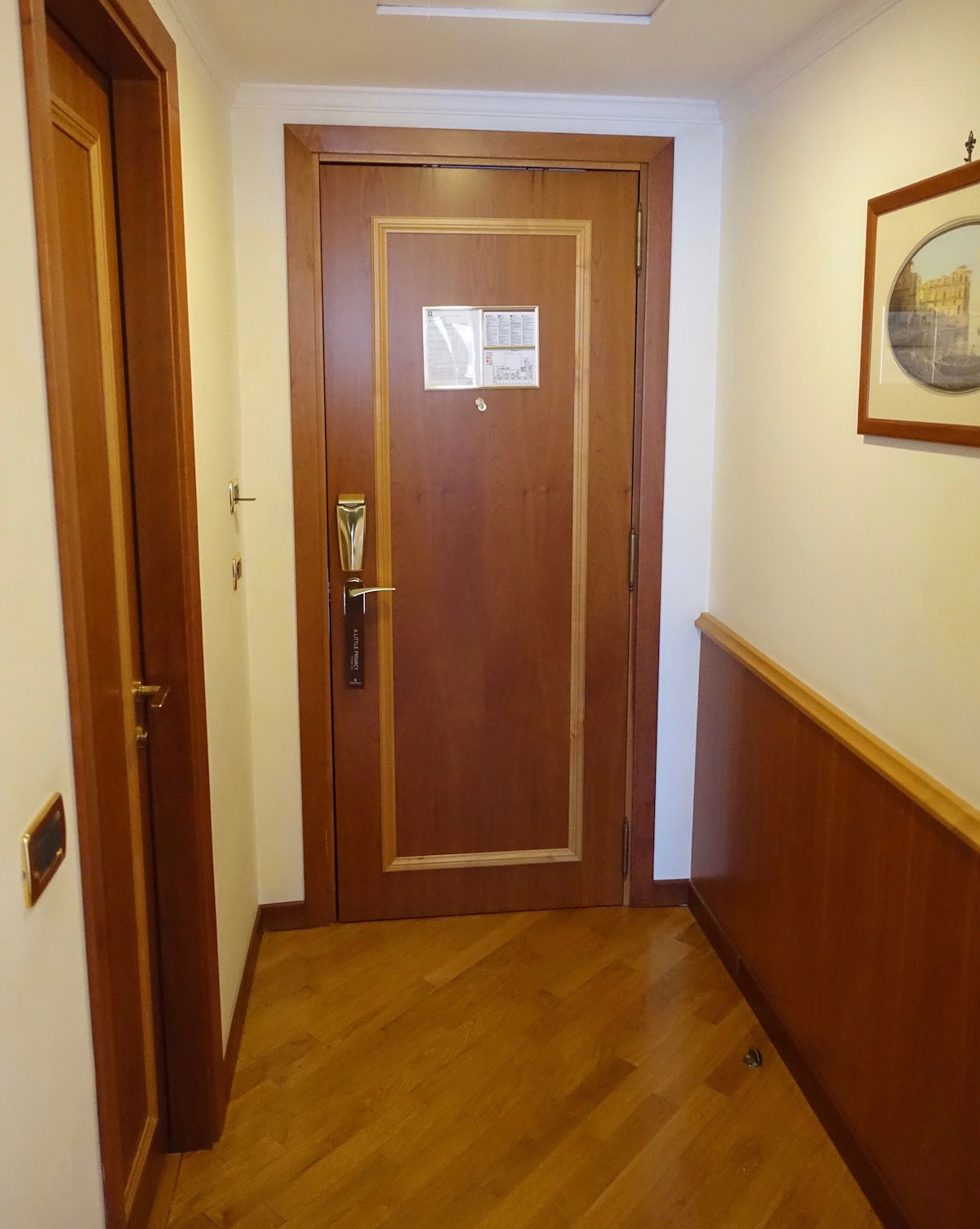 Renaissance Naples room entryway
The room featured a king size bed, which was reasonably comfortable.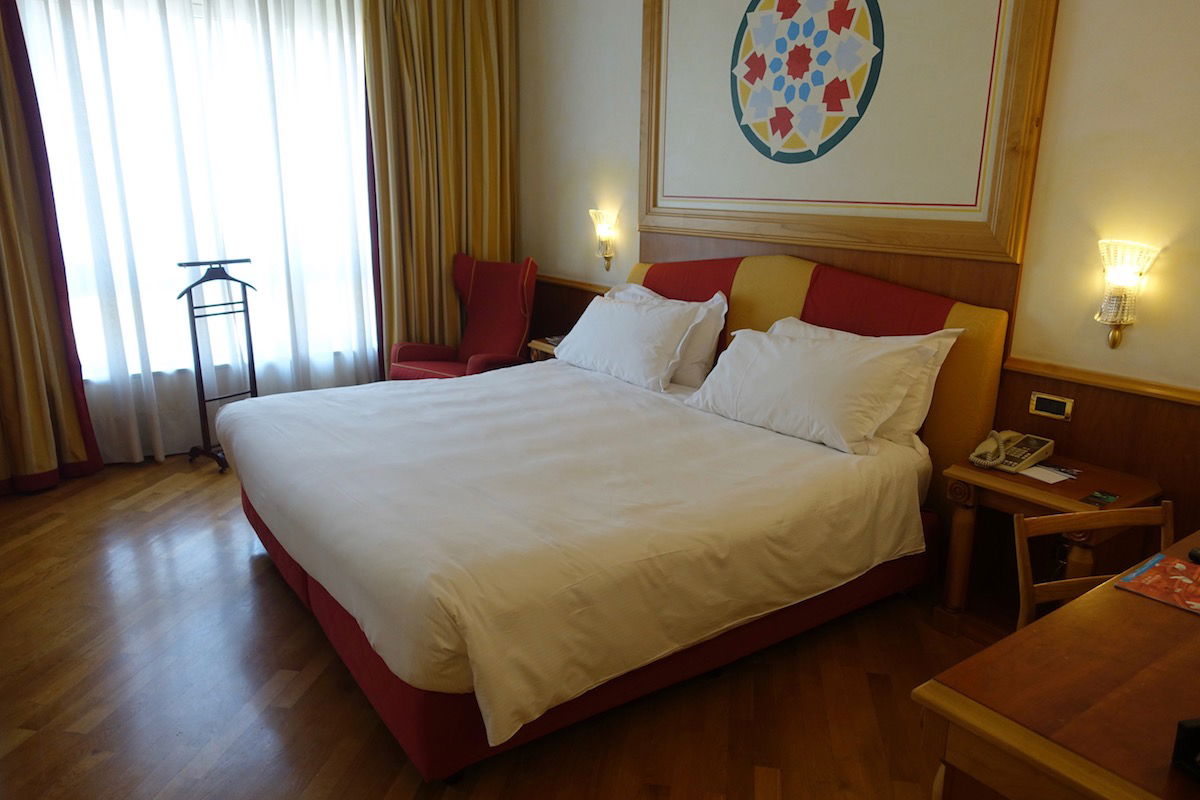 Renaissance Naples king bed room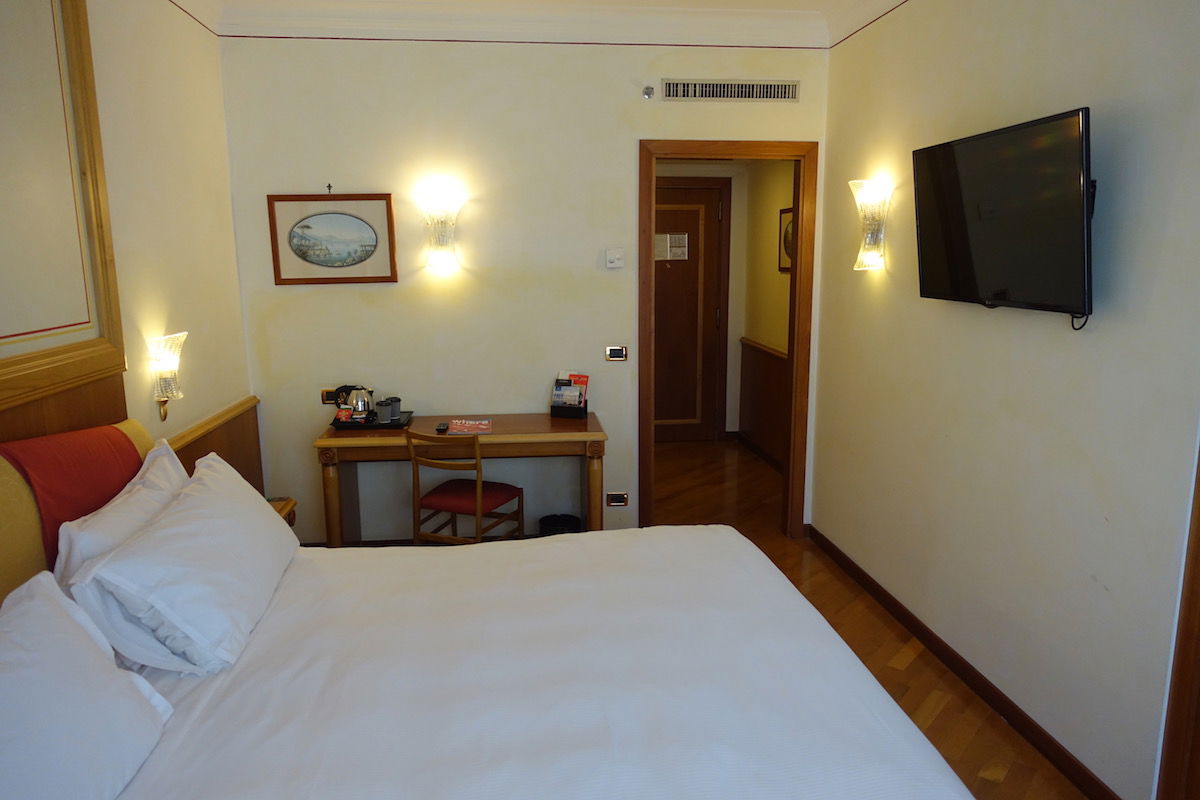 Renaissance Naples room
Placed rather awkwardly in the corner of the room was a chair.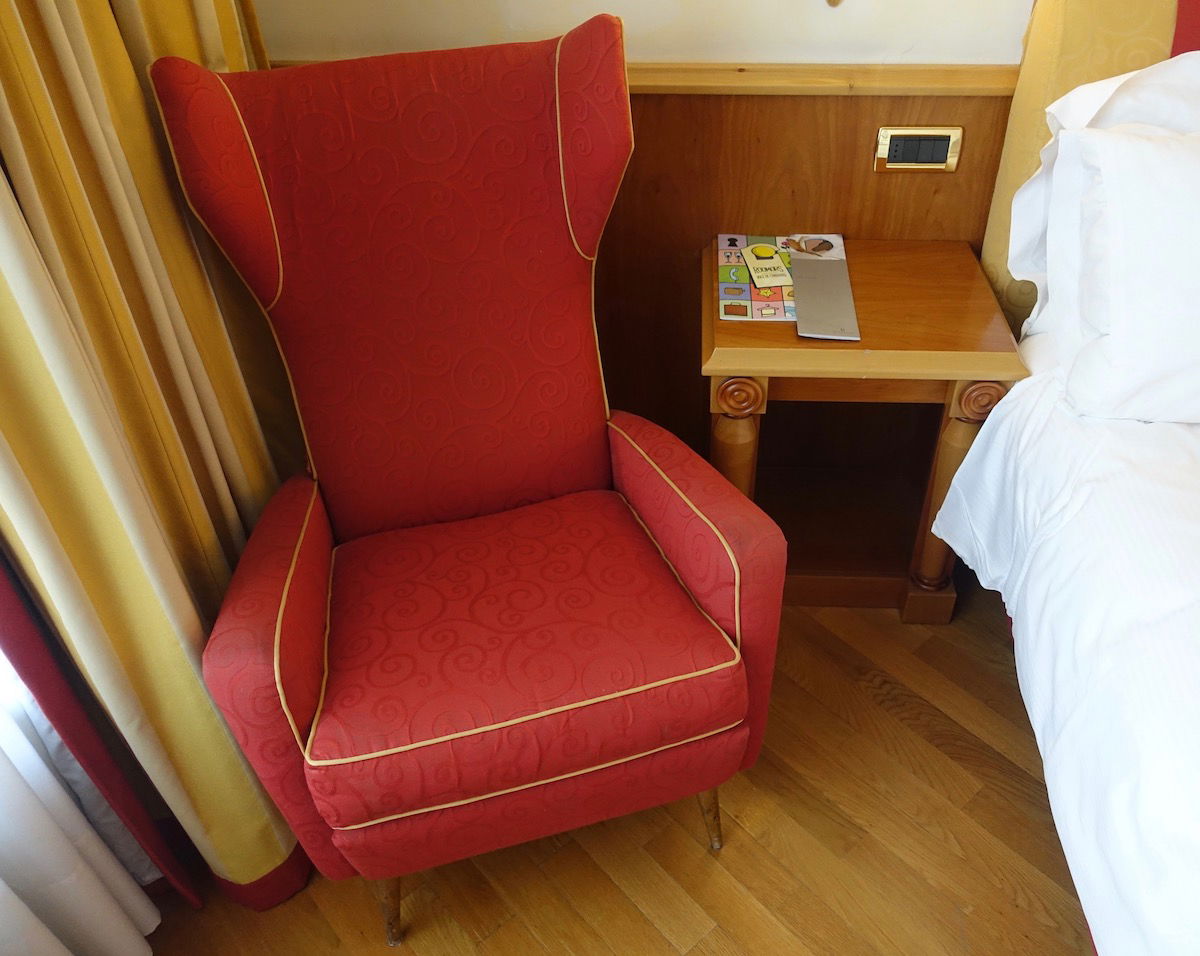 Renaissance Naples room seat
Across from the bed was a closet and a luggage rack.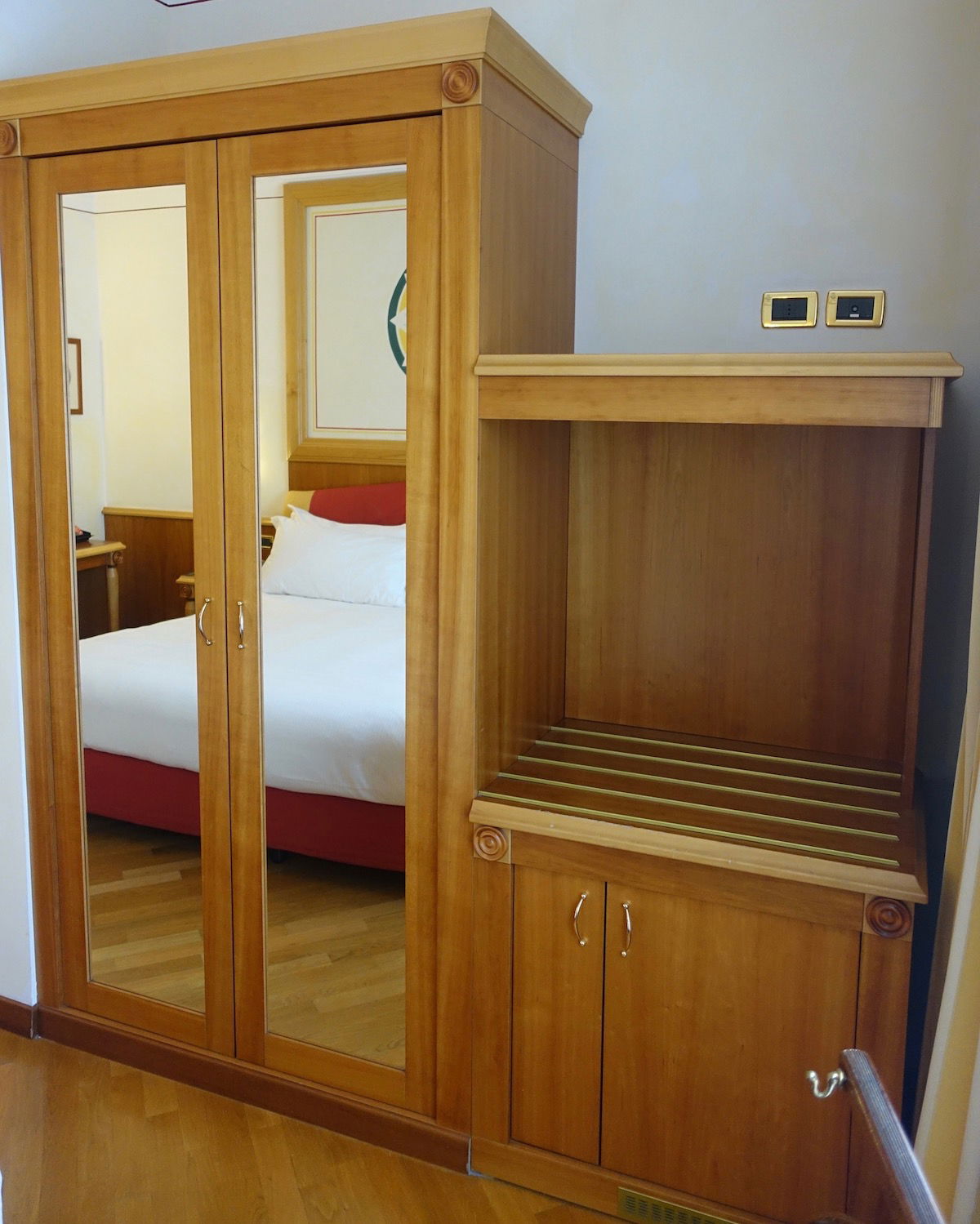 Renaissance Naples room closet
Under the rack was the sparsely filled minibar.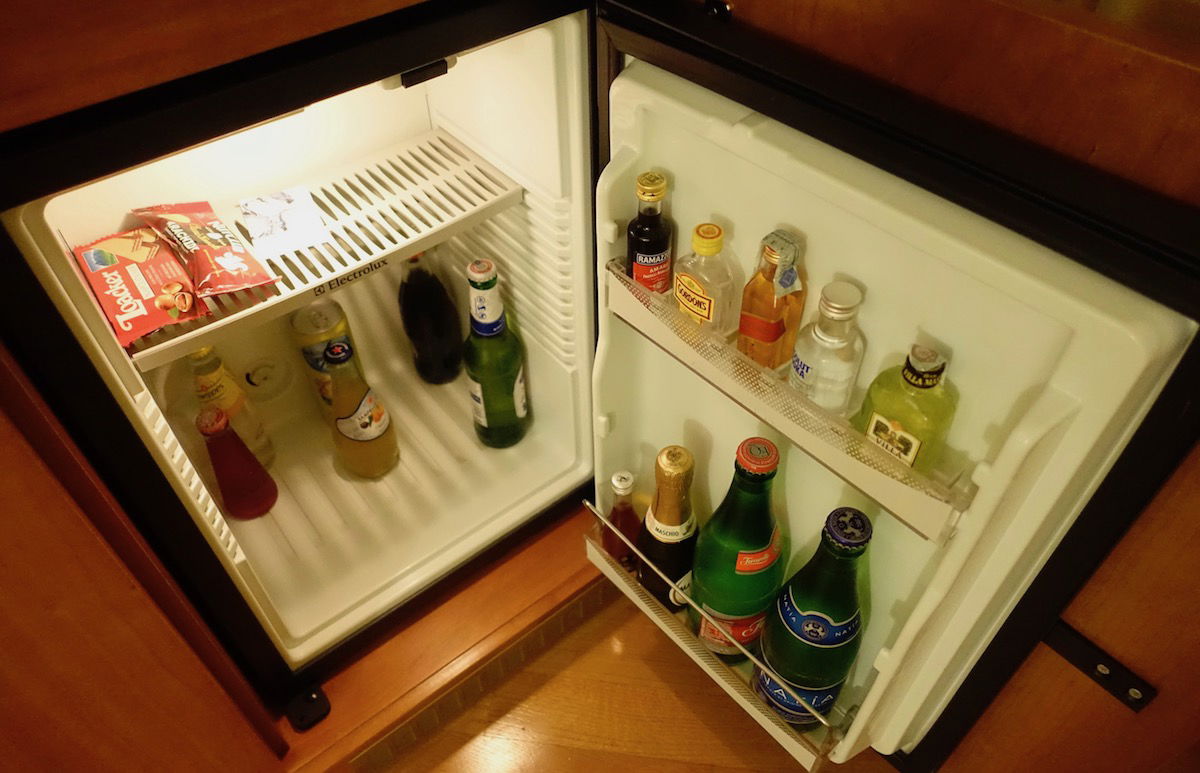 Renaissance Naples room minibar
Then back by the wall closest to the entrance was a desk. The chair next to it wasn't especially comfortable for working.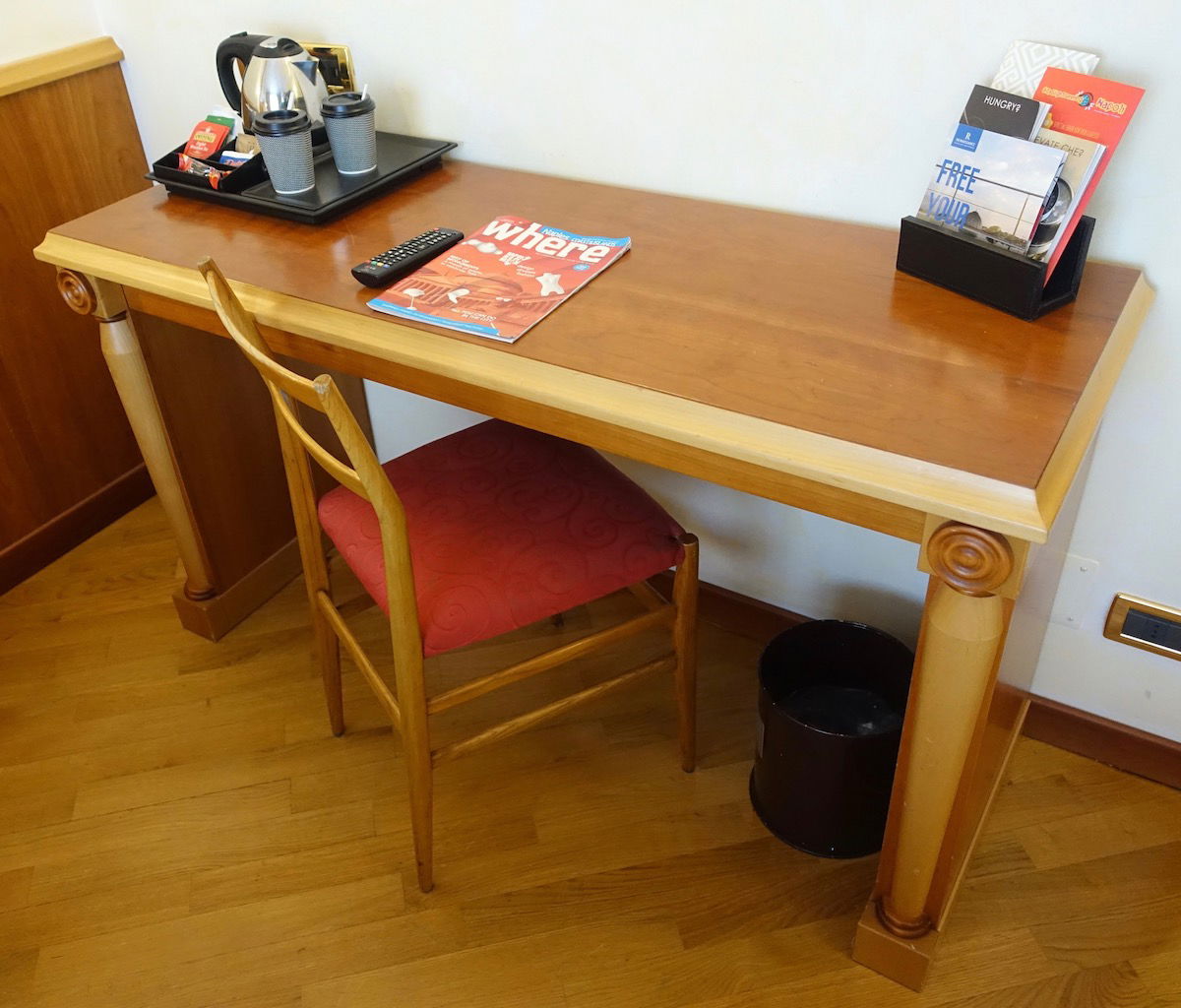 Renaissance Naples room desk
On the desk was a selection of Twinnings tea, instant coffee, and a kettle.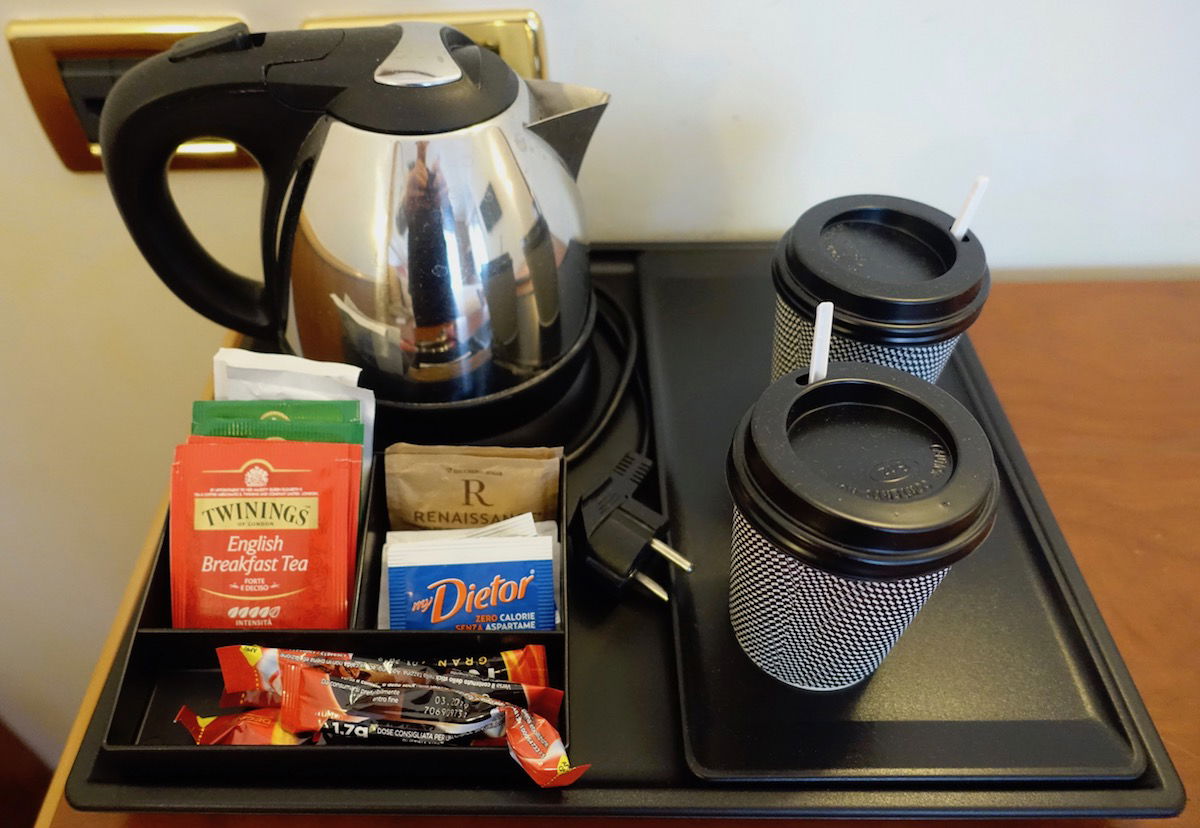 Renaissance Naples in-room coffee, tea, and kettle
Unfortunately I didn't really luck out with views. While the hotel has some great views of the waterfront from the other side, my view was just of nearby apartment buildings.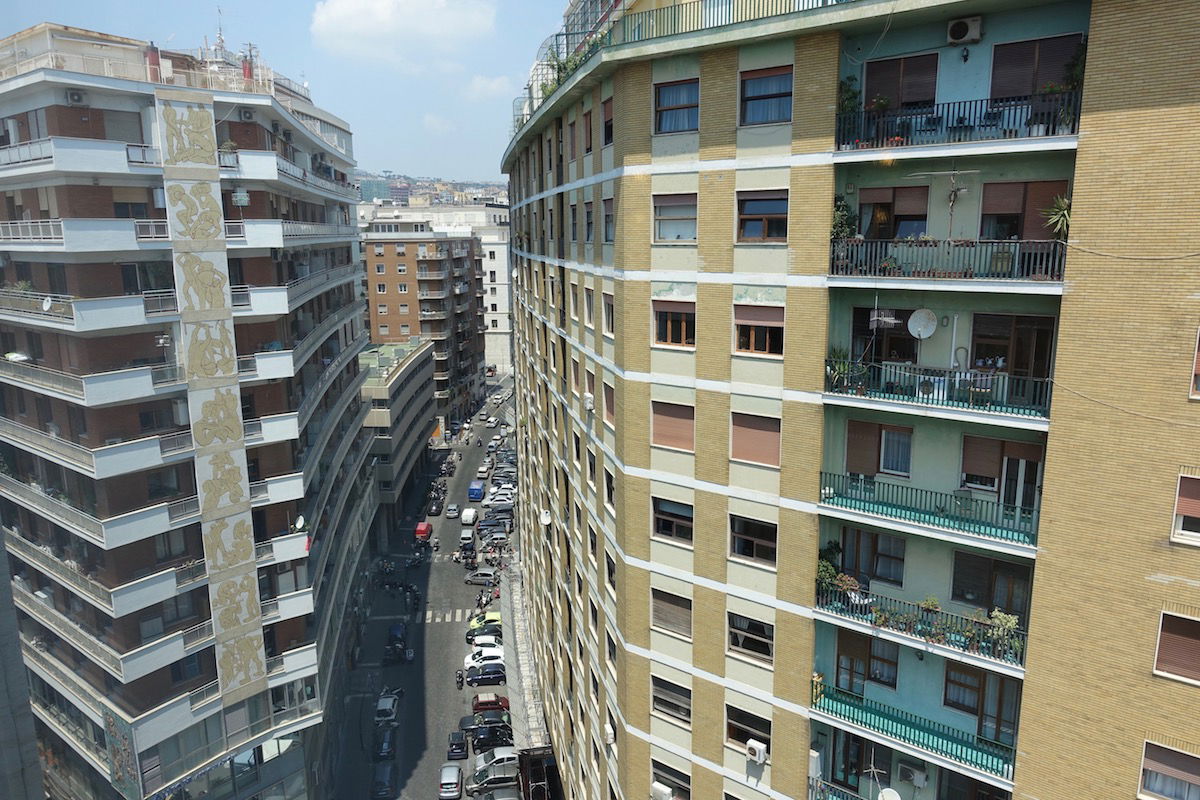 Renaissance Naples room view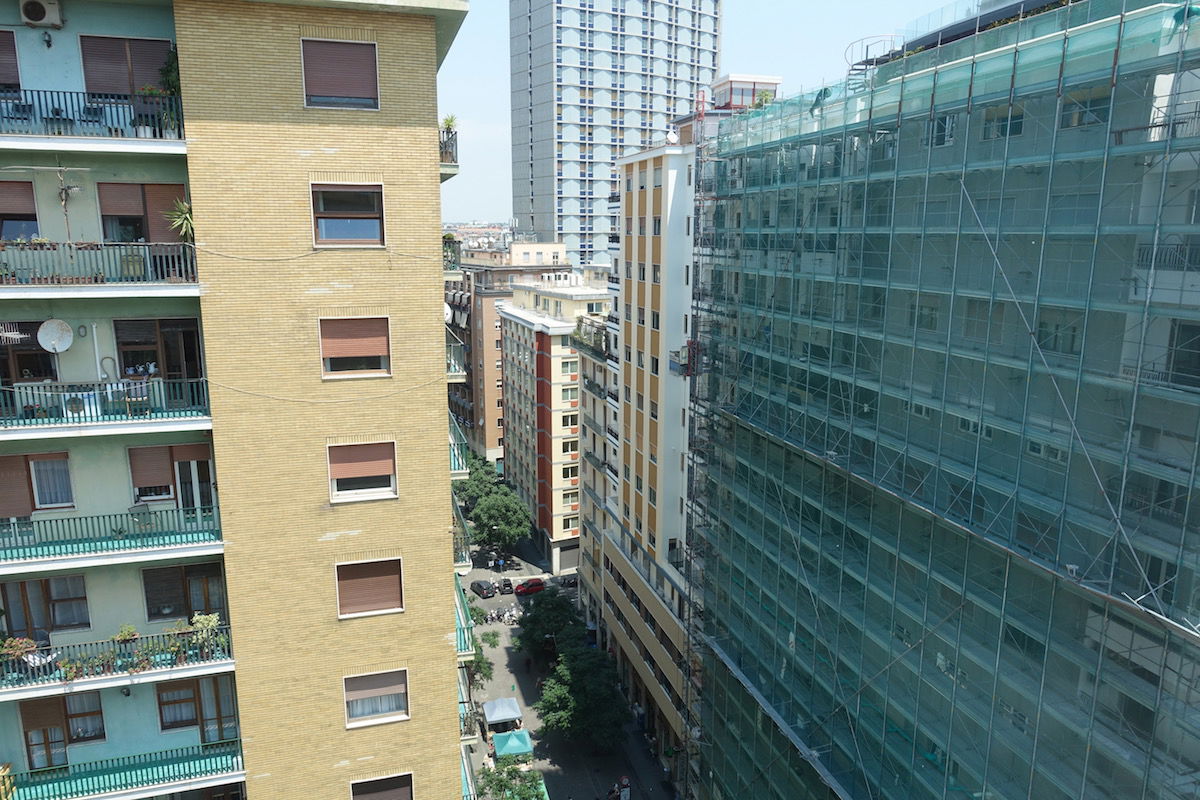 Renaissance Naples room view
Back by the entrance was the bathroom, which featured a sink, toilet, bidet, and shower/tub combo.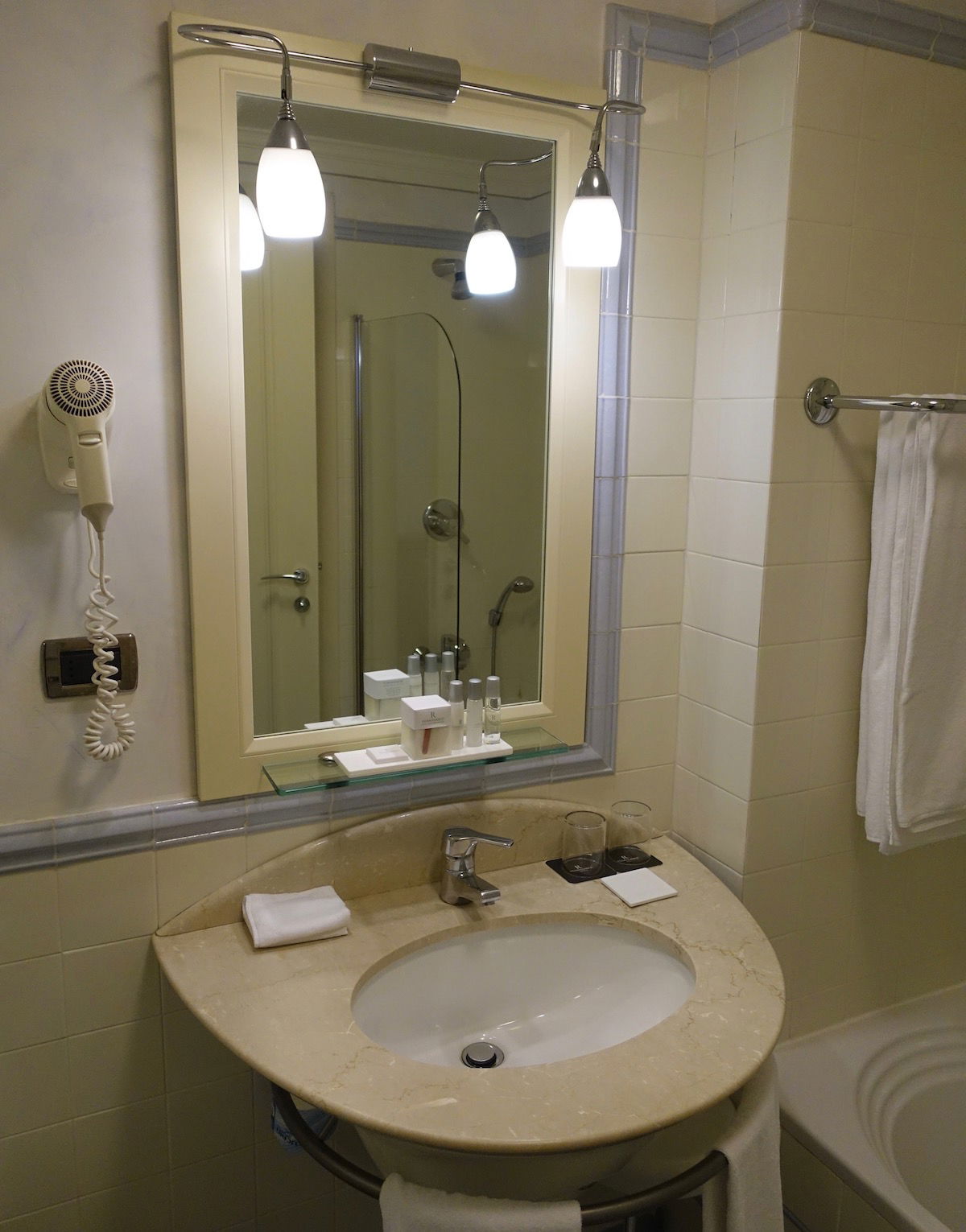 Renaissance Naples bathroom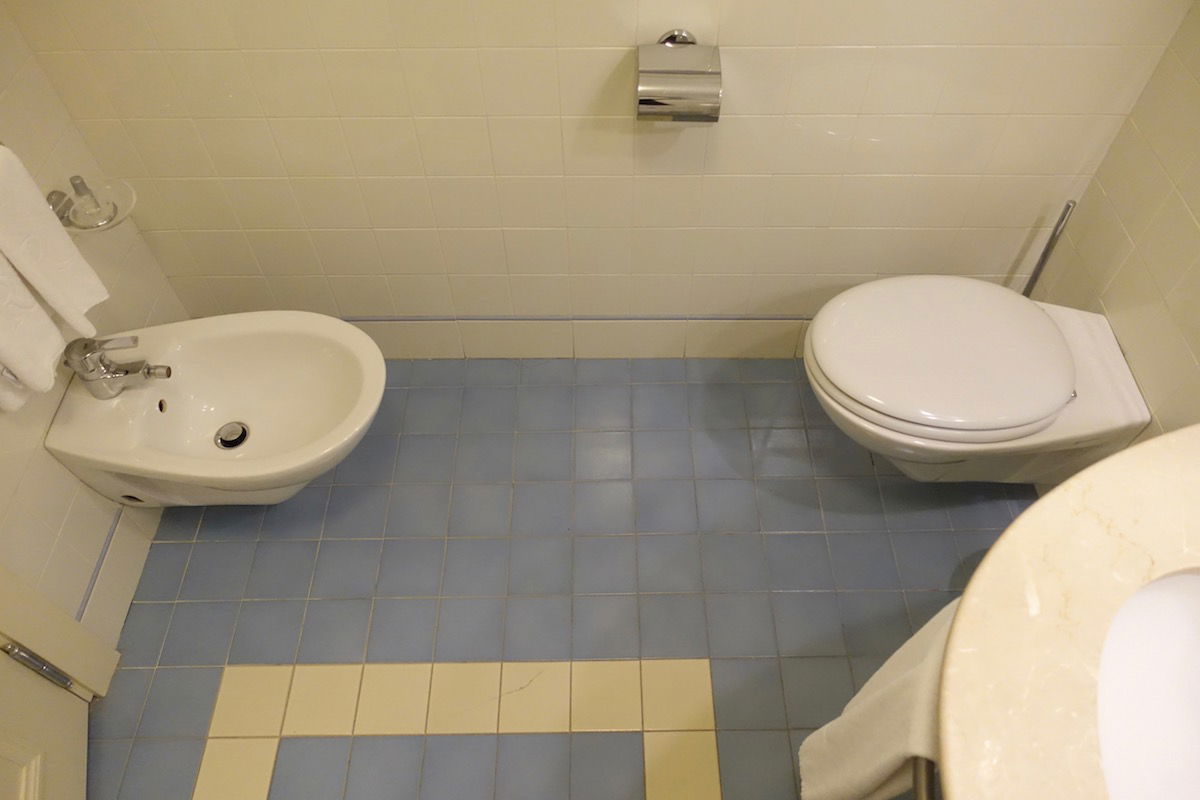 Renaissance Naples toilet & bidet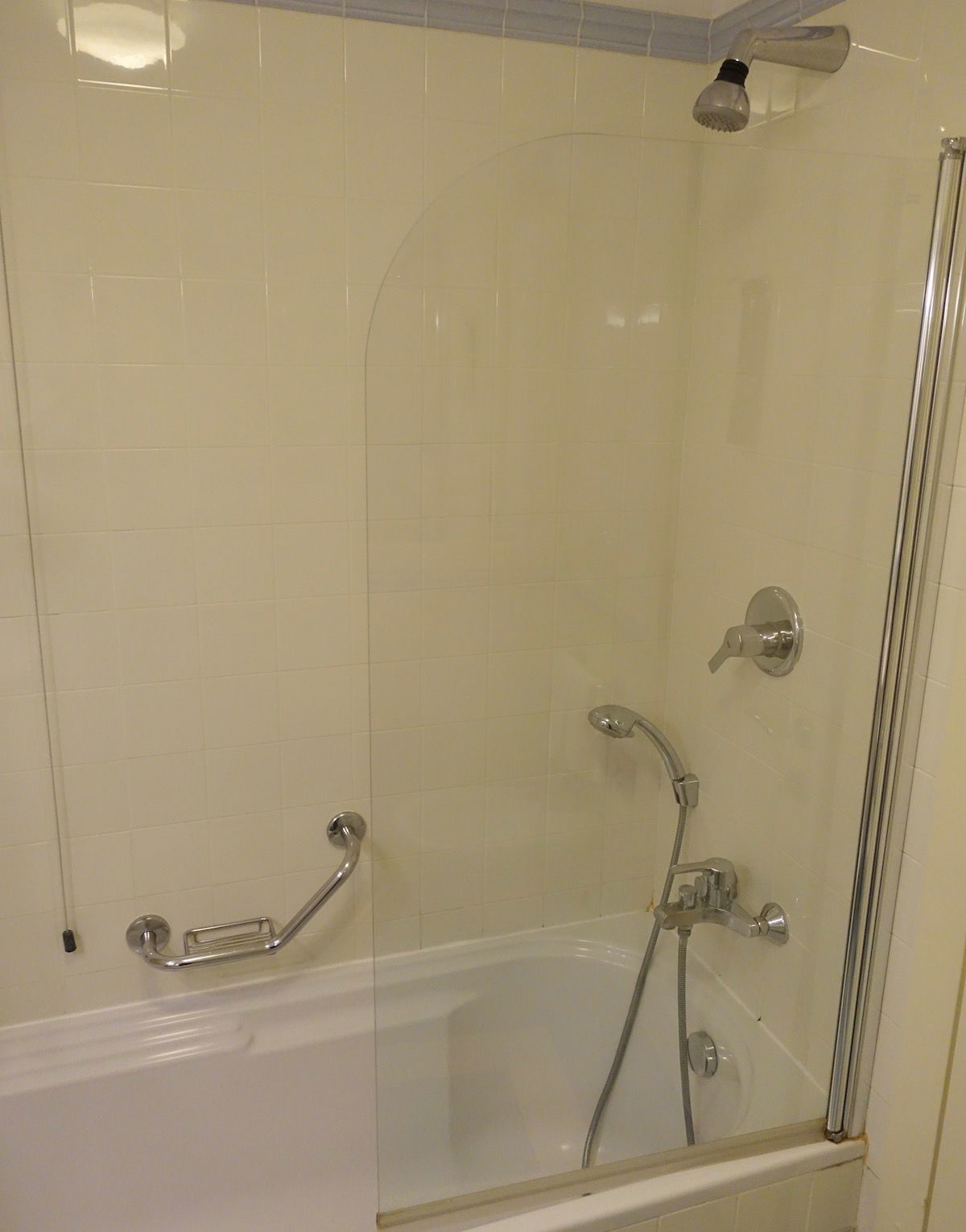 Renaissance Naples shower
Toiletries were Renaissance branded, as you'd expect.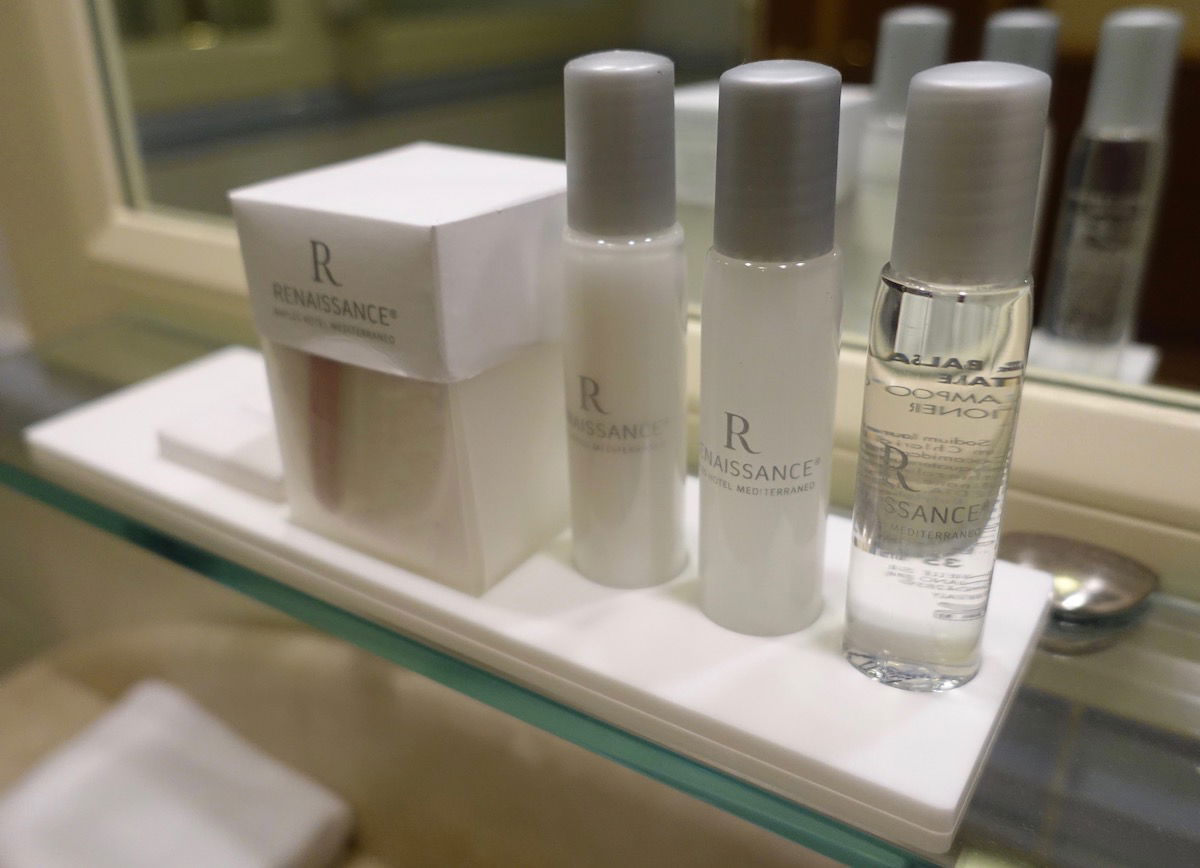 Renaissance Naples toiletries
Okay, so the room was perfectly serviceable, but hardly anything to get excited over. However, I do have a few issues.
First of all, I wish they would have at least had a bottle of complimentary still or sparkling water. I know many in Europe drink tap water, though based on Googling, it looks like Naples doesn't have the best tap water, and I saw quite a few warnings about it. That's not to say I would have died if I drank it, or anything, but there was absolutely no bottled water to be had anywhere in the hotel except in the bar.
Second of all, the shower didn't drain. That's not a huge deal as I just showered in the morning before my flight, so I left the room with a few gallons of water in the tub.
Next, the internet was spotty. It worked relatively okay most of the time, but also cut out frequently.
But now the biggest issue — the air conditioning in my room didn't work, and it was unbearably hot. Like it was so hot that I couldn't sleep at night. The worst part? I didn't bring this to the hotel's attention, so I'm not sure whether it's specific to my room or not. How could I let this slide?
When I first got to the room I figured that the issue was that the thermostat hadn't been set to cool, so I set it to cool and I managed to take a nap, despite it being unbearably hot, since I was so exhausted
When I woke up it was even hotter (somehow), but at this point I had all my stuff all over the room, and figured it would cool down naturally when it got dark, so figured it wasn't worth asking to switch rooms, and for that matter figured that the whole hotel maybe didn't have AC
I did some sightseeing and wanted to go back to sleep at around 11PM, and somehow it was even freaking hotter; at this point I'd be leaving the hotel in just six hours and didn't want to move rooms
The conclusion here is that jetlag makes us do crazy stuff. This is something I should have handled from the beginning, but I didn't. I'm an idiot. However, I'm not actually convinced that the problem was with my AC, rather than the hotel as a whole.
It was so hot that I couldn't sleep, though. I think this lady sums up how I felt pretty well (there's some colorful language, so if you're offended by that I recommend not watching):
https://www.youtube.com/watch?v=a6tKJvWWDP4
In terms of the hotel's other features, there's a nice enough bar just off the lobby.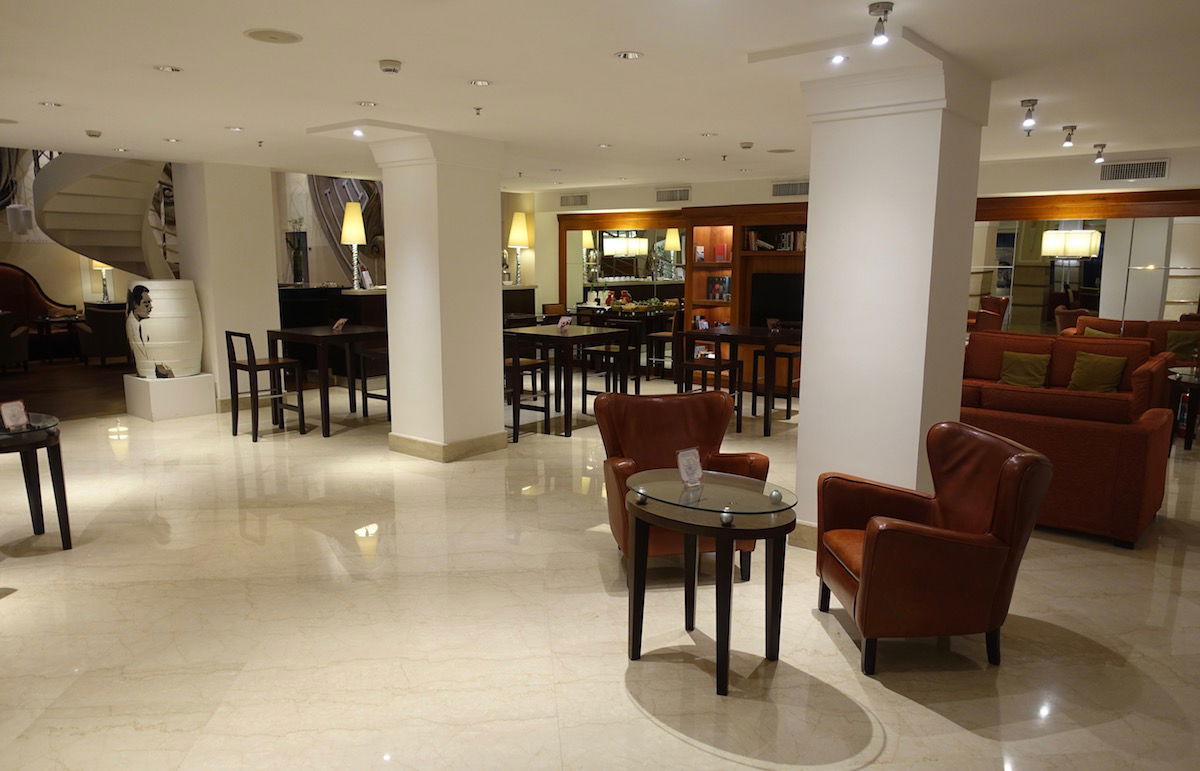 Renaissance Naples Hotel lobby bar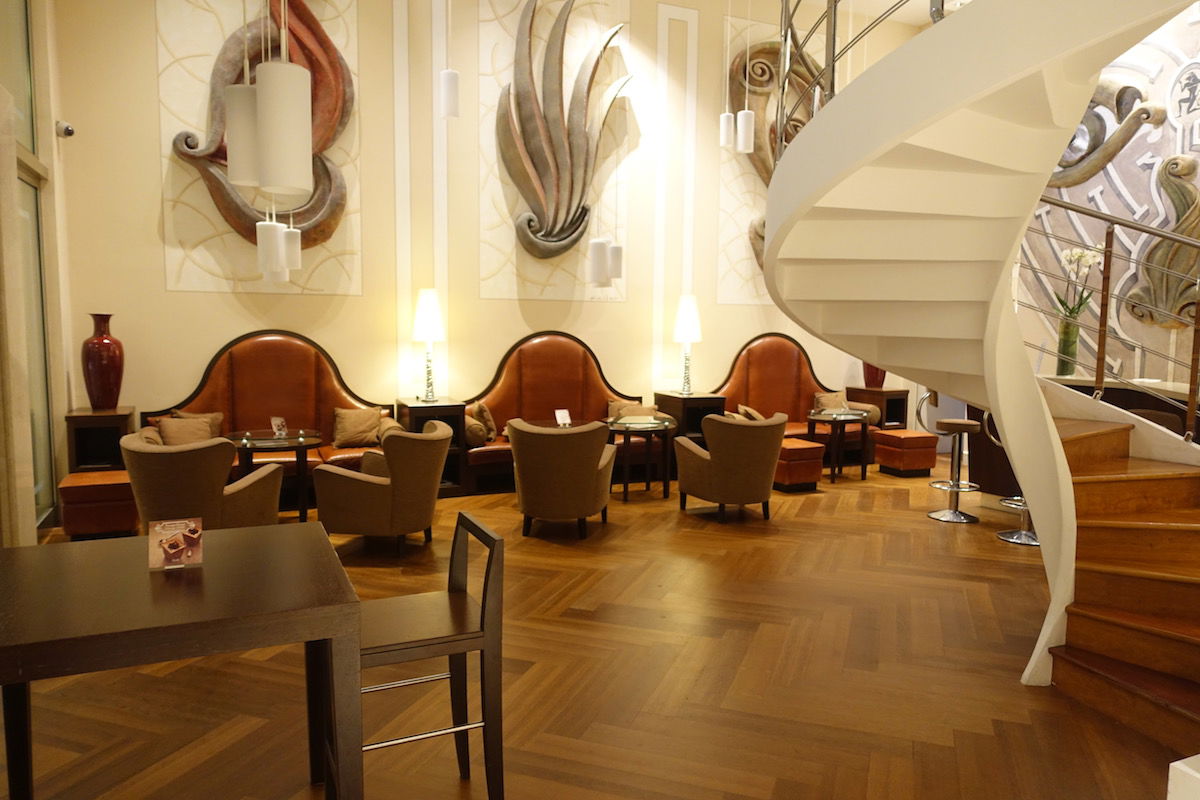 Renaissance Naples Hotel lobby bar
The hotel also has a nice deck on the 11th floor, which I imagine is where the party was that night. On the plus side, it wasn't noisy at all.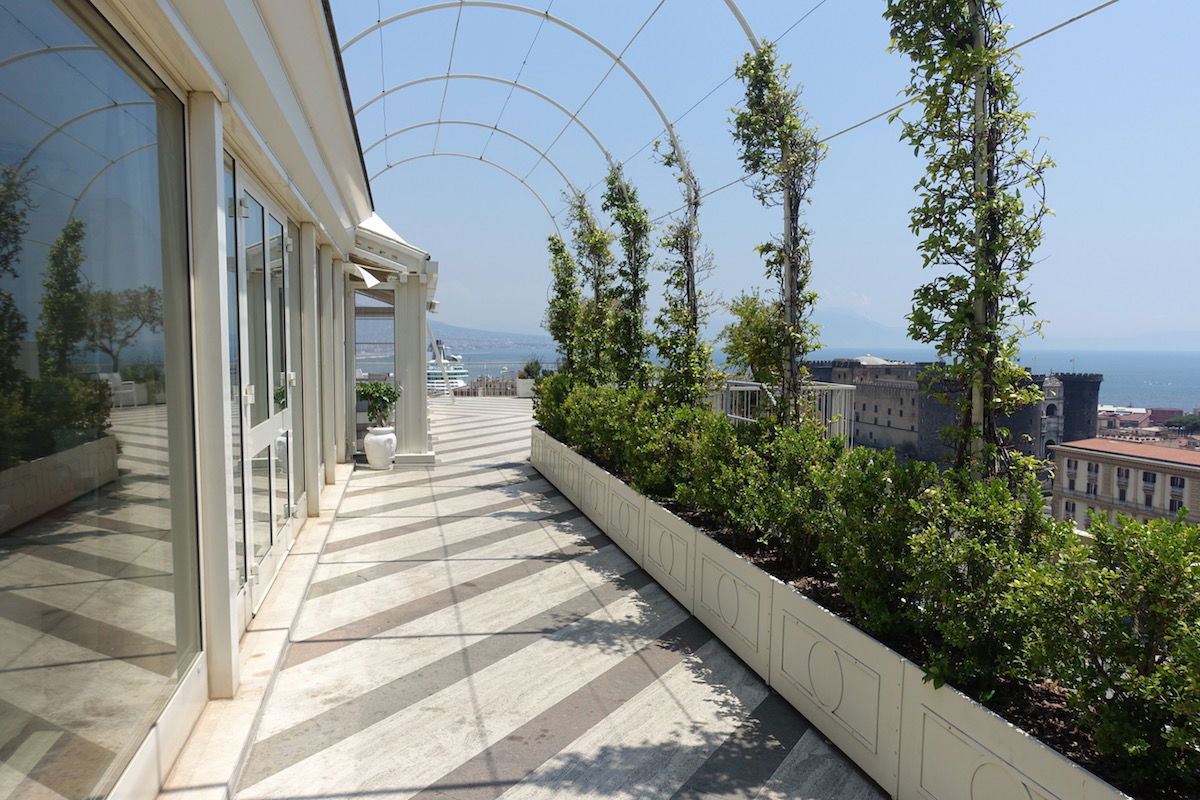 Renaissance Naples deck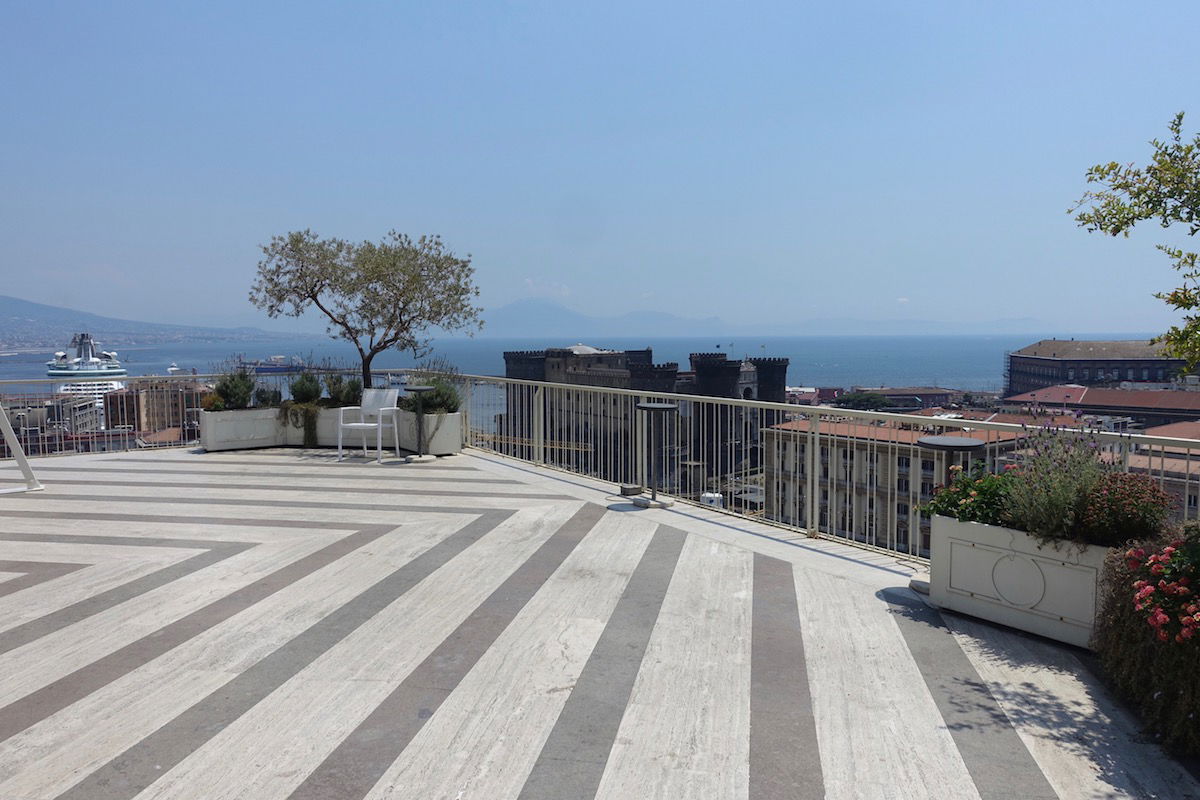 Renaissance Naples deck
There was also a nice hot tub on the rooftop.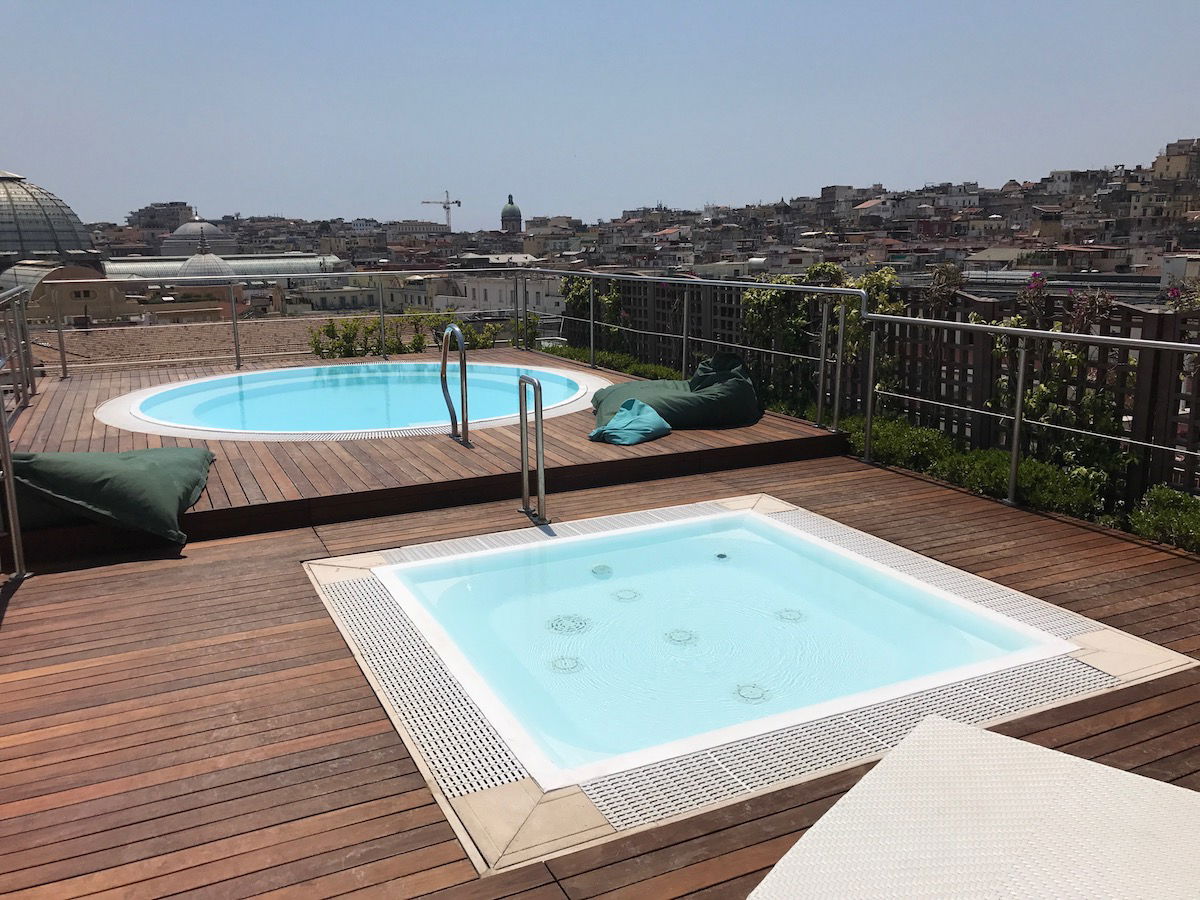 Renaissance Naples deck
The views of Castel Nuovo and the water in the distance were quite nice; I wish my room had faced that direction.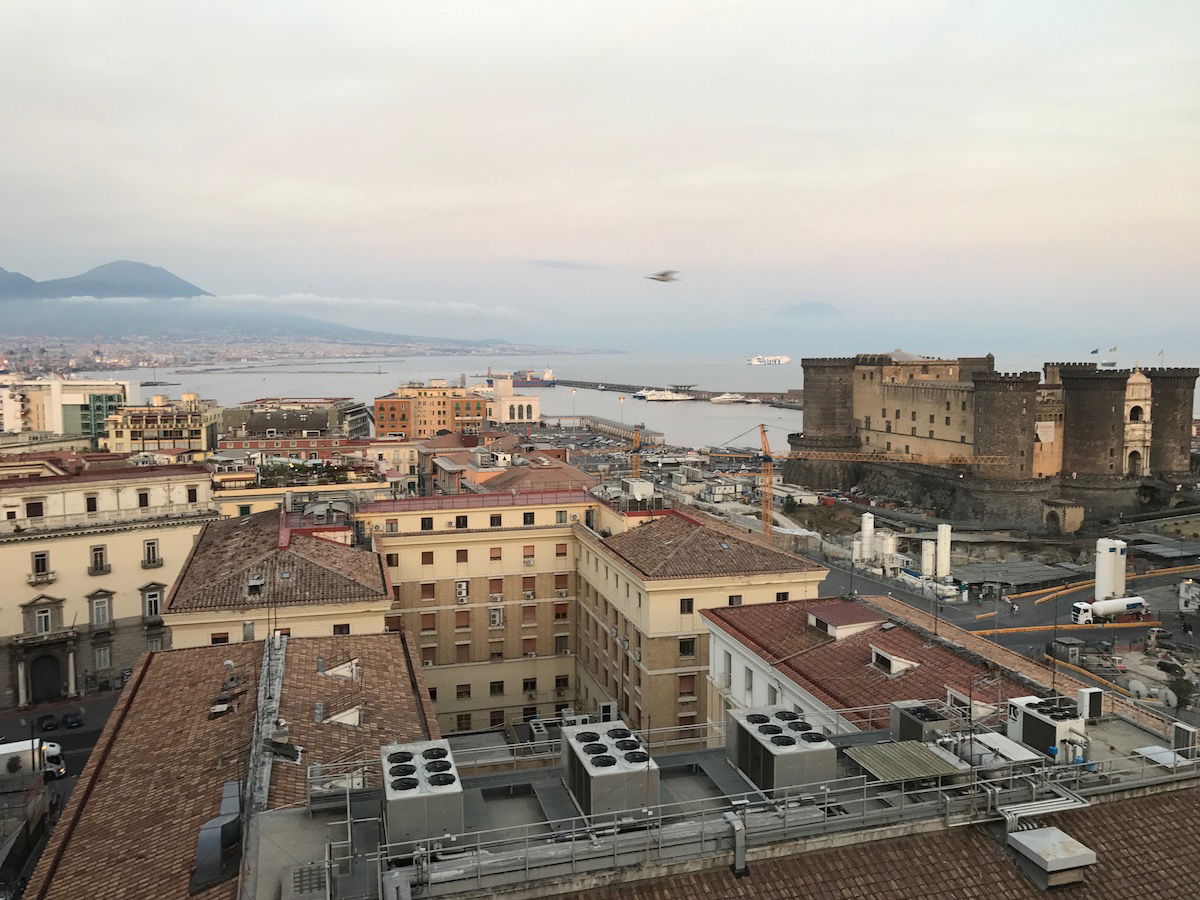 Renaissance Naples deck view
The hotel also has a tiny gym, which is open 24 hours.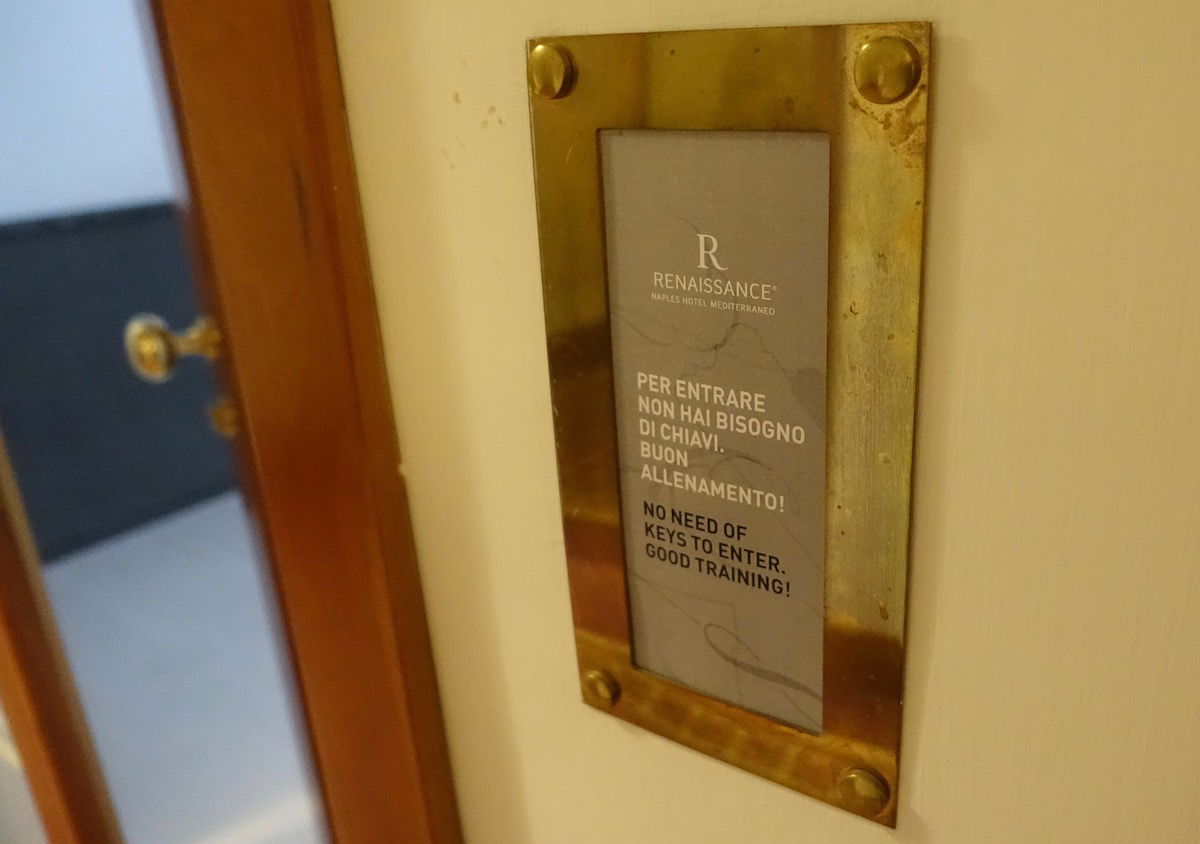 Renaissance Naples fitness center
It was tiny, though, with limited equipment.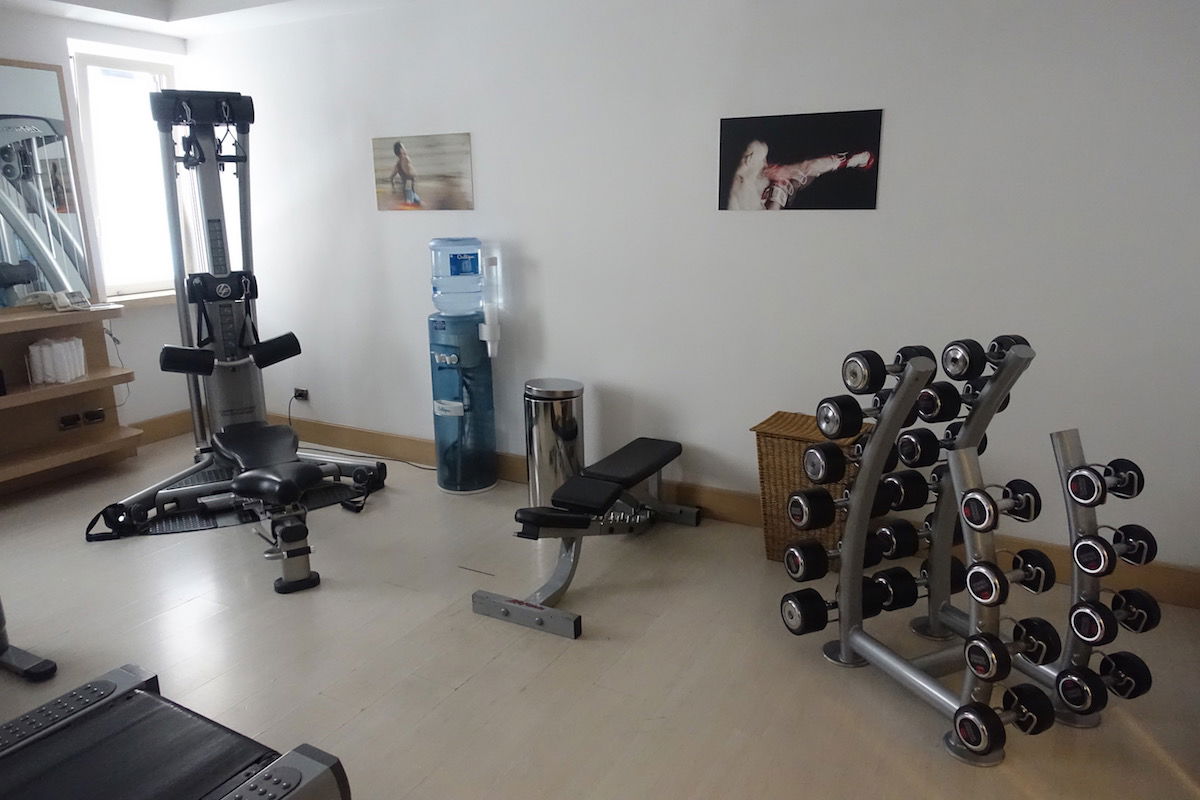 Renaissance Naples fitness center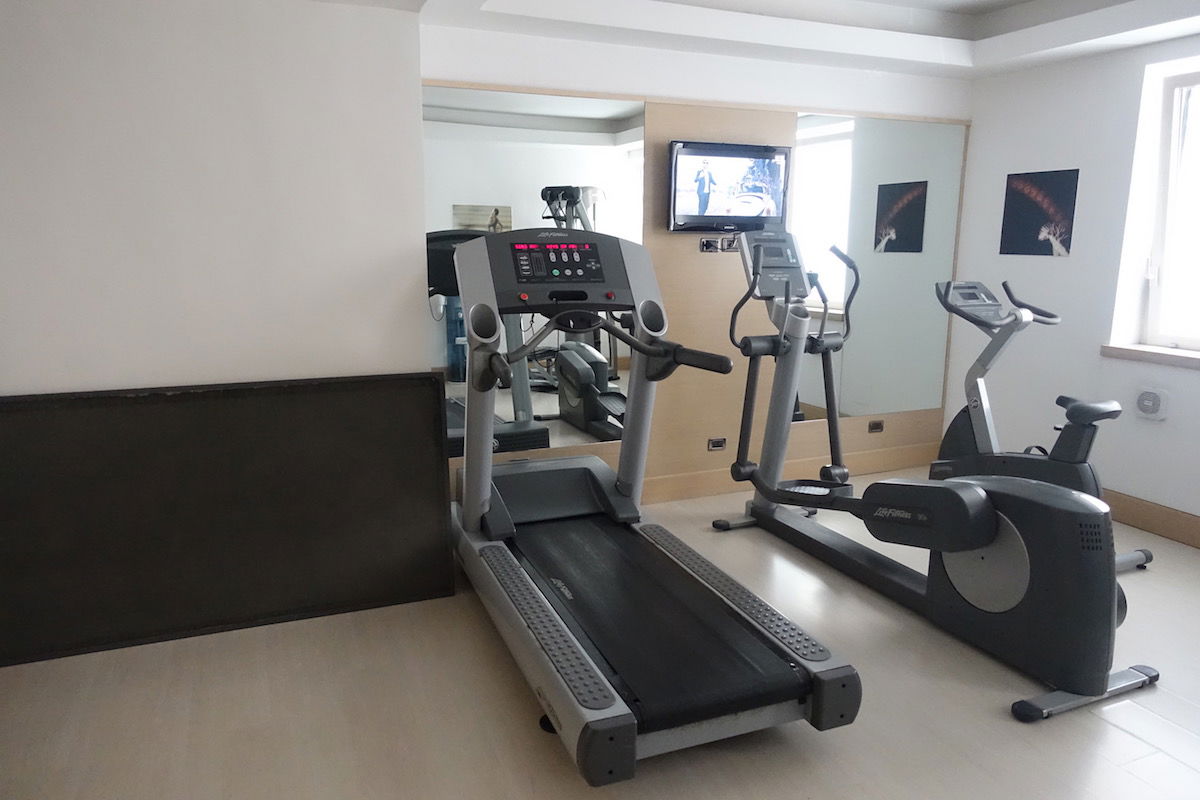 Renaissance Naples fitness center
While I wasn't told anything about this and didn't ask, there was an advertisement in the elevator indicating that hotel guests have access to a rather impressive-looking nearby gym.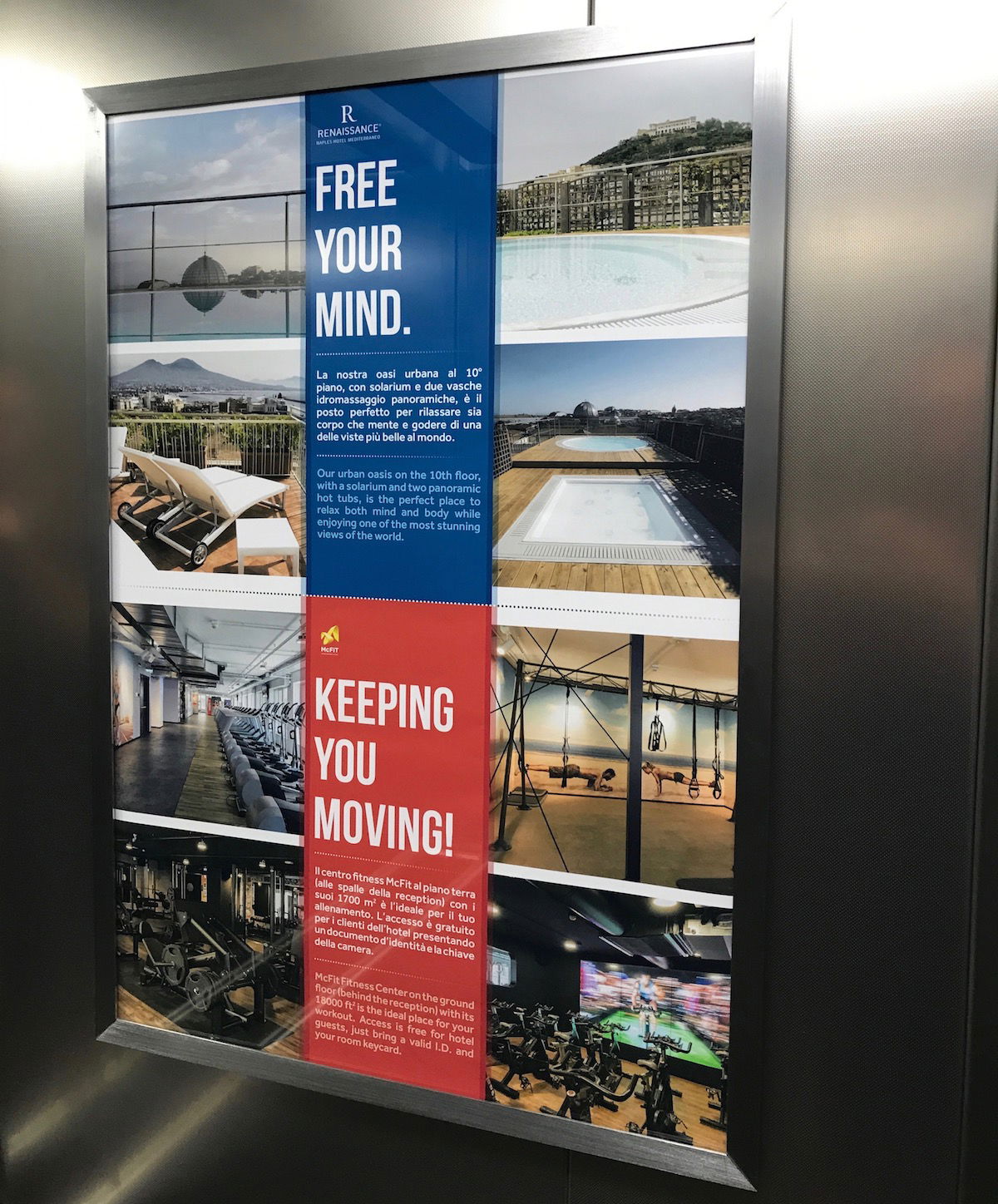 Renaissance Naples fitness center partnership
In the morning I left to the airport shortly after 5AM, because sitting in the airport seemed more pleasant than sitting in my hot-as-could-be hotel room.
Renaissance Naples bottom line
Unfortunately I don't have much good to say about the Renaissance, though I'm also not sure there are much better hotels in Naples. I take full responsibility for not at least inquiring about switching rooms, so I'll give the hotel the benefit of the doubt and assume that the temperature issue was specific to my room, and not the hotel as a whole.
Even so, I feel like this hotel is probably misbranded as a Renaissance, which I always thought was one of Marriott's more premium brands. Then again, the major hotel chains have always struggled with branding hotels, given the inconsistencies between properties.
So I guess I'd reevaluate the options if I returned to Naples, though I'm also not sure I'd return. If I were going to the Amalfi Coast I'd try to just get a same day airport transfer.
Does anyone have a favorite hotel in Naples that's better than the Renaissance?