Hello from the US, after a whirlwind trip touching four continents in less than a week. As this trip draws to a close, I'm:
The last segment of this trip was from Frankfurt to Washington Dulles, and possibly the segment I was most looking forward to.
As long time readers know, I'm a huge fan of Lufthansa first class. I realize not everyone feels the same way, though.
But one thing I try to emphasize is that it's specifically Lufthansa first class that I love — I realize the experience is different if you don't have access to the First Class Terminal and aren't driven to your connecting flight in a Porsche.
For example, last summer I flew from Seattle to Frankfurt in Lufthansa's old business class, and to call the experience disappointing would be an understatement.
So I was excited to try Lufthansa's new business class, and see if it's any more competitive. After all, nothing would make me happier than being able to proclaim my love for Lufthansa in more than just one cabin.
https://www.youtube.com/watch?v=0Pb1s2Zu8Cs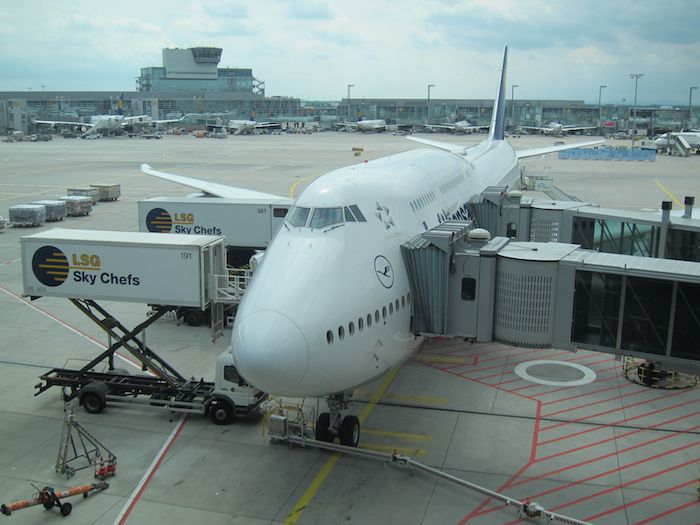 Lufthansa 747-8 Frankfurt Airport
Lufthansa 747-8 business class seat

We reserved seats 85A & 85C, located on the upper deck of business class. There's a main deck of business class in a 2-2-2 configuration, and then the upper deck is in a 2-2 configuration, with a total of 32 upper deck business class seats.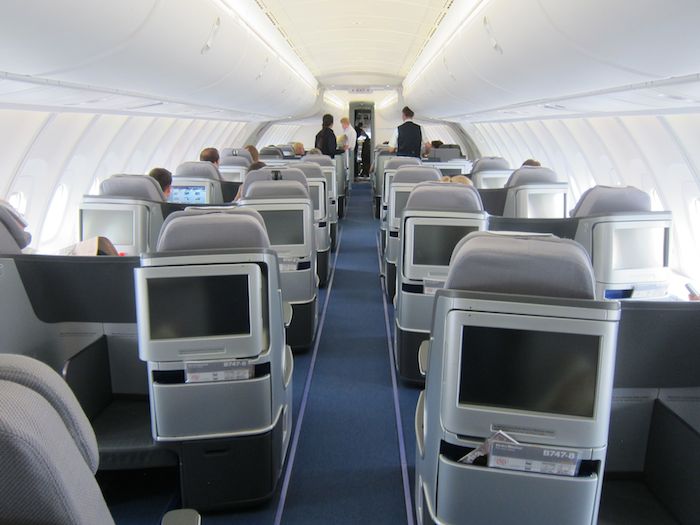 Lufthansa 747-8 business class upper deck
The 747-8 is just such a sleek, gorgeous plane. While I love the A380 in terms of passenger comfort, nothing will ever be able to compete with the elegance of the 747, in my opinion. It's awesome to see the 747-8 with a larger upper deck than the 747-400, while still maintaining that "plane within a plane" feel.
Aesthetically I think the seats are gorgeous. I love the tones and finishes, and hell, even the pillows nicely complement the seats.
But what about seat comfort? I found the seat fairly comfortable for lounging, and if traveling with someone I think the seats are great.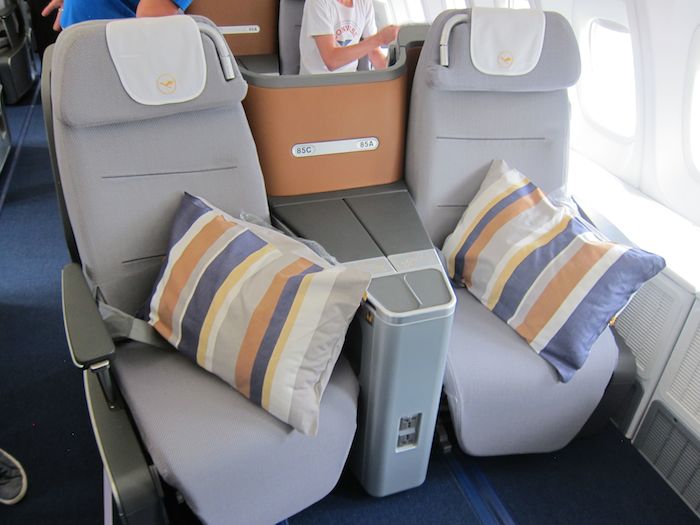 Lufthansa 747-8 business class seats
The downside of the design is that foot space is very limited when trying to sleep. Between the two personal televisions is an area for feet. As far as I'm concerned the foot space for two passengers should really be for just one person. For example, I'm a side sleeper and couldn't fit my feet in the "cubby" sideways. At the same time, I could angle them, and since the height wasn't restrictive, it actually wasn't too bad.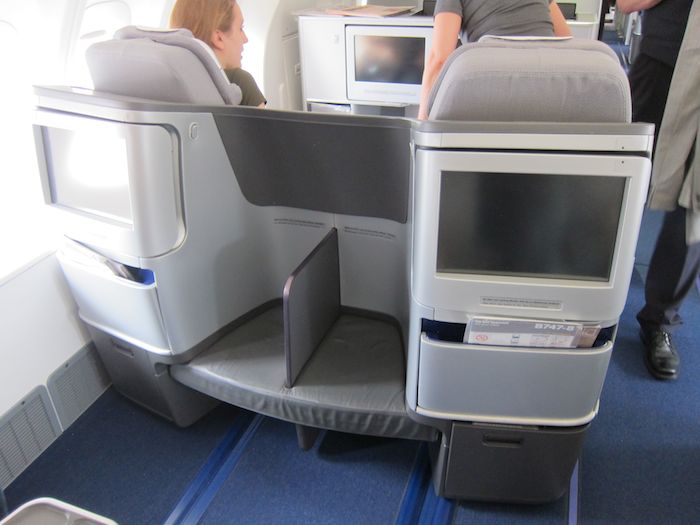 Lufthansa 747-8 business class seats
I slept for a solid four hours, which probably had more to do with my exhaustion than the seats themselves. Because of the design, expect to share some tender moments playing "footsies" (and "kneesies") with your seatmate, based on how your feet are both going in the same general area. But I imagine that could be a bit more awkward if you're seated next to a stranger.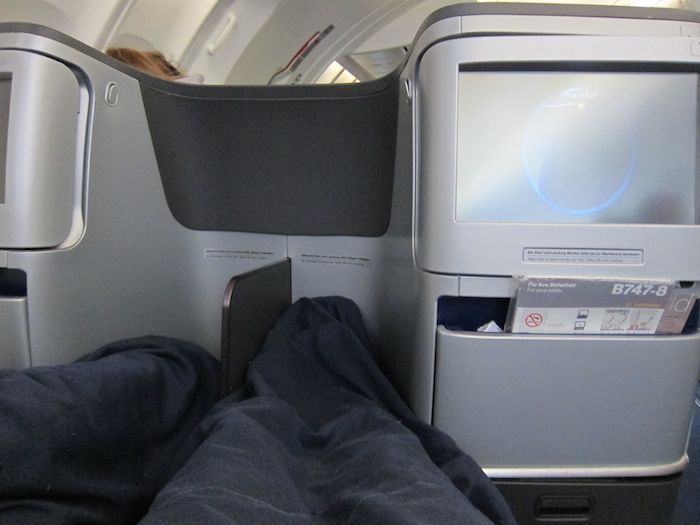 Lufthansa 747-8 business class foot cubby
What actually bothered me most is that there was no partition at all between the business class seats. Sleeping without any privacy is kind of uncomfortable.
While these seats aren't ideal when traveling alone, if you're traveling with someone I actually think they're quite good.
To compare this seat to other transatlantic business class seats, I definitely prefer a reverse herringbone or Solstys style staggered seat to this. However, I think I may prefer this to Vantage style staggered seats, at least if traveling with someone else.
Lufthansa business class food
The food on this sector was pleasantly surprising. It was by no means gourmet and couldn't hold a candle to Austrian or Turkish catering, though everything was perfectly edible.
There was a shrimp appetizer and salad to start.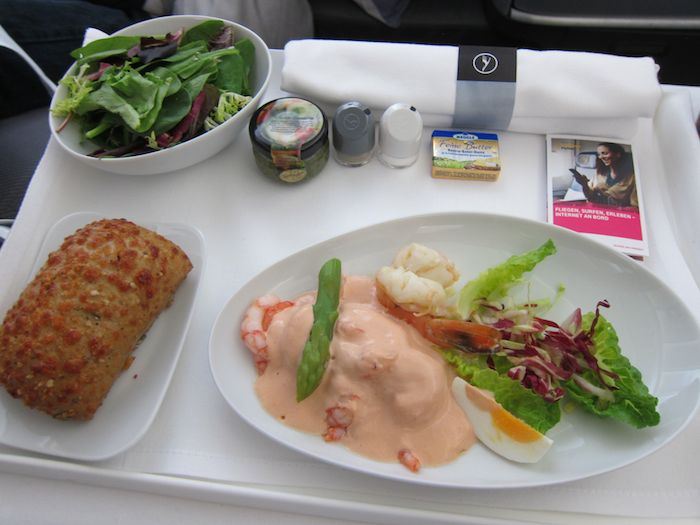 Lufthansa business class appetizer and salad
Then for the main course I had halibut.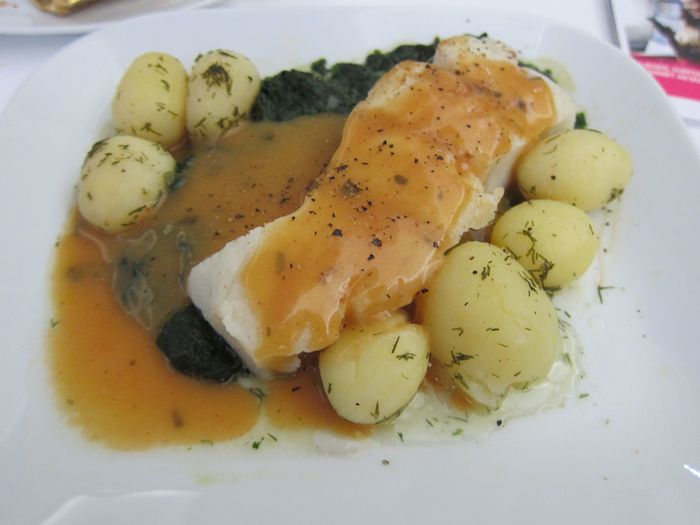 Lufthansa business class main course
And then for dessert some sort of sponge cake with vanilla cream and raspberry compote.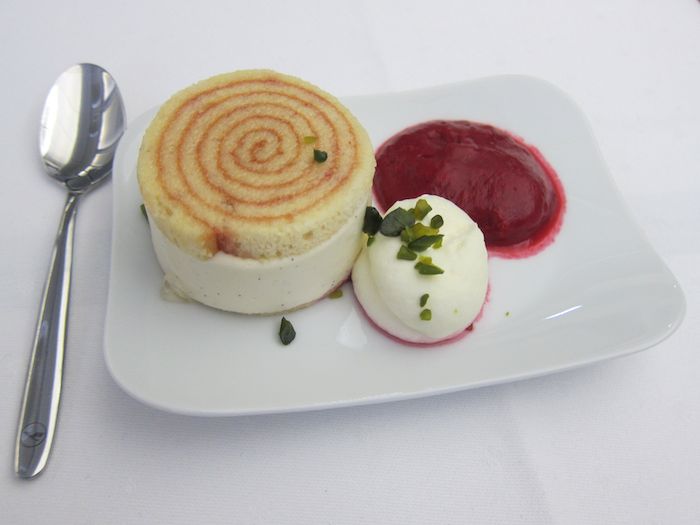 Lufthansa business class dessert
The pre-arrival meal consisted of soup, salad, and a small dessert. Not amazing, but certainly edible, and much better than my last flight in Lufthansa business class.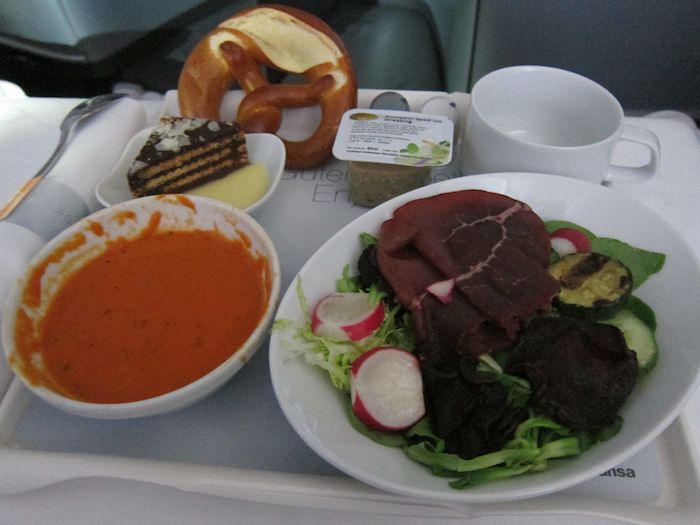 Lufthansa business class pre-arrival snack
Lufthansa business class service
Possibly the most disappointing aspect of my last flight in Lufthansa's longhaul business class flight was the service. I find service in Lufthansa first class to be consistently excellent, while that wasn't my experience in business class.
Well, on this sector the service really couldn't have been any better. There were two older guys and one younger girl working the upper deck, and all three were professional, attentive, and genuinely friendly.
The service was systematic, but in a way that didn't make me feel like I was part of a factory assembly line.
Lufthansa business class amenities
Lufthansa's business class amenity kits are simple, and to supplement them they also had some more amenities in the lavatories.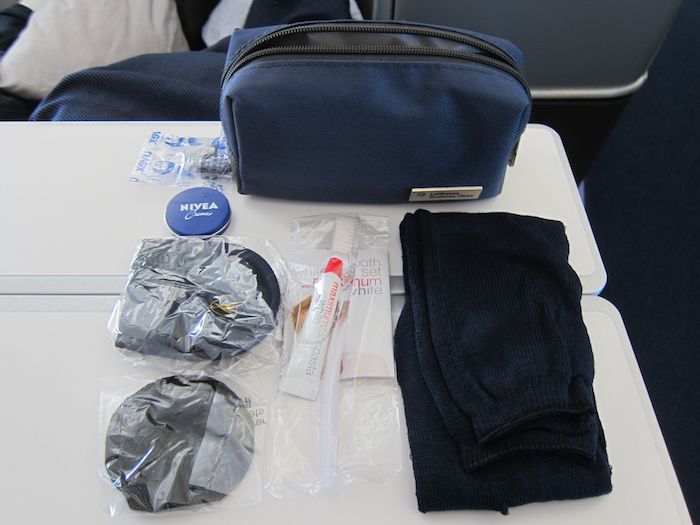 Lufthansa business class amenity kit
Nowadays I don't really get excited about any amenity kits other than Rimowa ones.
Lufthansa's entertainment system has never really impressed me, so I usually just bring enough of my own entertainment to keep myself amused. Usually I look forward to Lufthansa's inflight Wi-Fi, though unfortunately it was broken on this plane.
Bottom line on Lufthansa 747-8 business class
I was pleasantly surprised by Lufthansa's new business class. On one hand I think it's kind of unfortunate that they're still not done installing this product throughout their longhaul fleet, because it's not even really competitive to the newest types of business class products out there. At the same time, it's a huge improvement over their old business class product, and one I'd definitely consider flying again in the future… especially if traveling with someone.