Avianca's LifeMiles program may be taking a cue from some other Star Alliance programs by blocking Lufthansa first class award space.
Star Alliance programs have historically blocked Lufthansa first class
Over five years ago United Mileage Plus began what we called "Starnet blocking," whereby they blocked Lufthansa first class award space. At the time Lufthansa released a ton of first class award space — this was back when they had 16 first class seats on the 747, and released 4-8 first class award seats per flight.

Lufthansa's old 747 first class with 16 seats
Airlines have to compensate one another for award seats, and usually it "balances" out. But in United's case there was a huge imbalance between United Mileage Plus members redeeming on Lufthansa, and Lufthansa Miles & More members redeeming on United. So they decided to start blocking space in order to narrow that margin.
Eventually US Airways began implementing the same practice, whereby they blocked Lufthansa first class award space as well. At first they primarily blocked transatlantic first class award space, and then eventually they blocked all Lufthansa first class award space.
The only odd thing here is that at this point, Lufthansa wasn't releasing a lot of first class award space anymore. They were decreasing the size of first class cabins to just eight seats, and began only releasing space to partner airlines at most 15 days in advance. But they still blocked the few seats that were available.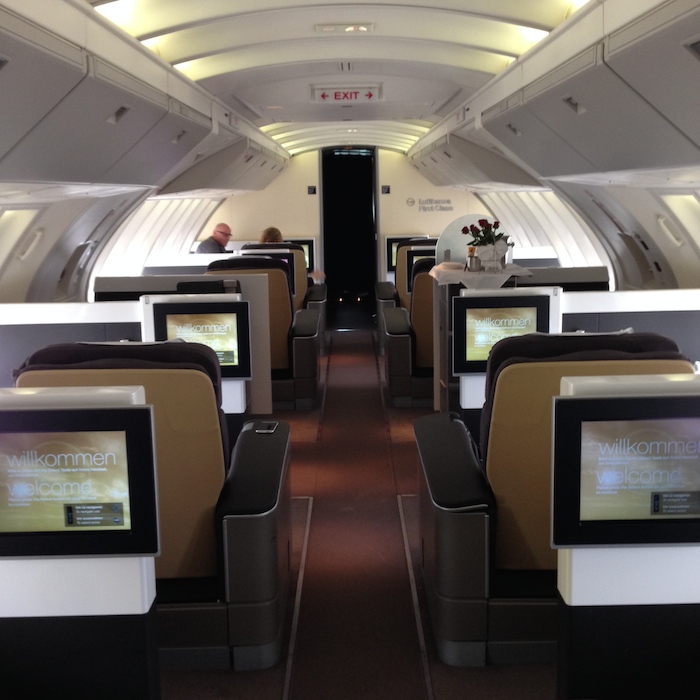 Lufthansa's new 747 first class with 8 seats
Avianca LifeMiles is blocking Lufthansa first class as well
Avianca's LifeMiles program has a history of IT problems, both good and bad. For example, in many cases they haven't been displaying United award space online, but when you call it's still bookable, so it does appear to be an IT glitch.
Meanwhile the last couple of weeks I've received dozens of reports of Lufthansa first class award space not showing up on lifemiles.com. I assumed it was a similar IT glitch (I mean, admittedly it's a very convenient glitch), but I figured it was still bookable by phone.
Well, it appears as if that isn't the case, and that Avianca LifeMiles is in fact blocking Lufthansa first class award space, and that's regardless of whether you're trying to book online or by phone.
For example, looking at award space on the ANA website between Philadelphia and Frankfurt over the next week, five of seven days have first class award availability:

Meanwhile the LifeMiles website shows nothing:

This isn't limited to transatlantic flights. The same is true for flights from Asia. Looking at availability from Seoul Incheon to Frankfurt, every day over the next week has availability:
But LifeMiles doesn't show any of it:
And even when you call, the space still isn't bookable. As of now the blocking seems to be limited to all Lufthansa first class award space — economy and business class are still bookable.
Why would LifeMiles block Lufthansa first class space?
So why would LifeMiles be going out of their way to block Lufthansa first class award space, despite the fact that there's not that much space anymore?
A lot of people are redeeming miles for it
I know this sounds obvious, but my point is that I think a disproportionate number of people (myself included) are looking towards LifeMiles to book Lufthansa first class award space. That's because United's new partner first class award rates are ridiculous and Aeroplan imposes fuel surcharges for Lufthansa first class awards (though at least they now allow one-way awards, which is nice).
So I'm guessing a lot of people are just redeeming for Lufthansa first class through LifeMiles.
Reimbursement rates for Lufthansa first class are relatively high
Last December I wrote a post with some data points as to the reimbursement rates for award tickets between airlines.
The lesson to take away from that post is that overall award reimbursement rates between airlines are really low — we're talking $300-400 for one-way transatlantic business class.
That being said, relatively speaking Lufthansa reimbursement rates were quite high. For example, here are the two international first class reimbursement rates I shared:
New York > Tokyo in ANA first class: ~$450
Los Angeles > Frankfurt in Lufthansa first class: ~$1,000
So as you can see, Lufthansa first class is disproportionately expensive. The reimbursement rate for Lufthansa transatlantic first class is more than double as much as the reimbursement rate for ANA transpacific first class, which is just crazy.
Bottom line
This is an unfortunate development, though I guess not really surprising coming from the airline that's trying to fill the void that US Airways left in the Star Alliance for consolidating premium cabin award tickets.
Has anyone had experience with booking Lufthansa first class lately using LifeMiles that differs from the above?