This summer JetBlue will be launching transatlantic flights. The airline plans to fly from both Boston and New York to London using its brand new A321LR aircraft. We've already learned all about JetBlue's incredible new Mint product, known as Mint Suite and Mint Studio. There's now some more information about what passengers can expect when flying across the Atlantic.
What will JetBlue transatlantic economy be like?
JetBlue has now revealed what passengers can expect in economy on transatlantic flights, and it sounds incredibly impressive, from an innovative approach to dining, to complimentary wine, beer, and liquor, to complimentary Wi-Fi and live TV.
As Jayne O'Brien, JetBlue's head of marketing and loyalty, describes JetBlue's new economy service:
"From generous personal space, to our innovative build-your-own dining concept, every detail has been thoughtfully designed and will be made even better with the attentive service standards that a single-aisle aircraft allows.

We know all too well the pain points of international flying – the dreaded center section, the 'choice' of assembly-line chicken or beef, and the lack of connectivity. JetBlue is ready to change all that with our take on transatlantic travel where you are well taken care of and fully connected if you want to be."
Let's get into some of the details.
JetBlue's fresh take on economy dining
JetBlue is collaborating with New York-based restaurant group Dig for its transatlantic economy catering, which will be complimentary. The airline is taking a new approach to dining compared to what we've seen at other airlines, and it's modeled after the JetBlue Mint experience.
Rather than just serving set meals, JetBlue will make these meals customizable:
Passengers will have the option of choosing one of three main courses, each of which will be a protein or vegetable that comes with a base
Passengers will have the option of choosing two of three sides, with two of the options being hot, and one being chilled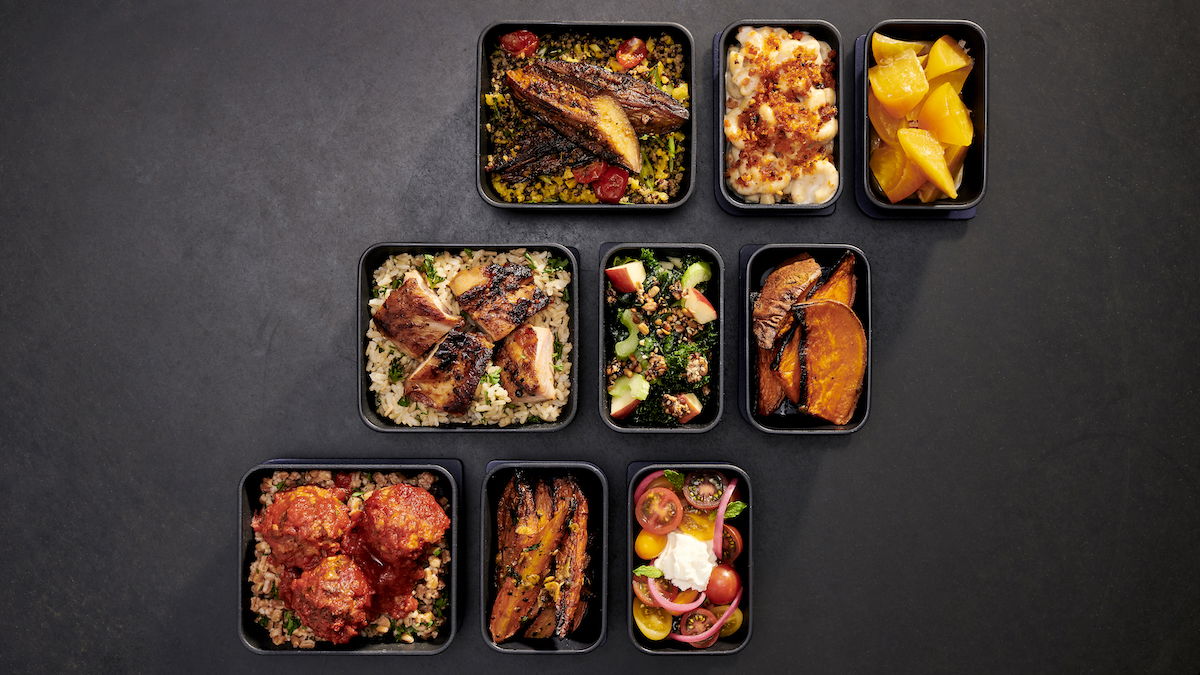 JetBlue's transatlantic economy catering
What kind of food should passengers expect? Dishes will vary seasonally, but you can generally expect:
Main courses like roasted chicken thigh over a base of brown rice with herbs, or spiced eggplant over coconut cauliflower quinoa
Side dishes like mac and cheese, or a mixed heirloom tomato salad
For morning departures, the menu will include a mix of sweet and savory items, like a mixed berry bread pudding, or a citrus salad with local honey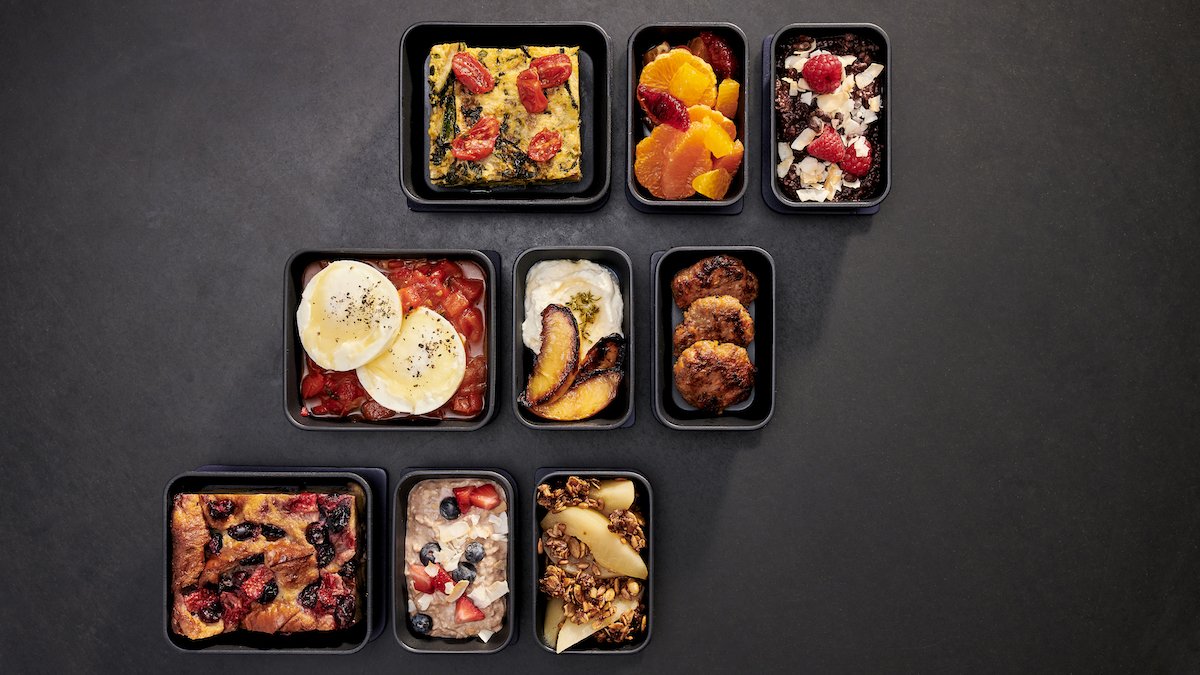 JetBlue's transatlantic economy catering
Here are a few more details about the meal service:
Passengers will be able to place their meal orders directly through their seatback entertainment screens
There will be a sweet treat after the meal, and a light meal prior to arrival
In addition to the main meals, JetBlue will have a pantry with self-serve snacks and drinks
Meals will be served in reusable containers and cutlery will be made from a natural polymer
JetBlue's complimentary beer, wine, and liquor
In addition to the excellent meal service, it's worth calling out that JetBlue will offer complimentary soft drinks, coffee, tea, beer, wine, and liquor, in economy. Many other airlines (like American and United) don't offer complimentary liquor in economy on transatlantic flights, so that's a legitimate point of differentiation.
JetBlue's complimentary entertainment & Wi-Fi
JetBlue is known for offering unlimited, complimentary Wi-Fi on all flights, and that will even be offered on transatlantic flights. That's awesome, as there's not currently an airline offering unlimited free Wi-Fi across the Atlantic in economy (La Compagnie offers free Wi-Fi, but it's an all-business class airline, and operations are currently suspended).
Each seat will also have a 10.1″, 1080P high definition screen, giving passengers access to an extensive entertainment library, including live TV channels.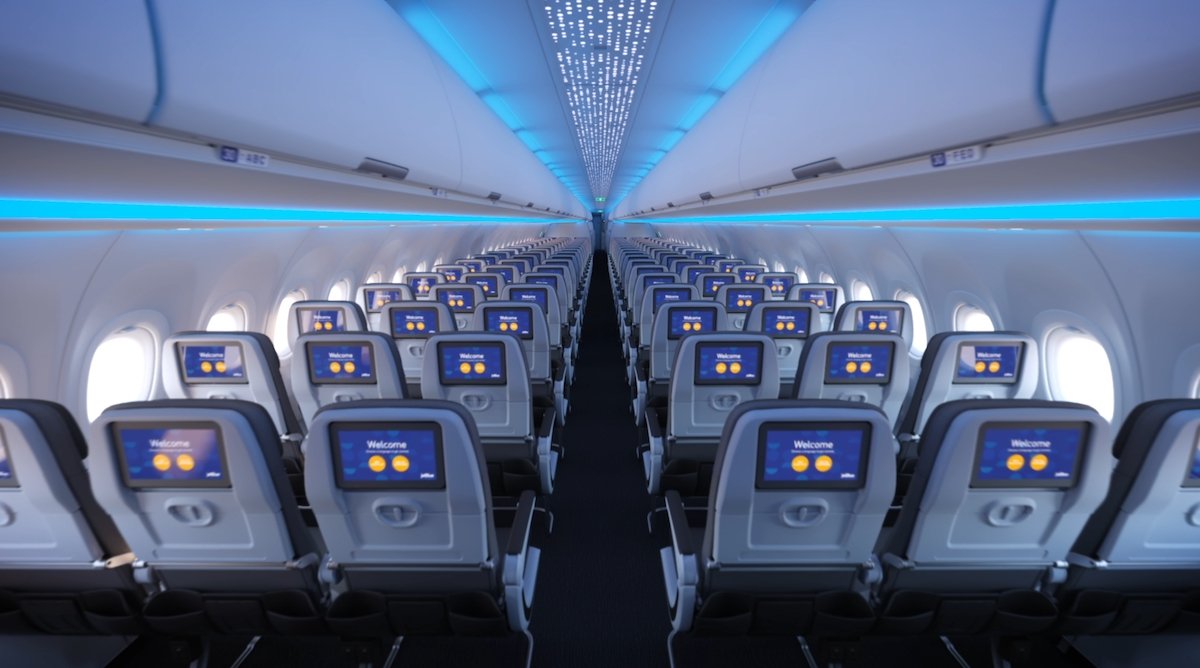 JetBlue A321LR economy cabin
JetBlue's A321LR economy cabin layout
JetBlue's A321LR economy cabin will feature just 114 seats (that's an intimate cabin, thanks to how big the Mint cabin will be):
Seats will feature a minimum of 32″ of pitch, and be 18.4″ wide
There will be four rows of Even More Space, featuring up to six extra inches of legroom
Redesigned sidewalls will provide additional shoulder space and larger window bezels for increased spaciousness
Seats will feature enhanced cushion comfort and adjustable headrests
Each seat will have both AC and USB-C power ports
There will be seatback storage with mesh pockets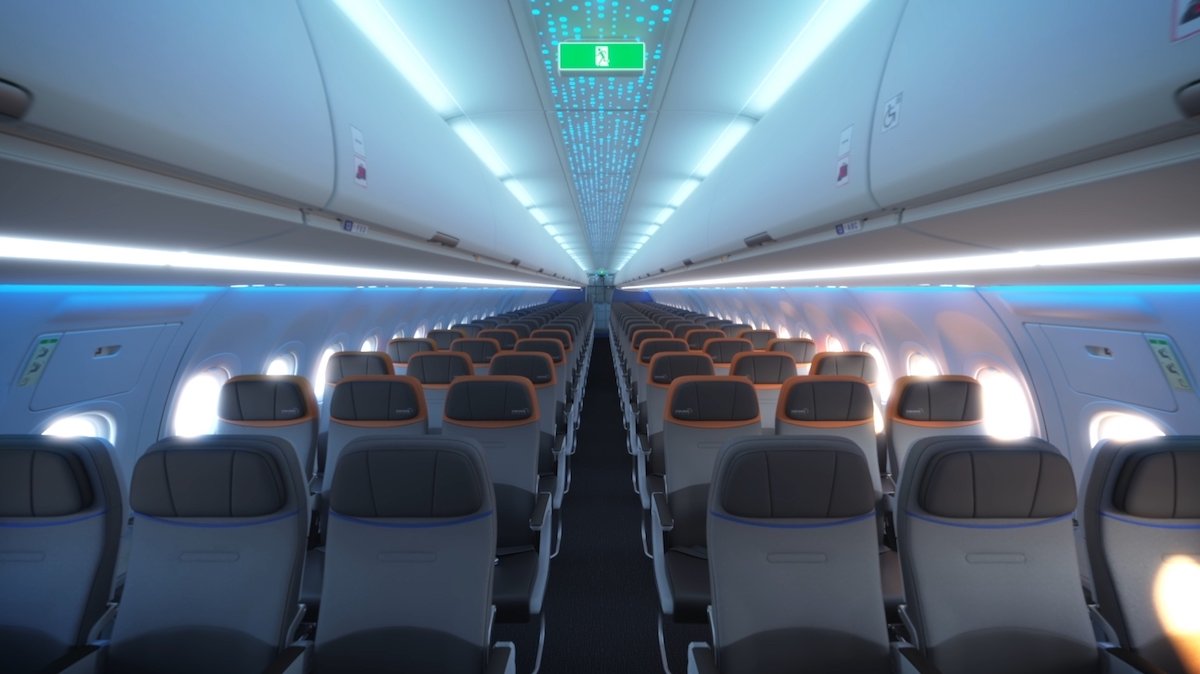 JetBlue A321LR economy cabin
My take on JetBlue's transatlantic economy experience
Based on what has been announced so far, JetBlue's new transatlantic economy experience sounds incredible:
The approach to meal service looks legitimately innovative, and like a welcome change from what customers are usually served in economy; hopefully the food is actually as good as it looks — while I'd usually be skeptical, JetBlue has done a great job with Mint food, so maybe this won't be that different
Many will appreciate the free drink selection (including liquor), plus easy access to free snacks
Having complimentary unlimited Wi-Fi is a major point of differentiation
I just have one major concern — is JetBlue almost aiming to provide too much service, to the point that the service will take a really long time?
There are a lot of selections for passengers to make, so surely that will slow down the service, even if people are told to order via the seatback entertainment screen
The complimentary drink selection sounds better than at other airlines, so you can expect people may be asking for more drinks
Having a single aisle aircraft complicates meal service; if someone needs to use the restroom the service cart often needs to be moved around, and on top of that the plane doesn't have as much galley space as a wide body
While the service sounds incredible for economy, I'd also expect it to take a while… and maybe that's not a bad thing for those people who struggle to sleep in economy?
Bottom line
JetBlue has revealed the details of its transatlantic economy product, and it looks incredible. From a more customized meal service, to free liquor, to free Wi-Fi, to live TV, this product really looks as good as it could possibly be.
What do you make of JetBlue's new transatlantic economy experience?