The Airbus A380 has been around for more than 10 years, and there are many things I love about.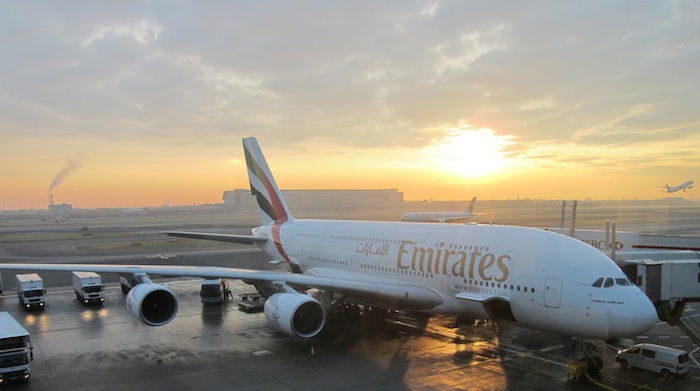 The plane has really upped the game in terms of the passenger experience, in my opinion. The A380 is quieter and smoother than any other plane I've flown, and we've seen some really innovative amenities added in premium cabins, ranging from onboard bars to double beds to onboard shower suites.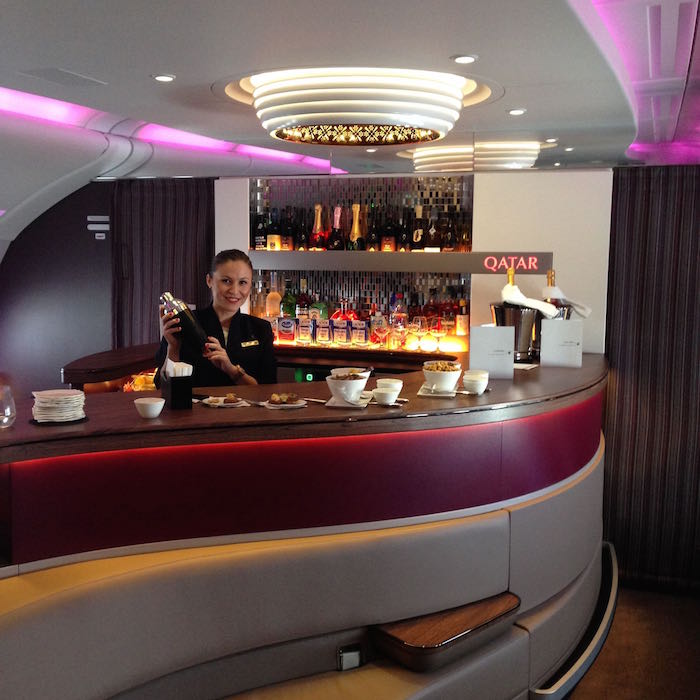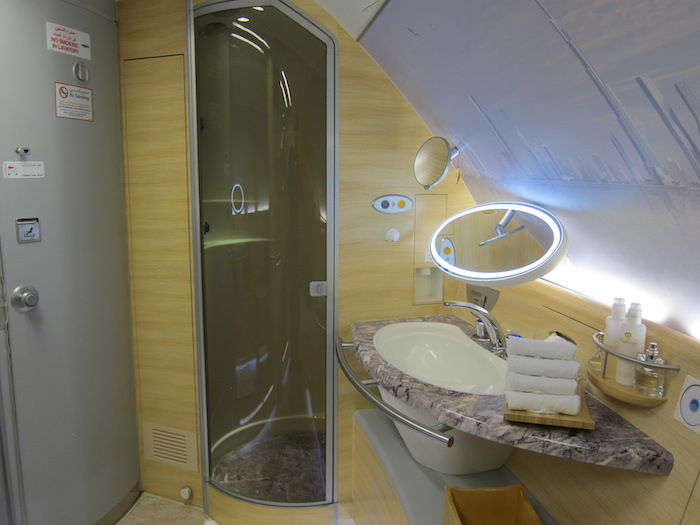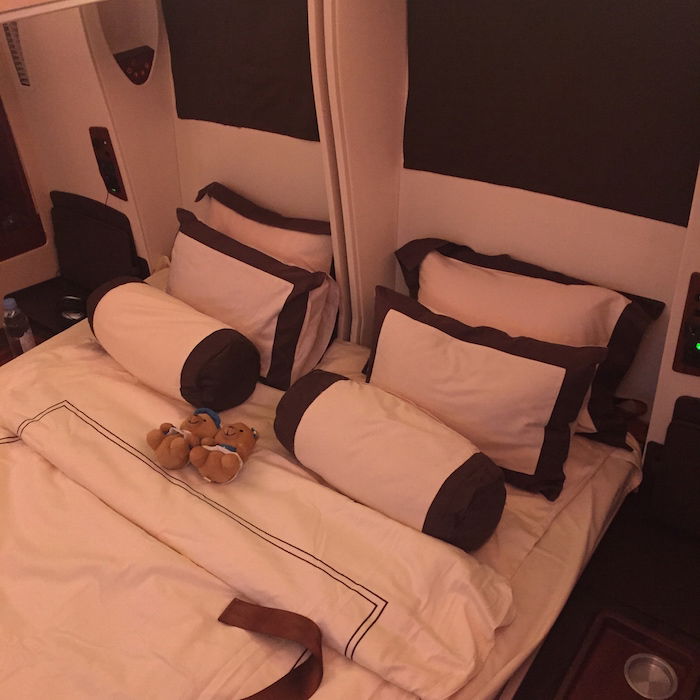 I've been lucky enough to fly every airline that operates the A380 in first class, and have enjoyed all of them. These airlines include Air France, Asiana, British Airways, China Southern, Emirates, Etihad Airways, Korean Air, Lufthansa, Malaysia Airlines, Qantas, Qatar Airways, Singapore Airlines, and Thai Airways.
The problem is, the A380 is really struggling, as Emirates seems to be the only airline fully embracing it. Other airlines far prefer planes like the A350 and 787, which are much smaller but also long range and fuel efficient. There are only so many markets where an A380 can be operated profitably. With the demand for global air travel growing, perhaps the plane just peaked a few years too early.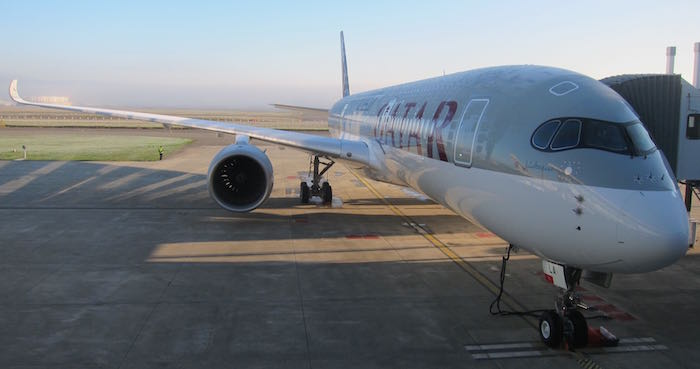 Anyway, Airbus has launched a cute website to market the A380 — iflya380.com. On this site they feature rotating pictures from Instagram users who tagged the A380, so you're getting to see what the "real" experience looks like (though unsurprisingly, the pictures are heavily skewed towards premium cabins).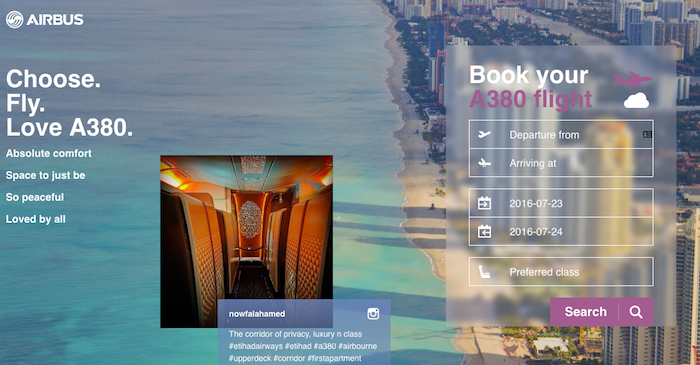 The website also talks about what makes the A380 unique, as well as the airlines and destinations served by the plane.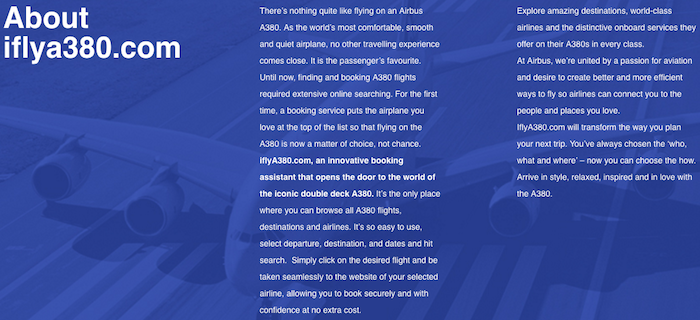 You can also search for routes operated by the A380, and then you can look up the prices on a variety of airlines directly on their site. Once you find the flight you want, you'll be redirected to the individual airlines' websites to book.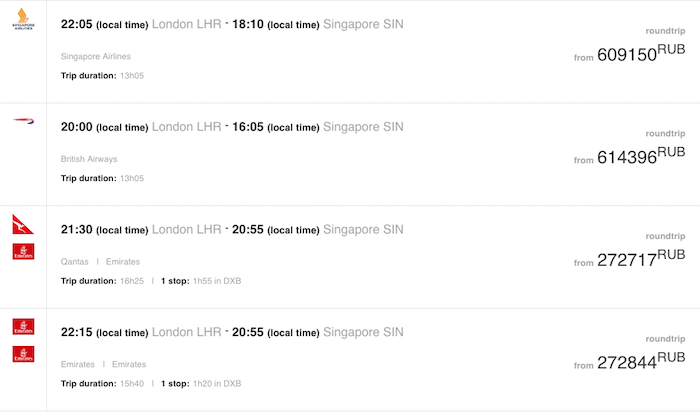 Bottom line
I doubt this will actually make a difference in the success of the A380, though I think it's a brilliant idea as such. Aircraft manufacturers have long marketed to airlines, though there's definitely potential value in marketing directly to consumers, to get them talking about the plane, and excited to fly it. In this instance I'm not sure the website will actually make a difference, and for that matter I don't find their booking interface especially easy to use.
Still, I think the idea behind iflya380.com is smart.