A couple of weeks ago the details of World of Hyatt were announced, which will be Hyatt's new loyalty program as of March 1, 2017. There are things I love and hate about World of Hyatt, though at least in our community most people view the new program as a negative.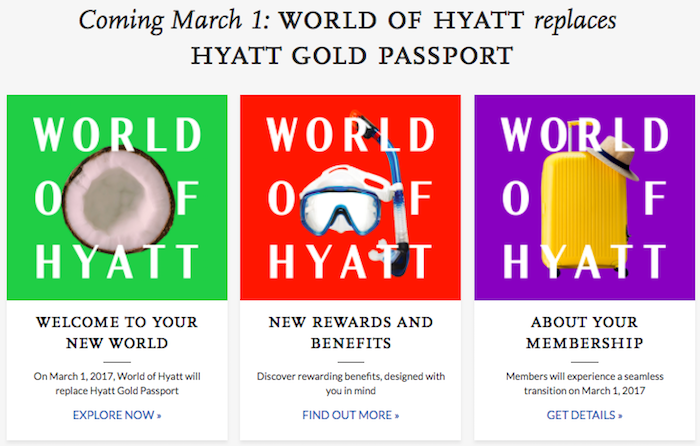 As far as top tier status goes, presently you need 25 stays or 50 nights to earn Diamond status, while with World of Hyatt you'll need 60 nights to earn Globalist status, which is the new top tier status. However, if you're requalifying for status then you'll "only" need 55 nights.
There's no option to qualify for status anymore based on stays, though you do now have the option of qualifying for Globalist based on $20,000 of spend per year.
How the transition from Diamond to Globalist will work
If you qualify or requalify for Diamond status this year, you'll automatically be given Globalist status through the end of 2017. Then if you want to requalify for 2018, you'll need to spend $20,000 on stays or stay at least 55 nights.
Unless…
The fast way to earn Globalist status through 2018
I've received several questions about this, and I'm not sure it's even worthwhile. But I feel like I should at least mention it, for those who are so inclined.
World of Hyatt only kicks in as of March 1, 2017. This means that if you qualify or requalify for Diamond status between January 1 and February 28, 2017, you'll automatically receive Globalist status through the end of 2018.
Presumably the way people would want to do this is by making 25 stays during that period. With Hyatt, a stay is defined as a check-in and check-out at one hotel, so back-to-back stays at the same hotel wouldn't qualify.
In other words, you'd have to check into a different Hyatt almost every other night.
Is it worth it?
To many of us that sounds crazy, though something tells me there are people in our community who will do that as a way of qualifying for status.
Personally I'd have to question to what degree that's worth it, especially if the intent is that you won't have much need for the status throughout the rest of 2017. If you'd otherwise be close to staying 55 nights, I'd much rather just extend a stay a few times throughout the year (perhaps using the Citi Prestige Card fourth night free benefit) as a means of requalifying, rather than rushing and making 25 stays in two months.
But it's certainly an option for the crazy among us!
Anyone planning on qualifying for Globalist through 2018 by making 25 stays in the first two months of next year?