JetBlue has today announced that they're revamping their fare structure, with the introduction of Blue Basic fares, along with newly rebranded Blue Extra fares.
JetBlue's New Fare Structure
JetBlue is essentially "catching up" with the competition here in introducing more fare types.
As is the norm for airlines, JetBlue is claiming that this is due to customer feedback, saying that they've "heard [us] loud and clear." That's right, we want basic economy!
JetBlue emphasizes that no matter which fare you choose, you receive JetBlue's spacious economy seats, free brand name snacks and drinks, free high speed Wi-Fi, DIRECTV, and movies at your seat.
Furthermore, all fares will continue to allow you to bring one personal item and one carry-on bag, space permitting, at no extra charge.
To, start, here's a chart comparing JetBlue's five fare types: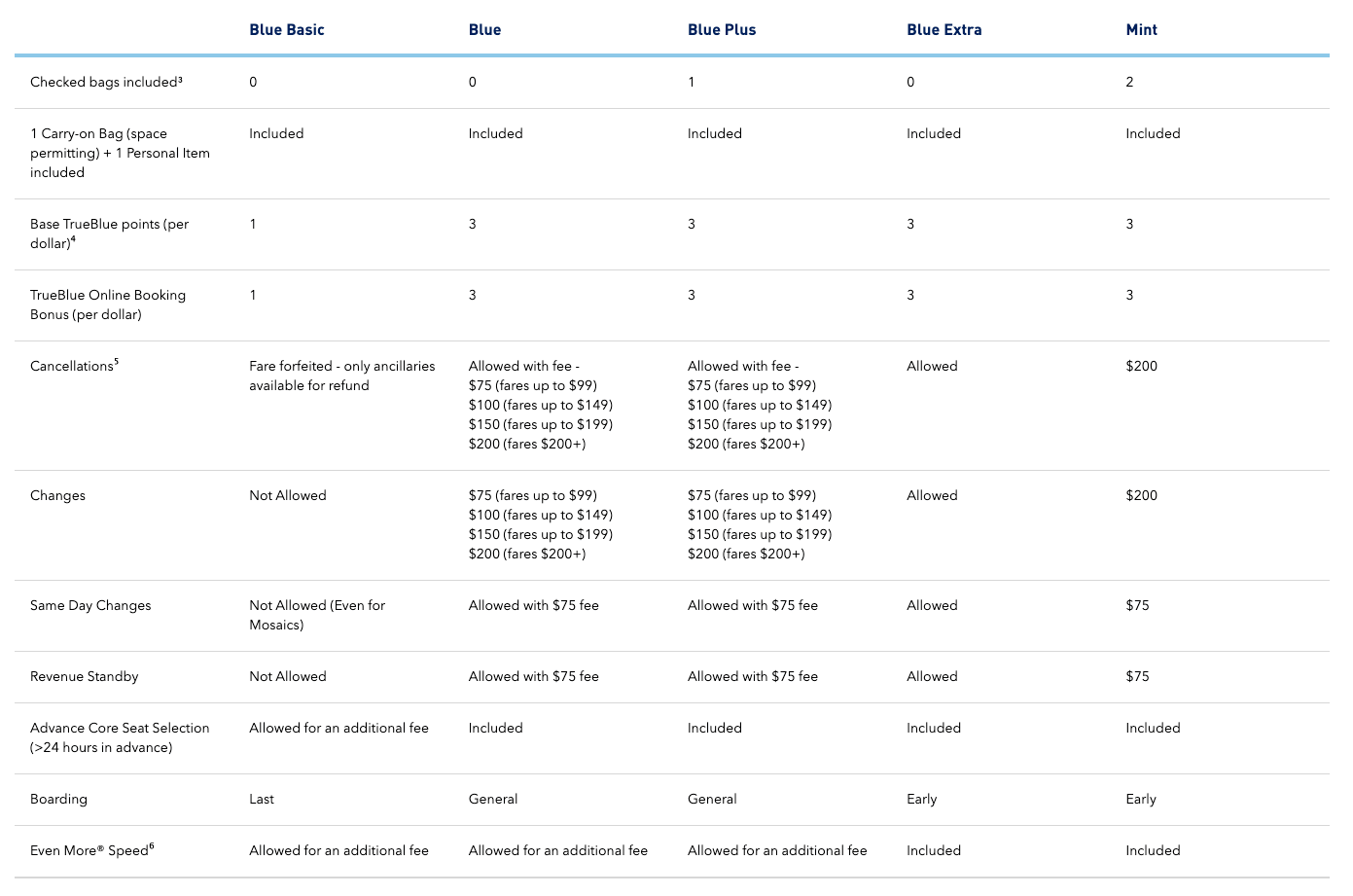 Not all fares will be available on all flights, so fare types will vary by route, demand, when you book, etc.
Now let's talk about what's new.
New JetBlue Blue Basic Fares
JetBlue's Blue Basic fares are basic economy, no matter how you slice it. Those booking Blue Basic fares:
Will earn just two TrueBlue points per dollar spent on JetBlue airfare directly through JetBlue (compared to the usual six points for all other fare types)
Won't be able to change or cancel their tickets at all
Won't be allowed to make a same day change or standby
Will board last
Will only be able to select seat assignments prior to check-in for a fee
Ouch!
New JetBlue Blue Extra Fares
On the other end of spectrum, JetBlue is rebranding their Blue Flex fares as Blue Extra fares:
Interestingly Blue Extra fares don't include a free checked bag, even though Blue Plus fares do (Plus fares are lower on the fare hierarchy than Extra fares)
These fares allow free changes & cancelations
These fares allow free same day flight changes and standby
These fares include early boarding and priority security
What About JetBlue Mosaic Members?
If you're a JetBlue Mosaic member, note that many of your benefits won't apply on Blue Basic fares:
You also won't be allowed to make changes or cancelations
You'll also be subject to fees for advance seat assignments
You'll also only earn points at reduced rates
You won't be able to redeem TrueBlue points for any seat fees, including Even More Space seats
Why JetBlue's New Fares Are Bad News
JetBlue is just following in the footsteps of Delta, American, United, etc., with these changes, and I suppose that's fair enough.
But never buy into airline marketing when it comes to the introduction of basic economy. Airlines love to market these as new fare types for price sensitive travelers. However, more often than not, airlines aren't actually introducing basic economy fares at a lower cost than the previous lowest fare.
Rather they'll charge you extra to avoid those fares. That's how they make money with these — they hope that you're willing to pay a premium of $10 or $15 or $20 (or whatever) per segment to avoid these fares.
At the moment JetBlue's website doesn't seem to be allowing reservations (probably because these fares are being loaded), so I can't tell for sure. But I'd be willing to bet JetBlue will be no different than other airlines in that regard.
Bottom Line
JetBlue is now introducing basic economy fares, which won't allow changes or cancelations, won't accrue points at the same rate as other fares, will only allow passengers to board last, and more.
They're also rebranding their flexible fares. Even though these are the highest economy fares they have, oddly they don't include free checked bags, while some cheaper fares do.
It's a sad development, but I guess it shouldn't come as a surprise.
How do you feel about JetBlue's new fare structure?