ExpertFlyer is a paid subscription service ($99/year) that I find worthwhile. It's a great place to look at fare class availability, fare rules, award space on some carriers, maximum permitted mileage between city pairs, minimum connection times, etc.
The single most valuable benefit for me, however, is the ability to set availability alerts for a flight. That means if space opens up (be it revenue or award space) on a flight you're eying you'll be notified by ExperFlyer by email and text. As a member you can set up to 30 alerts at no additional cost.
However, you can only set alerts for airlines they "support," though as of this past weekend it looks like they've added British Airways. That means it's now possible to use ExpertFlyer to search first (Z class), business (U class), and premium economy (P class) award space on British Airways. This is a fantastic option if you're hoping to book a flight with your BA miles, or if you're hoping to upgrade using Avios.
You should see the option in the drop down menu when you click on "Awards & Upgrades."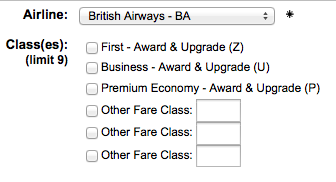 You can use ExpertFlyer to search British Airways space, and they let you search for a week at a time. However, I still find American's website best for searching British Airways award space, given that they let you search a month at a time.
When you're on the results page for a flight, clicking the exclamation point at the top right will give you the option to set an alert.

You can name the alert whatever you'd like, and also select the fare class and number of seats you'd like to search for.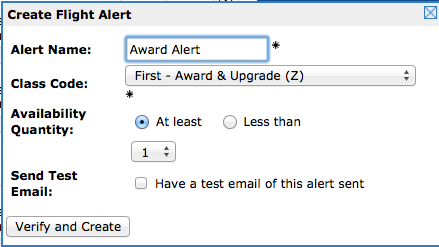 Once you set the alert you'll receive a confirmation that you'll be notified when space opens up.

And sure enough, you do get an email when the space opens up.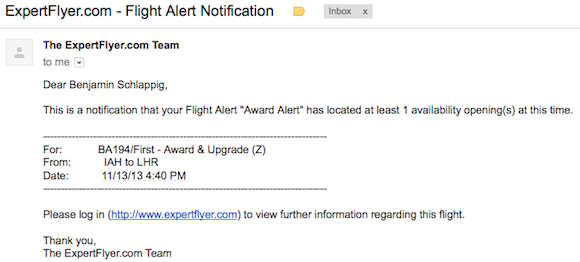 In the past British Airways would release a ton of first class award space, though they've gotten pretty stingy over the past year or so. Being able to set availability alerts for British Airways award space is a really valuable new benefit, in my opinion.
(Tip of the hat to Andrew)