Etihad has made changes recently to improve their financial performance, by trying to lower costs while increasing revenue. This has included canceling flights (like those from Abu Dhabi to Dallas and San Francisco), cutting amenities (like chauffeur drive and pajamas in business class), and testing out new concepts (like hand baggage only fares).
Well, Etihad has just announced their latest initiative, and it's an interesting one. In addition to their range of duty free items, Etihad is introducing a buy on board selection on many longhaul flights. Don't worry, Etihad isn't going the direction of British Airways and eliminating complimentary food & drinks, but rather their new offerings are in addition to what they already offer.
Items for sale include champagne, cold brew coffee, and pajamas. Here are the details:
Paris, London and all Australian sectors in Economy Class:

Cold brewed coffee from Coffee Planet: USD 4 / AED 15 a glass

All long haul and ultra-long haul (except US) sectors in Economy Class:

Piper-Heidsieck Cuvee Brut NV champagne: USD 8 / AED 30 per glass

All ULH sectors (except US routes) in all cabins:

Christian Lacroix male and female branded amenity kits with Omorovicza products: USD 22 / AED 80
Christian Lacroix branded sleepwear: USD 35 / AED 130
It's sort of funny to see Etihad now selling pajamas and amenity kits in economy, when they cut pajamas from business class as of a few months ago. I wonder if business class passengers will be eligible to purchase pajamas now? 😉
Furthermore, in January 2018, Etihad will introduce a snack box for sale.
Here's what Etihad's VP of guest experience has to say about this new offering:
"Etihad Airways is always looking at new ways to give our guests more power and control over their experience, through options to customise and personalise their journey.

In addition to providing extra comfort and choice in the air, some of the items are great gift ideas, particularly in the run up to the holiday season. We will monitor guest satisfaction and aim to expand the range of items for sale in the future."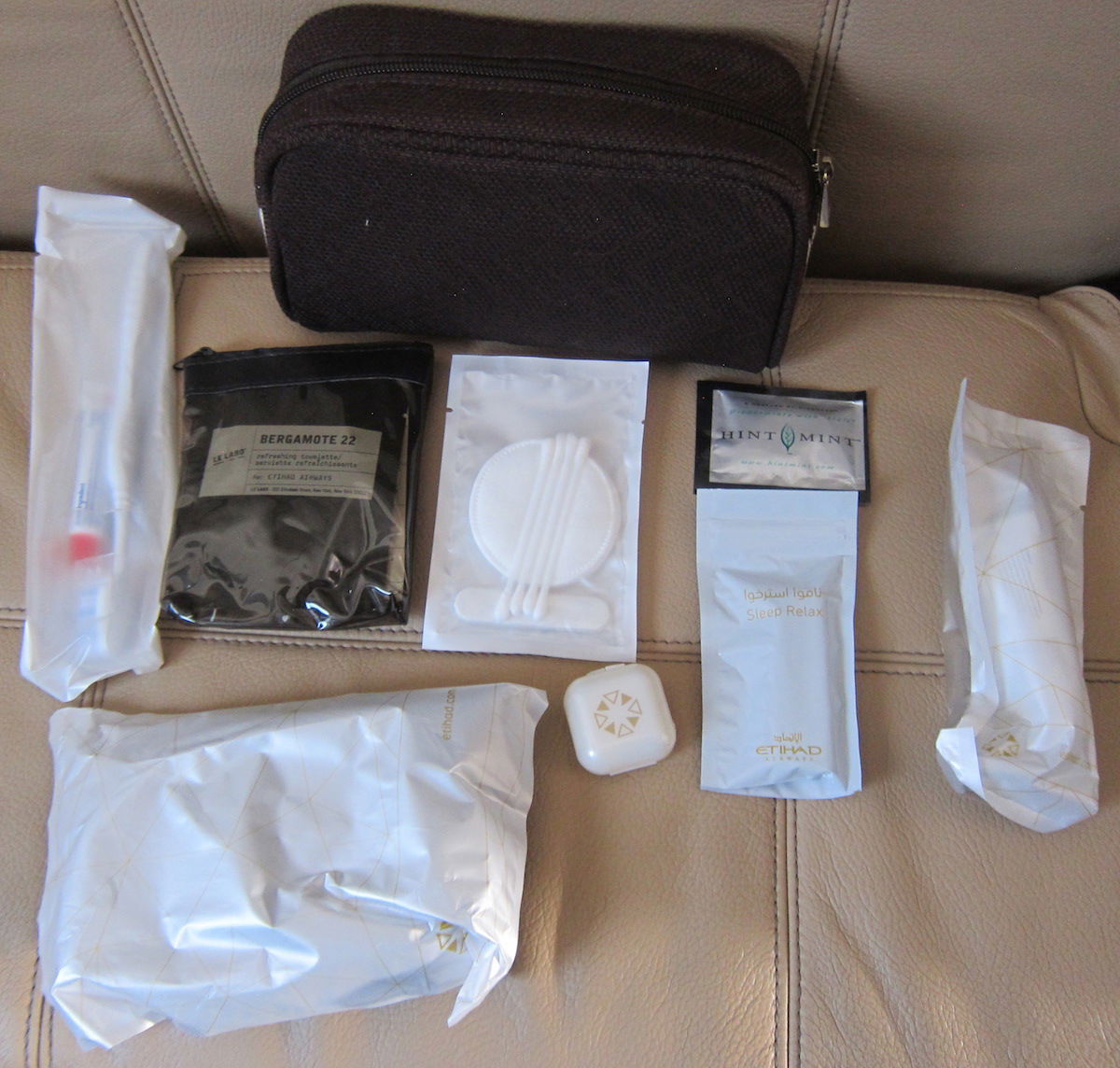 Bottom line
On the plus side, Etihad is adding more options for passengers without taking anything away… for now. After all, basic economy was introduced under the guise of "giving guests more power and control over their experience." Also, at some point you're taking away the exclusivity of a premium cabin when you sell every little aspect of the experience to economy passengers as well. Then again, a more "a la carte" experience seems to be the name of the game in the airline industry nowadays.
However, all of these things are really up my alley, from the champagne to the cold brew to the pajamas to the amenity kit. Hell, if I were flying Etihad economy I might buy all four of them. While the pajamas make a cute gift, are you actually supposed to wear them in economy, or…?
(Tip of the hat to Points From The Pacific)