Air Seychelles has a fleet of just 10 planes, including two A330s, two A320s, and six DHC-6 Twin Otters. The airline is partly owned by Etihad Airways. We know that Etihad Airways has a knack for investing in unprofitable airlines, and Air Seychelles is no exception.
At the moment their only longhaul route is between Mahe and Paris. I'm headed to the Seychelles in April, and outlined how I redeemed Etihad Guest miles for business class on the flight between Paris and the Seychelles.
Air Seychelles has just announced some massive changes to their business plan, which will see them discontinuing flights to Paris, returning their leased A330s, and "reviewing their product and service offering." This new plan has been approved by Air Seychelles' supervisory board, as well as the Government of the Republic of Seychelles and Etihad Airways (which are the two shareholders of the airline).
Here are the changes we can expect:
Air Seychelles will be discontinuing flights to Paris as of April 24, 2018 (guests booked after that date will be accommodated on other airlines)
Around the same time, Air Seychelles will be discontinuing flights to Antananarivo, Madagascar
Once that happens, Air Seychelles will return their two A330s to the leasing company
In 2019, Air Seychelles will replace their two A320s with next generation planes (presumably the A320neo), in order to be able to increase seating capacity and lower operating costs (presumably this means they're densifying the planes)
The airline will concentrate on developing their domestic operations, including inter-island flights between Mahe and Praslin, scenic flight packages, and island charters
Air Seychelles will "review their product and service offering to reflect the latest trends in air travel;" in other words, you can expect major cost cutting, more fees, etc.
Air Seychelles explains that the reason they're making these changes is because of the capacity increase that's about to come to the Seychelles, with British Airways, Air France, and Edelweiss Air all adding flights between Europe and the Seychelles in 2018:
The Seychelles archipelago will see a major influx of inbound seat capacity in 2018. In addition to airlines already operating to Seychelles – Turkish Airlines, Qatar Airways, Emirates Airlines, Etihad Airways, Kenya Airways, Ethiopian Airlines, Austrian Airways, Sri Lankan and Condor; British Airways has announced plans to launch flights from London to Seychelles in March, followed by Air France introducing services from Paris in May and the Swiss Edelweiss Air launching flights from Zurich in September 2018, creating overcapacity on Seychelles-bound services from Europe. This will create significant downward pressure on airfares and negatively affect the loads and forward bookings on Air Seychelles' current three-per-week Paris operation.

Remco Althuis, Interim Chief Executive Officer of Air Seychelles, said: "The launch of competing air services from Europe to Seychelles will significantly impact Air Seychelles' flights to and from Paris, which account for approximately 30% of total passenger revenue at the airline, making the route unsustainable in the long-term.
I'm scheduled to fly Air Seychelles just days before they discontinue longhaul flights. I'm not sure if I should be excited about getting to fly them before they cut their longhaul flights, or sad because a review of their A330 will basically be useless. I imagine morale at the airline probably won't be great.
It's a shame to see Air Seychelles cut these flights, as the airline will only have two jet aircraft in a few months. However, it seems like a smart business move. With increased competition to the Seychelles, they really can't compete on longhaul flights anymore. Their operating costs are obviously higher than other airlines due to their small fleet.
Really this is just the latest blow to Etihad's global partners strategy, as this is yet another airline that they've been unable to turn around. It's funny how Etihad claims that airlines are profitable once they take them over. Air Seychelles was losing money until Etihad took them over, though miraculously they've been turning profits every year since then. The same is true for Air Serbia. Makes you wonder. 😉
I love Air Serbia and have enjoyed my flights on them between New York and Belgrade, but something tells me that this is the next longhaul Etihad partner flight on the chopping block.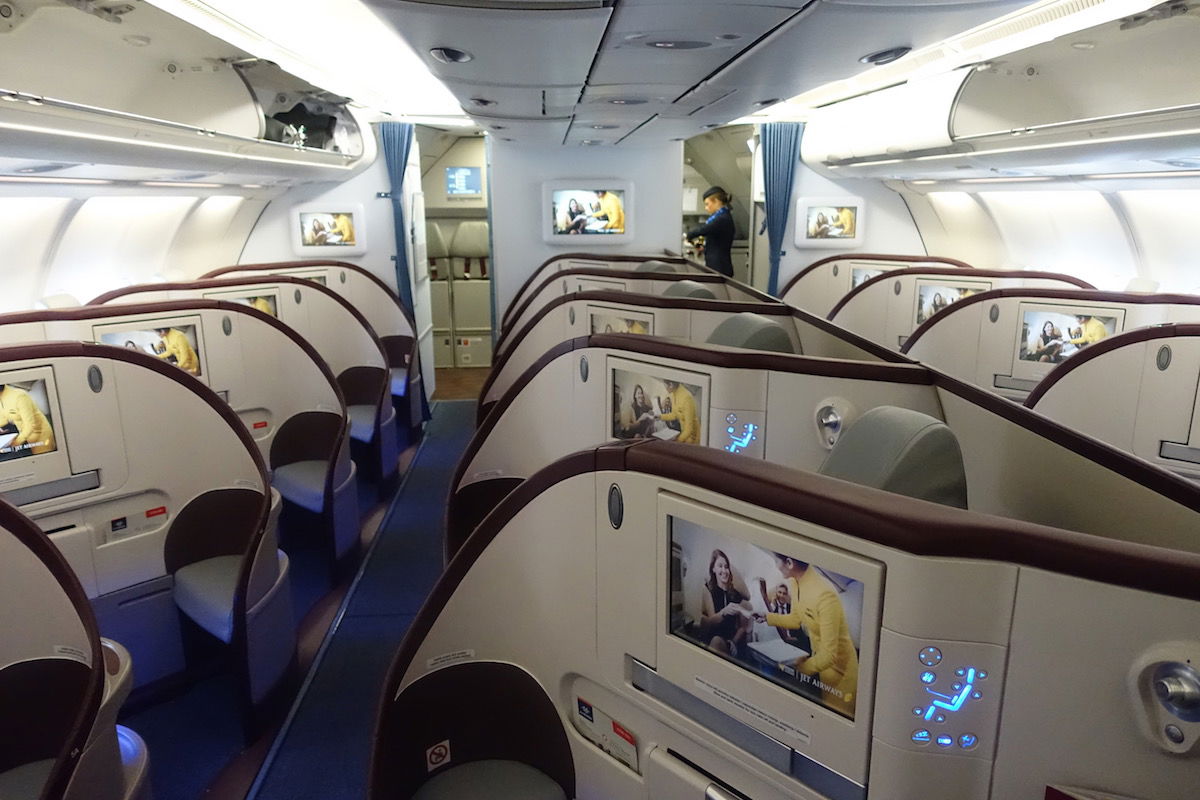 Air Serbia's A330 business class
(Featured image courtesy of Pvalmont)