Hello from Dubai! After flying Air France's 787-9 business class from Detroit to Paris, MEA's A330 business class from Paris to Beirut, and then spending a few days in Beirut, it was time to continue to Dubai.
I flew Emirates' 777 business class on the route, and chose them over MEA to avoid Syrian airspace, or something. I booked a paid economy ticket on Emirates, and then redeemed Skywards miles to upgrade.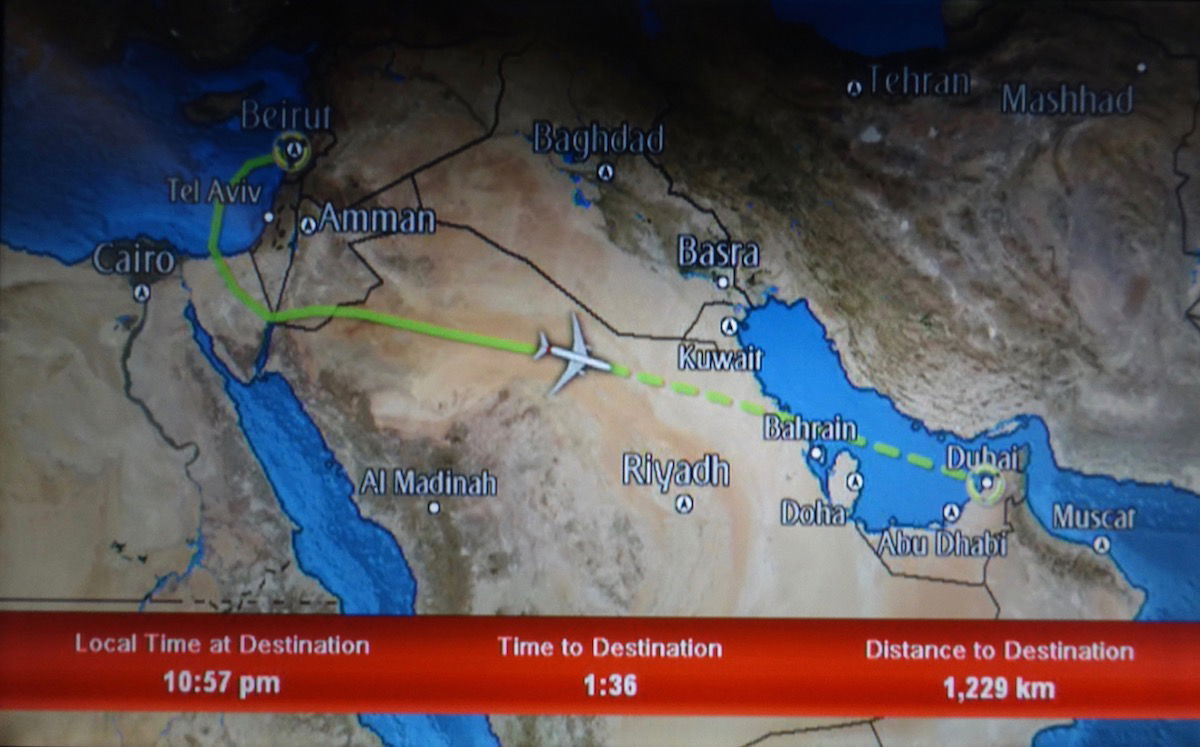 I've flown Emirates first class a countless number of times, though I've only flown their business class once, which was on an A380 from Dubai to Los Angeles.
So, what was Emirates' 777 business class like?
Emirates 777-300ER business class cabin & seats
People often have the impression that Emirates has these extravagant cabins that other airlines can't compete with, though the reality is that their 777-300ER business class is sort of underwhelming.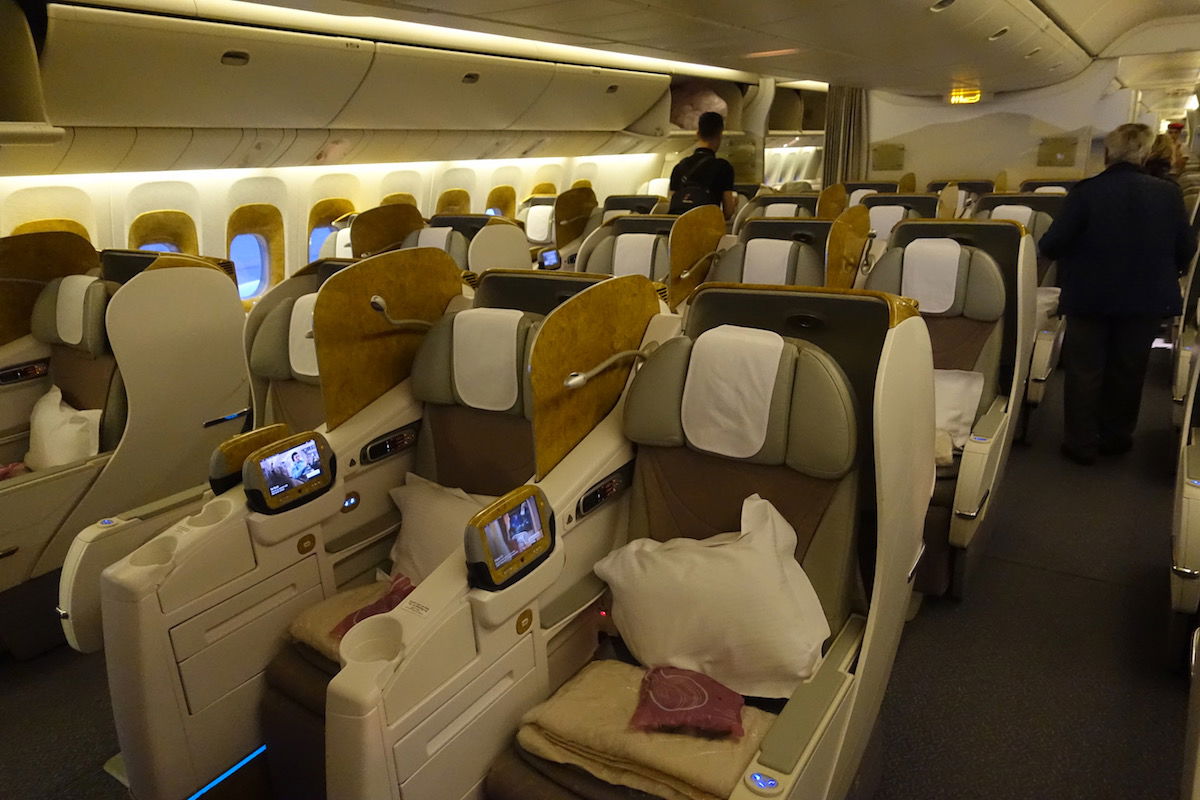 Seats are in a 2-3-2 configuration, and are slightly angled (the angle is barely noticeable, and I can sleep in it without issue, even though I'm usually sensitive to this stuff).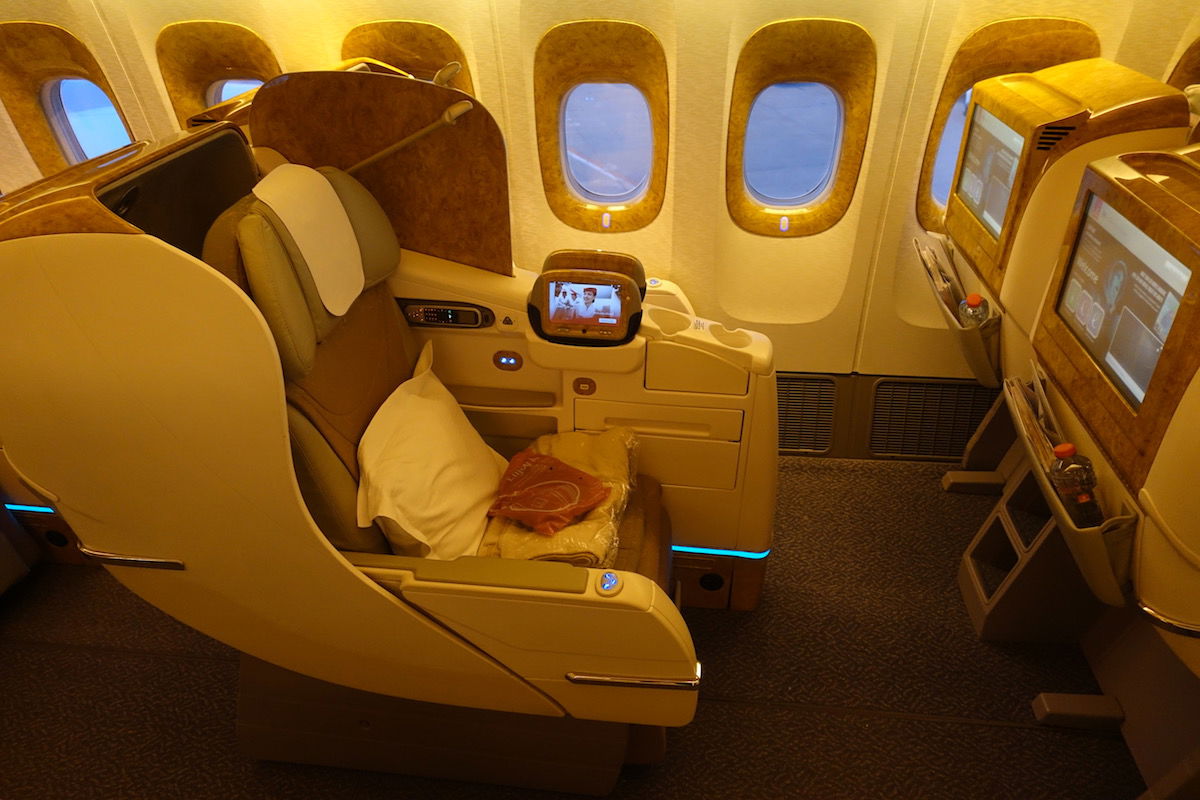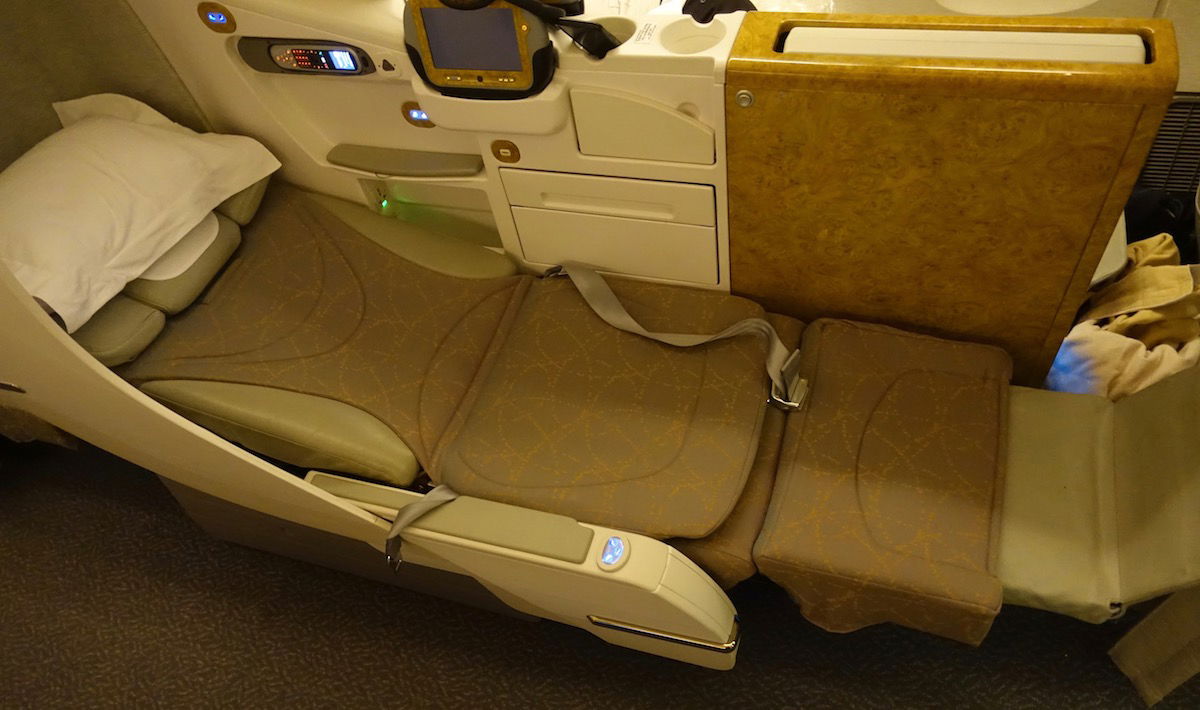 The decor is absolutely hideous, as I find Emirates' faux-wood cigar bar vibes to not be very appealing. However, Emirates has introduced a new style of seat, and I find that decor to be more appealing, even if it's essentially the same seat.
All that being said, as far as seven abreast business class seats go, these seats are actually really cozy and comfortable. It's nice that you don't have to put your feet into a footwell, and the seats have a ton of privacy thanks to the huge partitions between them. I'd highly recommend a window seat.
So in my opinion these seats are more comfortable than you'd expect, but not cutting edge. The cabin is most definitely hideous, though.
Emirates business class food
I was actually shocked by how not-good the food was on Emirates. The airline has a different catering philosophy on short haul and long haul flights, and while Qatar and Turkish have exceptional food on short haul flights, Emirates doesn't.
Service began with mixed nuts and drinks.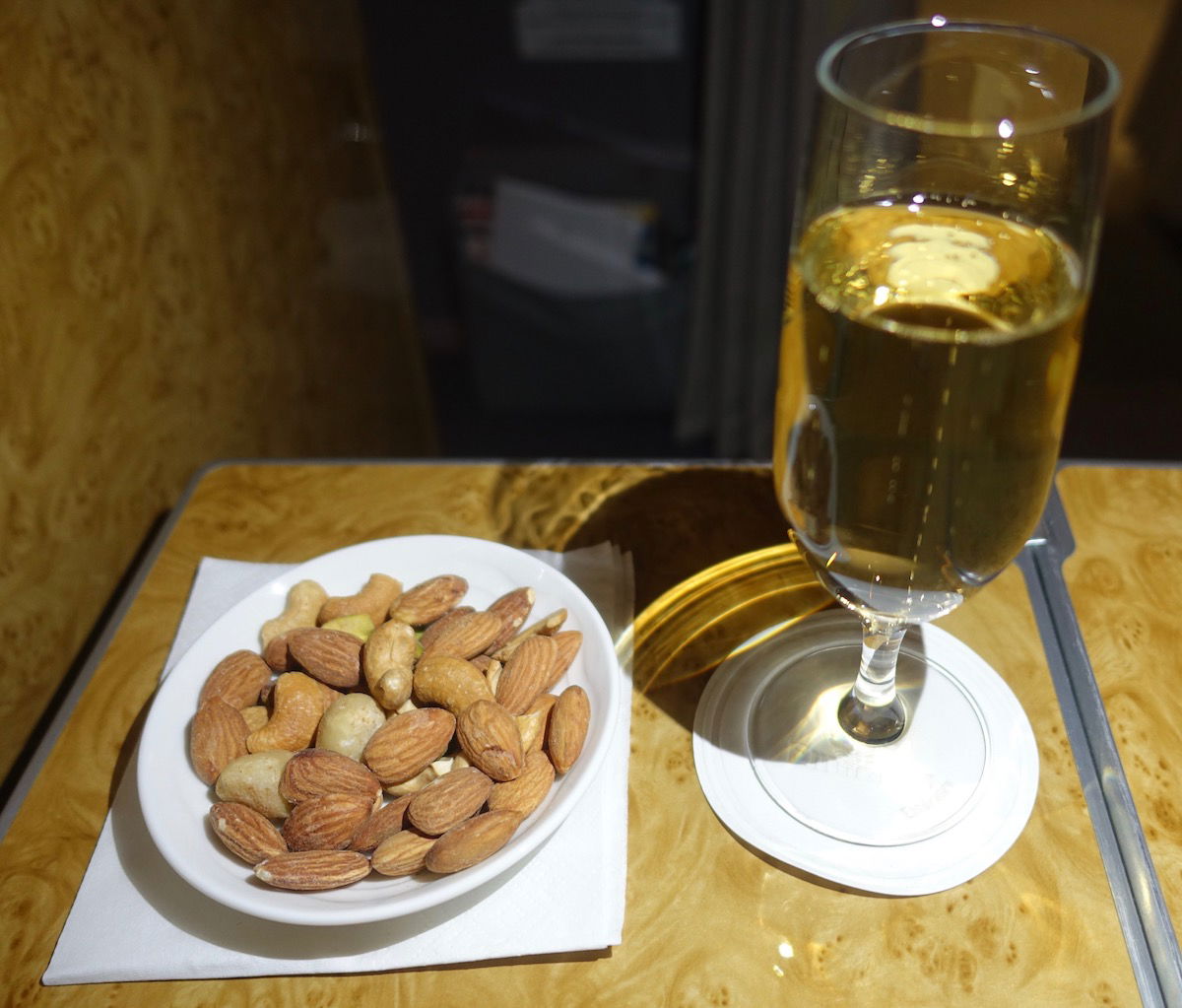 Then the appetizer — which consisted of a small mezze — and main course were served on a single tray. Fair enough, except the mezze wasn't exactly great, and the mains weren't very good at all.
I had the Arabic-style sautéed prawns, while Ford had the ghuzi chicken, which frankly looked disgusting, and apparently didn't taste much better.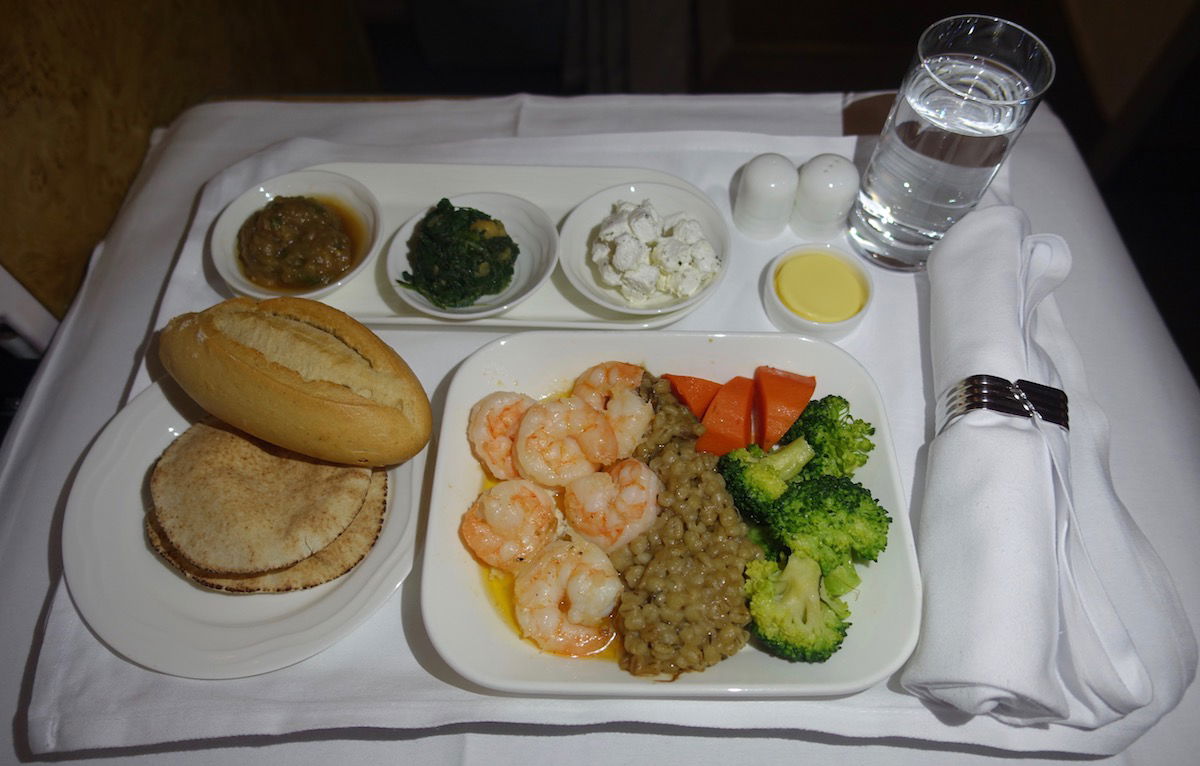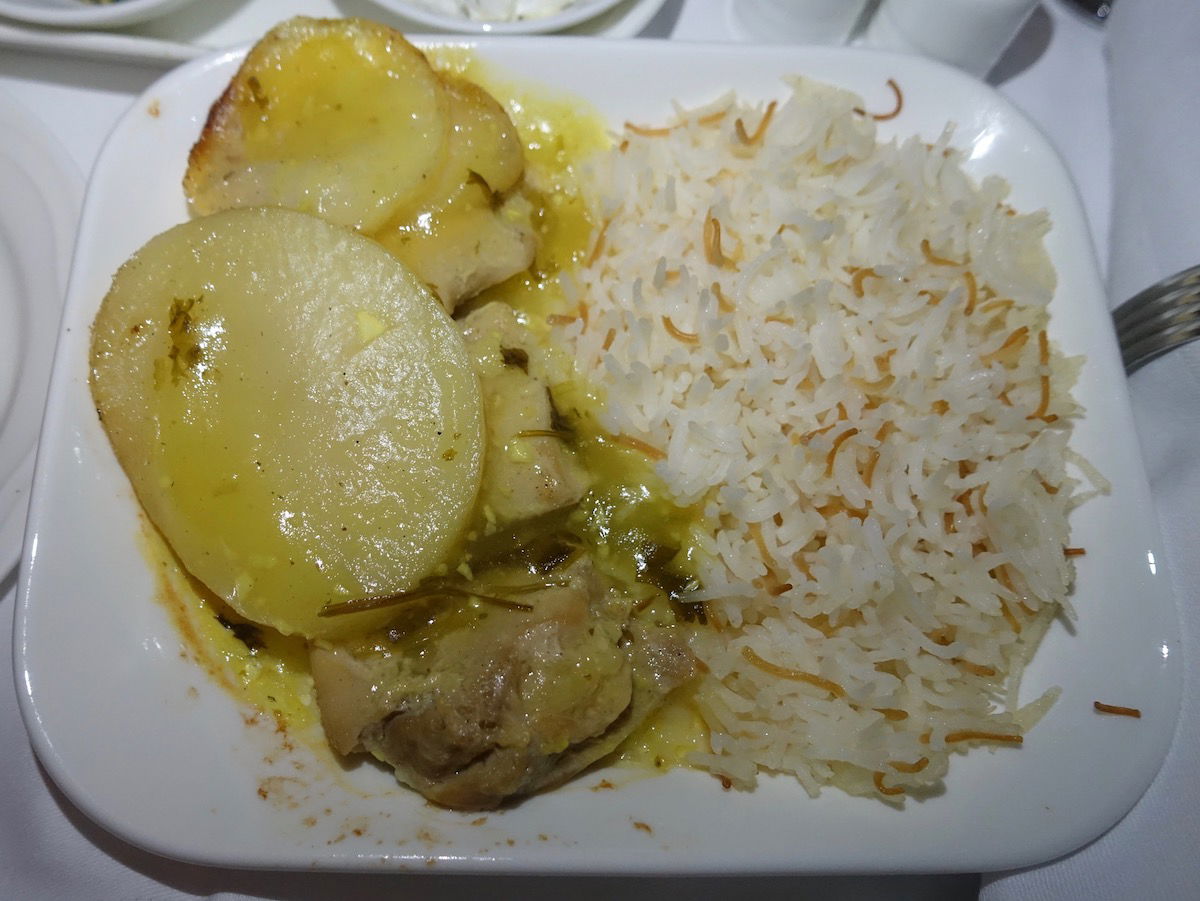 For dessert there was the choice of a sweet option, cheese, or fruit. My layered pistachio muhallabia was excellent, and was the only great part of the meal.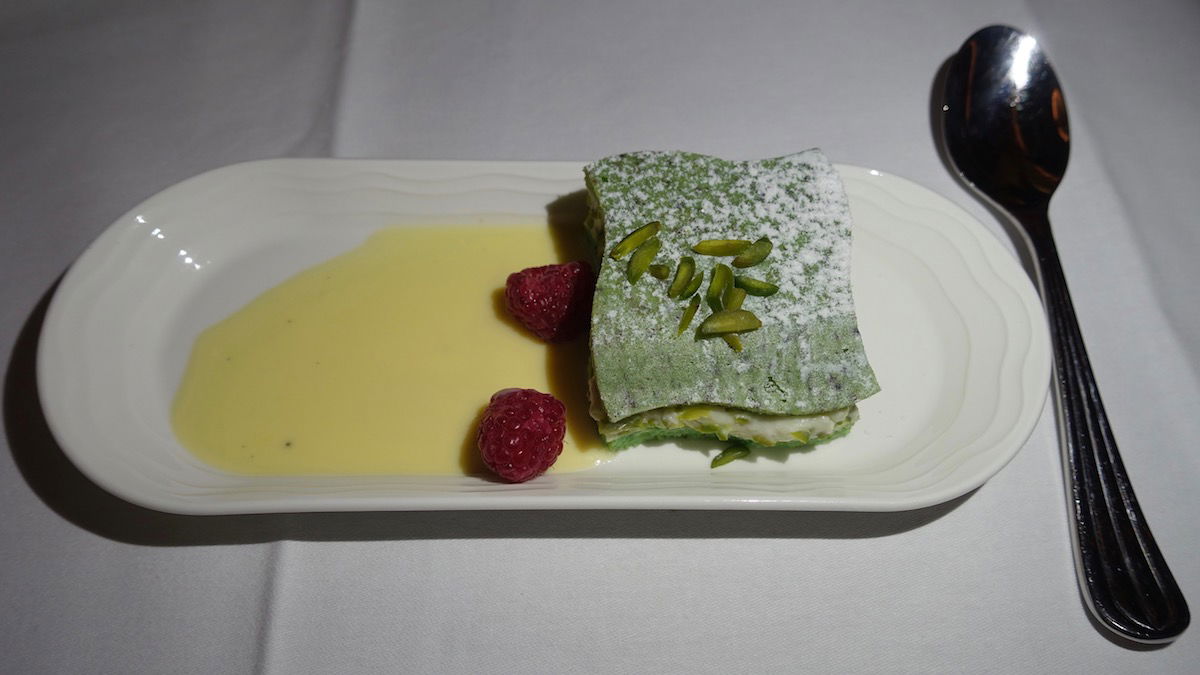 Then after the meal some packaged chocolate was passed around.
Emirates business class amenities
Emirates offers pillows and blankets on these flights. The pillows were pretty good, while the blankets were scratchy.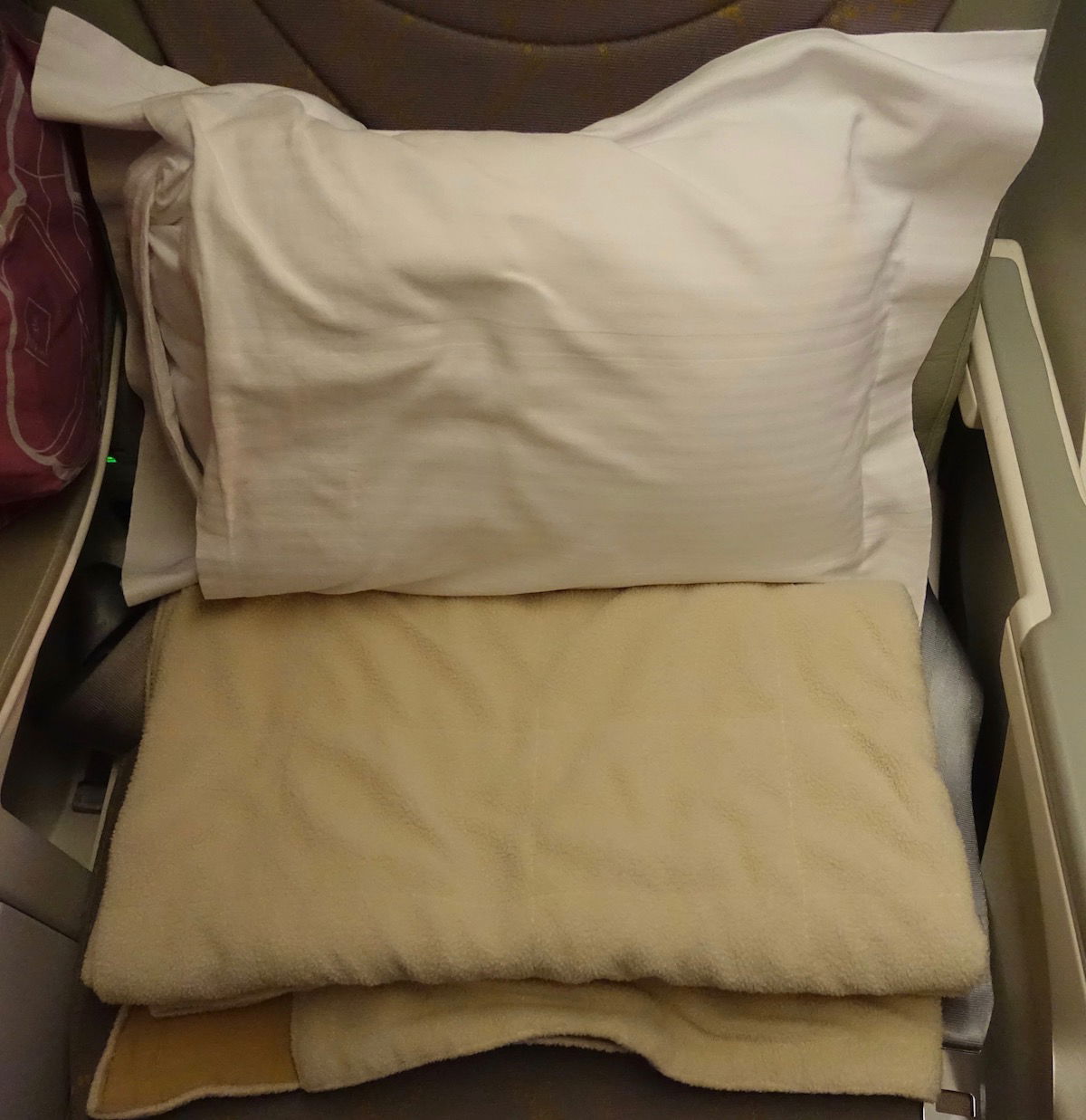 Emirates business class entertainment & Wi-Fi
Emirates' ICE system is the best entertainment system in the world, with an incredible selection of movies and TV shows. There's not an airline in the world with a selection like that.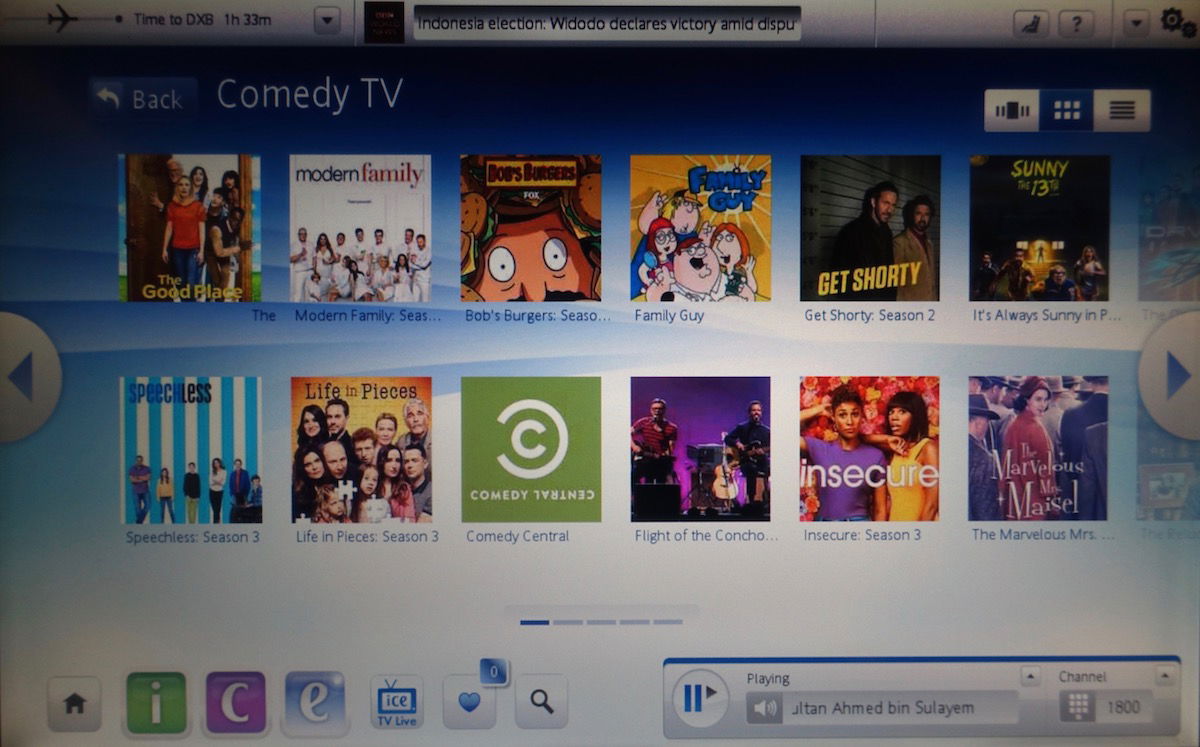 Emirates offers free Wi-Fi to Skywards members in first & business class. The catch is that it's provided by OnAir, which is extremely slow. However, it was actually fast enough to be functional on this flight, as I've generally found speeds to be better on the 777 than the A380.
Emirates business class service
Service at the Gulf carriers tends to be hit or miss. This crew was definitely on the "miss" side of things. Service wasn't good at all, but it also wasn't bad. The crew went through the motions with zero charm, but they also didn't do anything wrong.
I'd note two things that annoyed me about the service flow, neither of which were the fault of the crew, but rather were due to how they are trained:
The cabin had to be prepared for landing 45 minutes before arrival, meaning you already had to put your seatback upright, etc., in spite of it being a smooth flight; that's simply ridiculous
The service very much feels like an assembly line, and you're served your meal tray with a glass of water; by the time they come around to offer you a drink (including wine) you're usually done with your meal; this seems poorly thought out
Emirates business class bottom line
All things considered this is a good product for the 3hr15min flight from Beirut to Dubai. The seats are comfortable (especially the window seats), the entertainment is excellent, and the Wi-Fi is free.
However, the service, food, and decor do leave a bit to be desired. In my opinion the soft product doesn't hold a candle to Turkish or Qatar.
If you've flown Emirates' short haul business class, what was your experience like?