As much as I love Emirates as an airline (especially their A380 first class and new 777 first class), up until now I haven't actually ever redeemed Emirates Skywards miles for my own travels. So in this post I wanted to share my experience doing so for the first time.
Why Emirates Skywards is generally a horrible program
Of the "big three" Gulf carriers, in my opinion Etihad Guest has the best mileage redemption value, while Emirates Skywards has the worst values. My problems with Emirates Skywards include that:
Their redemption rates are generally really high in terms of the number of miles required
Emirates charges the most ridiculous carrier imposed surcharges, which even make British Airways look mild by comparison; for example, a roundtrip Emirates business class award ticket from New York to Dubai comes with $1,724 in taxes, fees, and carrier imposed surcharges
Unlike Etihad and Qatar, Emirates has very few worthwhile partner award redemptions
When you add up all those factors, it's really a pretty lousy program, and it's also why I value Skywards miles among the least of any mileage program.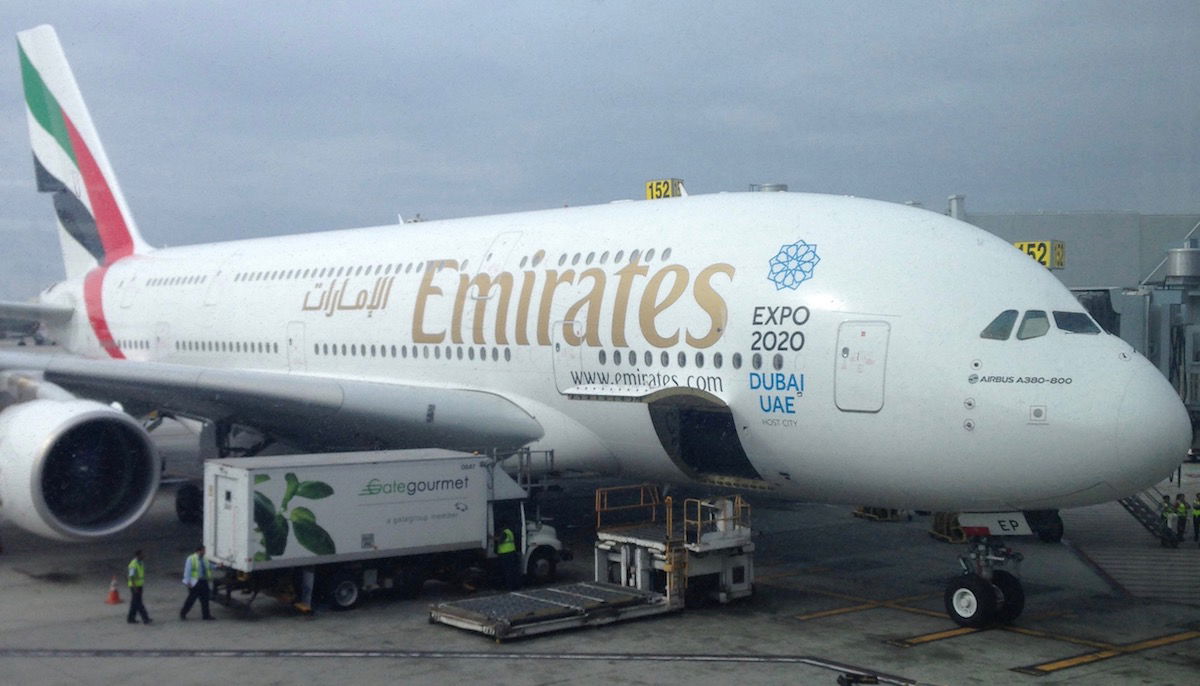 Emirates A380
Upgrading with Emirates miles can be a good value
I'd say one of the few good uses of Emirates Skywards miles is upgrading tickets, especially from economy to business class. So in this post I wanted to go through what that process is like, and I think it's easiest to explain that in the form of an example.
To start, I should mention that Emirates Skywards is transfer partners with Amex, Capital One, and Marriott, so there are quite a few ways to accrue their miles.
Transfer points to Emirates Skywards with these cards:
Ford, my mother-in-law, and I are going to Beirut and the UAE, and as part of that we need to fly one-way from Beirut to Dubai. Emirates seemed like the best option for flying between the two countries, so let me share what the process of upgrading was like.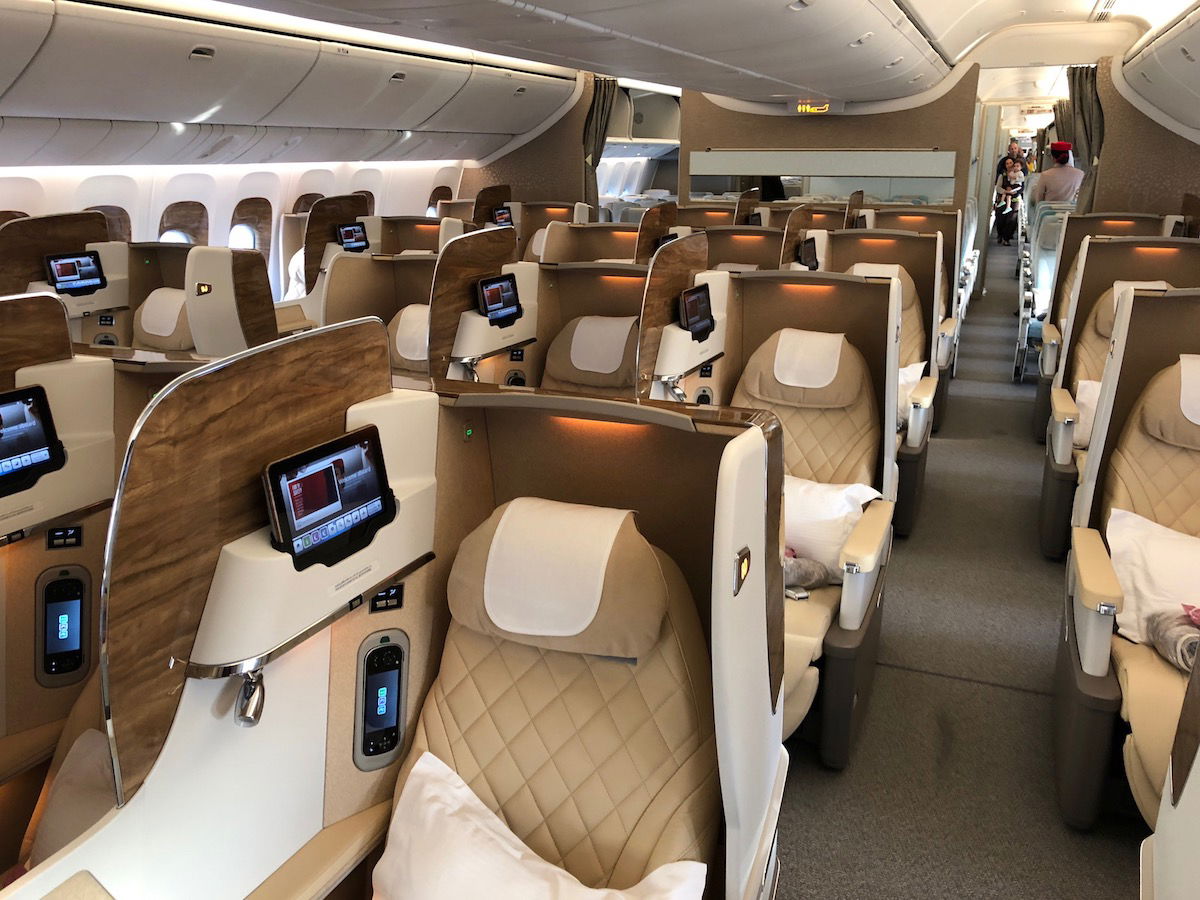 Emirates' 777 business class
Emirates Skywards: award tickets vs. upgrades
For our dates, the per person cost of an economy ticket on Emirates was $333, while the cost of a business class ticket was $1,430. That sure is steep for business class on a four hour flight.
Fortunately there was both upgrade and award space available (Emirates uses the same availability for Saver award space as they do for upgrades). Before I get too deep into this, here's the Emirates Skywards mileage calculator, which shows you the number of miles required to upgrade, as well as the number of miles required to book an outright award ticket.
To upgrade from an Economy Flex ticket to business class on a one-way flight from Beirut to Dubai costs 19,500 Skywards miles.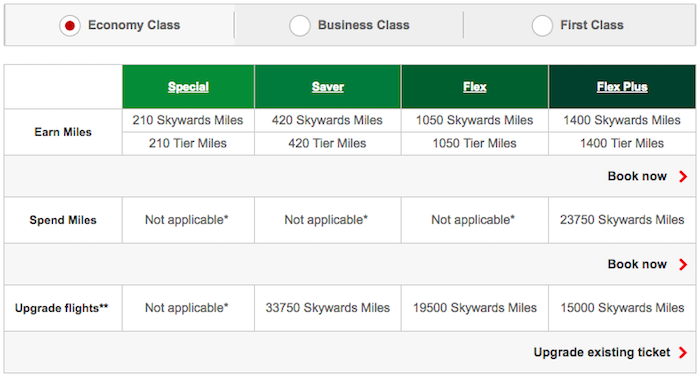 Meanwhile to book a business class award ticket one-way costs 38,750 miles plus the taxes and carrier imposed surcharges. The catch is that this would be a Flex Plus award, which has access to more availability — for one-way awards, Emirates doesn't allow Saver or Flex awards, which is annoying (since they'd be priced lower).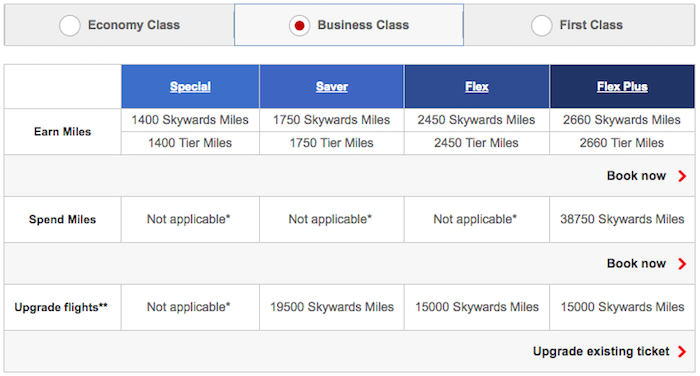 You may be saying to yourself "38,750 miles doesn't sound so bad for a one-way award with better availability."
While that's true, the thing to keep in mind is Emirates' outrageous surcharges.
In addition to the 38,750 Skywards miles, you would also pay $338 in taxes, fees, and carrier imposed surcharges, which is outrageous.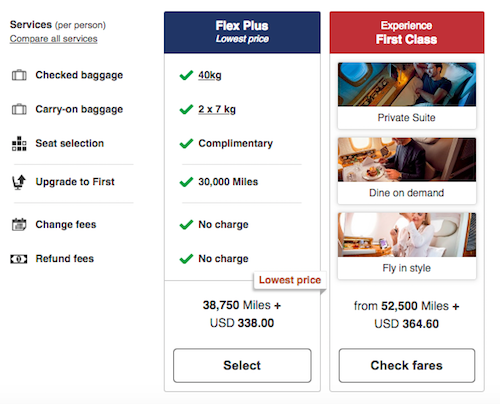 Looking at the breakdown, this includes $78 in taxes and fees, plus $260 in carrier imposed surcharges.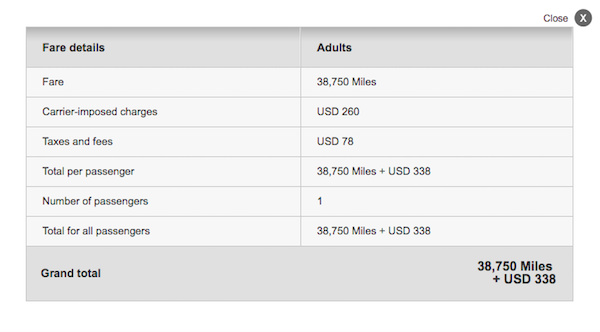 Keep in mind that the economy ticket to begin with costs less than the taxes and surcharges on a business class award, and you can upgrade to business class for less than half the number of miles.
So again, to recap, the choice was either to:
Book a business class award ticket for 38,750 miles plus $338 per person
Book an economy ticket for $333 and then upgrade to business class for 19,500 miles (there's one other fee involved, which I'll cover below)
My experience upgrading an Emirates ticket
After I had verified that there were confirmable upgrade seats available (more on that below), I went ahead and booked the Emirates tickets. Since there were three travelers, the total came to $999 ($333 per person).

I had the option of selecting the type of fare I wanted. A Flex ticket cost $333 per person, while a Flex Plus ticket cost $593 per person. To me the only benefit of a Flex Plus ticket would be that it takes 4,500 fewer miles to upgrade, but it's certainly not worth paying an additional $250+ per person just to save 4,500 miles. So I proceeded with Flex tickets.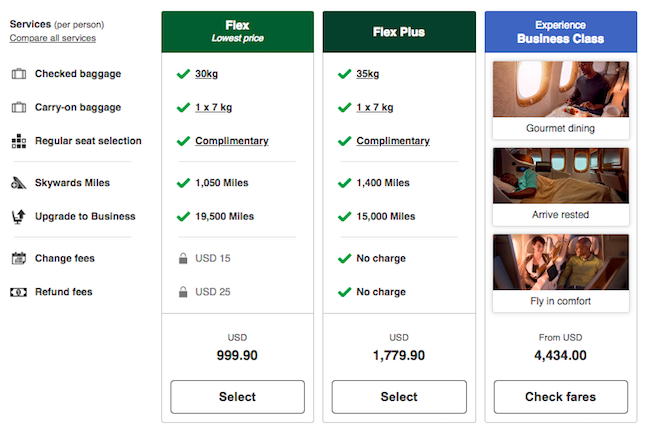 Looking at the fare breakdown, you'll see that the economy ticket has a much more reasonable $69 in carrier imposed surcharges, rather than the $260 they wanted on the business class award ticket.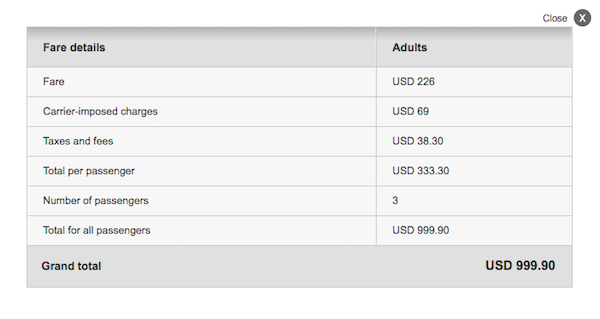 There's no way to confirm the upgrade during the booking process, but rather I confirmed the booking online in economy, and then on the confirmation page I saw the option to "Upgrade with Skywards Miles," so I clicked that.

The next page indicated that upgrades were in fact available, so I transferred over enough points from Amex Membership Rewards to pay for the 58,500 miles worth of upgrades (19,500 Skywards miles times three).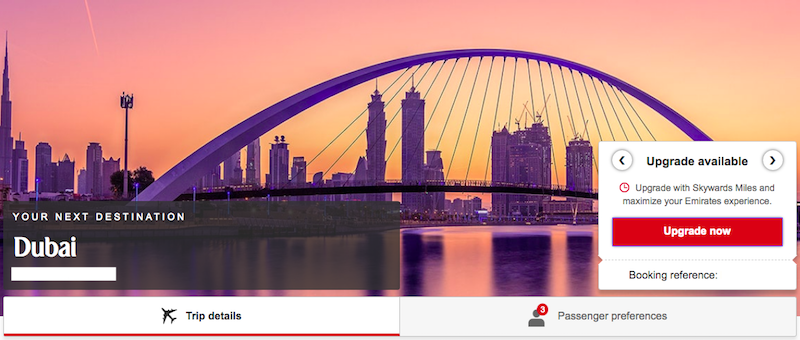 The next page confirmed the total price to upgrade.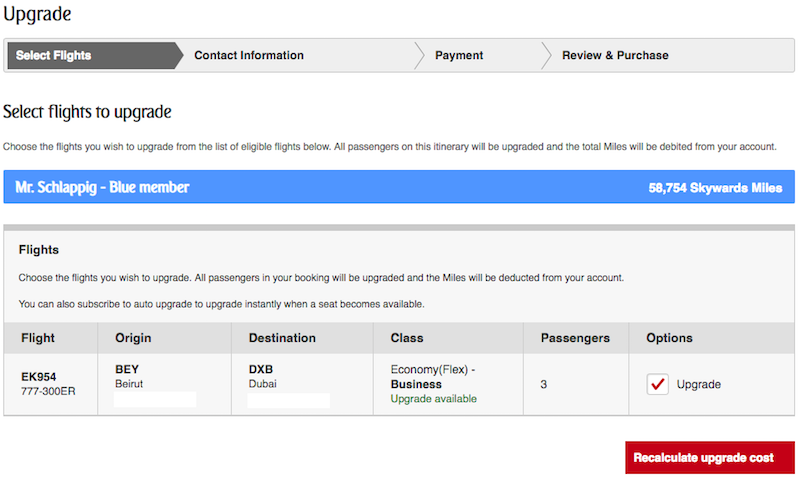 Note that when you upgrade, Emirates doesn't charge the difference in the carrier imposed surcharges between economy and business (which would have been $200 per ticket), but they do charge you the difference in any government taxes, which in this case came out to a total of $119.10 for all three passengers.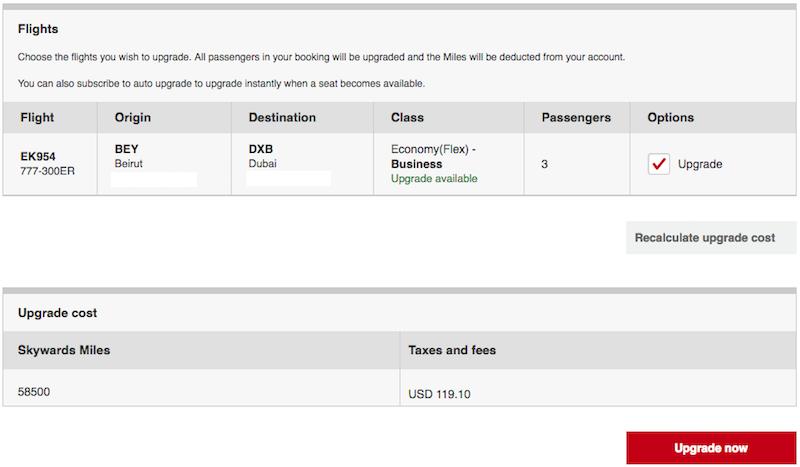 I was curious what exactly that was, so priced out the flight in both economy and business class. As it turns out, this represents the difference in the airport's embarkation tax, which is higher for business class than economy. Fair enough that they pass that on.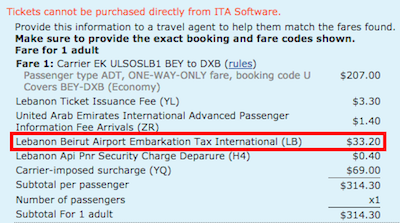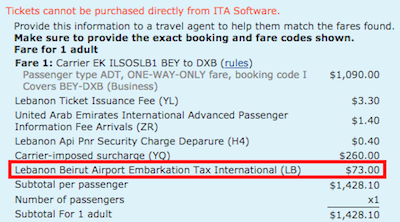 So when all was said and done, I paid about $373 plus 19,500 Skywards miles per person for a business class ticket, which I'd say is a solid value.
How to check Emirates upgrade availability before booking
If you're trying to upgrade an Emirates ticket, you'll want to make sure there's actually confirmable upgrade space before booking, since a waitlisted upgrade isn't any fun.
Emirates advises you to call to ask about upgrade availability. While you can certainly do that, I do everything I can to avoid getting on the phone, so there are a couple of alternatives.
The first option is to sign up for an ExpertFlyer account, which allows you to not only search Emirates upgrade and award availability, but also to set alerts, so that you can be emailed or texted when this availability opens up.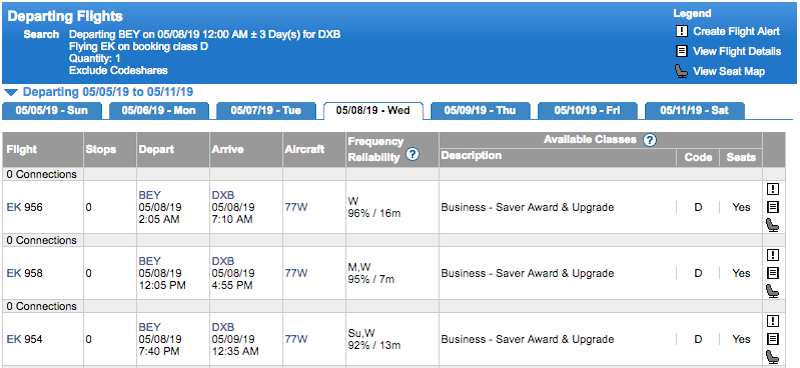 The other option is to use Emirates' website. As I said earlier, Emirates Saver awards and upgrade availability book into the same "buckets," so if there's an Emirates Saver business class award on the flight you want, you can also upgrade to that seat.
Generally speaking Emirates Saver awards are only available on roundtrip tickets, so you'd need to sign up for a Skywards account and then search availability for a roundtrip award ticket.
In the Beirut to Dubai example, I know that a roundtrip Saver business class ticket would cost 55,000 Skywards miles.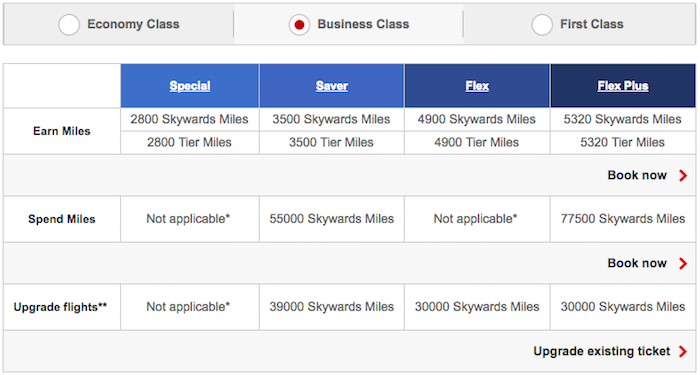 So when I search for roundtrip award availability (just choosing an arbitrary return date, assuming I only intend to fly one-way) and see an option that costs 27,500 Skywards miles each way in business class, I know there's in fact upgrade availability as well.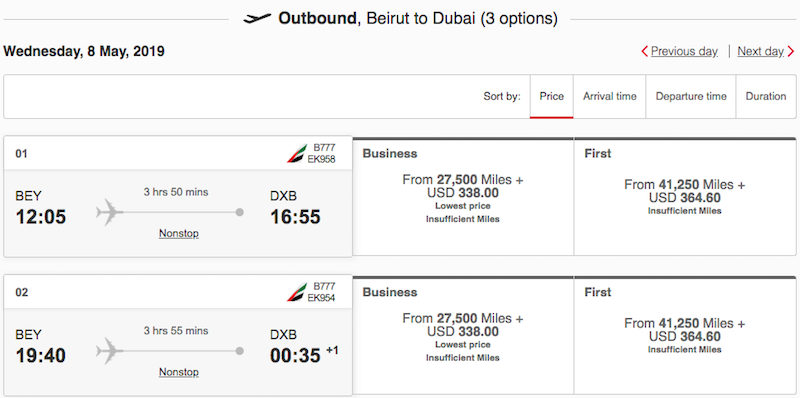 Bottom line
In general Emirates Skywards is a low value program. If I want to fly Emirates first class I'll book it through Alaska Mileage Plan or Japan Airlines Mileage Bank, though those aren't great values anymore either (though they're certainly better than Emirates Skywards).
The one area where I think that Emirates offers good value is with upgrades, especially from economy to business class.
Paying a total of $373 plus 19,500 Skywards miles for a one-way business class ticket from Beirut to Dubai is a good option, in my opinion, especially when the cheapest one-way business class ticket on Emirates was over $1,400.
Have you ever upgraded before with Emirates miles? If so, what was your experience like?