All things considered I've been really impressed by the integration between American and US Airways. In fairness, they had the opportunity to watch the other two "big" mergers and learn from their mistakes.
But this is also an especially complex merger. Really it's not just American and US Airways merging, but America West is also still in the mix, since their work groups aren't even completely integrated.
American & US Airways reciprocal upgrades
In June of this year American and US Airways introduced reciprocal upgrades for travel on the other carrier. Their goal was to roll out the functionality as quickly as possible, though they freely admitted their solution was far from ideal. Given their technological limitations, though, it was the best they could do.
How US Airways upgrades on American work
As I explained at the time, the process for upgrading on American as a US Airways elite was as follows:
At the time of check-in, Dividend Miles members will be given the option to upgrade on American, assuming there's upgrade space available. If there's no upgrade space available, there's not a mechanism by which one can waitlist. That being said, you should make it known to the gate agent that you'd like to be upgraded, and if the upgrade list is otherwise cleared and there is space available you'll be upgraded.

Upgrades on American will be available within and between the U.S. (including Hawaii) and Canada, Mexico, the Bahamas, the Caribbean, Bermuda and Central America. There's no option for companion upgrades, however.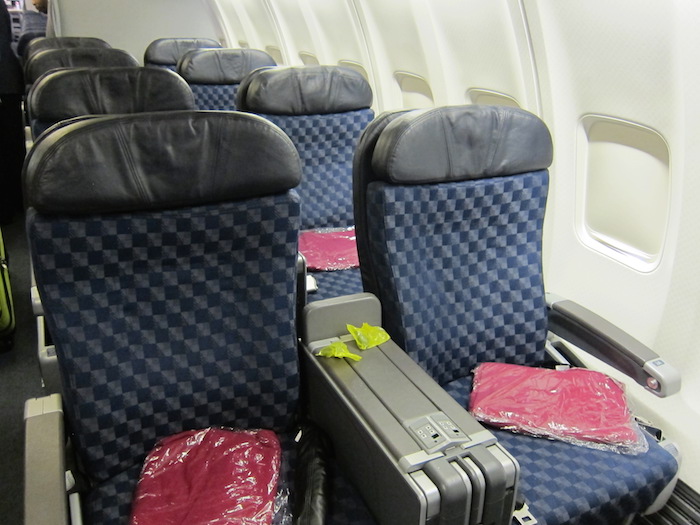 American Airlines 737 first class
Chairman's Preferred members can now waitlist for upgrades
As I said above, the inability to waitlist for upgrades was a technological obstacle. But the good news is that this functionality has now been improved, at least for Chairman's Preferred members.
US Airways Chairman's Preferred members can now be added to the upgrade waitlist for American flights at check-in (though not before). JonNYC at TravelingBetter.com has the entire text of the new policy, which has kicked in this past week.
You can check out the entire policy, though to sum it up:
This only applies to Chairman's Preferred members, since their upgrades on American are complimentary
This is valid for American operated flights that are marketed by American or US Airways
Everyone on the record must be Chairman's Preferred — if a Chairman's Preferred member is traveling with a non-Chairman's Preferred on the same record, then no one is eligible to be waitlisted for an upgrade
Chairman's Preferred members still can't upgrade on American before check-in
Chairman's Preferred members will be given upgrade priority if they're connecting, as American does for their own elites
It's not clear at what level Chairman's Preferred members are being prioritized — it could be with Executive Platinum members, it could be behind them, or it could be at the very bottom of the list
Bottom line
This is a very nice interim improvement for top tier US Airways flyers. This should significantly increase their upgrade percentage on American flights.
Now we just have to wait until the second quarter of next year, when Dividend Miles will be integrated into AAdvantage.