Cathay Pacific has my hands-down favorite first class in the world. It's not necessarily the best, but the various elements combine to create something special and — more importantly — reliable. You can always count on a great experience in Cathay Pacific class, including the best possible sleep in the sky.
At least that's what I've always said before today.
There's no perfect first class
Every single airline has pros and cons, and things that matter to one person won't necessarily register to another. There can also be tremendous variations between configurations and crews, and an incredible first class flight on Tuesday might only be mediocre on Wednesday.
With Singapore Airlines, for example, no matter how pretty the cabin is, the soft product is everything. The flight could be a "supper" flight, which has a really lackluster meal service, or it could be a "lunch/dinner" flight, which has an amazing meal service. You could have an incredible, polished crew that treats the flight as a performance, or (if you're me), consistently get wackadoodle flight attendants.
The Emirates shower is a non-gimmicky delight, but while the new plane is beautiful, most of the seats in the fleet aren't that impressive, the cabins are cramped, and though the menu is extensive, the food isn't always great.
Etihad's A380 First Apartments are gorgeous, but again — the bed isn't actually that comfortable, and the catering feels incongruously cheap. It's one thing to cut the caviar service, but ditching the proper mezze dishes…
That's why rankings of first class cabins are so subjective.
Consistency is Cathay First's raison d'être
Cathay Pacific's first class experience is almost unimaginably consistent — and that's a good thing. While other airlines have introduced hit-or-miss new configurations or attempted to surprise and delight, Cathay Pacific delivers a steady and unchanging experience.
All flights that offer first class have the same configuration, so there's no risk of equipment-change induced despair. The amenity kits have had identical contents since late 2013, and even the cases are identical to those introduced in 2015.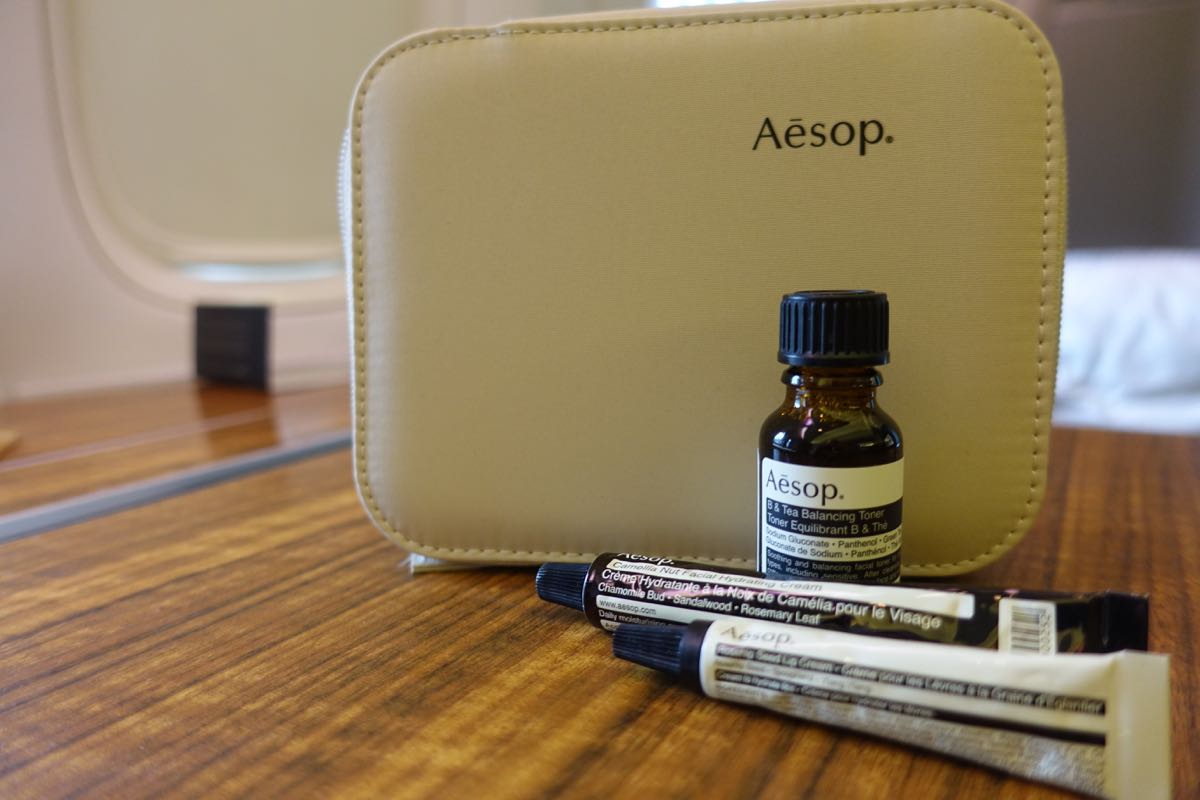 Crew uniforms have only been updated (and minimally) nine times in the 65+ year history of the airline. Flight procedures are specific, and crews are trained to execute them precisely.
The point being — Cathay Pacific is incredibly reliable. And that is a major benefit for the airline. Cathay Pacific has my favorite first class because it's borderline boring, a great night's sleep is guaranteed, and Cathay probably has the best all-around first class offering of any airline.
Which is all exactly what you'd want if returning home with a recovering travel companion.
The problem with consistency as-a-selling-point, however, is that any lack of precision can make the whole thing fall apart rather quickly.
Little details make a huge difference
These are, of course, minuscule things. But when you're talking about premium experiences, it's the tiniest points of difference that determines whether something is great or merely acceptable.
Despite their reticence towards updates, Cathay Pacific has changed a few elements of the service recently, and I'm not a fan.
The pre-departure amuse bouche (which varied on each flight), for instance, has been eliminated.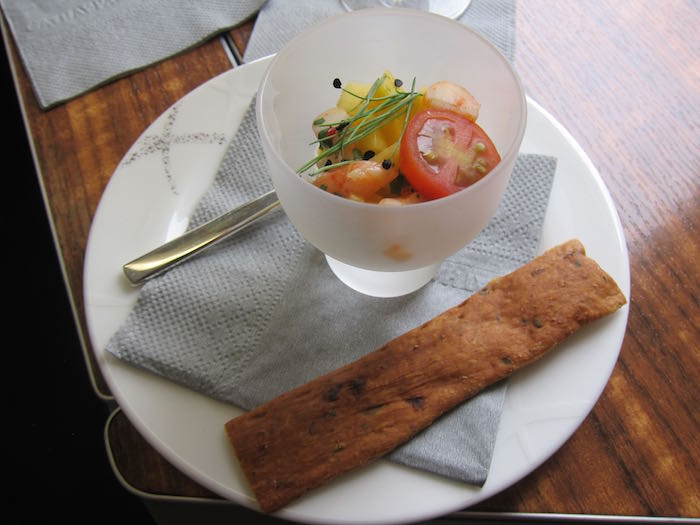 Instead, mixed (un-warmed, non-premium) nuts are offered along with pre-departure beverages:
Which, nuts are lovely, but then they bring another batch along with your drink once the bell chimes: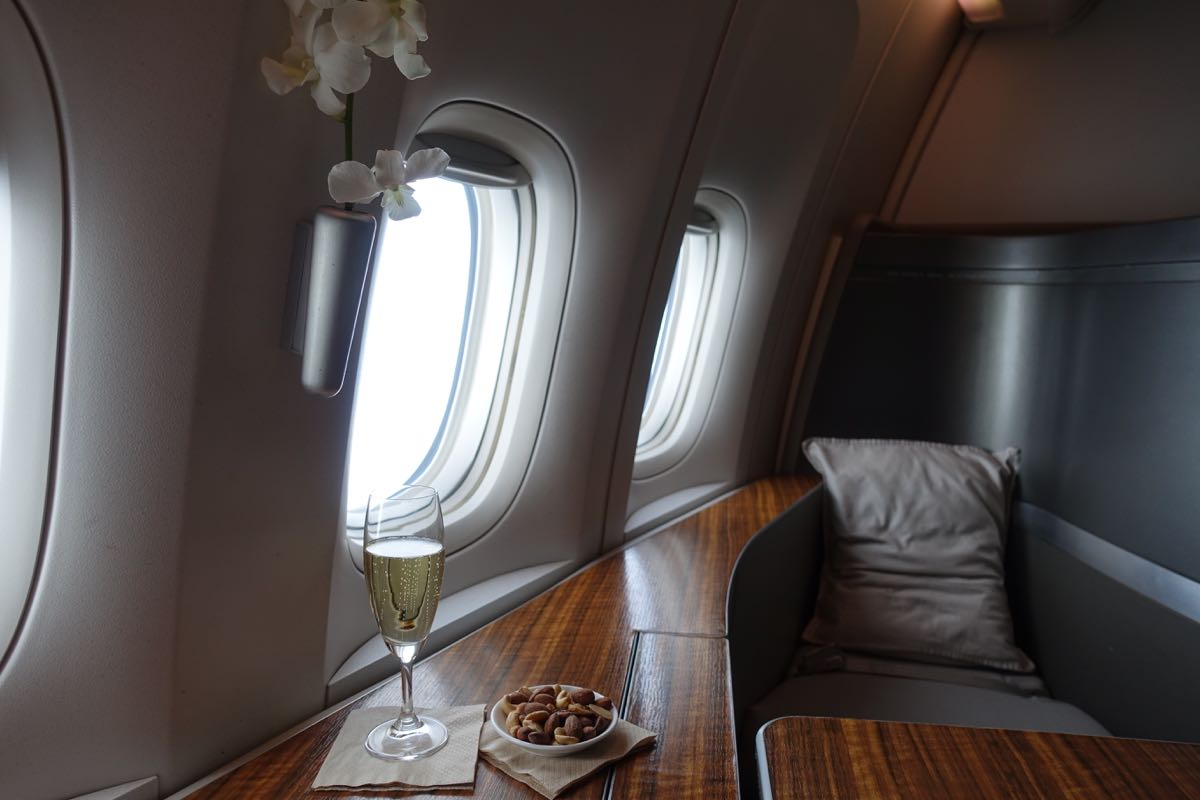 So if they're not going to have an amuse bouche (which seems ridiculous, when that's something even Aeroflot offers in business class), then at least mixing things up a bit would be nice.
There are some other minor changes (like a new Champagne, and boxed generic chocolates rather than truffles), but those didn't seem major.
The significant change though, is the bedding seems to have recently been refreshed. Or maybe it's just that worn linens are constantly being replenished, and a supplier changed somewhere along the line.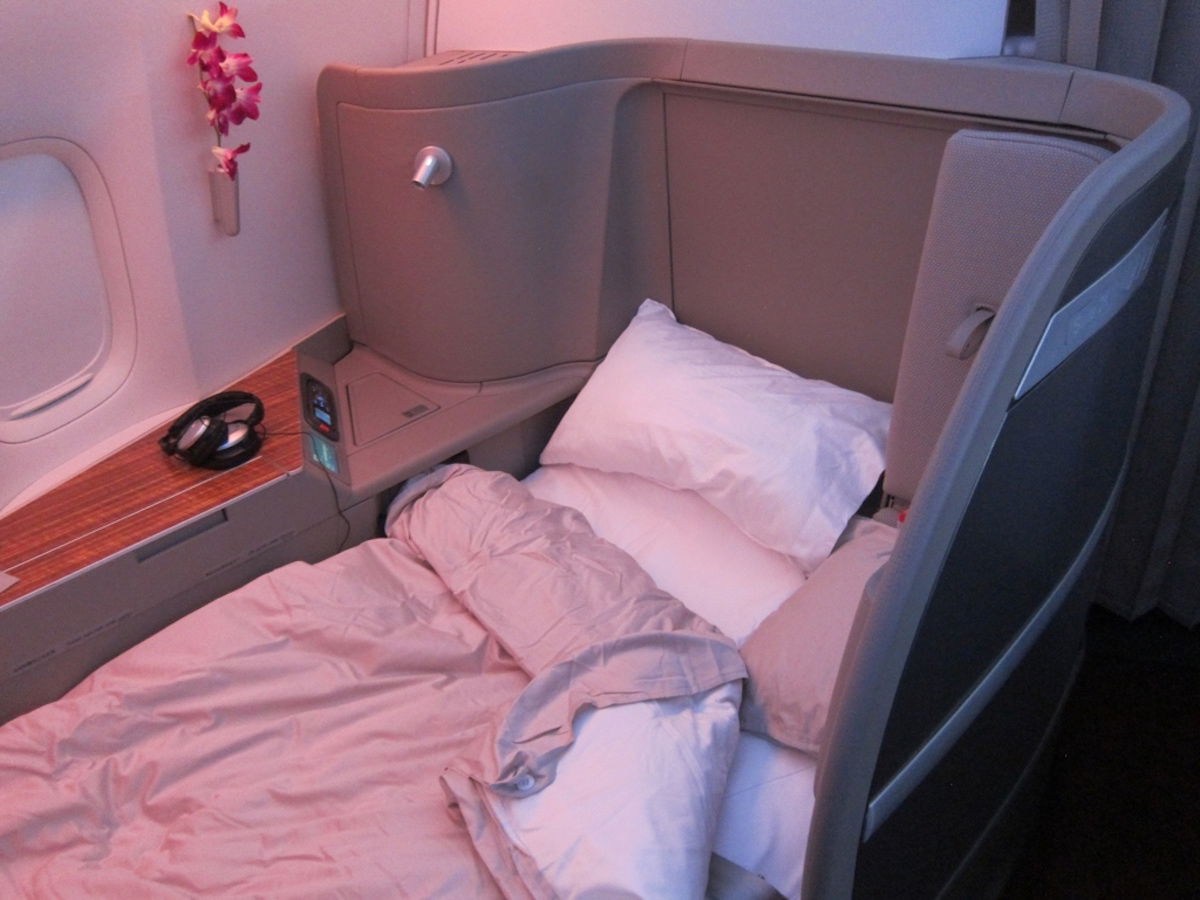 Regardless of the reason, the bedding was a disappointment. The duvet felt much lighter, but was also much worse at regulating temperature than previously. The pillows also lacked loft, and seemed a touch smaller.
The mattress pad also wasn't as plush as in the past, which is a bad combination with seats that haven't been updated in a decade and are starting to sag. While I always sleep wonderfully in Cathay First, on this flight I woke up after about 90 minutes on my side with a sore hip and my arm asleep. That's something I'd expect in a cheap business class seat, not on the traditionally best airline for sleeping.
Our crew was shockingly mediocre
I don't know that this has anything to do with the previous employer of some of the flight attendants, but the crew was…not good. There were only three of us in First, and Ben slept almost the entire flight, so it's not like we were a terribly high maintenance crowd.
Cathay Pacific takes a pretty standard approach to first class service during the meal — flight attendants are attentive and visible during the meal service, and constantly replenishing drinks. The differentiation comes after the meal, where the flight attendants turn into ninjas, and you won't see a crew member in the cabin unless:
Someone rings the call button, after which a flight attendant will appear in seconds
A passenger gets up to use the lav or walk around, at which point a flight attendant will typically dash out to fluff up the bedding, refill bottles of water, and generally tidy the cabin
The latter is such a trademark of the service that it was noticeably lacking. I certainly don't need someone to reset bed linens every hour, but it was surprising to have to constantly ask for water.
And that smallest of gestures — the welcome note from the crew (which I sorta think is ridiculous, but is still a key part of what makes Cathay First Cathay First), never materialized.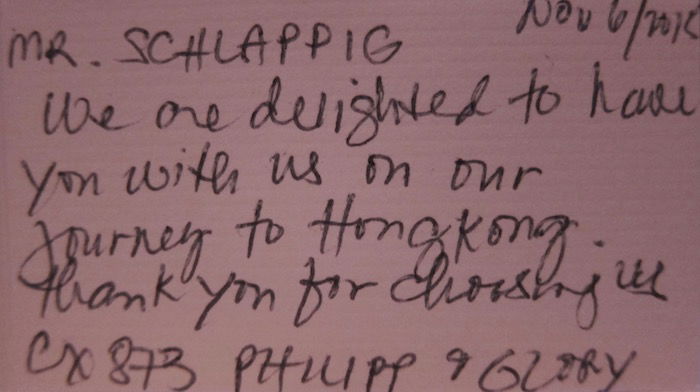 The crew was still friendly, and managed the structured service competently, but I couldn't shake the feeling that they were just doing the bare minimum.
Bottom line
Is any of this world-ending? Of course not. And this is still a luxurious and wonderful experience that I'm always going to be happy to have:
https://www.instagram.com/p/BfgokGGh6bR/?taken-by=tebfunk
But Cathay Pacific can't truly compete head-to-head with other premium carriers if you measure any element of the hard product, soft product, or service individually.
Where Cathay shines is with having the best overall experience, and offering conformity in what they deliver.
This flight put enough of a wobble in my perception of Cathay Pacific's consistency that I am going to struggle to praise it going forward. I truly hope this was just a one-off, and not indicative of a shift in culture at Cathay, but even having a single "meh" flight is such a departure from expectation that I'm fairly concerned.
Has anyone else noticed changes in Cathay First lately?