I'm shocked by how much value I just got out of my Hilton Honors points.
There are many things to love about Hilton Honors, but…
First let me give Hilton Honors credit for areas where they deserve it:
So why am I not as loyal to Hilton Honors as I am to Starwood Preferred Guest and World of Hyatt?
Hilton Honors' elite recognition isn't that strong, so while they're basically giving away top tier status, the benefits can't compare to World of Hyatt, for example
My biggest issue is just that I find most of Hilton's hotel brands to be boring; there just aren't that many Hilton family properties I get excited about
Getting outsized value from Hilton points can be tough
Last year Hilton switched to a new system for points redemptions, where award pricing is now more variable. They no longer publish award charts. The good news is that I find Hilton Honors offers pretty consistent value. You can usually redeem points for 0.4-0.5 cents each towards the cost of a hotel stay.
That's good for most consumers, since most people want to redeem points for the same hotels that they'd usually pay to stay at. It's less good for those who are specifically seeking out more aspirational hotels.
I don't have a huge balance of Hilton Honors points — I have about 200,000 — and whenever I stay at a Hilton I feel like the redemption value is right at the cusp, which is to say that using my valuation of their points, either paying cash or redeeming points works out equally well.
Usually I'd rather save cash than save a specific points currency, but for whatever reason I haven't redeemed much for Hilton.
Well, I just made my first Hilton redemption in a while, and it's a spectacular value.
The incredible value I got with my Honors points
I've been wanting to take my dad to Europe in the next few weeks. We were supposed to go on a trip last year, but he was in Florida, and the hurricane at the time meant we had to reschedule the trip. He had an Aeroplan ticket he had to use by the end of August (since it was valid for a year from the date of issue), so I figured I'd take him to Tallinn, Estonia, and Riga, Latvia (two places neither of us have been to before).
I had set alerts for Lufthansa first class award space to open, and yesterday the space finally became available. Of course this space often disappears quickly, so I got on the phone and booked right away.
We'd be flying to Tallinn, but then I started looking at hotels. OMG, for our nights there were virtually no options. I know Tallinn has become a tourist hotspot, so I'm not sure if it's that, or if there's something specific going on in town. Virtually all decent hotels were sold out.
For a moment I was kicking myself for not having checked hotels first, but I knew Lufthansa space could disappear any moment, so…
Fortunately I then checked the Hilton, and noticed they had standard room availability.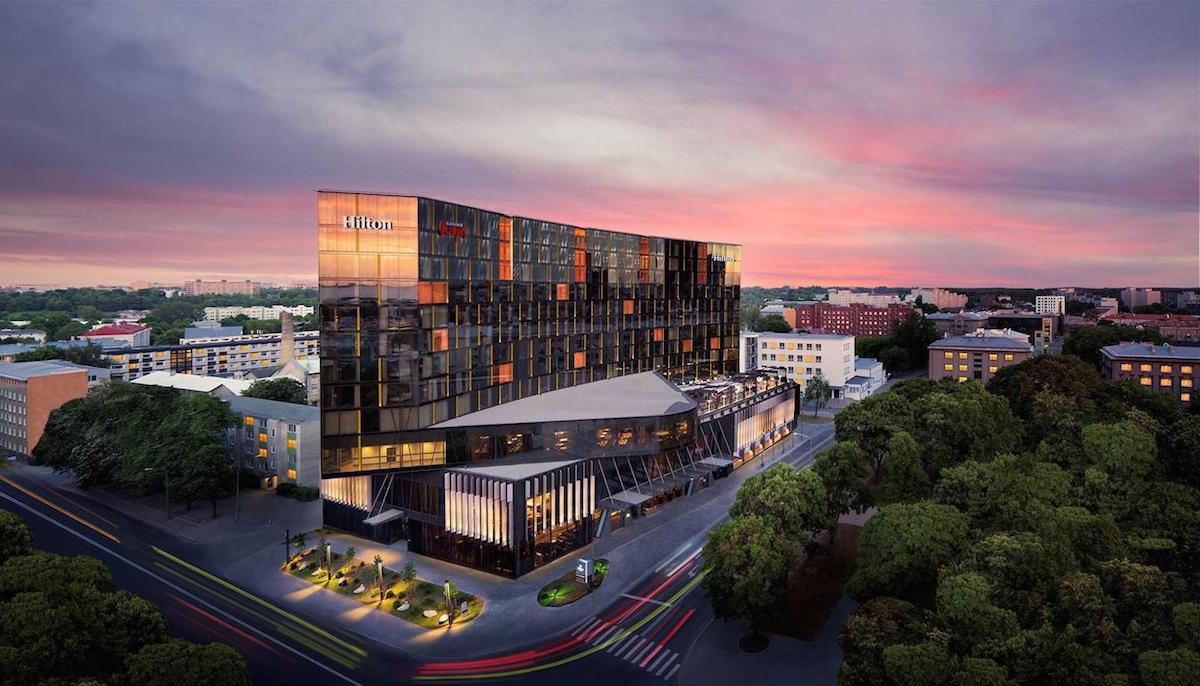 For just 30,000 points per night I could book a free night, when a stay would have other cost 533EUR per night for our three night stay. I value Honors points at ~0.4 cents each, so I value 30,000 points at ~$120. Talk about an incredible value.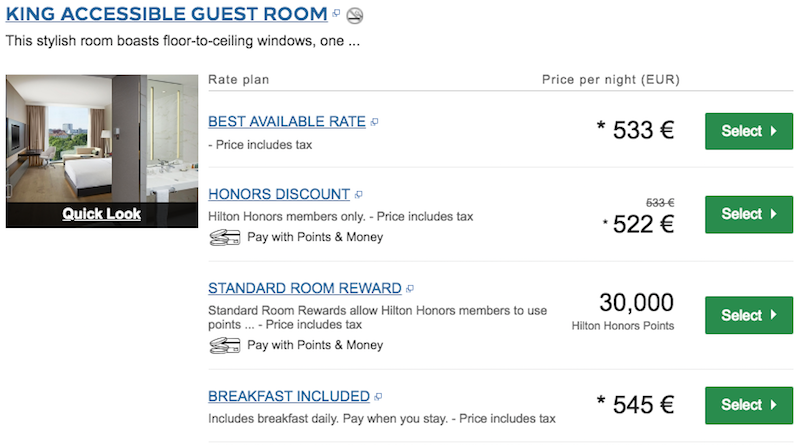 Thank goodness there was a standard room available, because the room that would cost just 10EUR per night more would have cost 419,000 Honors points per night (since it would be based on their even more variable pricing). That should give you a sense of what a good deal this was.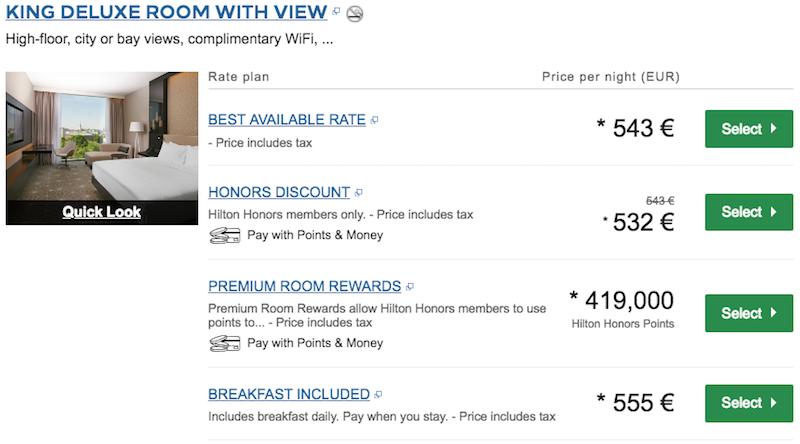 But it actually gets better than that. When I looked at the price breakdown, I noticed that it was the first night that was insanely expensive, while the second and third night were actually reasonably priced. The last two nights could be booked for just 104EUR per night.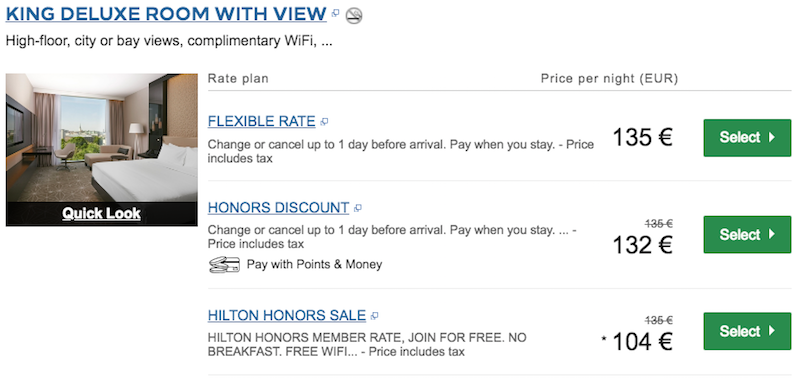 So in the end I redeemed 30,000 points just for the first night, when the rate would have been 900EUR. Then I paid cash for the last two nights.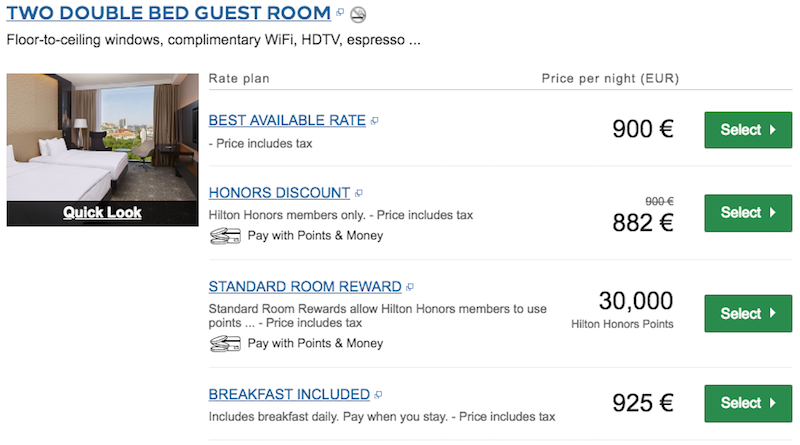 Now, of course I don't want to claim I got 900EUR worth of "value" here, since I would have never paid that at the Hilton. However, options in the city were truly limited, so having Hilton Honors points really saved me here.
I never thought I'd get that much value out of my Hilton points. It just comes to show that having diversified points really pays off sometimes.