Hello from (rainy) Baku! Yesterday we arrived here after flying from New York to Baku on Monday, thanks to Azerbaijan Airlines' nonstop flight. I first learned about this route last year, and was fascinated, given that I knew very little about the airline, other than that their paint scheme is possibly the sexiest of any airline.
So below I'll share my initial thoughts on yesterday's flight. Frankly I'm still trying to process it, because I have such mixed feelings about the experience. Perhaps part of the problem is that the other flights we've taken in the past week on Aeroflot and Air Serbia have exceeded my expectations by so much.
Azerbaijan's 787 business class cabin consists of a total of 18 seats, spread across three rows in a 2-2-2 configuration. This is basically the same business class hard product you'll find on Hainan, LOT, Xiamen, etc.
It's a perfectly fine product, though in this case the good news is that only seven of the seats were taken, so we had all of row three to ourselves, which allowed us to spread out.
While the seats themselves are nice, I was surprised by how many things about the seats weren't working. We almost needed the entire row to ourselves in order to use the IFE and charge our electronics. The TVs only worked at three of the six seats, while the chargers at only two seats worked.
The selection of amenities was fairly impressive. There was a mattress pad, two pillows, a blanket, pajamas, and a pretty snazzy amenity kit.
The amenity kit had a full 3.4 ounce container of hand cream from Azerbaijan, so it was the highest volume liquid I've ever received in an amenity kit.
The food situation was simultaneously impressive and frustrating. First of all, while there was a wine list, apparently they forgot to cater menus for the flight.
This was a 10hr40min flight departing at 1PM and arriving at 7AM the following day. So the way I viewed it, this was equivalent to any other eastbound redeye, though it departed a bit on the early side (nonetheless, it was dark outside for over eight hours of the flight).
There was a very nice lunch service after takeoff, and I was impressed that everything was served directly on the tray table, there was a breadbasket, they brought food around on a trolley, etc. The quantity of food was sort of insane. There were nuts, then an appetizer and salad, then a soup, then a main course, and then dessert. That doesn't sound that unusual in and of itself, except they really encouraged you to have everything.
Like, they expected everyone to have cheesecake, berries, a cheese plate, fruit, and nuts for dessert.
After lunch I decided to go to sleep, figuring the lights would be off until two hours before landing (give or take).
So you can imagine our surprise when three hours after the lunch service they turned the cabin lights on, even though everyone was sleeping. At this point it was about 2AM in Baku and it was dark outside, so I figured they hit the wrong switch. Nope, the lights stayed on. About 30 minutes later they came out with another snack service, which was completely unnecessary.
After the lights were turned all the way on for about 90 minutes, they were once again turned off for another two hours, and then the massive breakfast service began.
The food selection was very impressive for the most part, though I was just so confused by the format of the meals. On a sub-11 hour redeye you'd think two meals would be plenty, and perhaps on demand they'd offer a snack. But to turn on all the cabin lights and wake everyone up for a snack just seemed unnecessary (and it's not like we knew it was coming, since there were no menus).
As far as the service goes, the crew was friendly and well intentioned, though at the same time the service process just felt a bit amateur. There were aspects of the service that were very well executed, including how they placed cutlery on the trays, the speed at which they offered drink refills, etc.
But then the service was also quite disorganized, and not nearly as polished as on Aeroflot or Air Serbia.
While not specifically related to business class, I should note that premium economy on this plane looked excellent, better than premium economy on most airlines. There was tons of legroom, and on this flight there were only a total of two people in the cabin. Interestingly when Azerbaijan first launched this route they sold business class as first class and premium economy as business class, though I'm happy they've come to realize that the branding wasn't really appropriate.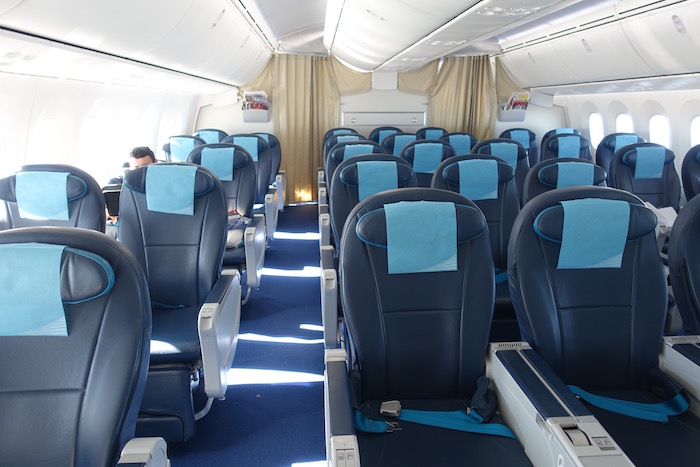 Azerbaijan Airlines business class bottom line
Overall I'm still conflicted about Azerbaijan's product, as there were both great and not-so-great elements to the flight.
The food was excellent for the most part, and plentiful to a fault. Waking everyone up half way through a redeye to serve an (unnecessary) snack seemed, well, unnecessary.
While the seats themselves were fine, it was disappointing that they had so many faults, like non-working power ports and TVs.
The crew was friendly for the most part, though not as polished as I found on Air Serbia and Aeroflot.
So I guess to sum it up, Azerbaijan is a perfectly nice way to fly. If you're headed to Baku and/or they have a good fare, I wouldn't hesitate to recommend them. But based on my experience I also wouldn't go out of my way to fly them again.
How does this compare to what you'd expect from Azerbaijan Airlines?