A few months ago I wrote a post about why I think it's worth the money to be picked up from the airport in a hotel car, at least when you're in a foreign country with pushy taxi drivers. The way I see it:
While I love Uber, in some countries it can be complicated to coordinate where to meet with your Uber driver at the airport; I'll almost always take an Uber from the hotel to the airport, but less often do so in the other direction
Using a hotel car minimizes the frustration that I usually associate with taxis, like getting scammed, having an unsafe driver or car, etc.
Using a hotel car lets the hotel better anticipate your arrival, meaning they'll often meet you at the car on arrival, have your room ready if you're checking in early, etc.
I've had so many bad taxi experiences, ranging from drivers nearly falling asleep on me, to drivers getting lost (even in a city with supposedly the most competent cabbies), to drivers claiming I damaged their car, to drivers refusing to take me to my desired destination, to drivers taking me the long way, to drivers getting in accidents. It seems that more often than not getting from the airport to the hotel is an adventure.
Well, for whatever reason I forgot to arrange a hotel car for our arrival in Baku yesterday. I was busy and forgot to do so, and momentarily forgot how much I hate taxis. On landing I tried to be optimistic and thought to myself "how bad can it be?"
Well, pretty bad…
Our Baku taxi experience
Upon arrival at Baku Airport yesterday we exited the immigration hall. We wanted to use the restroom before getting in a taxi, so followed the signage towards the restrooms, which required going up an escalator. As we went up the escalator I told Tiffany we were being followed by a guy, and she thought I was being paranoid.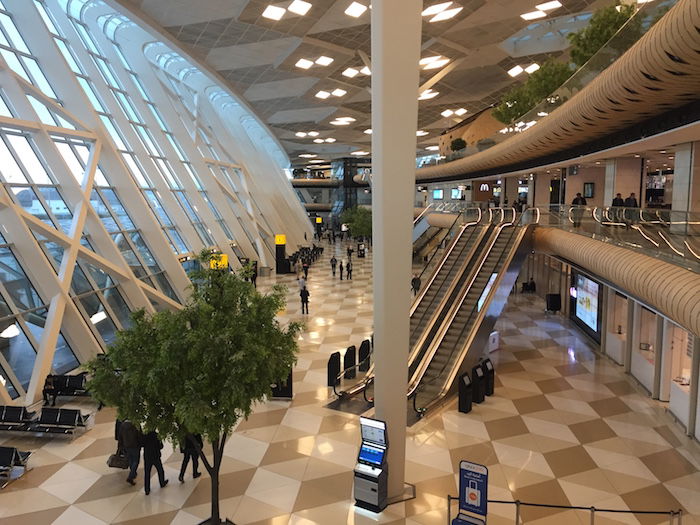 He was being shady, and was clearly watching us. When we got to the top of the escalator I suggested we just wait for a minute near a coffeeshop. I made eye contact with him (in a "bugger off" kind of way), and he walked the other way briefly.
We used the restroom and then headed back down the escalator. Who was behind us on the escalator again? The same guy.
This time he approached us "taxi? Where do you need to go?"
"No."
"Taxi, where to?"
"No."
He proceeded to follow us outside, and over the course of the walk insisted a dozen times on driving us. Eventually I raised my voice and said "no" in a more authoritative way. He didn't back off.
There was a police officer outside so I asked him where the taxi queue was. He explained that there wasn't a queue, but rather there are just taxis parked all around, and you can take any of them. At this point the shady character who had been following us took out his license. I wasn't sure if it was actually real, as I didn't see an ID number of any sort on it. The police officer seemed to suggest the guy was okay, and the creep took that to assume we were driving with him.
He then tried to take Tiffany's bags. She said no. He insisted, and she had to raise her voice to get him to stop, and said "no, stop." He wouldn't back off, and only after she said it louder did he back off. Then he tried to take my bags, and I did the same.
At this point his car was parked near where we were, and he signaled for us to get in. It wasn't a taxi, but rather just a beat up old car.
We then got in an actual taxi nearby (many taxis in Baku are the same as London black cabs, which is pretty awesome), and he continued to chase us there. He then started yelling at our driver, I assume because he thought the guy was stealing "his" customers. The taxi driver we were with drove off fast while the creep still had his hands on the driver's door, as he wouldn't back off. He kept yelling as we drove off.
Bottom line
While I order hotel cars almost every time I visit a new country, sometimes I forget. Somehow even those few isolated incidents are typically disasters. I don't think the guy necessarily had bad intentions (in other words, I don't think he was trying to kill us), but I'd rather take an actual taxi of my choice, and certainly don't want to give in to someone as aggressive as this guy.
Why do some people have to be so ridiculous?