I'm in the midst of a US Airways 90,000 mile business class award to North Asia with my friend Andrew B. As you may recall, he's the Helsinki contest winner thanks to his excellent memes, fellow movie and fetish night goer, etc.
While I've already posted about our Ethiopian flight from Beijing to Addis Ababa, I left out the "exciting" decision making we had just before our departure, which Andrew has offered to share his thoughts on below.

---
I think we've established that I'm more mishap-prone than Lucky. He's told me about a dozen times on this trip how trouble-free his travel usually is. Well, tonight we ended up almost rebooking ourselves… due to potential terrorist activity near our destination.
We were booked on Ethiopian Airlines to Addis Ababa, on their 787.
After a long trip through Beijing's massive Star Alliance terminal, we arrived at the Air China Business Class Lounge.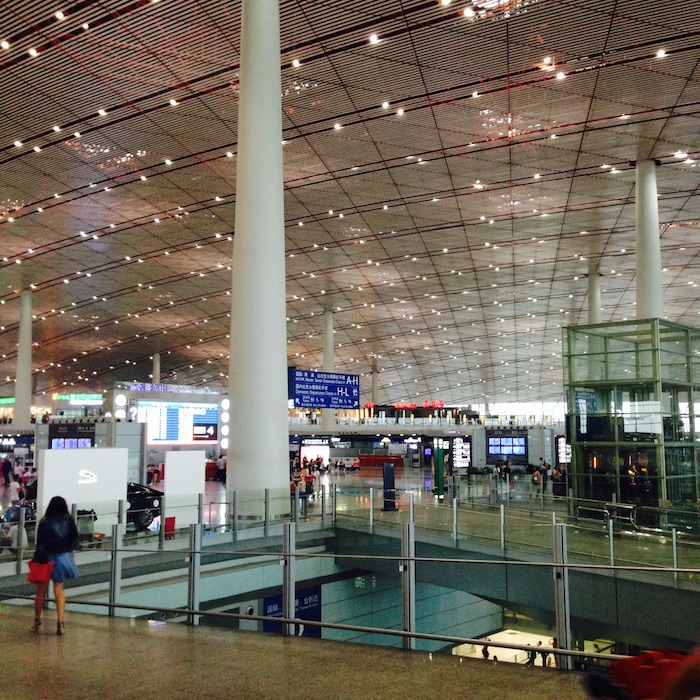 While there, we read that a terrorist attack at Entebbe Airport in Uganda was "imminent." Uganda is separated from Addis by about 750 miles, or about the same distance between New York and Chicago. Now, to be honest, both Lucky and I were confident that we were in no danger (well, unless you count the danger of Lucky getting caught taking clandestine pictures of someone's unfortunate choice of wardrobe, or lack thereof).
However, as people with concerned family members, we didn't want to cause anyone unnecessary anxiety. If family back home had heard the words "Ethiopian" and "terrorist attack" in the same sentence (perhaps even if it was something as benign as the airline choosing to temporarily suspend service to Entebbe), that could make my mom, for example, panic.
We decided the odds of that happening were low (my mom is on a cruise right now and should be paying more attention to the ice sculpture buffet than the news), and Lucky called home to make sure his family knew not to worry. So we decided to head to our departure gate and board our flight!
That being said, I realize that threats of imminent terrorist activity are nothing to be taken lightly, and my expectation is that the authorities' discovery of these apparent plans to do something at Entebbe means that whoever is responsible will decide not to go through with it. For the sake of people in Uganda, let's hope that's the case.
I also realized that we were being watched: not literally, but in order to get a Wifi password, you have to scan your passport and receive a unique code, as well as a friendly printout warning you that you're being watched. Was it the best idea for me, a passenger on a flight to Africa, to be searching terms like "terrorist threat in Entebbe" and "distance from Ethiopia to Uganda" on a network that was much more subject to monitoring than most? Probably not my smartest use of the internet ever (though probably smarter than the time I watched Rebecca Black's "Friday" on YouTube).
---
My brief thoughts —
This might all sound crazy, and in retrospect it sounds that way to me as well. But life is short, which to me means two things:
Life is too short to be overly cautious and not do things out of fear
Life is too fragile to make stupid decisions
The concern here wasn't actual safety, but rather how our families would feel if something happened, even if it was in Entebbe and not Addis Ababa. I think part of the duty of being a parent is being irrationally concerned for your kids, and I try to respect that.
I guess there were really two options:
Take the flight and not tell family about it. The downside is that if they do hear about something happening at an airport in Africa they'd flip, even if it's a totally different airport than we connected in. And when you're on a plane for 11 hours without wifi, that's not really something you want to subject your family to.
Take the flight and tell family about what the news was reporting, and explain there's no risk. With this option I'd be more at ease on one hand, but at the same time I know it would increase their "base" level of concern.
Fortunately everything went as smoothly as we could have hoped for (well, minus the Addis Ababa to Frankfurt flight, which was my worst flight in quite a while… but we'll get to that later).
What would you have done? Told your family about what's going on and explain why it's not a risk, just not say anything, or something else altogether?