I've no doubt given American a hard time lately, given their switch to a revenue based program along with their 2016 AAdvantage award chart devaluation. But I also believe in giving credit where it's due, and American deserves some credit here.

American's improved upgrade & award availability
I've written about the amazing amount of business class award and upgrade availability American has offered on their own flights for the past several weeks. This included flights to Asia and Europe, and even extended to first class in many instances.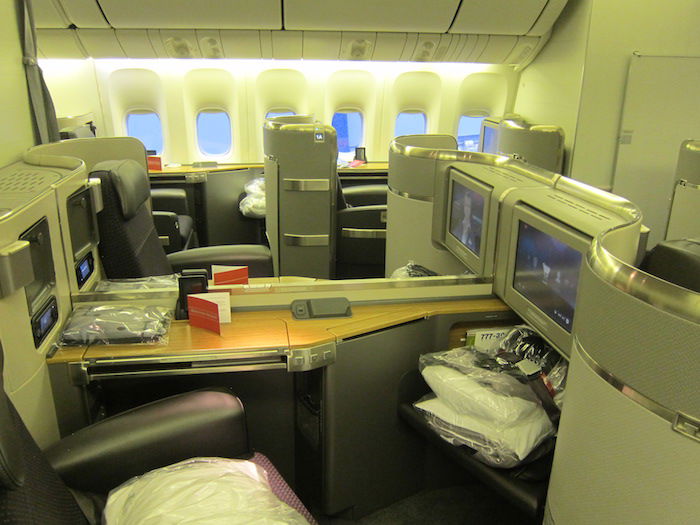 American first class awards seats were wide open on many routes, including Dallas to Hong Kong
There's something a bit weird about how American releases award availability, though. For a while they didn't have a single upgrade or award seat on any transpacific flight for all of 2016, and then suddenly they were making half of the first and business class cabins on many international flights available for awards. That seems highly irrational to me, and I figured there has to be some long term middle ground.
In the meantime, it has certainly presented some fantastic opportunities for us, where we've been able to book the entire family to Europe or Asia over peak periods at the saver level. That's fantastic.
I've long said that business class award and upgrade availability on American is more or less the same. I've realized that technically hasn't been the case, since American uses separate fare classes for both inventories. Business class upgrades come out of the "C" fare class, while business class awards come out of the "U" fare class. But for the past couple of years, "C" and "U" inventory have been the same in a vast majority of instances.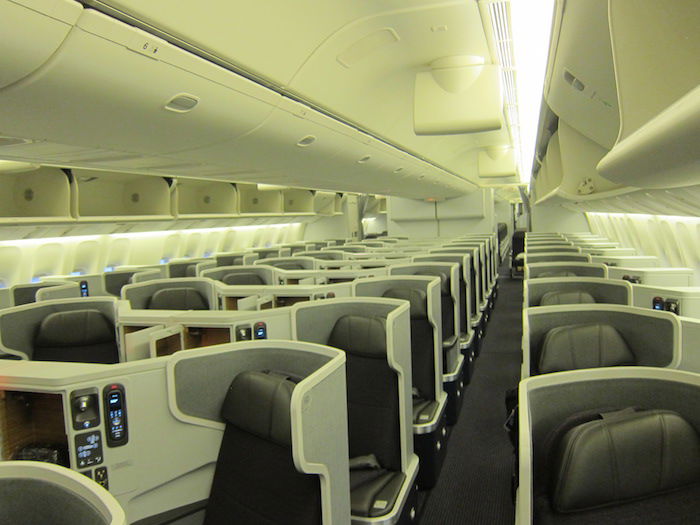 Business class award & upgrade availability has been wide open lately
American's improved upgrade availability
I think it's worth noting that this is changing, and American is making significantly more upgrade seats available than award seats. Most of the flights with a ton of award availability are now showing less award space, though there's still a fair amount. I actually think the award availability we're seeing right now is much more reasonable, fair, and sustainable, and that's ultimately a good thing. While I like periods with a ton of availability, I'd rather have a program be more consistent.
In looking at inventory, upgrade availability is quite good, much better than award availability. There's not an insane amount of upgrade availability, but rather an amount which I'd love to see American sustain over time.
Let me give a few examples, using availability I pulled up for random dates through ExpertFlyer.
Los Angeles to Shanghai has three business class award seats and five business class upgrade seats on one flight:

Between New York and London, four flights have upgrade availability (up to seven seats per flight), while only one flight has award availability: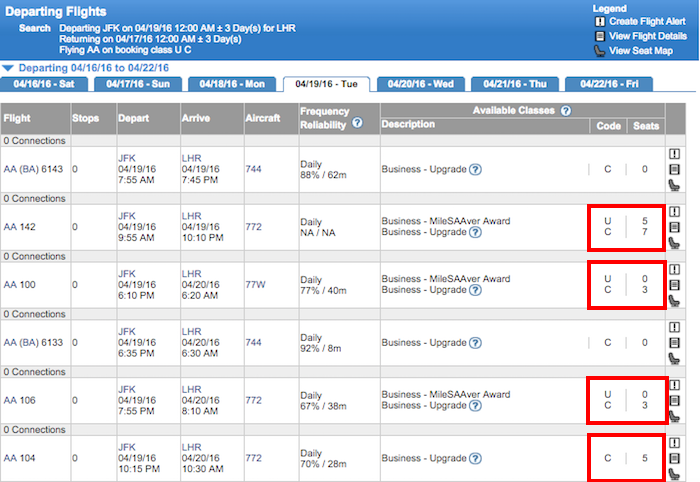 From Dallas to Beijing, there's one business class award seat and four business class upgrade seats on one flight:

From Los Angeles to Sao Paulo, there are two business class award seats and five business class upgrade seats on one flight:

From Dallas to Hong Kong, there are no award seats but three business class upgrade seats available:

From Los Angeles to London, both flights have at least five upgrade seats available, while they have no award seats available: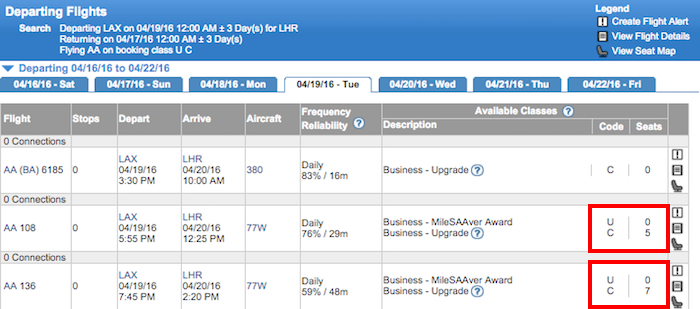 From Auckland to Los Angeles, a flight has two upgrade seats available but no award seats available:

From Sydney to Los Angeles, a flight has one award seat available but two business class upgrade seats available:

From a business standpoint, having a different amount of upgrade and award availability makes sense. The airlines are accounting for the costs of these awards differently, so it makes sense for inventory to also be different.
For example, when someone books an award ticket, the airline gets minimal revenue, but does get miles "off the books." Meanwhile when someone books a paid ticket and confirms an upgrade, American is at least getting the cash cost of an economy ticket, plus a systemwide upgrade, or otherwise miles and a co-pay.
Keep in mind that as of next year American will be reducing the number of systemwide upgrades that Executive Platinum members earn from eight to four. That's a huge blow to the program. At the same time, if I'll actually be able to use those four upgrades to confirm business class at the time of booking, I wouldn't be as frustrated. For the past couple of years I've had to waitlist virtually all of my upgrades, and then had to sweat it out, typically clearing at most a few days before departure.
Don't get me wrong, I'm not saying American should have confirmable upgrade availability on all flights, but as long as there's some availability with a flexible schedule, I consider that to be "fair." I don't consider it to be fair to offer upgrades but to never have any upgrade availability confirmable, as we've seen in the past.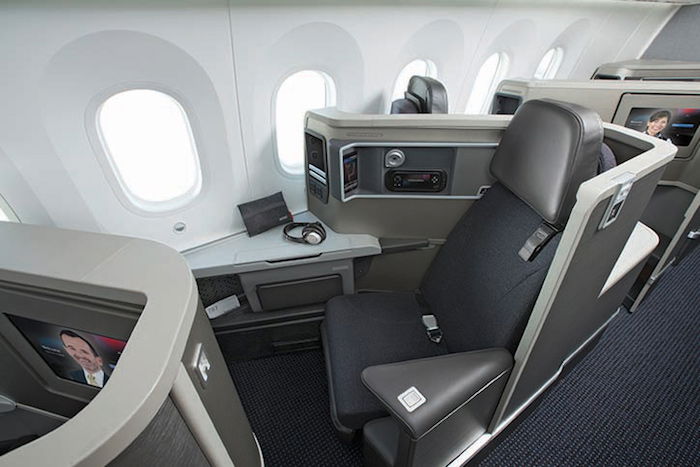 Confirm upgrades on American's 787 between Auckland and Los Angeles
How to search American upgrade availability
The best way to definitively search American's upgrade availability is through ExpertFlyer, which is a subscription service. It will let you search business class upgrade and award availability, and will even let you set alerts. That way if upgrade or award space opens up, ExpertFlyer will email you to let you know.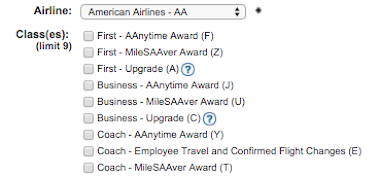 The second method is through American's website. Since 2013 the website will show you if upgrade space is available. The catch is that you have to be Executive Platinum and log in to see availability through this. If there's confirmable upgrade space available, you'll see an icon which says "Systemwide Upgrade" on the booking page, like this flight between Dallas and Beijing: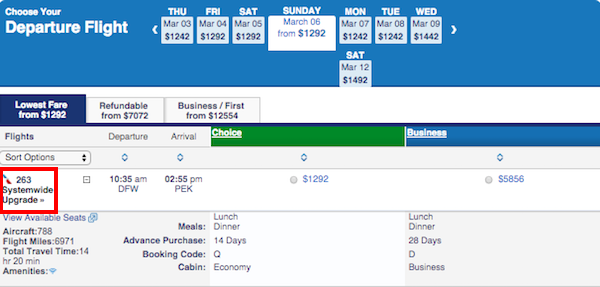 Meanwhile if there's not confirmable upgrade space it won't show that icon:

The catch is that if your plane has three cabins (meaning it has business and first class), you can't tell whether the systemwide upgrade availability is from economy to business class or business to first class. So only rely on this being totally accurate for planes without an international first class cabin.
The third method is to simply phone up American Airlines reservations and ask them about availability. If you want to lock in an upgrade at the time of booking, you'll want to book by phone, because they can apply the upgrades when you confirm the reservation.
If you book online you'll first have to wait for the reservation to ticket (which could take a few minutes or several hours), and then afterwards phone American to upgrade the reservation. In that timeframe it's possible the upgrade availability disappears.
Bottom line
I'm happy to see American finally make some upgrade space available across the network, which I think is a really smart move. They don't have to have seven upgrade seats on every flight confirmable at the time of booking (that probably doesn't make business sense), but offering some confirmable upgrades consistently across a variety of flights is a huge win for us loyal flyers. And if this sticks, it ever so slightly takes the sting out of systemwide upgrades being cut from eight to four.
Is anyone else noticing the increase in American's confirmable upgrade availability?