Yesterday I posted about Qatar Airways' press conference in New York. They lured media in by claiming that it would "usher in a historic moment in American aviation." All Qatar Airways actually announced was that they were introducing a new brand campaign, called "Going Places Together."
While the announcement itself was a non-event, as usual Akbar Al Baker put on a show, which hardly comes as a surprise. The Q&A seems like it was the most interesting part, as they discussed everything from Qatar's "incident" at Miami Airport, to the Open Skies debate, to premium economy. And the quotes from Al Baker are priceless.
I sure enjoyed following along with the press conference on Twitter, and can't help but pass on the five most amazing quotes I saw. In no particular order:
"I will hang him on the wall"
It's no secret that the CEOs of Qatar Airways and Delta strongly dislike one another. Akbar Al Baker has gone so far as to call Richard Anderson unethical, unpatriotic, and weak.
Well, Al Baker sort of took it a step further yesterday, when he said the following regarding Delta's CEO: "let him come face to face with me at any forum, and I will hang him to the wall."
See, now that's what I'm talking about. When we first heard about the historic announcement, I speculated it could be the following:
A pay per view boxing match between Akbar Al Baker and Richard Anderson; I'd pay 100,000 SkyPesos to see that
We basically got that, except Richard Anderson no-showed!
"We already have premium economy!
Al Baker has long been vehemently opposed to premium economy, claiming there's no need for it. At the press conference, @AirlineFlyer asked Al Baker whether he'll reconsider it, given that American just announced that they're adding premium economy to their longhaul fleet.
His answer?
"The economy product is so good that we don't have to punish people to pay more to get the same product."
I asked @qatarairways CEO if he'll reconsider Premium Economy now that partner @AmericanAir has announced it. #PaxEx pic.twitter.com/xBRdwIJMMh

— Jason Rabinowitz (@AirlineFlyer) December 9, 2015
This makes you wonder how delusional he really is. Ironically this comes at the same time that Qatar Airways is adding a seat per row in economy on 777s, going to 10 across seating.
While Qatar's A350 economy product is quite nice for what it is, it's still an economy product. How delusional is he that he doesn't seen the difference between economy and premium economy???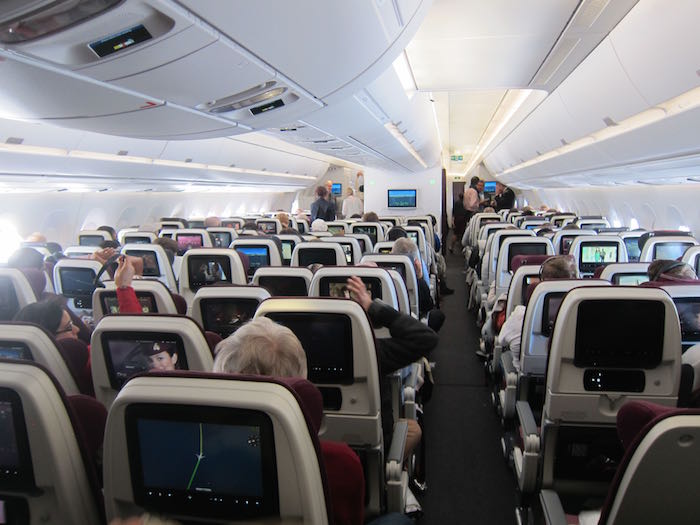 Qatar Airways economy


American premium economy
Al Baker has been promising the introduction of a "super business class" product very soon, which he claims will be as good as first class. Well, if he thinks his current economy product is as good as premium economy, then I think we should lower our expectations for what the new business class will be like.
Qatar Airways has no responsibility for Miami incident!
This is perhaps the scariest of all the things he said. In September I wrote about the Qatar Airways incident at Miami Airport, whereby a Qatar 777 hit the runway lights on departure and continued flying to Doha.
Qatar's Civil Aviation Administration just released their report on what happened, and puts the blame squarely in the pilots' hands. I was impressed that they seemed to be non-biased. This is one instance where Al Baker can't claim they're out to get him, since it's his own country's administration, and the airline is also state owned (he thinks even the ILO has a vendetta against him)
Well, he's still not taking any responsibility for the incident. Via Flight Global:
Qatar Airways chief Akbar Al Baker says instructions from air traffic controllers resulted in the September runway light collision in Miami, despite evidence of confusion in the cockpit.

"It was an instruction given to our pilot by the air traffic control, which he should have refused to accept," says Al Baker at a media event in New York today. "However, he had enough runway for getting airborne and it was only an unfortunate incident. At no time was the aircraft or the passengers put in any harms way."
This directly contradicts the findings of the report, which don't indicate that the ATC gave the pilots those instructions. Furthermore, suggesting that it was an unfortunate incident and that the aircraft wasn't in danger at any point is outrageous. The plane had 90 dents, a 46cm tear, and the aircraft was having to compensate for the lost cabin pressure. We're very lucky it ended how it did.
He also claimed such incidents happen often:
"Such kinds of incidents happen quite often," says @qatarairways CEO Akbar Al Baker on the Miami 777 incident.

Uh, no. No they don't.

— Jason Rabinowitz (@AirlineFlyer) December 9, 2015
Troubling, to say the least…
Akbar loves his idioms!
Hah!
"This is only a baloney," says @qatarairways chief Al Baker on @Delta CEO Anderson's arguments against Gulf carrier traffic from the USA

— Edward Russell (@ByERussell) December 9, 2015
"Donald Trump is my friend"
Donald Trump has been facing backlash after his remarks suggesting the possibility of banning Muslims from the US. Al Baker is quick to defend him, however, suggesting that he doesn't actually mean it. Via Doha News:
"Look, Donald is my friend, and we have been friends for a long time. I think it is an exercise only to gain political mileage. Nothing more. This is the opportune time to excite more extremist people so that they could give him their votes."
Bottom line
What a guy!