A couple of weeks ago I wrote about how Qatar Airways was hosting a media event in New York today, December 9, 2015. Now, Qatar Airways is perhaps the world's least modest airline, but their CEO, Akbar Al Baker, claimed that the event would:
"Usher in a historic moment in American aviation"
Have a "pivotal announcement"
Yesterday Qatar Airways flew an A350 from Doha to New York for the event, which Al Baker was on. Qatar Airways uploaded a video of the special flight, which was the first time a commercial A350 flew to the US:
When an airline announces that they'll "usher in a historic moment in American aviation," you should reasonably expect that they're announcing something interesting. I had speculated about the possibility of A380 service to the US, a joint venture with a US airline, or maybe even a stake in a US airline. A380 service wouldn't have been a "historic announcement," while the other two would at least have been interesting.
Well, the Qatar Airways press conference is taking place this morning at the Peninsula Hotel New York. What is Qatar Airways announcing? A new brand campaign. The new campaign has the tagline "Going Places Together," which replaces the current "World's 5-Star Airline" slogan. I'm sort of shocked to see Qatar Airways dropping the "World's 5-Star Airline" tag, since they use it about a dozen times during their announcements on any given flight.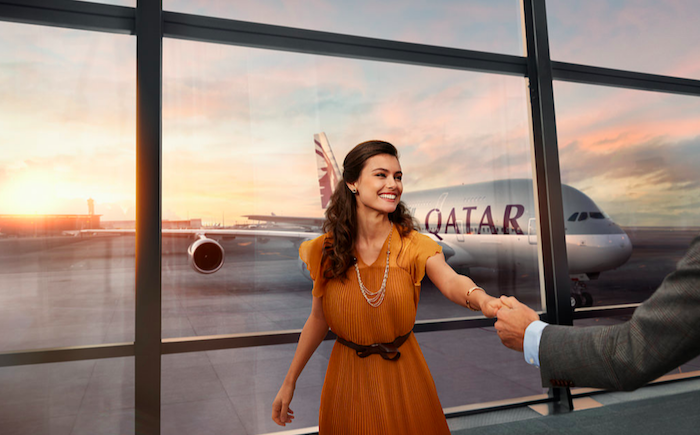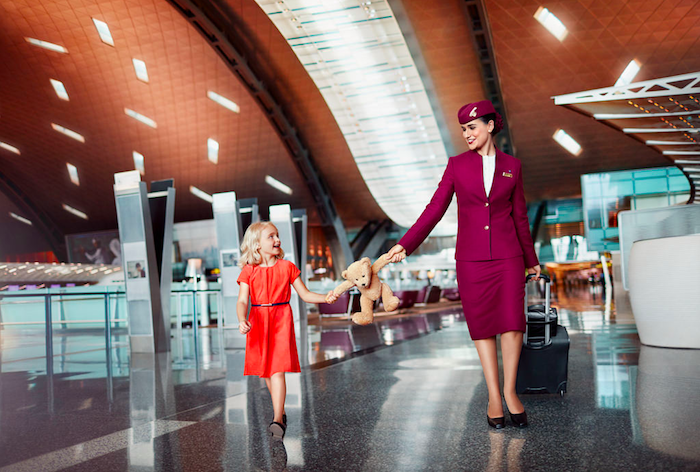 Here's part of the Qatar Airways press release:
Qatar Airways today launched its new global brand campaign and tagline – Going Places Together – at a press conference in New York, USA. This is a new and fresh direction for the airline, which has developed a messaging strategy to reflect its evolution as a brand and its role as a leader in the airline industry.

The Going Places Together campaign plays on the theme of achieving great things together whether for work, for family or for adventure, and encourages passengers to take journeys that will help them achieve their dreams and ambitions.

"Today's brand launch highlights a new era in our airline's journey," said Qatar Airways Group Chief Executive, His Excellency Mr. Akbar Al Baker. "Whilst it's true that we are taking more people on more aircraft to more destinations as we continue to grow, we also recognise that travel itself has changed; it has become a process of enrichment, of self-discovery, of life-changing moments and fulfilling ambitions. We hope that our new campaign will inspire more people to embark on their own personal journey, exploring new places and opportunities, together with their friends, family or colleagues."

Salam Al Shawa, Qatar Airways Senior Vice President of Marketing and Corporate Communications added, "Our new Going Places Together campaign captures the essence of our brand, which is all about inclusiveness and bringing people together for a better future. It also reflects our aims for the future, the ambition we have for our airline is the same ambition our passengers have for their own lives. We intend to achieve great things, and we want to be part of your journey as well."

At the heart of the campaign is the concept of the airline connecting people both physically and emotionally with any of the 153 places on its global network on board one of its 173 state-of-the-art aircraft. The theme of connectivity extends to the warm welcome every passenger receives when they board a Qatar Airways flight from the friendly and helpful cabin crew who are hand-picked for their natural ability to make personal connections with every passenger they meet.
Here's their first TV ad with the new "Going Places Together" slogan:
https://www.youtube.com/watch?v=vL6v9lLf1_c
Where do we even begin with this?!
Not that we expect any less, but how rude on the part of Qatar Airways to lure media with an invitation to an event that "ushers in a historic moment in American aviation," only to reveal their new ad campaign
It's sort of hilarious that they're unveiling their new ad campaign in New York rather than Doha; then again, I guess it's pretty telling that the ad is all about places you should visit, but the only thing it suggests you do in Doha is connect 😉
There's still something a bit ironic about an ad campaign based around inclusiveness and the airline's mission of creating a better future when the country is built on slave labor, their cabin crew have curfews, and until recently weren't allowed to get married or pregnant; I suppose since they are in the process of lifting that policy, they are working towards a brighter future (stretch, I know!)
And that completely ignores the fact that this campaign is so lame, predictable, corporate, and unrelatable.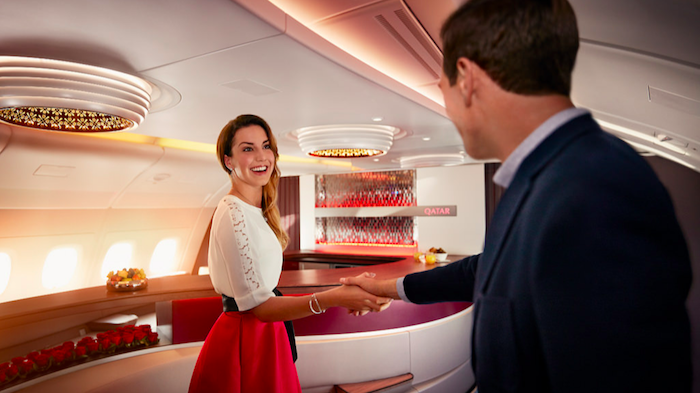 I actually think this ad campaign is significantly less interesting than the one they had in the past, about "The Art Of Flight Redefined:"
Bottom line
I expect ridiculousness from Qatar Airways, but this is ridiculous even by their standards. Suggesting that a new ad campaign for a foreign carrier (or any carrier, for that matter) is a "historic moment in American aviation" is an insult to anyone who has been waiting for this announcement.
This. Is. Lame.