In the interest of full disclosure, OMAAT earns a referral bonus for anyone that's approved through some of the below links. These are the best publicly available offers (terms apply) that we have found for each product or service. Opinions expressed here are the author's alone, not those of the bank, credit card issuer, airline, hotel chain, or product manufacturer/service provider, and have not been reviewed, approved or otherwise endorsed by any of these entities. Please check out
our advertiser policy
for further details about our partners, and thanks for your support!
The Chase Sapphire Reserve® Card was introduced in August 2016, and has quickly become one of the most popular premium credit cards on the market. Chase reached their 12 month sales goal on the card within two weeks, which shows how unbelievably popular the card has been.
I think the key to success for this $550 annual fee card is that they managed to reach a new demographic that hadn't previously been interested in premium cards. While the card has a "premium" annual fee, it's not costing members that much, given the $300 annual travel credit, triple points on dining and travel, Priority Pass membership, and more.
Several other premium credit cards offer Priority Pass memberships, including The Platinum Card® from American Express and The Business Platinum Card® from American Express (enrollment required). However, it only seems to be in the past couple of years that there have been serious complaints about crowding in many Priority Pass lounges.
This was even the subject of a recent Wall Street Journal story, which I personally think isn't very accurate, and rewrites history using irrelevant anecdotes:
The story talks about how "gourmet meals once on offer are now finger foods;" that's certainly not the case, and most definitely not reflective of any impact by Priority Pass
If anything, more Priority Pass memberships means that airlines and independent lounge companies are more incentivized to invest in new lounges
We've seen Priority Pass add restaurants to their network, which has been great for members
Fewer premium credit cards offer airline lounge access than before (in the past both the Amex Platinum Card and Citi Prestige Card offered Admirals Club access, though that's not the case anymore), so it's great that we have new options
While it's true that some Priority Pass lounges are fuller than before, I think collectively we're better off as consumers due to that.
Anyway, View from the Wing points to a City of Phoenix Aviation Department filing regarding the lounge situation at Phoenix Airport, which has some interesting statistics. Specifically, the filing is about The Club at PHX, which is the Priority Pass lounge at the airport (at least until 3:30PM — at that point it closes to Priority Pass members and becomes the British Airways lounge).
Specifically, the document shows data about the club between mid-2016 and the end of 2017, including how many visitors the lounge had, and also their gross sales: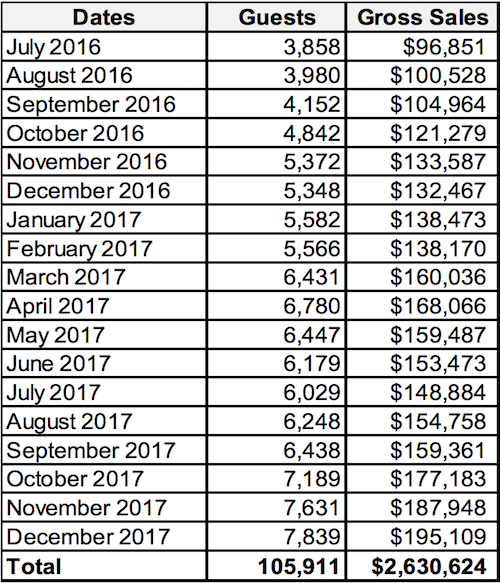 Let's take a closer look at this:
There's a huge spike in visitors
To me this makes it pretty clear that the Chase Sapphire Reserve® Card is indeed leading to a great increase in terms of the number of visitors to Priority Pass lounges, at least at major US airports. While there's a mild upward trend in August and September, presumably most people who got the Sapphire Reserve didn't immediately get a Priority Pass membership, so it's no surprise that there's a lag in terms of visitor increases. As you can see, starting in October we see a huge increase in visitor numbers.
Between July 2016 and December 2017, the number of visitors to this lounge more than doubled. While we can't solely attribute that to the Sapphire Reserve, I suspect that's a major factor.
In reality I think the number of Priority Pass visitors may have significantly more than doubled. Keep in mind that the above visitor numbers includes the British Airways passengers who are visiting, as that's the official British Airways lounge at the airport. Let's assume that an average of 50 British Airways passengers per day use the lounge (I'm making up that number, but I would assume it's on the low side). If that were the case, and if you subtract the 1,500 visitors per month from British Airways, the increase in Priority Pass visitors is from 2,358 to 6,339, which means Priority Pass visits almost tripled. I suspect the number of British Airways guests per day may be even higher than that, meaning the increase may be even more significant.
The lounge is getting an average of $25 per visitor
This is about in line with what I expected. I'm sure a lot of us are curious about the Priority Pass business model, and just how much is being paid with each lounge visitor. When you crunch the above numbers, it would appear that The Club at PHX is earning an average of about $25 of revenue per visit, and I'd assume that's roughly equal regardless of whether visitors are from British Airways or Priority Pass.
This also further explains how Priority Pass restaurants make sense. I've received so many comments from people saying "it's unsustainable for Priority Pass to pay for meals at restaurants." The reality is that they're probably paying restaurants the same as they pay lounges for a visit. We just get a lot more value out of it.
Priority Pass lounges make bank!
The Club at PHX is a pretty no frills lounge that's just under 3,000 square feet, and it's about $2 million in sales per year. I imagine it's even higher now. Wow. Sure, there are costs — they're paying rent, they have to pay staff, and chips and raw veggies aren't free. But still, I imagine those are some really good margins.
Bottom line
None of this information comes as a much surprise, though I find it interesting nonetheless. Yes, the number of Priority Pass visitors has increased greatly the past couple of years, presumably largely due to the Chase Sapphire Reserve® Card. It looks like lounges are getting paid an average of about $25 per visit for these.
However, unlike some others, I don't think the increase in Priority Pass members has "ruined" lounges, but rather it has given Priority Pass, airlines, and independent lounge operators an incentive to add more lounge space, and even to add new concepts to the network, like restaurants. The occasional crowded Priority Pass lounge is a small price to pay for the democratization of airport lounges.
How do the above statistics compare to what you were expecting?
(Tip of the hat to View from the Wing)