At one point the Airbus A380 was expected to be the future of aviation, as demand for air travel globally continues to grow (at least pre-pandemic). Despite that, unfortunately there has been little interest among airlines for this plane. The A380 simply offers too much capacity, and airlines would rather buy smaller, fuel efficient, long range aircraft, which offer a lot more flexibility.
A380 production will end soon, and Air France recently became the first airline in the world to retire its entire A380 fleet. Lufthansa also plans to retire all of its A380s, and the fleet will only be reactivated "in the event of an unexpectedly rapid market recovery." Then Hi-Fly recently retired the world's first secondhand A380.
As far as other airlines go, the jury is still out on A380 retirements, including at Etihad, Qatar, and Qantas.
What we don't often think about is what happens after A380s are retired, so here's a sad reminder of that…
A former Air France A380 gets scrapped
A picture has emerged of a former Air France A380 being dismantled, and it will make just about any aviation geek sad. The A380 with the registration code F-HPJB first joined Air France's fleet in June 2009. While many A380s that are retired are simply put into storage, this has become one of the first A380s to actually be dismantled in a significant way.
The plane operated its last flight on February 20, 2020, as it flew from Dresden, Germany, to Knock, Ireland, in a flight time of 2hr33min. The plane has been parked there ever since, and has now been scrapped, according to pictures.
Is there any aviation geek who isn't sad seeing the below plane? Think of all the places that plane could fly… if only it had engines, a tail, wheels, etc…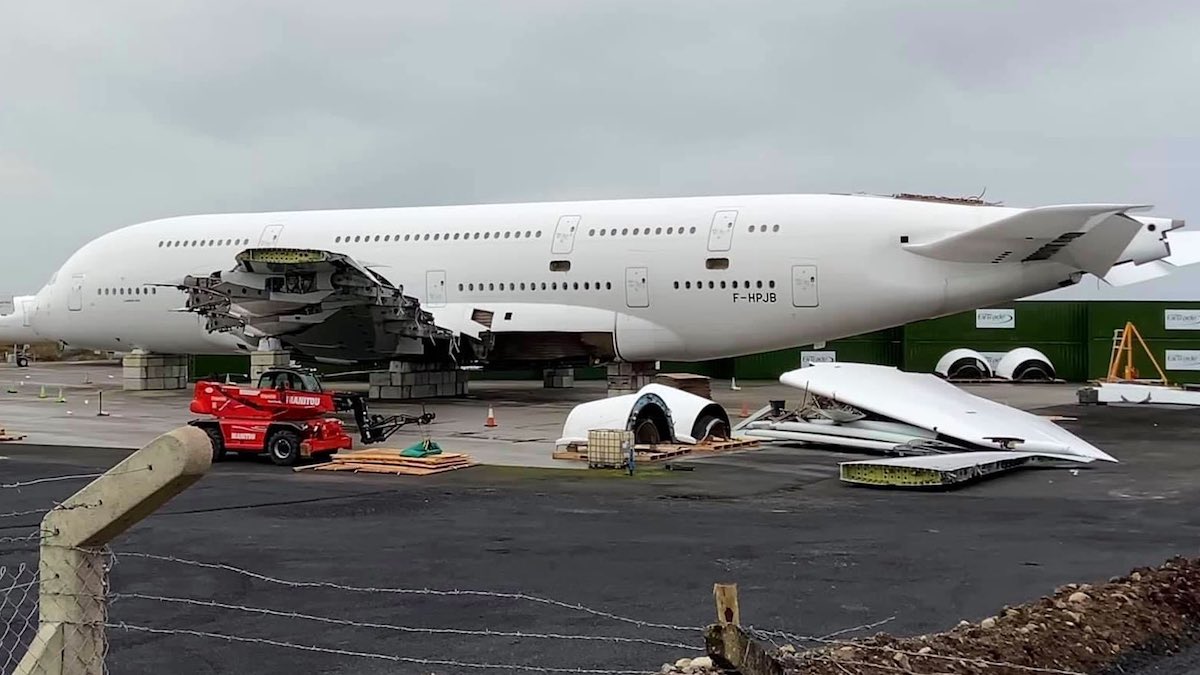 To think that just months ago it looked like the below.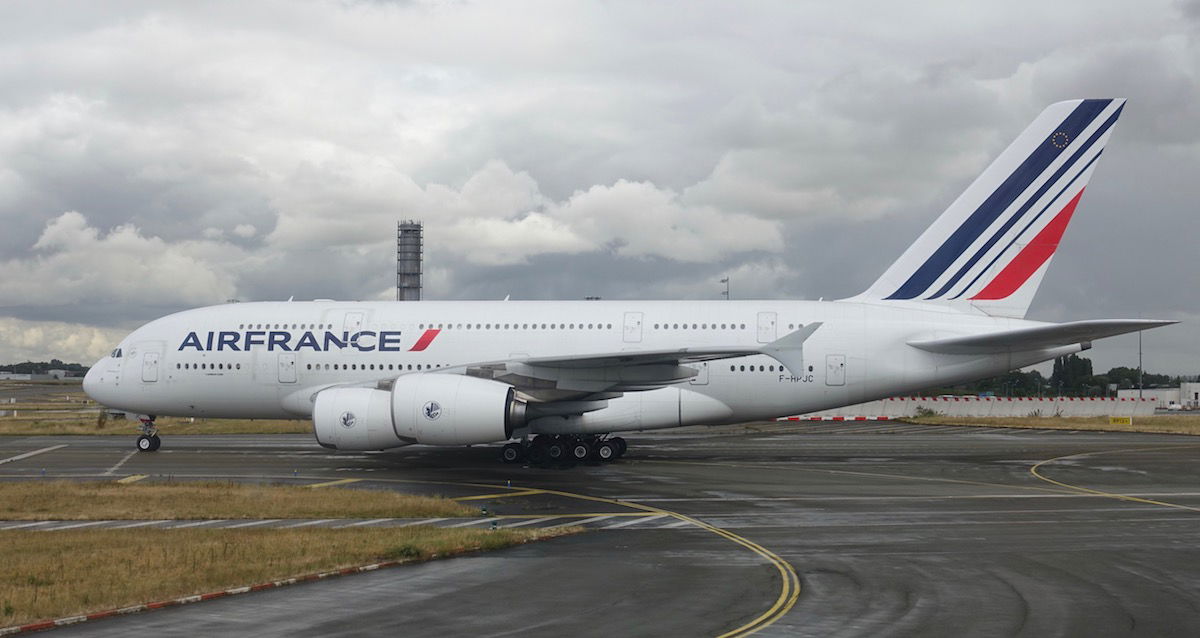 How many A380s have been scrapped?
While well over a dozen A380s have been officially retired, not many have actually been scrapped. In other words, most have simply been put in long-term storage. It would appear that so far only two A380s have been scrapped, and those are both former Singapore Airlines frames that were delivered to the airline in 2007 and 2008.
Singapore Airlines had made the decision to not renew the leases on its first five A380s after 10 years, which is why these were retired. TARMAC Aerosave was responsible for dismantling these A380s, and I can't help but feel like those planes were just scrapped with a bit more dignity, with the tail intact, the engine casing still there, etc.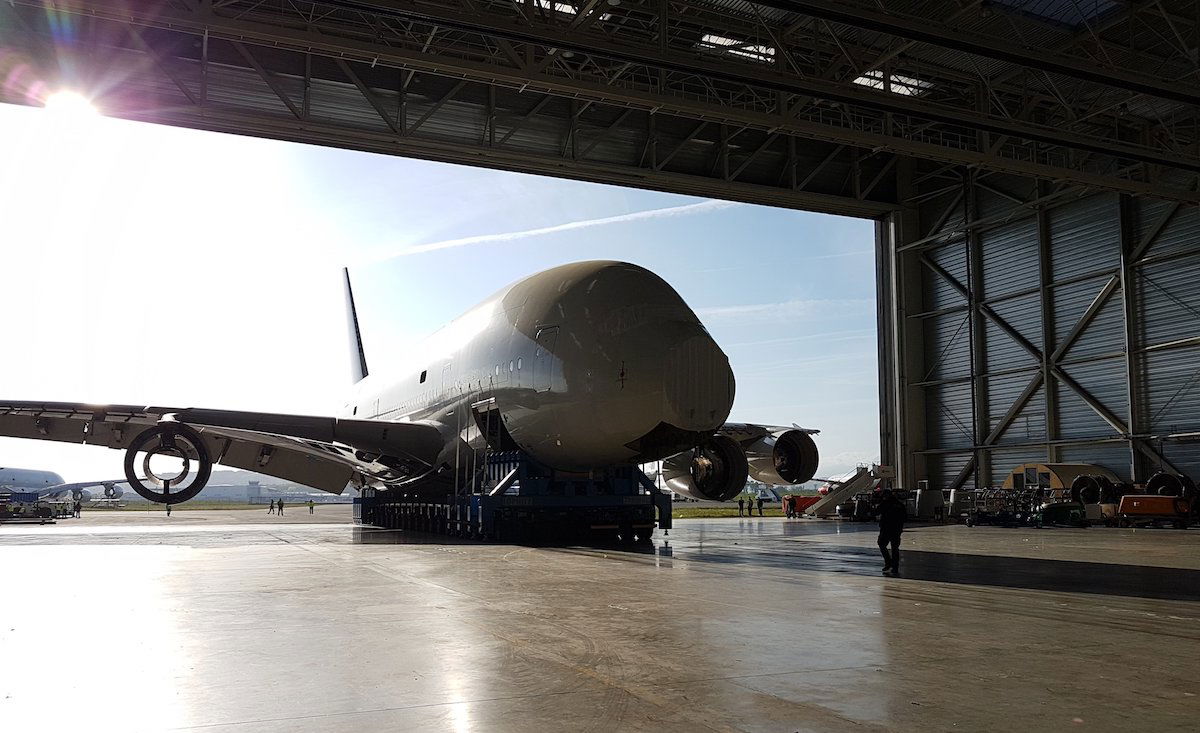 Of course at the end of the day none of this actually matters. These A380 parts should be reused and recycled in the most efficient way possible. But that doesn't make it any less sad to see these planes destroyed.
Bottom line
While quite a few A380s have been retired at this point, not many have actually been dismantled. A former Air France A380 has now been scrapped in a way we haven't seen before. As an aviation geek this sure is sad to see…
Am I the only one who is sad to see this sight?