It looks like the US could see service from a new airline this year, per a request with the DOT. But first a bit of background on the airline…
What is ZIPAIR?
ZIPAIR is Japan Airlines' new low cost carrier:
The airline will be starting with a fleet of two Boeing 787-8s
The fleet will grow by two planes per year, either by leasing them from Japan Airlines, or getting them through other sources
The airline is supposed to launch in summer 2020, with Bangkok and Seoul Incheon being the first two destinations; the May launch to Bangkok has been postponed, while the Seoul launch for July is still on
Tickets aren't yet on sale for any routes
As far as the interiors go, ZIPAIR's 787s will have a total of 290 seats, including 272 economy seats and 18 business class seats:
Business class will have reverse herringbone seats in a 1-2-1 configuration
No seats will have personal televisions, but rather they're rely on streaming (these are the first reverse herringbone seats I've ever seen without TVs)
These planes are dense compared to Japan Airlines' 787-8s, some of which have as few as 161 seats
These planes aren't dense compared to some other low cost carriers, as airlines like Jetstar and Scoot have 335 seats on their 787-8s
ZIPAIR plans Honolulu flights in 2020
When the details of ZIPAIR were first announced, we knew that they planned on eventually flying to the US. However, everything I heard suggested that the airline would fly to the US West Coast, and Las Vegas was also mentioned specifically.
Well, ZIPAIR has now filed with the US Department of Transportation for their first US route. ZIPAIR plans to launch daily nonstop flights between Tokyo Narita and Honolulu as of the beginning of the winter 2020 season (which starts in late October).
Admittedly this is a strange time to be starting new service, though they did indeed make this request with the DOT just a few days ago, so…
This is an unusual low cost carrier strategy
Japan is a unique country when it comes to just about all aspects of business, and this is no exception.
First of all, generally when an airline launches a low cost carrier, they do so to be able to service routes that aren't otherwise viable. In this case all three of ZIPAIR's initial routes are also operated by parent company Japan Airlines. I can't think of any other airline that has started a low cost carrier only to replicate routes.
Second of all, the Tokyo to Honolulu market is an interesting one in terms of airline strategy:
This is a leisure route, so on the surface you'd think it would be ripe for low cost carriers
This is also a highly competitive market, with flights from All Nippon Airways, Delta Air Lines, Hawaiian Airlines, Japan Airlines, Korean Air, and United Airlines
Japan Airlines already operates the route 4x daily, and they have a joint venture with Hawaiian Airlines, which also operates the route 4x daily, for a total of 8x daily flights
It's also kind of a premium leisure route, and airlines have taken a different strategy than you might expect; for example, ANA flies their A380s exclusively between Tokyo Narita and Honolulu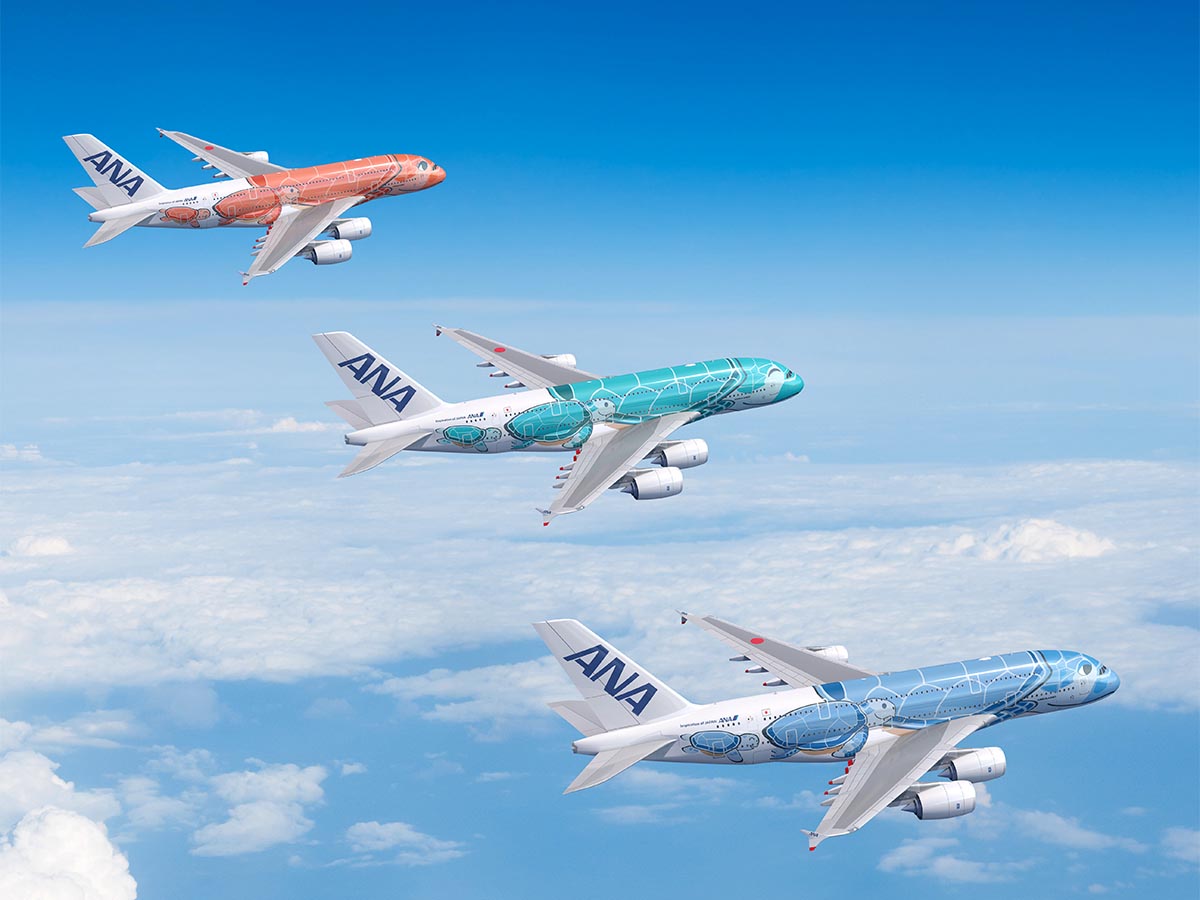 All Nippon Airways' A380s
Bottom line
ZIPAIR has filed with the US Department of Transportation to start nonstop Tokyo Narita to Honolulu flights as of late 2020. We'll see if that timeline sticks in light of current events, as this isn't a great time to start a new airline.
I still find the ZIPAIR strategy to be strange, given that they're just replicating JAL routes. JAL and their joint venture partner already operate the route 8x daily, so just how different will pricing be on ZIPAIR, and are they simply cannibalizing their own business, or creating new demand?
Tickets aren't yet on sale, so maybe once we see ticket prices we'll get a better sense of what the strategy is.
What do you make of ZIPAIR's routes and strategy?
(Tip of the hat to Alon)