Back in March I wrote about ZIPAIR Tokyo, which is Japan Airlines' new low cost carrier. The airline will be launching in summer 2020 using Boeing 787-8s, and will initially operate flights from Tokyo Narita to Bangkok and Seoul Incheon, as of May 14, 2020 (tickets are expected to go on sale in the spring).
The airline plans on adding two planes per year, so they'll be growing relatively slowly. This past April the livery and uniforms for the airline were revealed, though up until now they haven't revealed what we should expect from the cabins.
ZIPAIR's 787-8 Cabins Revealed
ZIPAIR has today revealed the details of the interior of their first 787-8, and it's quite surprising, in my opinion. Maybe some will disagree, but there are a couple of decisions they've made that I wasn't necessarily expecting.
ZIPAIR 787s Will Have 290 Seats
ZIPAIR's 787-8s will have 290 seats, including 18 business class seats and 272 economy seats. I'm surprised to see a leisure airline not offer premium economy, and furthermore to see a rather sparse configuration for what's intended to be a low cost carrier.
For example, Scoot and Jetstar 787-8s have up to 335 seats (including premium economy). So 290 seats actually doesn't seem that dense for a 787.
In fairness, the cabin is significantly denser than JAL's own 787-8s, some of which have just 161 seats. Then again, JAL is known for having really premium heavy configurations.
One of the airlines that's most efficient with three cabin configurations is Air Canada, and their 787-8s have 255 seats, including 20 business class seats, 21 premium economy seats, and 214 economy seats.
ZIPAIR's 787 Business Class
The 18 business class seats on ZIPAIR will in fact be JAMCO reverse herringbone seats, which seems awfully nice for a leisure low cost carrier. These are very similar to the seats that Japan Airlines is now installing on some of their planes.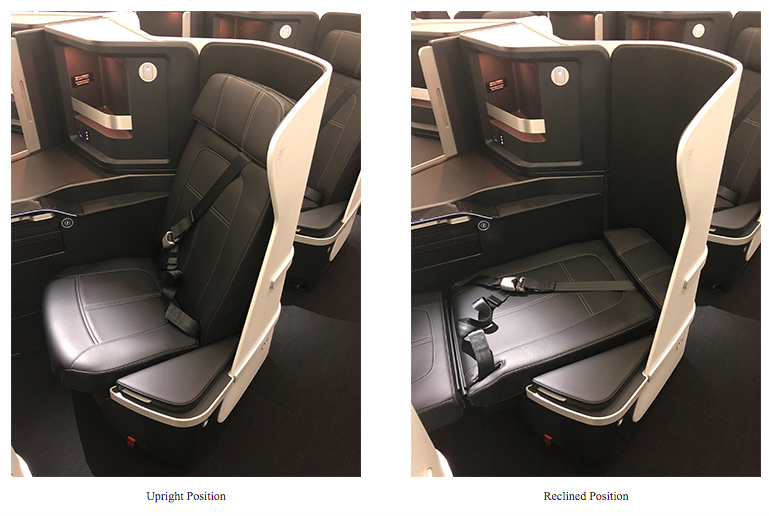 ZIPAIR's 787 Economy Class
In economy, ZIPAIR will be moving to nine abreast seating, with 31″ of pitch and 17″ of width per seat. This will be the same spacing that Japan Airlines currently has on their domestic flights.
Every seat will have power outlets and a personal entertainment holder.
It also sounds like seats will in fact slide forward when you recline, so they'll limit how much space you take up from the person seated behind you.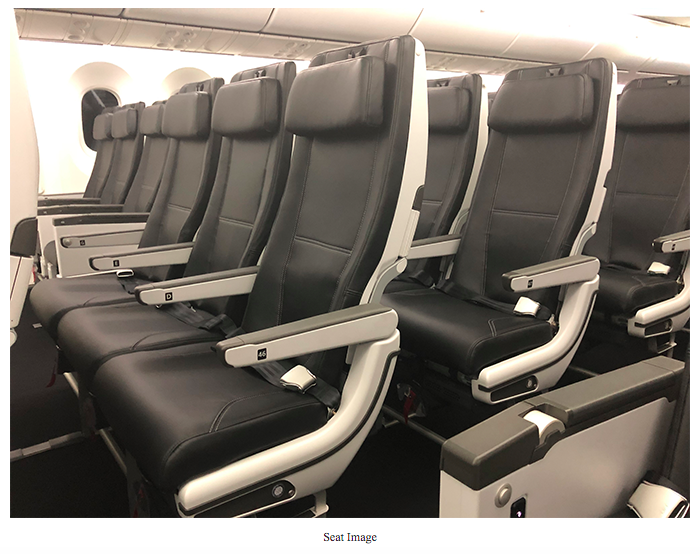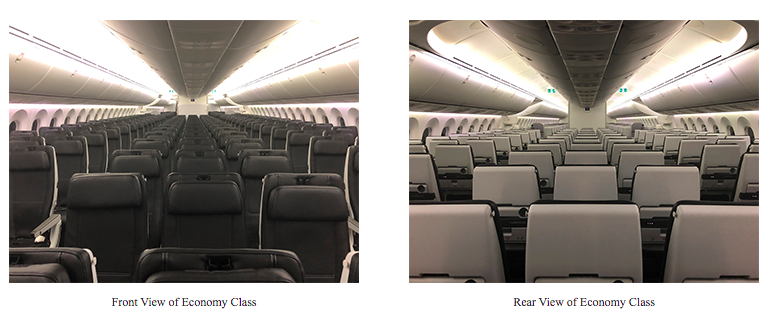 ZIPAIR 787s Won't Have Personal Televisions
ZIPAIR will offer what I believe are the first reverse herringbone seats in the world without personal televisions.
ZIPAIR won't have any personal televisions, but rather is focused on streaming entertainment, and that apparently won't even be free. The press release notes that the airline will offer "a fee-based option to browse the internet and stream movies on the passenger's smartphone or tablet."
Apparently not installing televisions will save about 1,000 pounds from the plane's weight. That's actually less weight savings than I was expecting.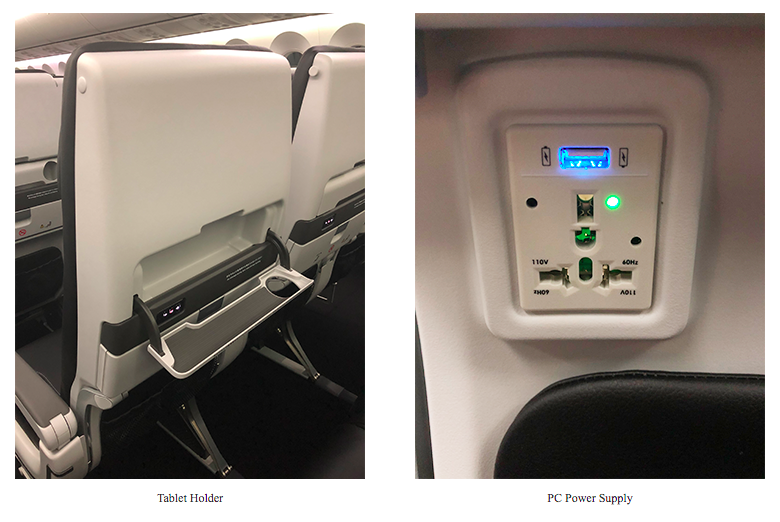 Bottom Line
There's a lot I find interesting about ZIPAIR's 787s. The 290 seat capacity is way denser than Japan Airlines' standard 787s, but there are much denser configurations out there.
To me it's surprising to see a low cost carrier install a proper business class but not a premium economy product, and in particular to see those business class seats be reverse herringbone.
While many airlines are moving towards streaming entertainment, it sounds like you'll even have to pay to stream entertainment. While not that surprising for a low cost carrier, ultimately it has always seemed to me like Japanese airlines operate at higher standards than other airlines, so that is a bit surprising.
What do you make of ZIPAIR's 787 cabins?