ZIPAIR has just introduced the world's first truly basic business class, and it sure is intriguing.
What is ZIPAIR?
ZIPAIR is Japan Airlines' new low cost carrier. The airline was supposed to launch passenger operations this past summer, but as you might expect, the timing for that wasn't great in light of the pandemic.
The airline initially has a fleet of two Boeing 787-8s, and the plan is that the fleet will grow by around two planes per year. ZIPAIR plans to get its 787s either from Japan Airlines, or other sources.
ZIPAIR's 787s feature a total of 290 seats, including 18 business class seats and 272 economy seats. There are reverse herringbone seats in business class, while economy is in the typical 3-3-3 configuration. There are no personal televisions at any seat, but rather the airline will offer free wifi and streaming.
ZIPAIR launching Narita to Incheon flights
ZIPAIR is launching passenger operations as of October 16, 2020, as the airline will fly twice weekly between Tokyo Narita and Seoul Incheon. The airline will operate the route on Tuesdays and Fridays with the following schedule:
ZG41 Narita to Incheon departing 9:15AM arriving 11:50AM
ZG42 Incheon to Narita departing 1:30PM arriving 3:55PM
The airline is separately operating some cargo-only flights, but long term the plan is for the airline to launch passenger flights to Bangkok, Honolulu, Los Angeles, and beyond.
The carrier's strategy essentially seems to be to undercut existing airlines in popular markets, rather than picking out more niche point-to-point leisure routes.
ZIPAIR's basic business class
Looking at ZIPAIR's fares, what stands out most about the airline is that it has unbundled business class in a way that we've never seen before. We've seen how widespread basic economy has become in recent years, and this is essentially basic business class.
ZIPAIR's business class is known as "ZIP Full-Flat," and there are four pricing bundles available:
Simple, which includes nothing extra
Biz, which includes a seat assignment and carry-on bag (for an extra $24 one-way)
Value, which includes a seat assignment, checked bag, and an in-flight meal (for an extra $50 one-way)
Premium, which includes a seat assignment, checked bag, carry-on bag, in-flight meal, and amenity (for an extra $78 one-way)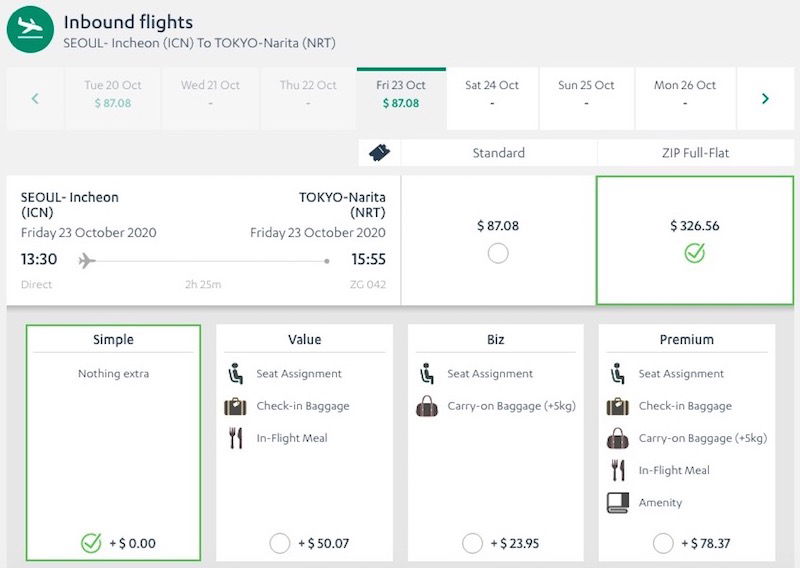 Like I said, we've never seen business class unbundled to this extent before, where some business class tickets just include the seat, and nothing else.
Some of the individual pricing components of these fares aren't exactly what you'd expect. For example, if you book the most basic "Simple" fare, you can still add individual services.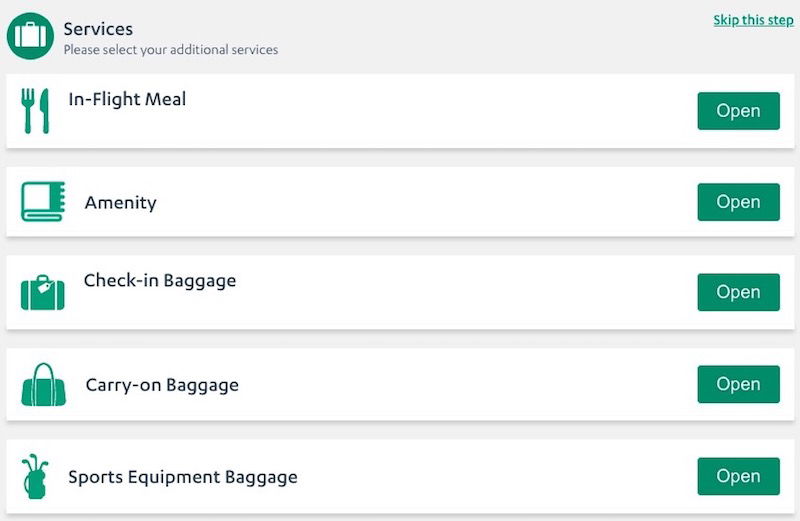 A seat assignment on a one-way flight costs just under $3, which sure seems low.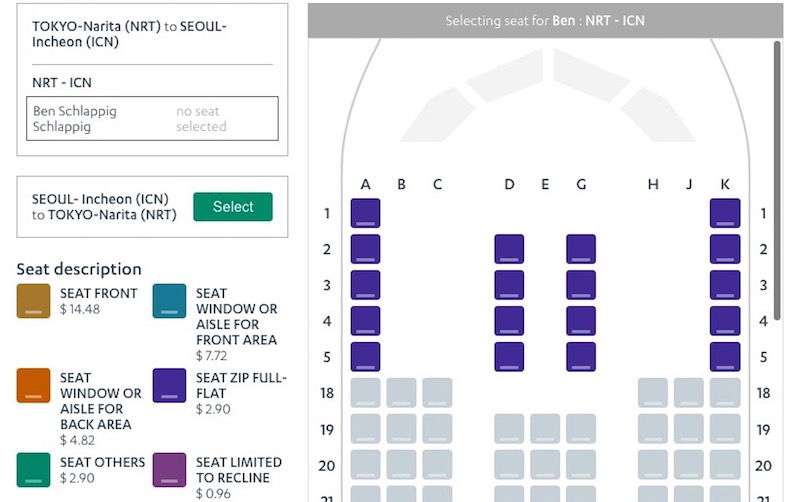 In-flight meals cost ~$15-25 each.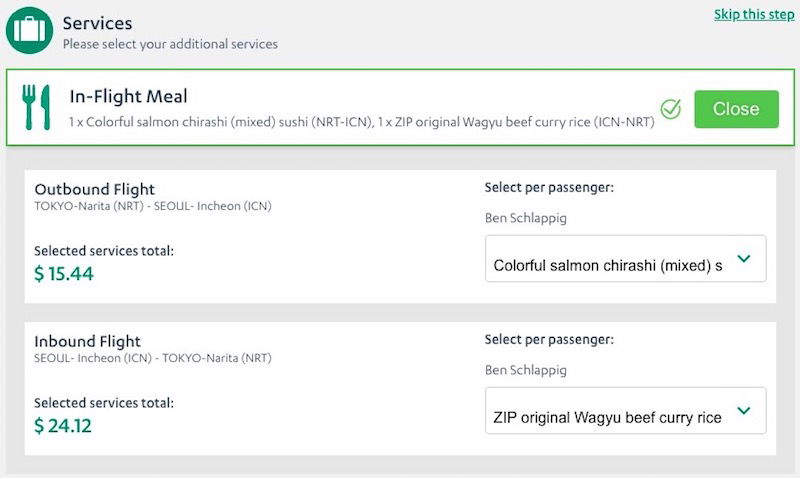 You can add two different amenity options, each costing ~$25-30 (though it's not actually clarified what's included there — are these amenity kits, blankets and pillows, or what?). That pricing seems rather high to me.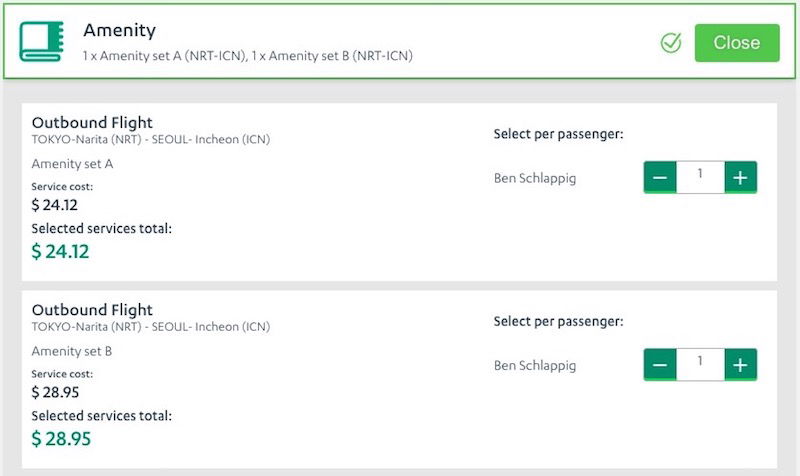 Carry-on bags cost ~$20 each, while checked bags cost ~$29-39 each.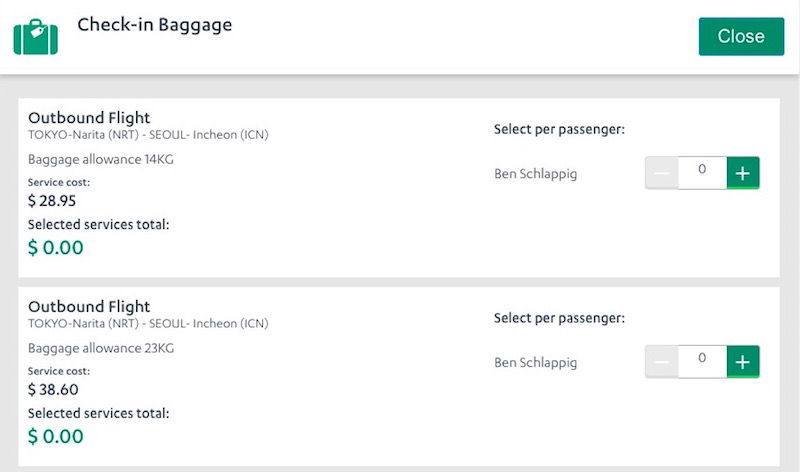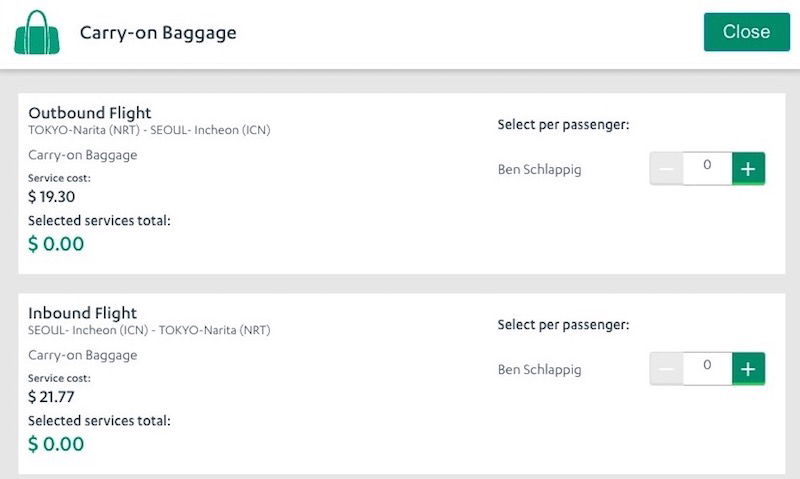 Yes, Emirates has basic business class, but…
If the concept of basic business class sounds familiar, it's probably because of Emirates. Emirates introduced this concept in mid-2019, as the airline introduced special business class fares that:
Didn't come with lounge access
Didn't include chauffeur service
Didn't allow mileage upgrades to first class
Included restricted seat assignment options
Only allowed limited mileage earning
While that was a significant development for a full service carrier, what ZIPAIR is doing is on a completely different level. The airline is literally selling just the seat in business class, and everything else costs extra. In other words, for "basic" fares there's no differentiation in privileges between economy and business class.
Bottom line
ZIPAIR is finally launching passenger operations in about a week, as the airline will fly twice weekly between Narita and Incheon. What's perhaps most noteworthy about this is how the airline is unbundling business class, in a way we've never seen before.
ZIPAIR has, to my knowledge, become the first airline in the world to sell business class seats with zero inclusions. It's an intriguing concept, and I'm curious to see how this plays over time.
What do you make of ZIPAIR's extremely unbundled business class fares?
(Featured image courtesy of Melv_L)