---
Since I had flown in from Miami the same day and wanted to leave a buffer in Denver (given American's on-time performance) I had quite a long layover. I spent my time in the American Admirals Club getting caught up on work, and also walked around the terminal. This concourse sure has a lot of Frontier planes!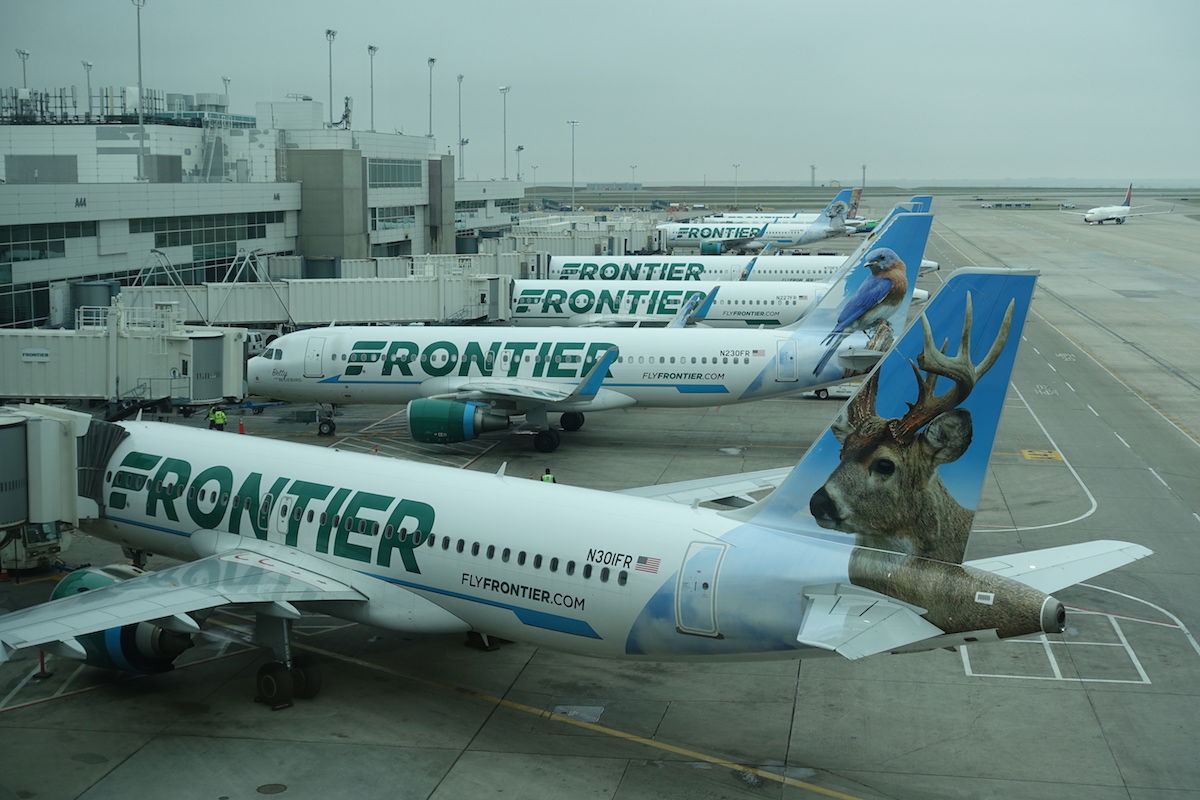 Frontier planes in Denver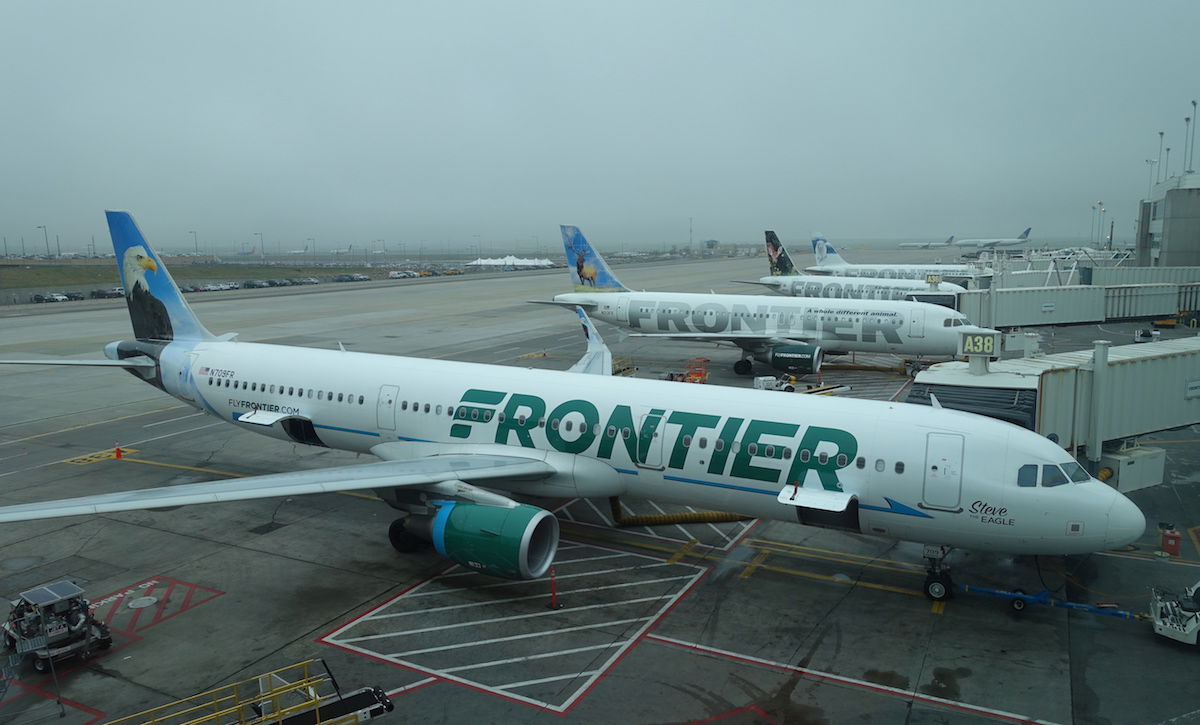 Frontier planes in Denver
My flight was departing from gate A39 at 1:25PM, so I headed to the gate about 45 minutes before departure. While boarding was scheduled to start at 12:45PM, in reality the plane only arrived from Calgary at 12:50PM, so it was delayed a bit.
They sure turned the plane around quickly, though, and by 1PM they started boarding. On WestJet boarding starts with families, followed by Zone 1, which includes those traveling in WestJet Plus.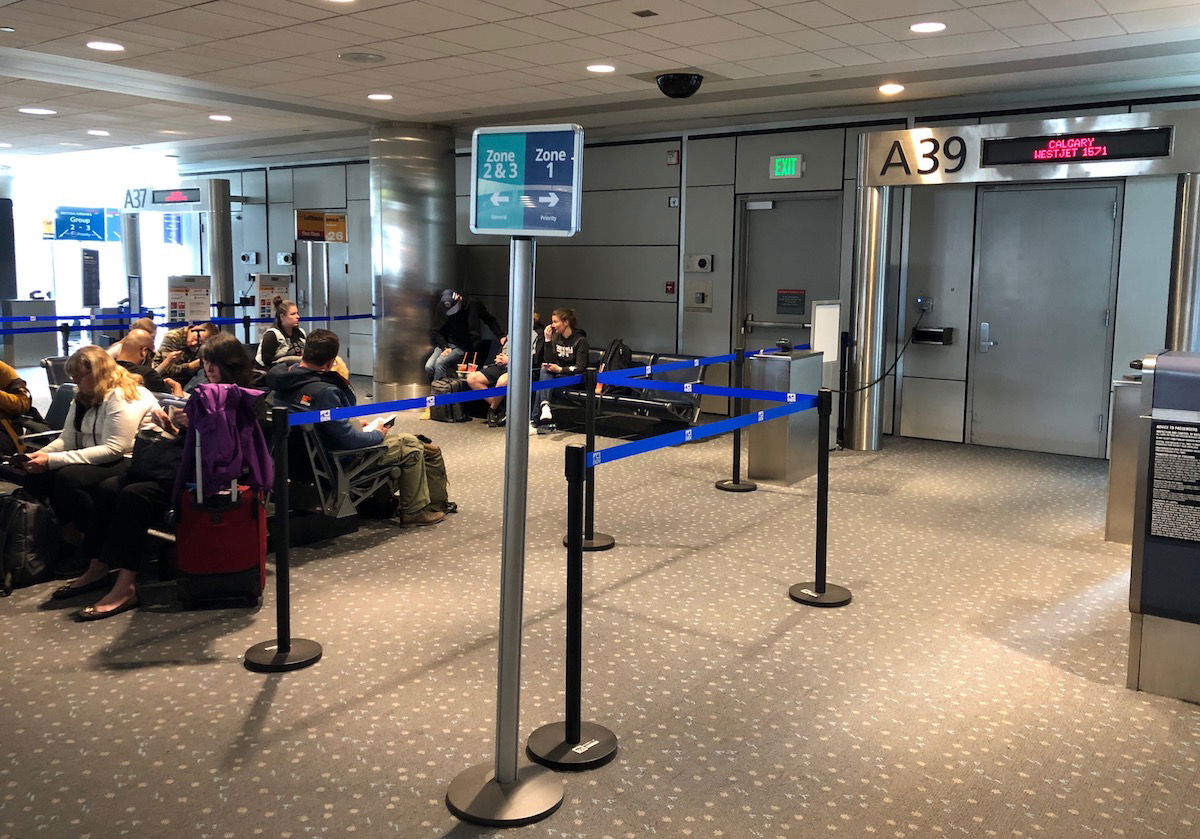 WestJet departure gate Denver
WestJet 1571
Denver (DEN) – Calgary (YYC)
Tuesday, April 30
Depart: 1:25PM
Arrive: 3:49PM
Duration: 2hr24min
Aircraft: Boeing 737-700
Seat: 3A (WestJet Plus)
While WestJet doesn't currently have business class on their 737s, they do have WestJet Plus, which is like a slightly better version of intra-Europe business class. There are 12 WestJet Plus seats in the first three rows of the plane — the middle seats are blocked, and there's 36″ of pitch, which is excellent (probably an average of 5-6″ more pitch than you'll find in intra-Europe business class).
Note that in 2018 WestJet announced they'd start installing proper business class seats on their 737s, though to my knowledge no planes feature these seats as of now. That might largely be because the 737 MAXs have been grounded, and those were supposed to be the first planes to get those seats.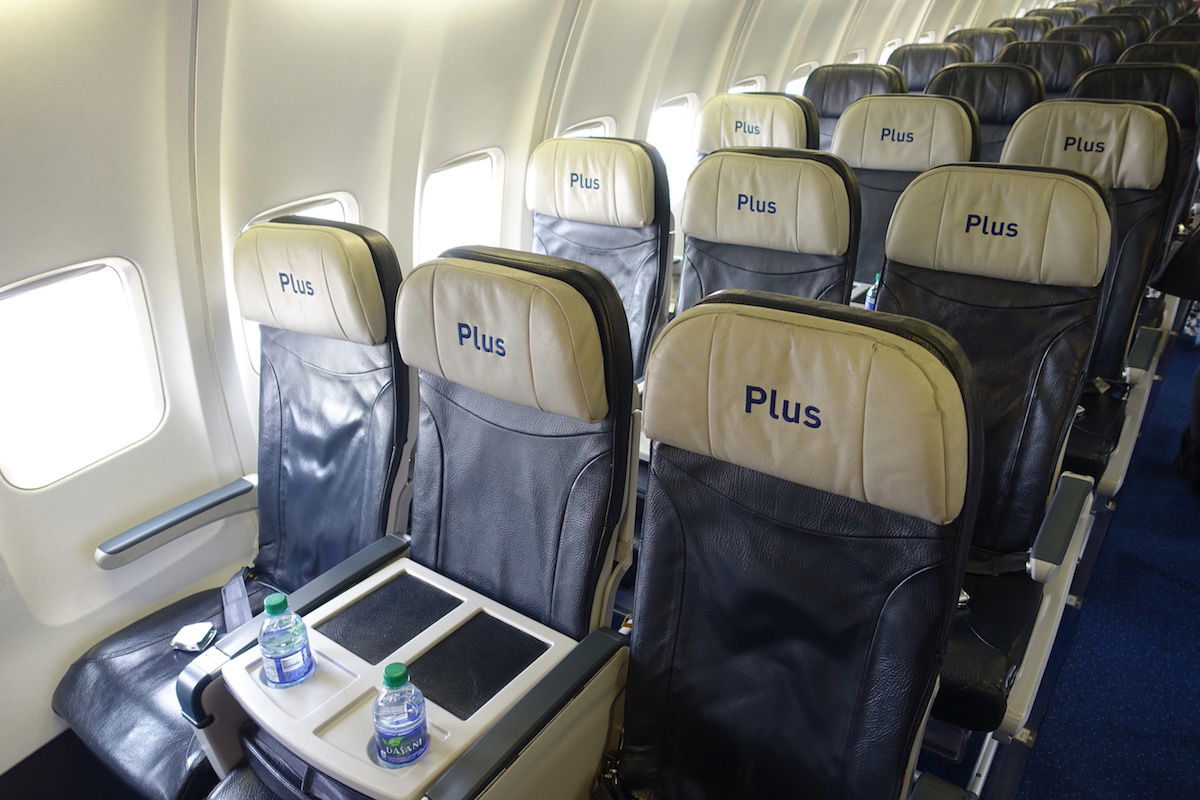 WestJet Plus cabin 737
The legroom in WestJet Plus really is excellent, better than what you'll find in the extra legroom economy sections on most US carriers.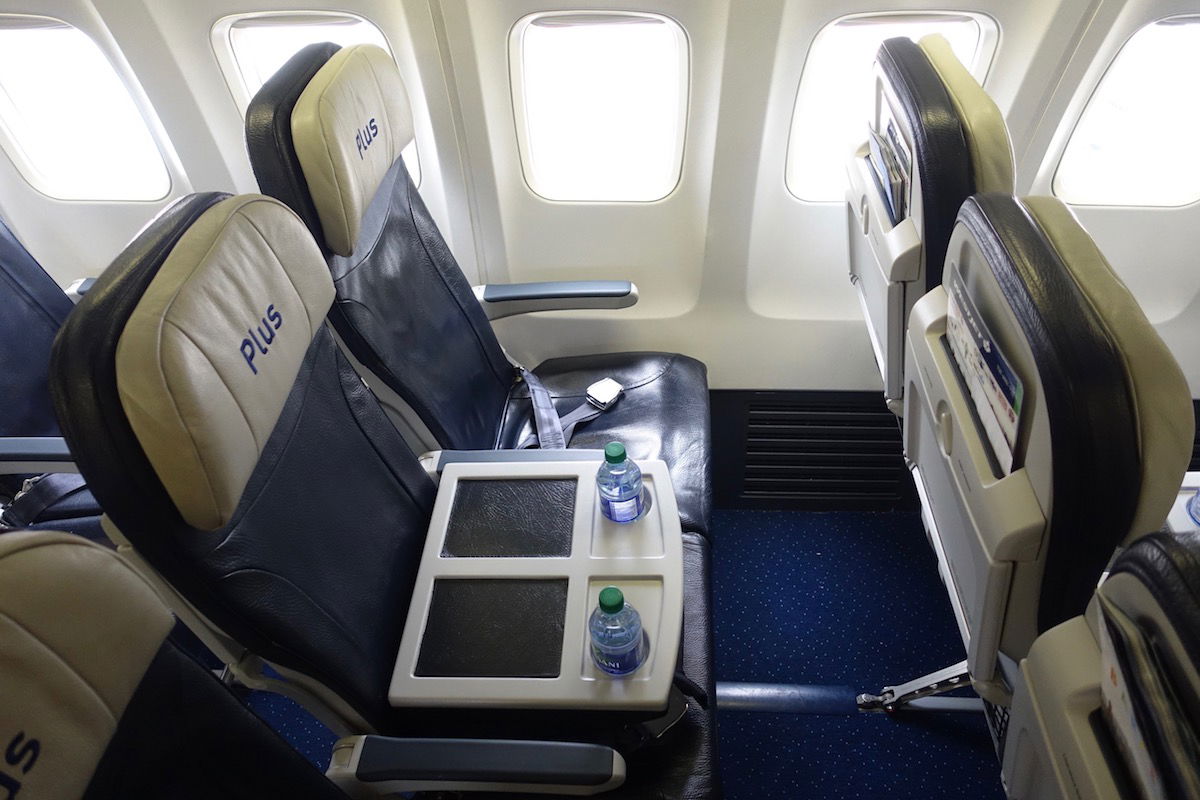 WestJet Plus seats 737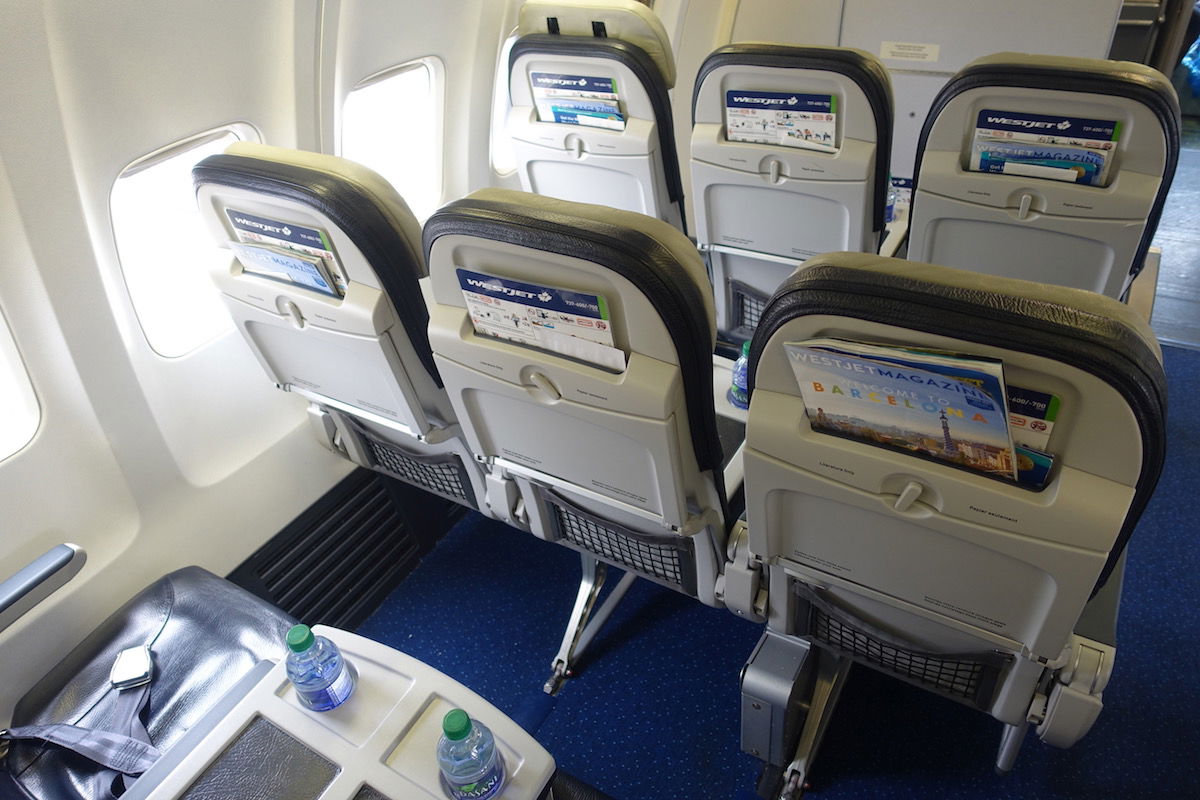 WestJet Plus seats 737
Even the row immediately behind WestJet Plus had excellent legroom. Economy legroom is apparently 31-33″, so this was definitely on the upper end of that.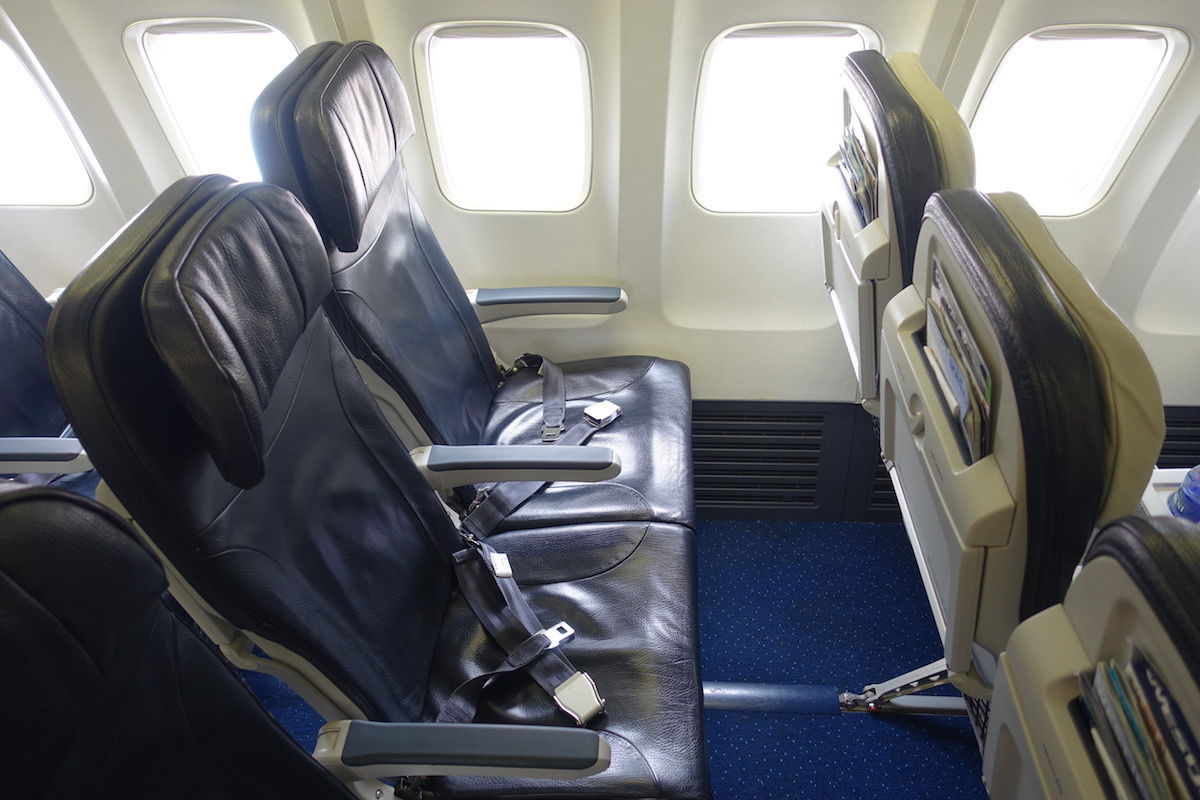 WestJet 737 economy seats
The WestJet Plus seats had a tray on the center seat, and there was a bottle of water waiting there for me.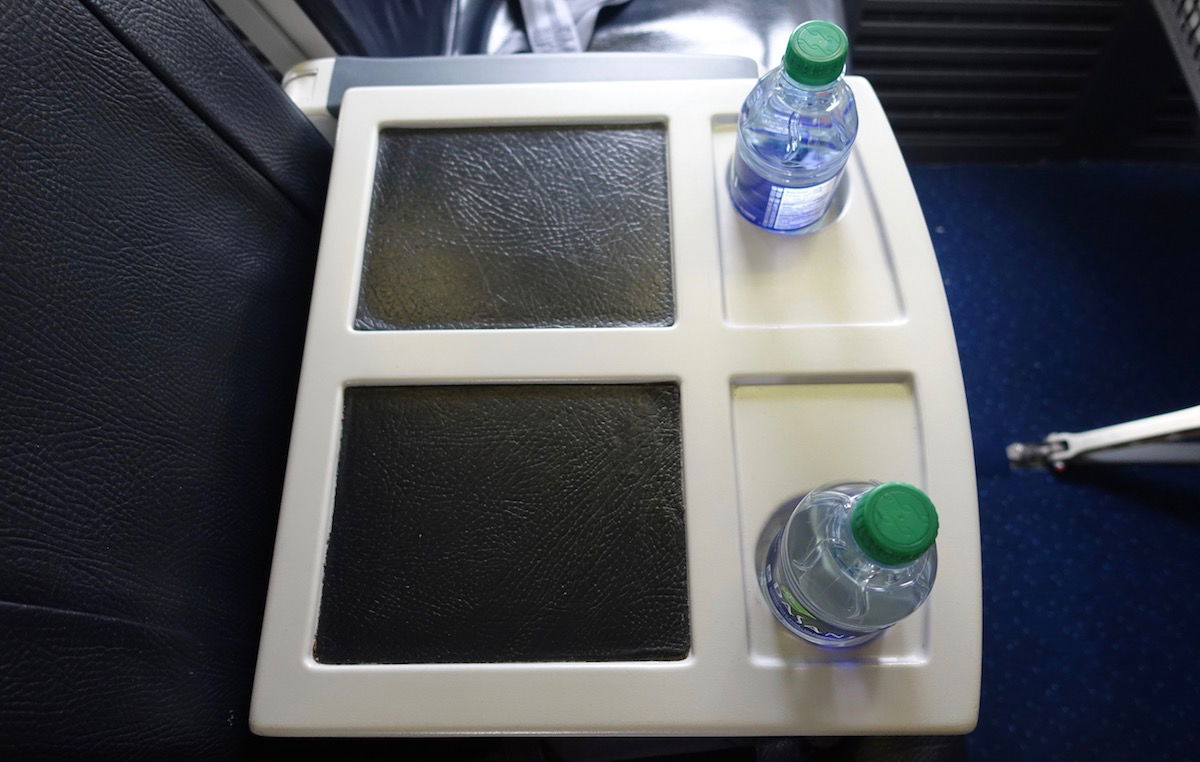 WestJet Plus center seat tray table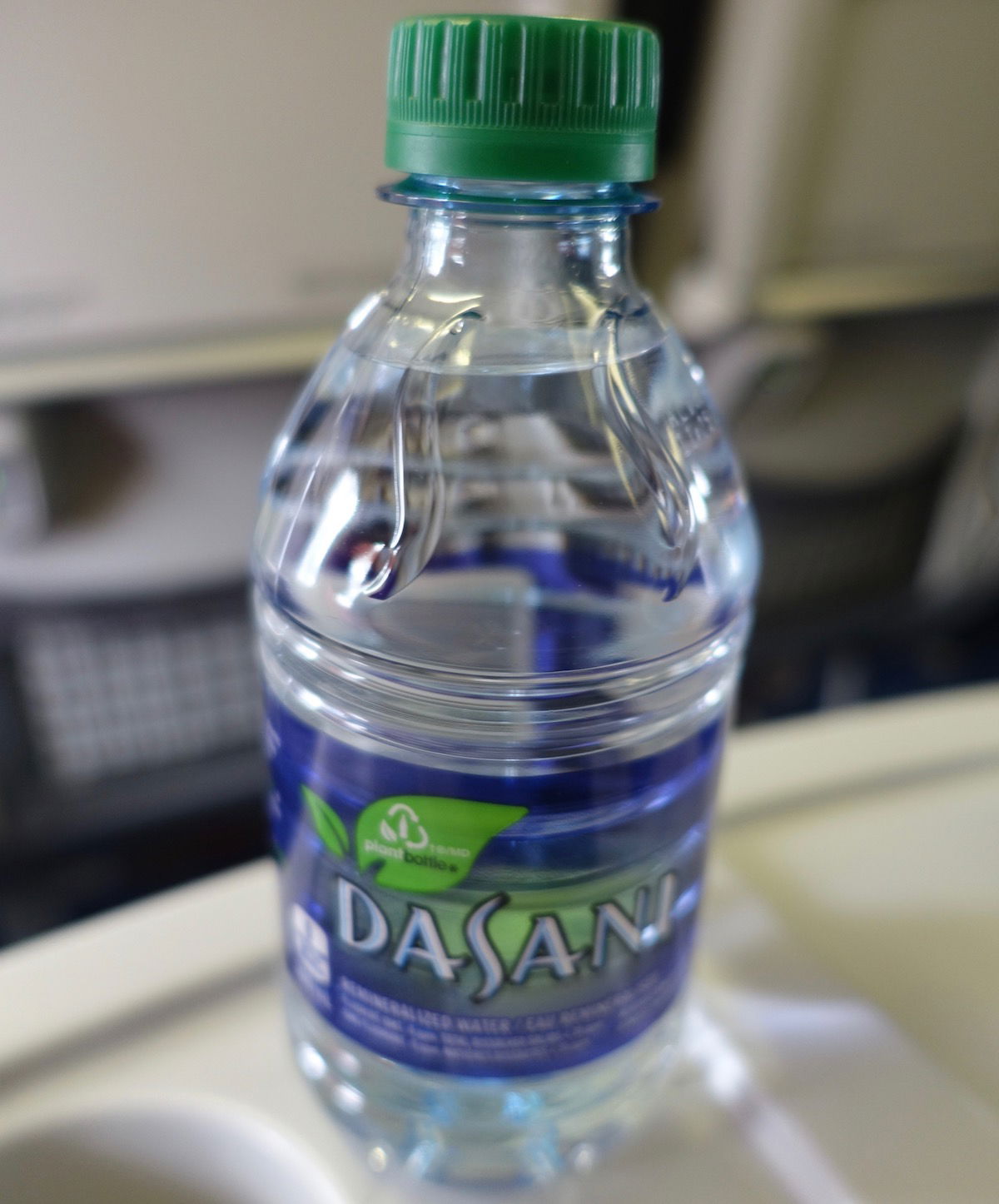 WestJet Plus bottled water
Each of the seats had a power outlet, with both a 110v and USB plug.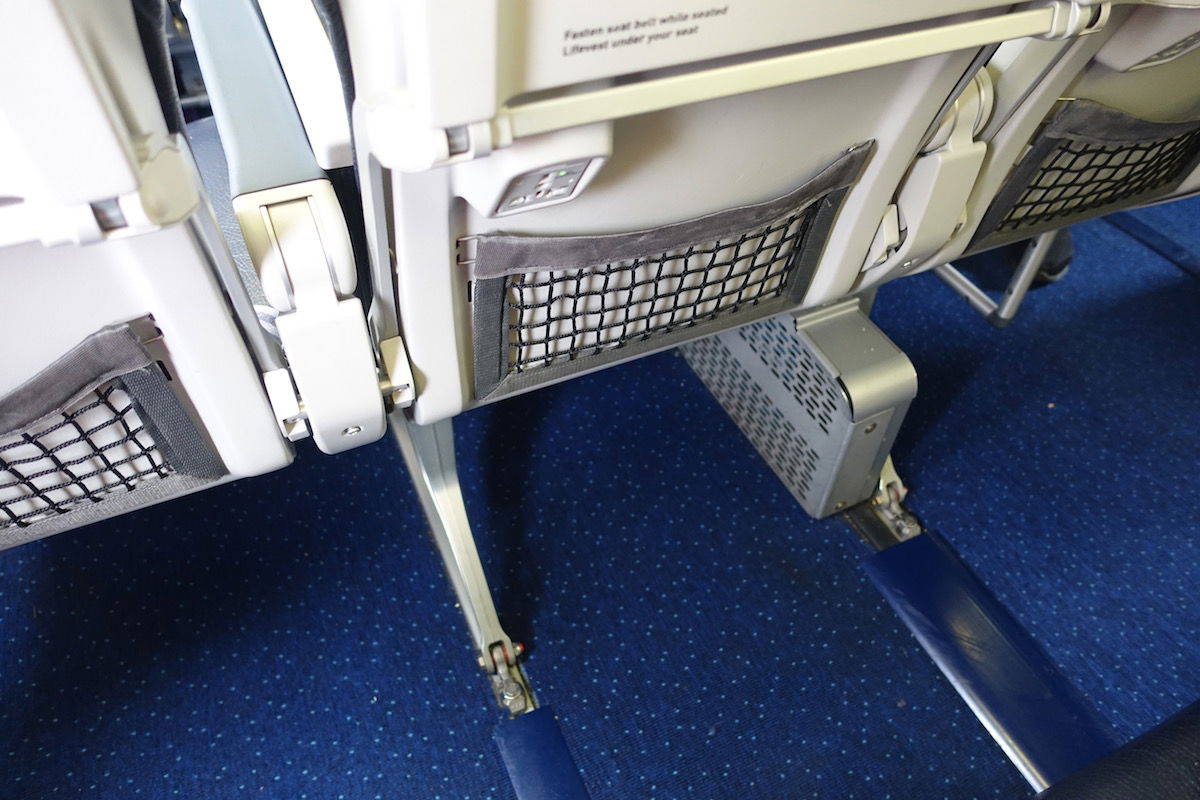 WestJet Plus legroom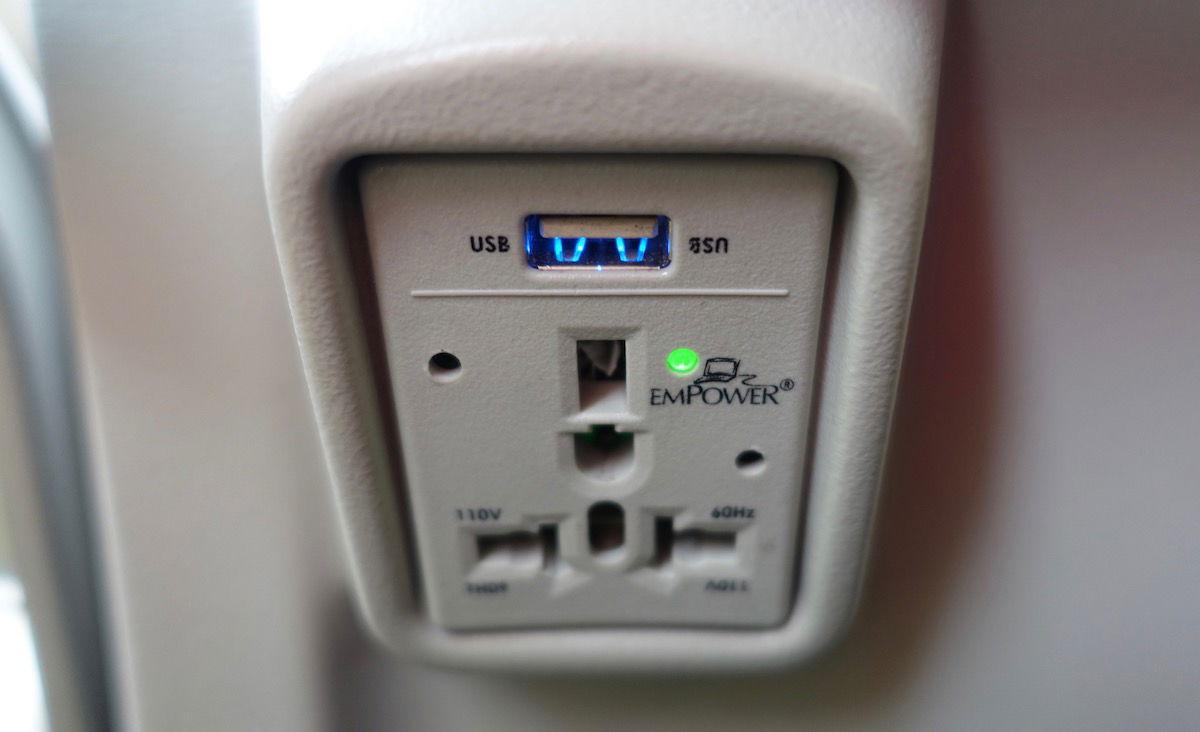 WestJet Plus power outlet
The tray table was pretty standard, and as is the case with many "slim" seats nowadays, the literature pocket wasn't really a pocket, but just had a "bar" in the middle to keep everything in place.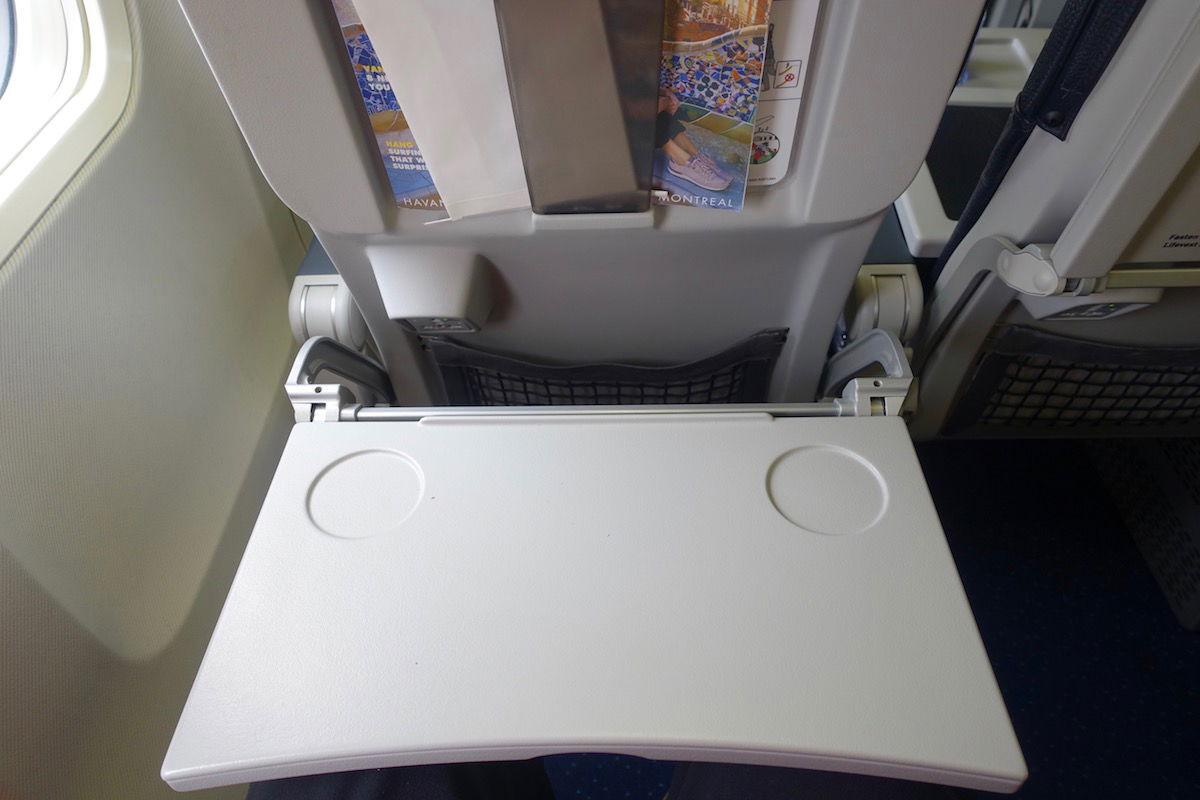 WestJet Plus tray table
Boarding was extremely efficient, and shortly after 1:20PM boarding was complete. The flight was mostly full, and in the WestJet Plus cabin 10 of the 12 seats were taken.
While my business class ticket included WestJet Plus, WestJet also consistently sells upgrades to the cabin at a reasonable cost at check-in, which seems to usually be how these seats get filled.
The door closed by 1:30PM, and at that point the lead flight attendant, Jamie, made her welcome aboard announcement. Shortly thereafter the manual safety demonstration started, which was first performed in English, and then in French.
By 1:35PM we began our pushback, and by 1:40PM we began our taxi.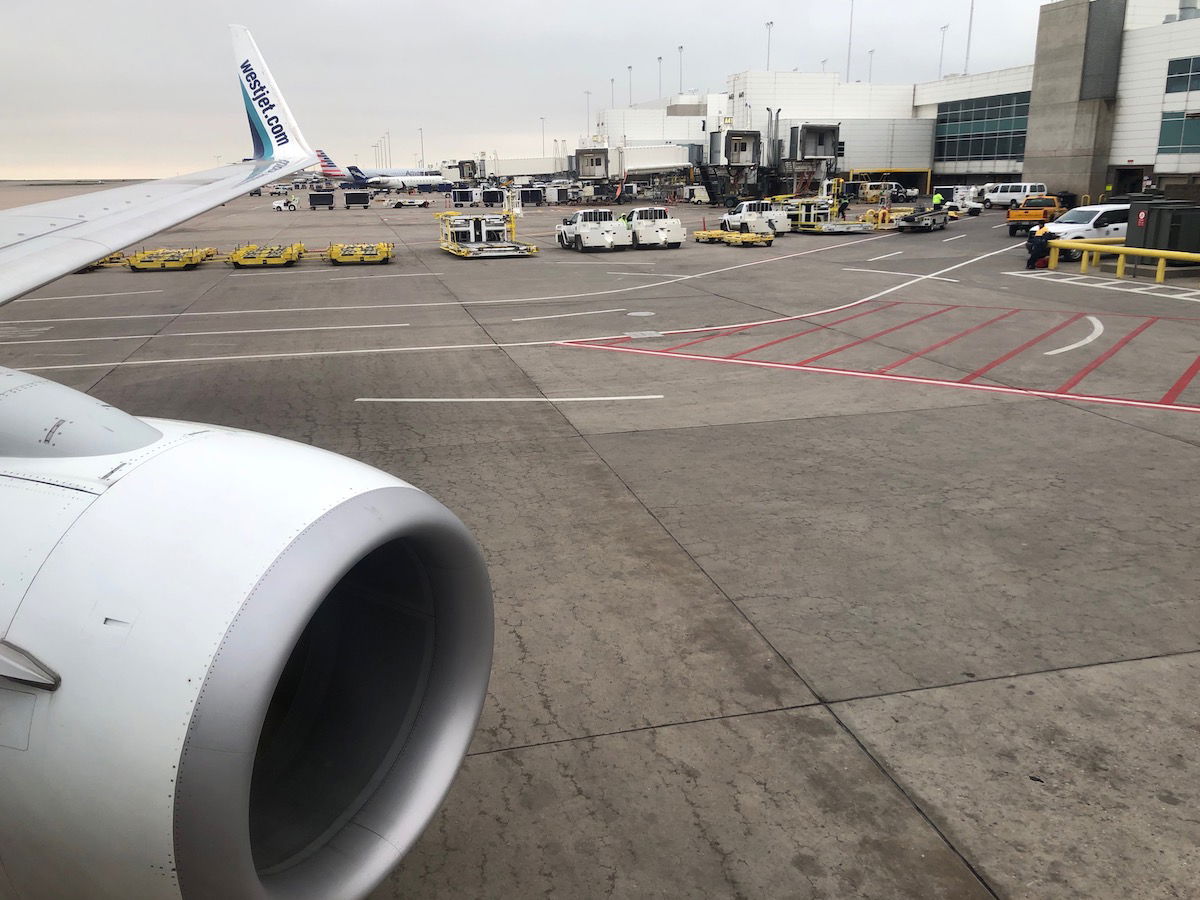 Pushing back Denver Airport
We had a short taxi, though while taxiing out the captain made his welcome aboard announcement, informing us that our flight time was two hours, and that we'd be cruising at 40,000 feet.
At 1:45PM we were cleared for takeoff on runway 34L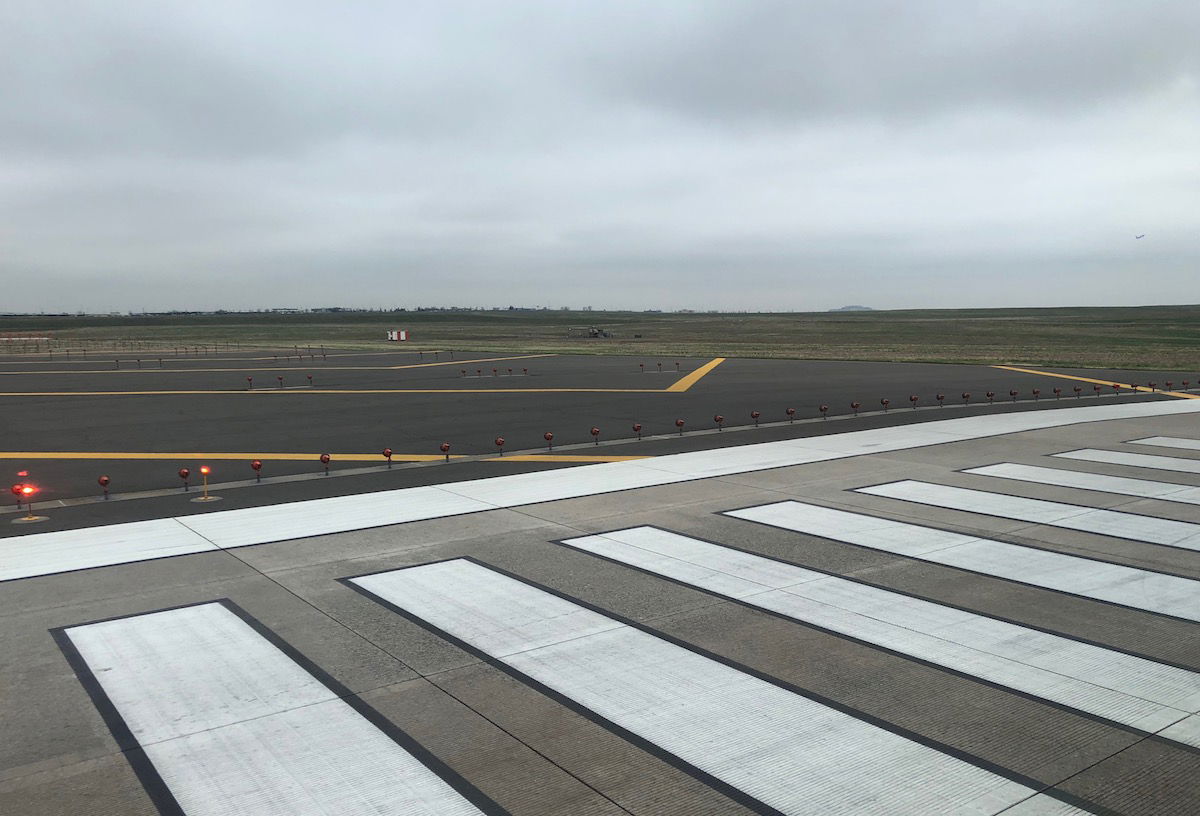 Taking off from Denver
There was quite a bit of chop on the initial climb out, as is often the case when departing Denver.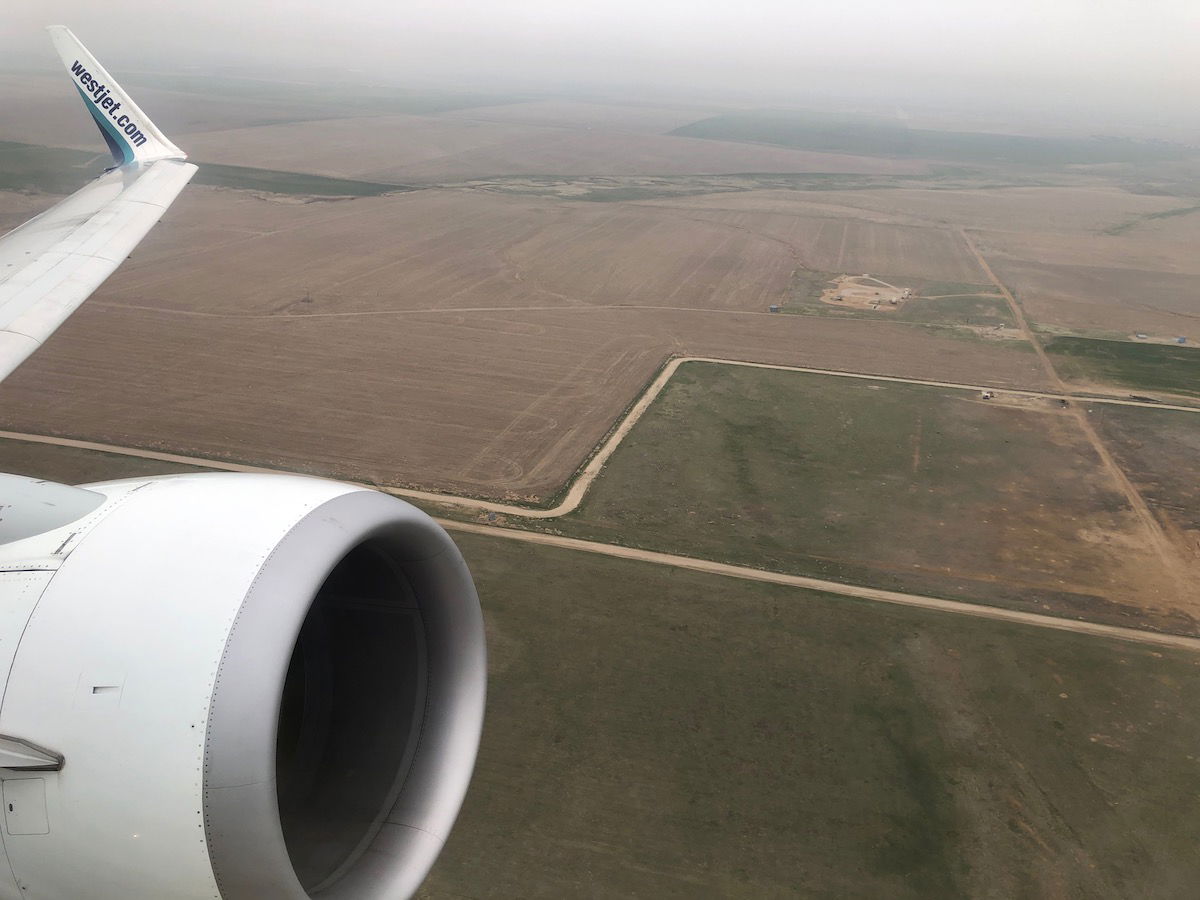 View after takeoff from Denver
The seatbelt sign was turned off about 15 minutes after takeoff, at which point landing cards were distributed for Canada. Even though I was connecting internationally, I still had to fill this out.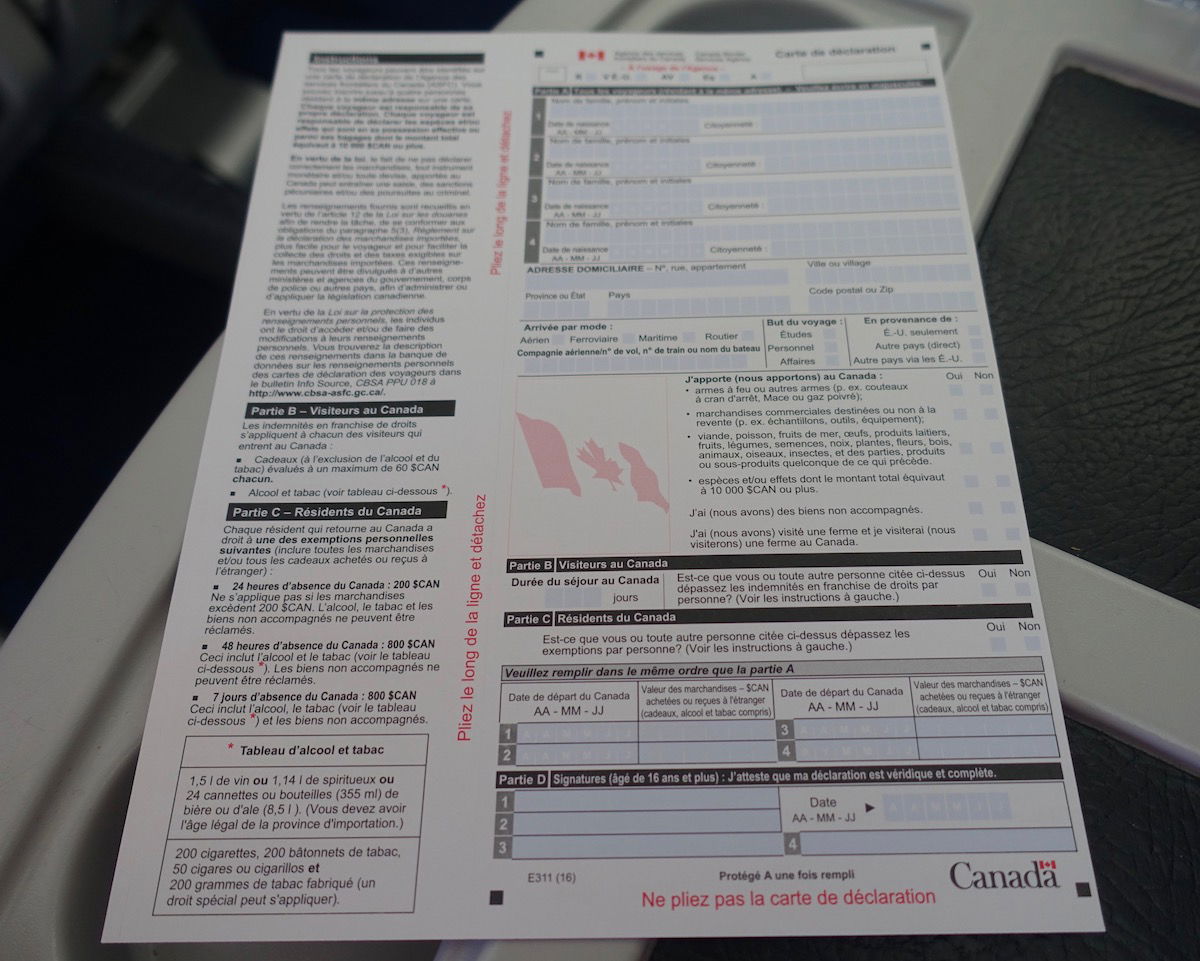 Immigration cards for Canada
10 minutes later the flight attendant came through the WestJet Plus cabin to take drink orders. While I really only wanted water, I figured I had to order something more interesting for the sake of the review. 😉
So I ordered champagne, since I was curious what they had. Well, suffice to say that was a mistake. WestJet offers Bottega Gold prosecco in Plus, which is… not amazing. On the plus side, at least they offer proper glassware.
There was also a snack basket with a few options — I selected some roasted almonds and a granola bar.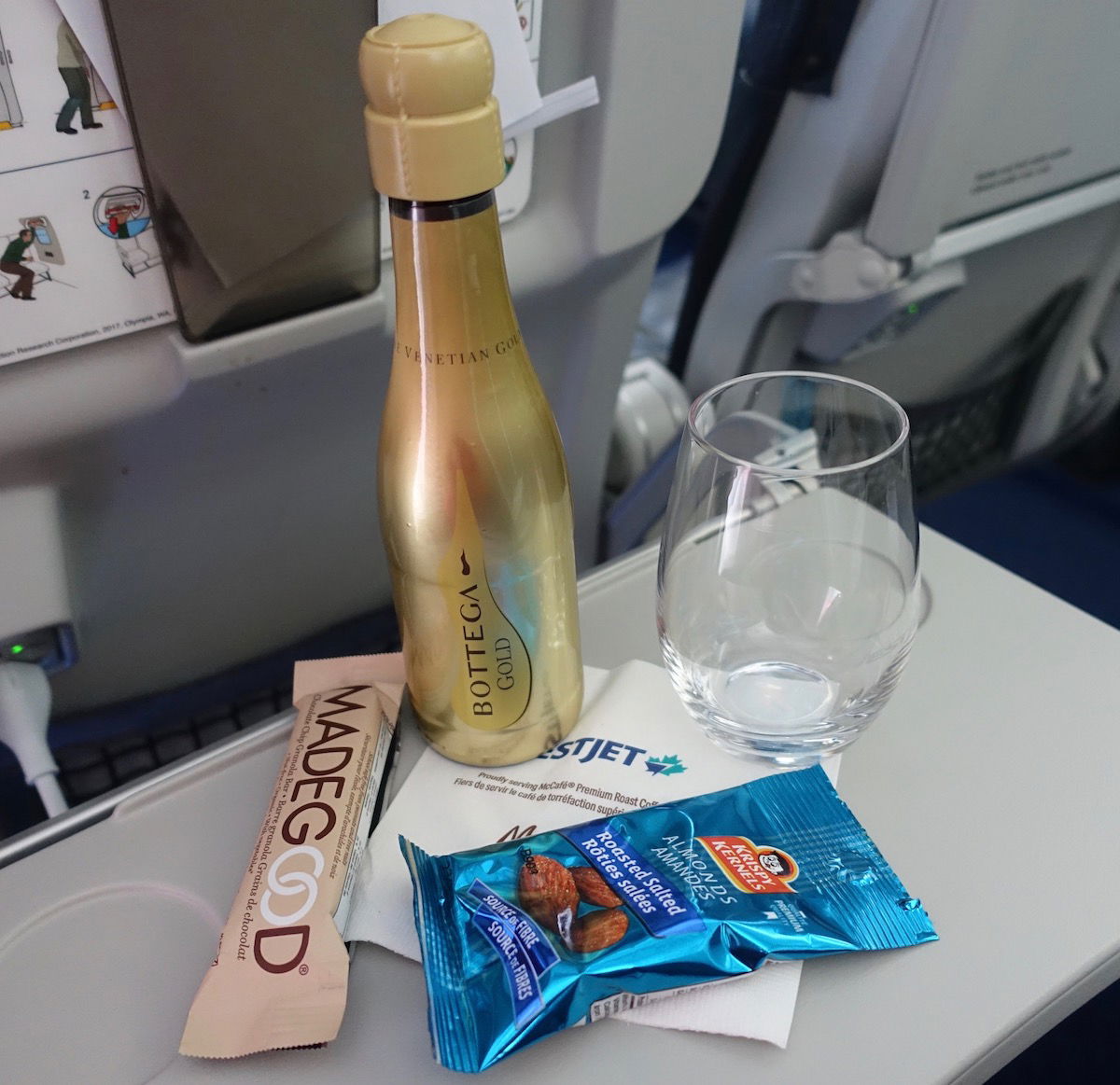 WestJet Plus drink & snack service
On longer flights WestJet offers meals in Plus, though I guess this one was just under that limit, because I've had meals on slightly longer flights. When they do have meals and more substantial snacks, they're typically served in snack boxes. Think things like cheese plates, salads, and sandwiches.
The flight attendant working Plus was great — she constantly checked on passengers to see if they wanted anything else. I couldn't help but feel like everyone else in the cabin was getting hammered. It sure seemed to me like just about everyone else had at least three drinks — I guess they wanted their money's worth.
I was really happy to see that my flight had Wi-Fi. WestJet's Wi-Fi pricing is as follows, all based on time rather than data usage:
90 minutes cost 10.99CAD
Full flight pass cost 21.99CAD
24 hour pass cost 32.99CAD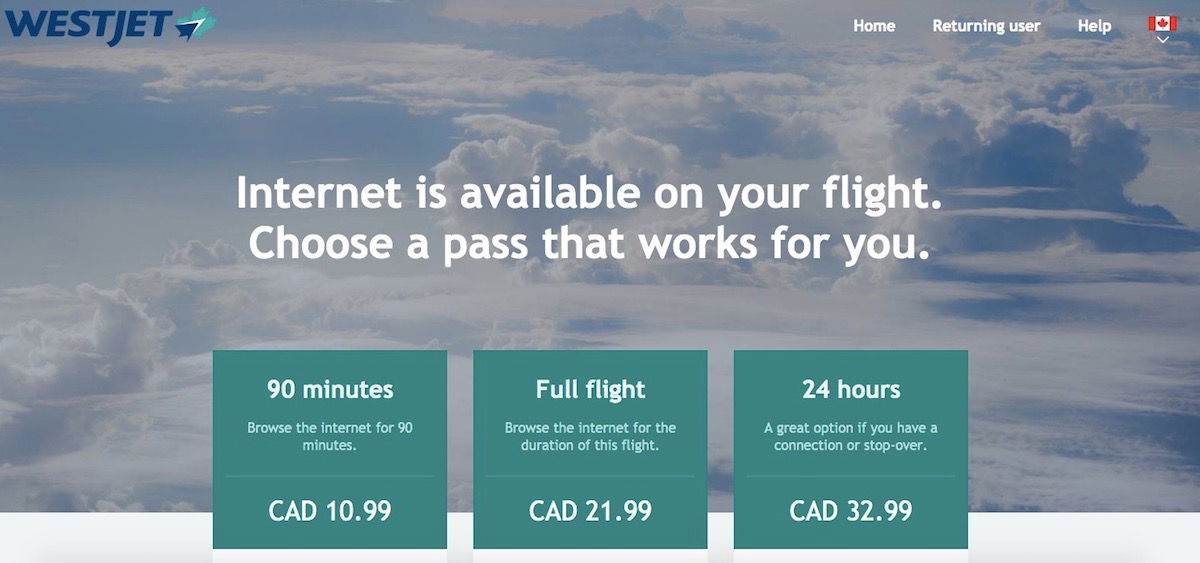 WestJet 737 Wi-Fi
I purchased the 24 hour pass, since it would allow me to use Wi-Fi on this flight and my connecting flight to London. The Wi-Fi was fast, so I was thrilled to be able to stay productive during the flight. Thanks to the 36″ of seat pitch I also had no problem keeping my laptop screen open even when the person in front of reclined.
WestJet also offers streaming entertainment through the Wi-Fi, as they have no other TV screens on the plane.
Shortly before we started our descent I checked out the lavatory at the front of the cabin. WestJet enforces that the forward lavatory is only for Plus passengers, as several people were turned away, despite the lack of a proper partition between cabins.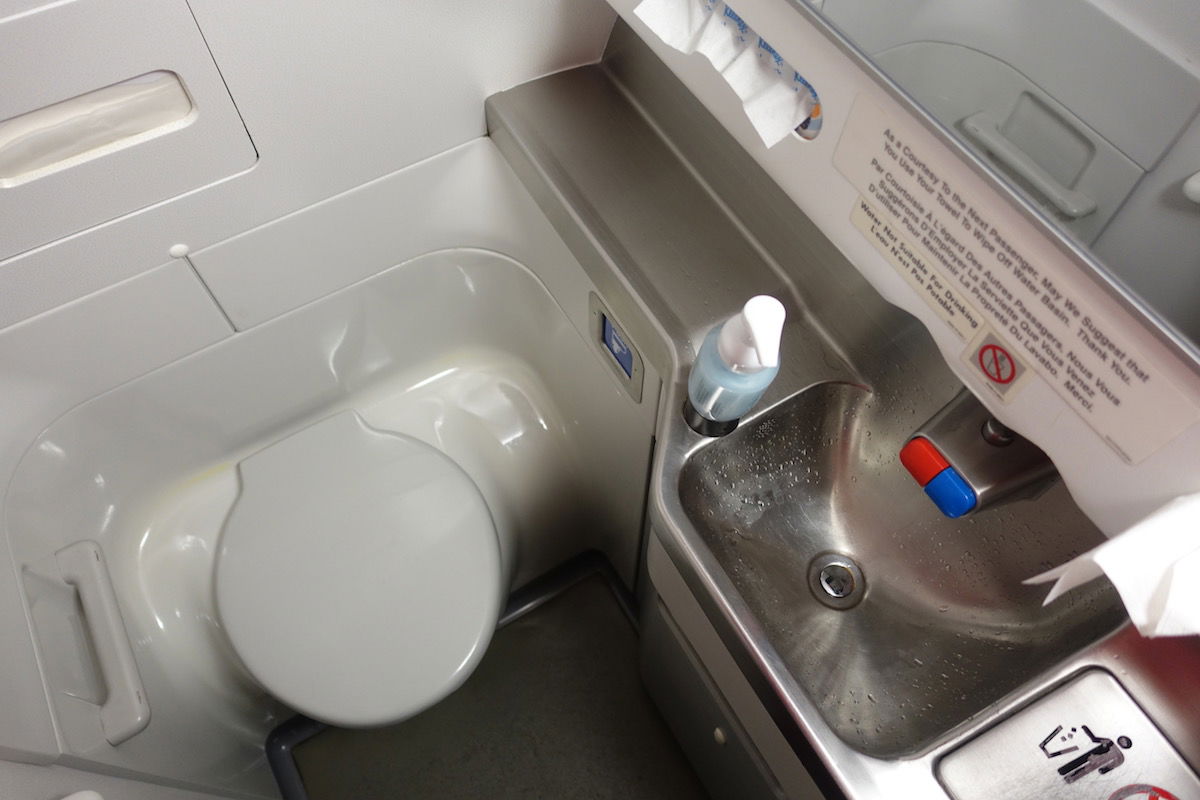 WestJet 737 lavatory
At around 3:15PM the captain announced we'd be landing at 3:45PM, and a few minutes later we began our descent.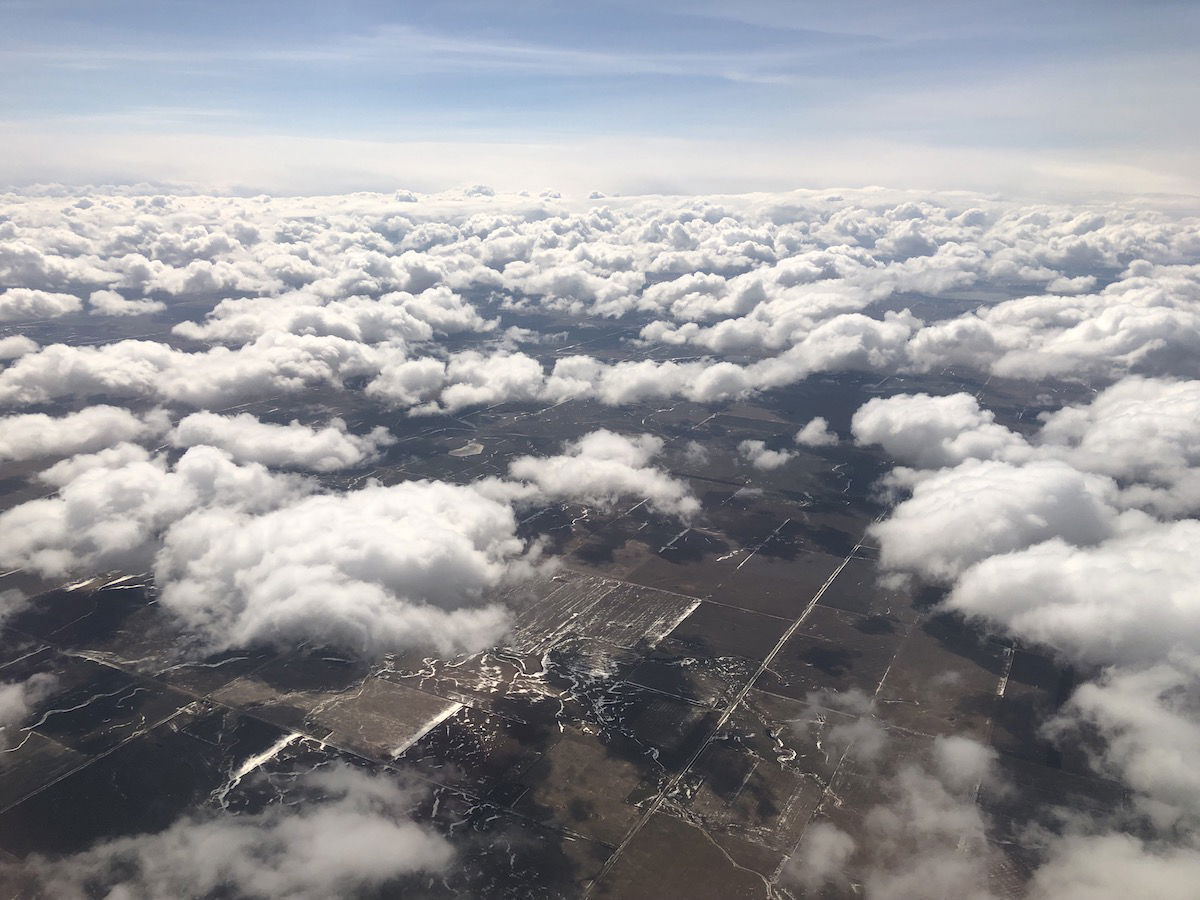 View enroute to Calgary
We hit some significant chop starting about 15 minutes before landing, which lasted for about 10 minutes.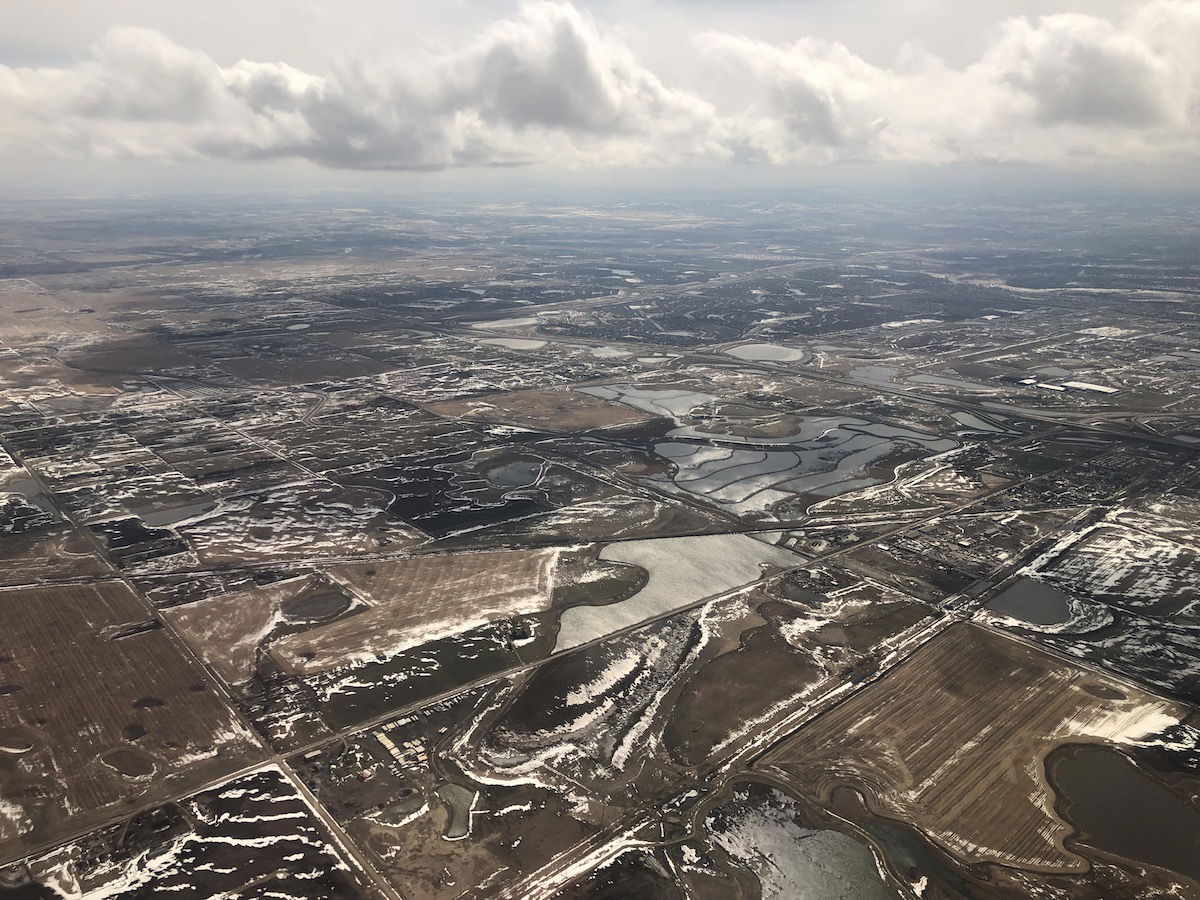 View approaching Calgary
The views on approach were beautiful, including of the Calgary skyline.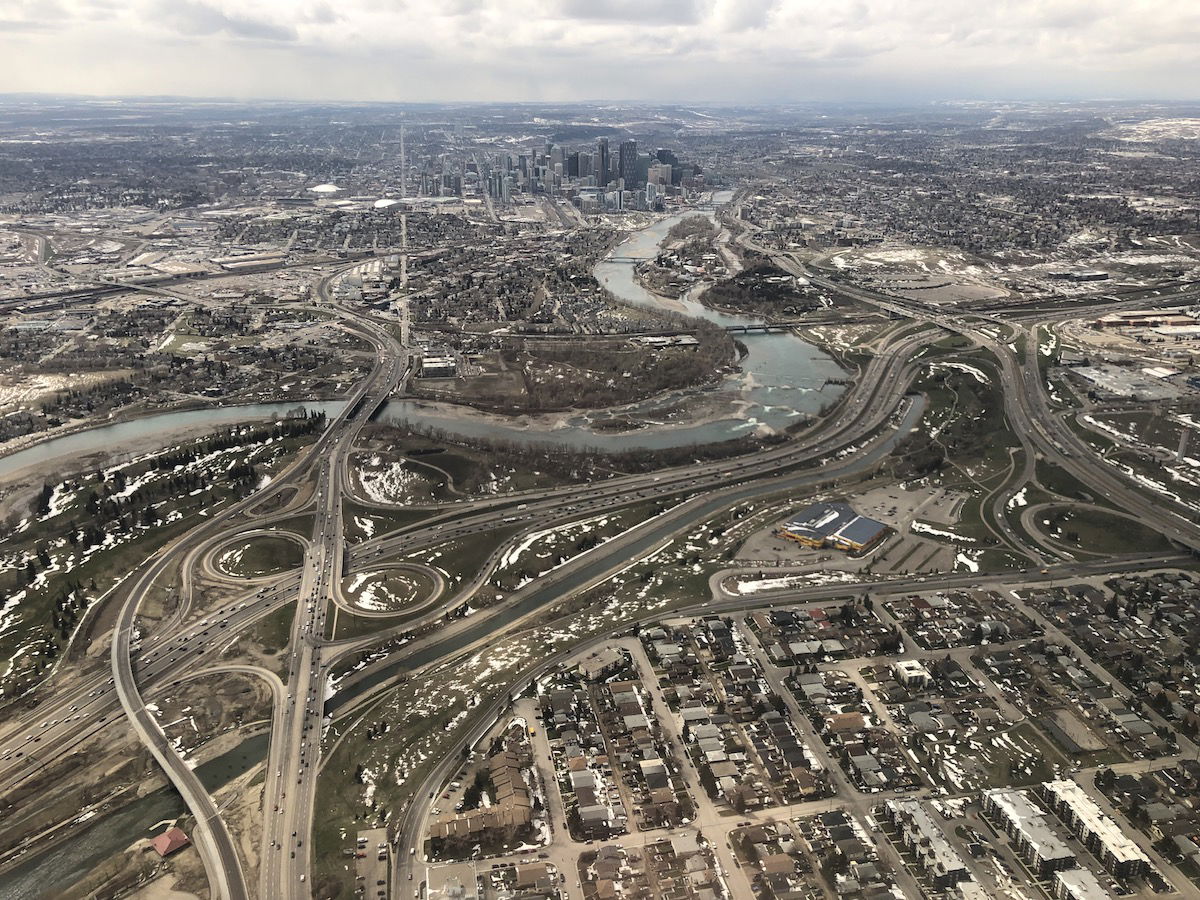 View approaching Calgary
I'm not really used to seeing snow in late April!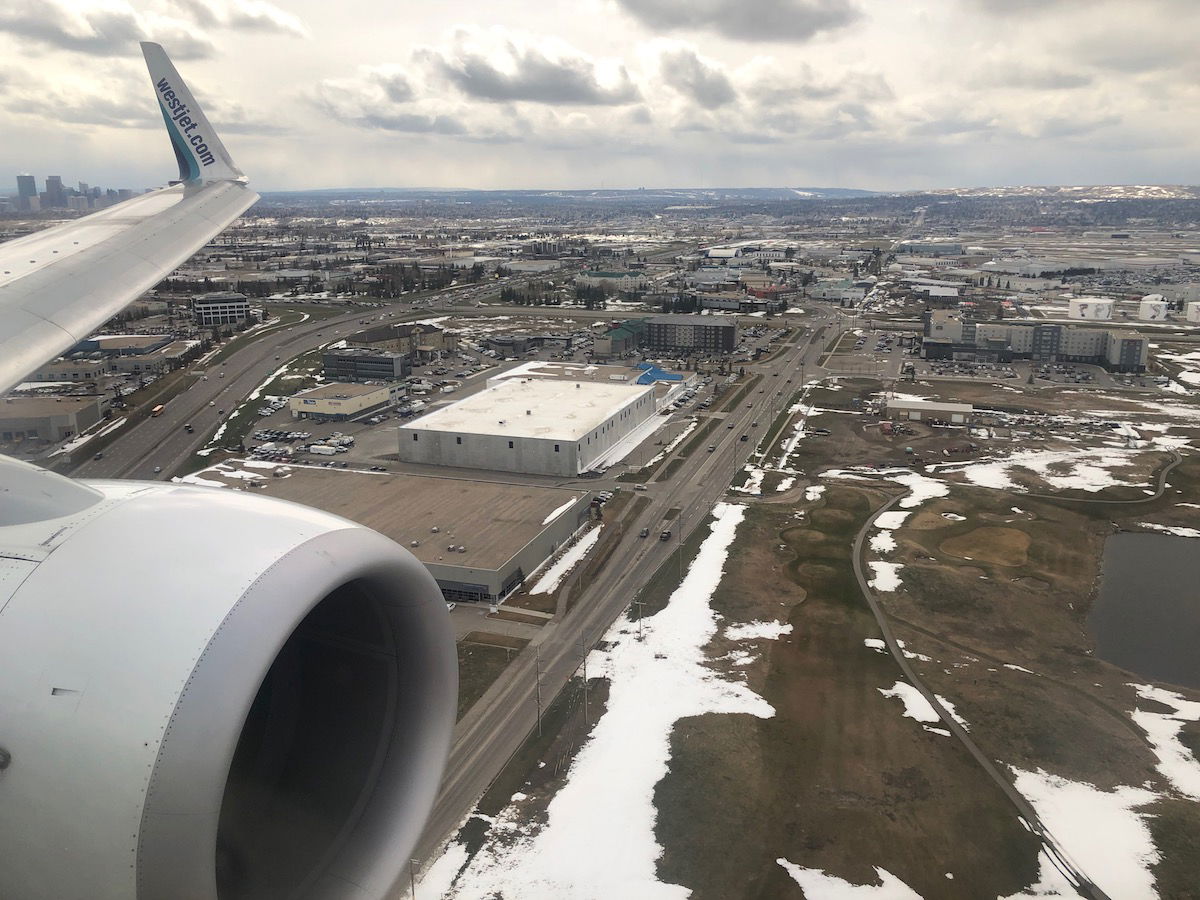 View approaching Calgary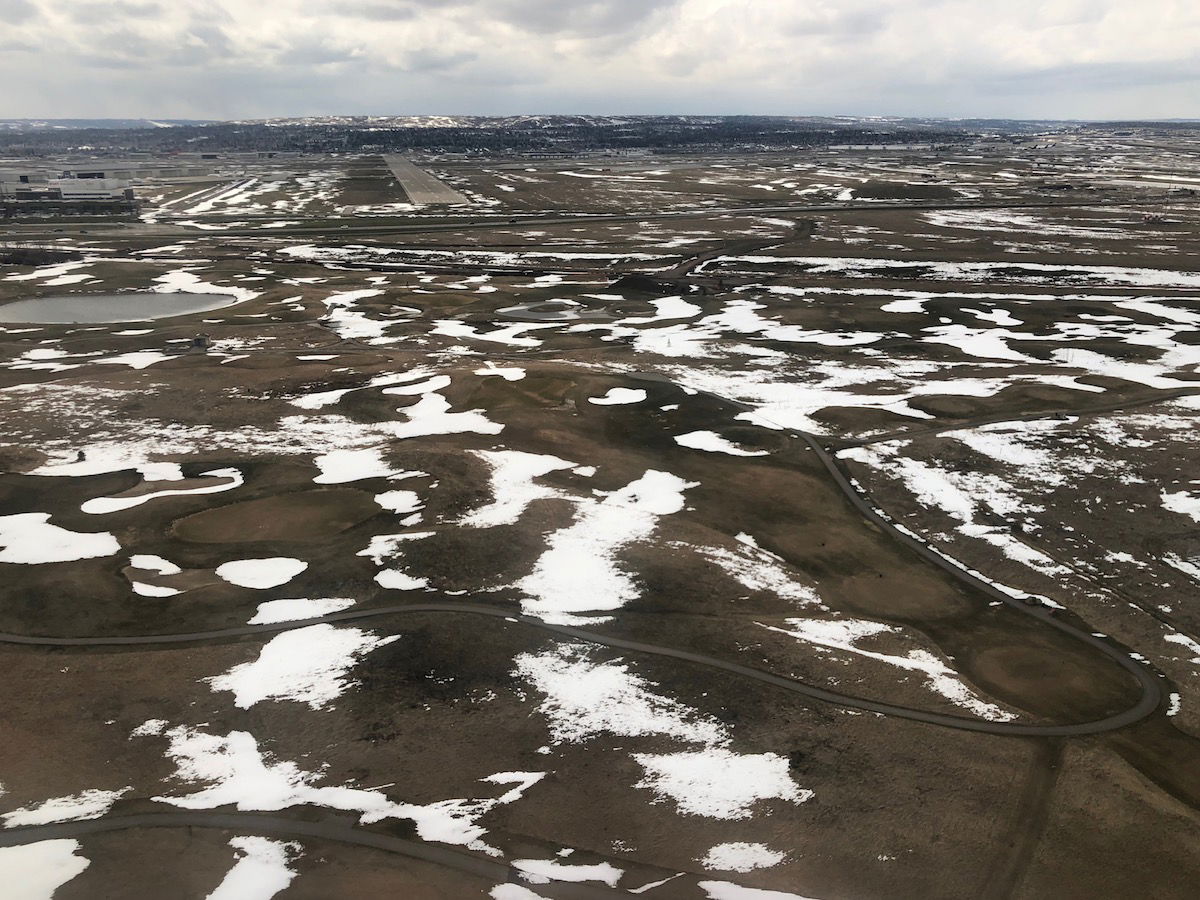 View approaching Calgary
We touched down on runway 35R at 3:45PM.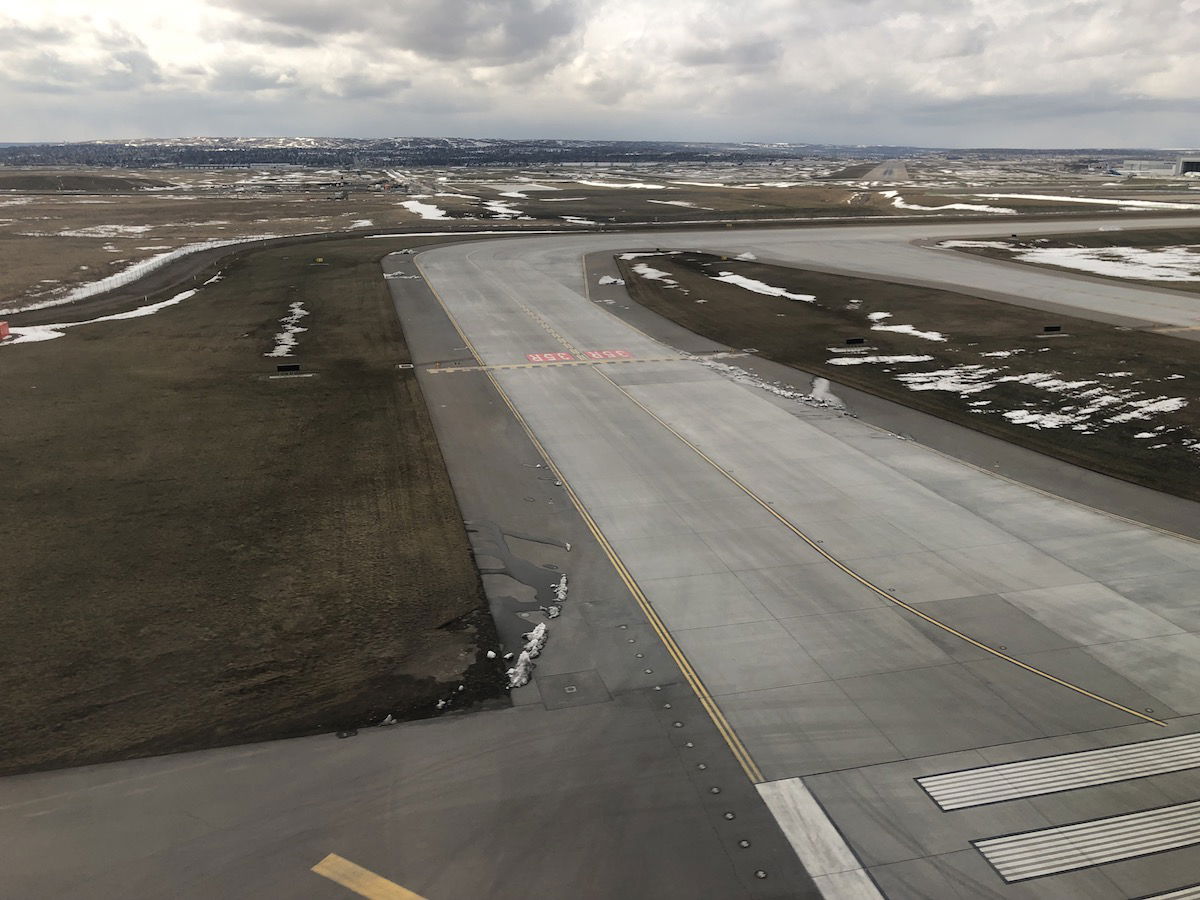 Final approach to Calgary
From there we had just a two minute taxi to our arrival gate. The airport was nice and quiet, and we passed an Air Canada 737 MAX which I assume was being stored there for several weeks given the groundings.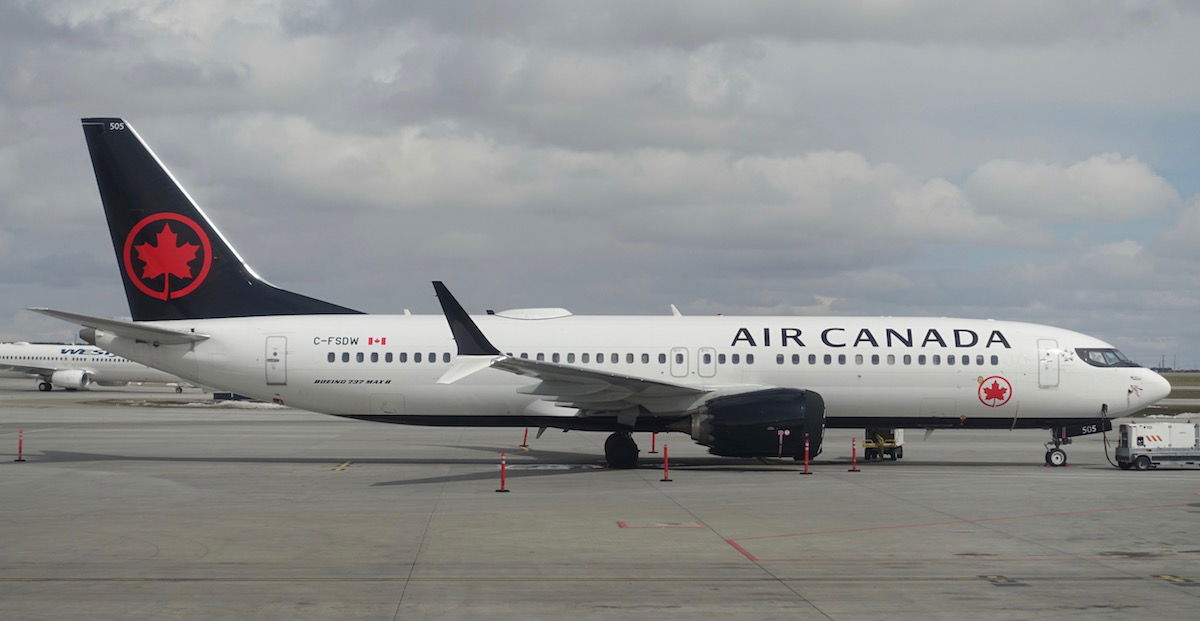 Air Canada 737 MAX Calgary Airport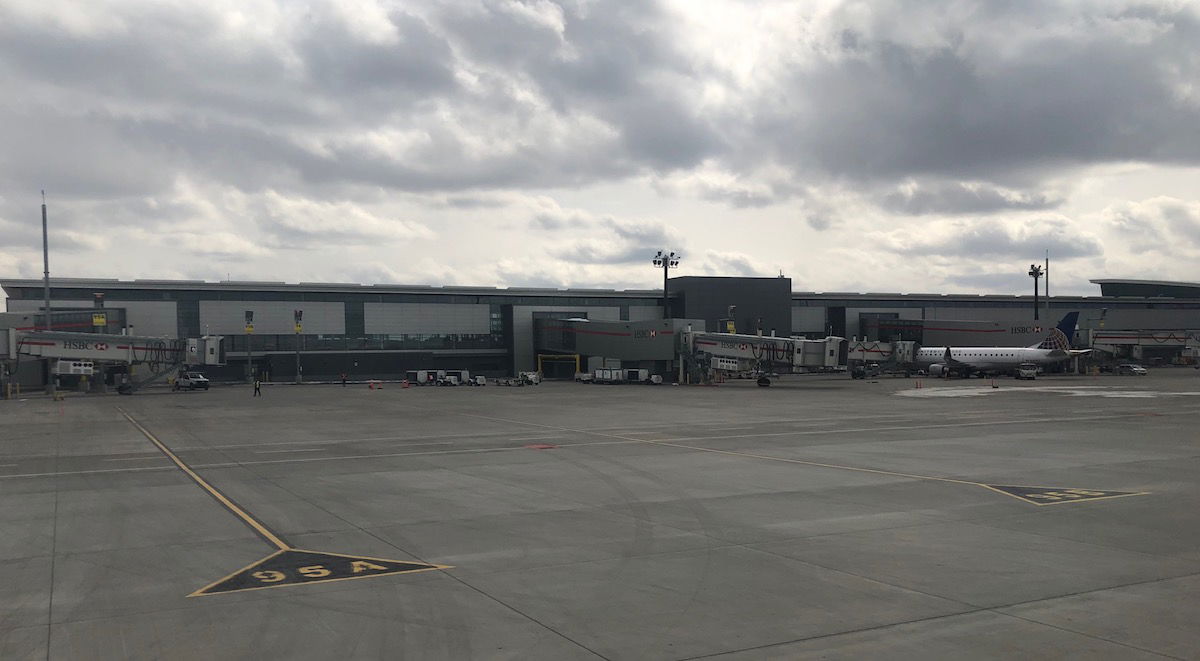 Taxiing Calgary Airport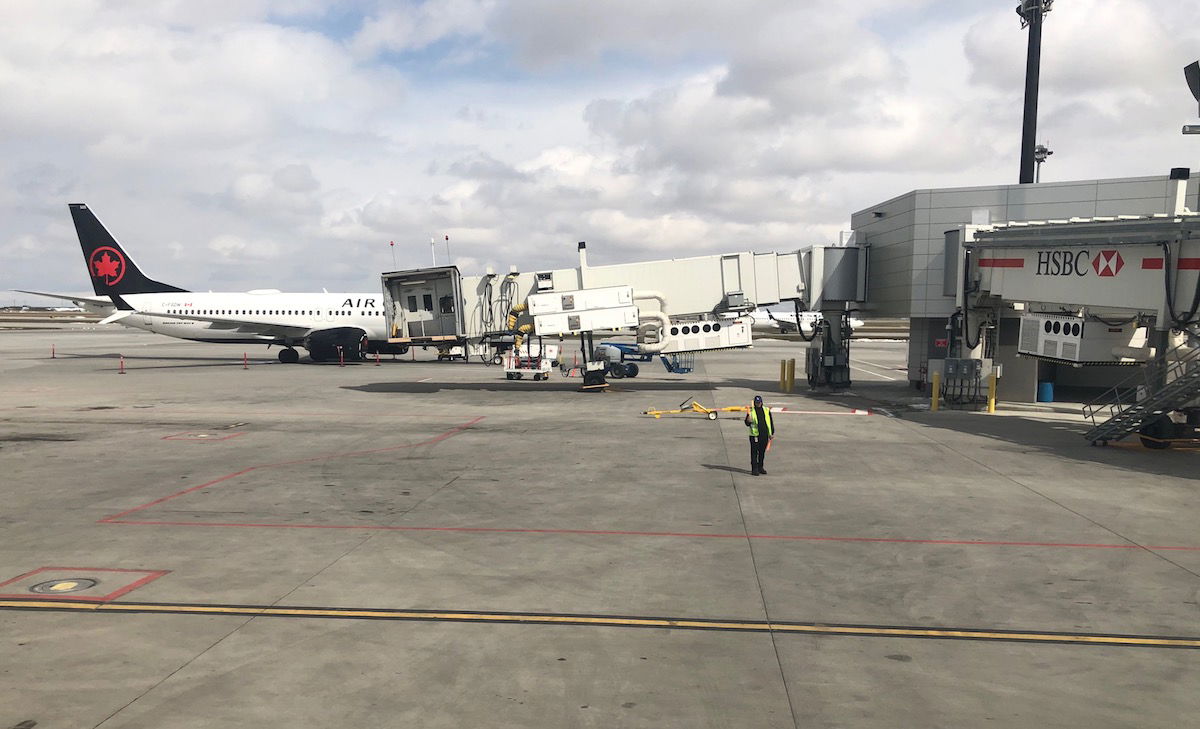 Arrival gate Calgary Airport
I bid farewell to the crew, and was excited to be one step closer to my WestJet 787 flight.
WestJet Plus bottom line
In general I really like WestJet, and in particular find that they have some of the friendliest crews of any North American airline. While WestJet Plus isn't quite to the level of business class, it's still a very nice product that typically comes with a reasonable upgrade cost.
On this particular flight the offerings were limited, though on slightly longer flights I've been offered more substantial food options.
If you've flown WestJet Plus, what was your experience like?