---
I had just under 24 hours in London, as I was arriving from Calgary at around 11AM, and departing the next morning to Madrid around 10AM. While I would have loved to go into London and spend the day walking around, I decided to just book an airport hotel so that I could work and get some rest.
I recently reviewed the Hilton London Gatwick, so this time around I figured I might as well mix it up. I need some Marriott nights to requalify for status with Marriott this year (I guess I still have to decide on my overall requalification strategy for this year), so I decided to book the Courtyard London Gatwick, which cost ~130USD for my one night stay.
While a Courtyard probably doesn't make the most interesting review, I'd note that I think it may have been my first stay at a Courtyard ever, and it is a major Marriott brand, so I was keen to check it out.
While it's not a hotel that's directly connected to the terminal, the hotel's website does note that it's "a short walk from the South Terminal of Gatwick Airport," and I don't mind walking.
My WestJet flight arrived at the North Terminal, so I first took the train to the South Terminal, and then exited the terminal. Once outside the airport I figured there would be some signage towards the Courtyard (given that it's allegedly only a short walk away), though there wasn't any.
So I pulled it up on Google Maps, though it still wasn't clear to me exactly which way to go. The walking directions had me going through the car park, though I repeatedly found myself in situations where I was at dead ends, given that it's multi-level.
So eventually I tried to call up the hotel, but after waiting on hold for five minutes there was still no answer.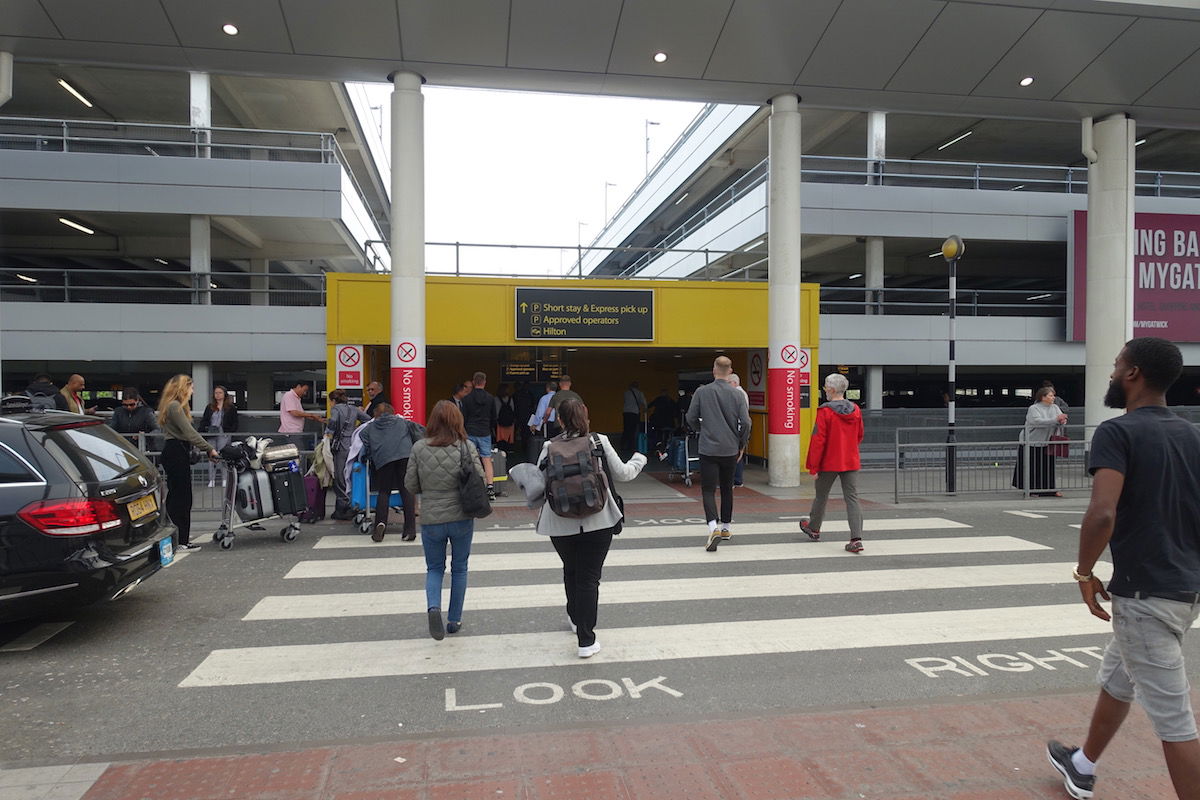 Gatwick Airport terminal
At that point I followed the signage towards the Hilton, figuring that would get me past the maze which is Gatwick Airport. I walked into the lobby of the Hilton on one side, walked out the other end, turned right, then turned left, and then about five minutes later I was at the Courtyard. In the end it took about 30 minutes, which was rather frustrating.
On the way back it was much more logical figuring out which way to go. There is a narrow path the entire way to the airport. The key is that when you exit the South Terminal, make a sharp right and keep walking along the outside roadway, even in areas where the path is only really narrow. Eventually you'll then find yourself at the hotel.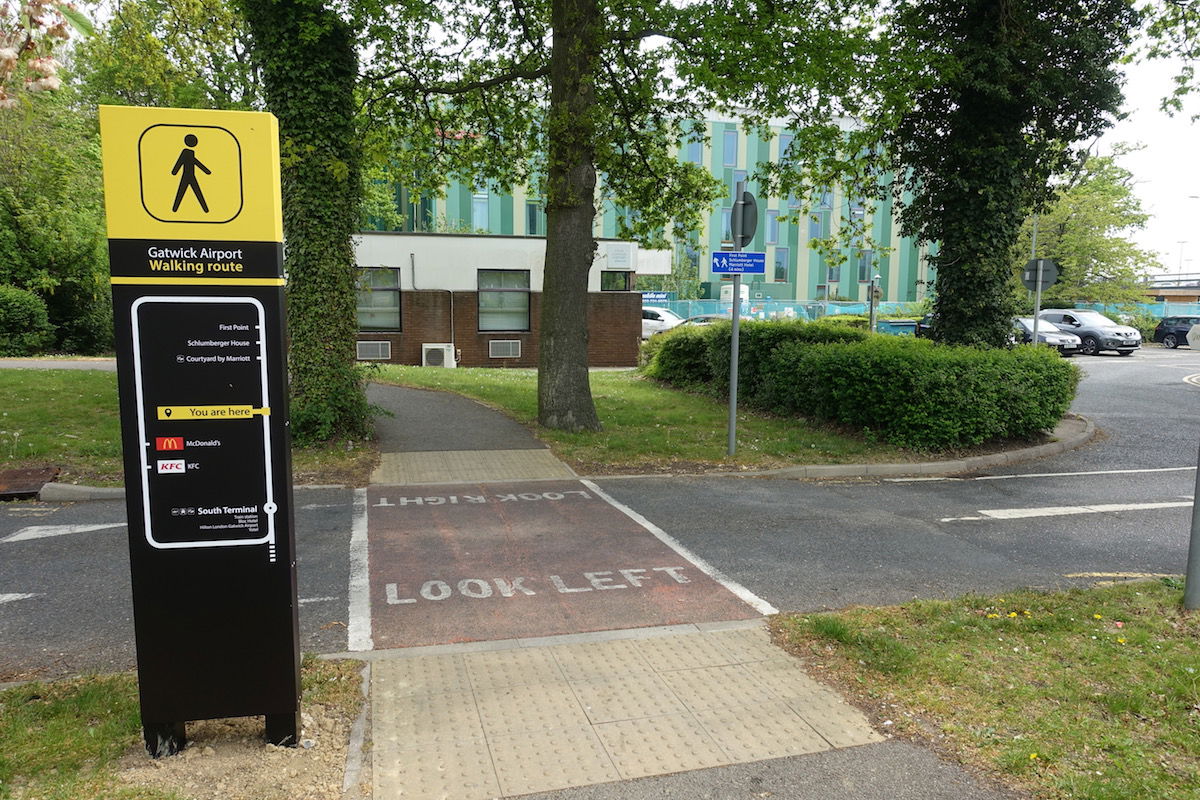 Walking to Courtyard London Gatwick
Anyway, after quite an adventure I was happy to finally be at the hotel.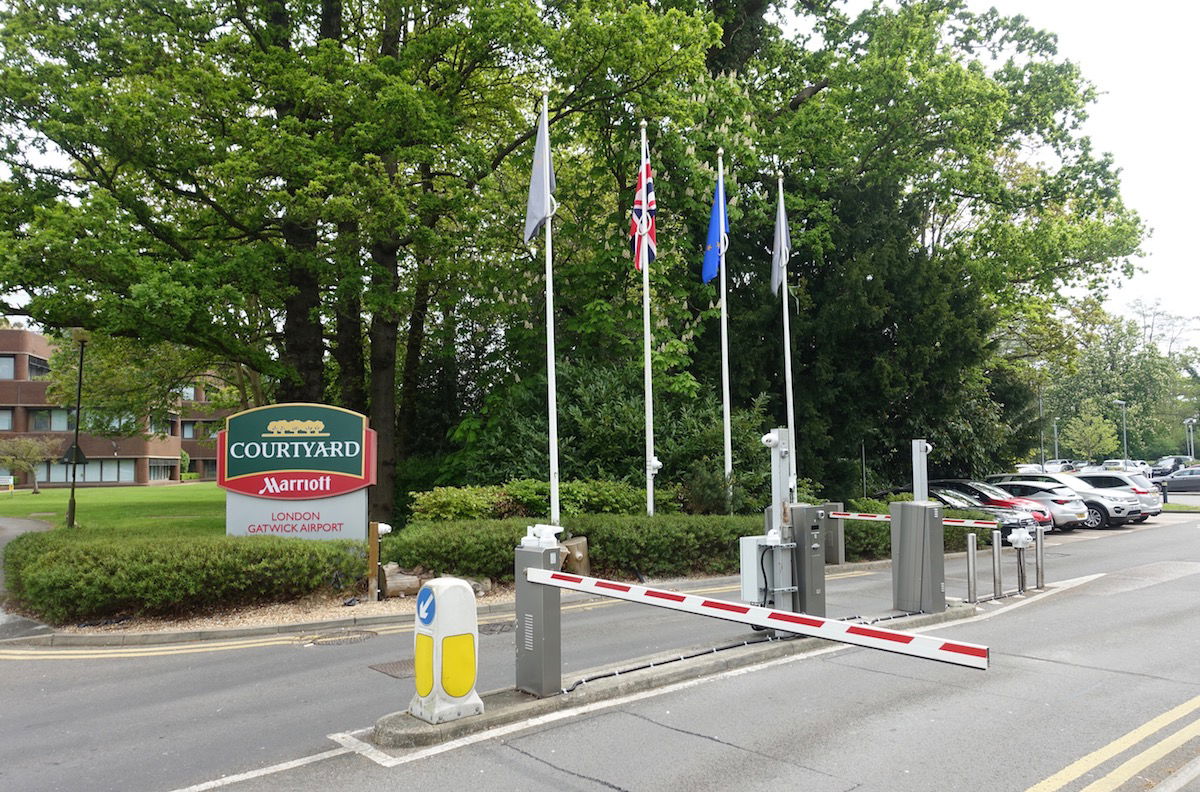 Courtyard London Gatwick entrance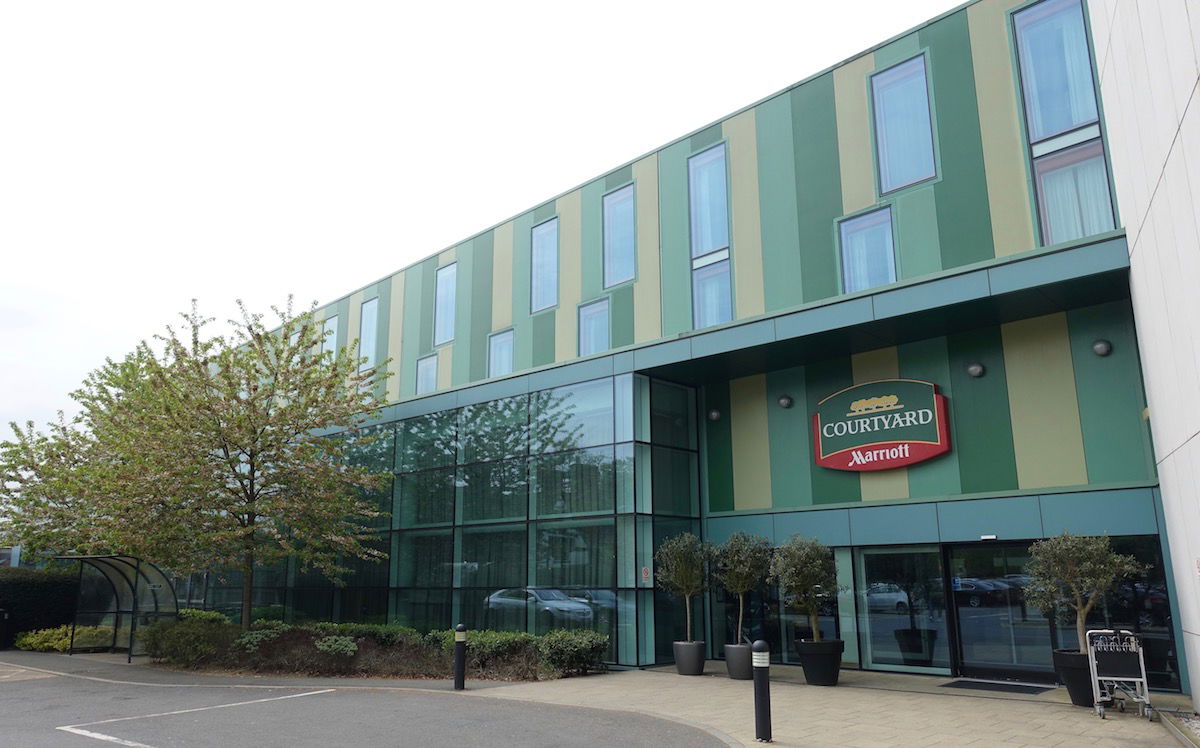 Courtyard London Gatwick exterior
This wasn't a very modern hotel, though once inside it was… comfortable. Immediately inside the entrance was reception, where I was welcomed by a very friendly staff member who quickly had me checked in.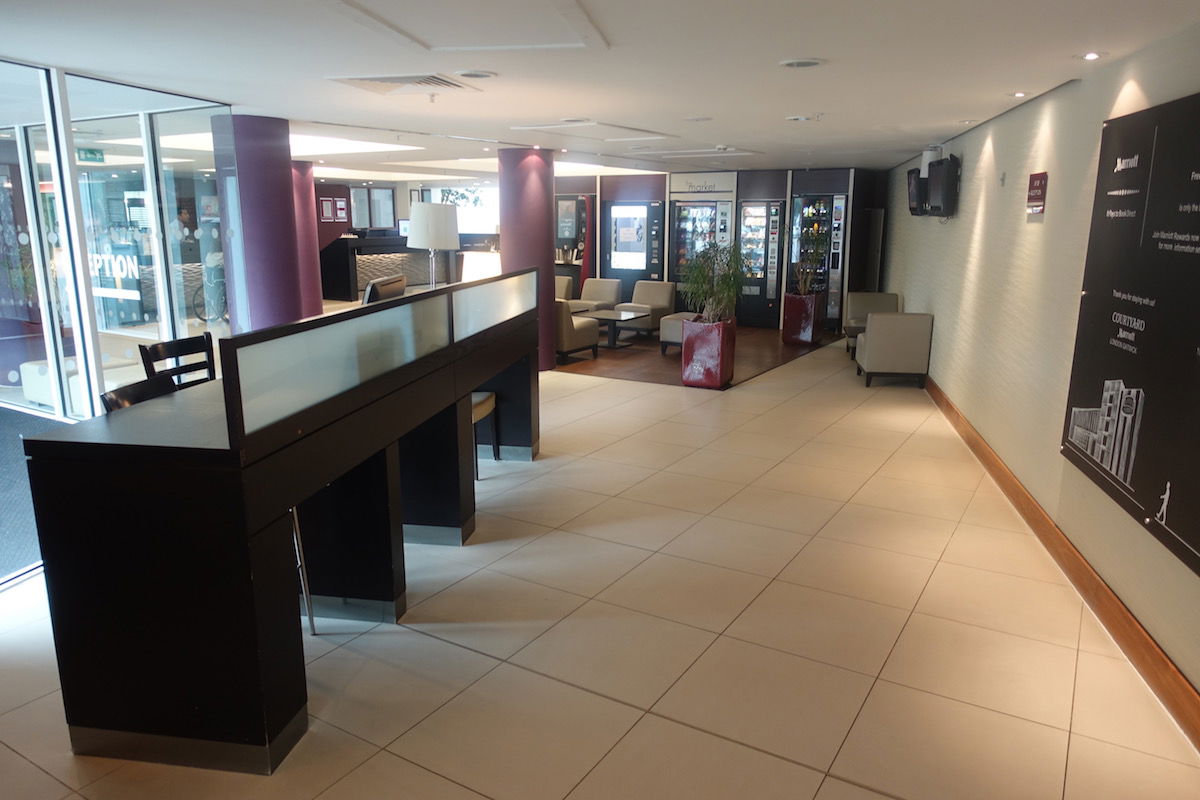 Courtyard London Gatwick lobby
The focal point of the lobby was the variety of vending machines, though truth be told I really appreciated them — they accepted credit cards, and I grabbed a granola bar and a surprisingly good cappuccino from one of the machines.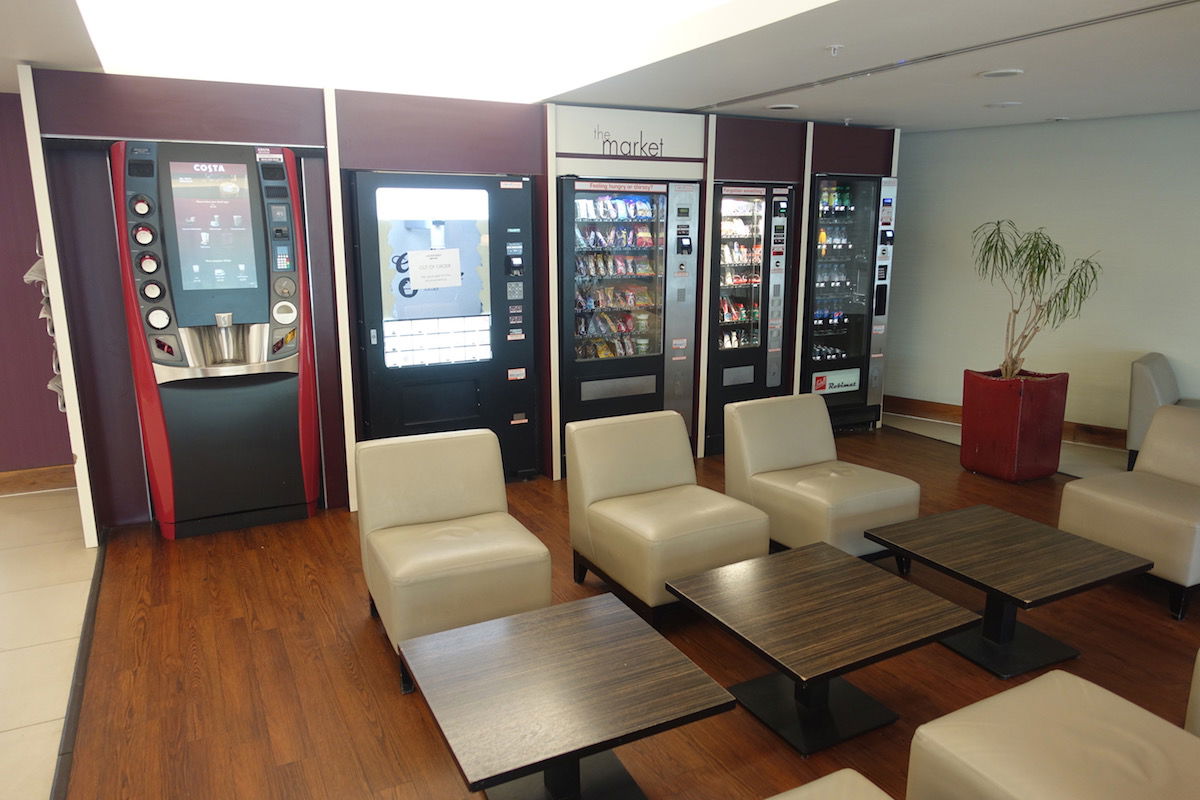 Courtyard London Gatwick vending machines
If you don't want to deal with the walk to & from the terminal, here's the shuttle schedule provided by the hotel: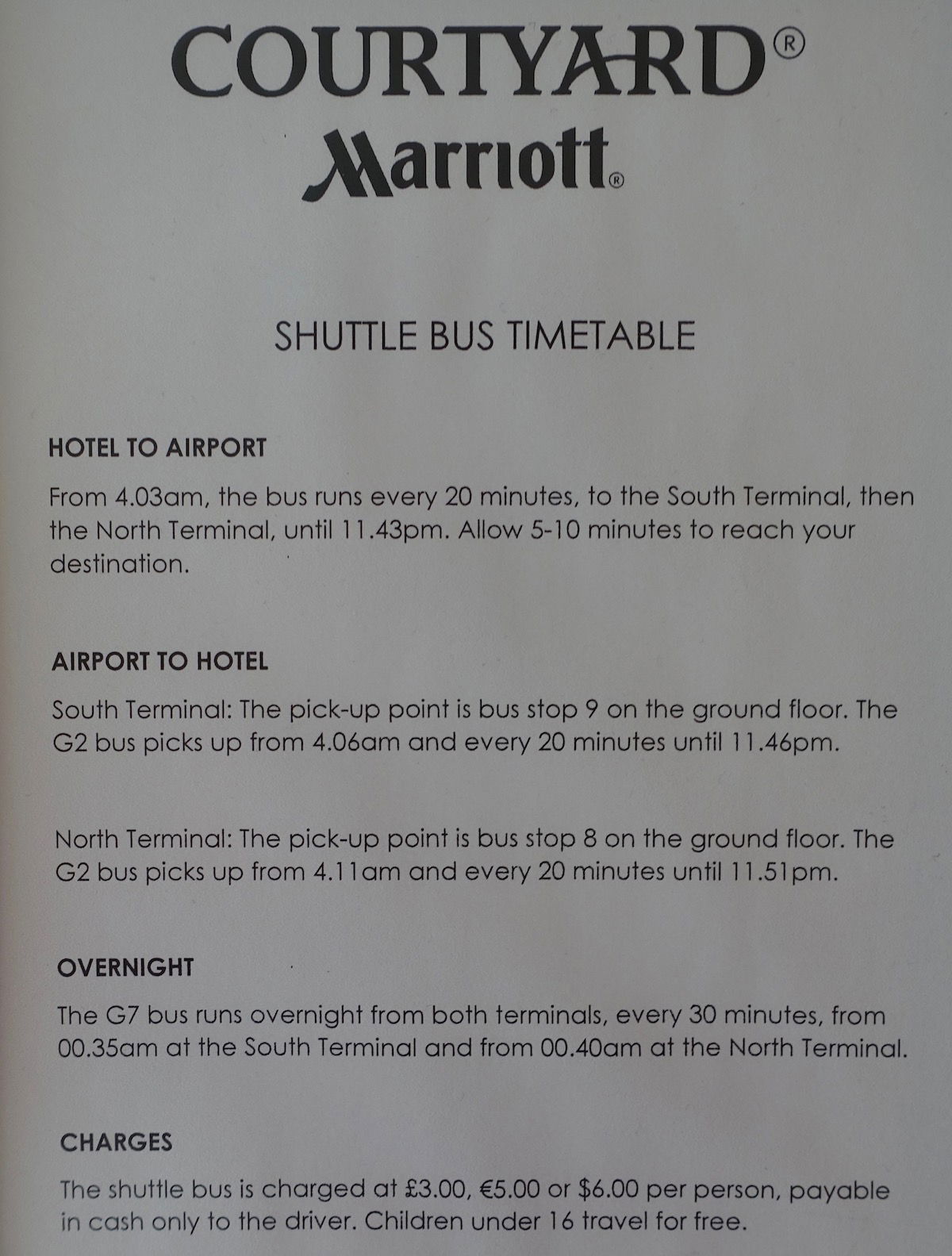 Courtyard London Gatwick shuttle schedule
The Courtyard has four floors (plus the lobby level), and I was upgraded to a junior suite located on the third floor, #335. I find that it's rare to get a suite upgrade at an airport hotel (since many airport hotels have very few suites, given the lack of demand), so I was grateful for that.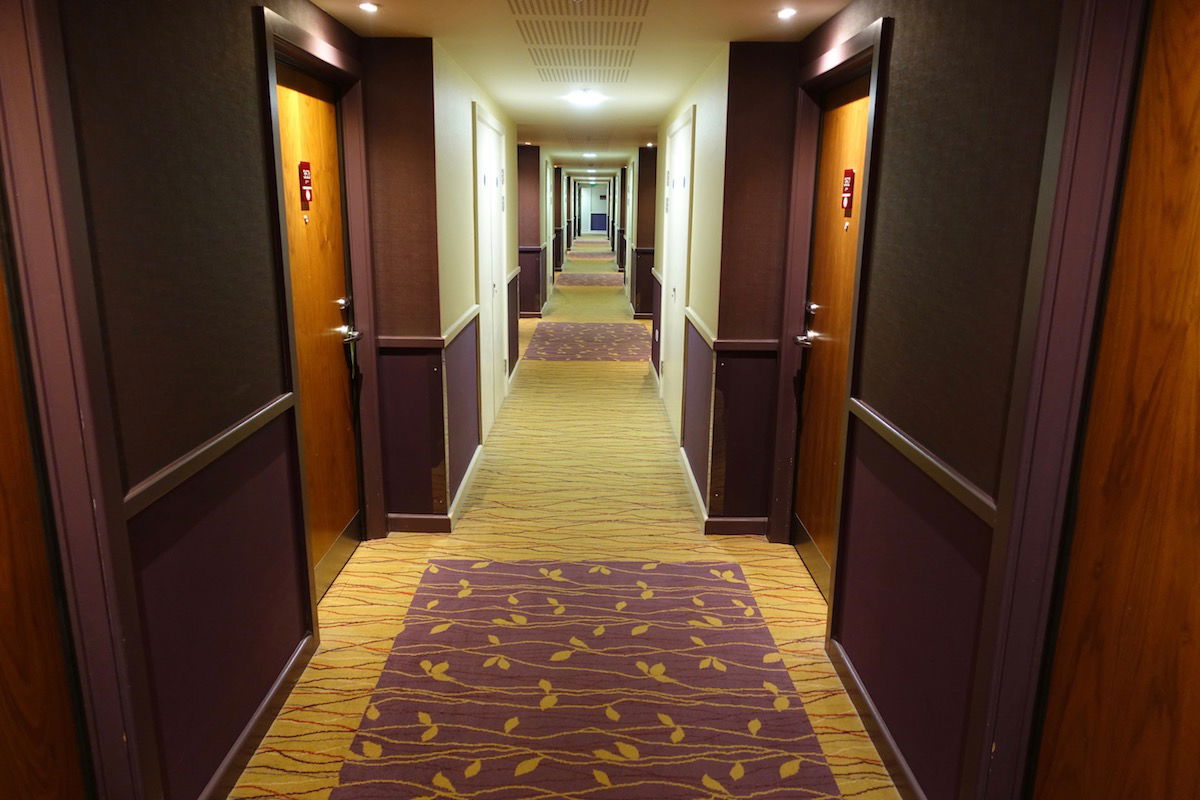 Courtyard London Gatwick hallway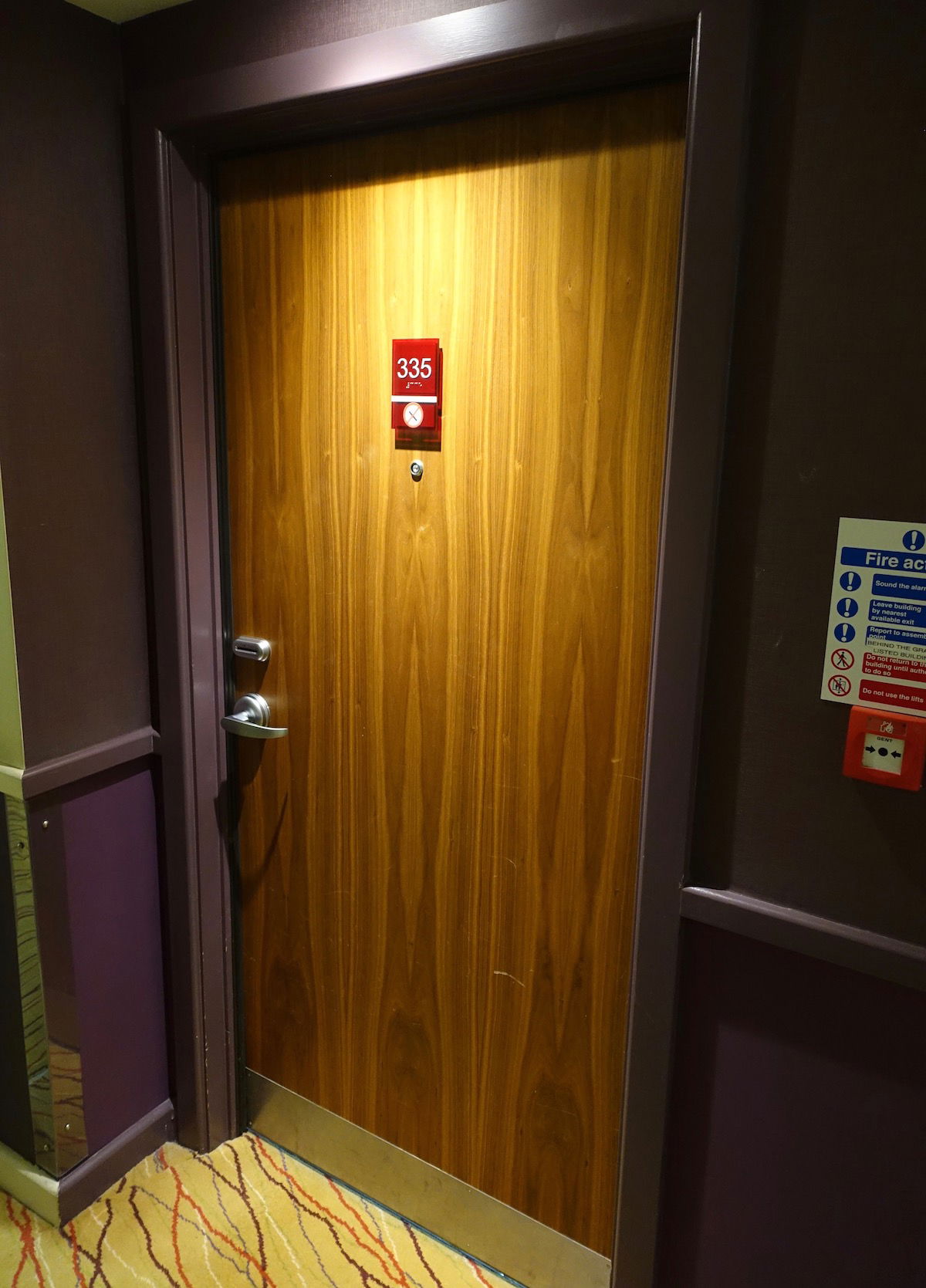 Courtyard London Gatwick room exterior
The room itself was outdated but well maintained. Inside the entrance and to the right was a desk.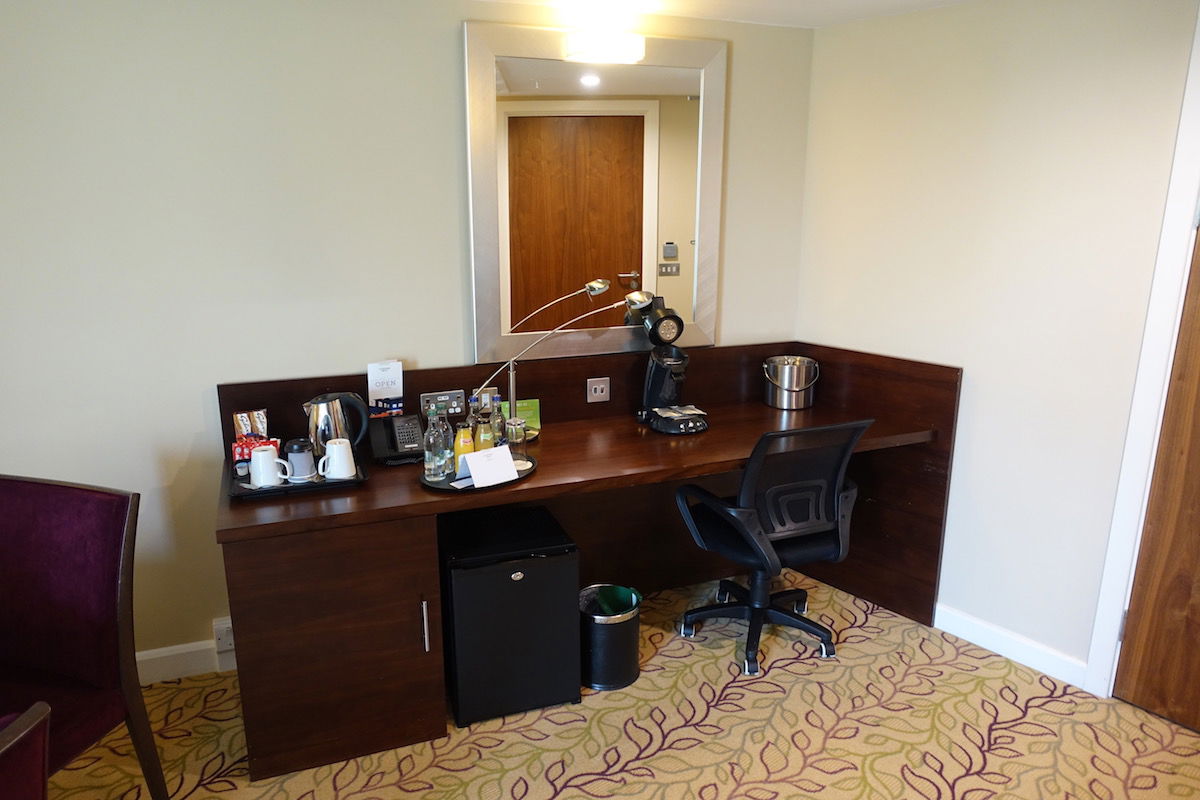 Courtyard London Gatwick junior suite
Past that was a living and dining area — this included a dining table with four chairs, as well as a loveseat.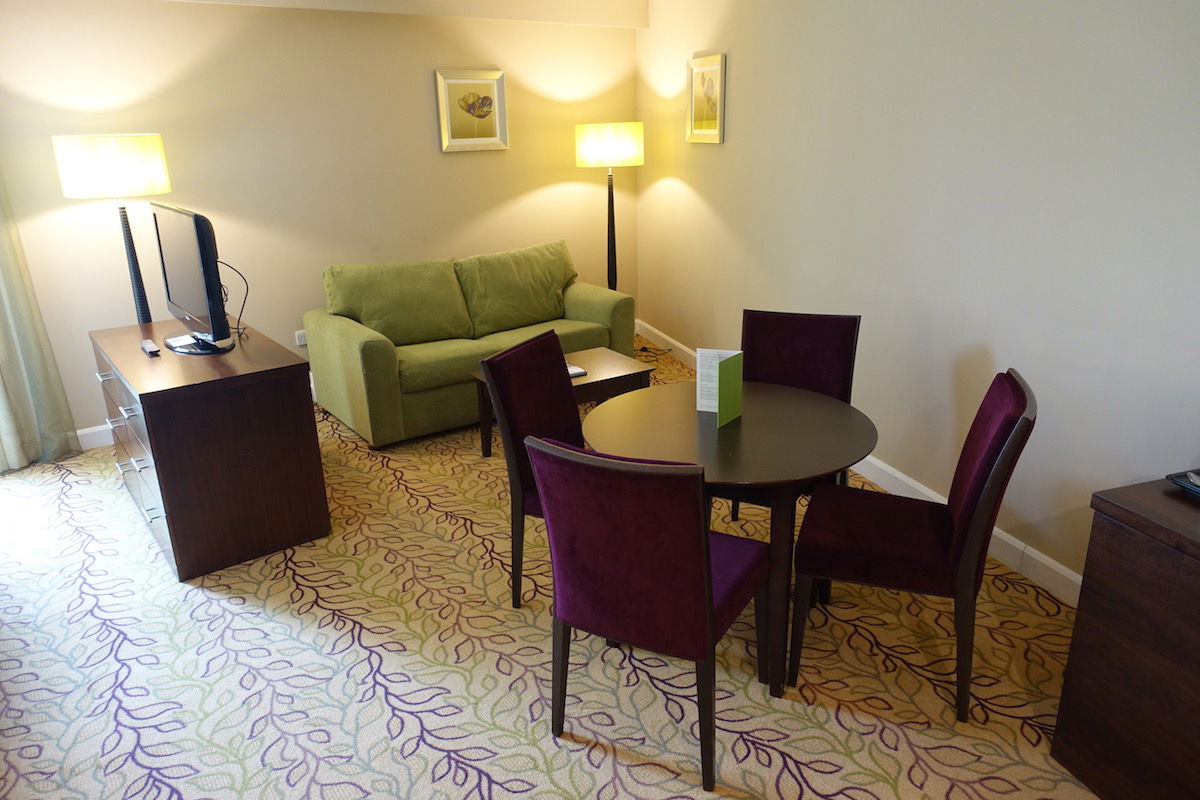 Courtyard London Gatwick junior suite
Then in the back left corner of the room was the bed. The bed was comfortable, though the pillows were on the small side (I'm a full-on pillow cuddler, which presents a challenge at many hotels).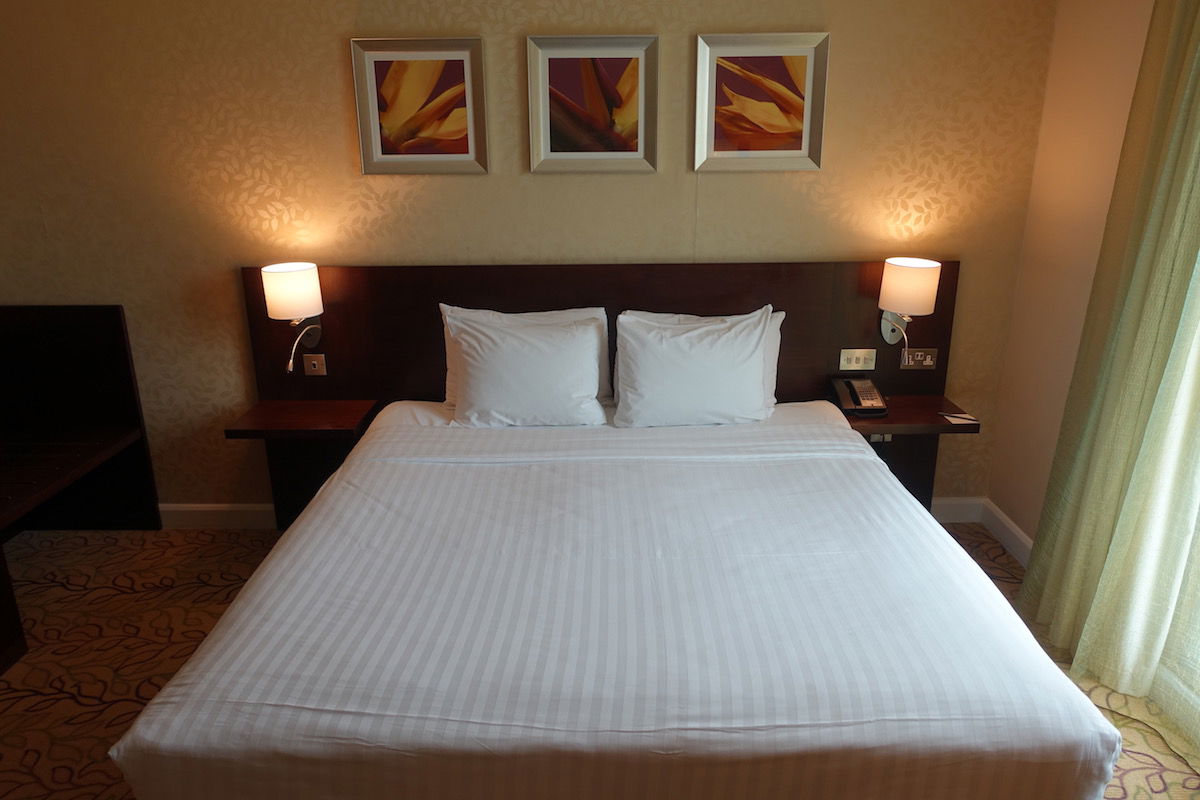 Courtyard London Gatwick junior suite
There was a dresser with a TV right across from the bed. The TV didn't really swivel, though I guess you could lift it and turn it around if you preferred to watch TV from the table or loveseat.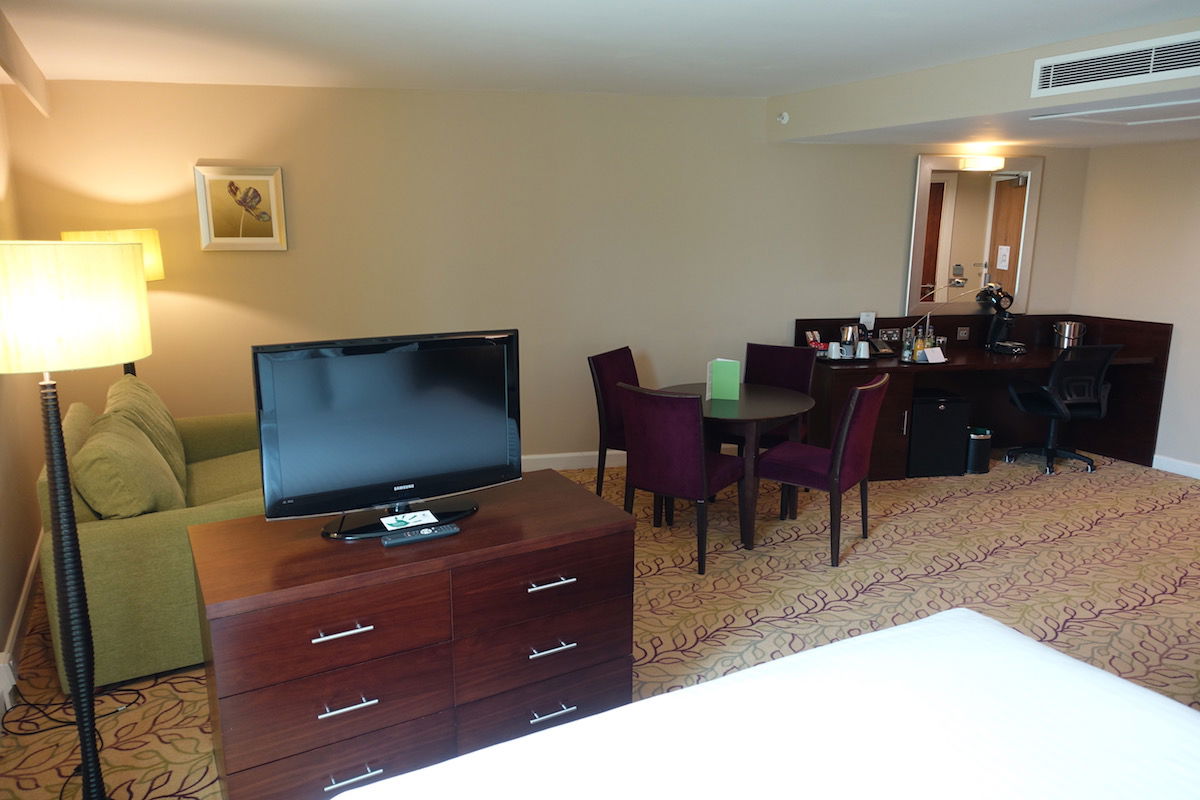 Courtyard London Gatwick junior suite
The room had an oddly charming view of… I'm not exactly sure what that is?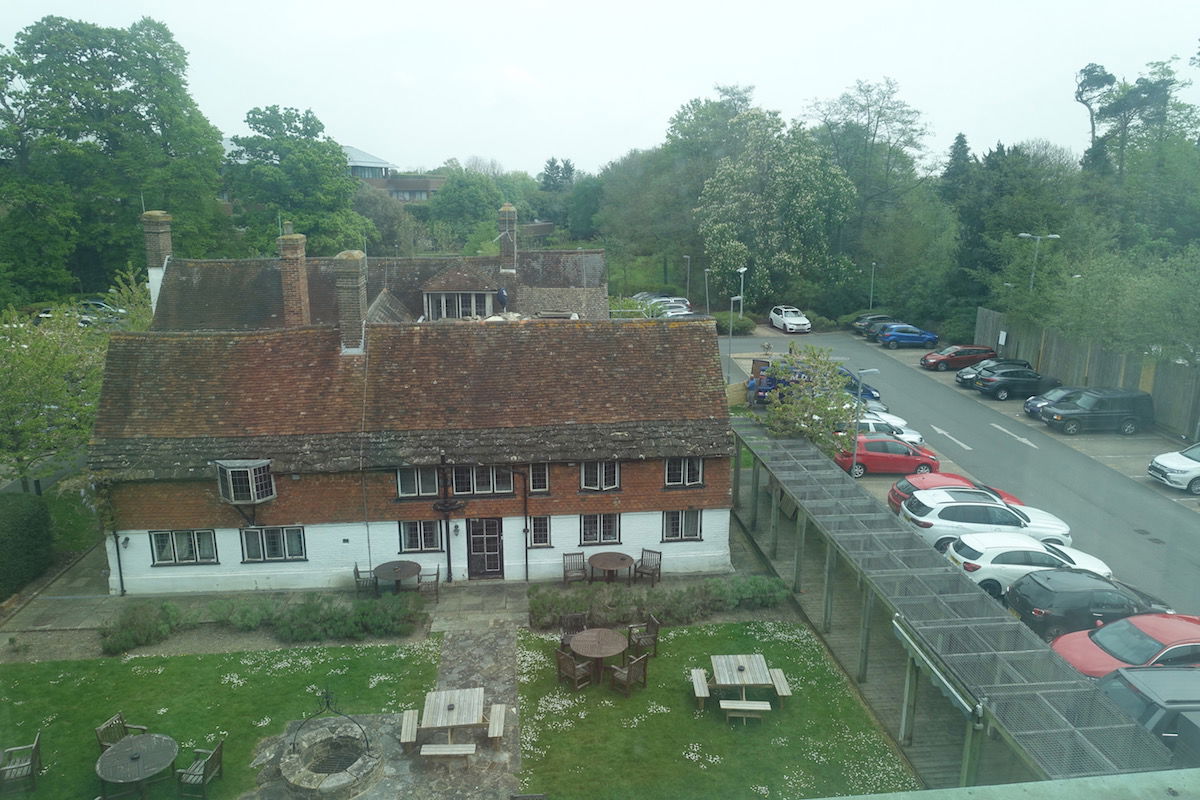 Courtyard London Gatwick junior suite view
On the desk was a kettle along with a coffee machine.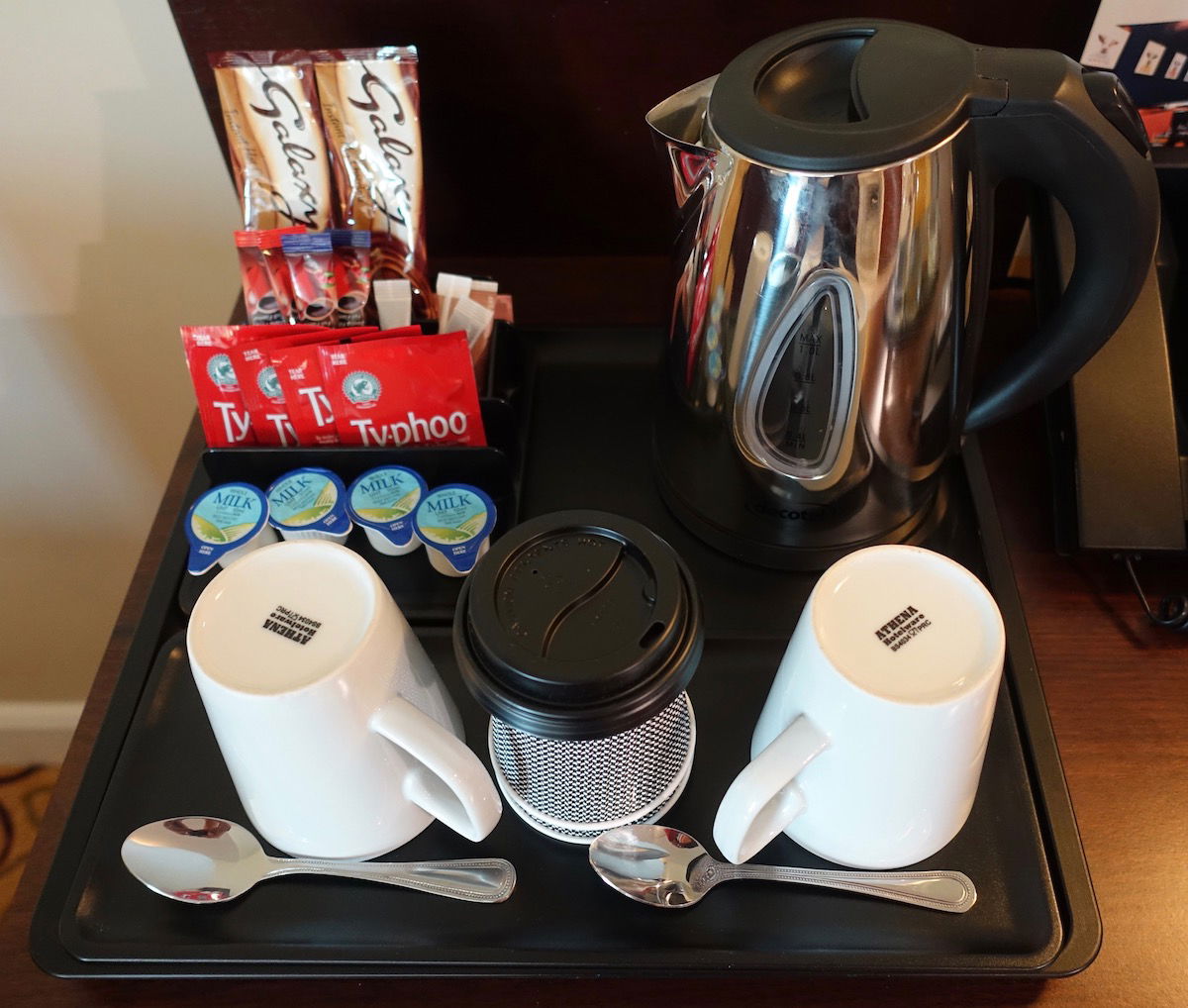 Courtyard London Gatwick in-room kettle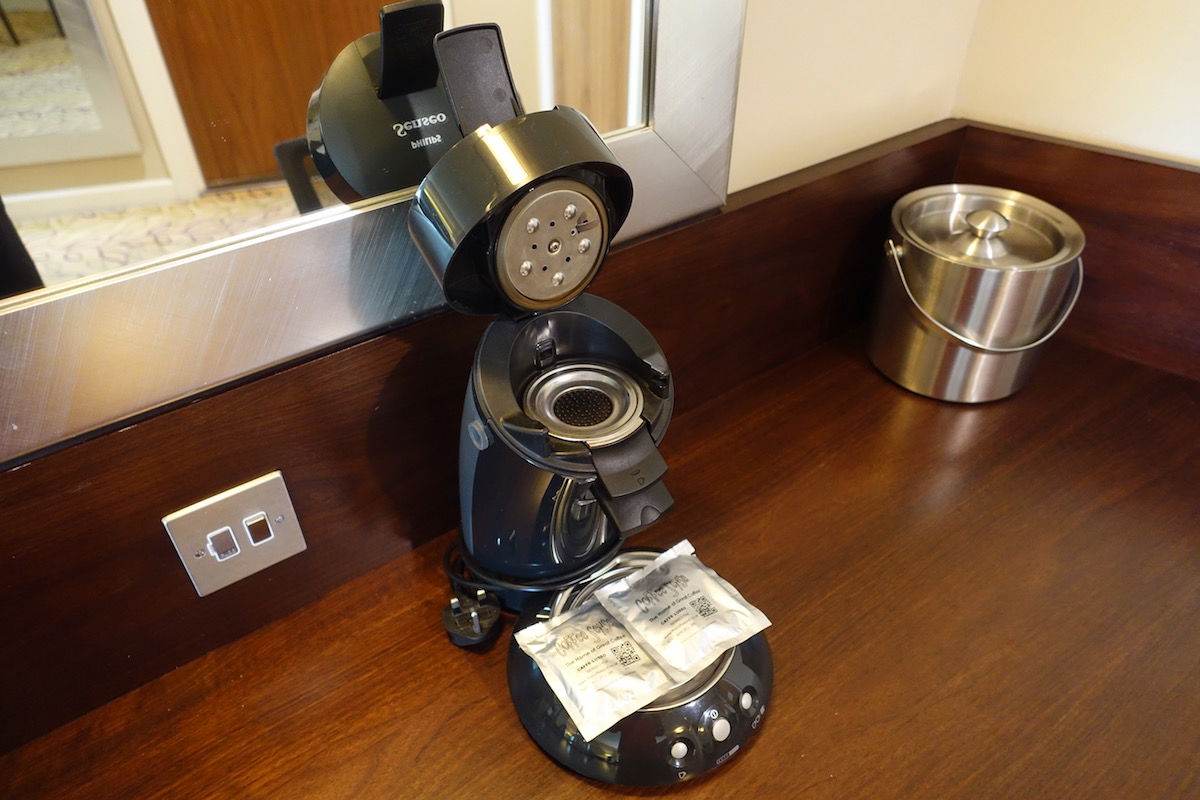 Courtyard London Gatwick in-room coffee
Underneath the desk was a mini-fridge.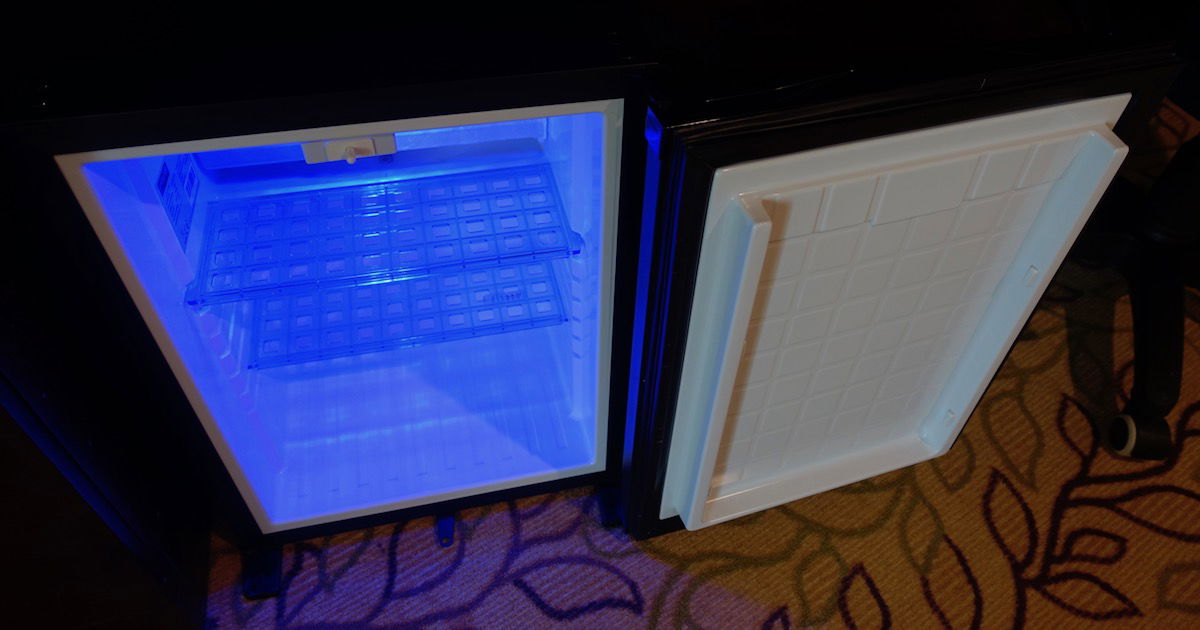 Courtyard London Gatwick in-room fridge
The hotel left me a welcome amenity of juice and water.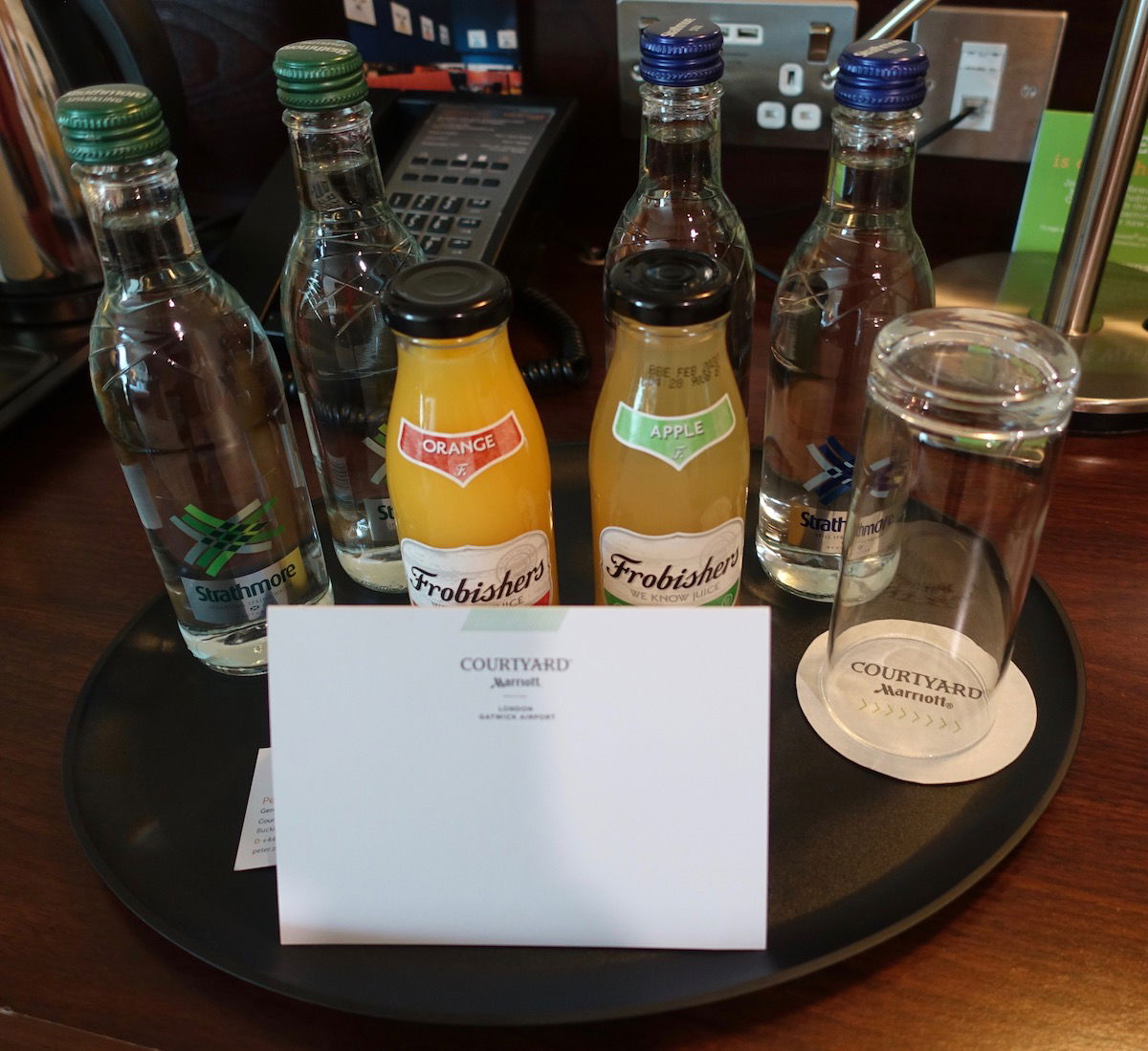 Courtyard London Gatwick welcome gift
There was even a note from my Marriott Ambassador, who I love — unfortunately his note was far too accurate in reflecting the reality of my travel. Hah!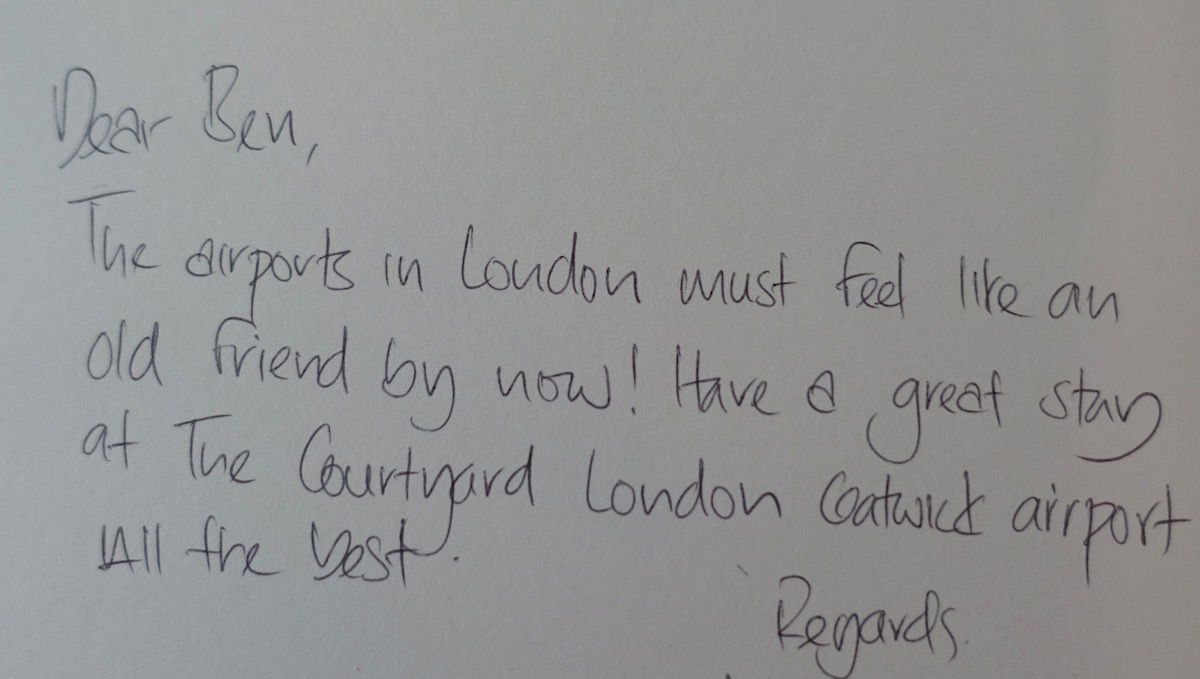 Courtyard London Gatwick note from Ambassador
The bathroom was back near the entrance, and was pretty basic, with a sink, toilet, and shower/tub combo.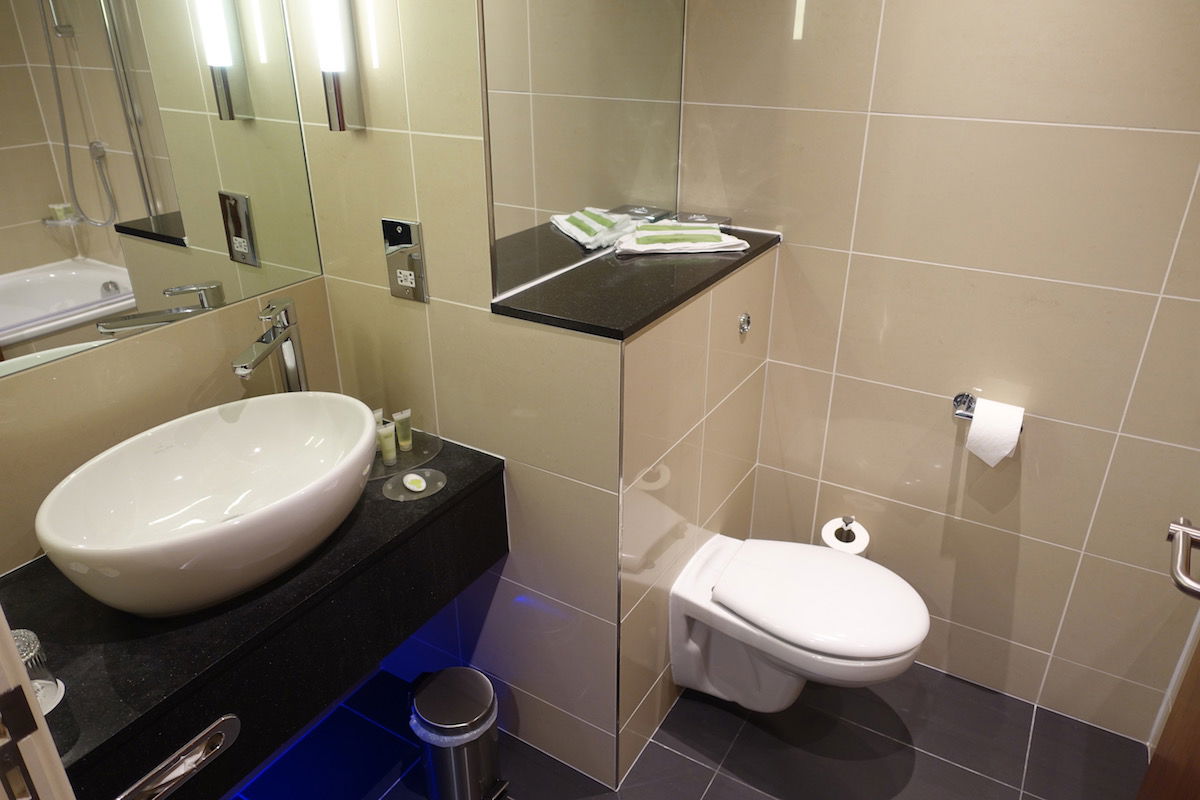 Courtyard London Gatwick bathroom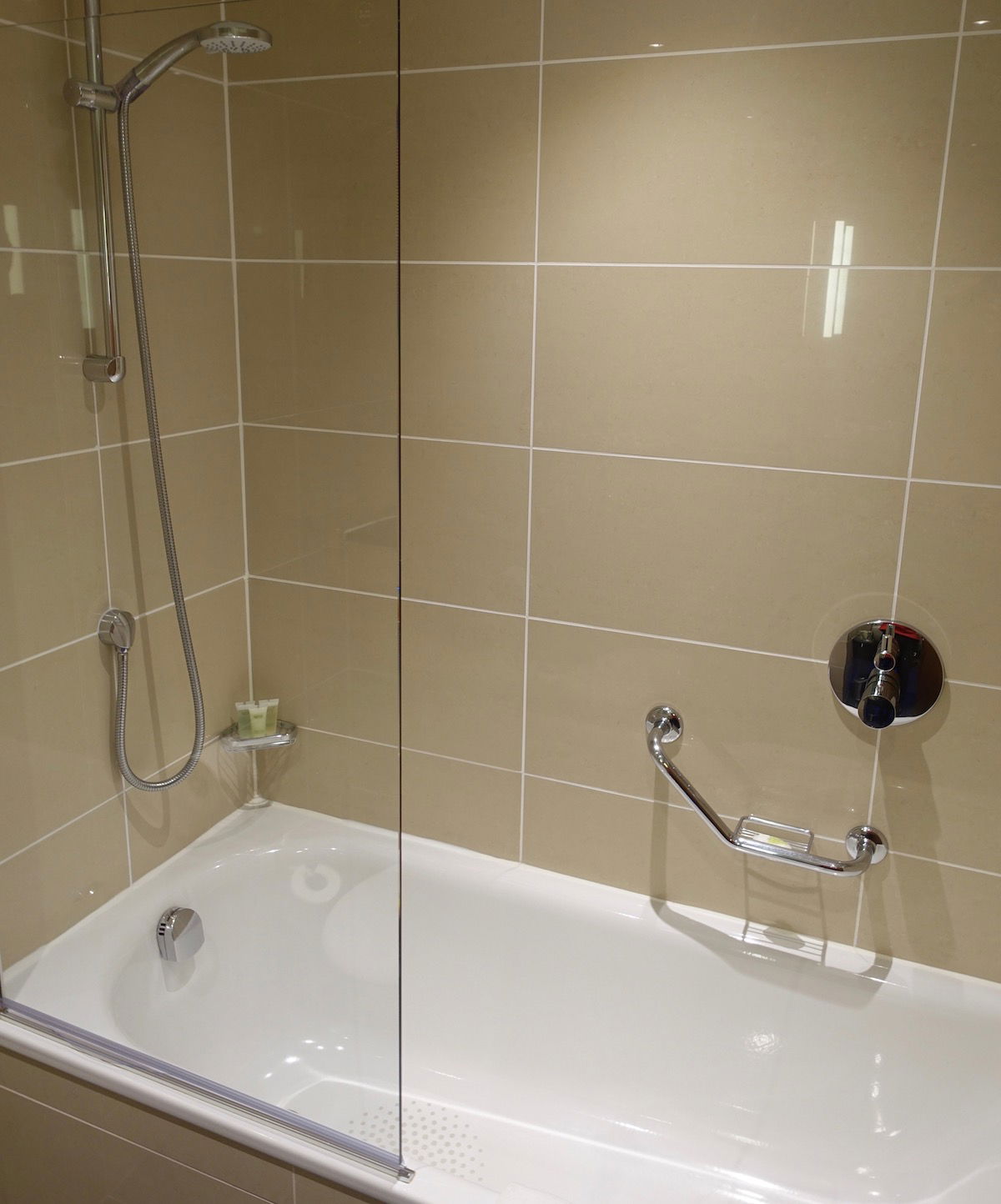 Courtyard London Gatwick shower
Toiletries were from "Nirvae Botanicals," which I hadn't heard of before.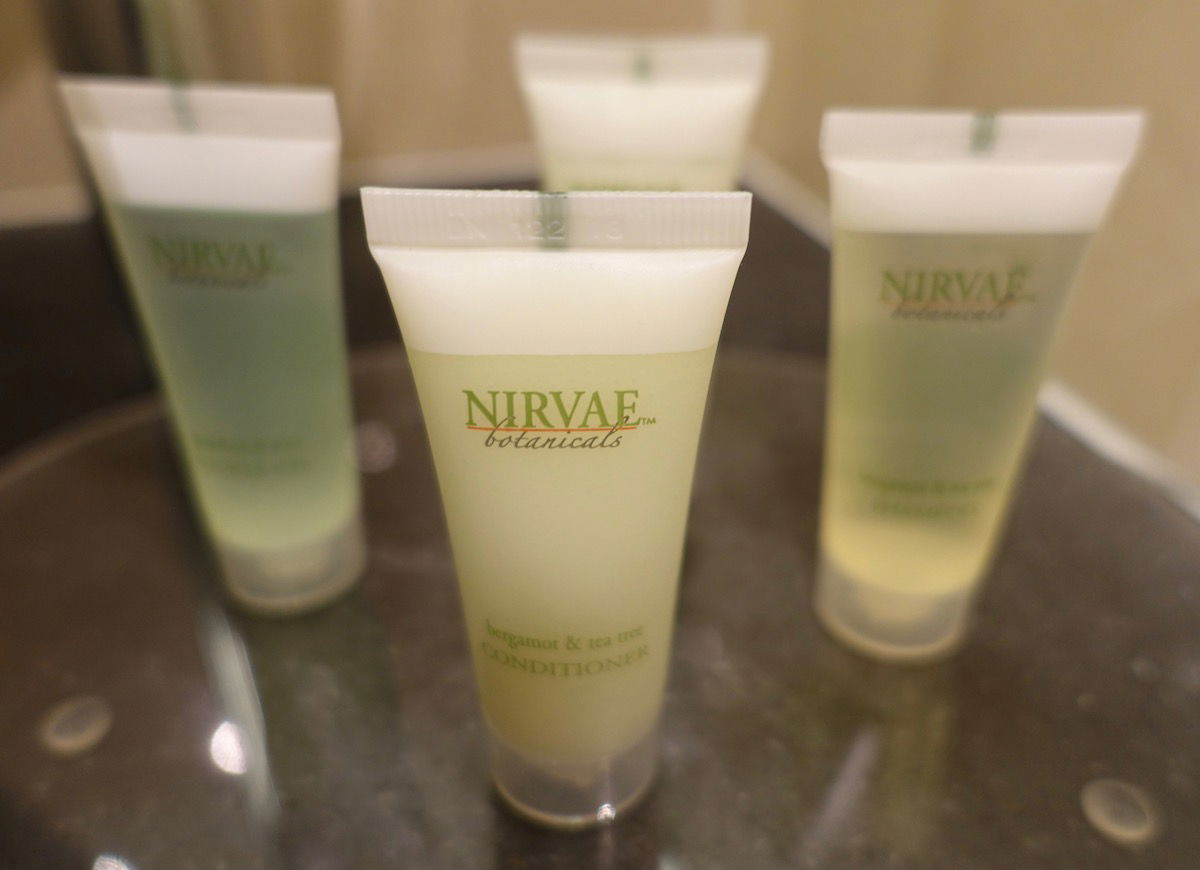 Courtyard London Gatwick toiletries
Usually I try to nap in the morning after coming off a transatlantic flight, though oddly I wasn't tired, in spite of having barely slept on the flight. So I worked for a few hours, and then went to the hotel's gym.
The gym is on the first floor, and is open from 7AM until 10PM. I suspect the limited hours are because it's near guest rooms, and they're trying to limit noise. Personally I wish the gym had opened earlier, because I would have liked to work out the following morning around 5-6AM, which doesn't seem unreasonable for an airport hotel.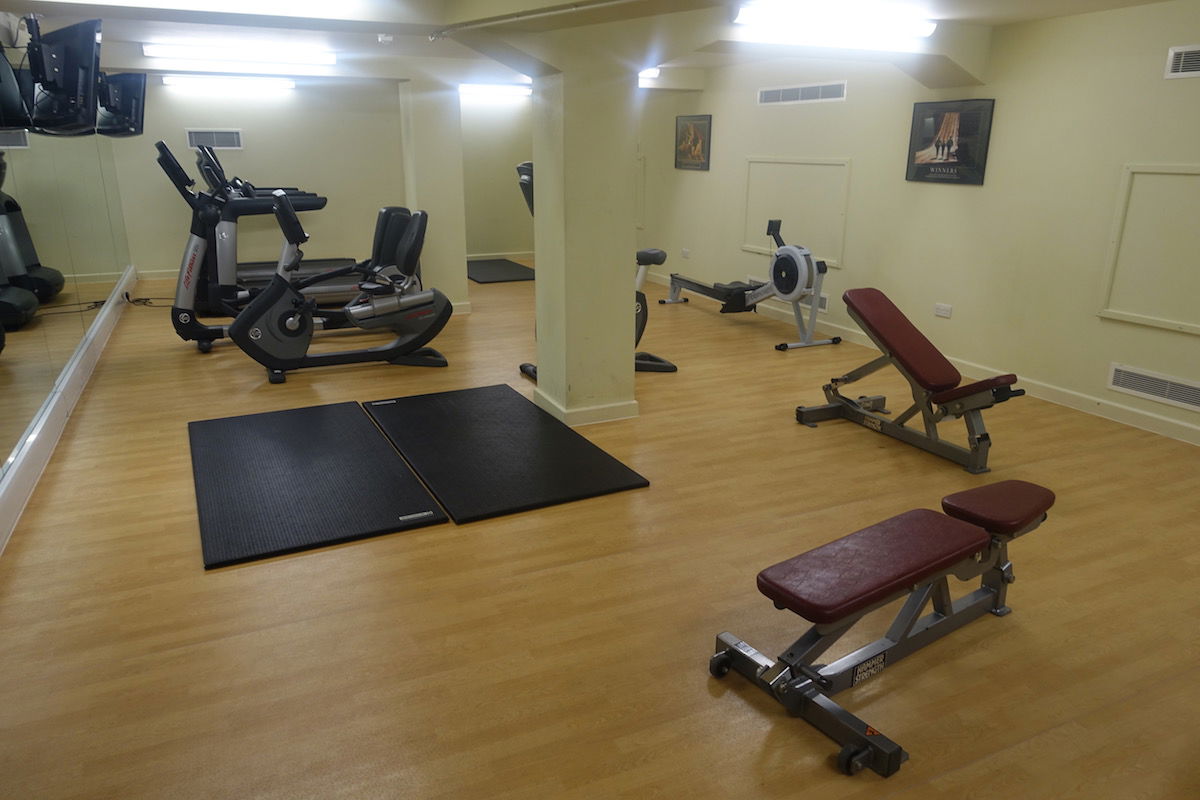 Courtyard London Gatwick gym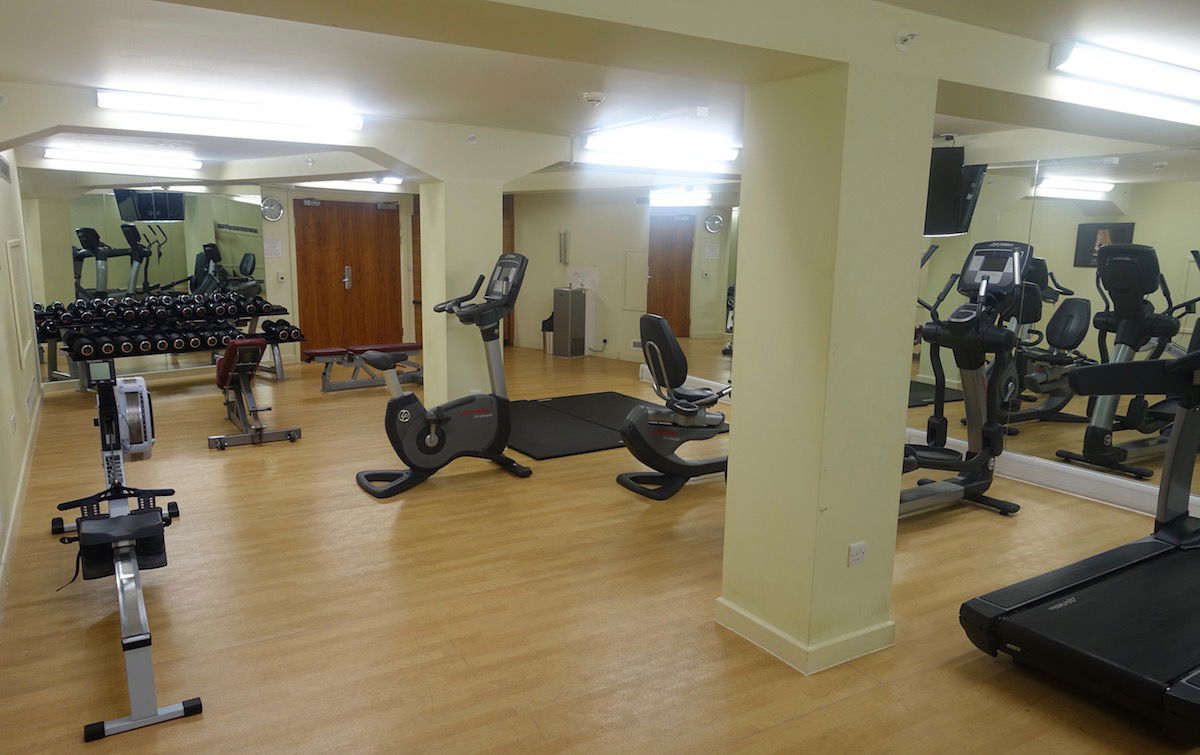 Courtyard London Gatwick gym
After working out I worked a bit more, and then wanted to get dinner. I headed down to the hotel's lobby bar and restaurant, which were large.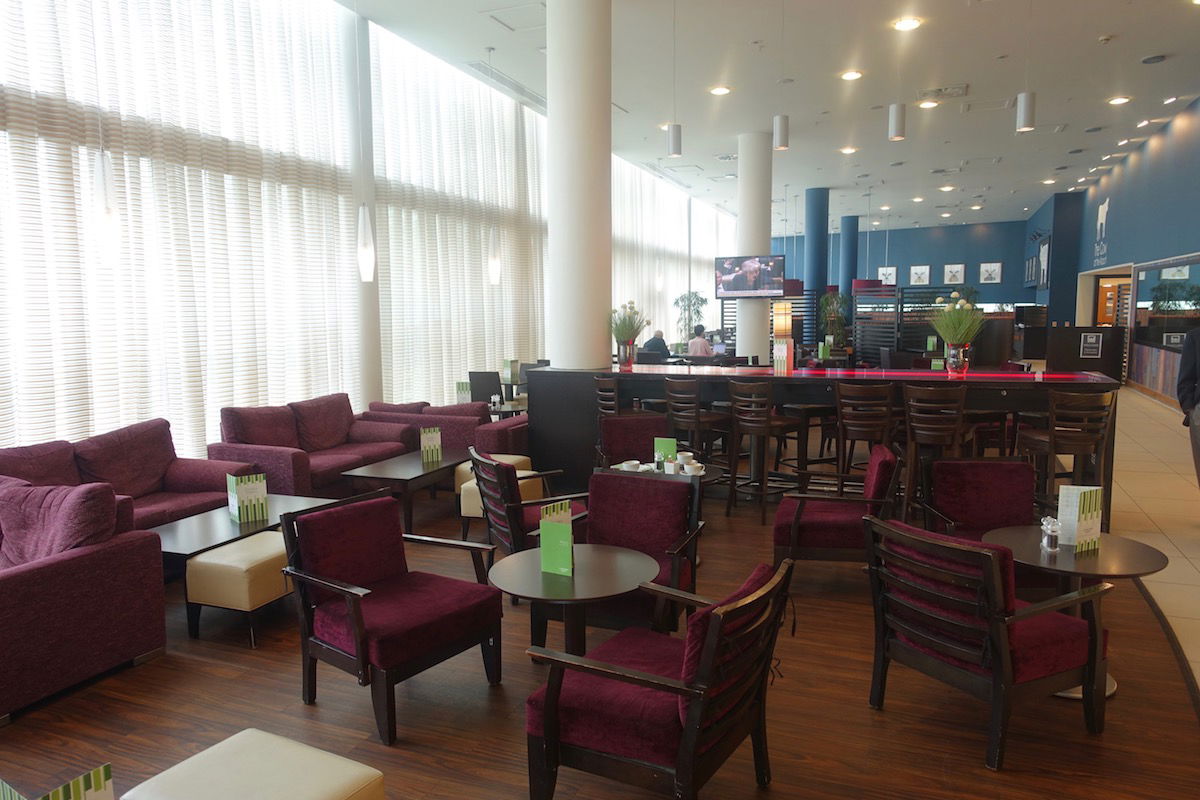 Courtyard London Gatwick lobby bar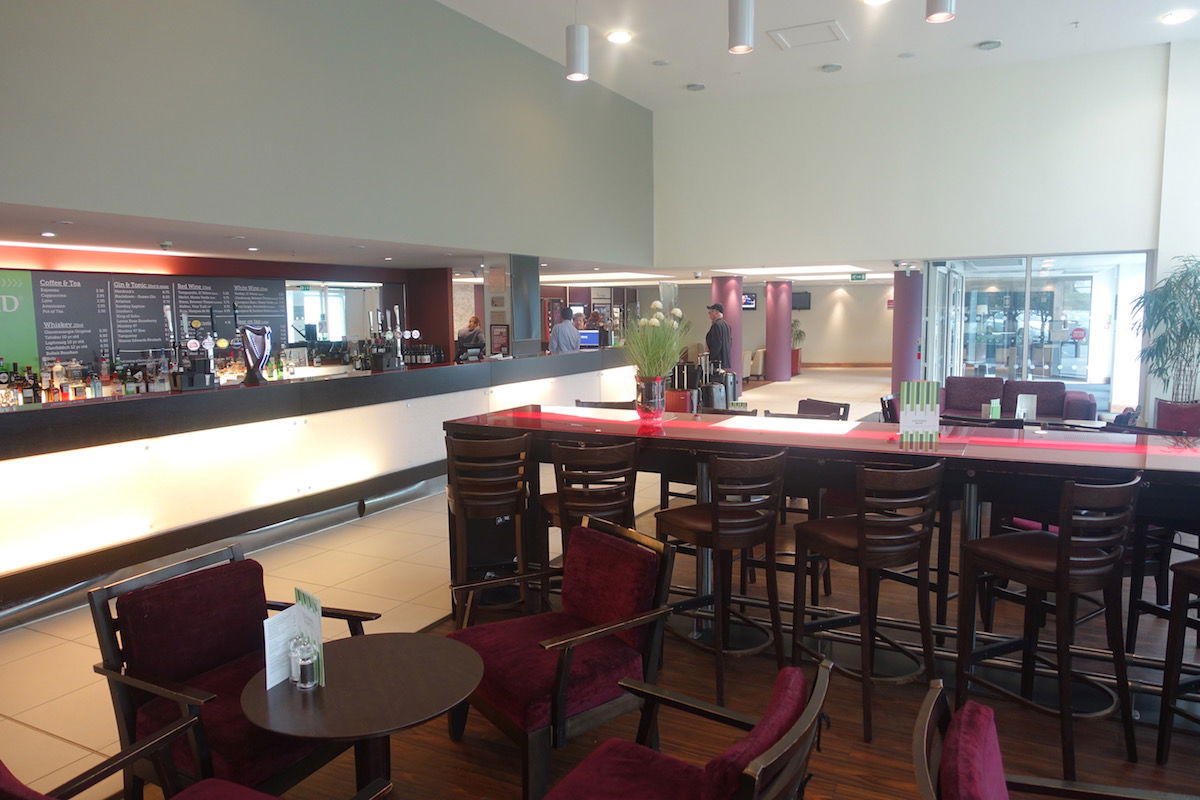 Courtyard London Gatwick lobby bar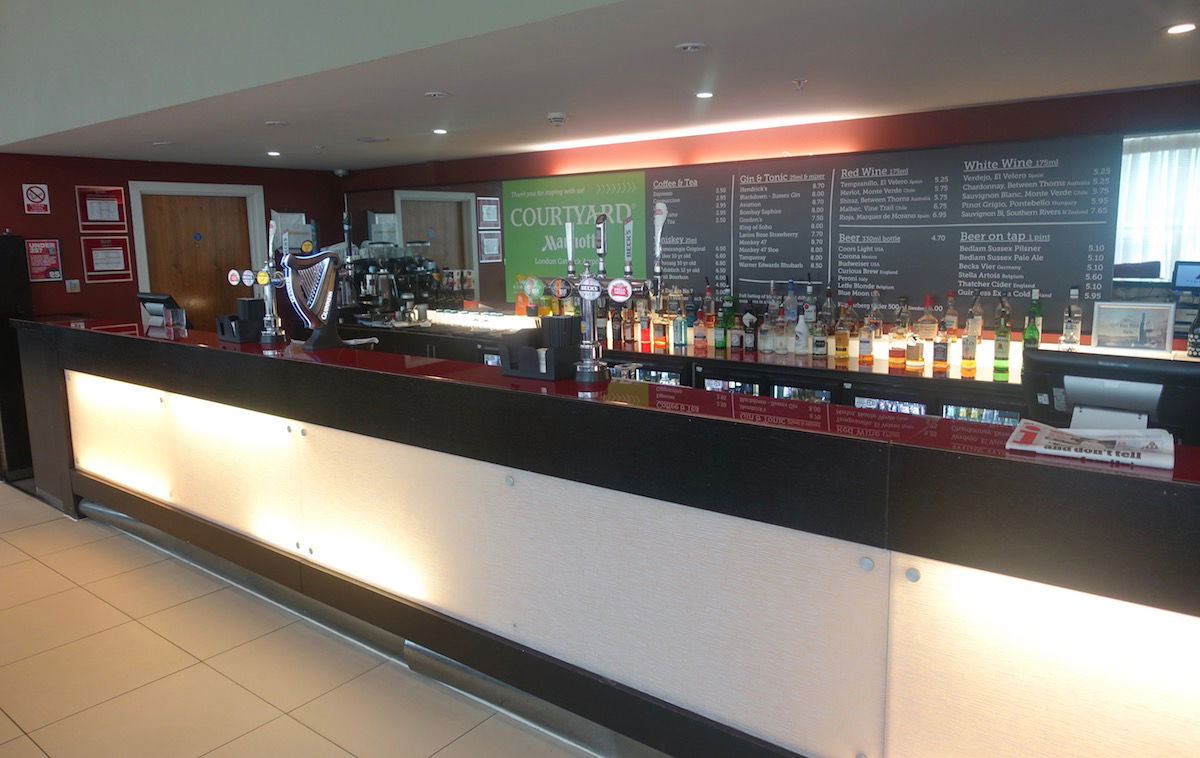 Courtyard London Gatwick lobby bar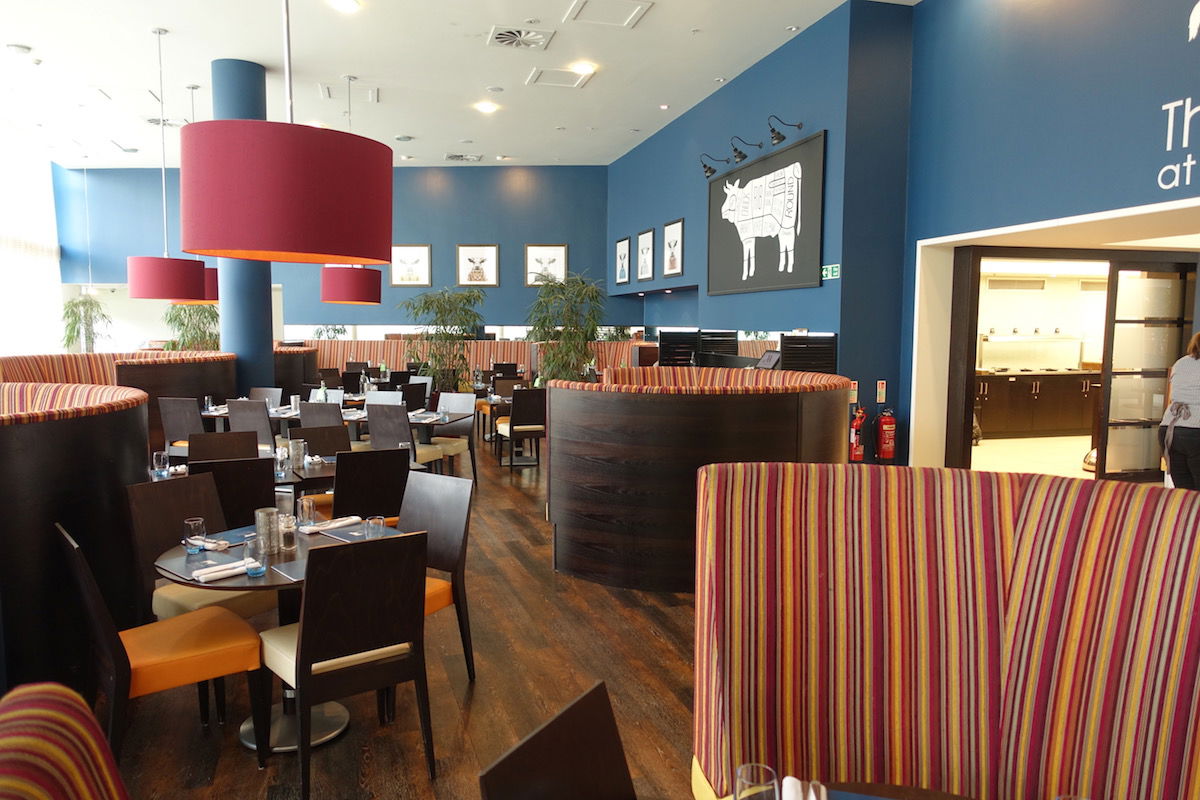 Courtyard London Gatwick restaurant
I took down my laptop with me, though to my surprise the bar and restaurant were both super busy and loud (obviously the pictures above were taken earlier in the day). So I instead decided to go to my room and order room service.
The room service menu read as follows: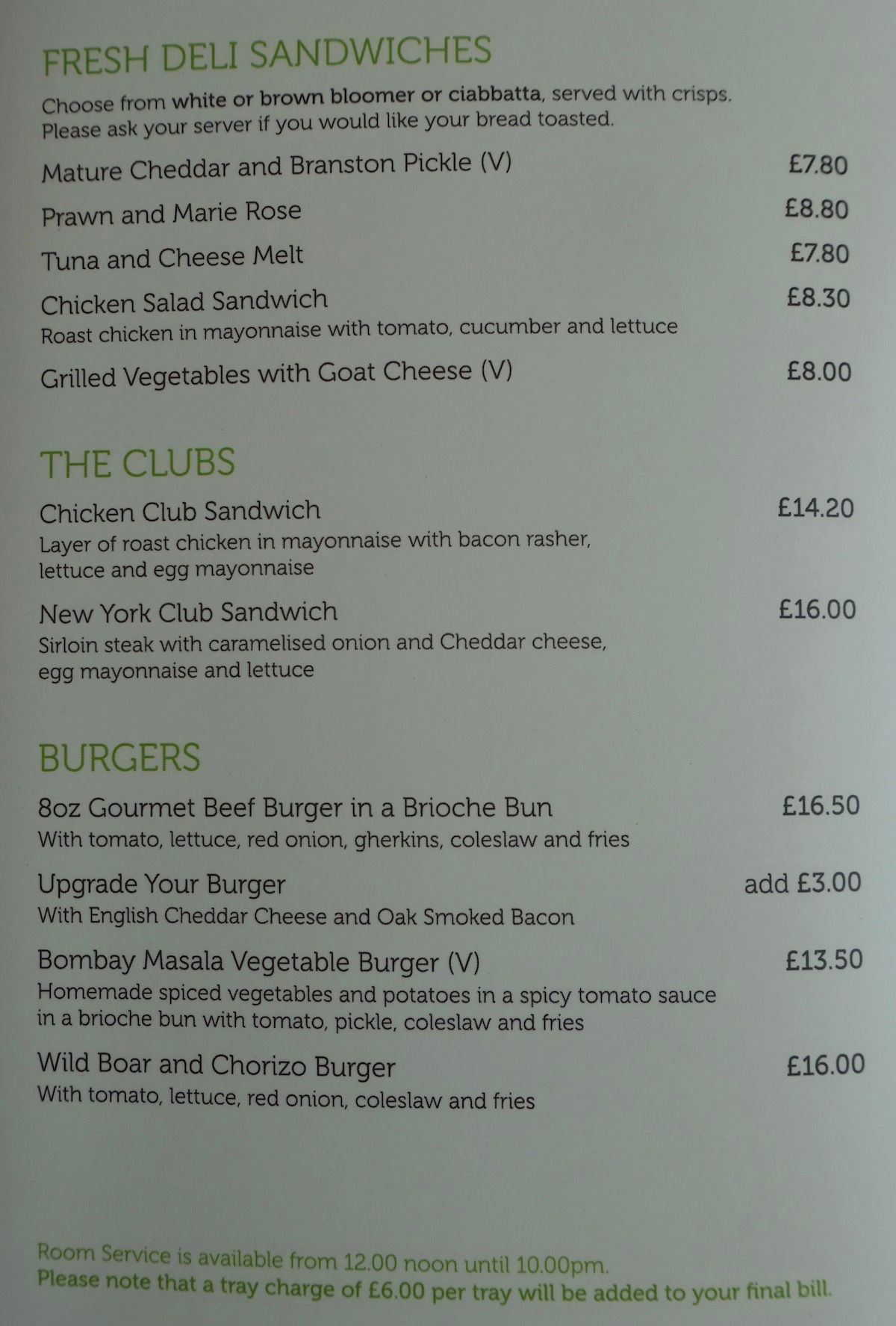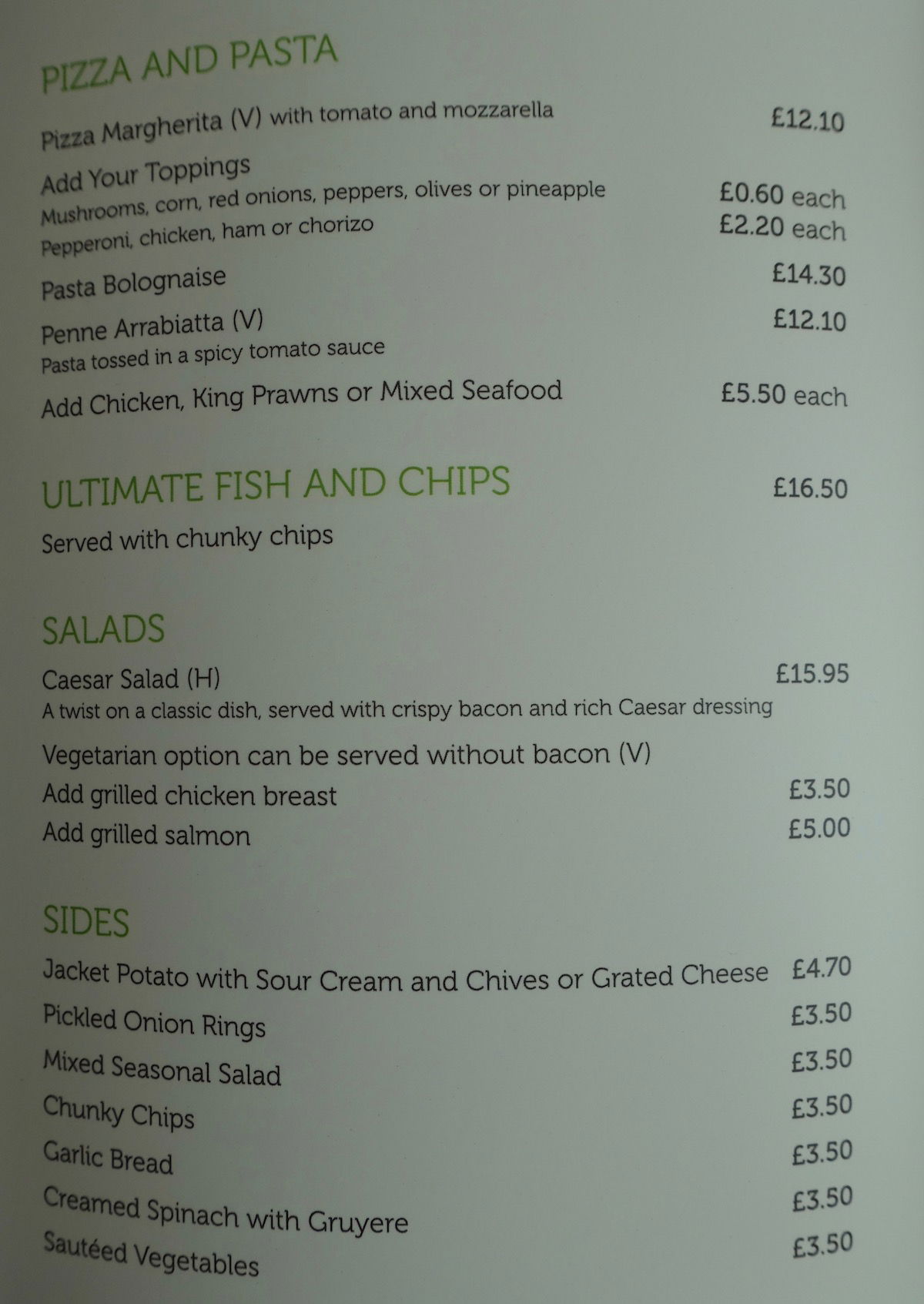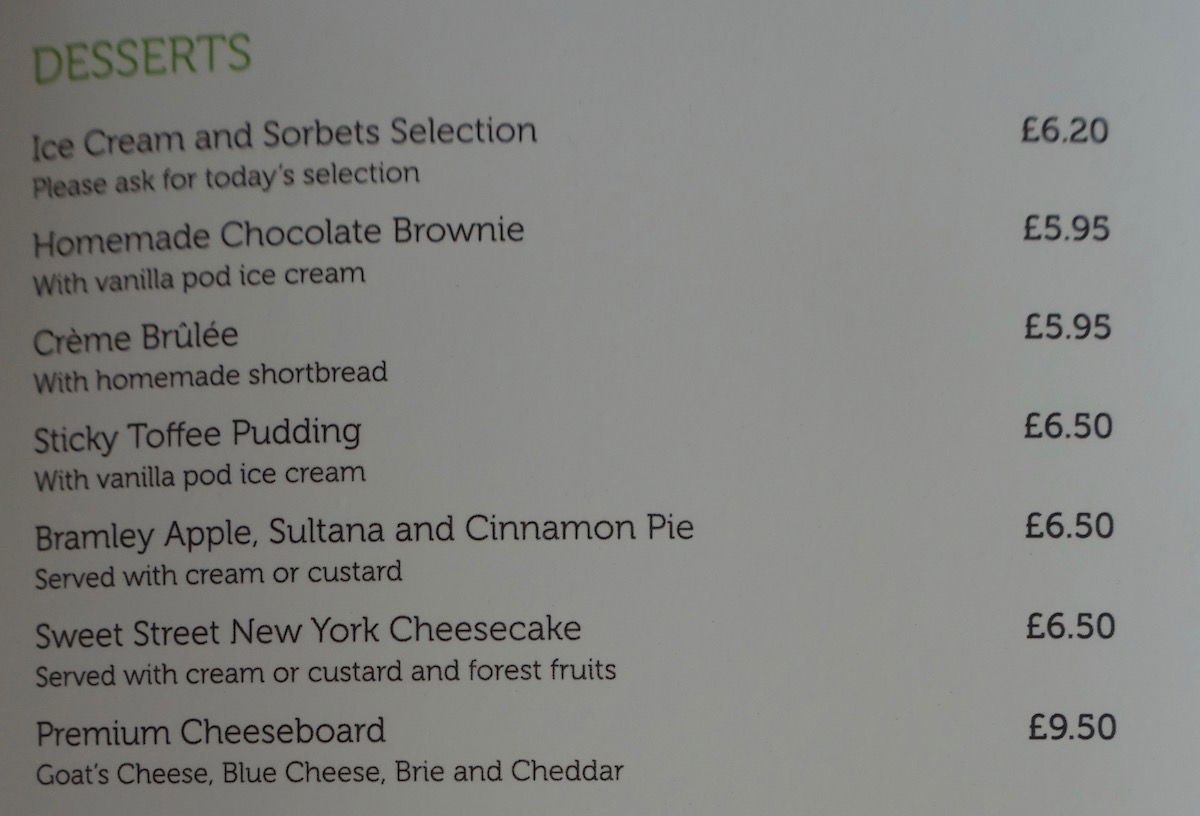 I have very low expectations of room service at limited service airport hotels, so I ordered the pizza. While you can go wrong with pizza, you can't go that wrong. Okay, maybe you actually can, but I feel like it's lower risk than many of the other options.
The pizza was delivered in a box, and was fine. It wasn't good, but I've also had worse pizzas.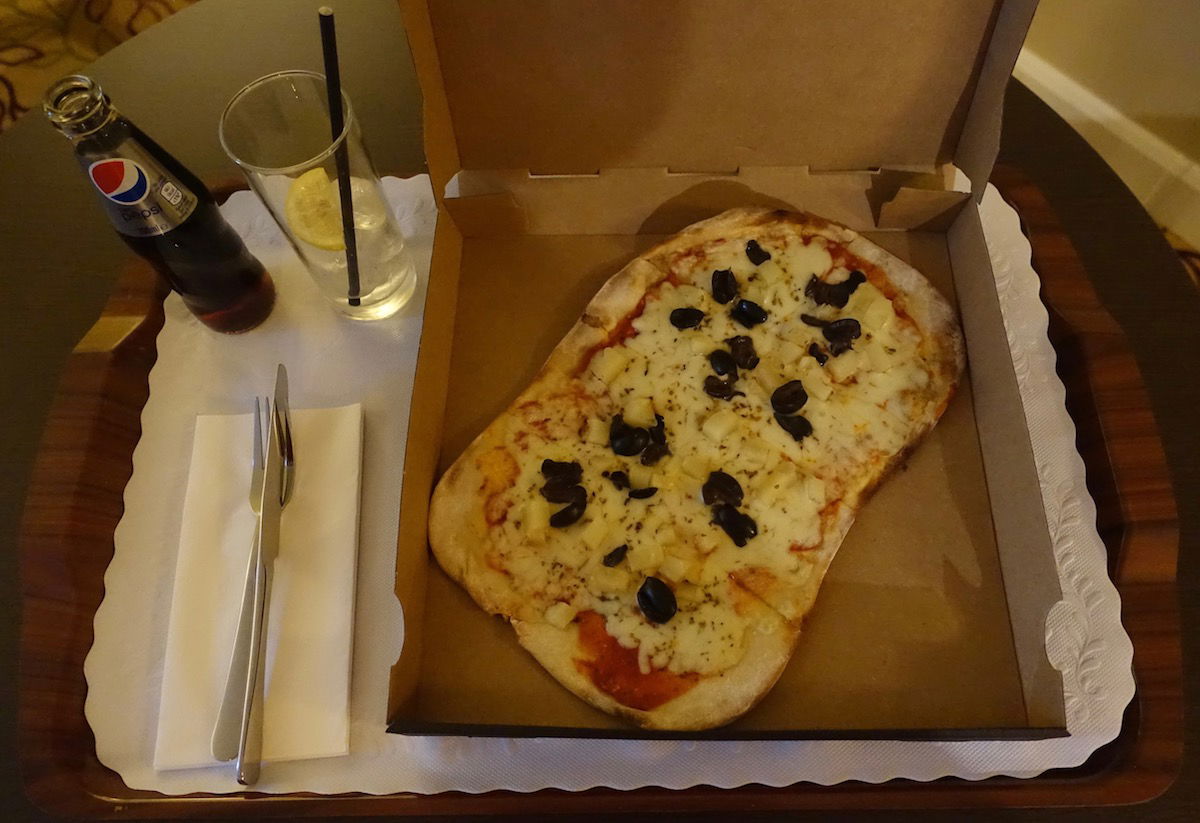 Courtyard London Gatwick room service
Marriott's new elite program is impossibly complicated, and Courtyard properties are ones where Platinum members don't receive complimentary breakfast. Rather you get points or a small food & beverage voucher, so I selected the points.
Instead the next morning I headed to the airport a bit early to have breakfast at the Priority Pass restaurant, which was good.
Courtyard Gatwick bottom line
I believe this was my first-ever Courtyard stay, and I won't judge the rest of the brand by this, since this is an outdated airport hotel. All things considered the Courtyard met my needs for a one night stay, especially since I was looking for a Marriott stay credit.
However, in the future I think I'd stay at the Hilton again. It has a more convenient location, and on principle I'd also rather not support a Marriott brand that chooses not to offer elite members breakfast (meanwhile as an Honors Diamond member I receive lounge access/breakfast at the Hilton).
Anyone have a take on the Courtyard brand in general — do they have some decent hotels, or what's actually supposed to make the brand unique?