---
WestJet 1
Calgary (YYC) – London (LGW)
Tuesday, April 30
Depart: 7:20PM
Arrive: 10:50AM (+1 day)
Duration: 8hr30min
Aircraft: Boeing 787-9
Seat: 4A (Business Class)
I love trying new products, so I was so excited when I boarded the WestJet 787! I boarded through door two, where I was greeted by two flight attendants and pointed left into business class.
WestJet has a fairly premium-light configuration on their 787. While many airlines use the entire space between doors one and two on the 787-9 for business class, WestJet squeezes both business and premium economy in that space, and then the rest of the plane is economy.
First I walked through the four rows of premium economy. This consisted of a total of 28 seats, in a 2-3-2 configuration.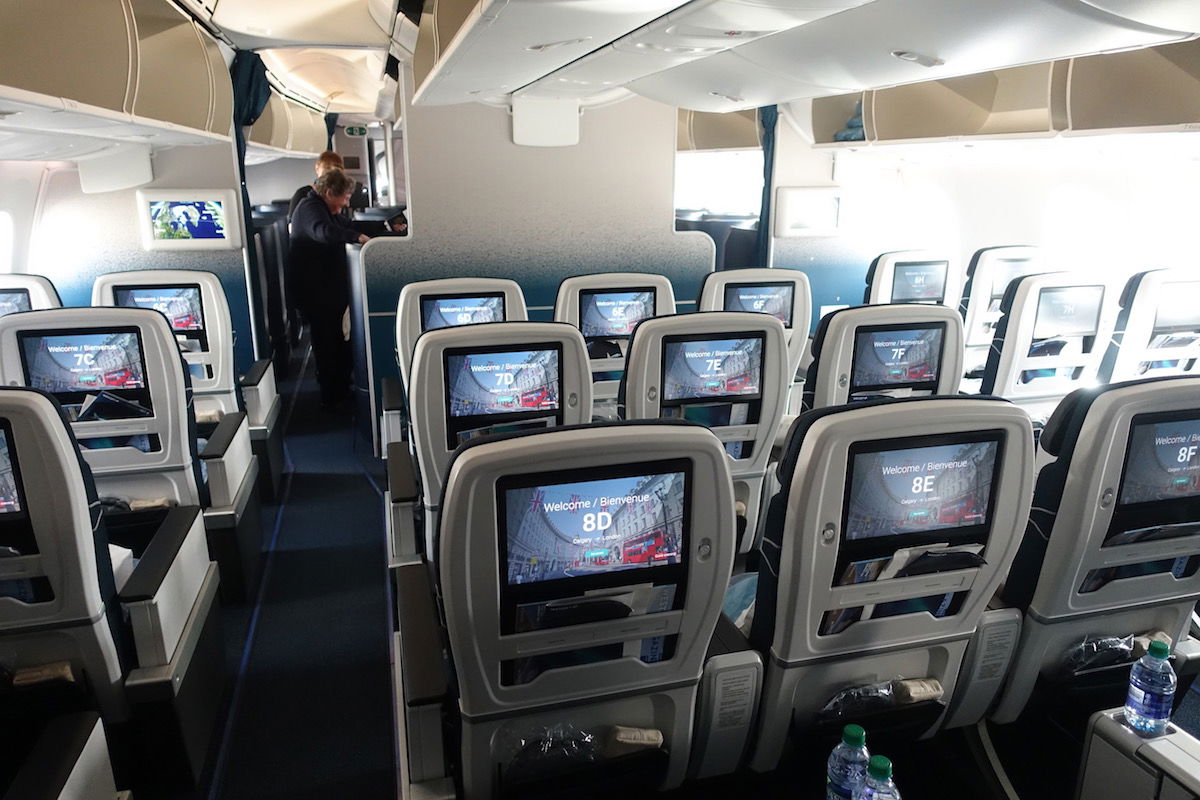 WestJet 787 premium economy cabin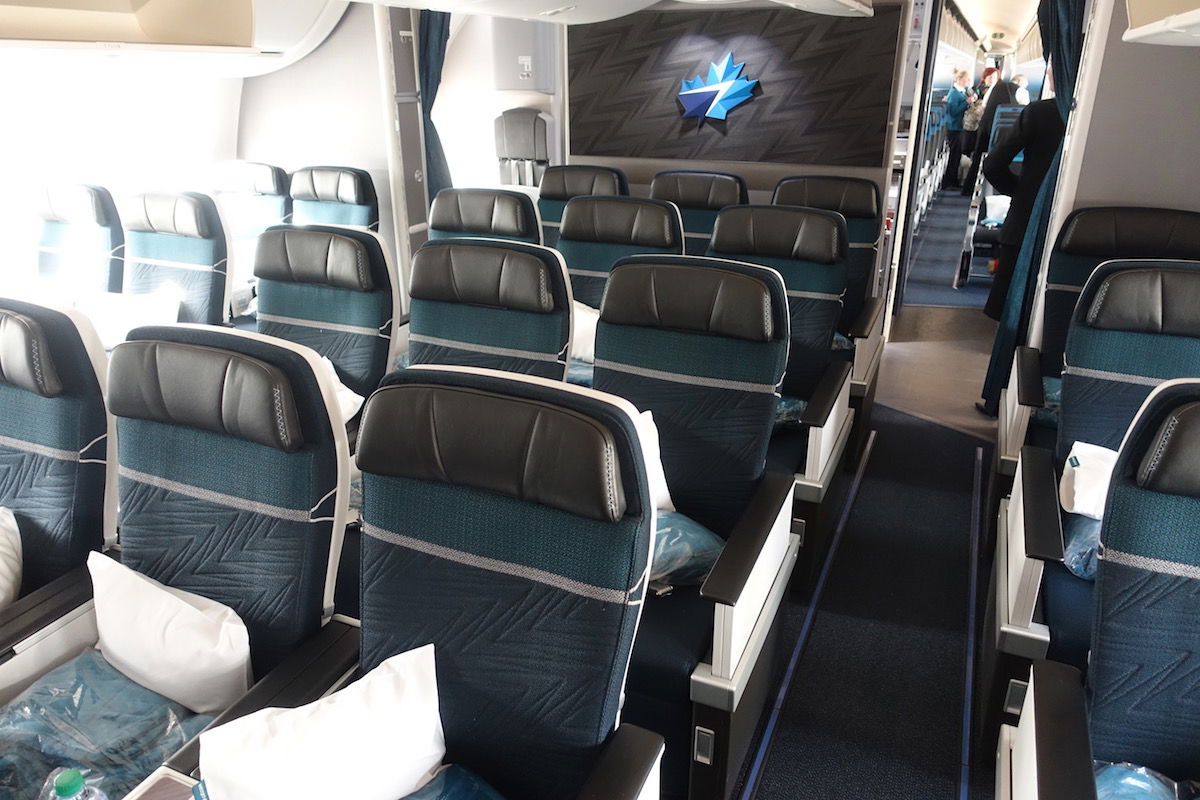 WestJet 787 premium economy cabin
The premium economy seats looked pretty standard, though I liked the unique finishes WestJet uses.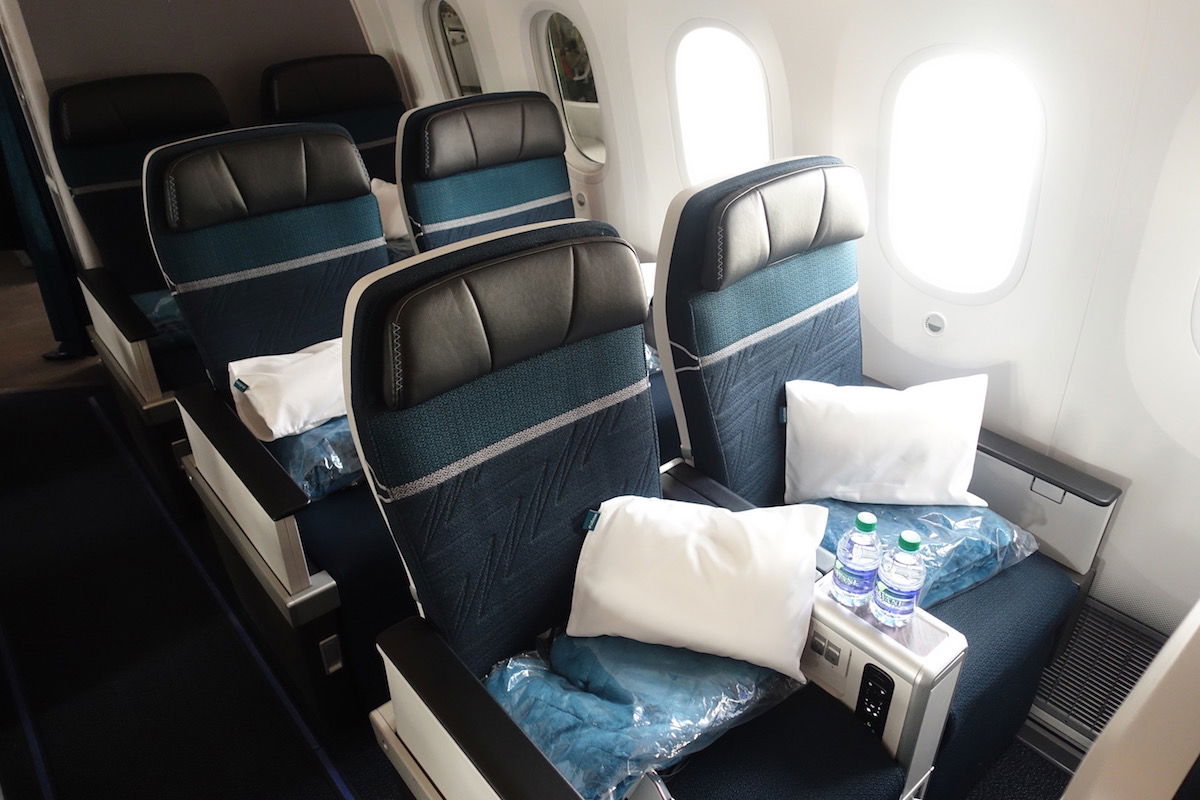 WestJet premium economy seats
Then there was the business class cabin, which consisted of a total of 16 seats, spread across four rows in a 1-2-1 configuration. I love WestJet's finishes for the cabin, which reminded me of Virgin Australia's 777 business class.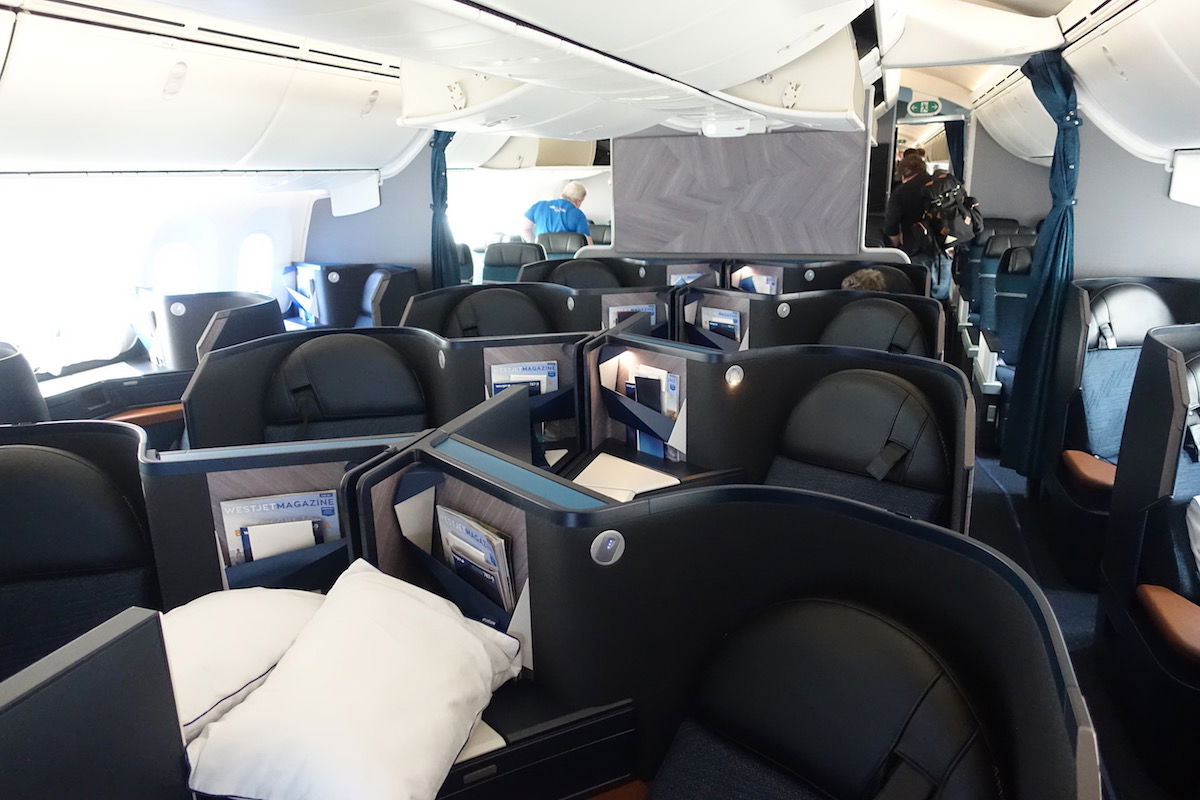 WestJet 787 business class cabin
The fact that the cabin has only 16 seats and four rows gives it an intimate feel that you don't get on many other airlines.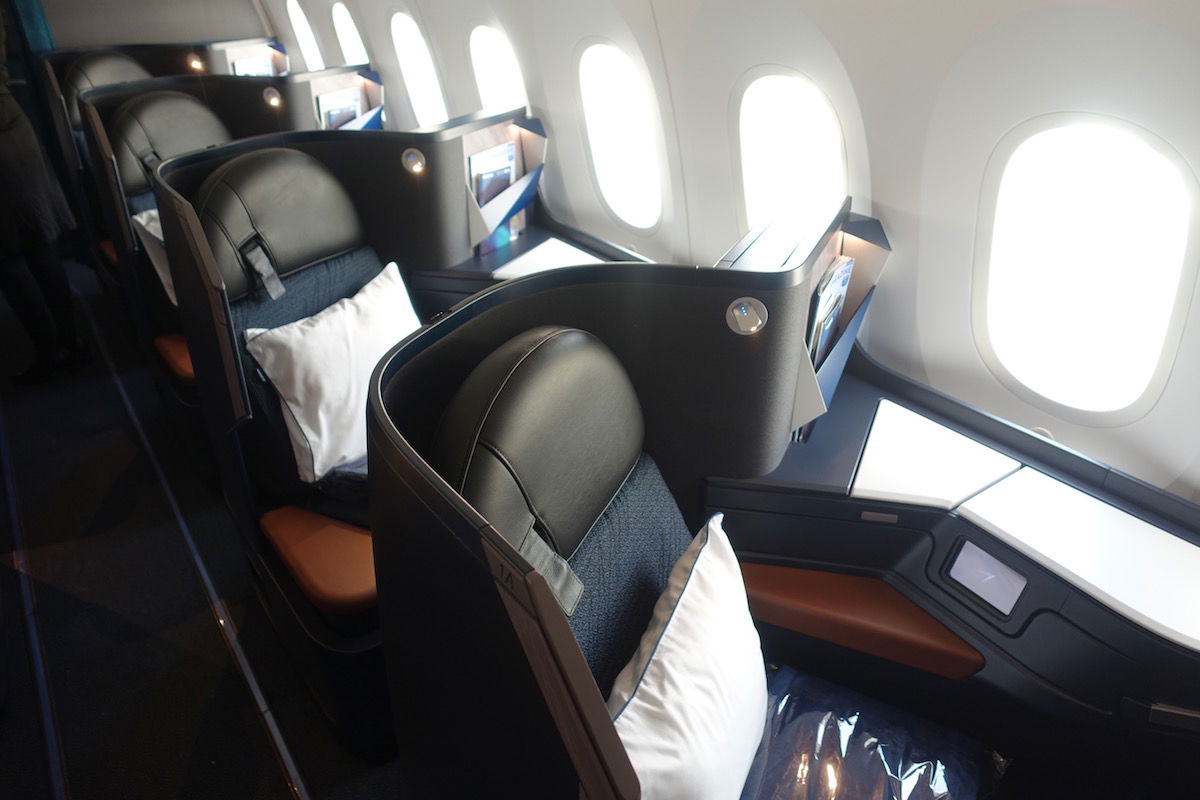 WestJet 787 business class seats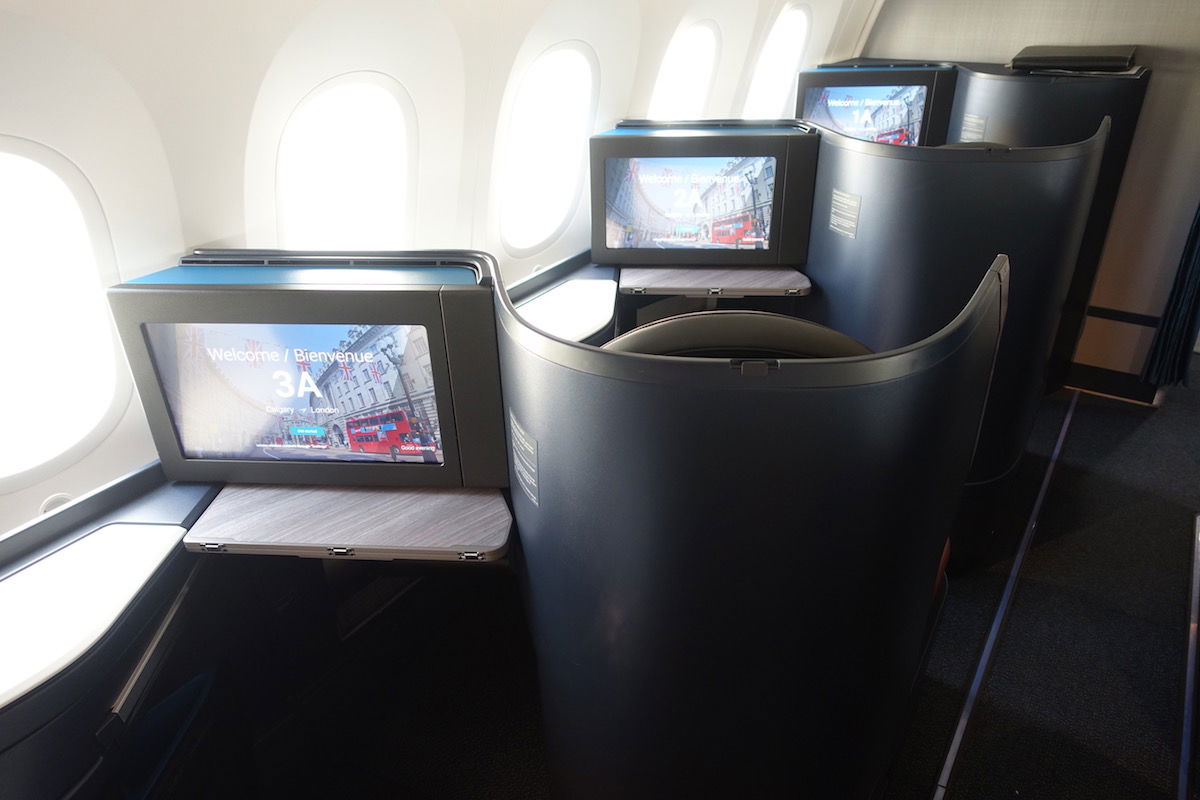 WestJet 787 business class seats
I had assigned myself seat 4A, the window seat on the left side in the last row.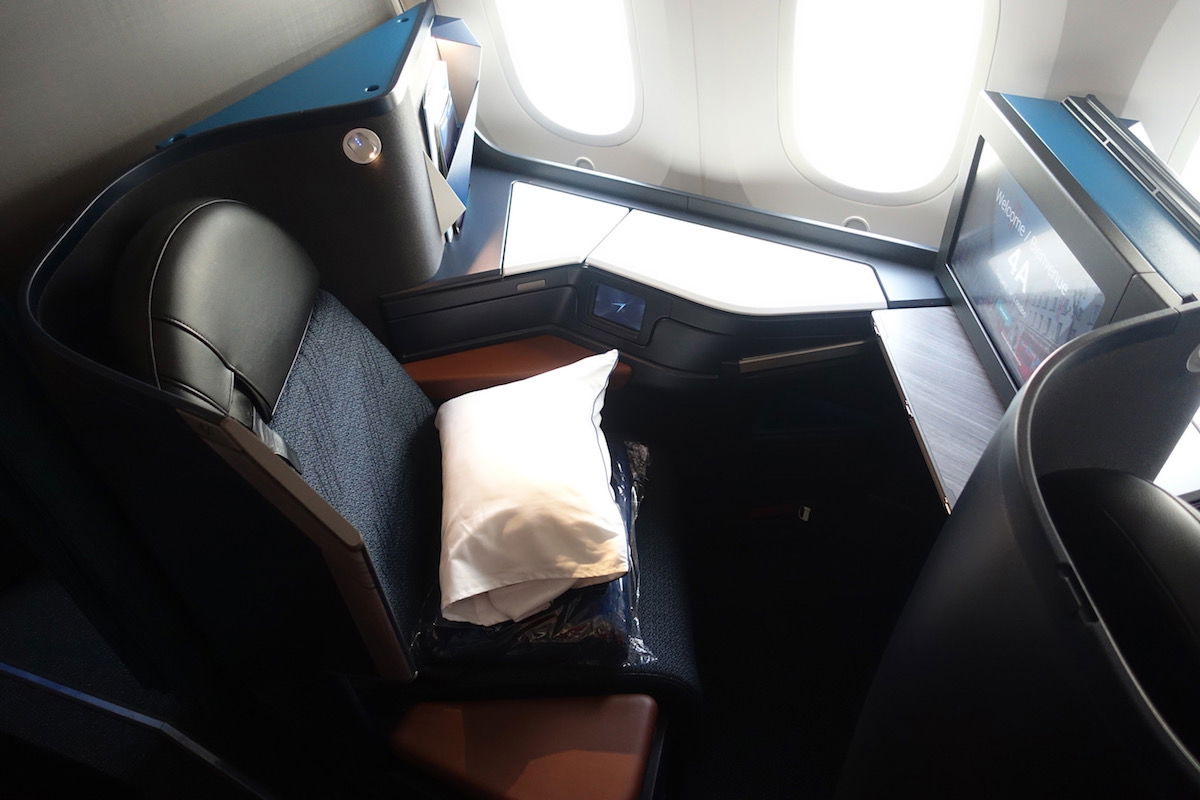 WestJet business class seat
While the finishes are customized, otherwise this is a pretty standard B/E Aerospace Super Diamond seat, so there's not much variability there between airlines.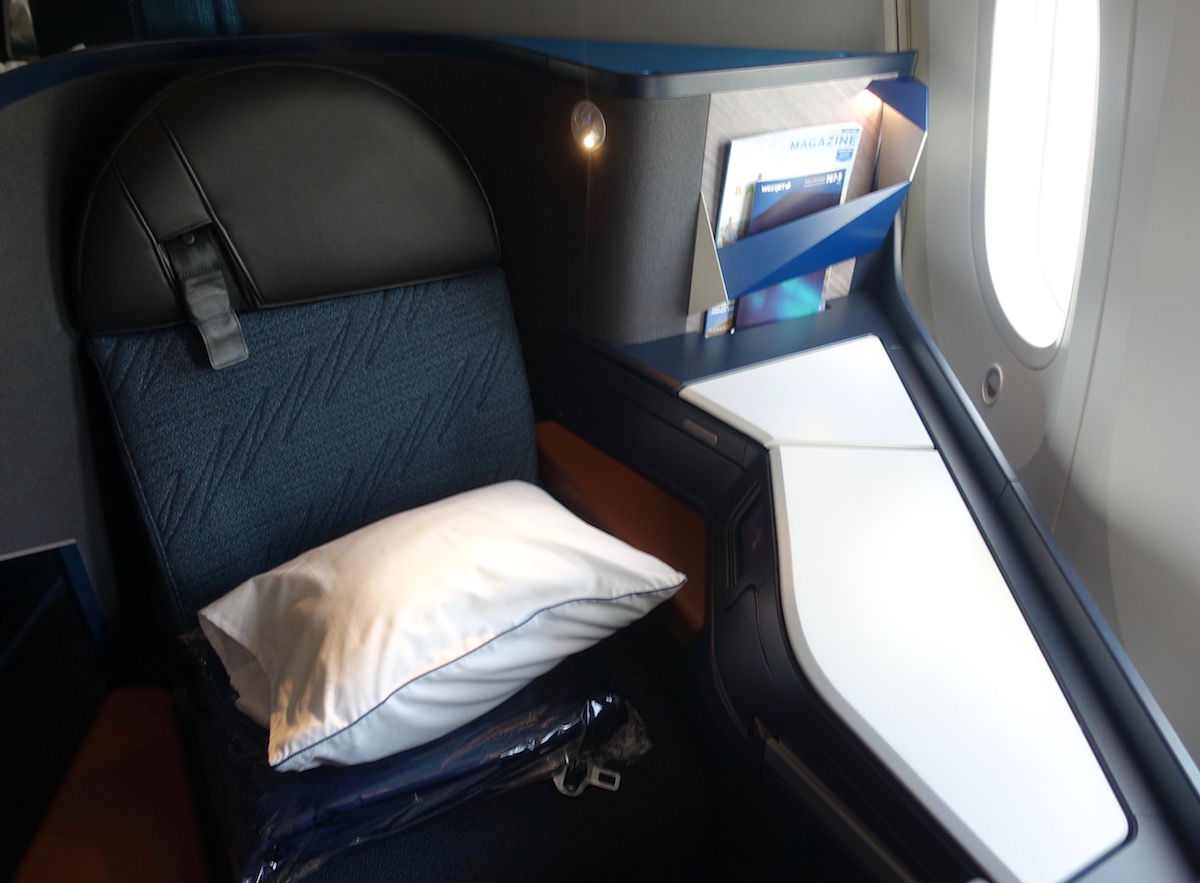 WestJet business class seat
The personal television was in a fixed position on the back of the seat in front, and the tray table slides out from underneath the TV, and can be folded over in half.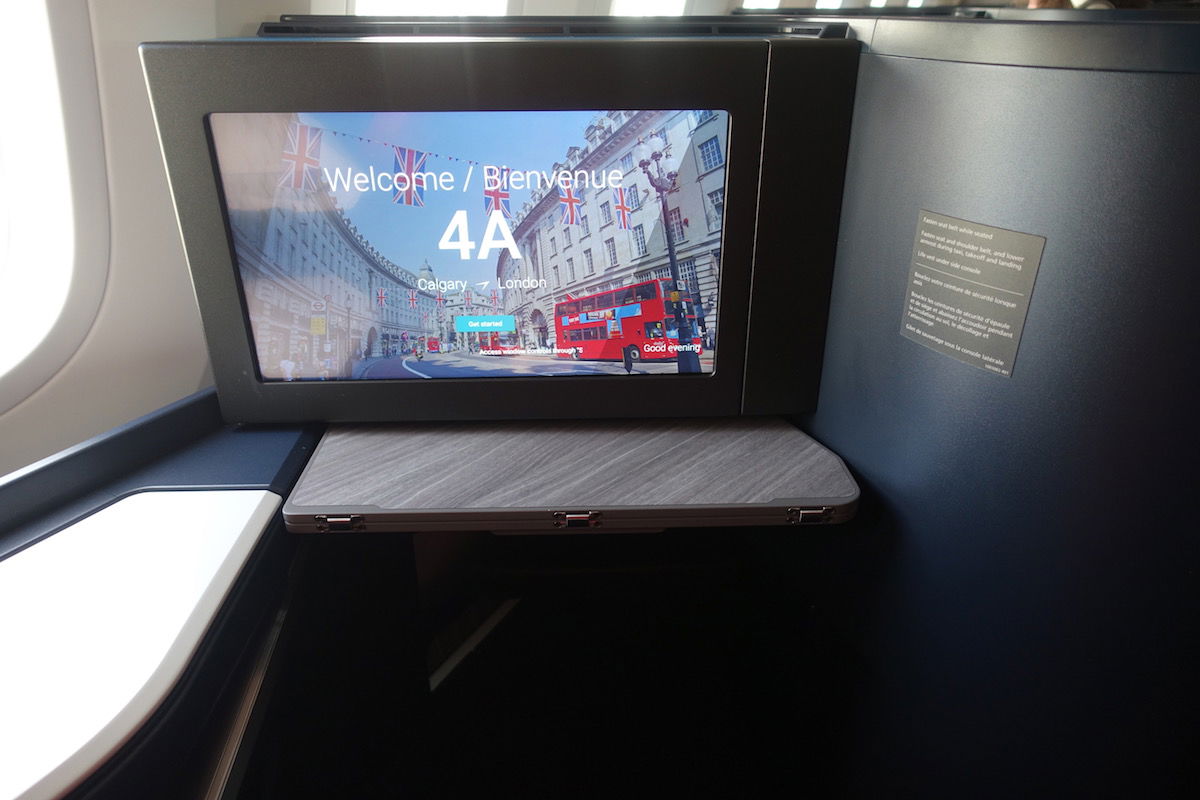 WestJet business class seat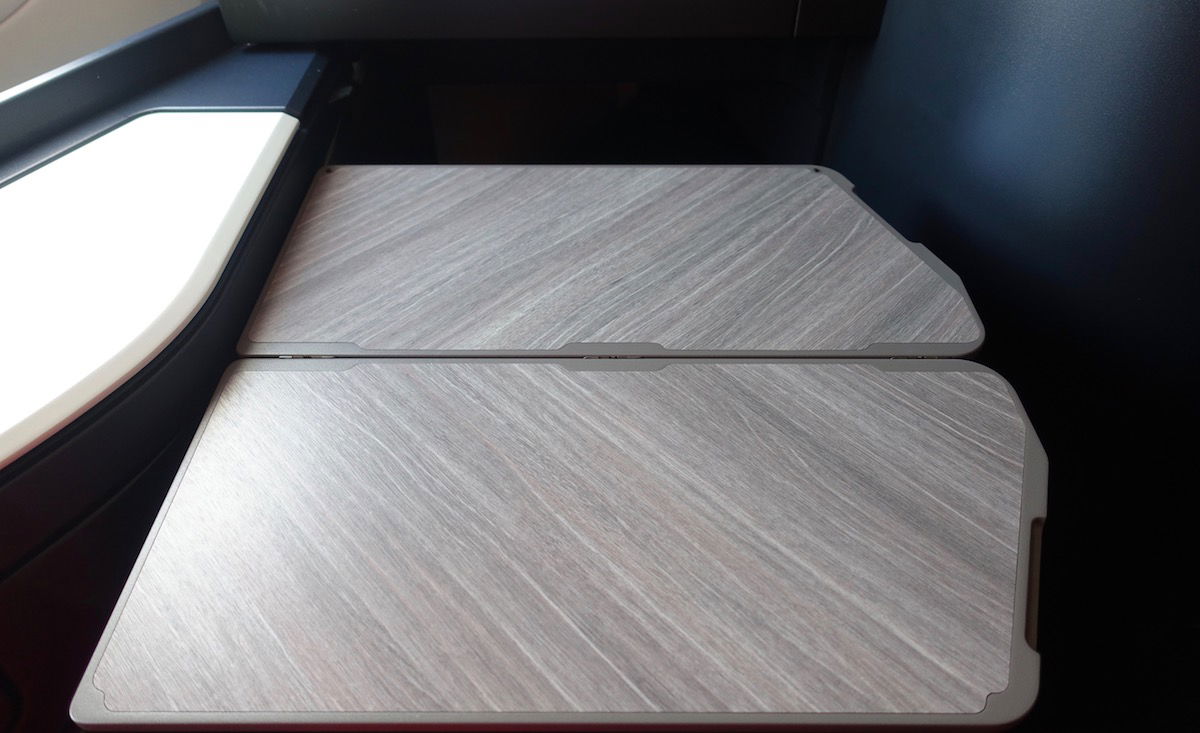 WestJet business class tray table
Then to the left of the seat was a literature pocket.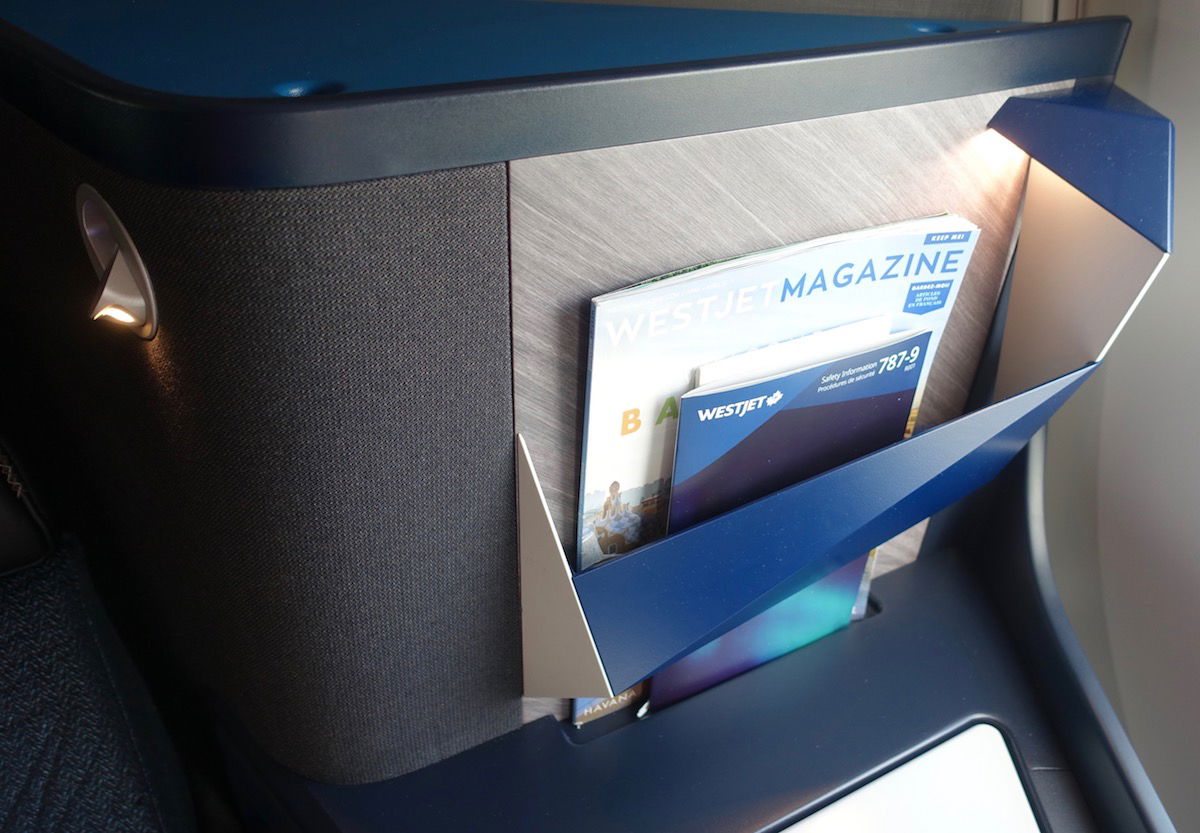 WestJet business class literature pocket
Next to that were the two enclosed compartments. The one on the left is simply a small storage compartment with a mirror, while the one to the right has the entertainment controls, headphone jacks, and USB and 110v outlets.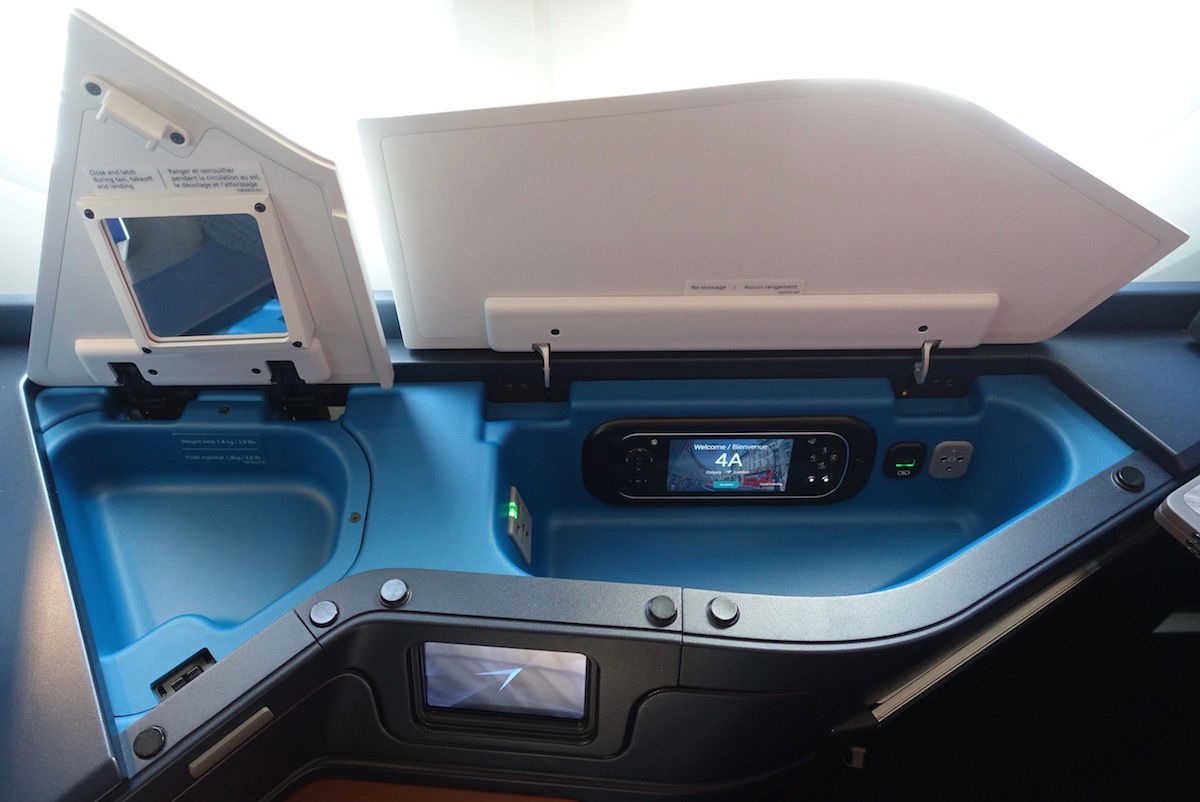 WestJet business class seat storage
Underneath that was a small monitor that can be used to control the seat functions.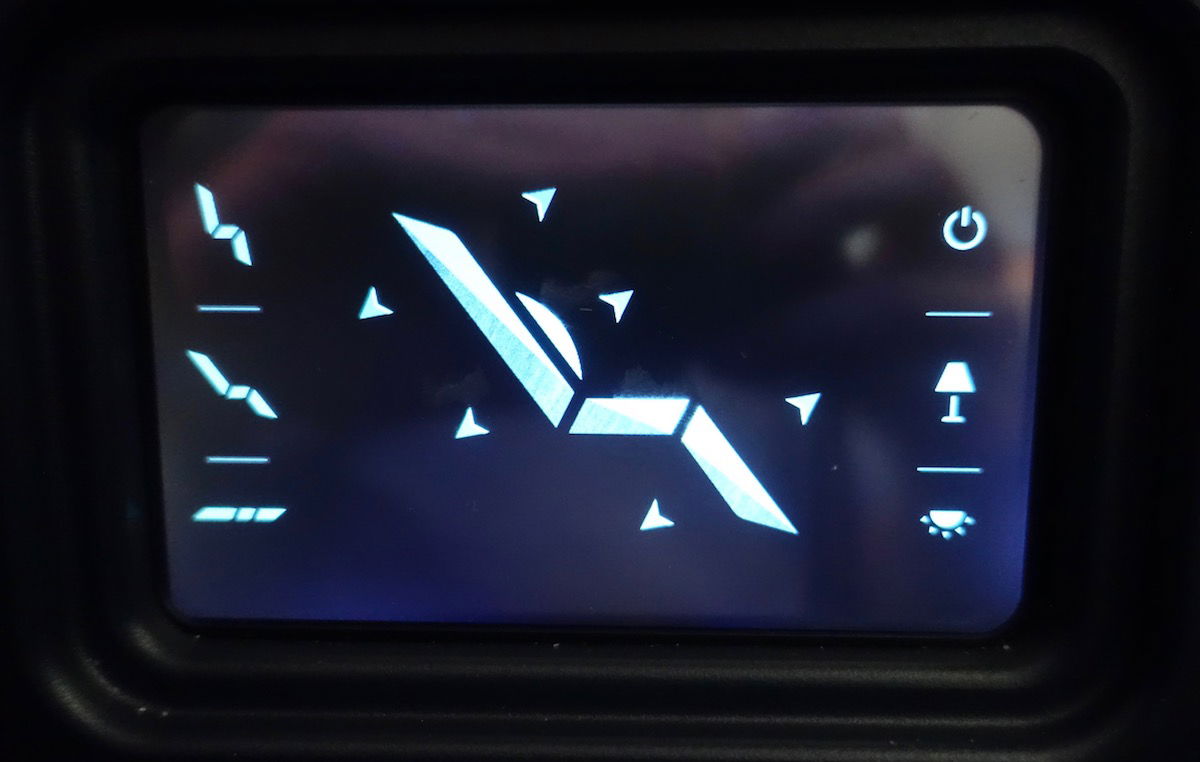 WestJet business class seat controls
Underneath the seat and to the left was a small exposed storage compartment.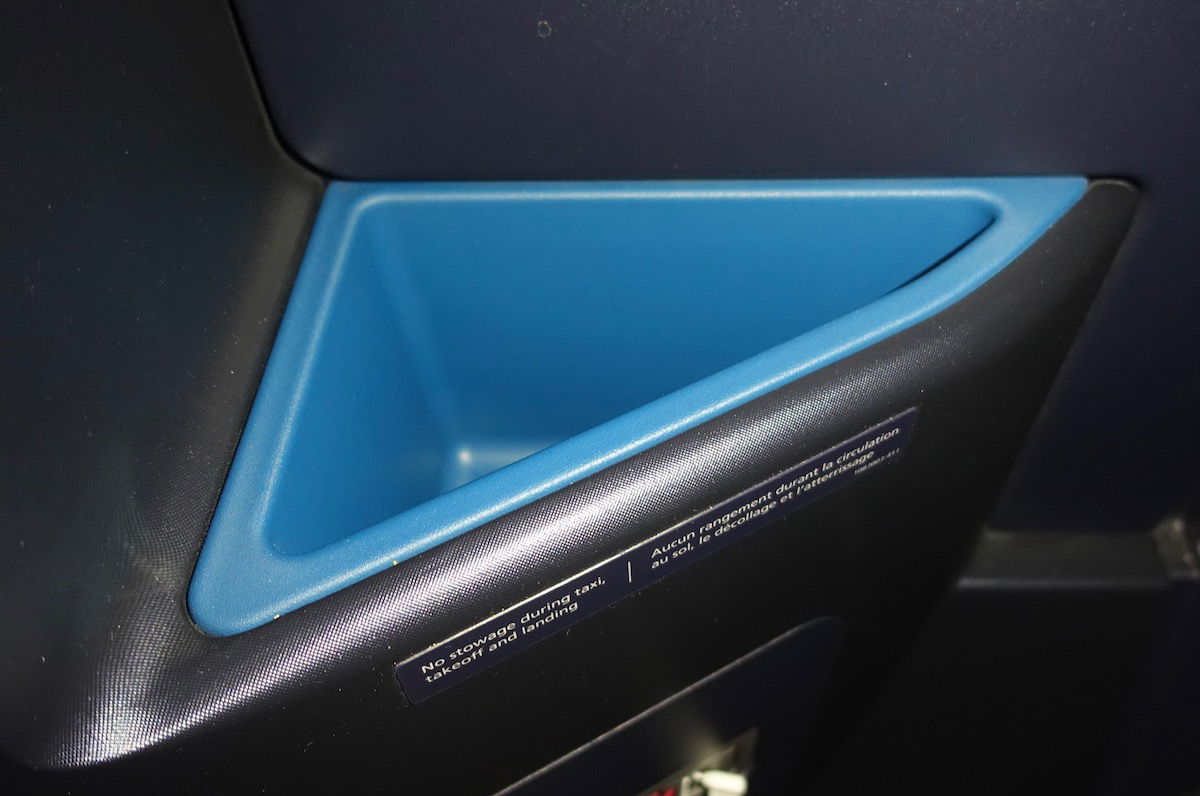 WestJet business class storage
Then to the right of the seat was an armrest that could be raised or lowered, which also acted as a storage compartment.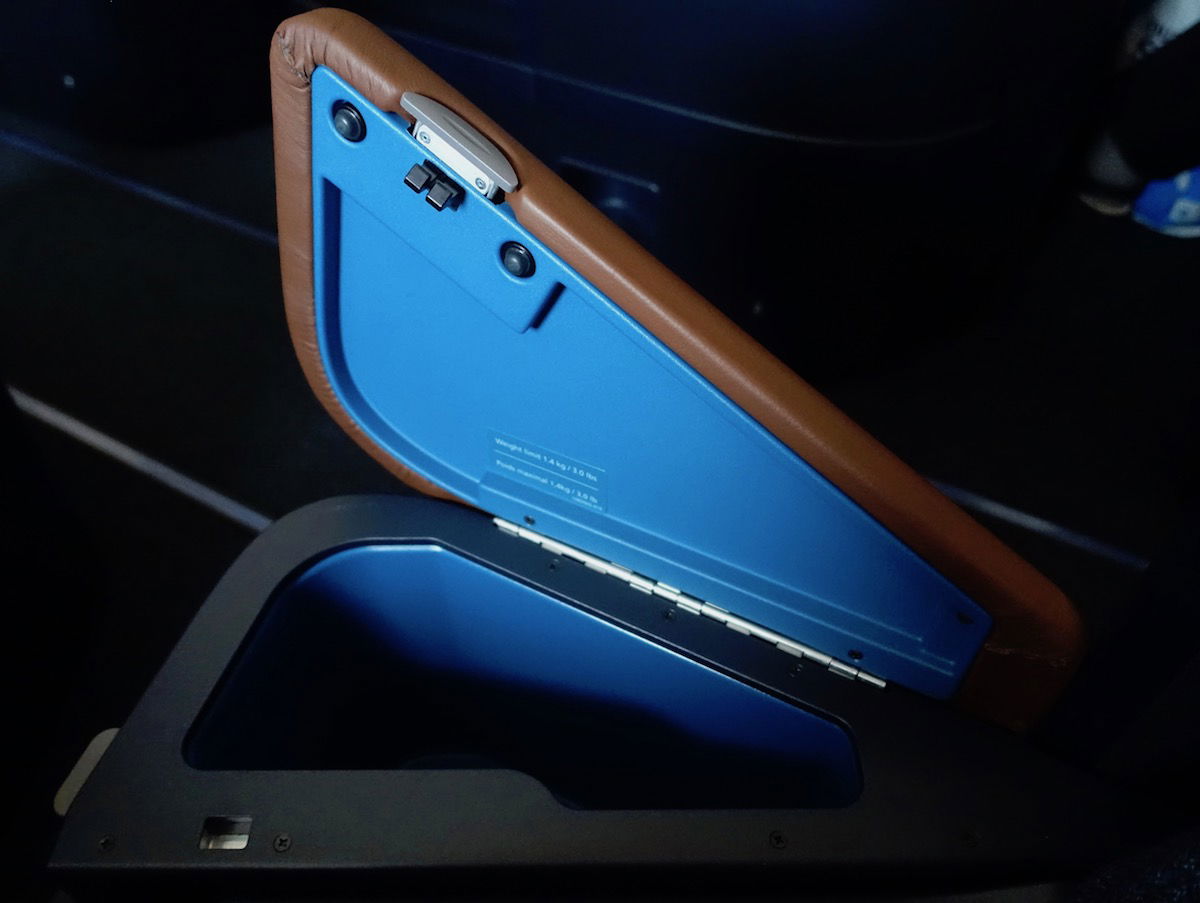 WestJet business class storage
The footwell was a decent size, so even in bed mode it was fairly comfortable.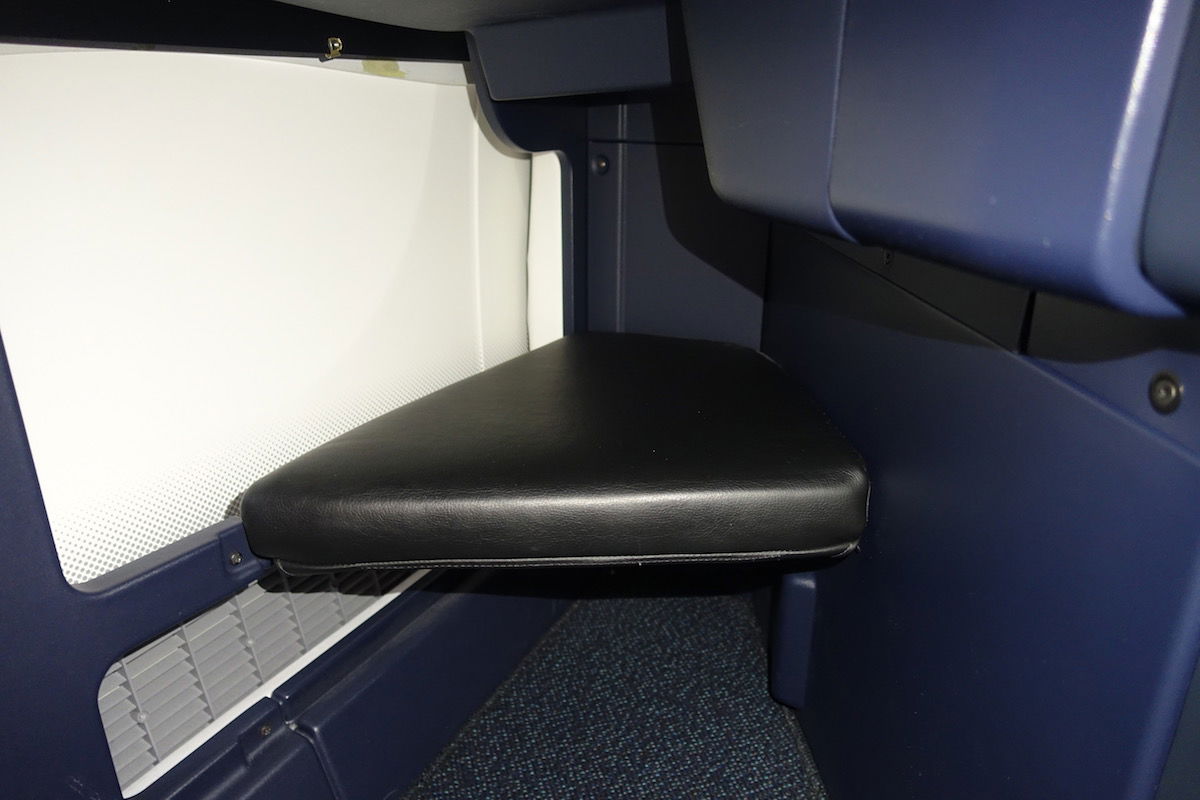 WestJet business class footwell
My one complaint about WestJet's product is that they don't have individual air nozzles at every seat. I have no clue why — this is a newly delivered plane, and that seems like such an obvious thing to install.
Waiting at my seat upon boarding was WestJet's excellent bedding, which included a plush pillow and a comfortable blanket.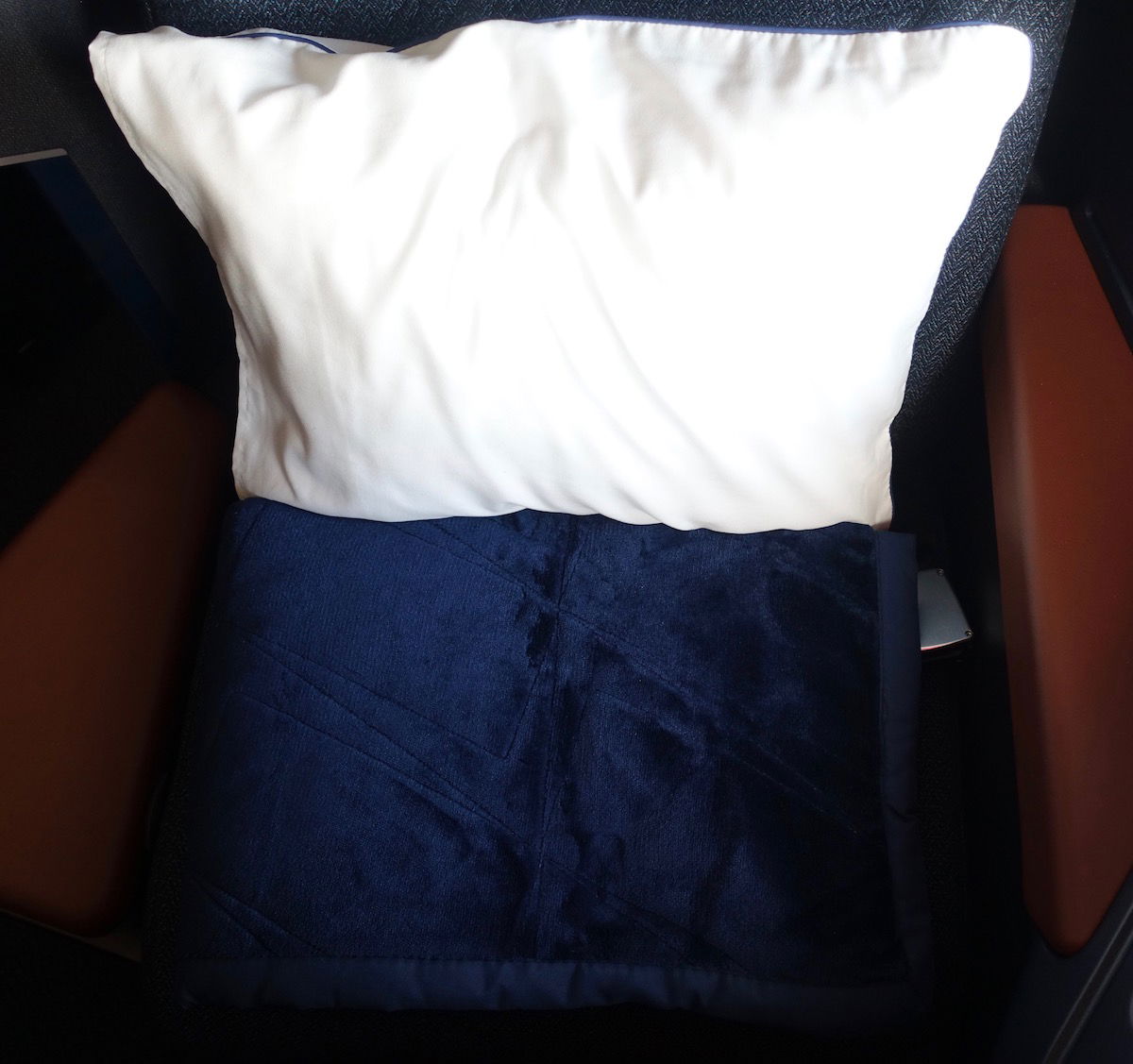 WestJet business class pillow & blanket
Also waiting at my seat were noise canceling headphones, which were just alright.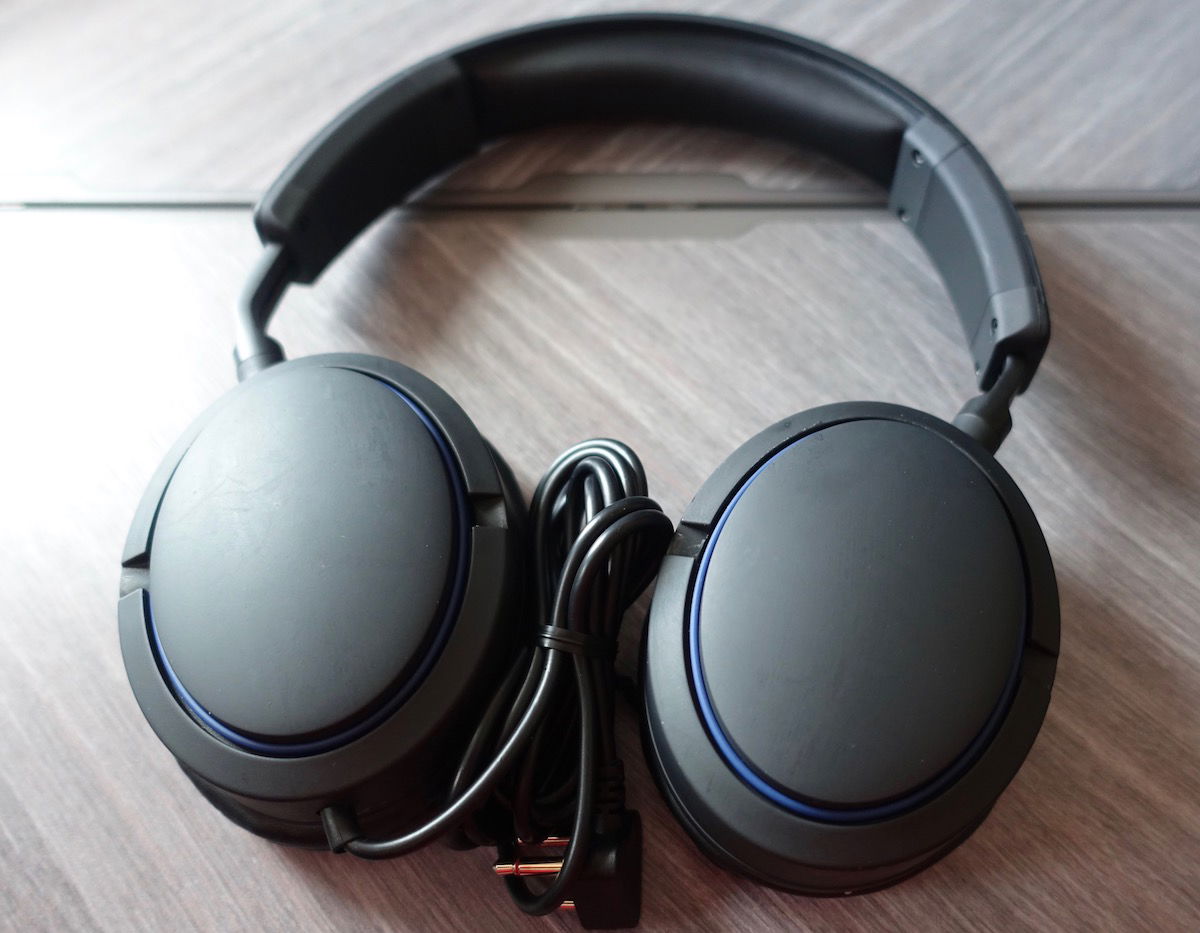 WestJet business class headphones
There was also a bottle of water.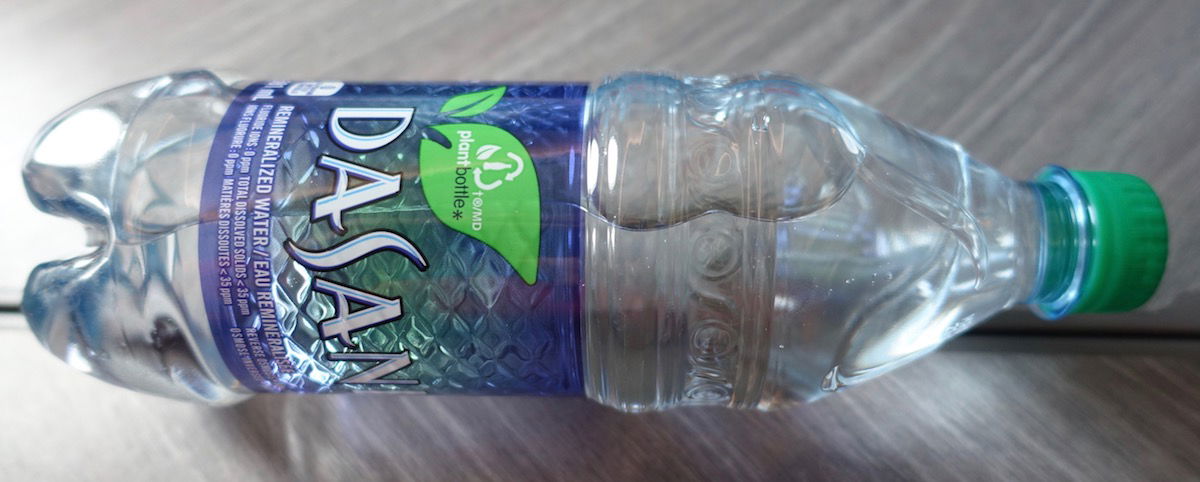 WestJet business class bottled water
Okay, now on to the actual flight. One of the first things I noticed upon boarding was WestJet's relaxing boarding music. I know some people don't notice boarding music at all, but it's something I always remember.
Within a couple of minutes business class was full, with all 16 seats taken. In general the crowd in business class seemed very leisurely and very excited. It sure seemed like there were no business travelers in the cabins. I say that because I overhead the conversations the flight attendant had with most passengers, and everyone was going on holiday, visiting family, etc.
The crew on this flight was fabulously friendly. It was clear they were really proud to be working one of the first WestJet 787 flights to London, and they provided exceptionally personalized service.
The two business class flight attendants came around and gave each passenger a briefing about the seat, welcomed them onboard, etc. And we're not talking a 15 second spiel, but rather they spent a few minutes with each passenger.
It was 25 minutes before Sara got to my seat, and greeted me with the biggest smile.
"Welcome onboard, we're so glad you're here today. Is this your first time in WestJet business class?"
"It is!"
"Great! Is this your first time in a pod seat?"
"It's not. I've flown it on another airline that shall remain nameless."
"Same country?"
"Yep. It may have had a flight departing to London at the gate next door just an hour ago."
"Well, that's to Heathrow, I prefer Gatwick."
Hah.
Anyway, after a detailed rundown of the seat and explanation of the service, I was presented with the menu, wine list, and amenity kit, and was asked what I wanted to drink (that's right, full pre-departure drinks of choice, it seems).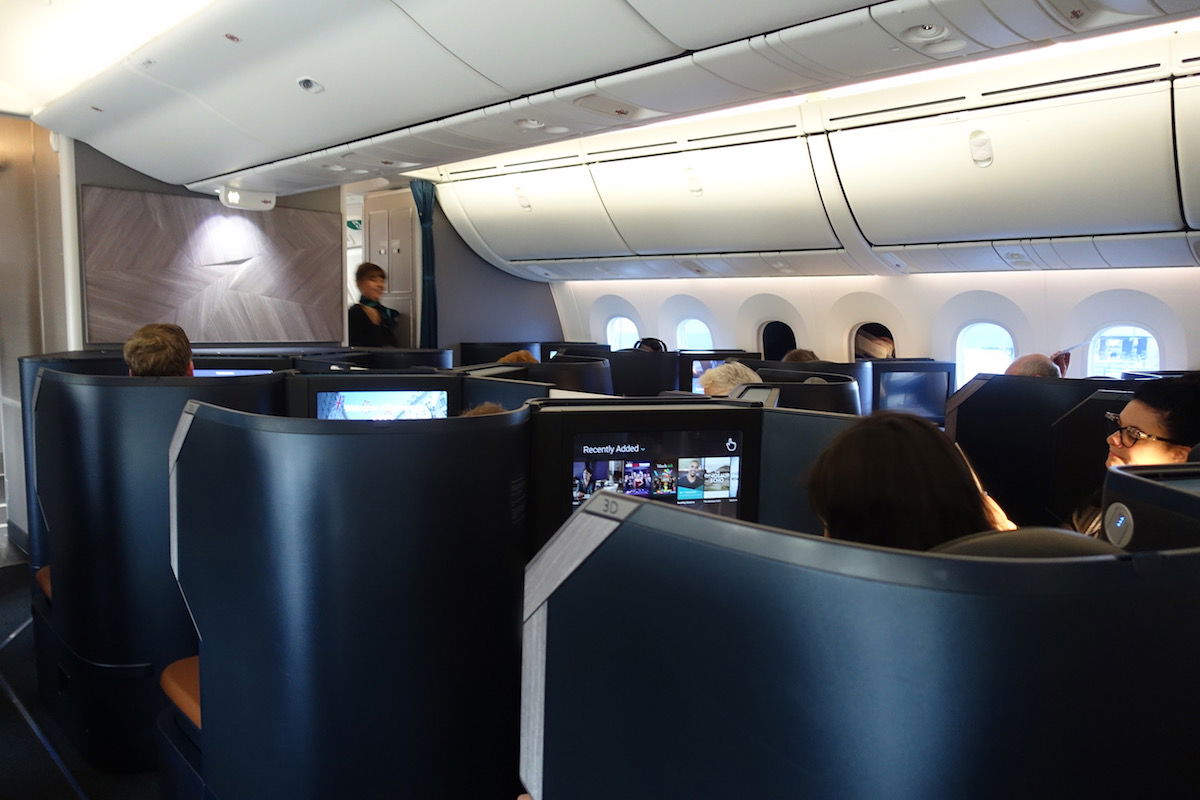 WestJet business class cabin
The amenity kit was pretty nice, and had a good selection of amenities, including items from Province Apothecary.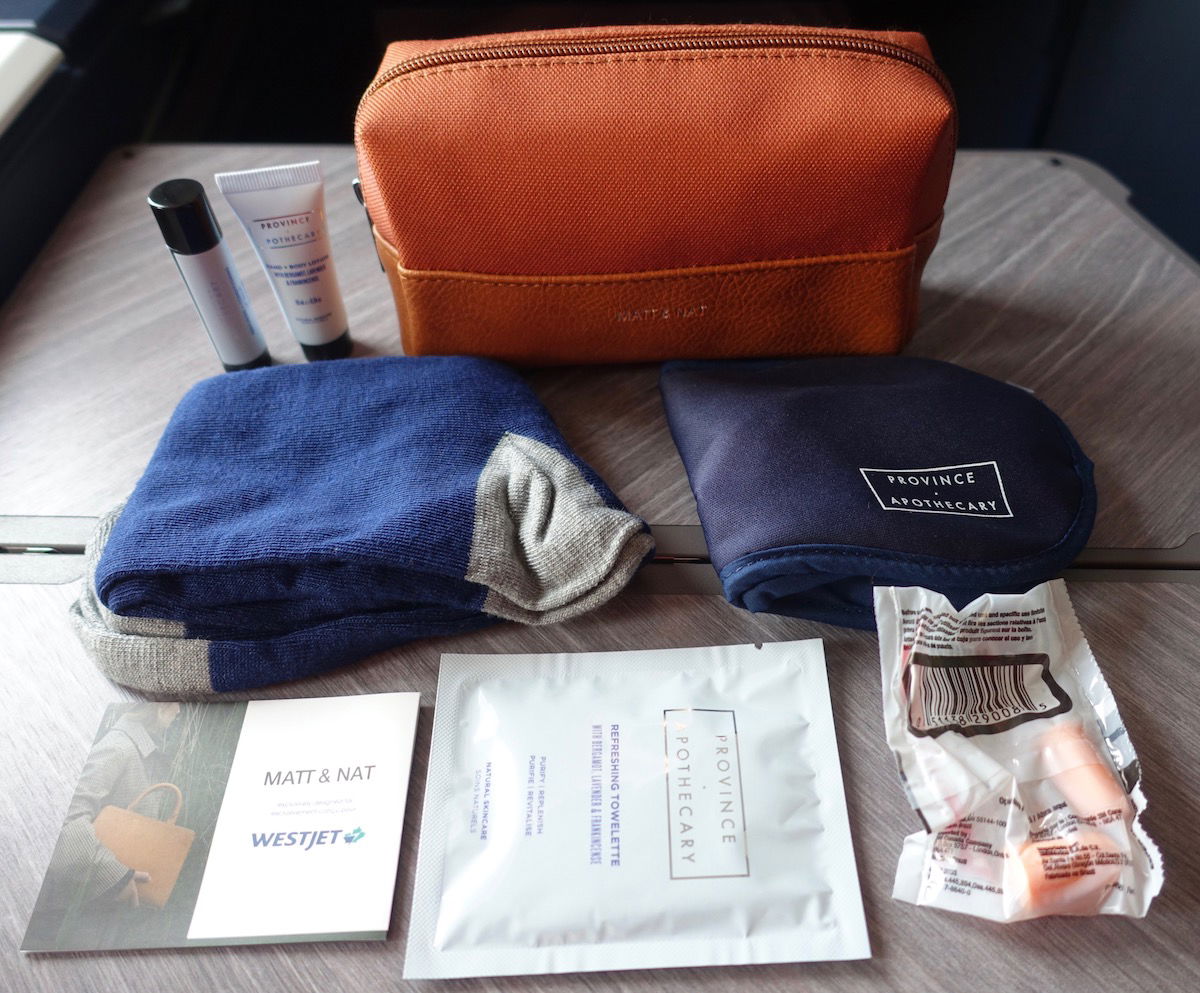 WestJet business class amenity kit
Similarly, I liked the style of the menu and wine list.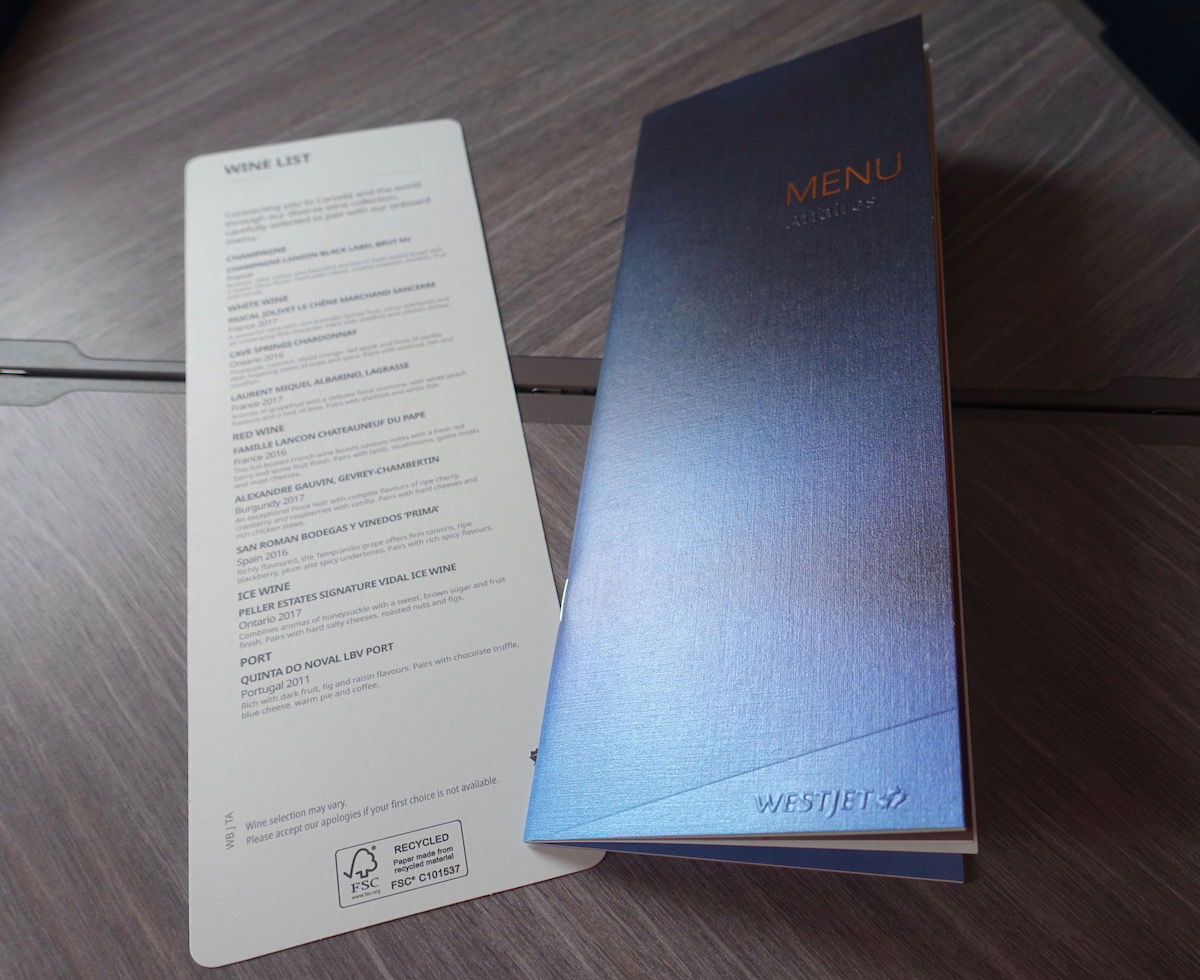 WestJet business class menu
About 30 minutes after boarding I was served my pre-departure champagne (WestJet serves Lanson Black Label Brut in business class). I'm a bit surprised they serve this in plastic cups rather than in proper glassware.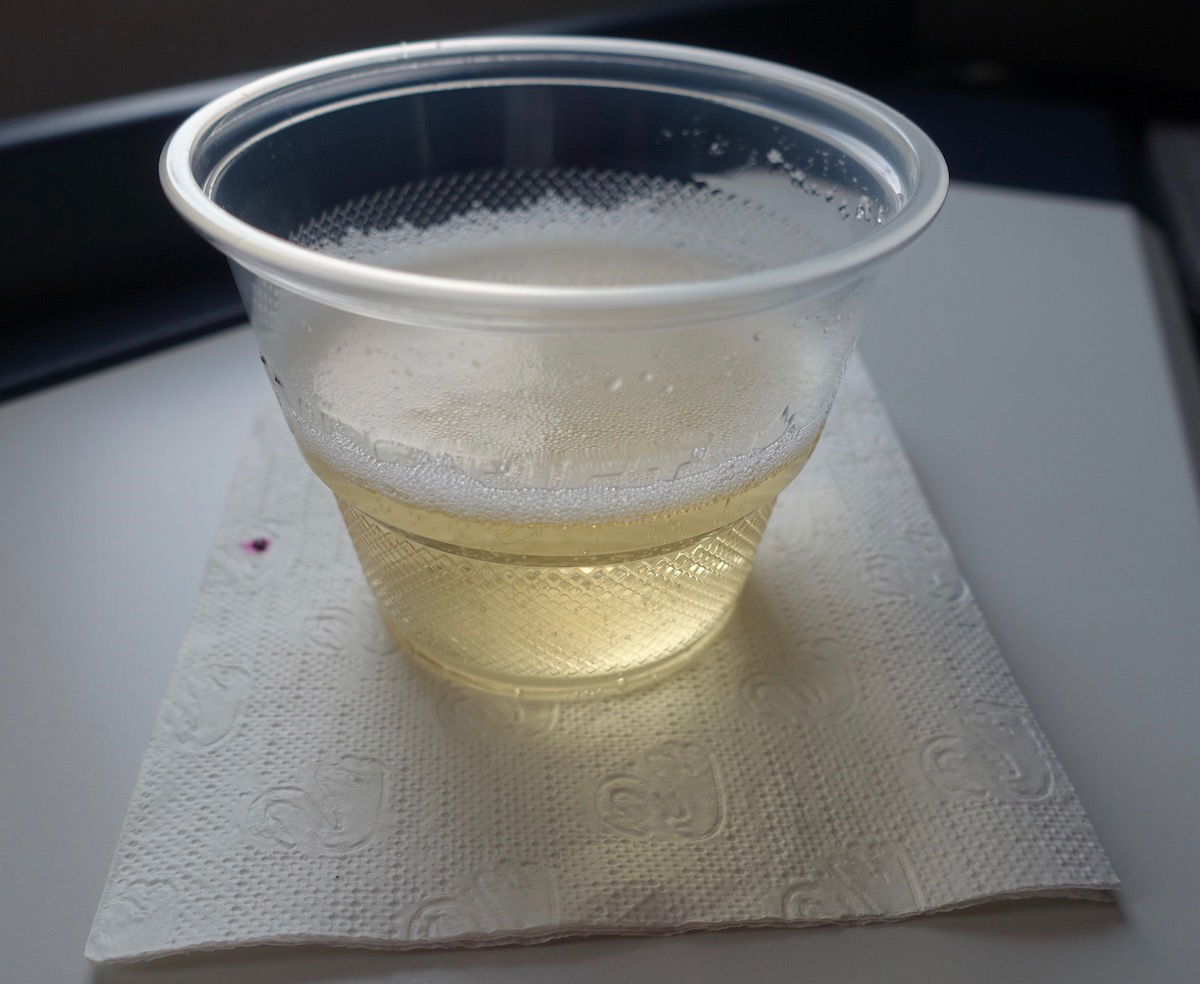 WestJet business class pre-departure drink
At 7:15PM the main cabin door closed, at which point cabin manager Yvonne introduced herself and her 11 colleagues in the cabin, and announced our flight time of 8hr8min. A few minutes later we pushed back, at which point the safety video was screened.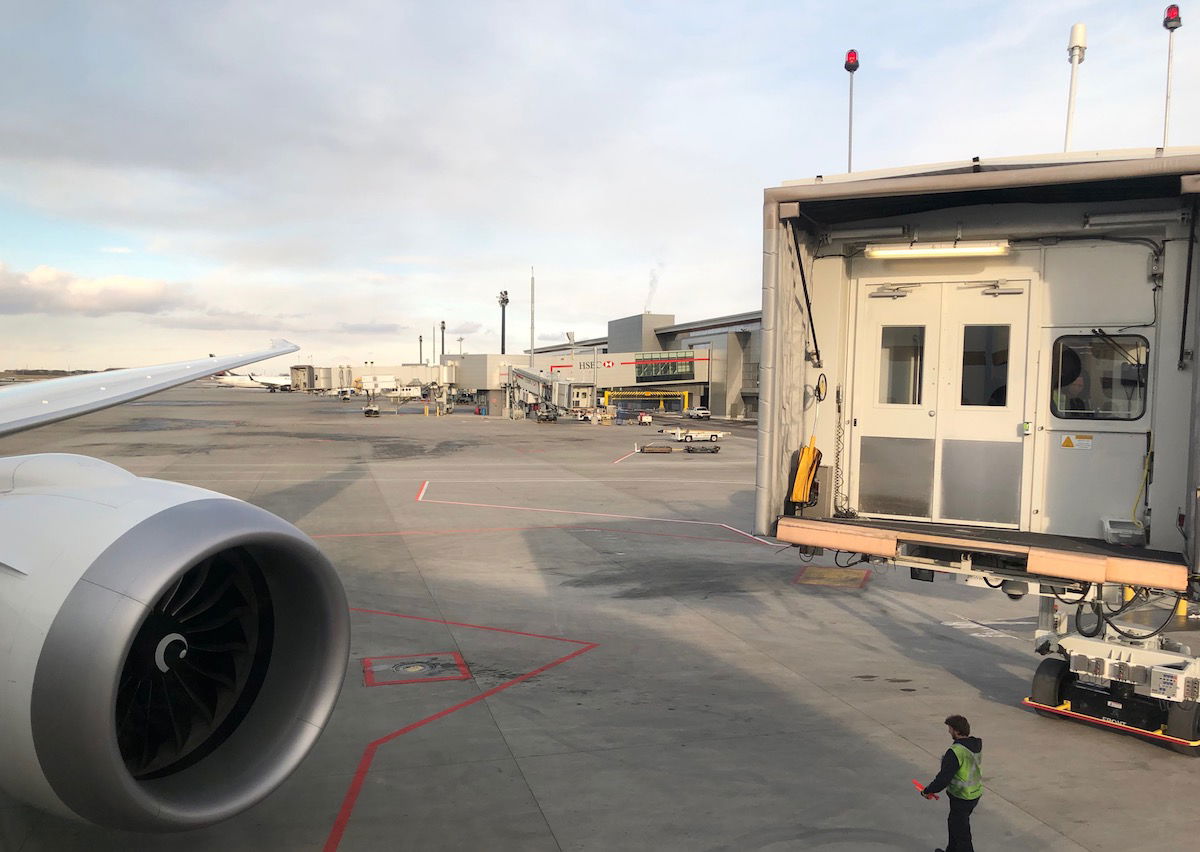 Pushing back Calgary Airport
We started our taxi to the runway at 7:30PM.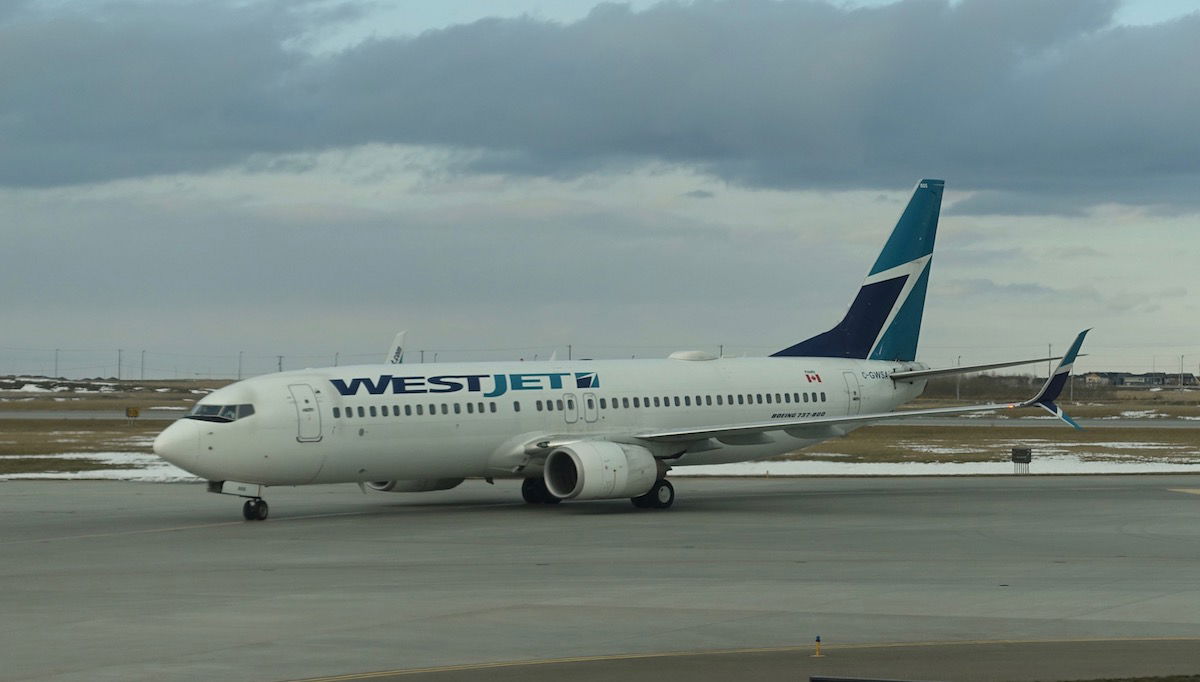 WestJet 737 Calgary Airport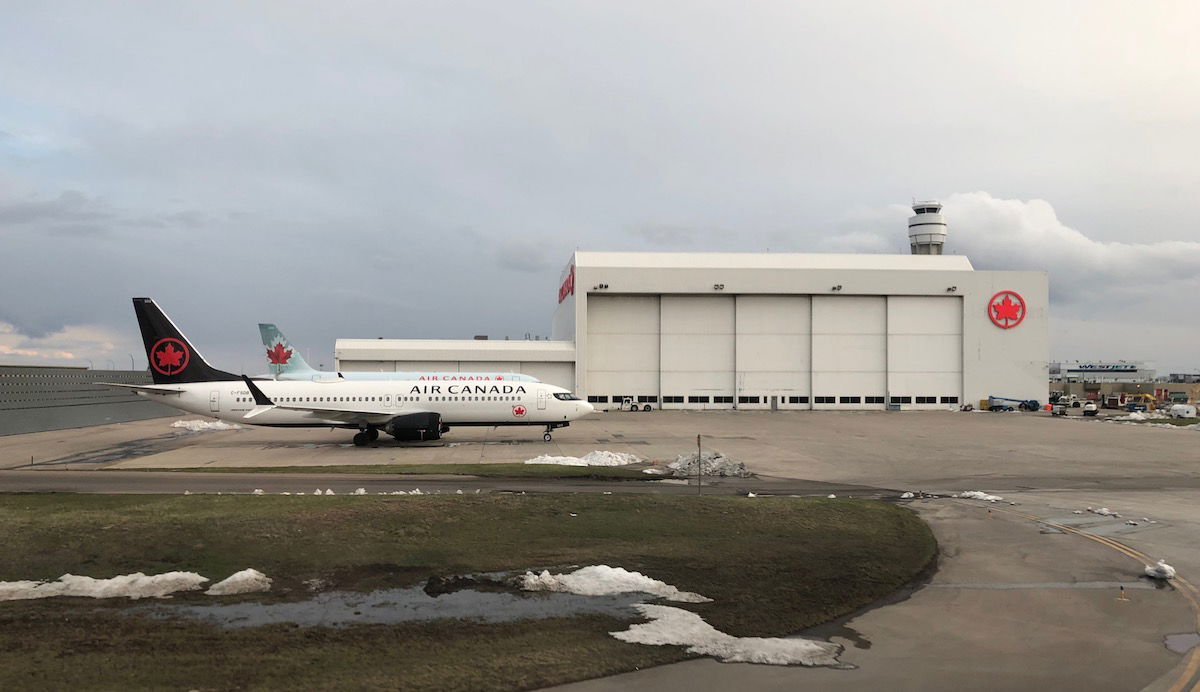 Taxiing Calgary Airport
We had quite a long taxi, and at 7:45PM were cleared for takeoff on runway 35L.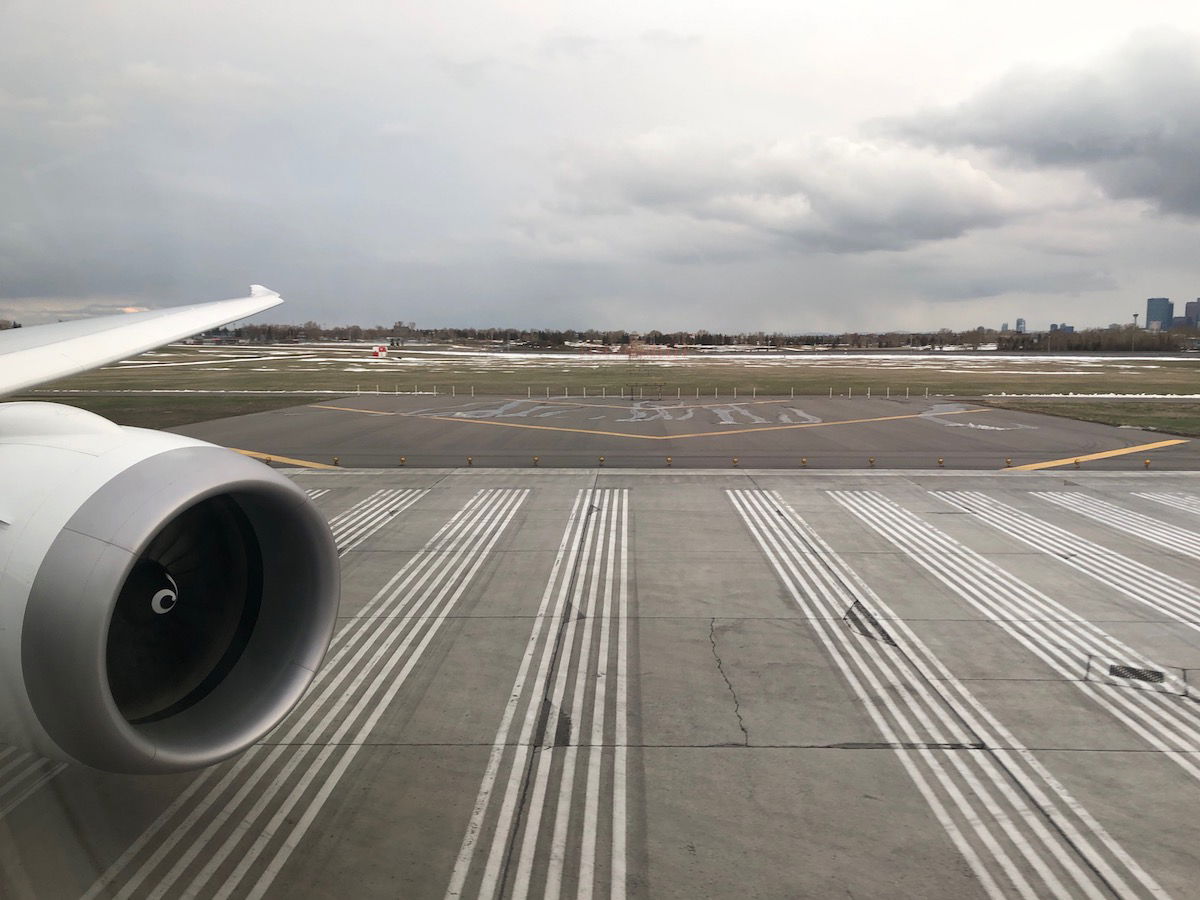 Taking off Calgary Airport
The climb out was smooth, and I loved the views of the snowy plains departing Calgary.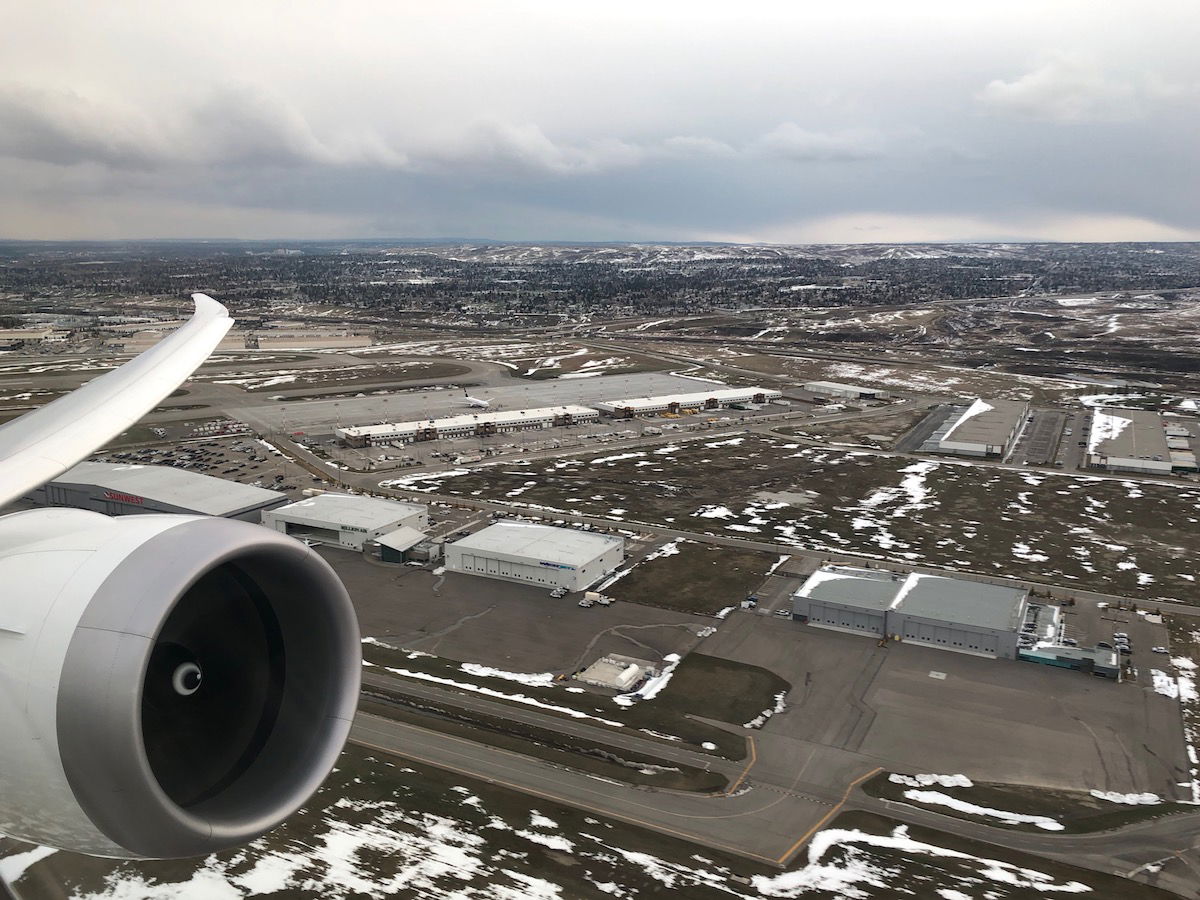 View after takeoff from Calgary Airport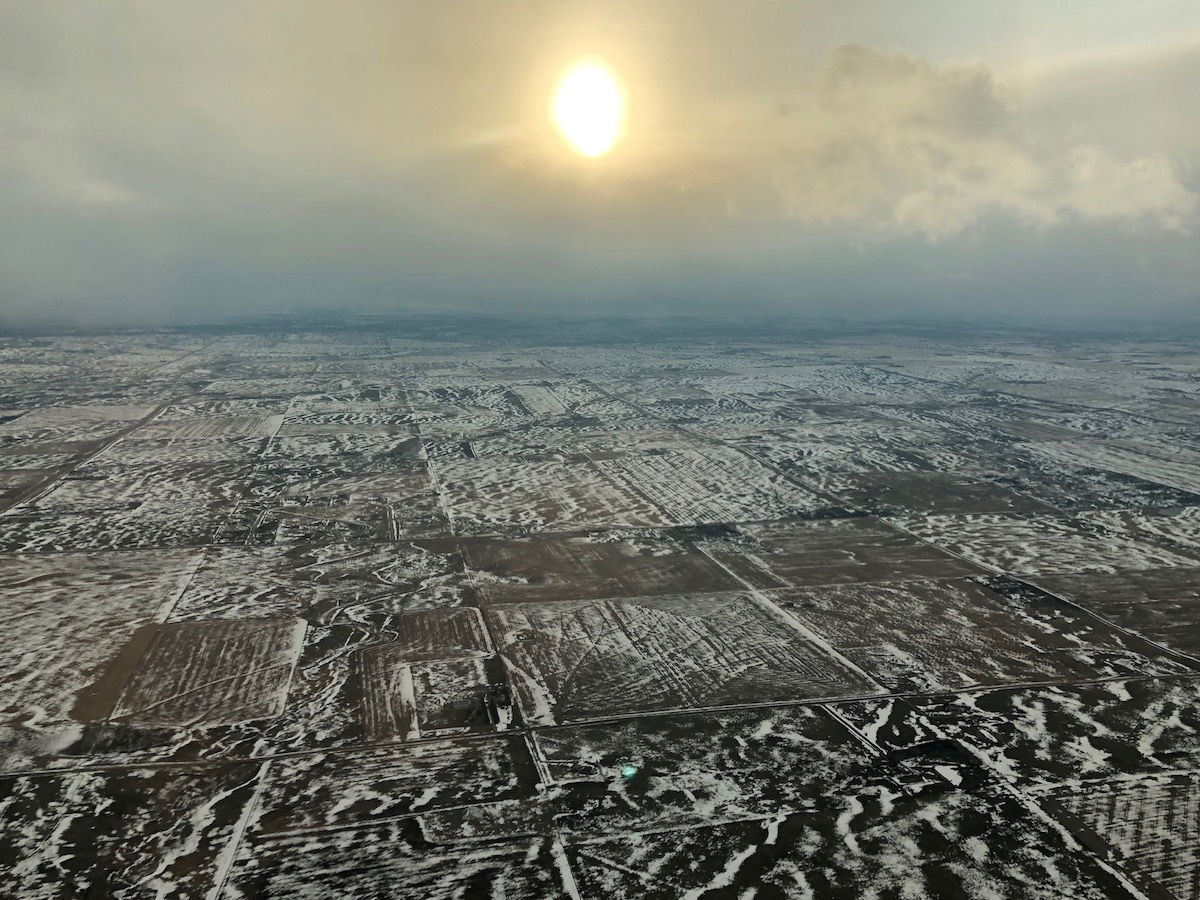 View after takeoff from Calgary
The seatbelt sign was turned off 10 minutes after takeoff, at which point the crew closed the curtains between cabins.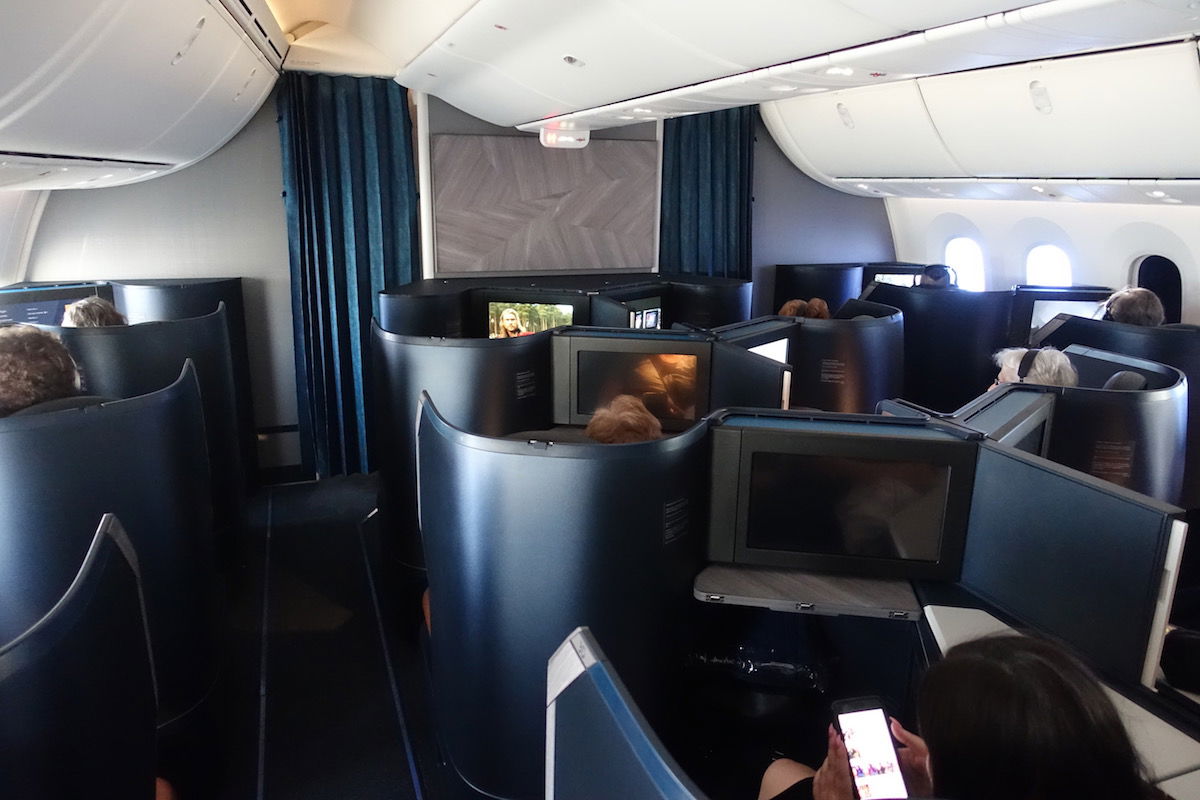 WestJet 787 business class cabin
I took this opportunity to play around with the entertainment system. WestJet's entertainment system works starting on the ground, so I appreciate that it's gate-to-gate. I started by checking out the moving map for our flight to London.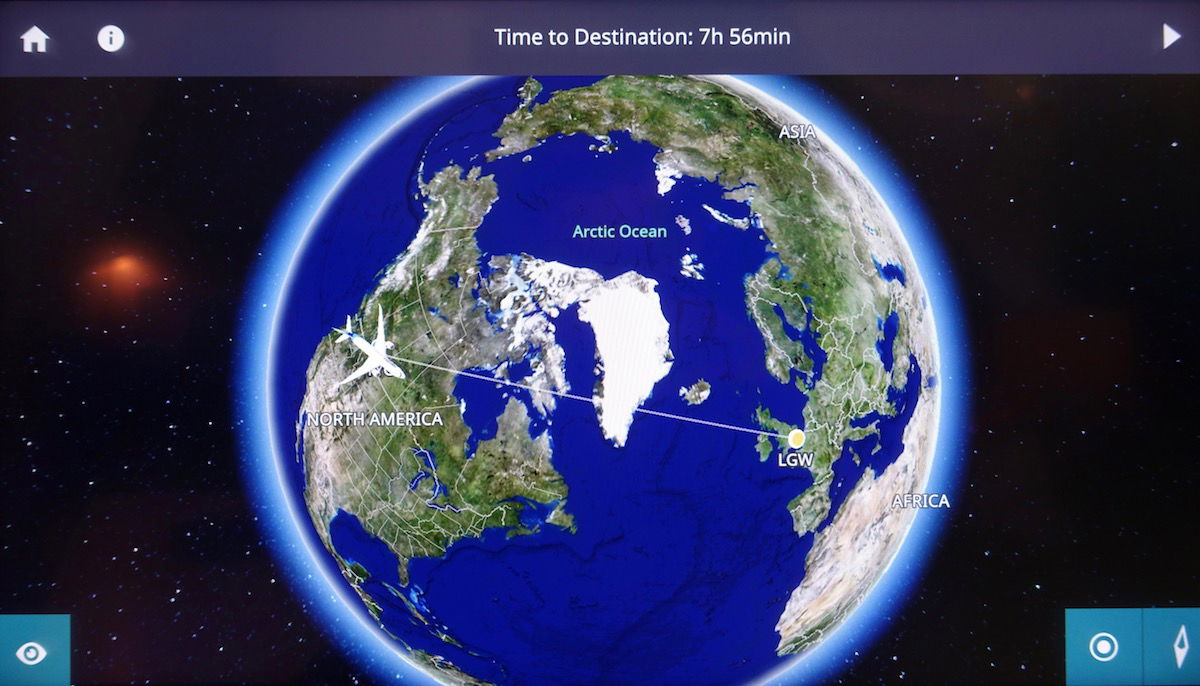 Moving map enroute to London
WestJet's 787 entertainment selection is excellent, with a huge variety of movies and TV shows.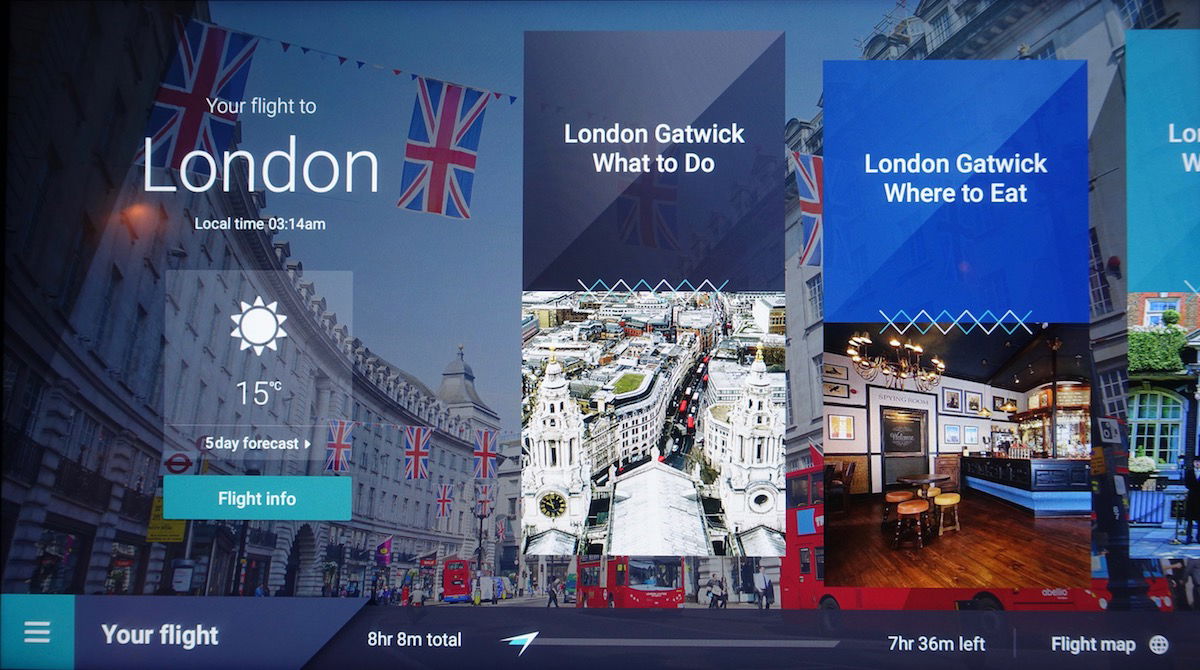 WestJet entertainment selection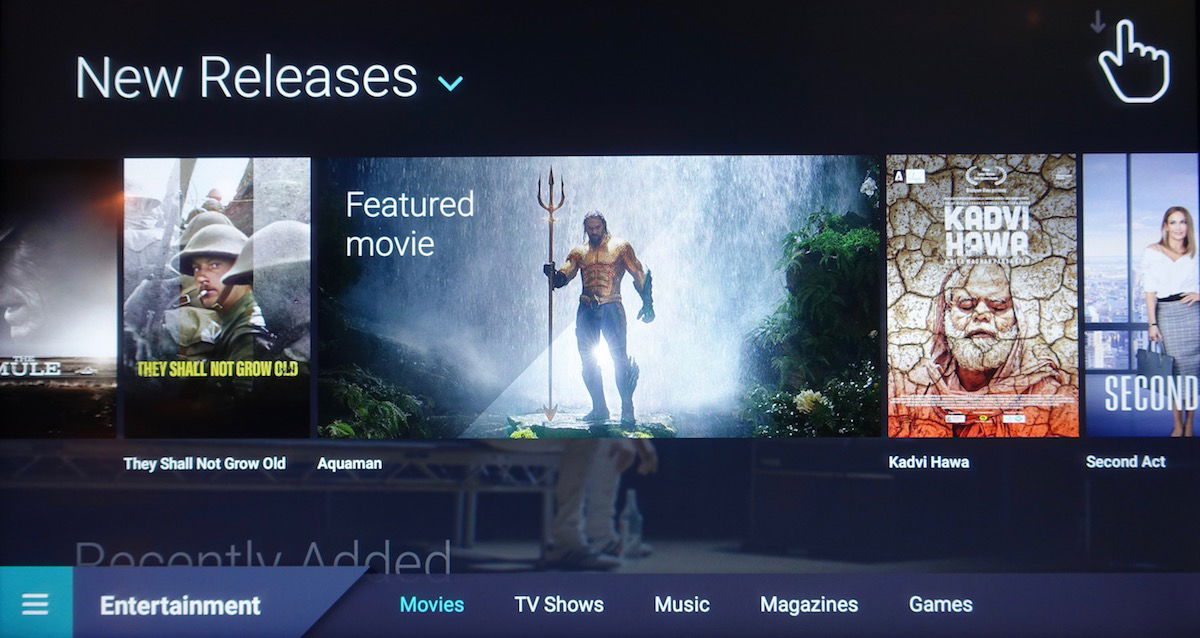 WestJet entertainment selection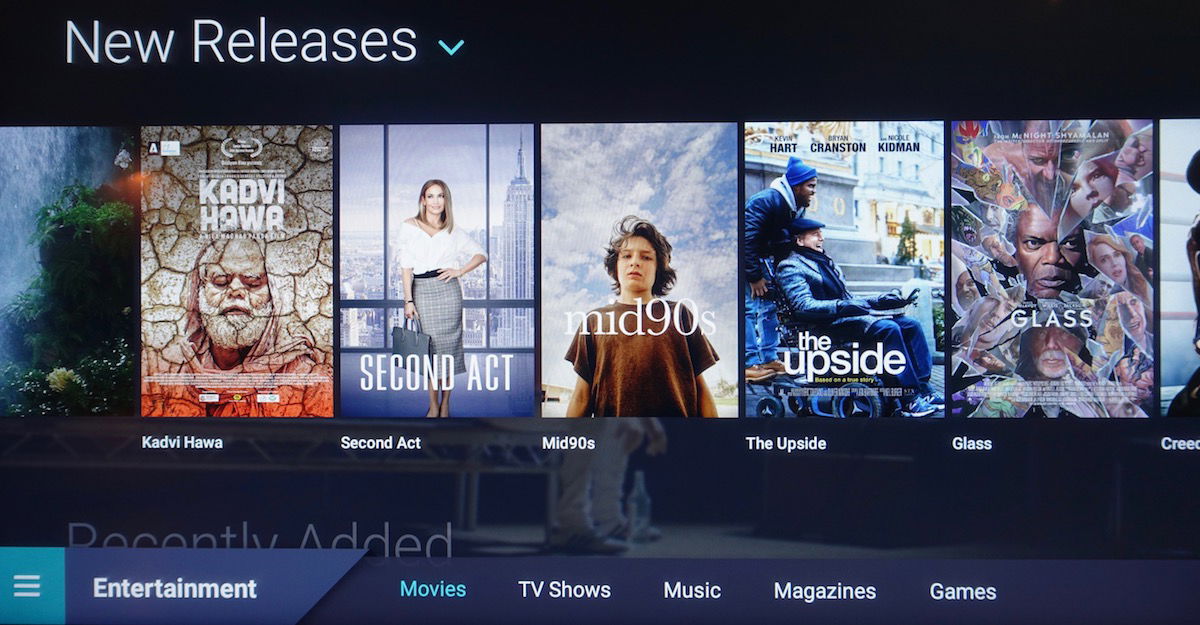 WestJet entertainment selection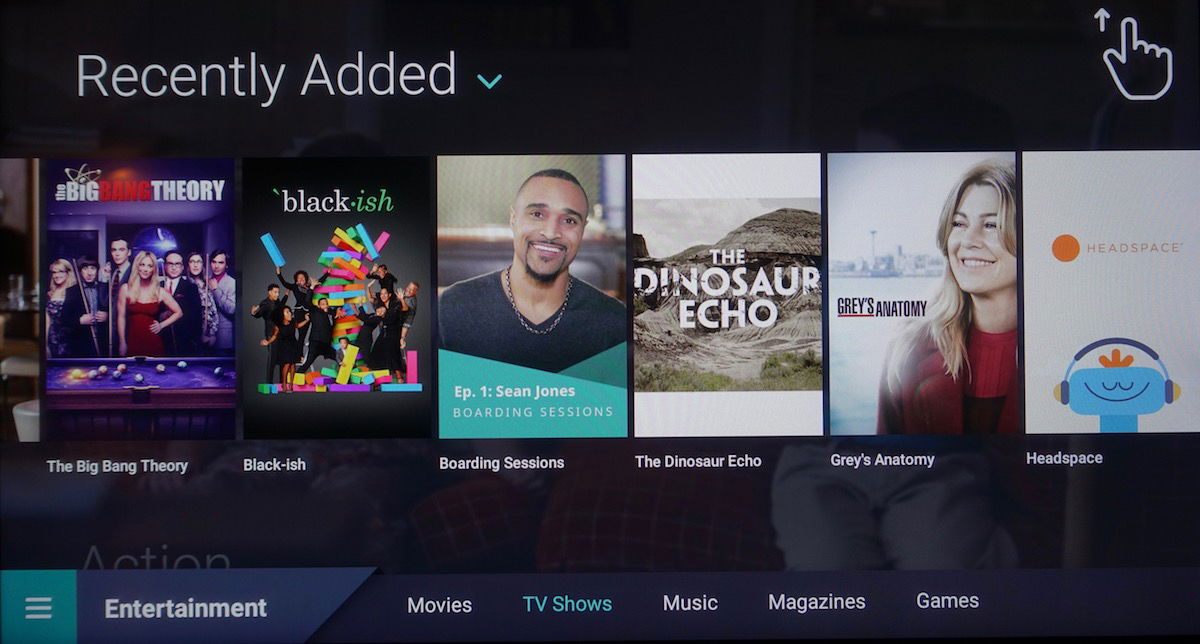 WestJet entertainment selection
WestJet's 787s also have Wi-Fi, with pricing based on how long you use it for, rather than data usage. The pricing was as follows:
90 minutes cost 10.99CAD
Full flight cost 21.99CAD
24 hours cost 32.99CAD
Since I had purchased a 24 hour pass on my previous flight, it was also valid on this flight. Awesome.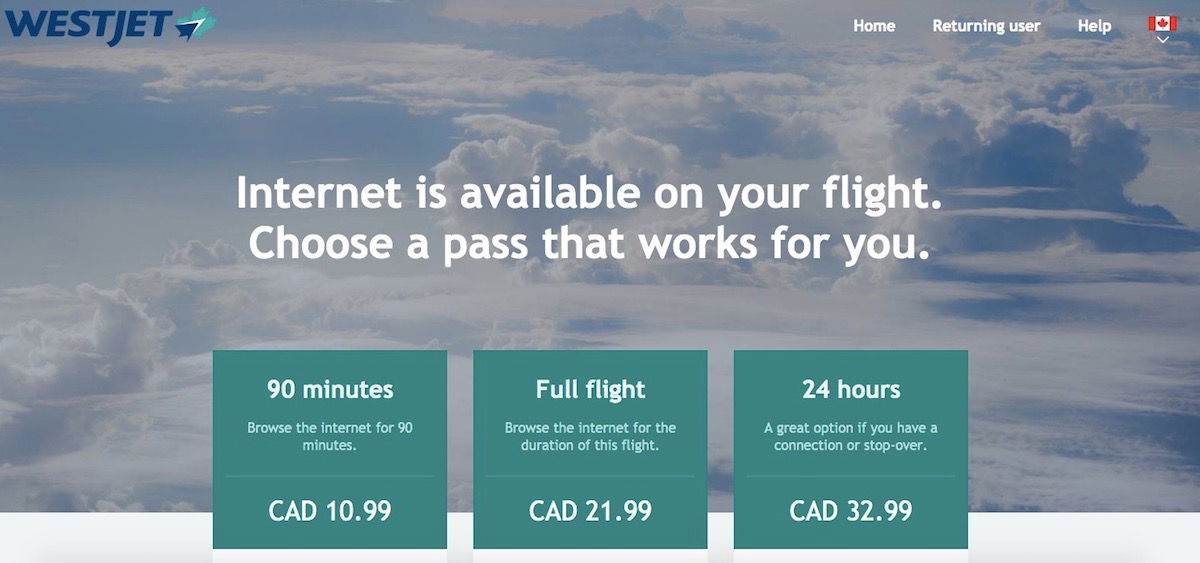 WestJet Wi-Fi pricing
Even though flight attendants started taking meal orders on the ground, they weren't able to finish, so they continued in the air. It was 40 minutes after takeoff before my order was taken.
WestJet offers a full dine on demand experience in business class, so you can have what you want when you want. Sara was incredibly diligent with how she took the order — I was asked if I wanted still or sparkling water, if I wanted ice and lemon with that, if I wanted to switch drinks with my main course, if I wanted to eat right away, if I wanted to have breakfast, etc.
By the way, I thought the menu looked really, really good. Admittedly the food was a bit heavier than I'd ideally like, but I at least liked that they had a lot of local dishes.
The menu read as follows: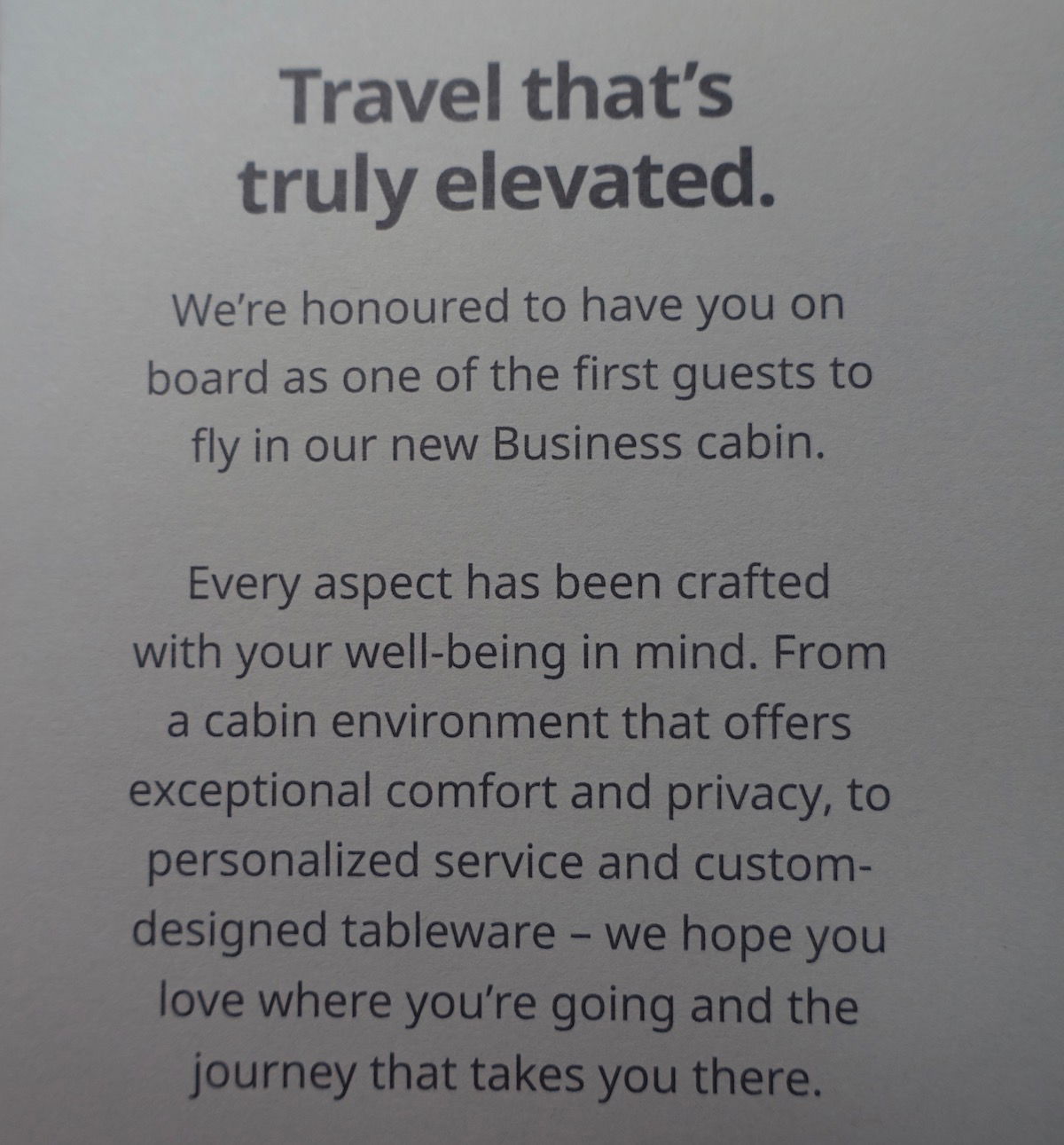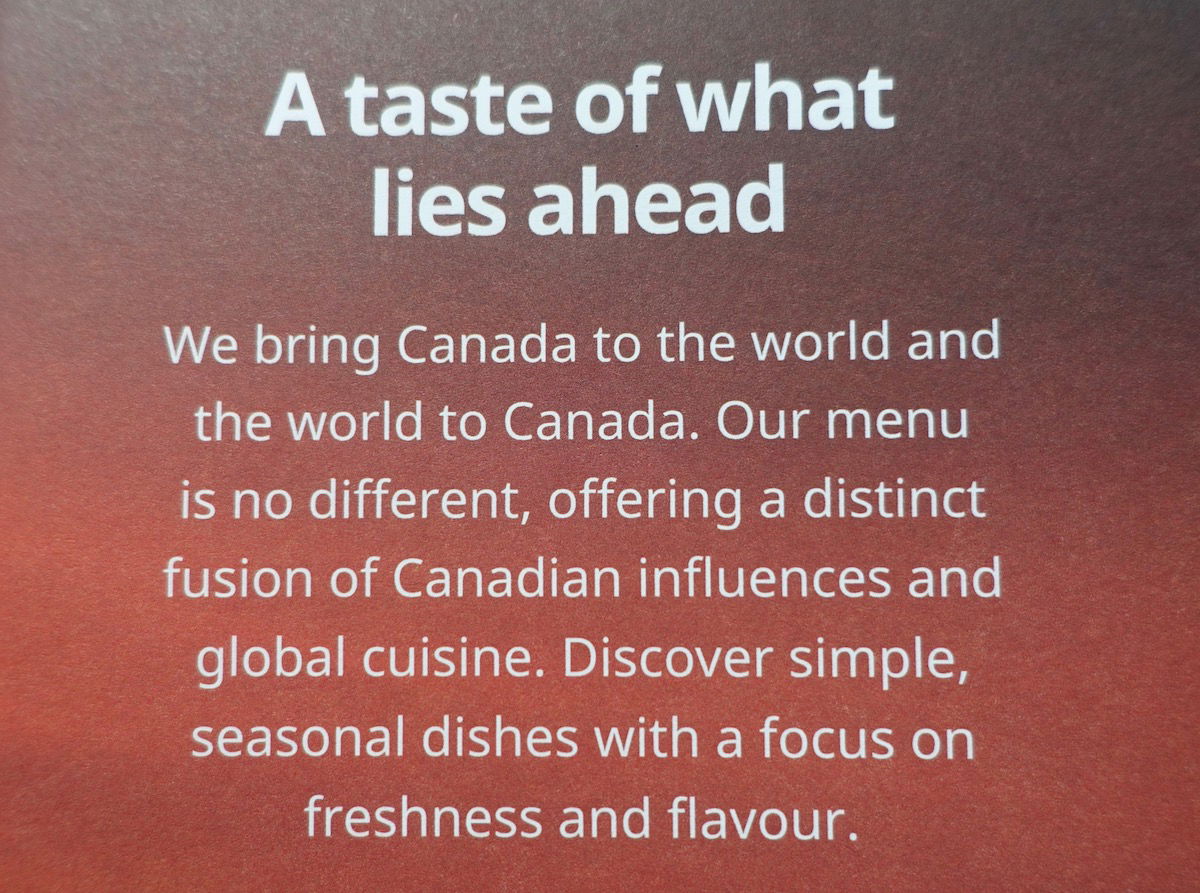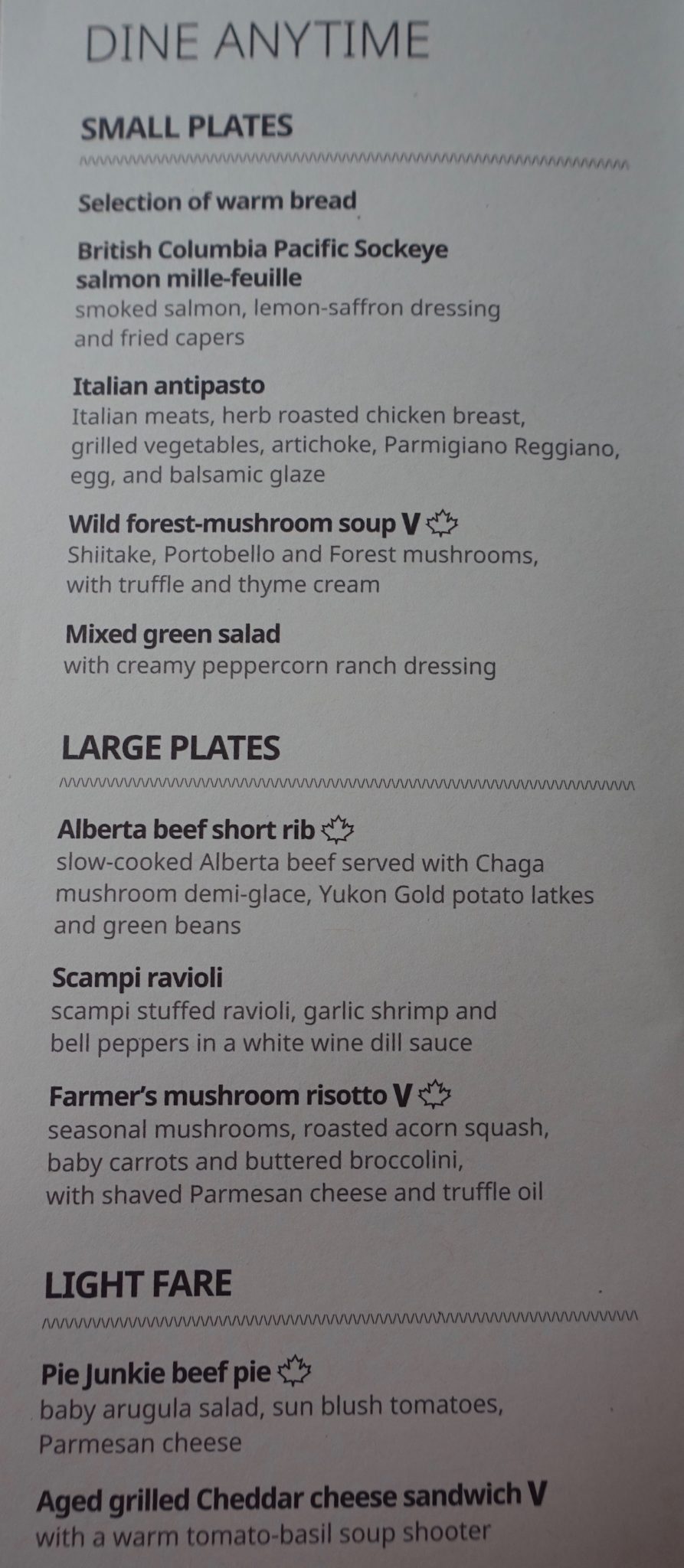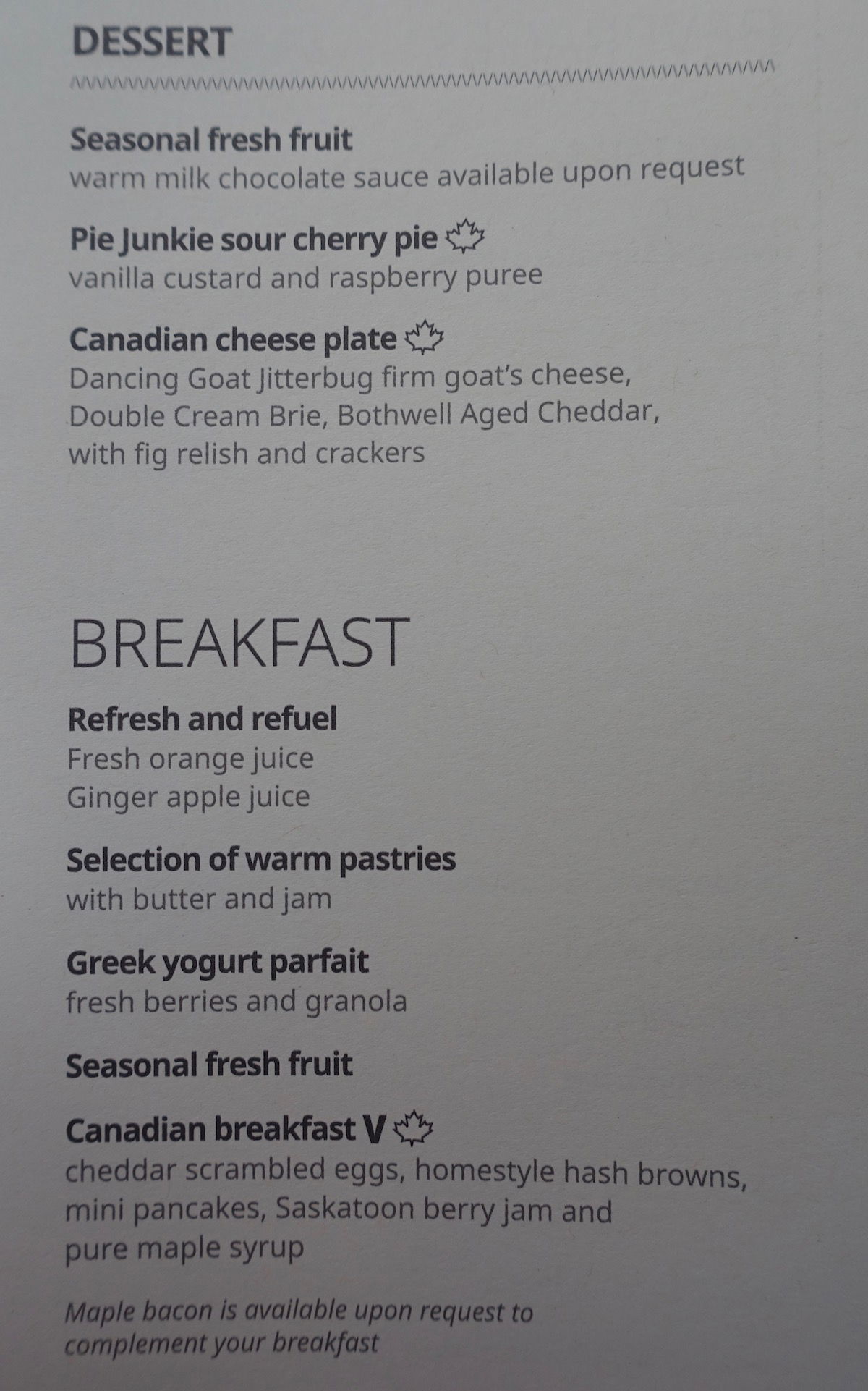 The drink list read as follows: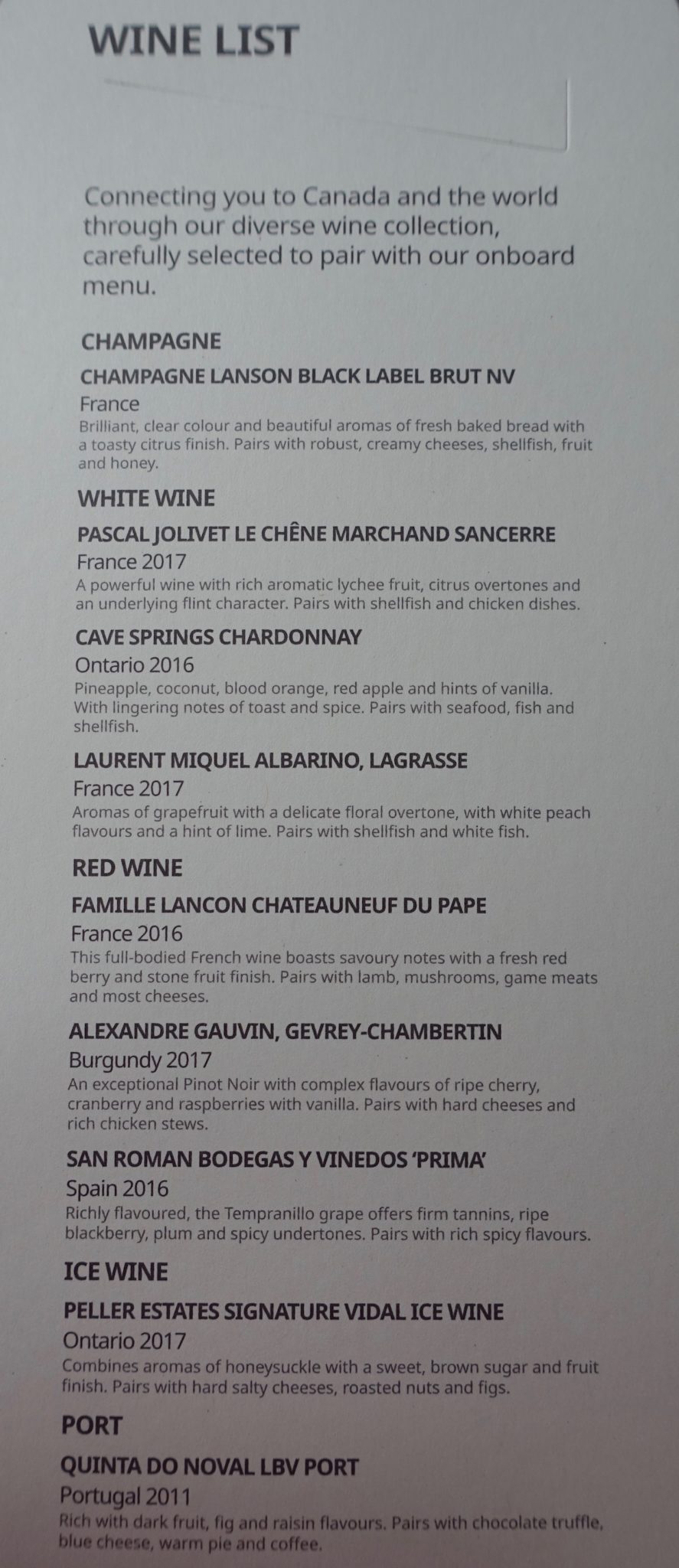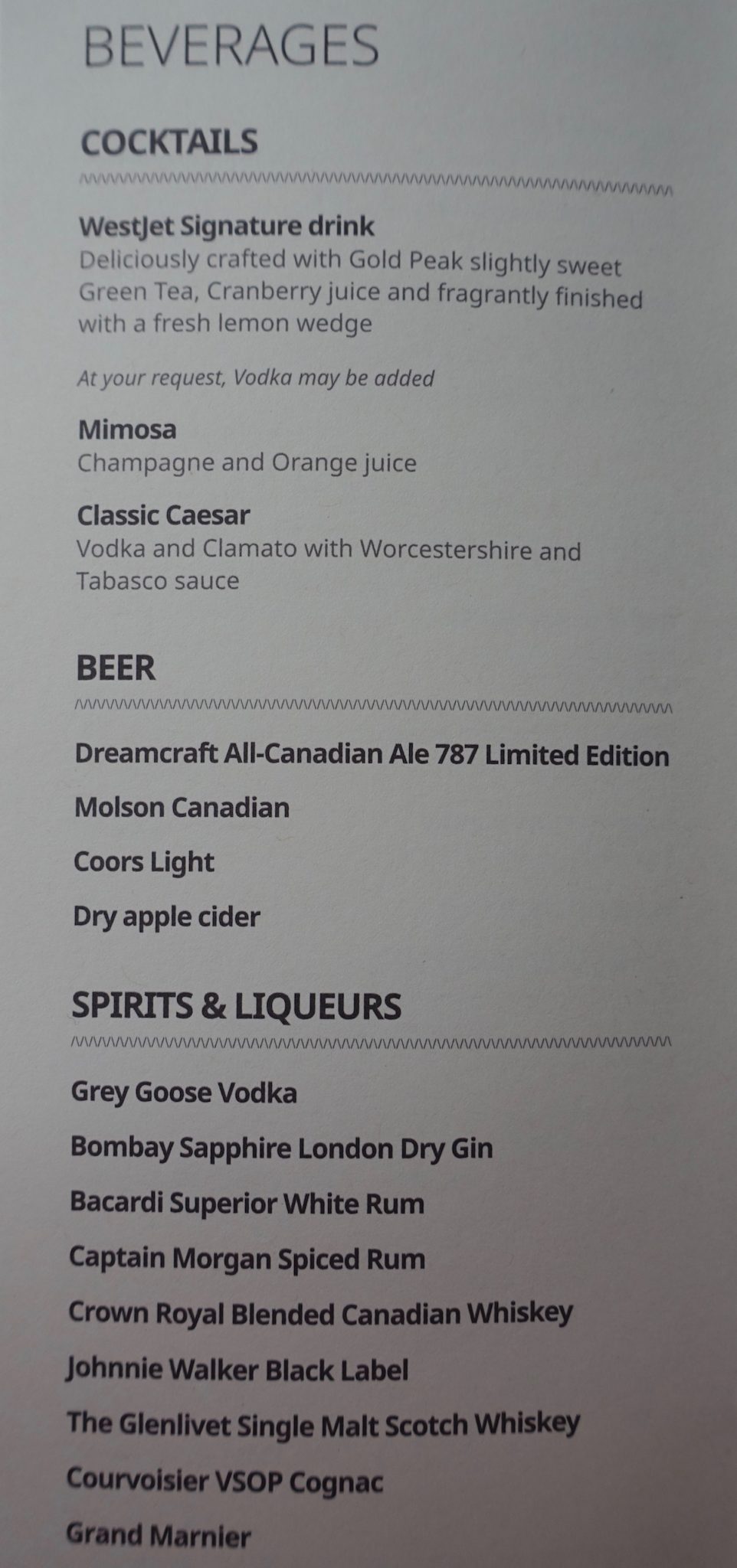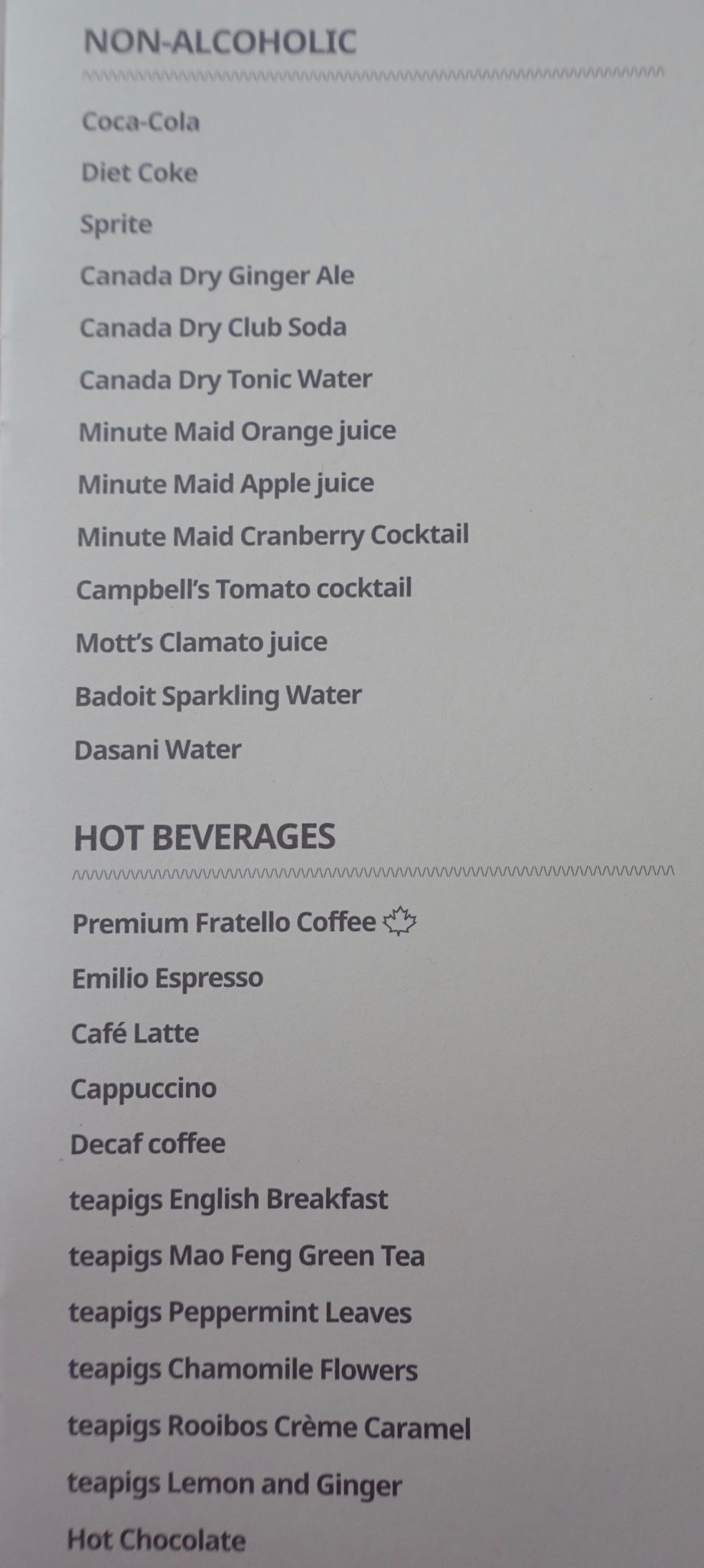 I was served my first drink 1hr25min after takeoff. Ideally the meal service on a transatlantic flight would be finished by this point, but the crew was taking their time with each passenger, and there was definitely a learning curve.
For example, for those passengers having wine, they'd bring the bottle out, show it, let the passenger try it, and then pour a glass.
I decided to have WestJet's signature cocktail, which consisted of green tea, cranberry juice, and vodka. It was excellent, and surprisingly not too sweet. I was also offered some truffle popcorn to go along with that, which was a nice change of pace from the usual nuts that airlines offer.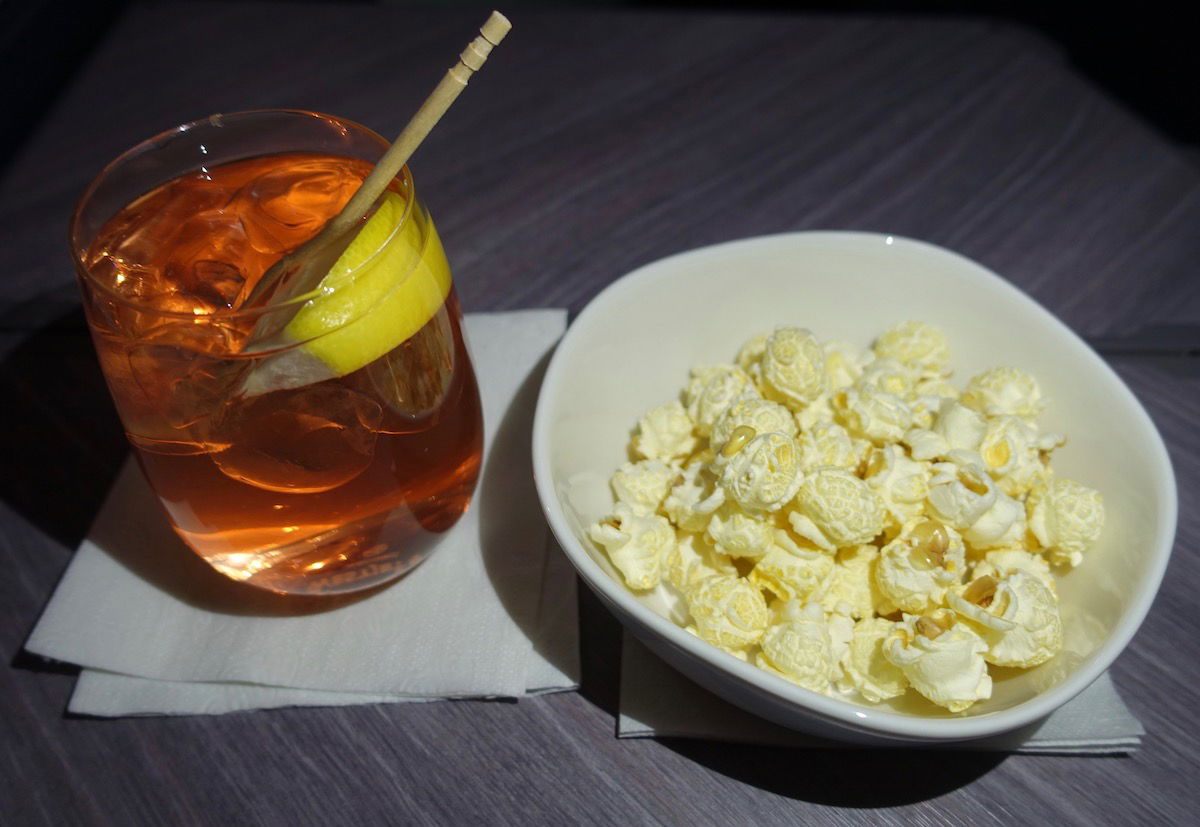 WestJet business class signature cocktail & popcorn
The crew then spent a while in the galley preparing, and 45 minutes later I was offered another drink, so I had another one of the signature cocktails. 10 minutes later warm towels were distributed.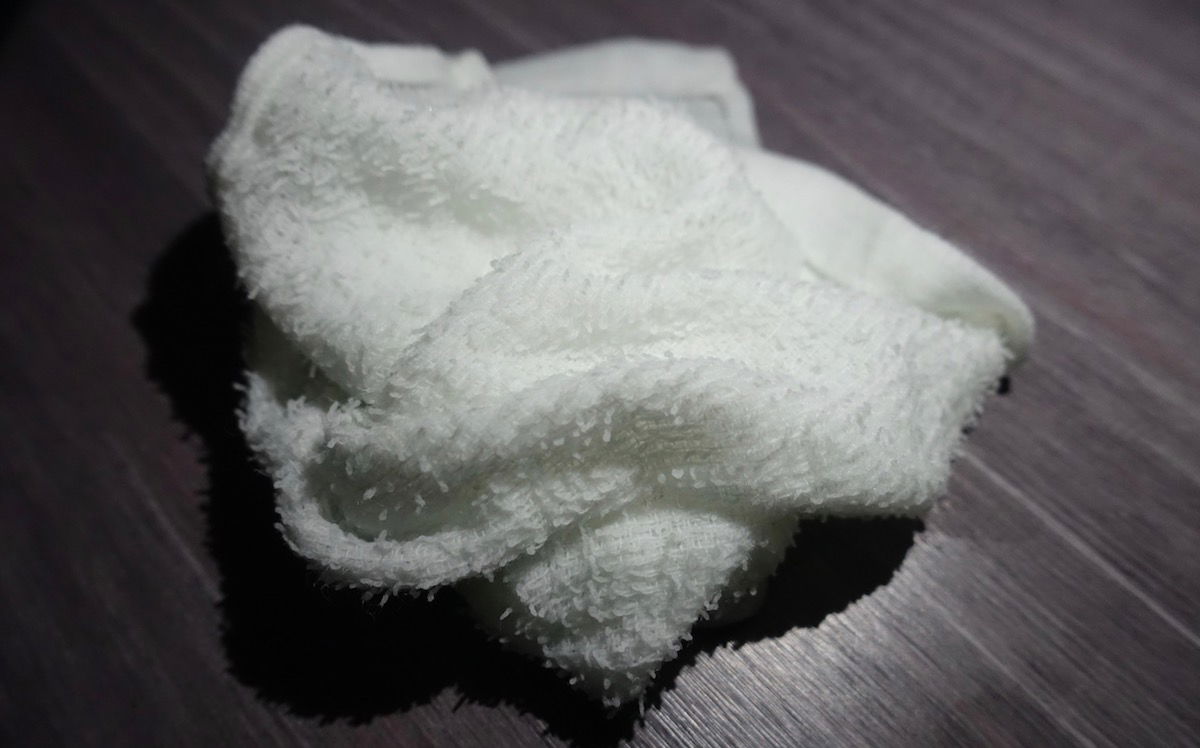 WestJet business class warm towel
A full 2hr40min after takeoff my table was set. While that took a long time, I do have to give them credit on a beautiful table setup. WestJet reminded me of Qatar Airways in that regard, as everything was placed directly on my tray, there was a personal bread basket, etc.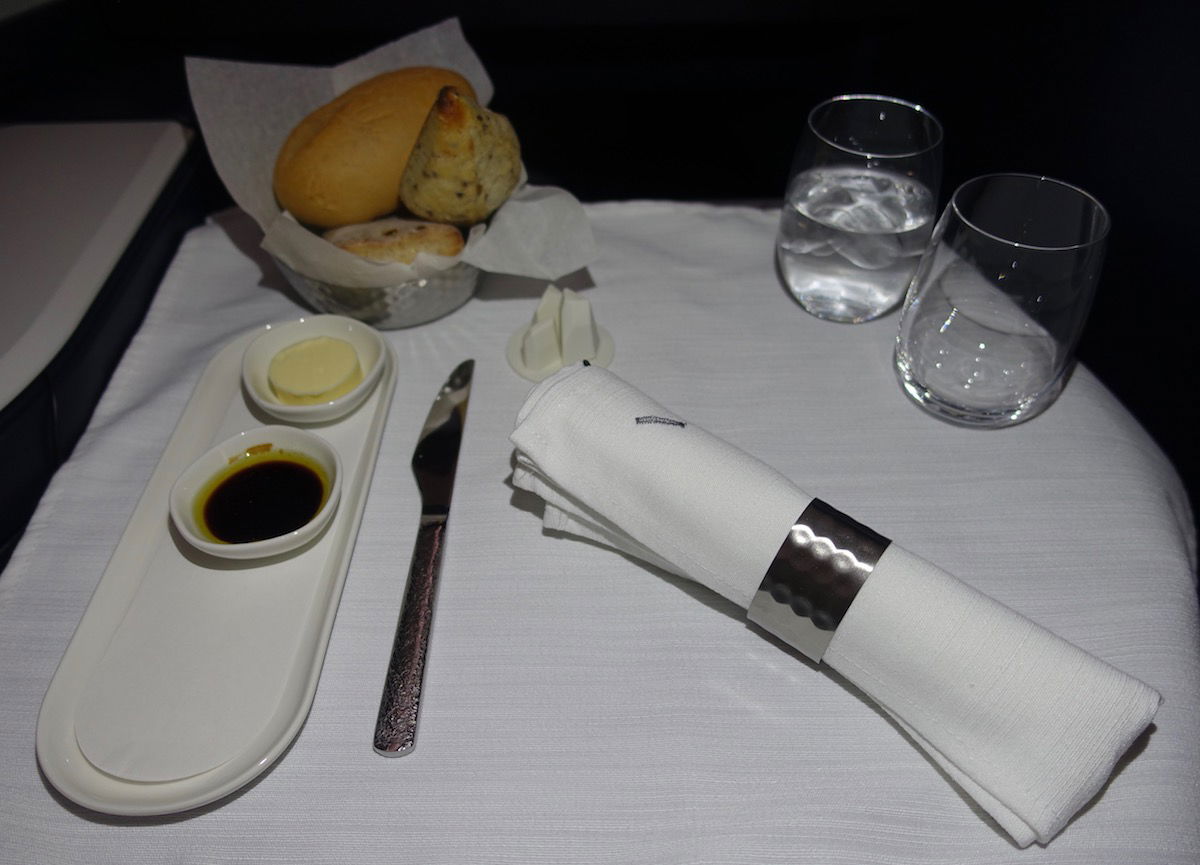 WestJet business class table setting
I particularly liked the cute salt & pepper shaker, which looked like glaciers, and which the flight attendant encouraged me to keep.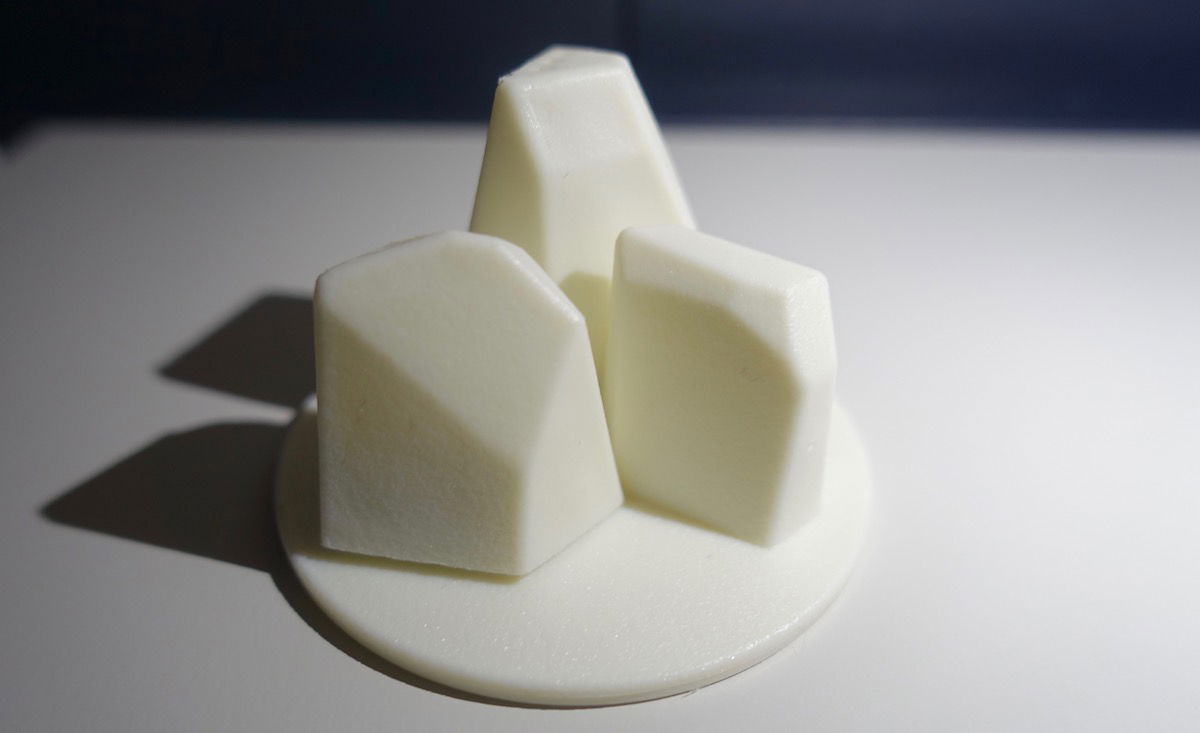 WestJet business class salt & pepper shaker
Another 20 minutes later — at this point three hours after takeoff — the appetizer was served. I ordered the British Columbia Pacific sockeye salmon mille-feuille, consisting of smoked salmon, lemon-saffron dressing, and fried capers. It was phenomenal.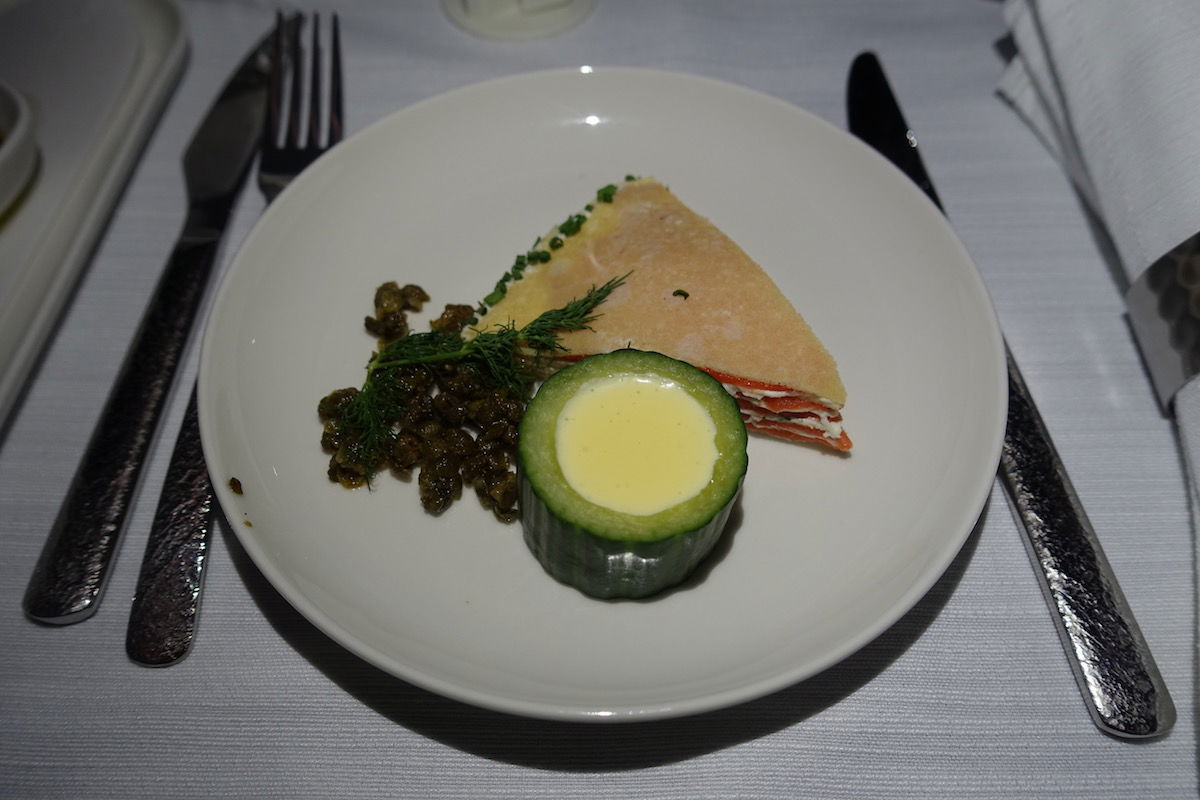 WestJet business class appetizer
Fortunately service picked up speed-wise at this point, and 20 minutes later I was served the main course. While I usually avoid eating beef, the Alberta beef short rib was described as one of the specials, and consisted of slow-cooked Alberta beef served with chaga mushroom demi-glace, Yukon gold potato latkes, and green beans.
This was one of the best beef dishes I've ever had on a plane.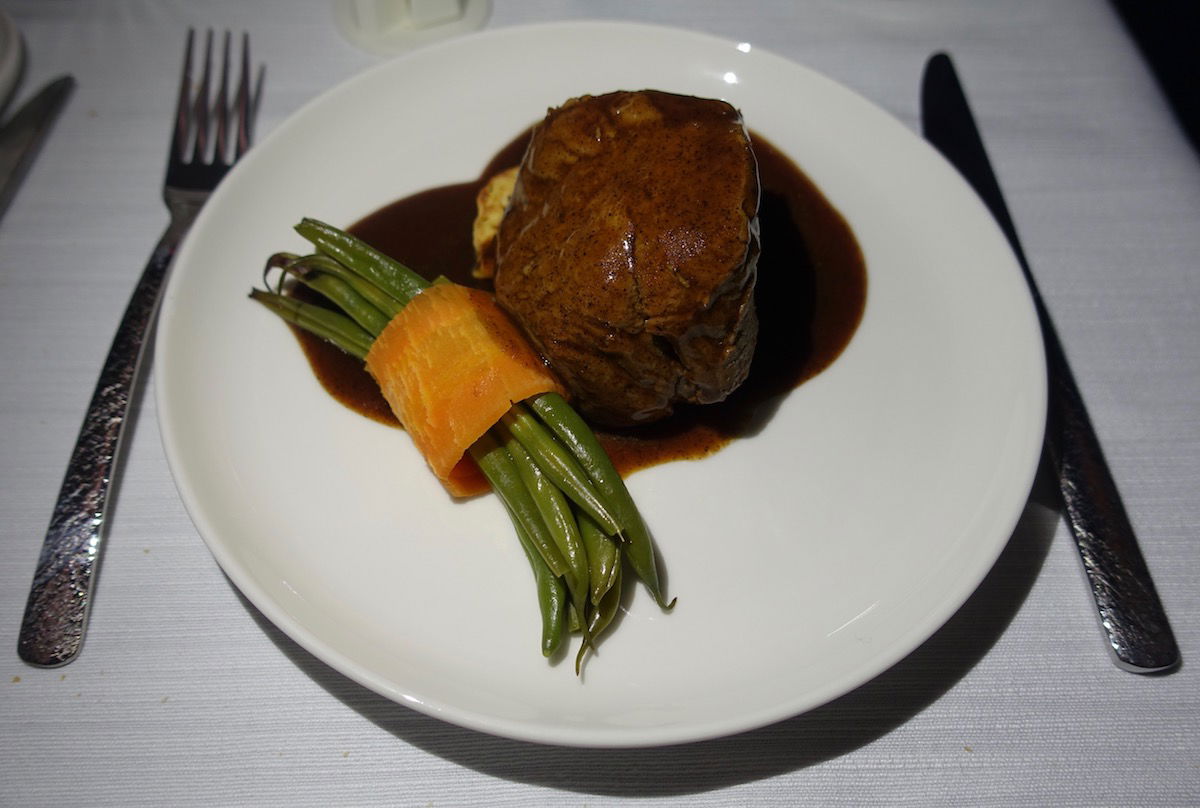 WestJet business class main course
Dessert was served 20 minutes later. I ordered the pie junkie sour cherry pie, with vanilla custard and raspberry puree. Again, it was excellent.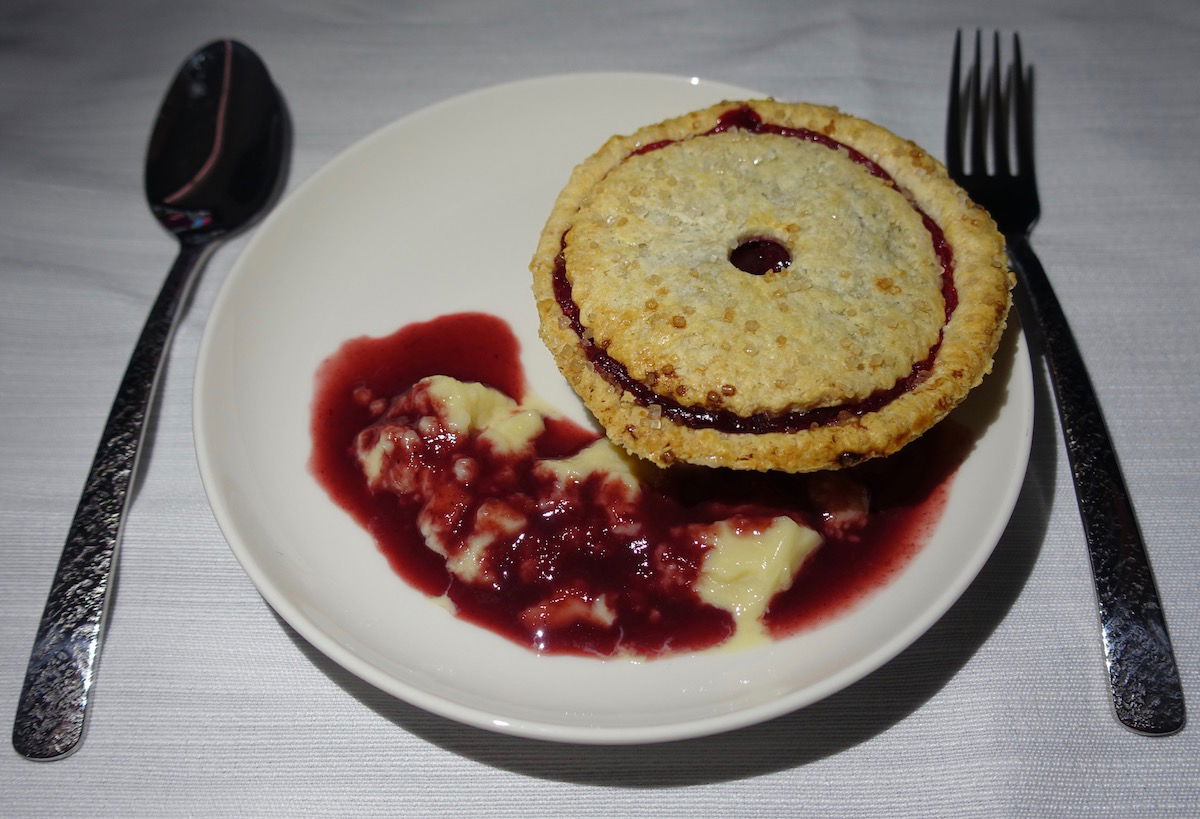 WestJet business class dessert
To finish off the meal I decided to order an ice wine, simply since that's not often something you see offered on a flight.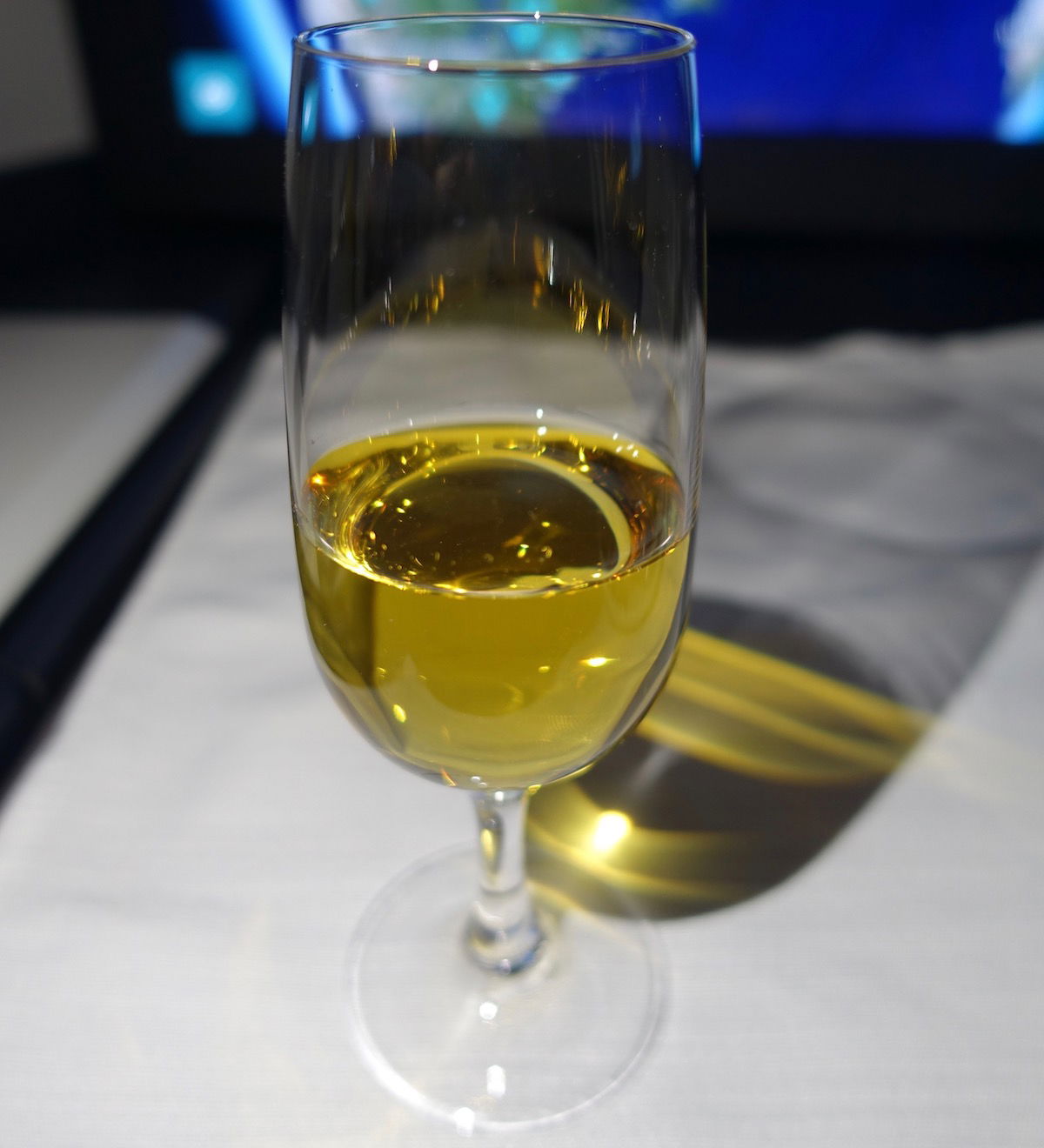 WestJet business class ice wine
By the time my tray was cleared we had less than 4hr20min remaining to London, and were approaching Greenland — the meal service took just under four hours, which is just a bit under half of the flight.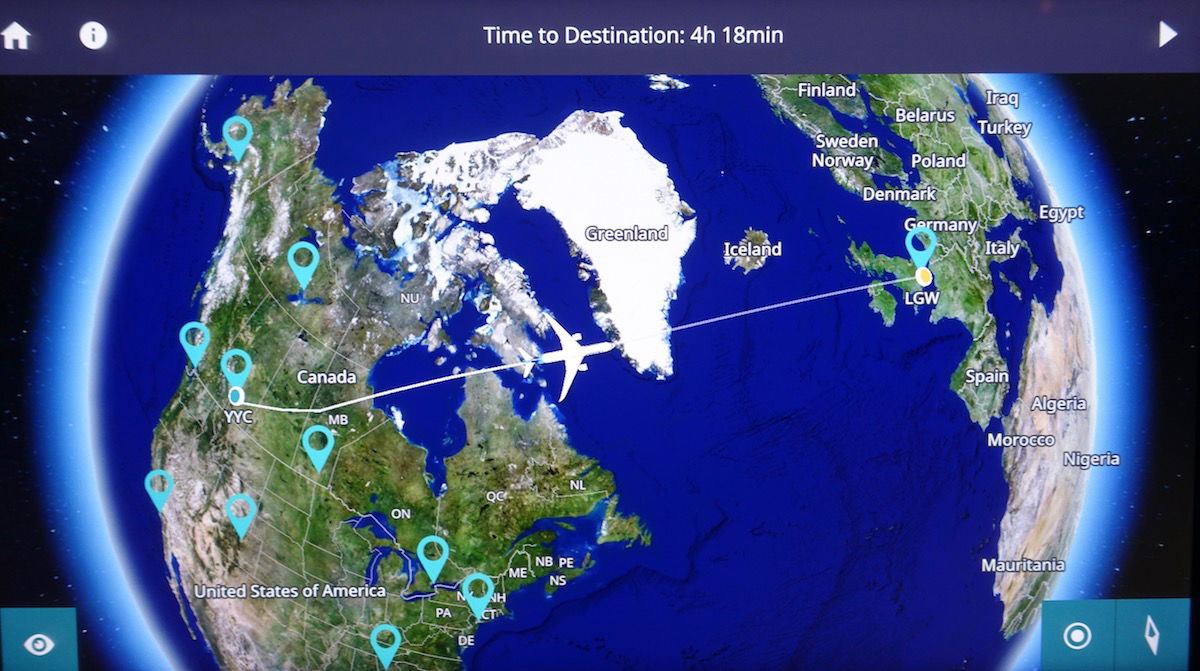 Moving map enroute to London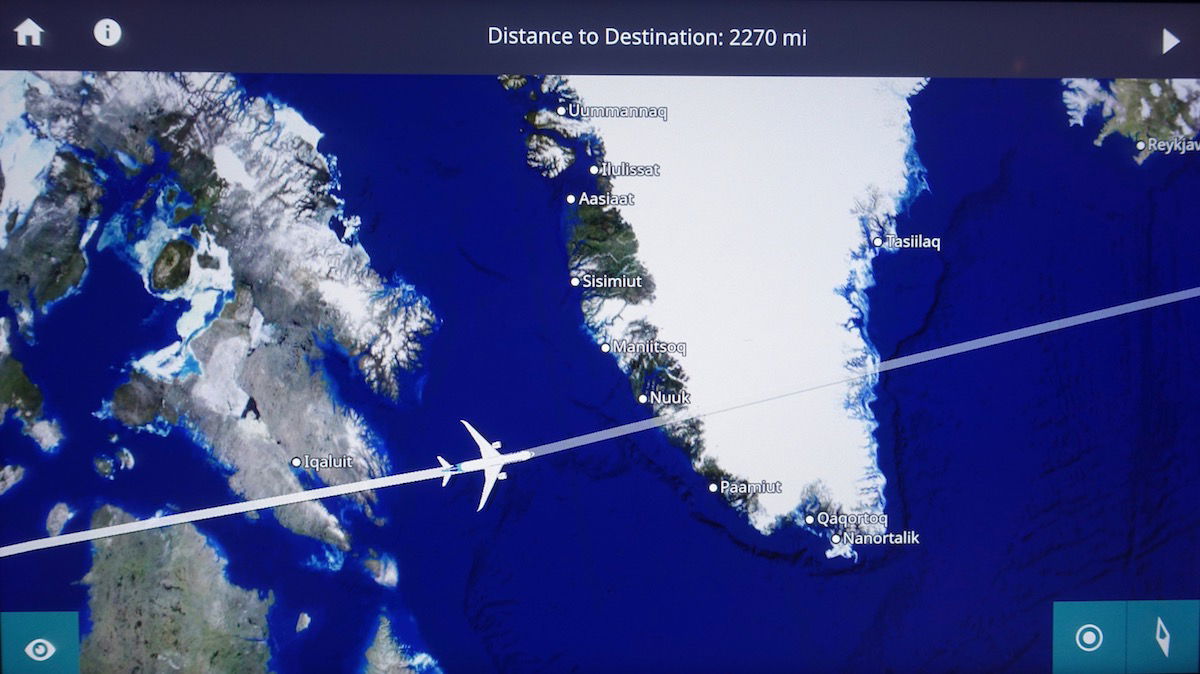 Moving map enroute to London
On the plus side, everything about the food and presentation was on par with Qatar Airways and any other top business class product. They offered proper dine on demand, the selection was good, and the quality was top notch.
Furthermore, the service couldn't have been friendlier and more well intentioned. It was clear that the crew was proud of their product, and it showed. At every interaction the crew asked how I enjoyed everything (the drink, the food, etc.).
Of course the big area for improvement was with speed. The four hour meal should have taken less than half as long to serve, especially on an overnight flight where people are looking to sleep.
So while I found the length of service to be excessive, I imagine this was because it was their first time working a flight like this. Hopefully over time the speed will improve significantly. Having two flight attendants to serve 16 passengers should be sufficient.
At the conclusion of the meal I reclined my seat into bed mode.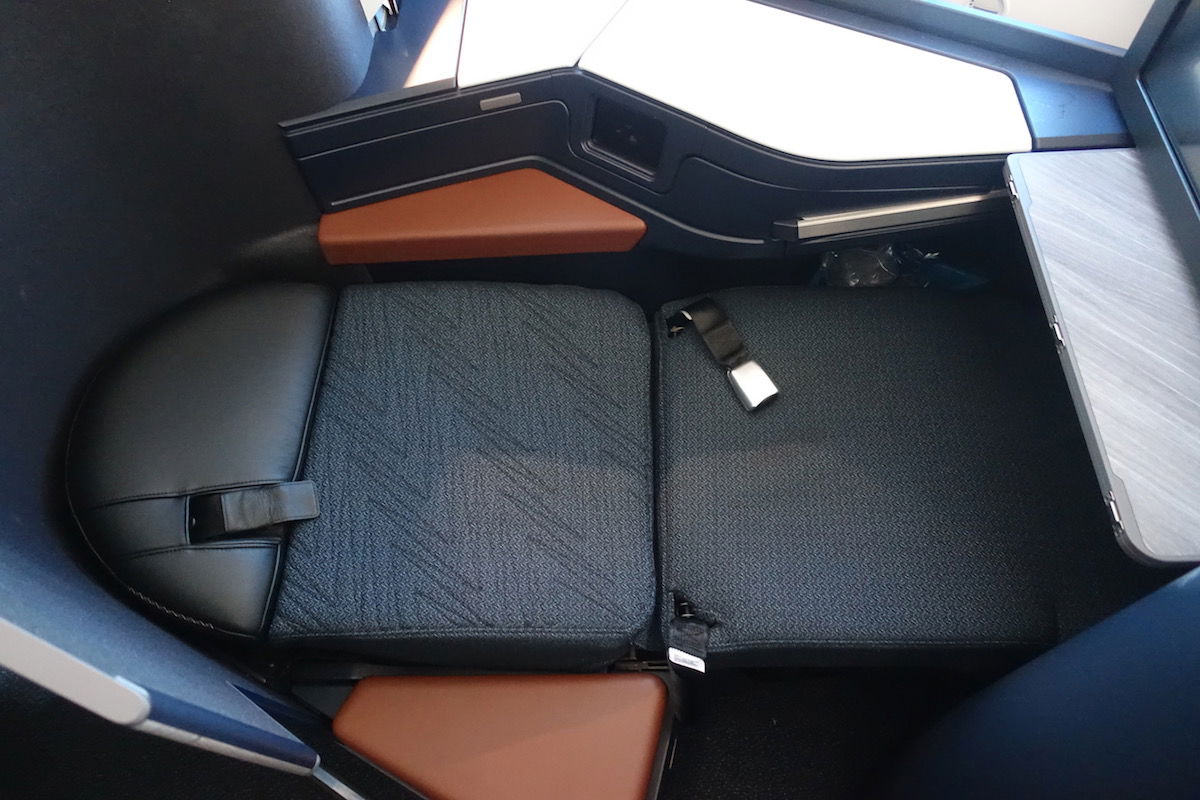 WestJet business class bed
It was a really comfortable bed, and I fell asleep almost immediately.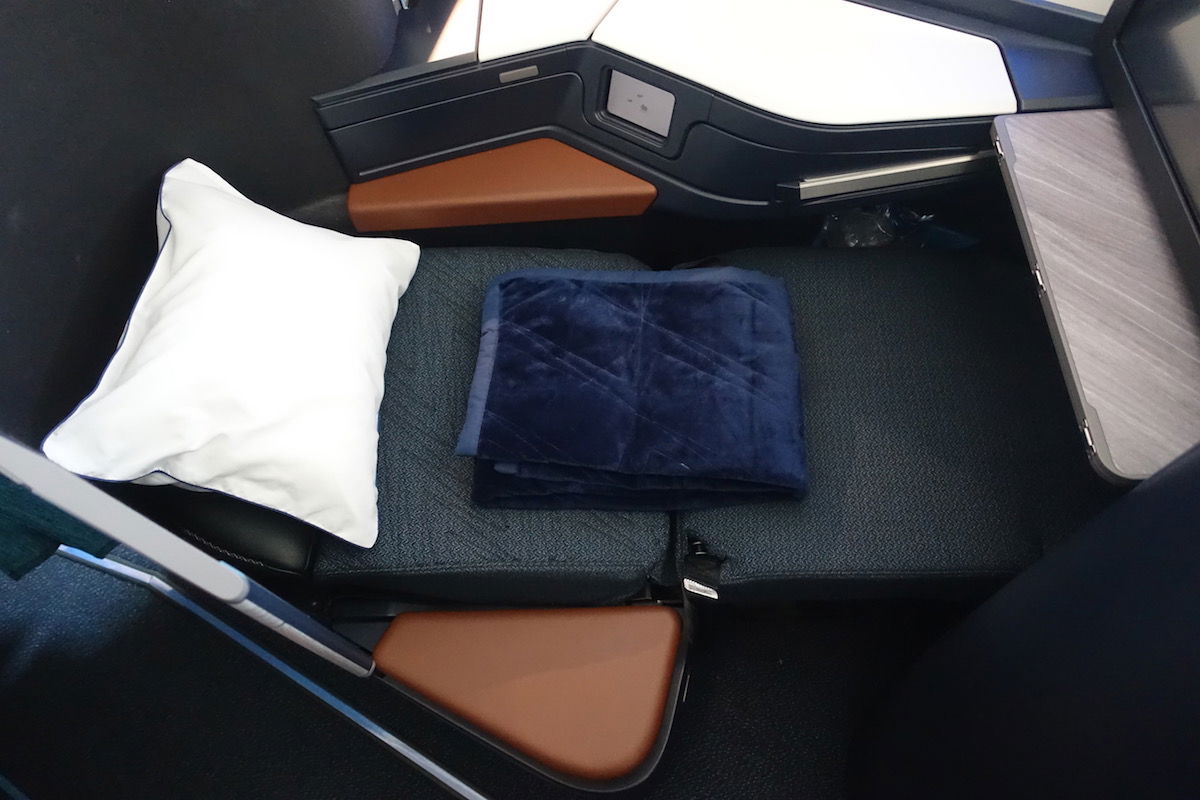 WestJet business class bed
Unfortunately I only slept for a bit over two hours, as the cabin lights were turned on 1hr45min before landing for the breakfast service. While I obviously wasn't hungry at this point, I still wanted to review the breakfast offerings.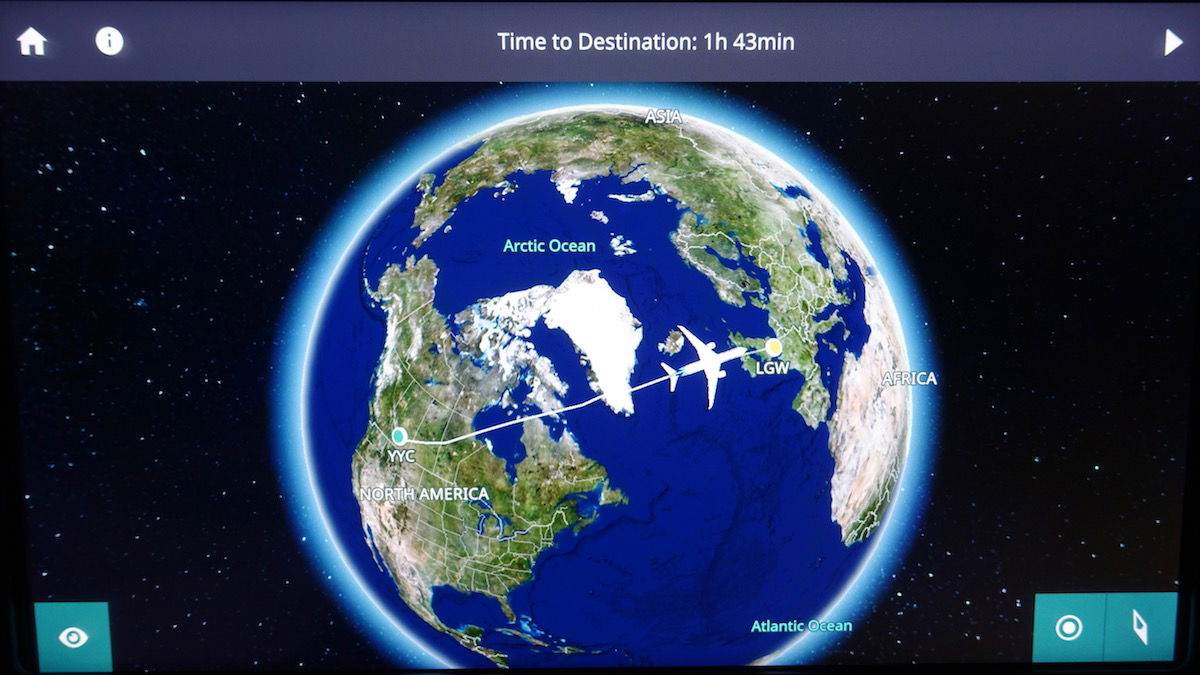 Moving map enroute to London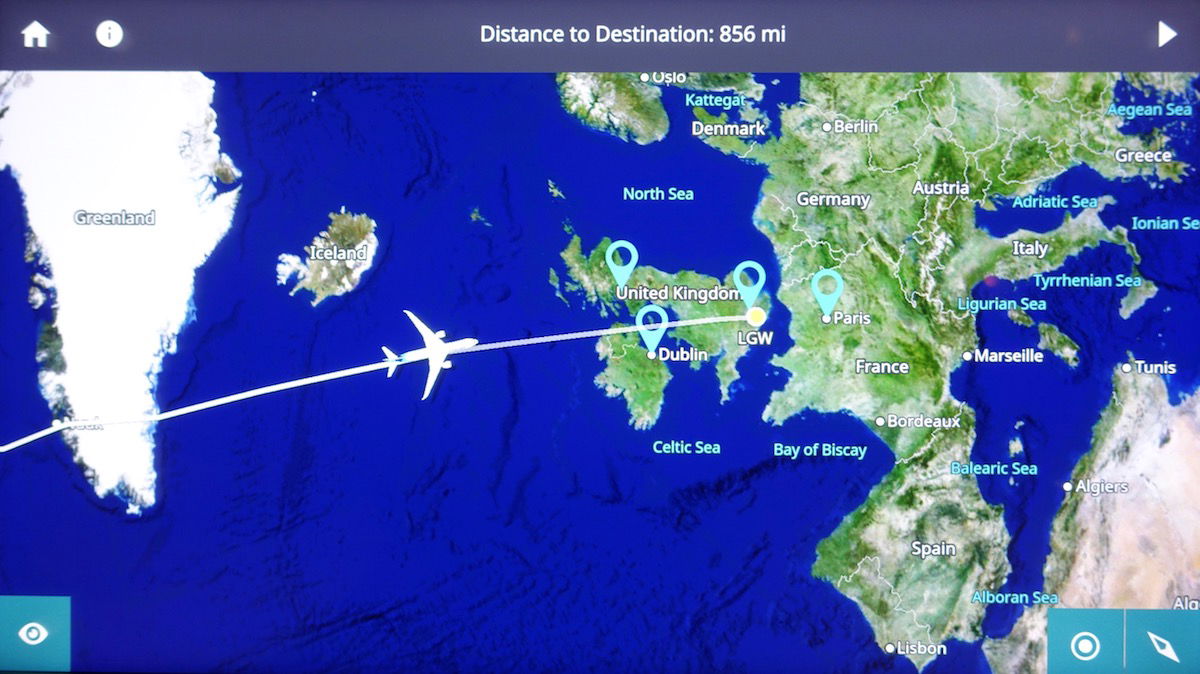 Moving map enroute to London
Shortly after waking up the flight attendant stopped at my seat and asked "how did you sleep?" She also took my breakfast order.
I ordered the ginger and apple juice, as well as a cappuccino, to drink. To eat I ordered fresh fruit and a greek yogurt parfait. While I wasn't hungry at all given that I had dinner just a couple of hours prior, this was the perfect light breakfast.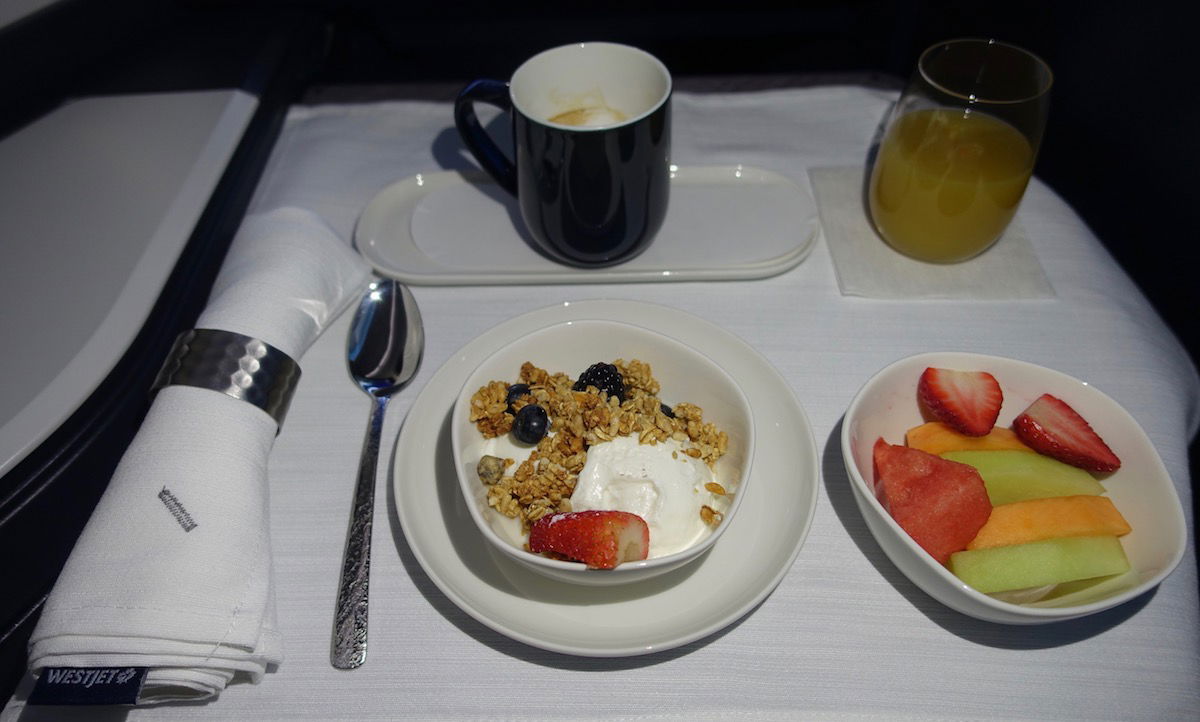 WestJet business class breakfast
I enjoyed the cappuccino, and once done with that ordered another coffee.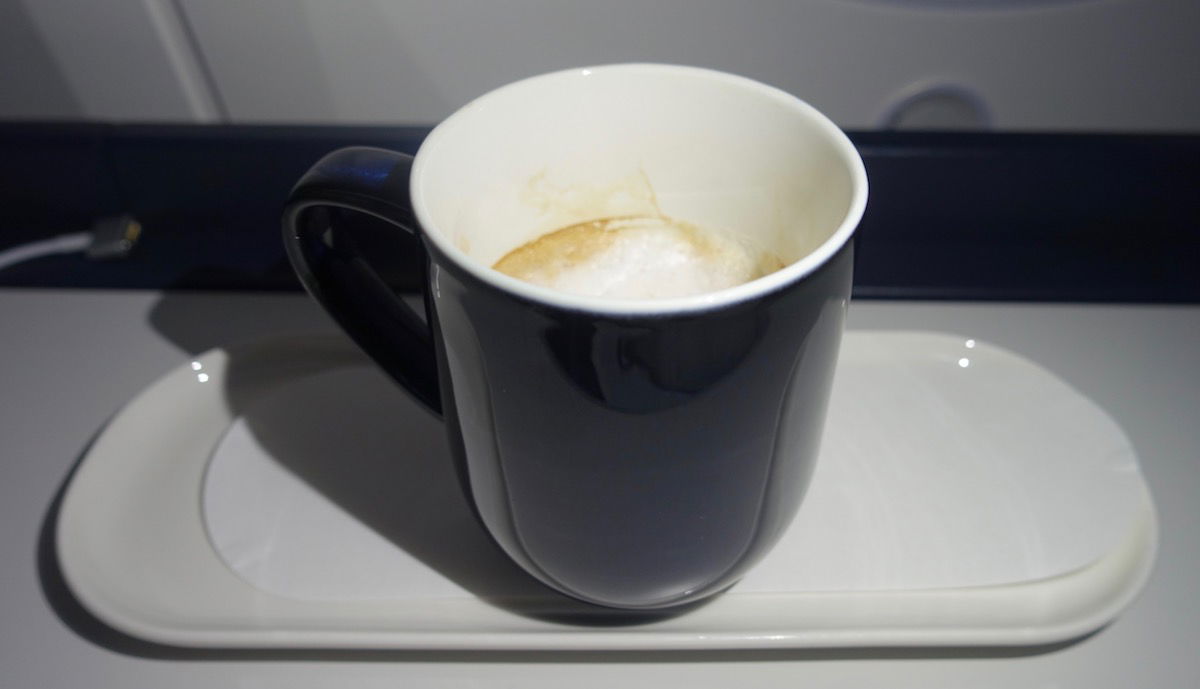 WestJet business class cappuccino
I love their coffee setup!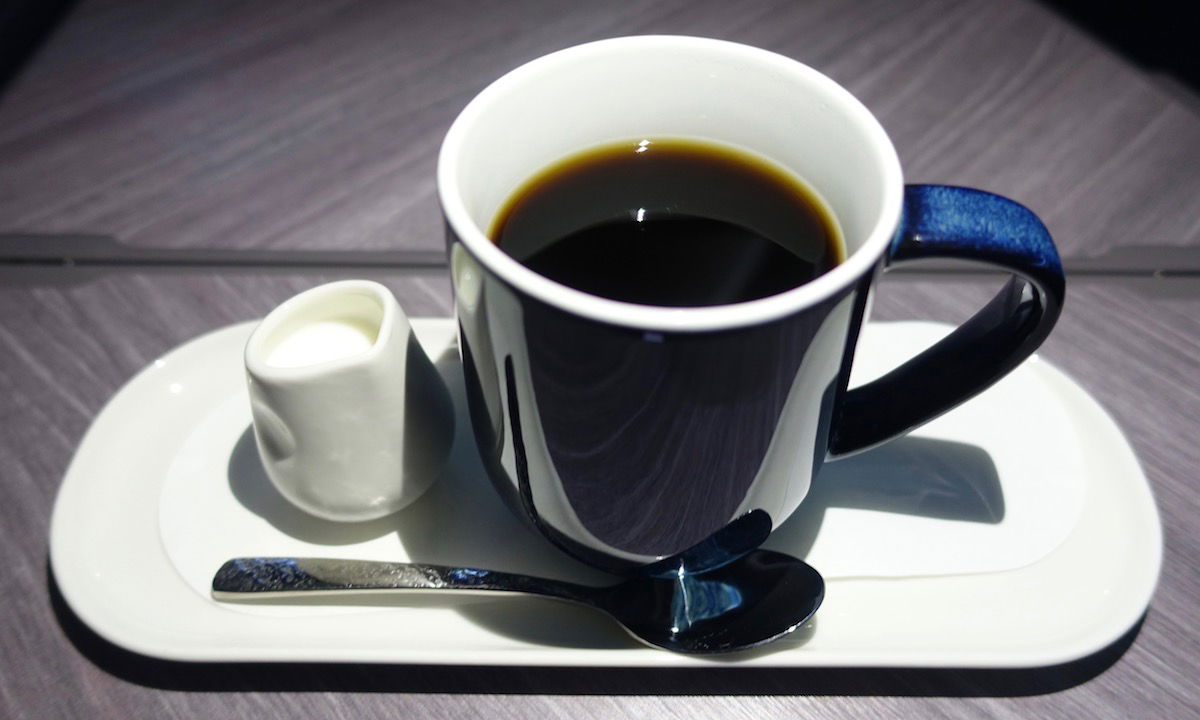 WestJet business class coffee
Shortly before our descent I visited the lavatory, which was spotless. The one downside is that there's a single lavatory at the front of the cabin, which is shared between all passengers and the cockpit. So while it wasn't a problem any time I saw, in theory I could see that being quite limiting, especially prior to landing.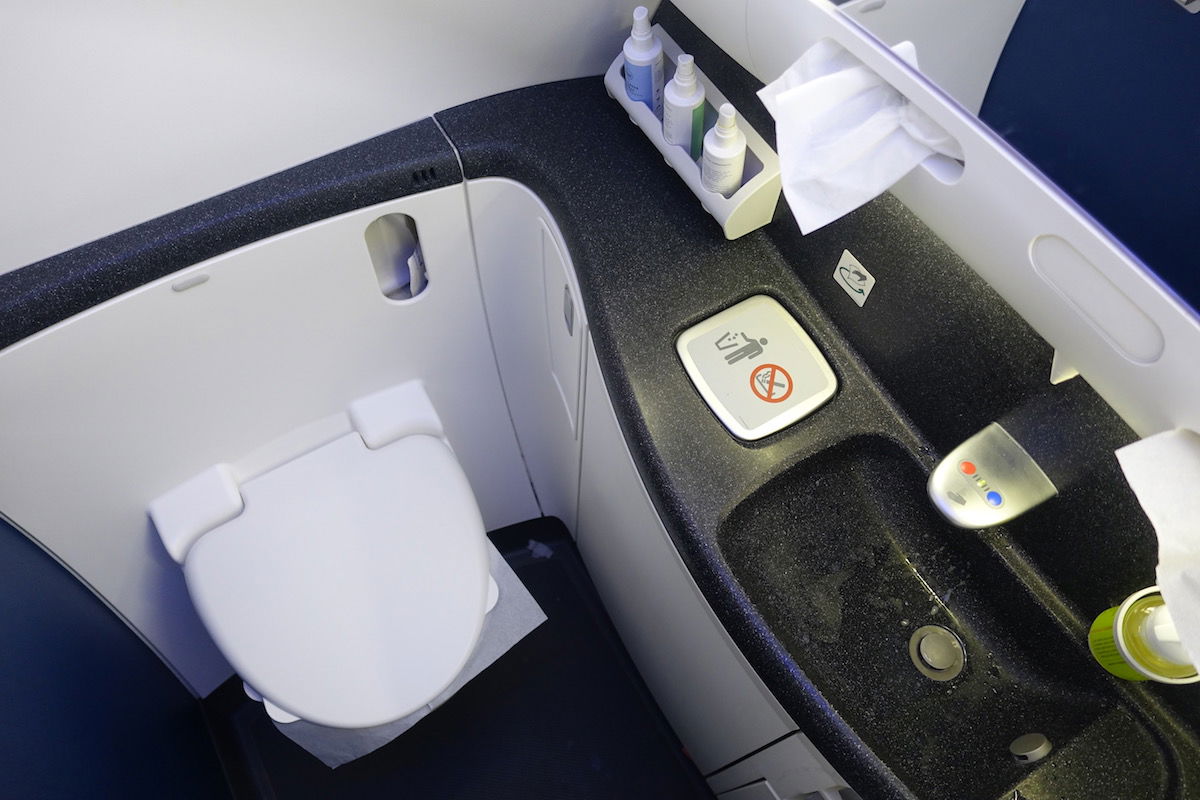 WestJet 787 lavatory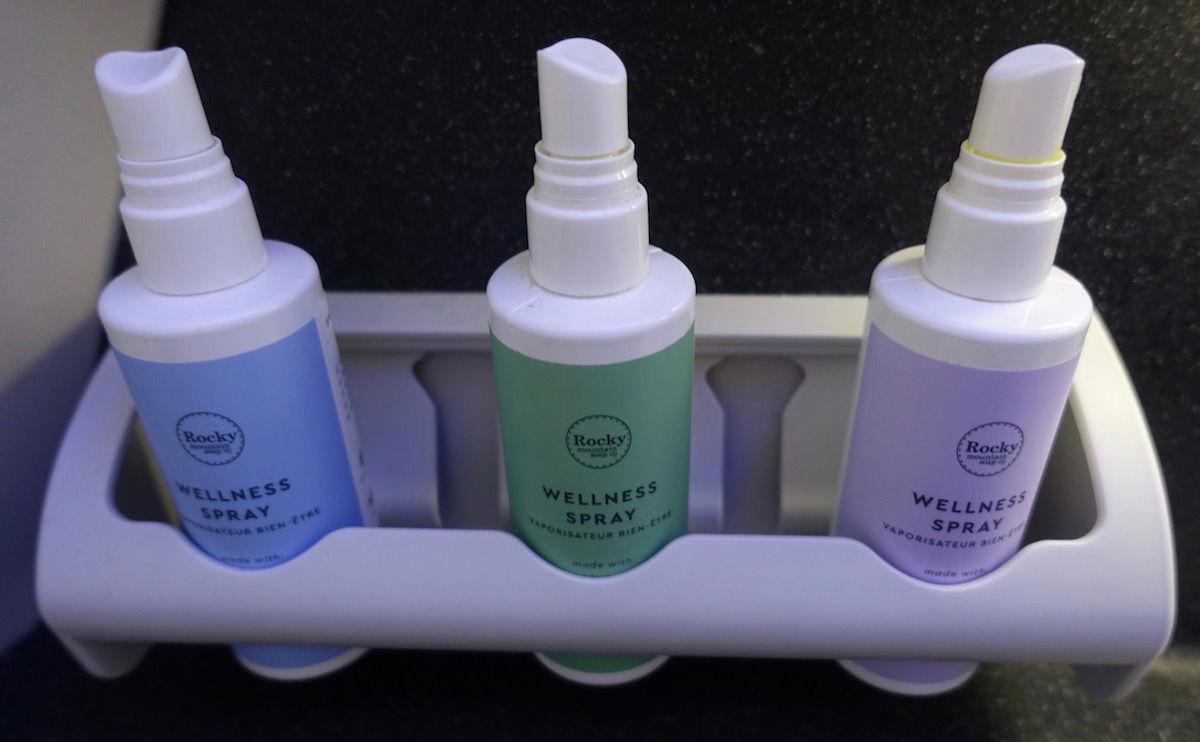 WestJet 787 lavatory amenities
At 10:20AM local time the first officer announced that we'd start our descent in five minutes, and that we'd be landing around 11:05AM.
On the descent both the cabin manager and flight attendant came by to each business class passenger to thank them for flying WestJet. Everyone was also given a candy in the shape of a maple leaf.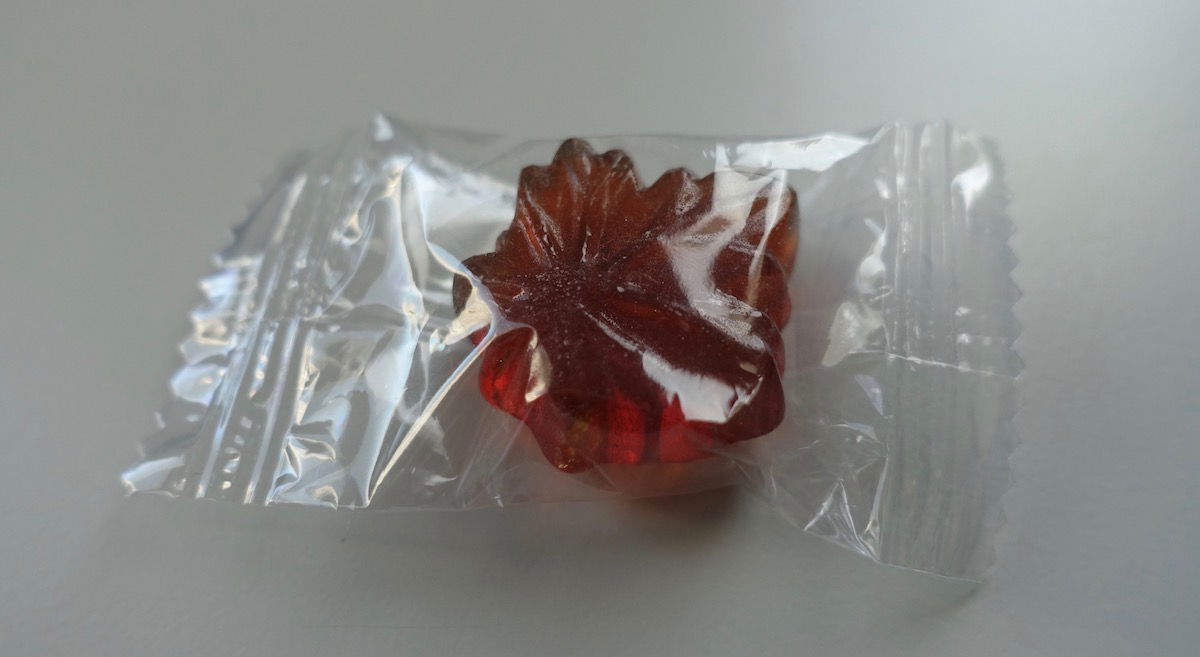 WestJet business class candy
The seatbelt sign was turned on about 20 minutes before landing.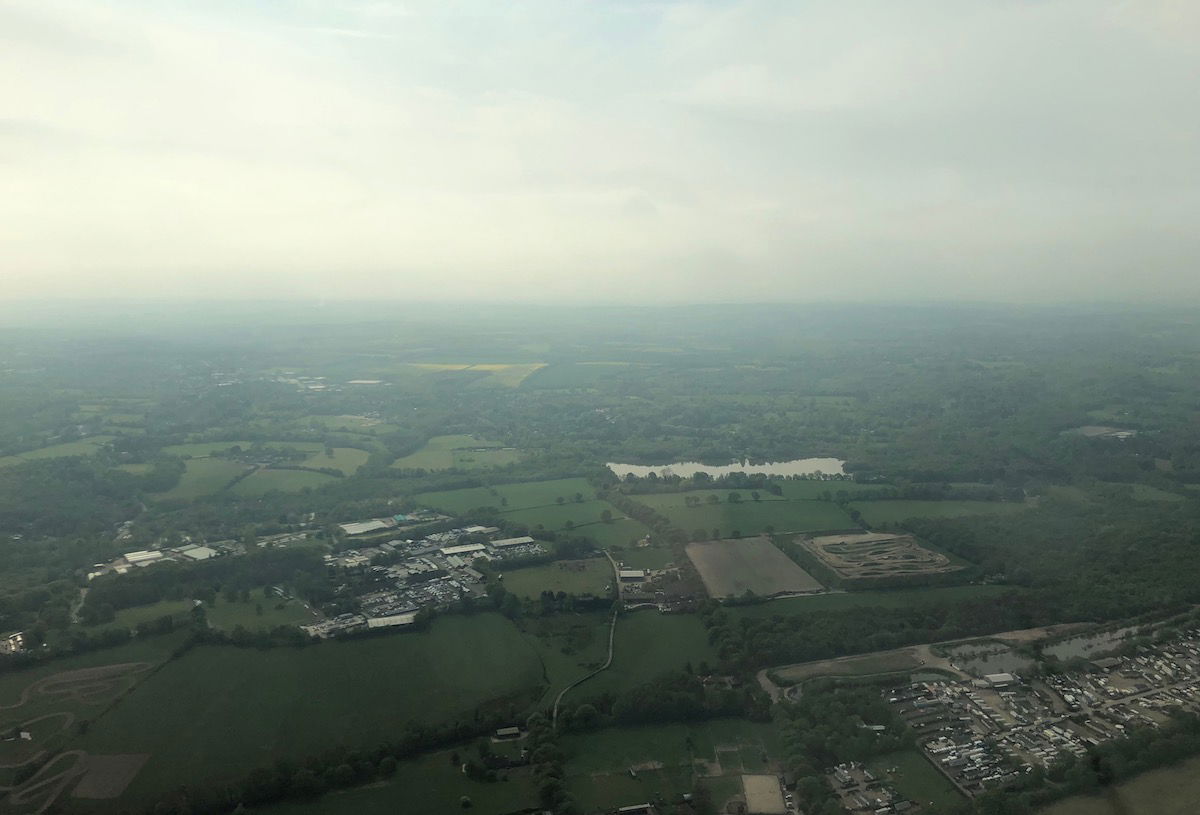 View approaching London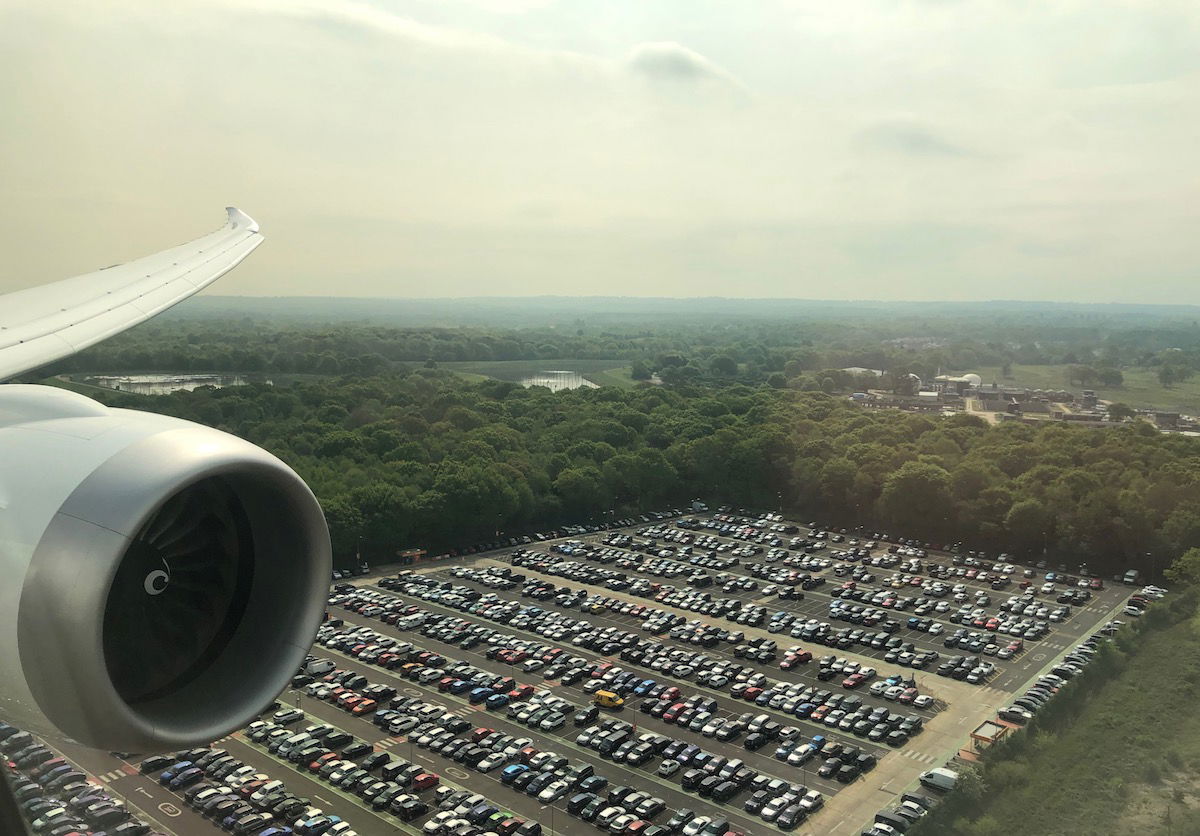 View approaching Gatwick
We touched down at Gatwick at 11AM sharp, and from there had a 10 minute taxi to our arrival gate, where it was pretty quiet.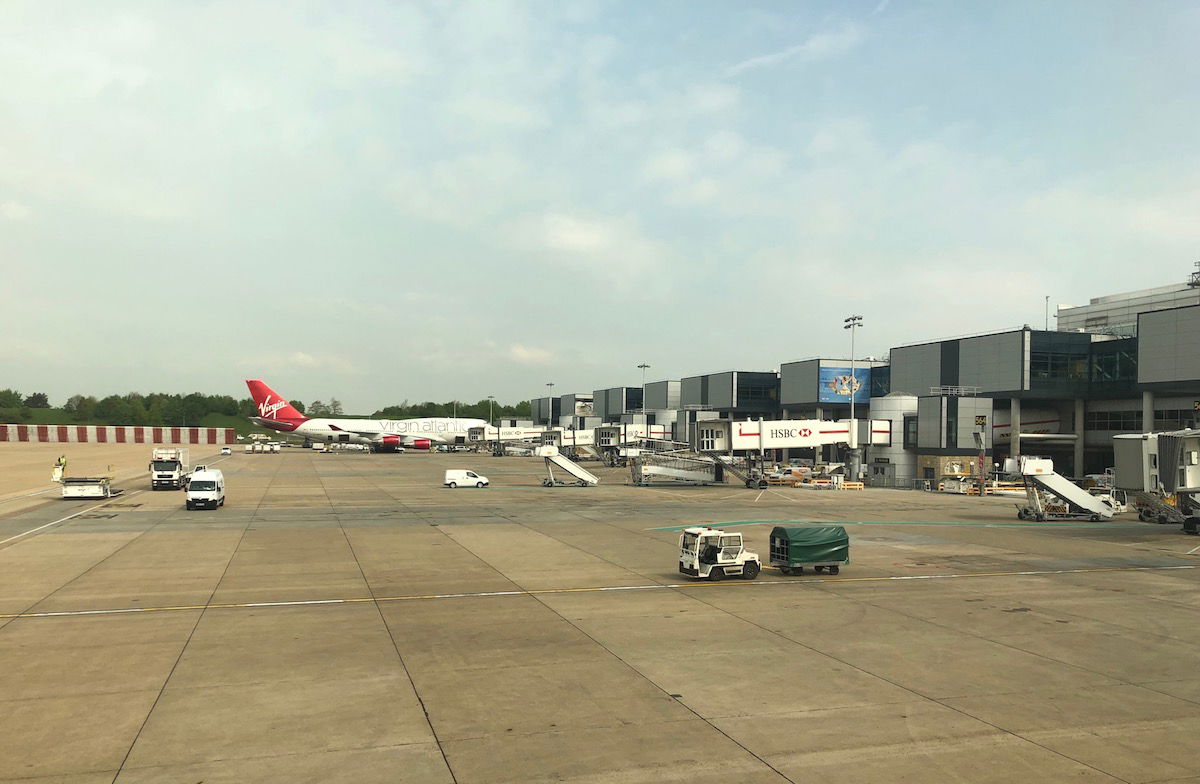 Arrival gate Gatwick Airport
I bid farewell to the crew, admired the WestJet 787 from the outside, cleared immigration, and headed to my hotel.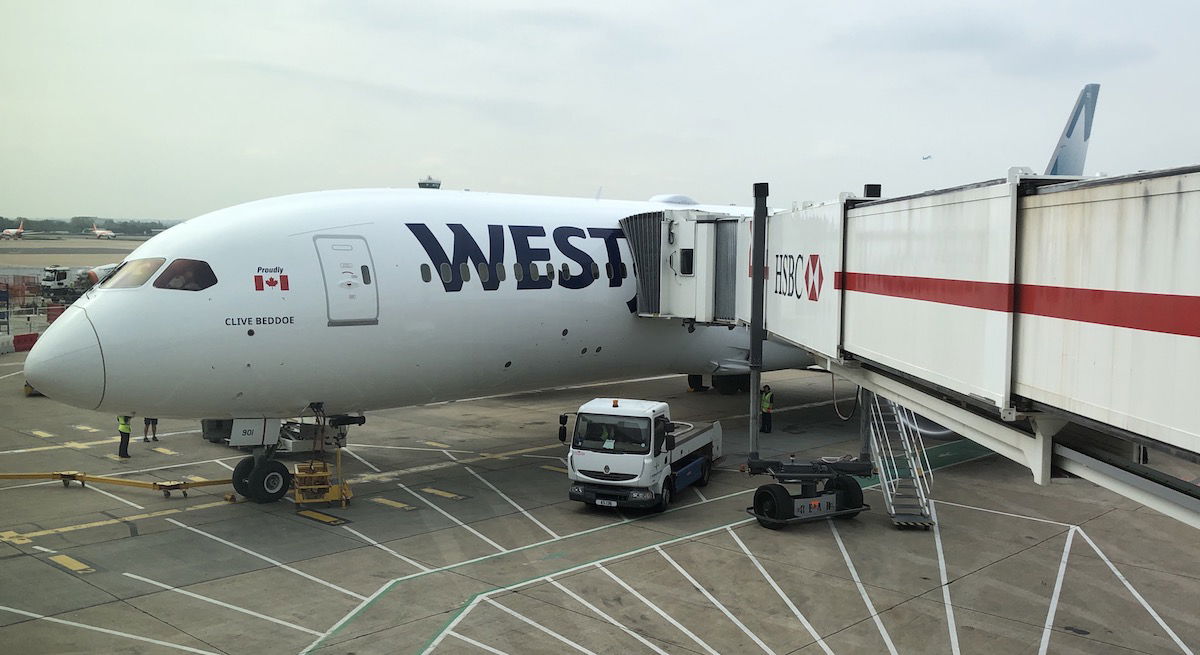 WestJet 787-9 upon arrival at Gatwick
WestJet 787 business class bottom line
WestJet's business class has the potential to be industry leading, and to be the best business class product offered by any North American airline. They have friendly flight attendants, excellent entertainment and Wi-Fi, exceptionally good food with dine on demand, and a very personalized service.
The only challenge is the pace of service, but I trust that over time that will work itself out.
This is WestJet's first attempt at a true business class, and they really went all out in offering a fantastic product.