My layover in Madrid was only about two hours. Madrid is a deceivingly massive airport, and a great place to connect if you're looking to meet your daily quota for steps in one layover.
To be honest I actually have no clue what gate we arrived at, though I knew I was departing from the A Concourse, so I followed signage in that direction.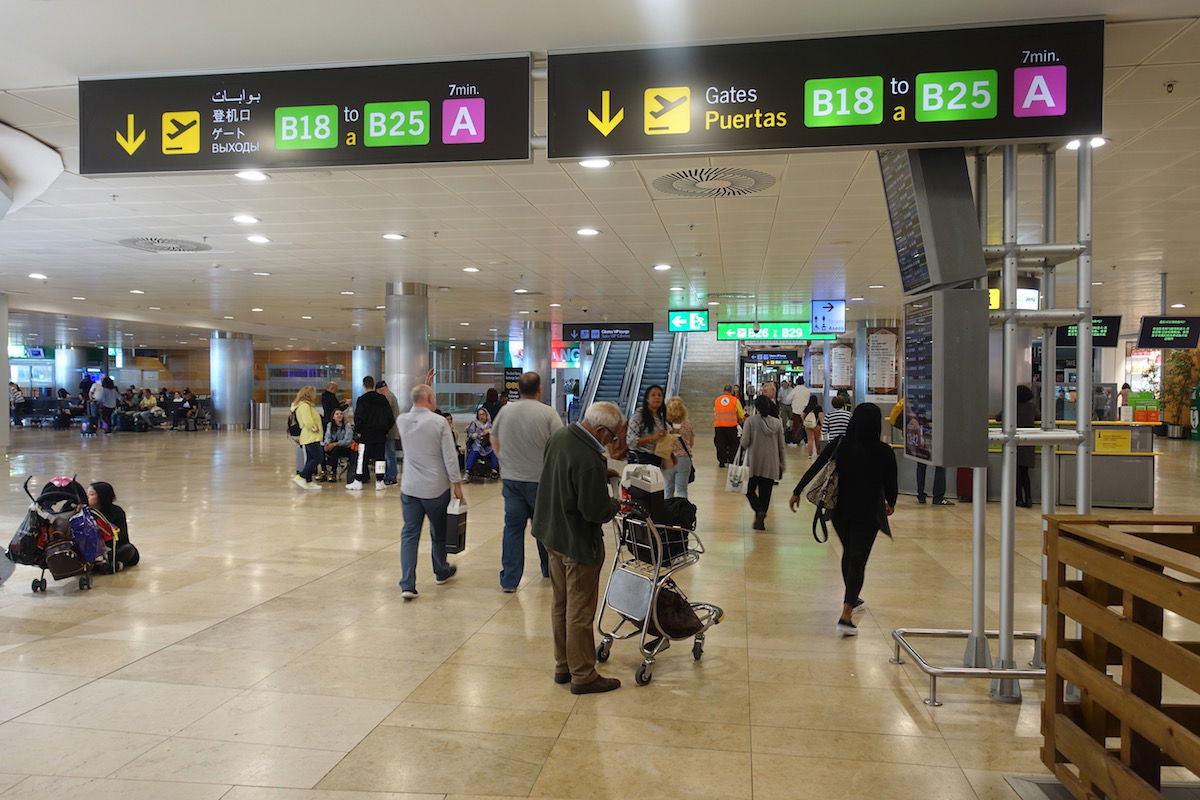 Madrid Airport terminal
I had to clear security again, and was pleasantly surprised that the entire process only took about 10 minutes. Since I had time to spare, I figured I'd check out Air Europa's lounge.
Even though Madrid is Air Europa's hub, they don't operate their own branded lounge there. Rather Air Europa uses the Sala VIP Cibeles, which is located in Terminal 1 Concourse B. I reviewed this lounge several years ago prior to my Aeromexico business class flights to Mexico City, so won't be reviewing it this time around. I stopped in there for about 20 minutes.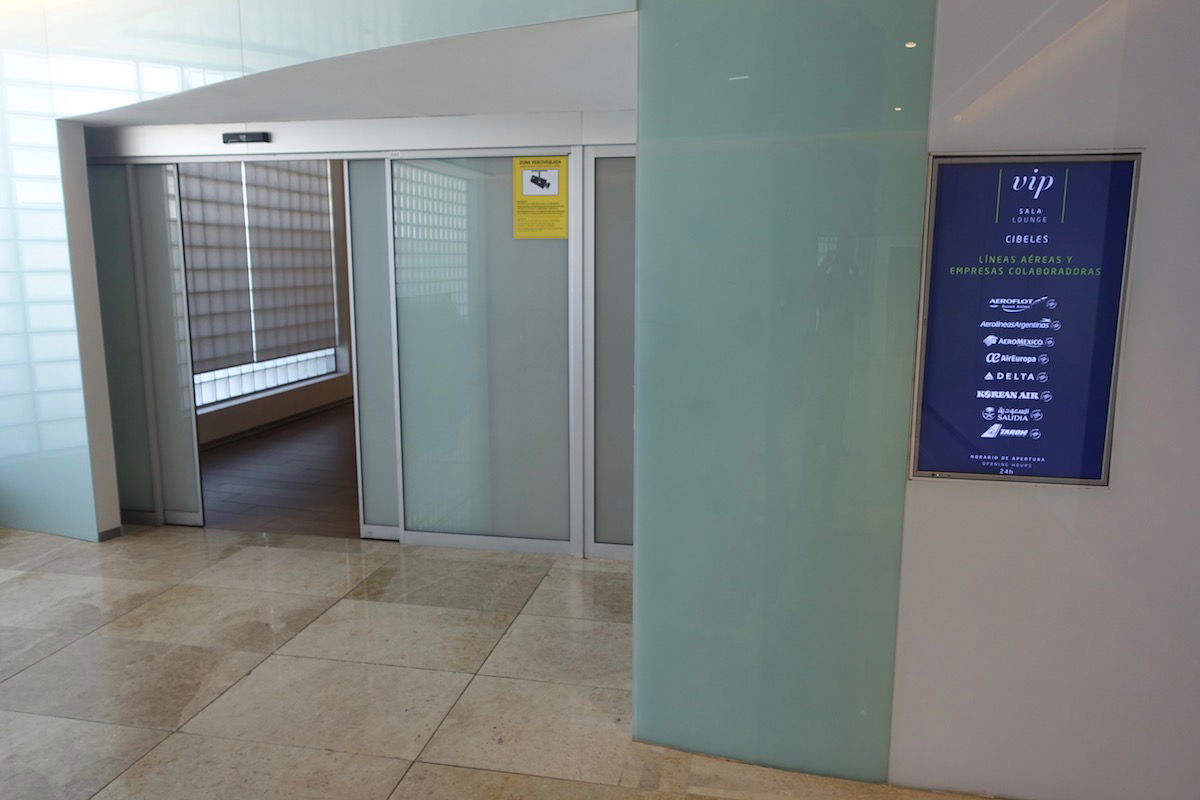 Air Europa Lounge Madrid Airport
Then I headed from Concourse B to Concourse A, which was a pretty quick walk down this funky corridor.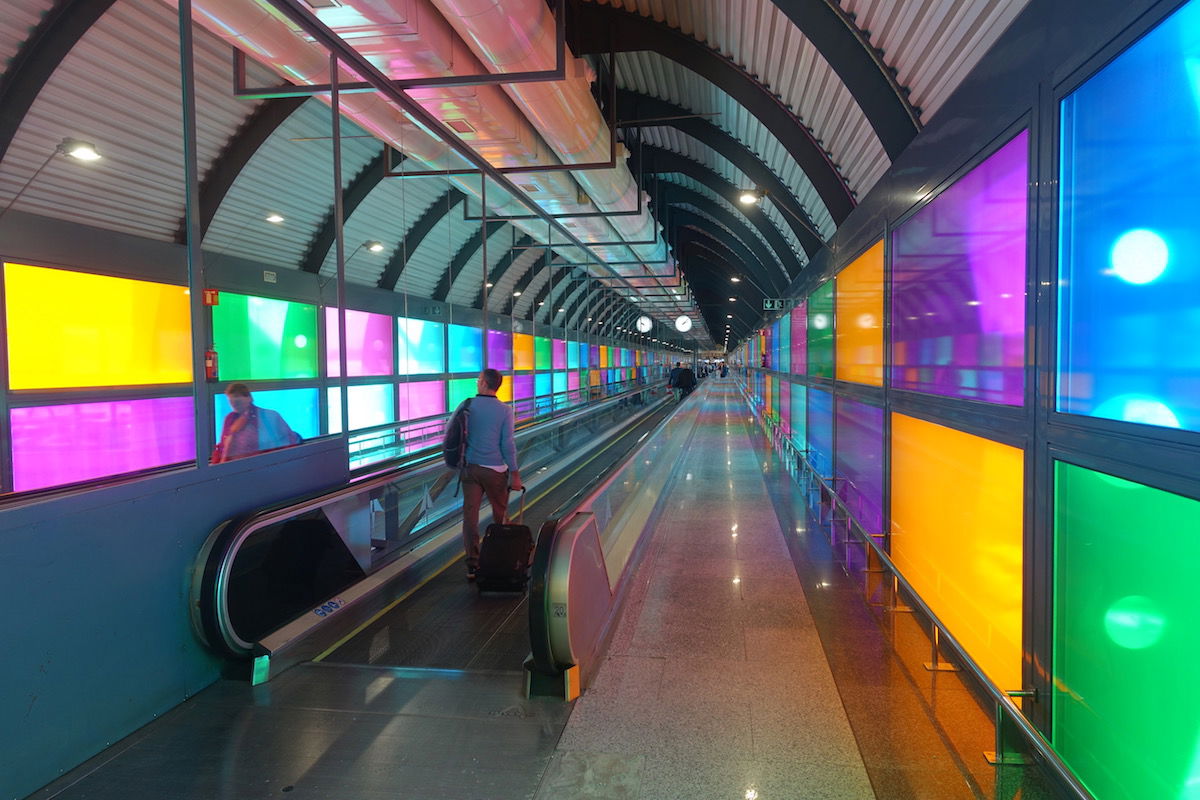 Walking to Madrid Airport departure gate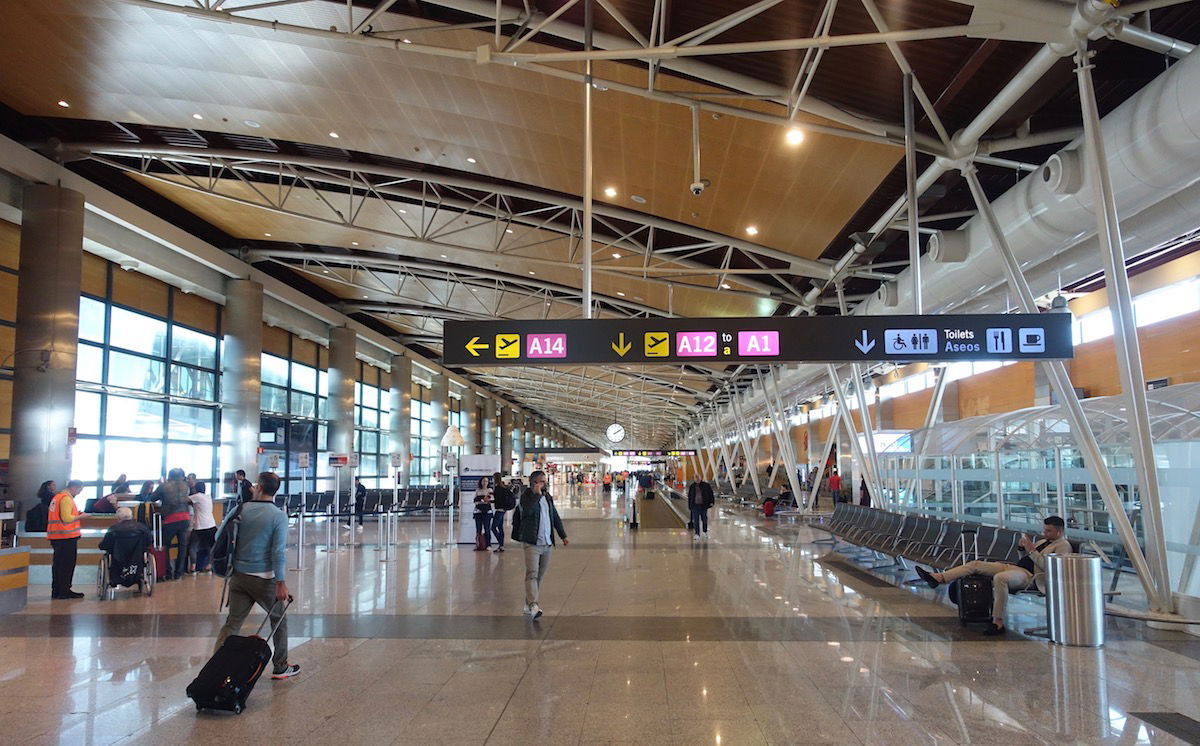 Madrid Airport terminal
While walking to the gate I had the chance to snap some pictures of some Air Europa planes, including A330s and 787s, which are the two aircraft types they use for long haul flights.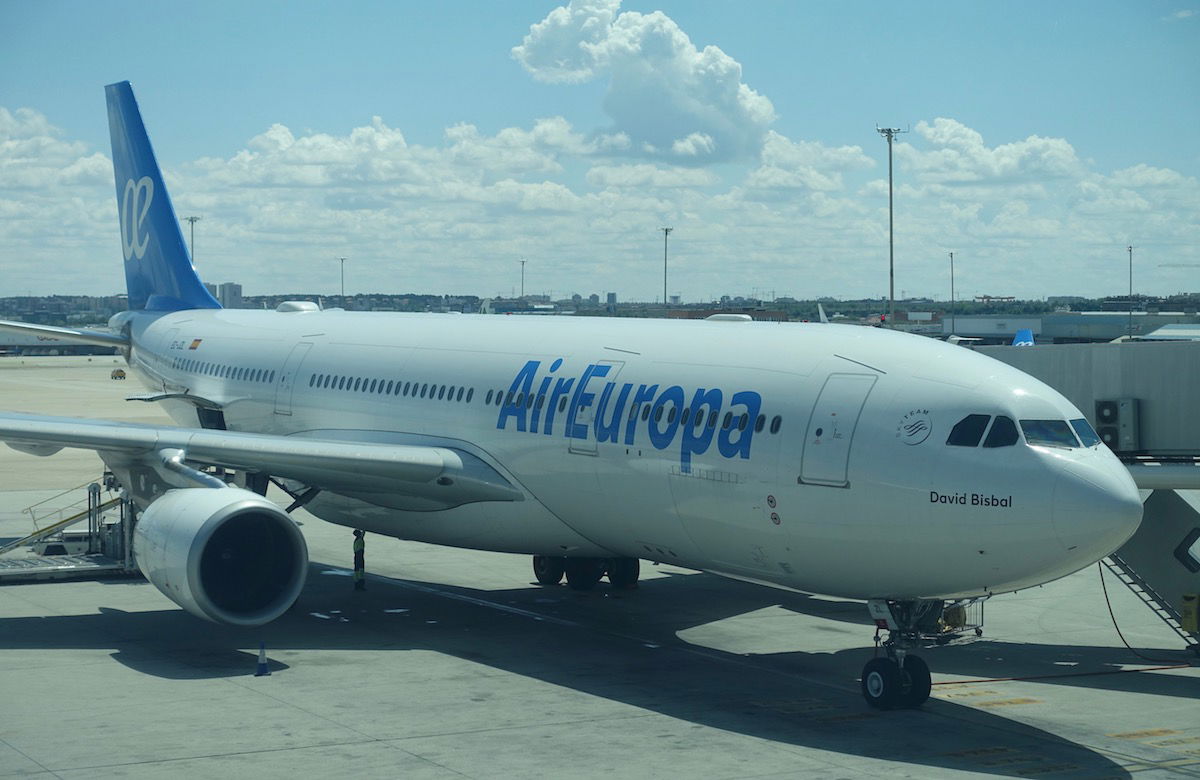 Air Europa A330 Madrid Airport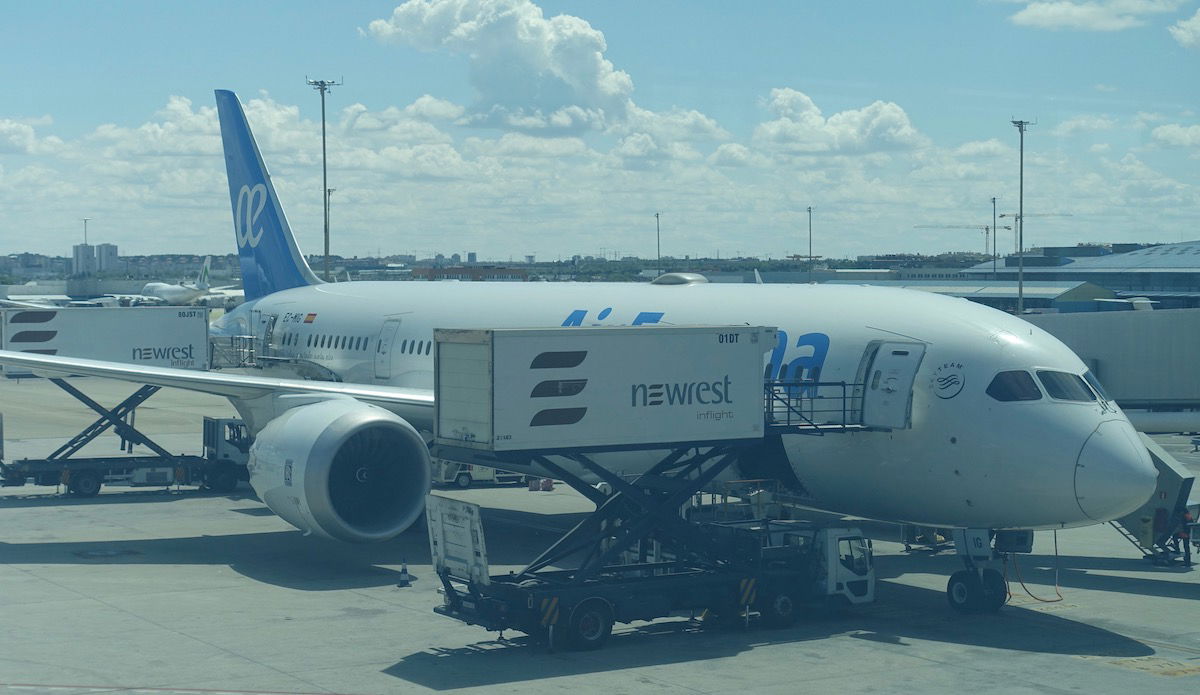 Air Europa 787 Madrid Airport
My gate, A2, was at the very end of the terminal. My boarding pass indicated that boarding was scheduled to start at 2:25PM, a full hour before departure. In reality boarding started 10 minutes after that, with those needing extra time being invited to board first, followed by business class passengers.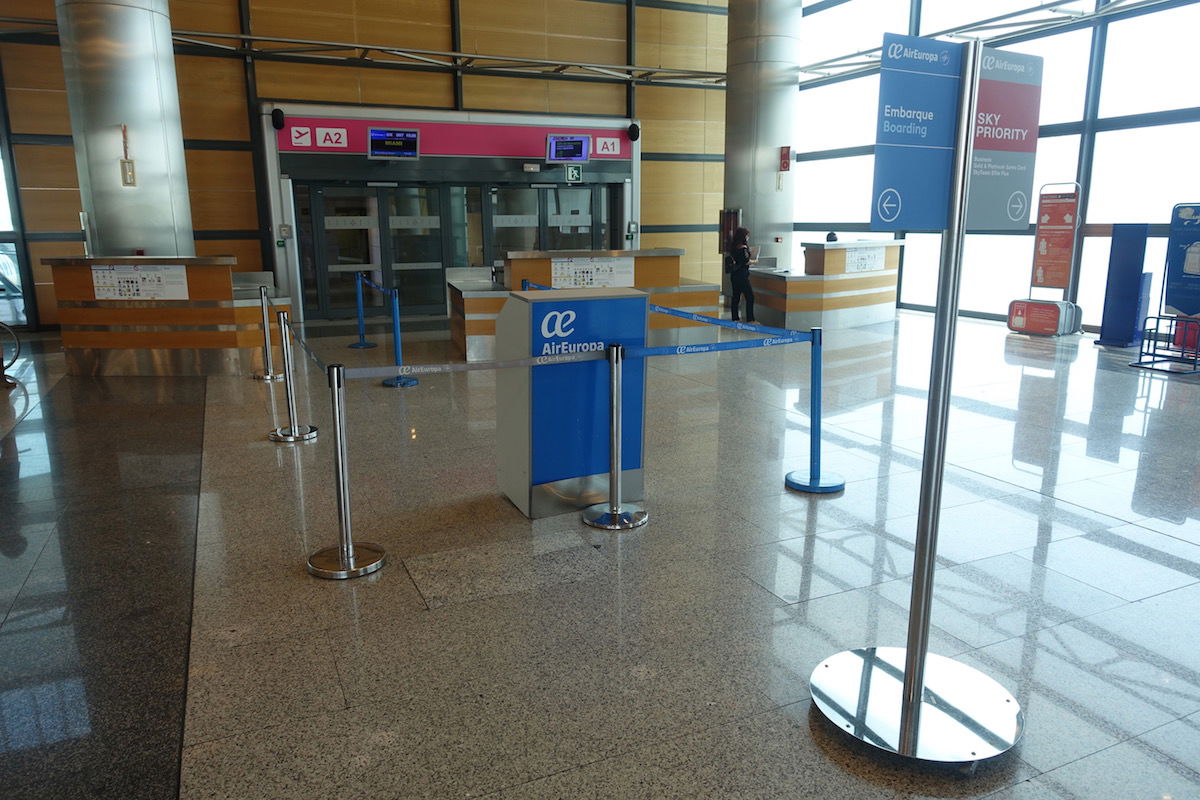 Air Europa departure gate Madrid Airport
Air Europa 97
Madrid (MAD) – Miami (MIA)
Thursday, May 2
Depart: 3:25PM
Arrive: 6:45PM
Duration: 9hr20min
Aircraft: Boeing 787-8
Seat: 4K (Business Class)
I boarded through the second set of doors, where I was able to catch a glimpse of the economy cabin, including the "XL" exit row seats. I was pointed left into the business class cabin.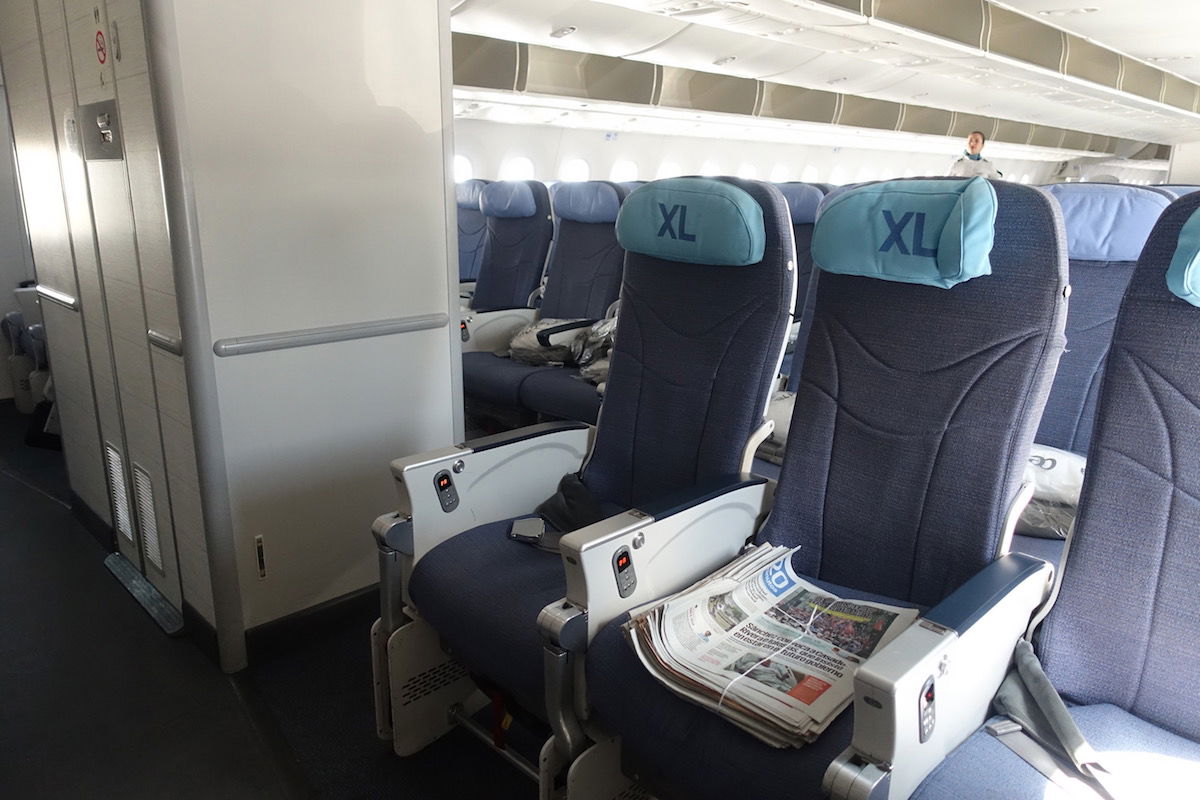 Air Europa 787 economy cabin
Air Europa has a total of 22 business class seats on their 787-8s. These seats are spread across four rows in a 2-2-2 configuration (the center section only has three rows).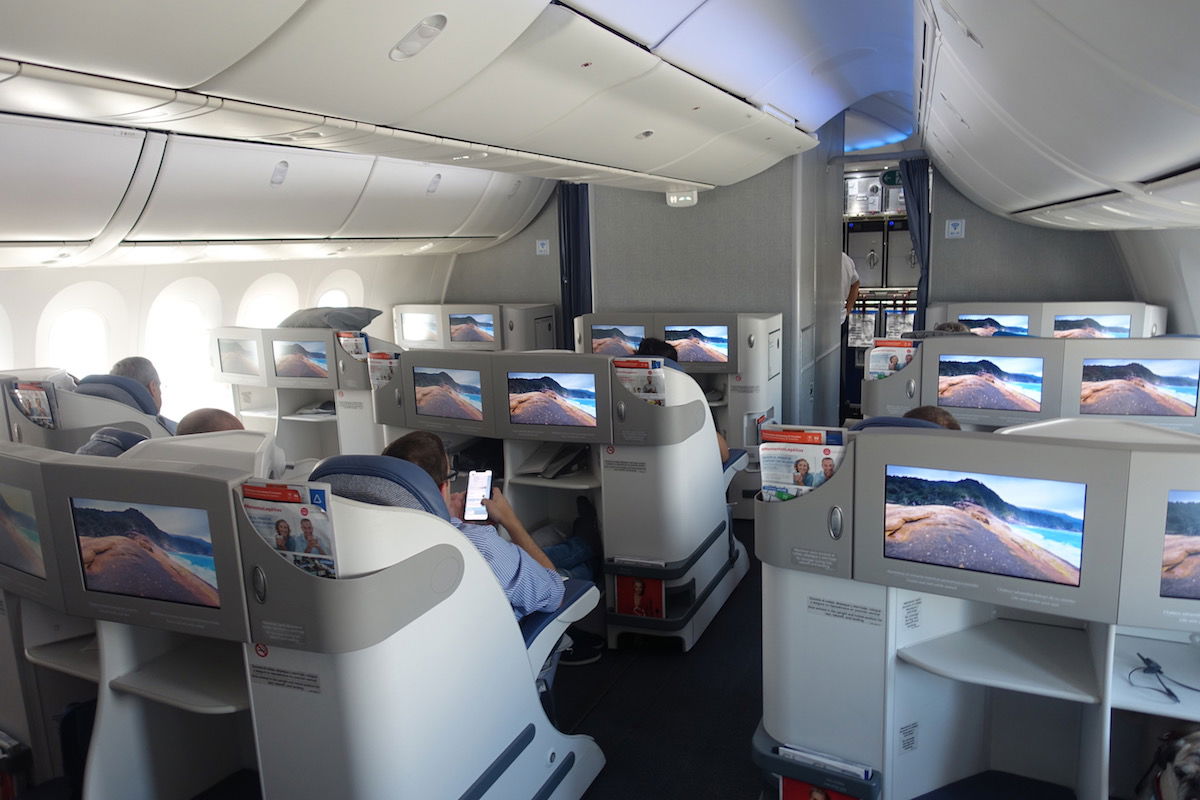 Air Europa 787 business class cabin
Air Europa uses a really unusual configuration. All the seats are in pairs and each pair of seats is angled slightly towards one another.
This is very similar to Royal Air Maroc's 787-8 business class, though the difference is that on Air Europa the two seats recline to the same level. Contrast that to Royal Air Maroc, where you have one person sleeping on "top" and one on "bottom." It's sort of awkward.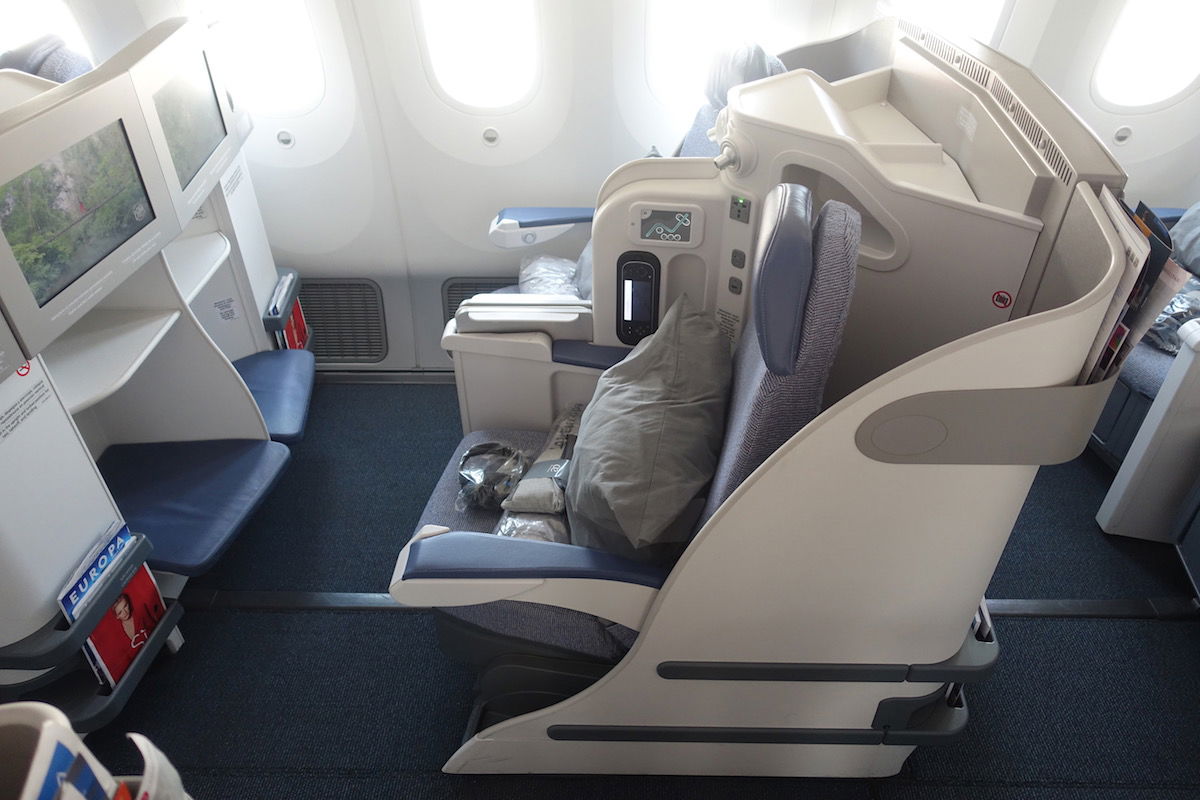 Air Europa 787 business class seats
I had assigned myself seat 4K, the window seat on the right side in the last row. I figured this maximized my odds of having an empty seat next to me, and in a "cozy" configuration like this, that can make a big difference. The downside to sitting in row four is that a window is missing.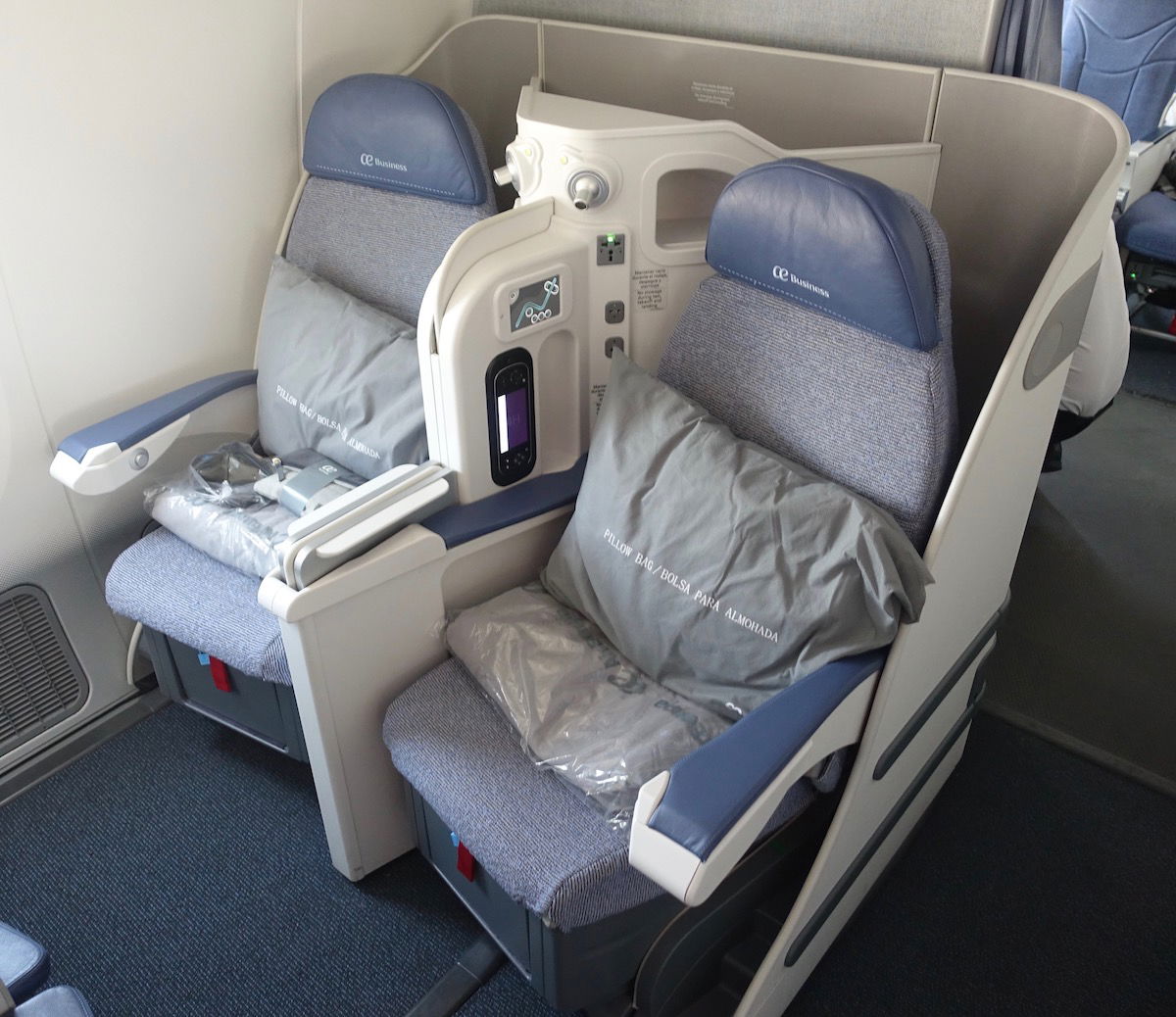 Air Europa business class seats 787
Each seat has a large footwell, and then a shelf above the footwell where you can store things (though not during takeoff or landing, since they'll slide out). The good news is that the footwell is huge, though the bad news is that it's not very practical to use if you're not trying to sleep, since it's quite low.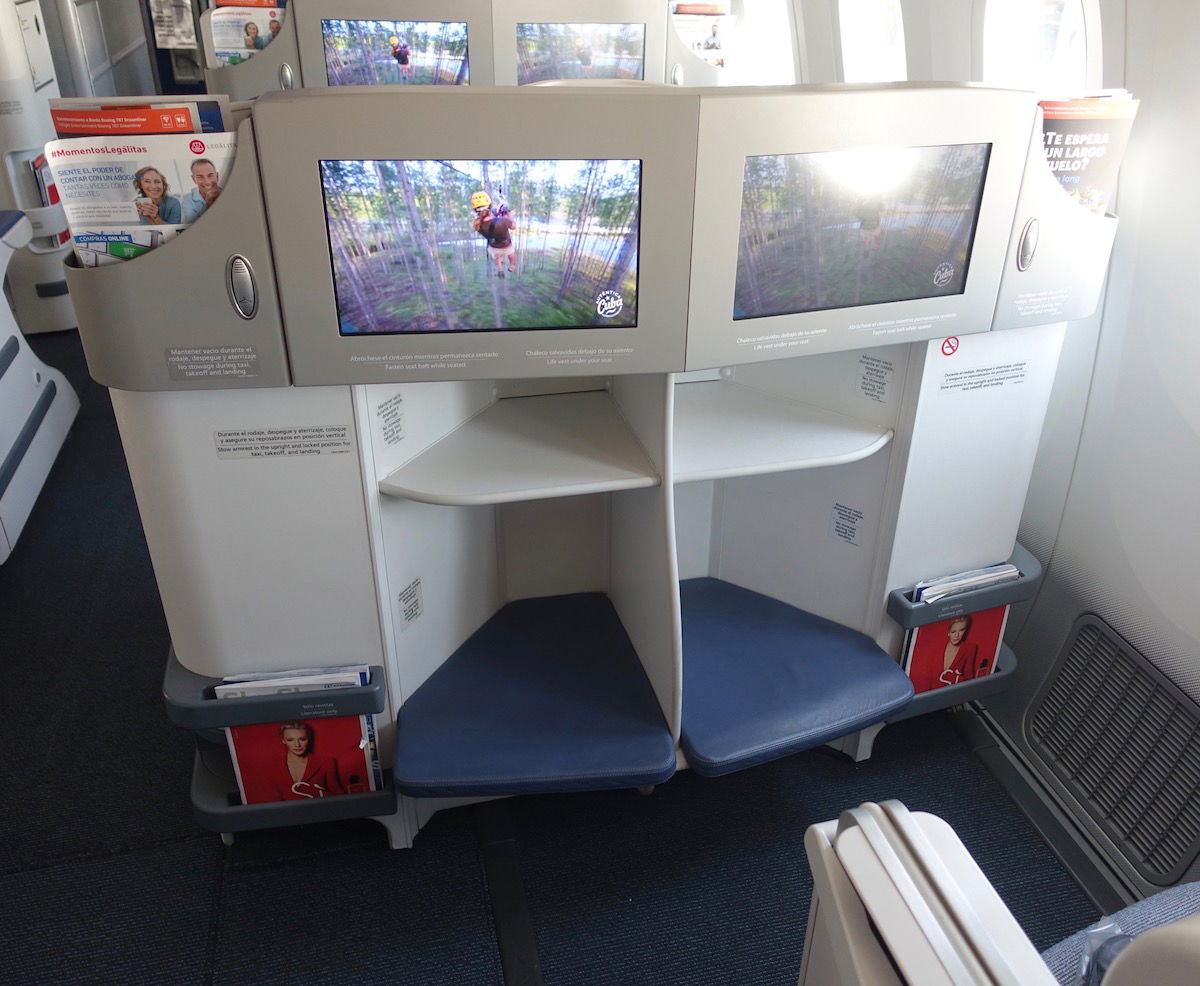 Air Europa business class seats 787
In the area between seats was a reading light, power outlets (USB and 110v), seat controls, headphone jacks, and an entertainment controller. Everything was easily within reach and well placed.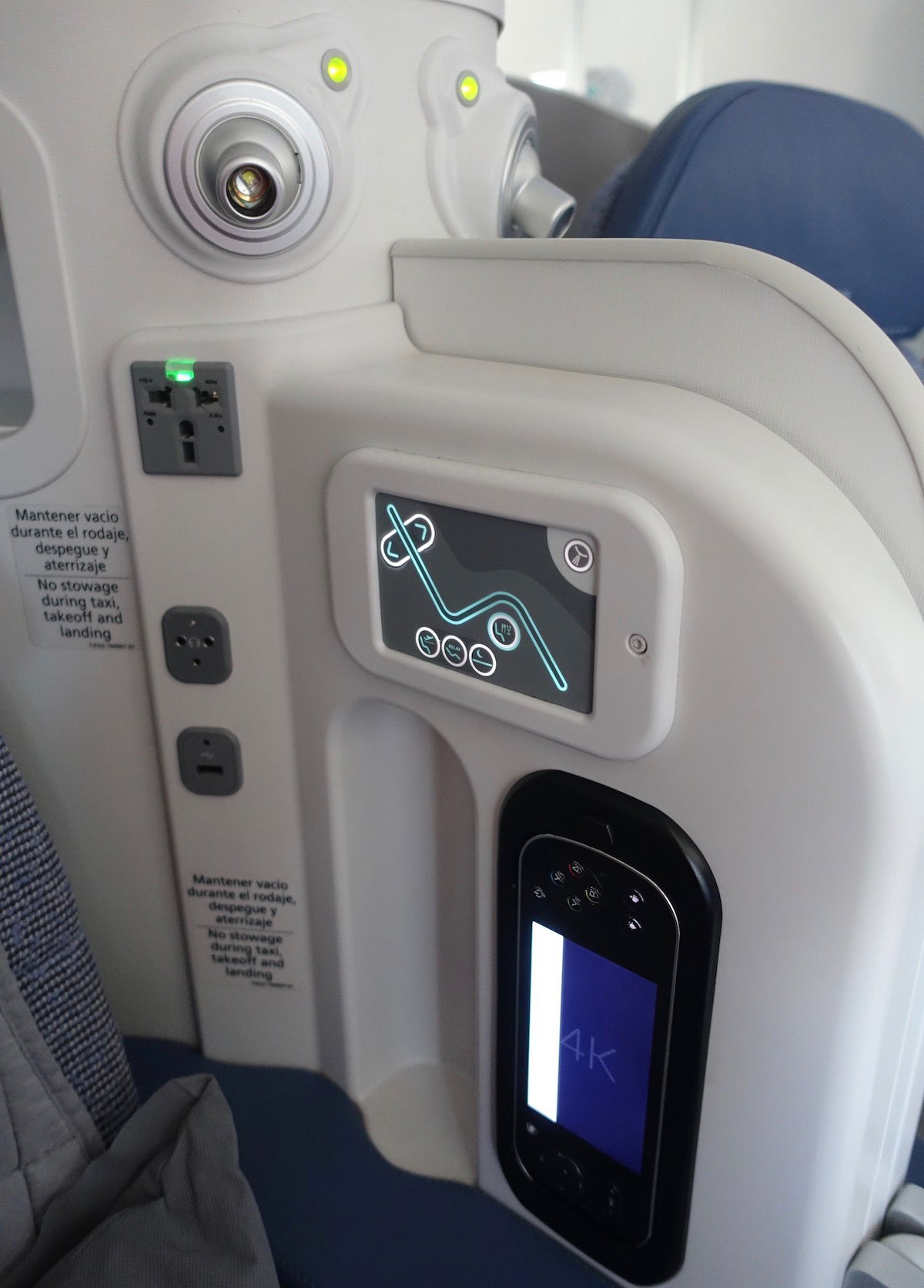 Air Europa business class seat controls
The tray table also folds out from the center console, and consists of one solid tray, so you can't fold it over, or anything.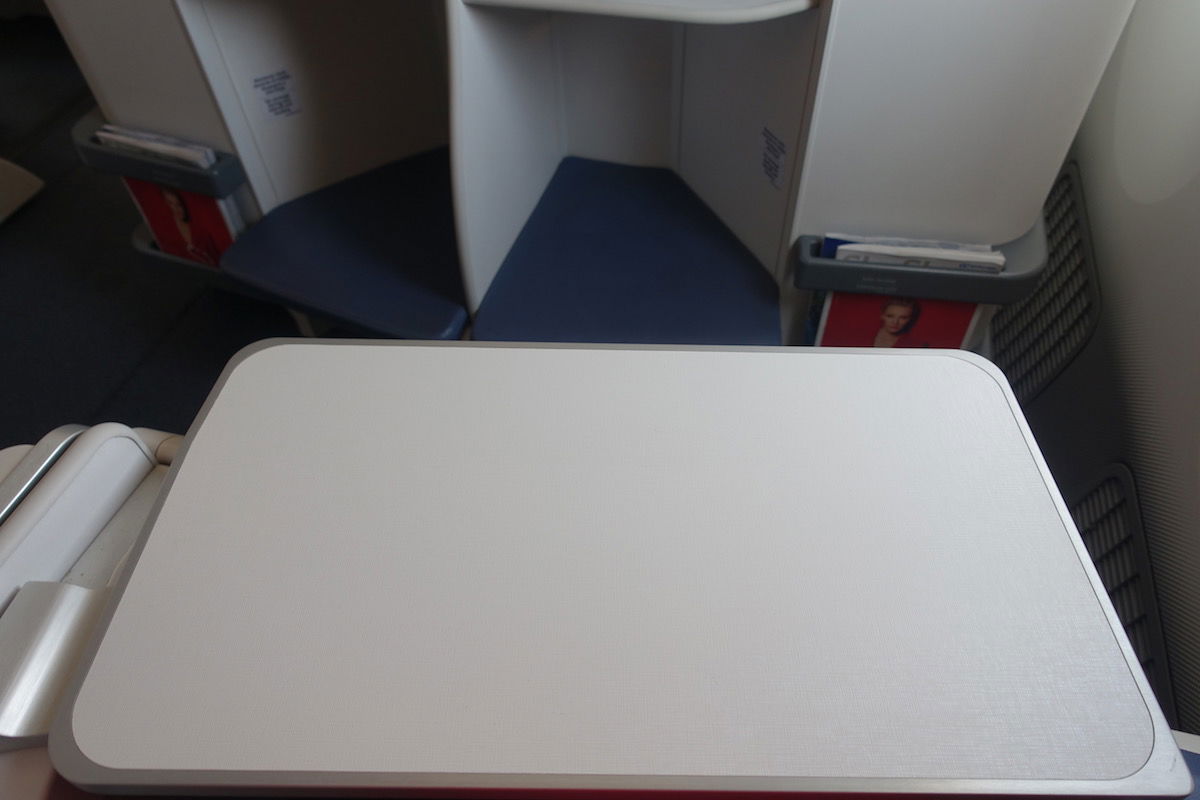 Air Europa business class tray table
The crew was extremely friendly, and the second I got to my seat they asked if I wanted to already have the seat "made up," which I agreed to. This consisted of them simply placing a mattress sheet on the seat.
I definitely recommend doing this, because Air Europa's business class seats are about as hard as an ironing board. The seats are so thin and you really don't get much padding. I'd even try to put two blankets on the seat, if possible.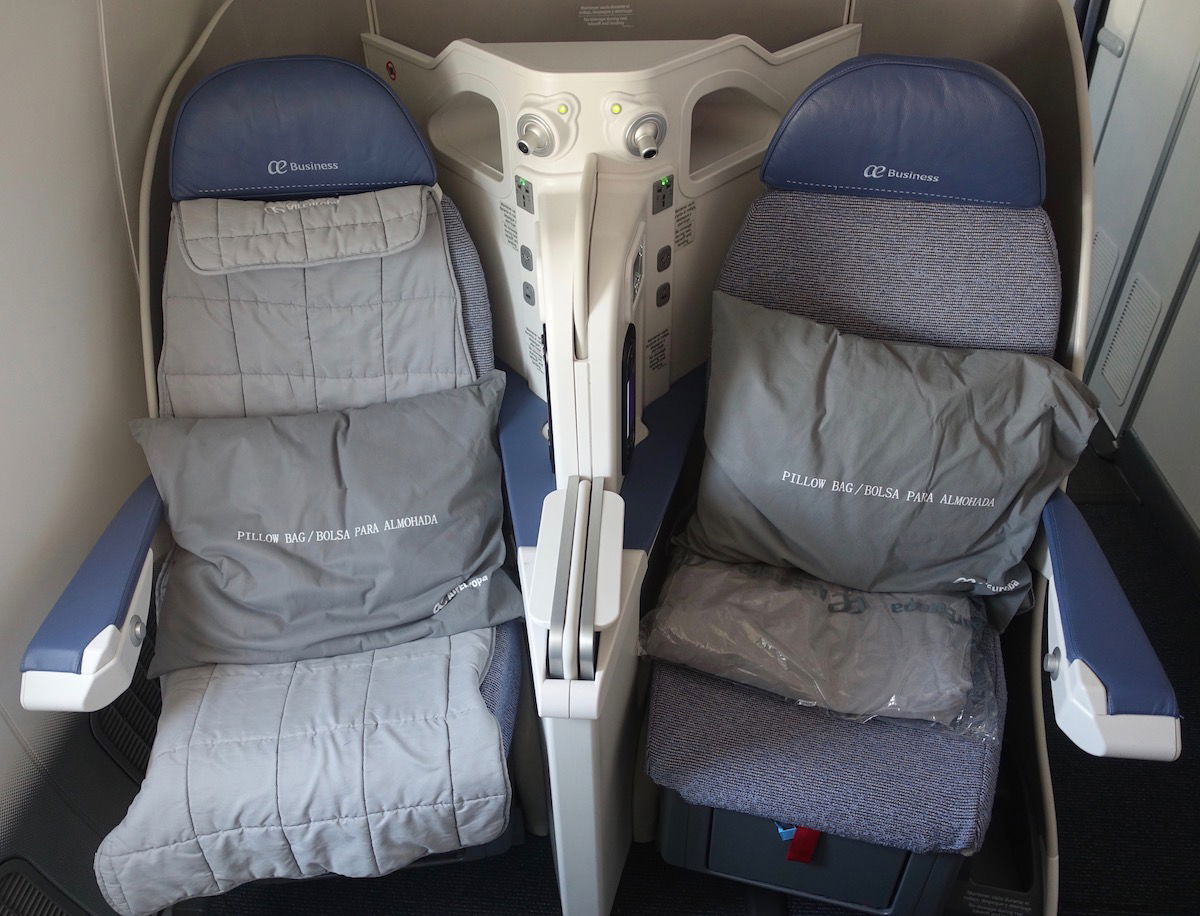 Air Europa 787 business class seat
In addition to the mattress sheet was a plush blanket and good pillow. Since I had an empty seat next to me I could even double up and get extra comfortable.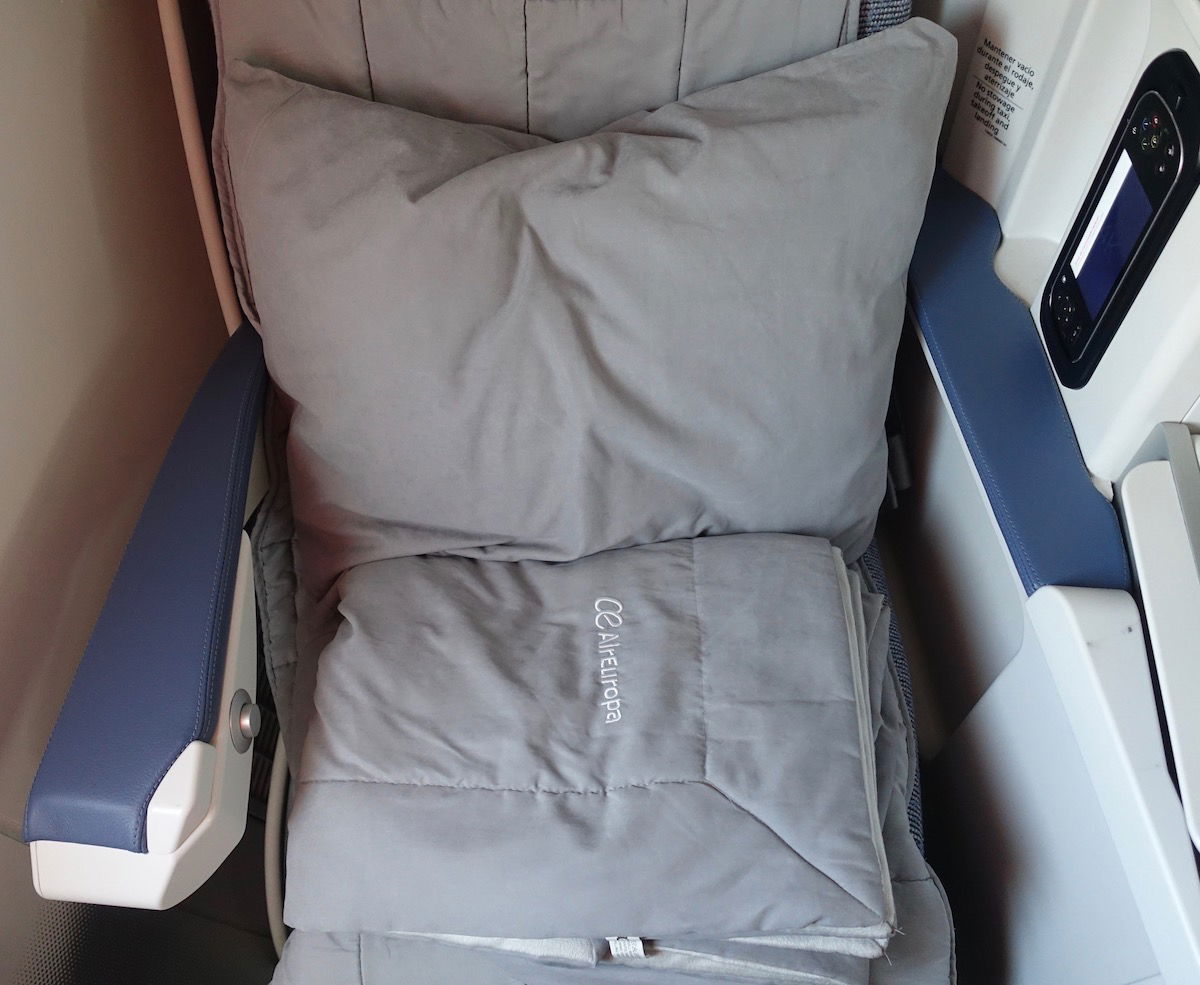 Air Europa business class bedding
Unfortunately Air Europa doesn't offer individual air nozzles at every seat, so you're at the mercy of whatever temperature the crew keeps the cabin.
Already waiting at my seat upon boarding was an amenity kit. This was a cute little pouch that folded over.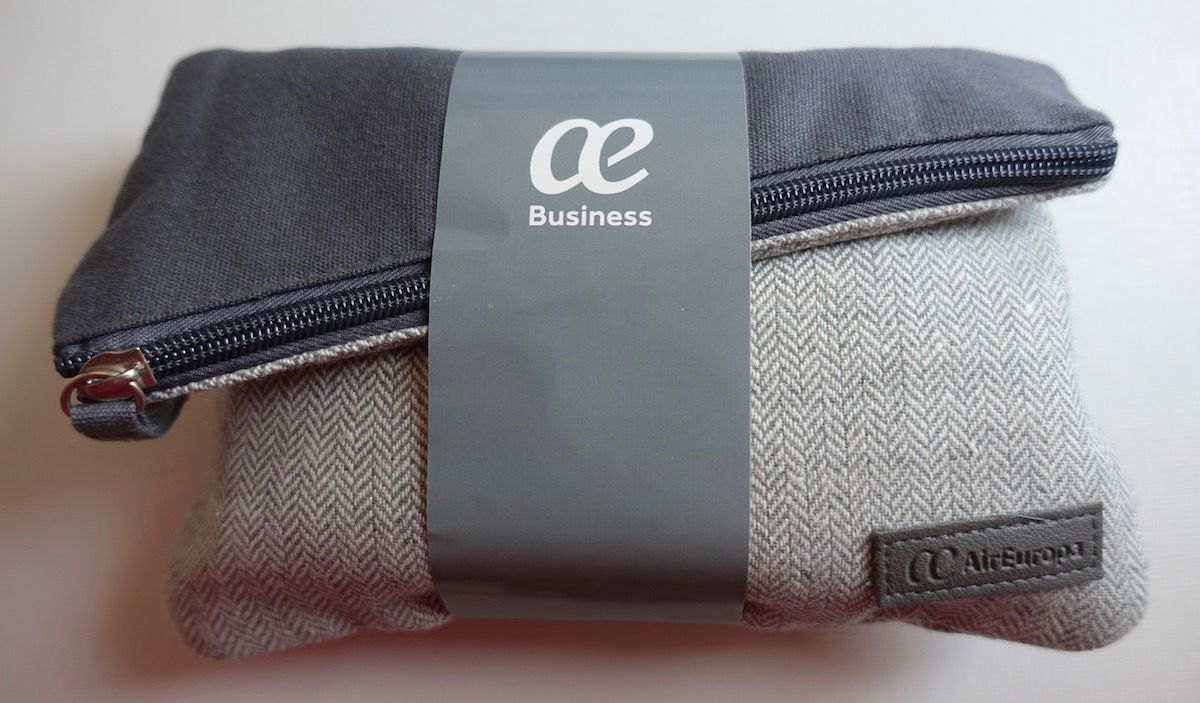 Air Europa business class amenity kit
The contents of the kit were pretty good, and it contained products from UNICSKIN.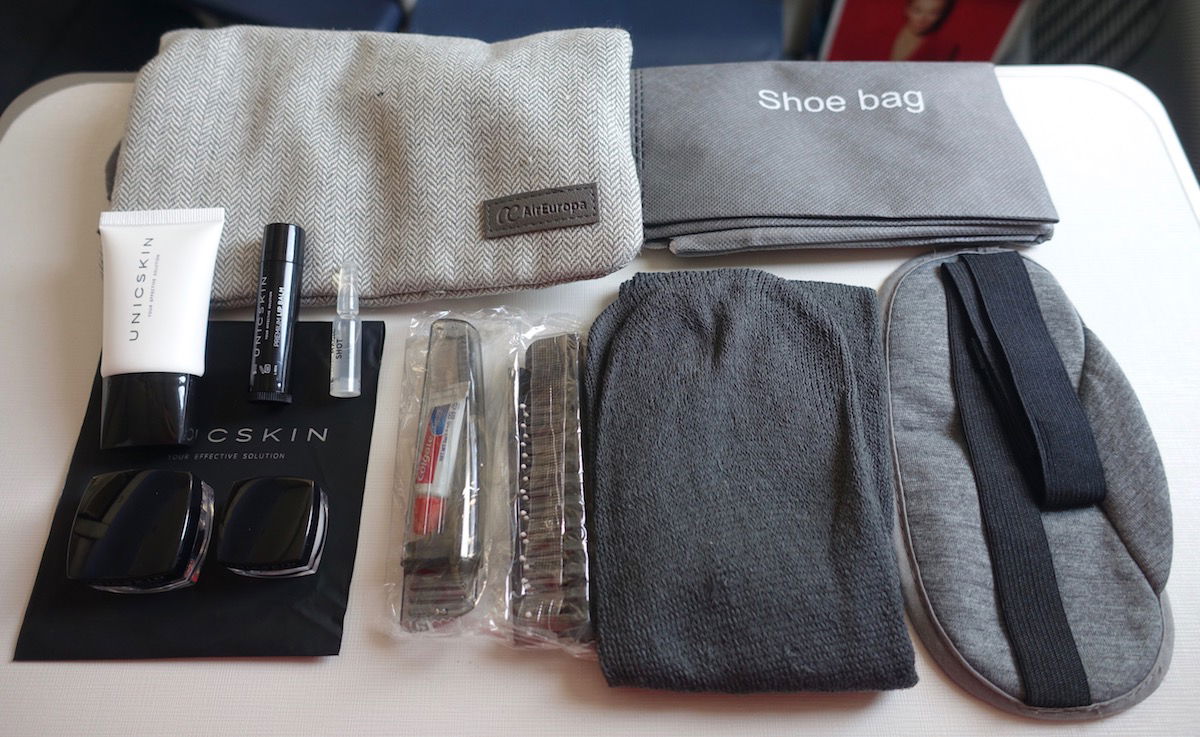 Air Europa business class amenity kit
Also waiting at my seat were headphones, which weren't great.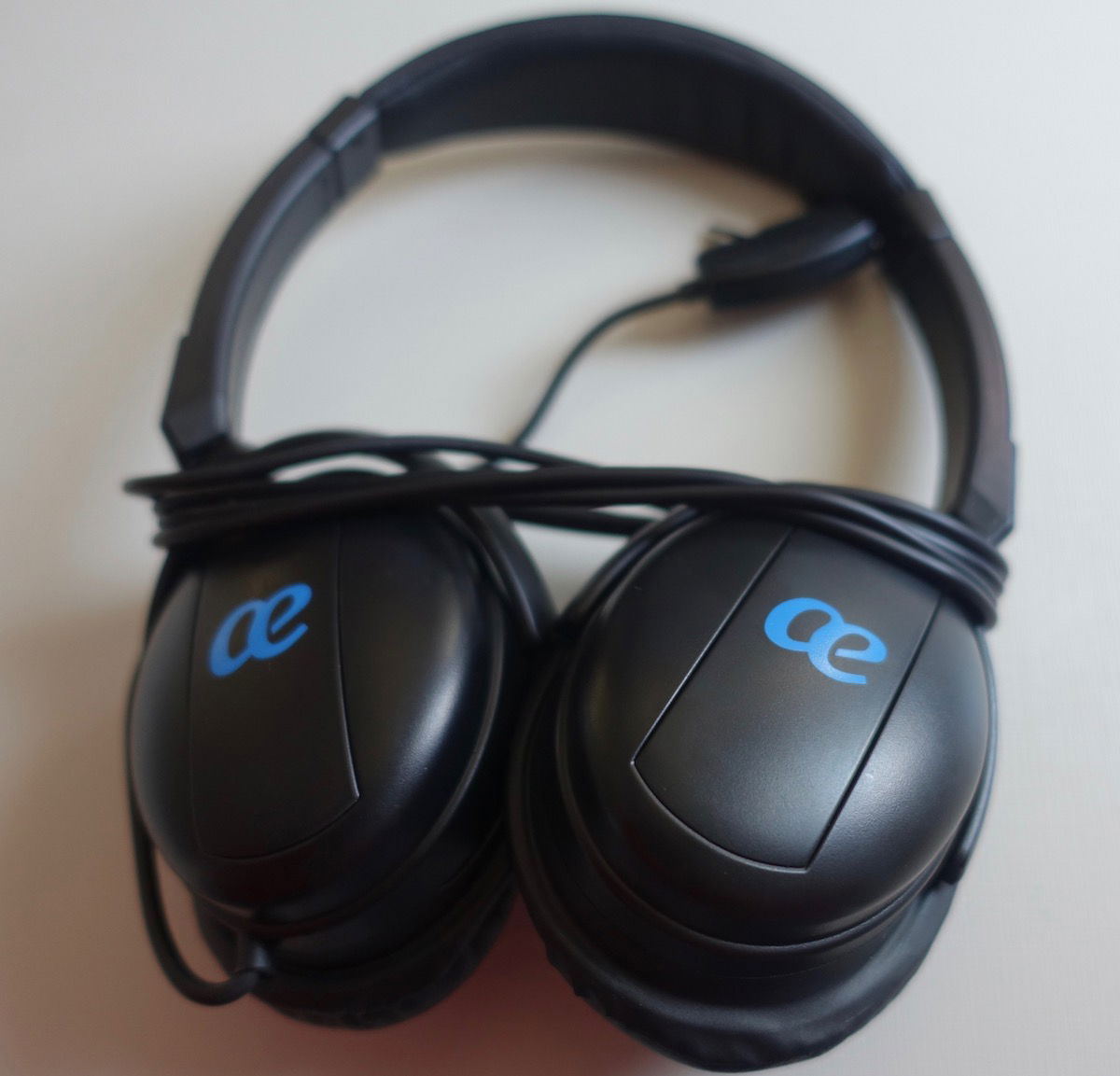 Air Europa business class headphones
Within a few minutes of settling in I was offered a pre-departure drink, with the choice between water, carrot juice, or champagne. I selected the champagne.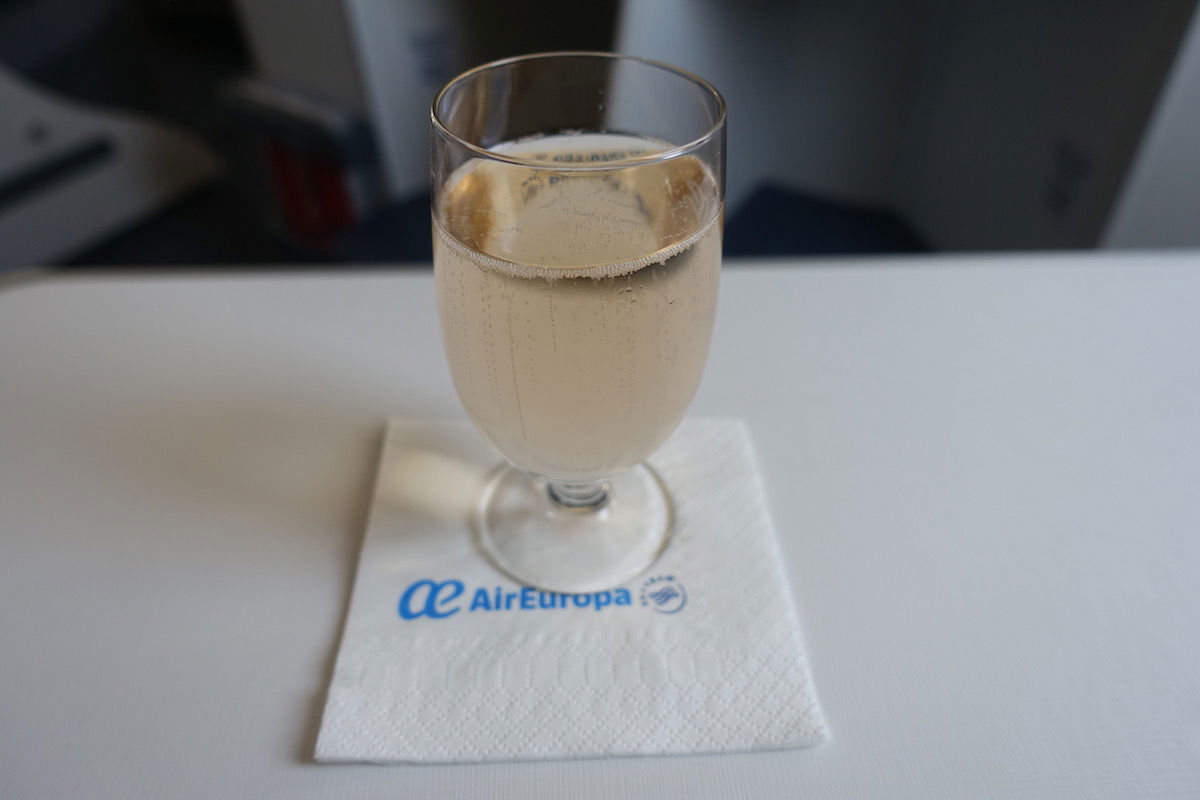 Air Europa business class pre-departure drinks
A few minutes later flight attendants distributed menus, magazines, and newspapers.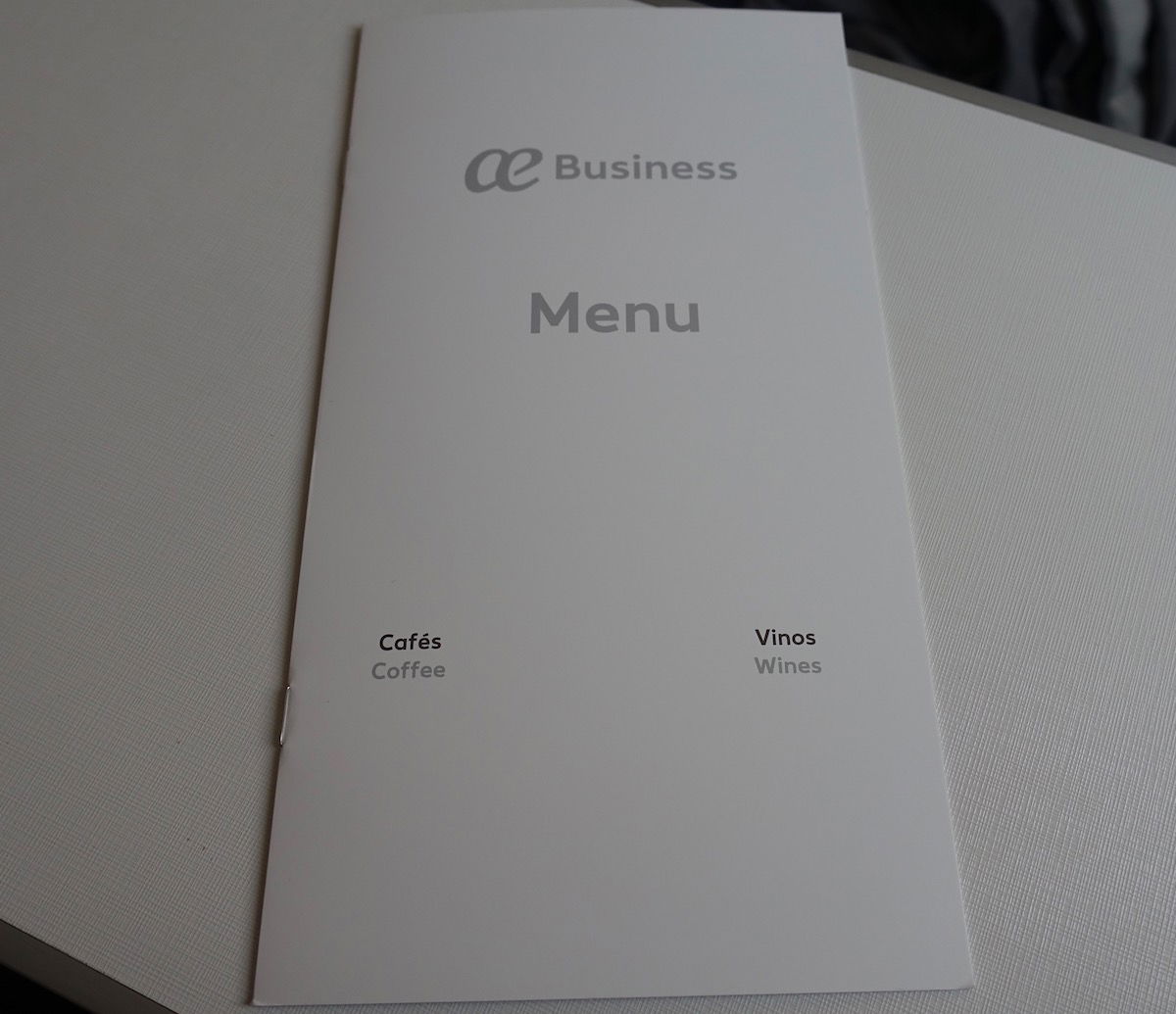 Air Europa business class menu
The boarding process was calm and efficient, and because they boarded through door two, I saw very few passengers. Air Europa also has nice boarding music, which I appreciate.
At 3:20PM the main cabin door closed, with six of the 22 business class seats empty, including the seat next to mine — yay.
Around that time the captain made his welcome aboard announcement, informing us that we'd push back shortly, and that our flight time was nine hours. We did indeed push back shortly thereafter.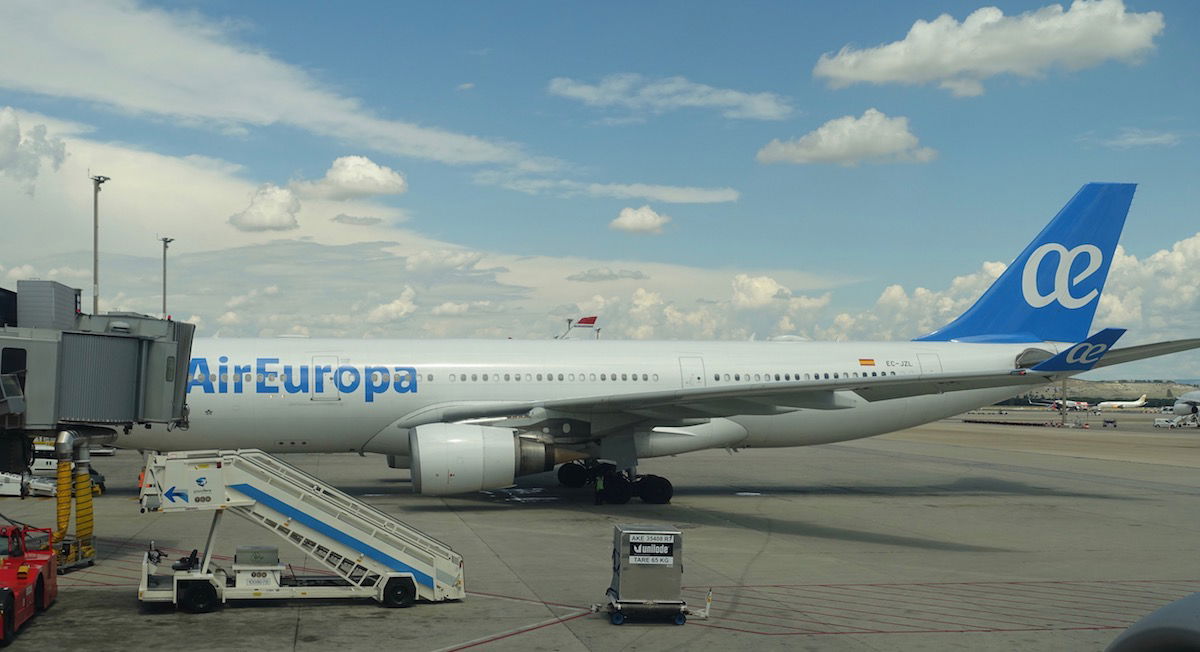 Air Europa A330 Madrid Airport
At 3:30PM we began our taxi, and around the same time the safety video was screened.
There were so many interesting planes on our taxi out, in particular the WAMOS 747 (WAMOS is operating flights on behalf of several other airlines that have grounded planes).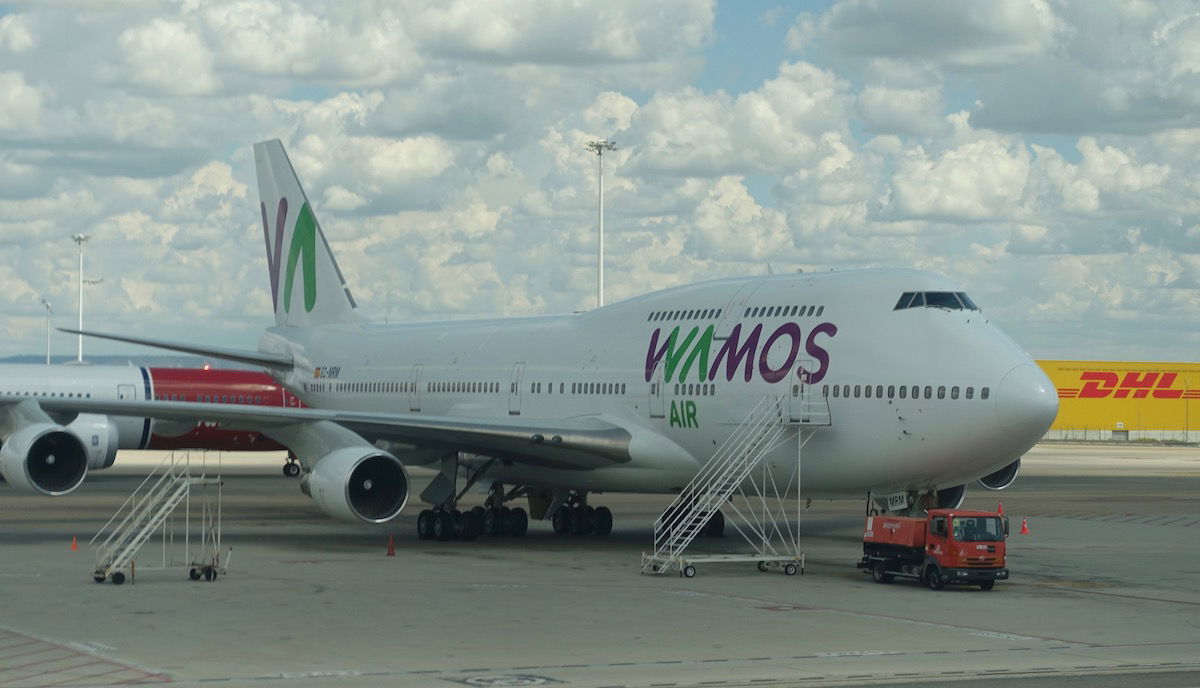 WAMOS 747 Madrid Airport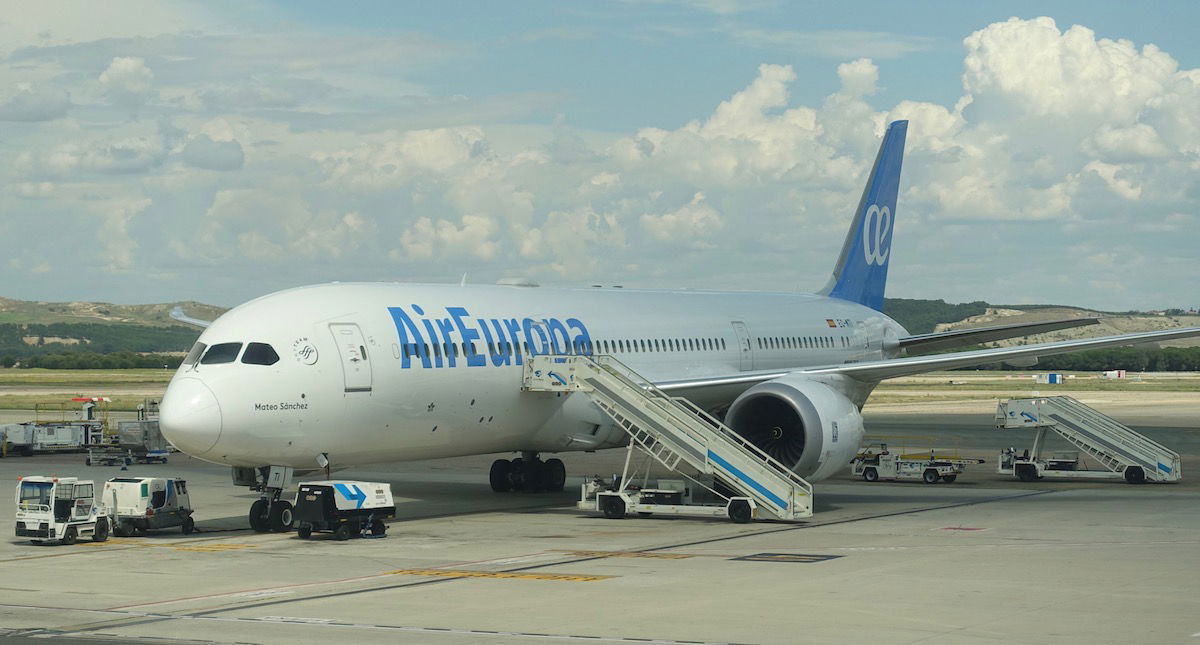 Air Europa 787 Madrid Airport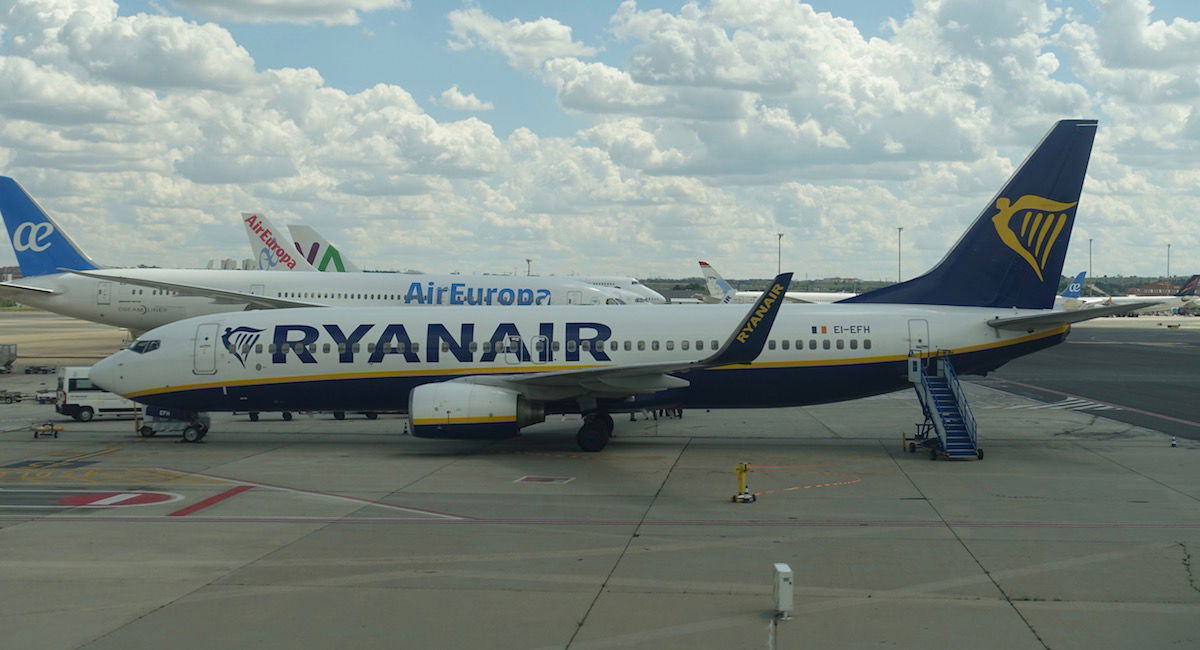 Ryanair 737 Madrid Airport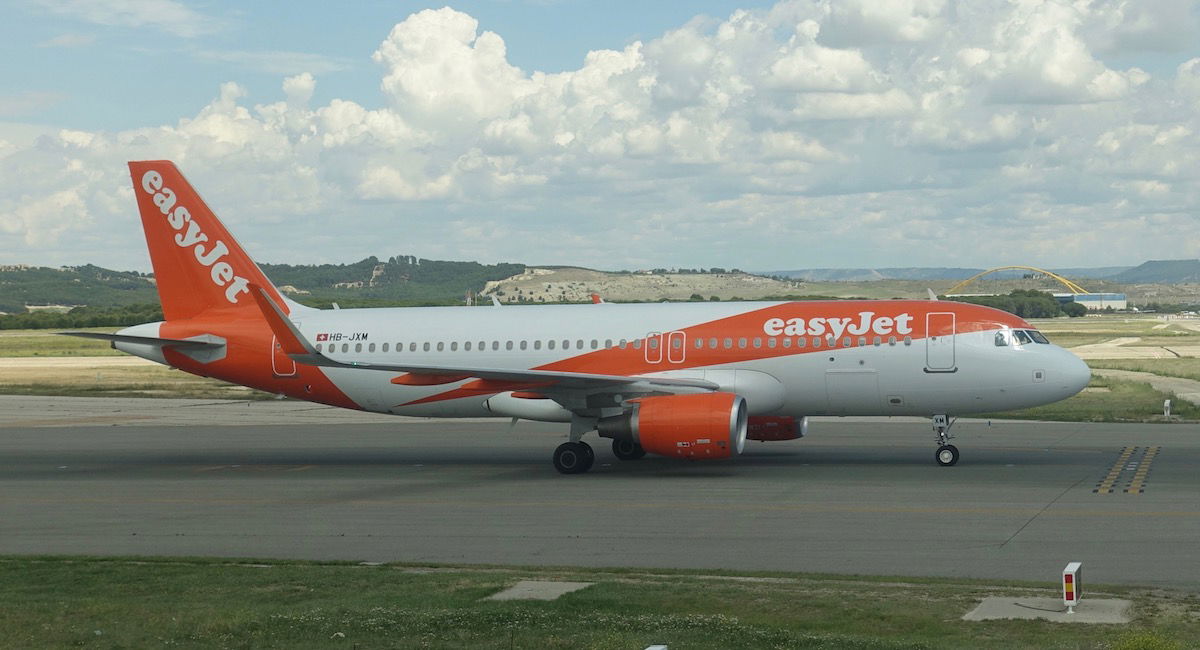 EasyJet A320 Madrid Airport
While the pilots were taxiing quickly, we did have a very long taxi, as Madrid Barajas Airport is massive. By 3:45PM we were cleared for takeoff.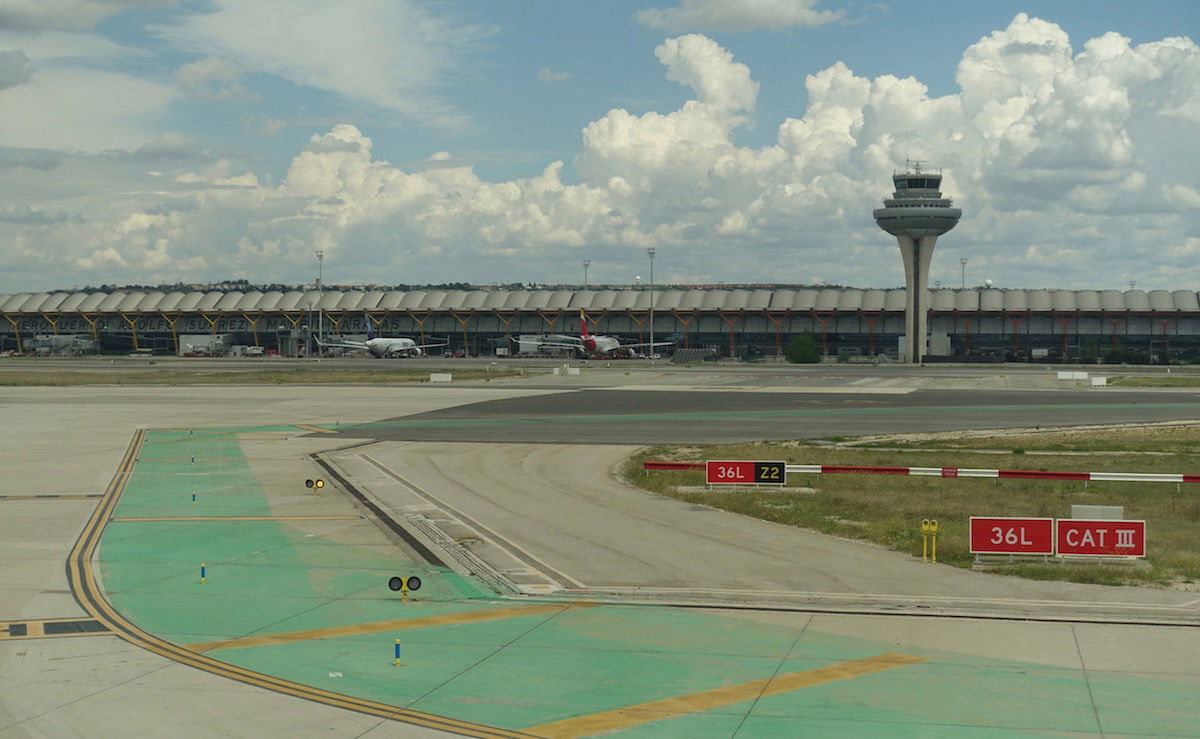 Taxiing Madrid Airport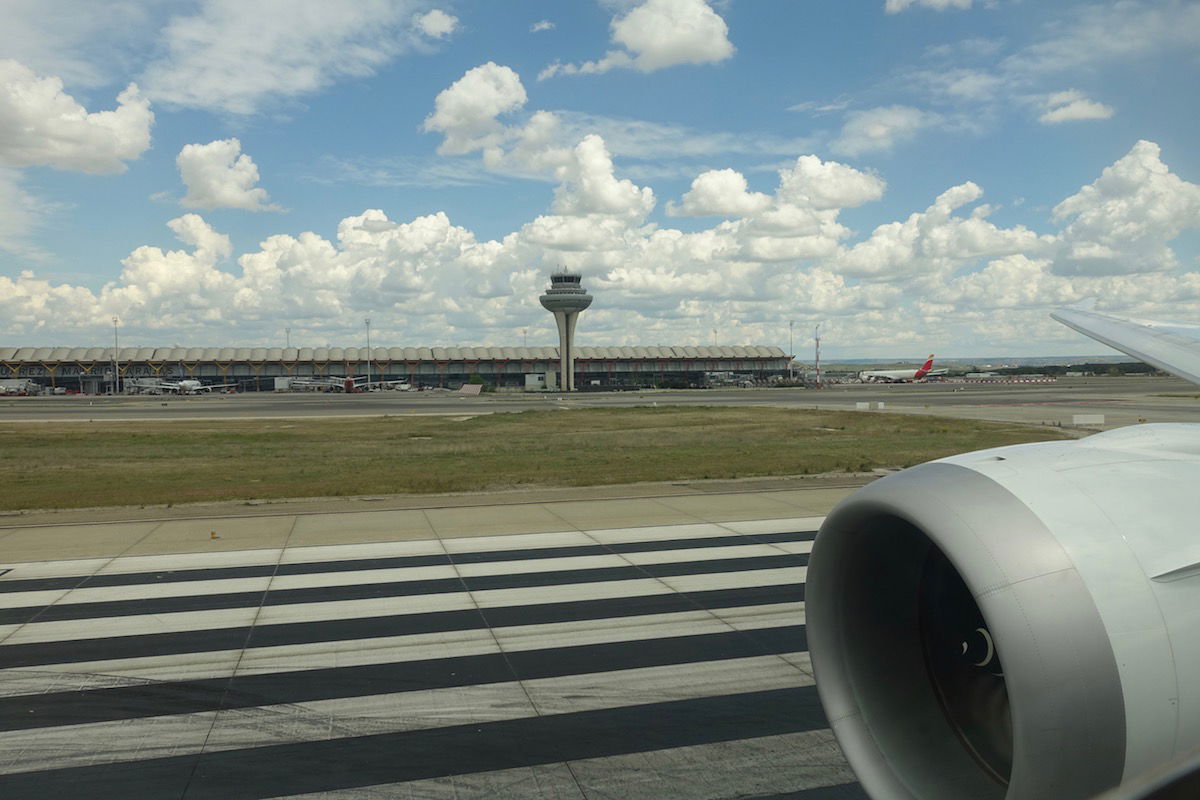 Taking off from Madrid
Our climb out was smooth, and about 10 minutes after takeoff the seatbelt sign was turned off.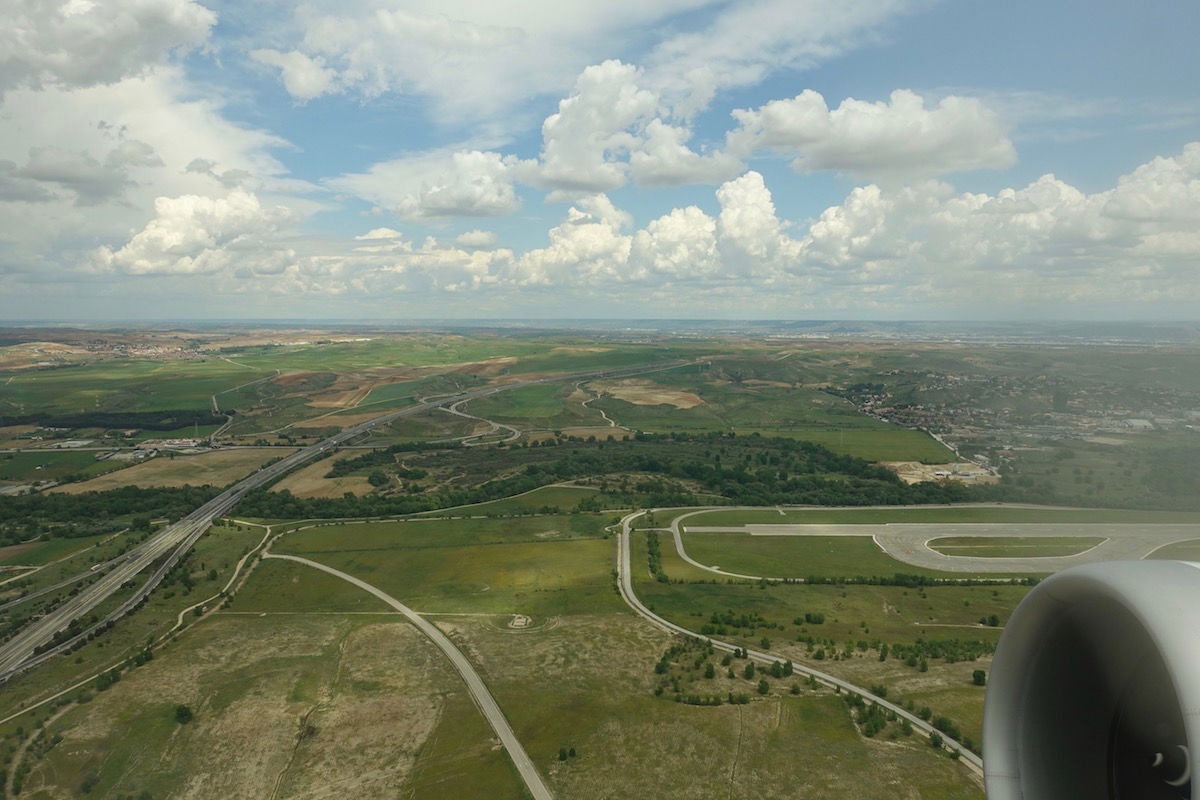 View after takeoff from Madrid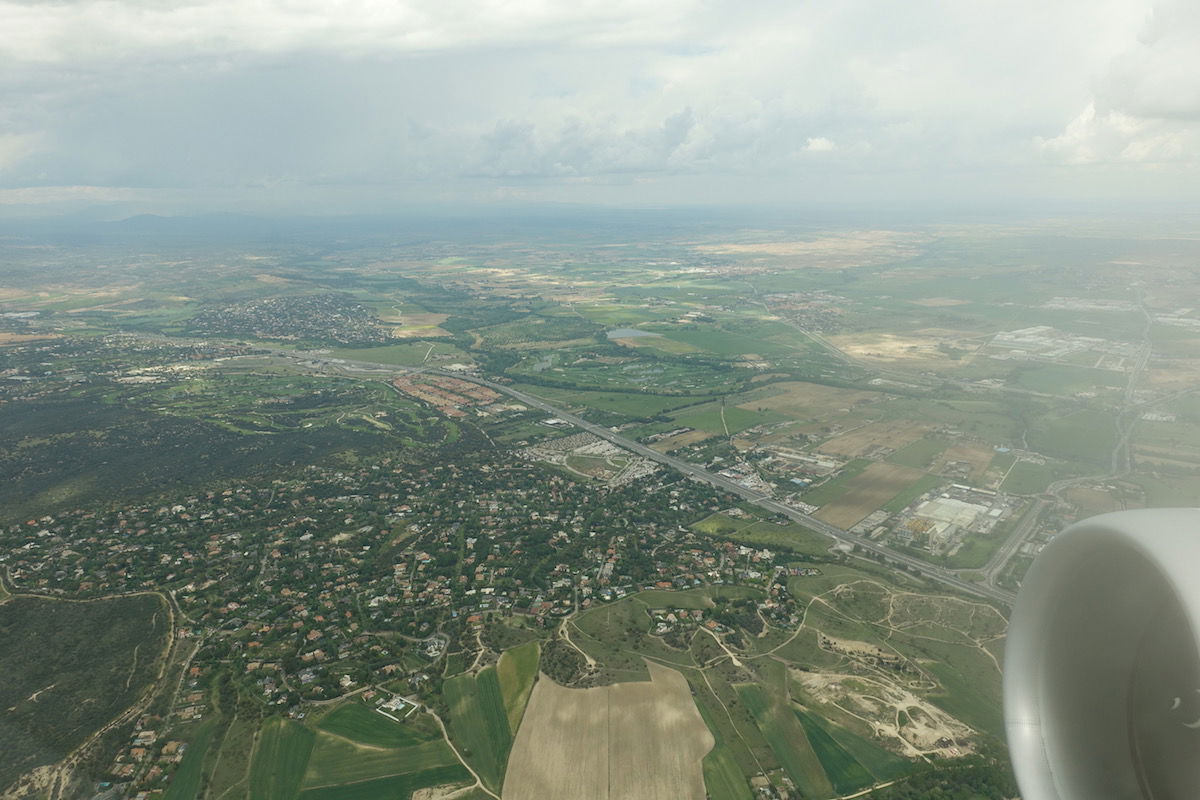 View after takeoff from Madrid
As we climbed out I browsed the entertainment selection. Air Europa's entertainment options pleasantly surprised me. The system was responsive and had dozens of movies and TV shows.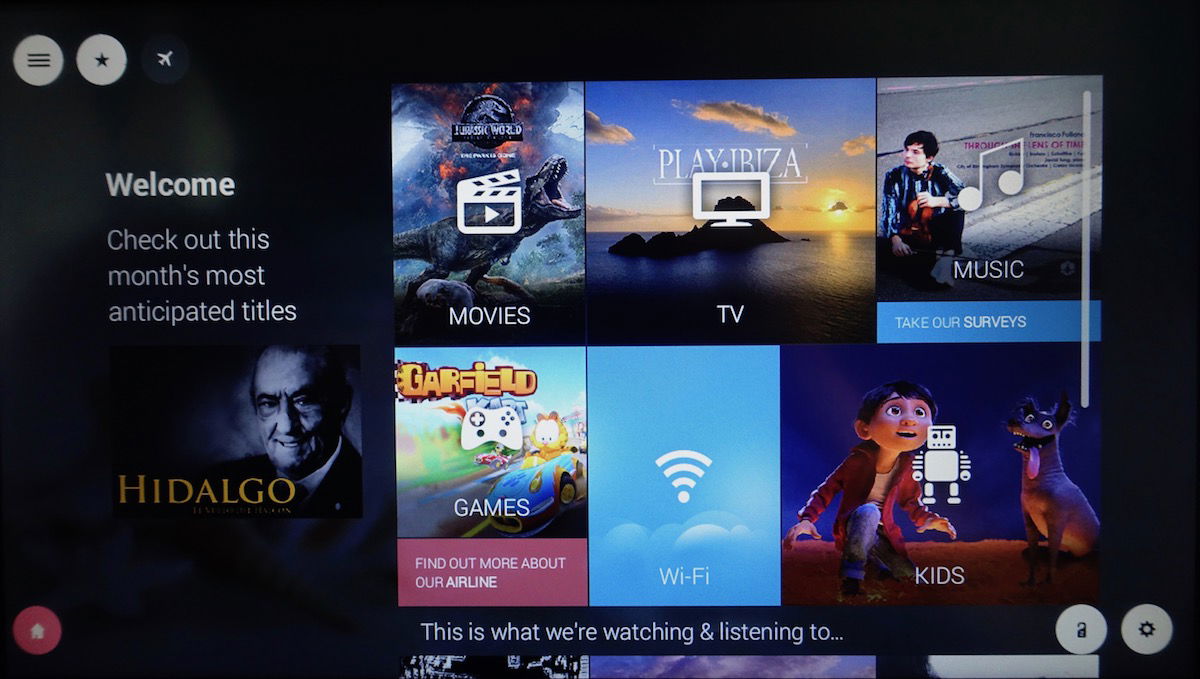 Air Europa entertainment selection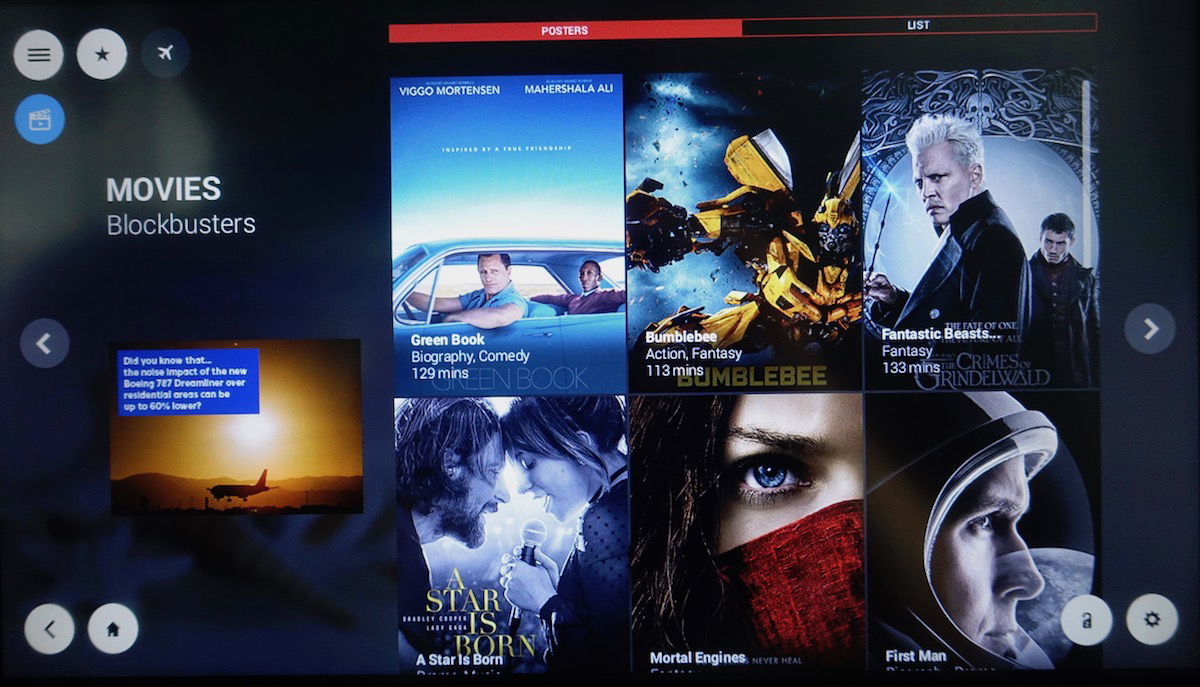 Air Europa entertainment selection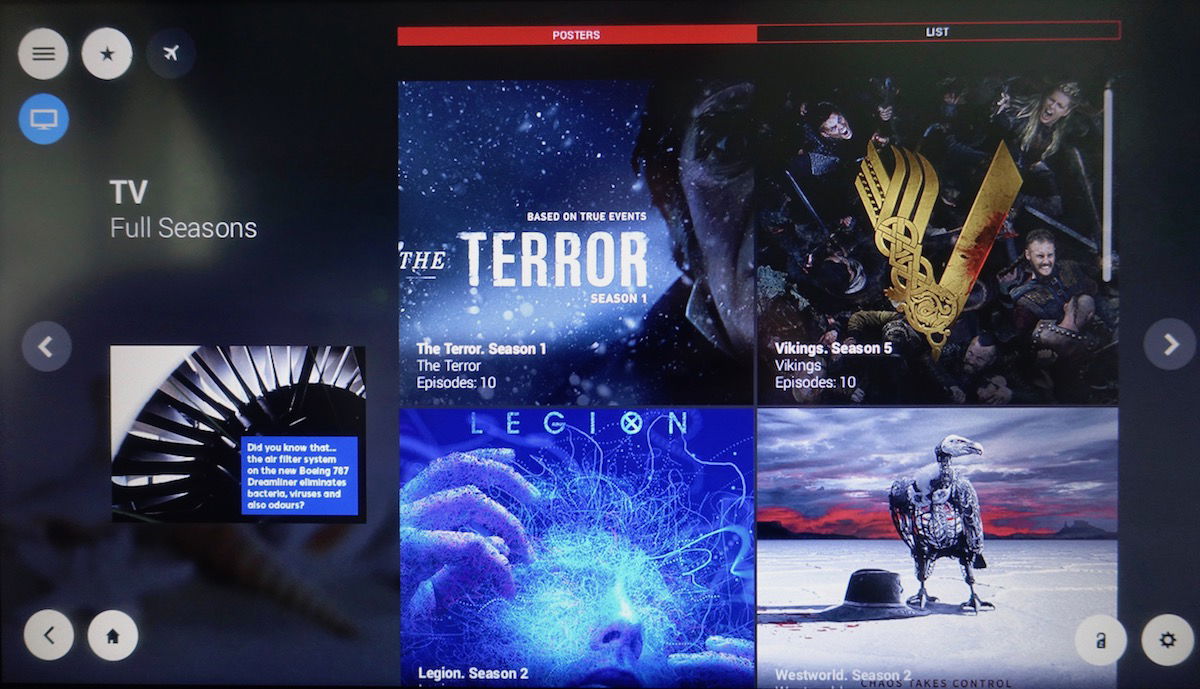 Air Europa entertainment selection
Mainly I just enjoyed watching the moving map.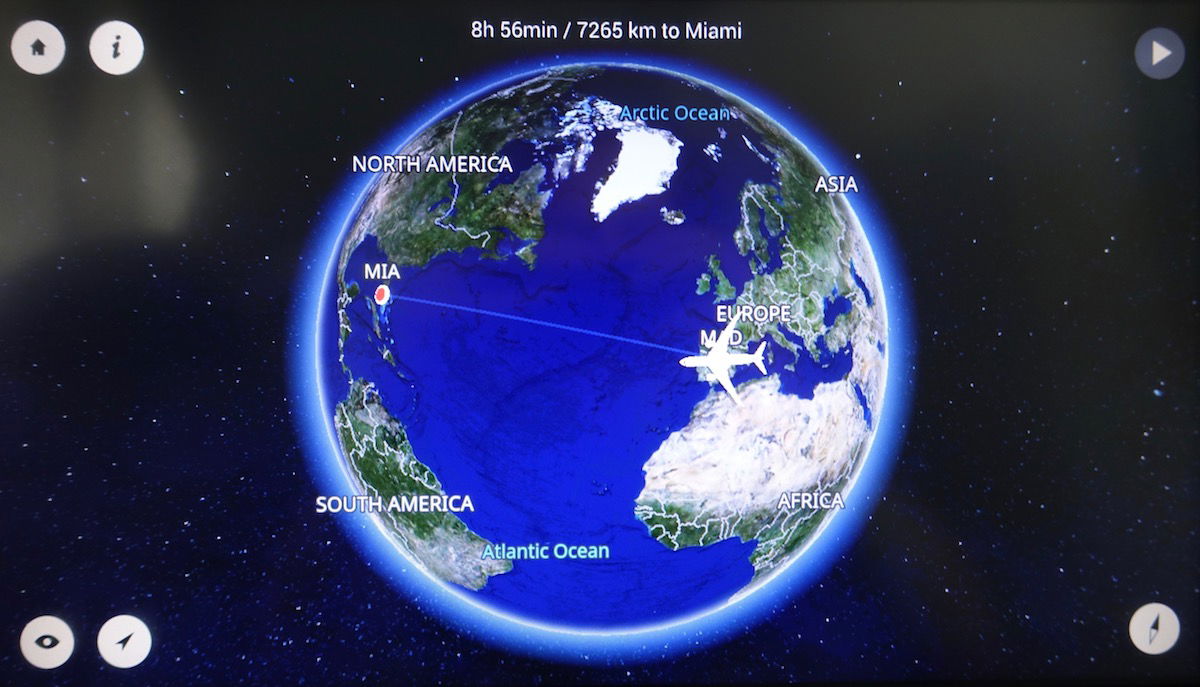 Moving map enroute to Miami
Air Europa also offers Wi-Fi on their 787s. Unfortunately they charge based on data, and it's quite pricey. The charge is 7EUR for 30MB, 13EUR for 60MB, and 20EUR for 100MB.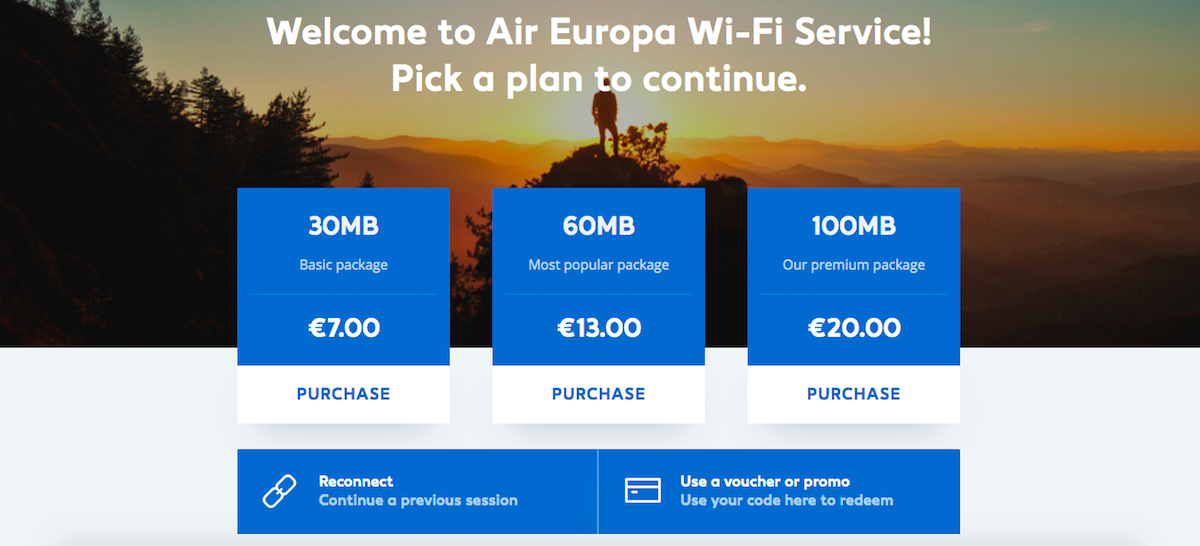 Air Europa Wi-Fi pricing
On top of that business class passengers receive a voucher for free Wi-Fi (this was distributed after takeoff). Unfortunately it's only a 10MB allowance, which is almost so little that they shouldn't bother, in my opinion (though something is better than nothing).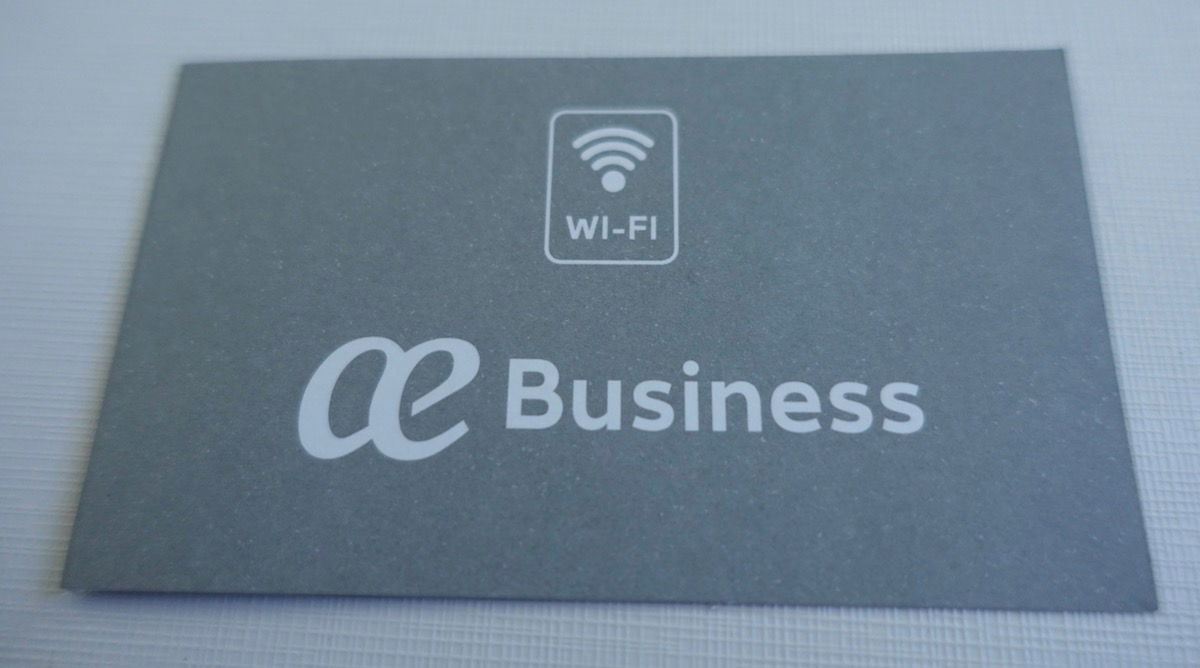 Air Europa complimentary Wi-Fi business class
Even though the Wi-Fi is pricey, I still appreciate that they offer it. Speeds were good, and I ended up using my free 10MB and bought two packages for 20EUR each, and that allowed me to stay productive for most of the flight (though I always turned off Wi-Fi when I wasn't using it).
After takeoff I also checked out the lavatory. There are two at the front of the cabin — one on the left side, and one right by the cockpit. They were standard 787 lavatories, with few amenities.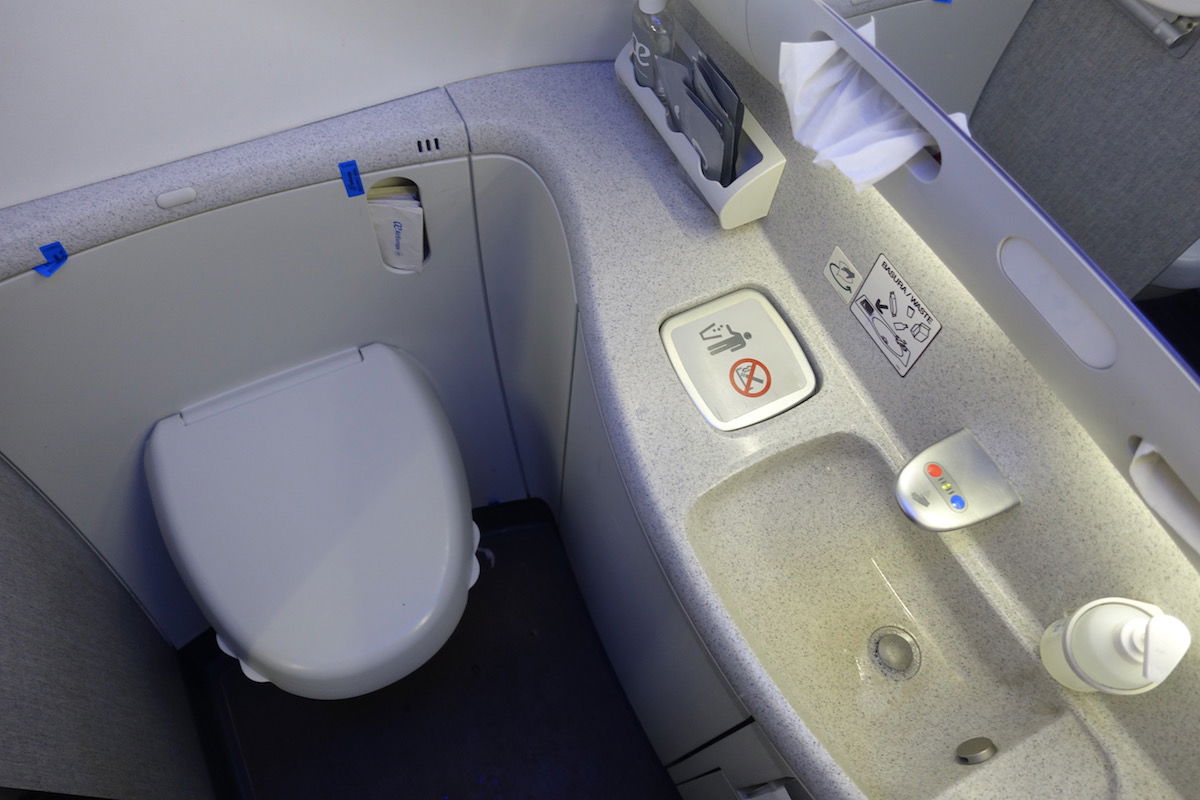 Air Europa 787 lavatory
15 minutes after takeoff the crew came around to ask each passenger what they wanted for their main course.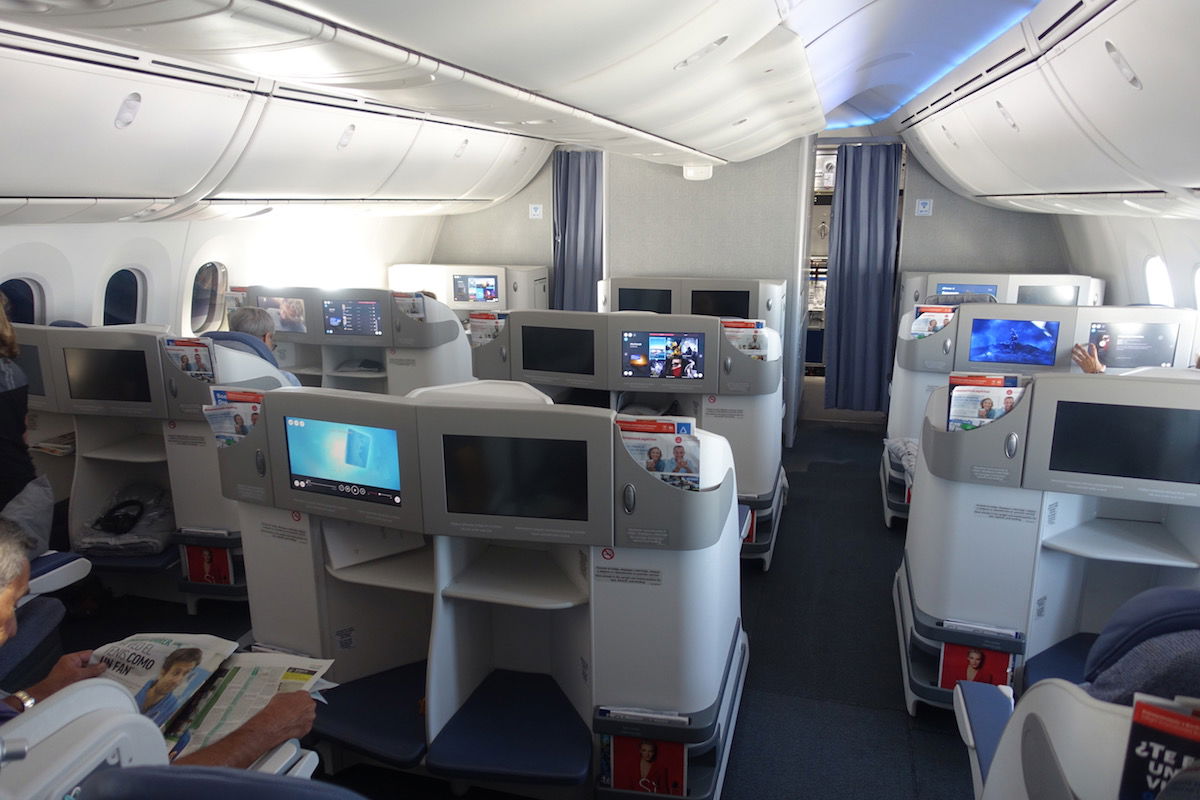 Air Europa 787 business class cabin
The menu read as follows: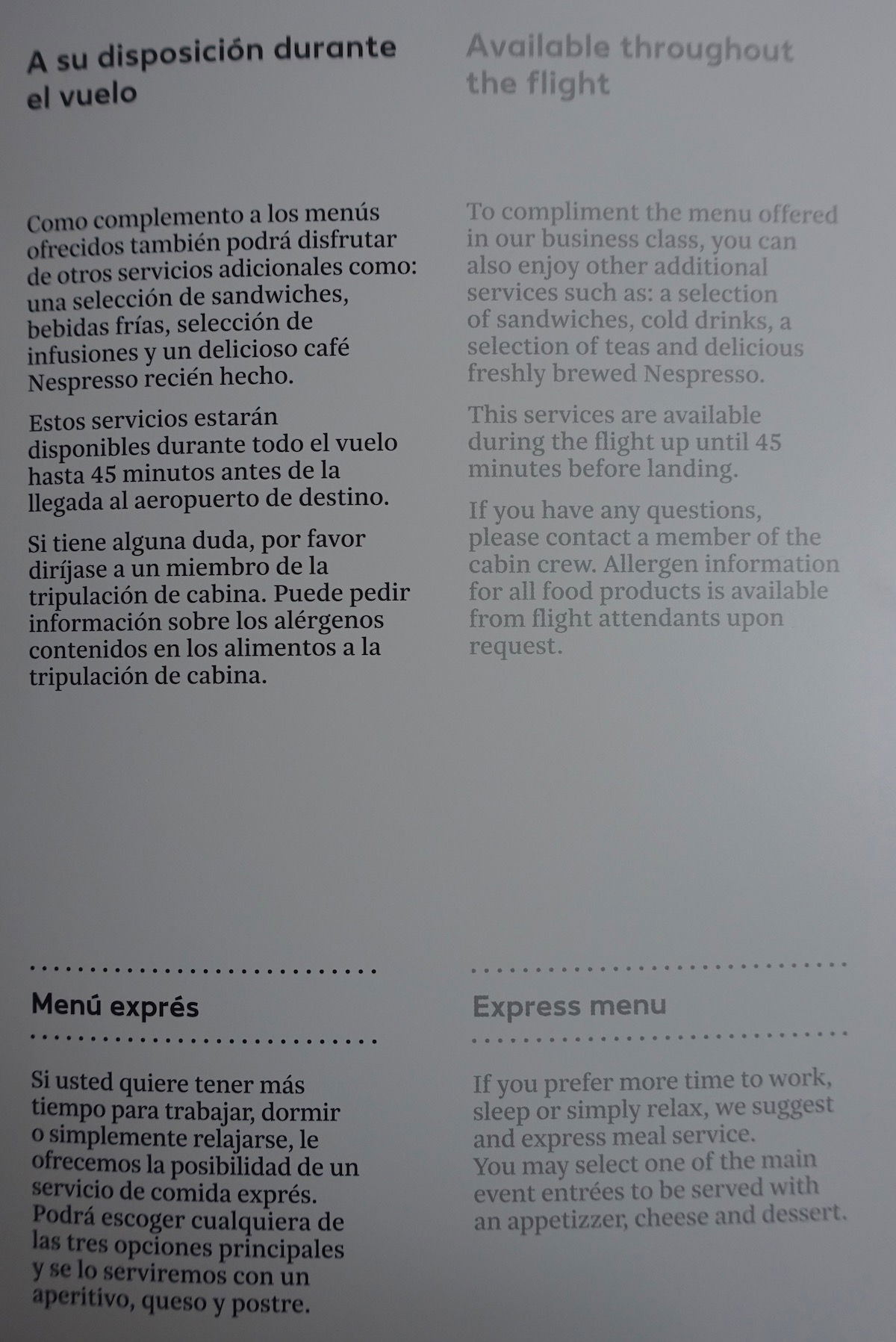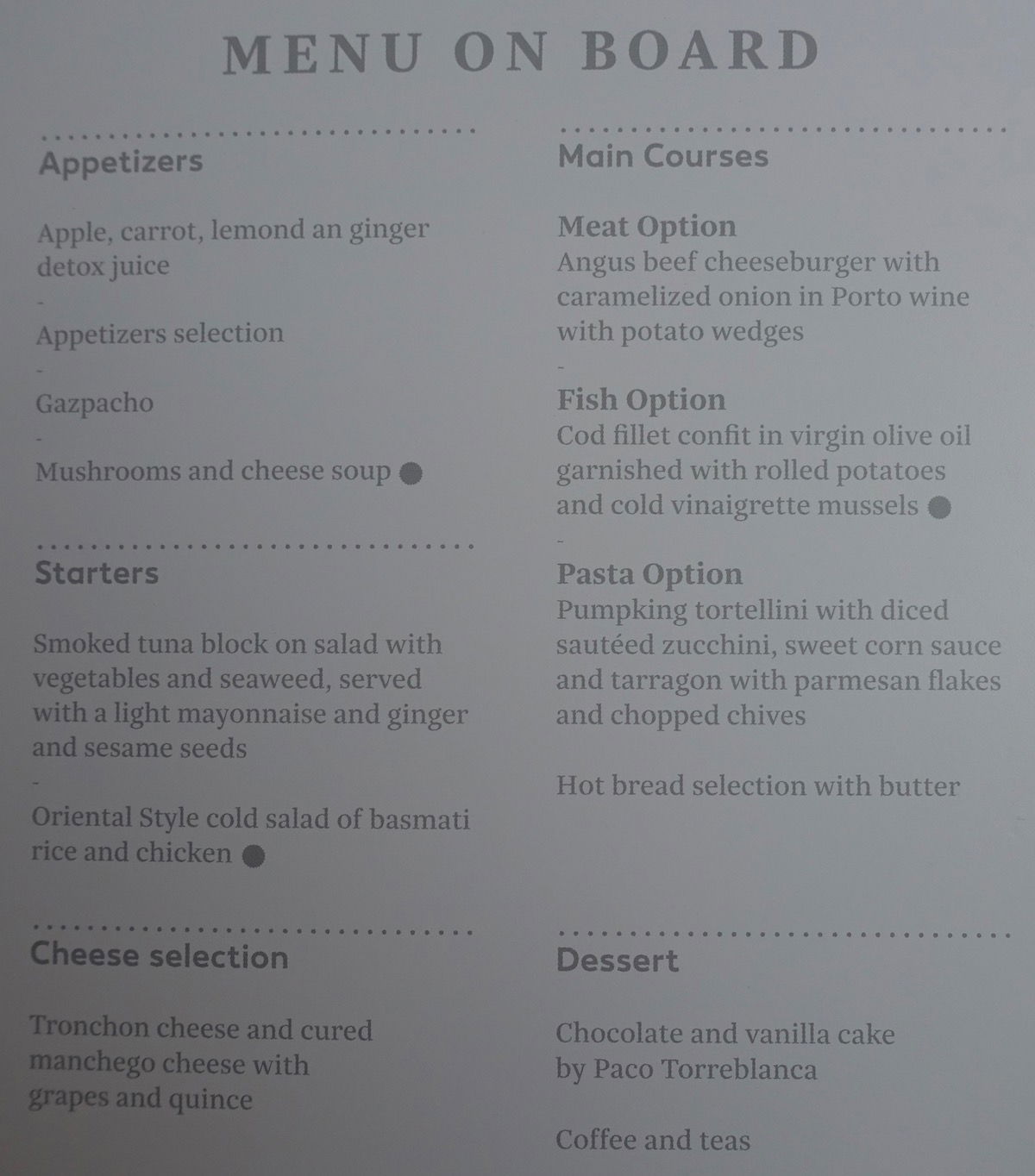 The drink list read as follows: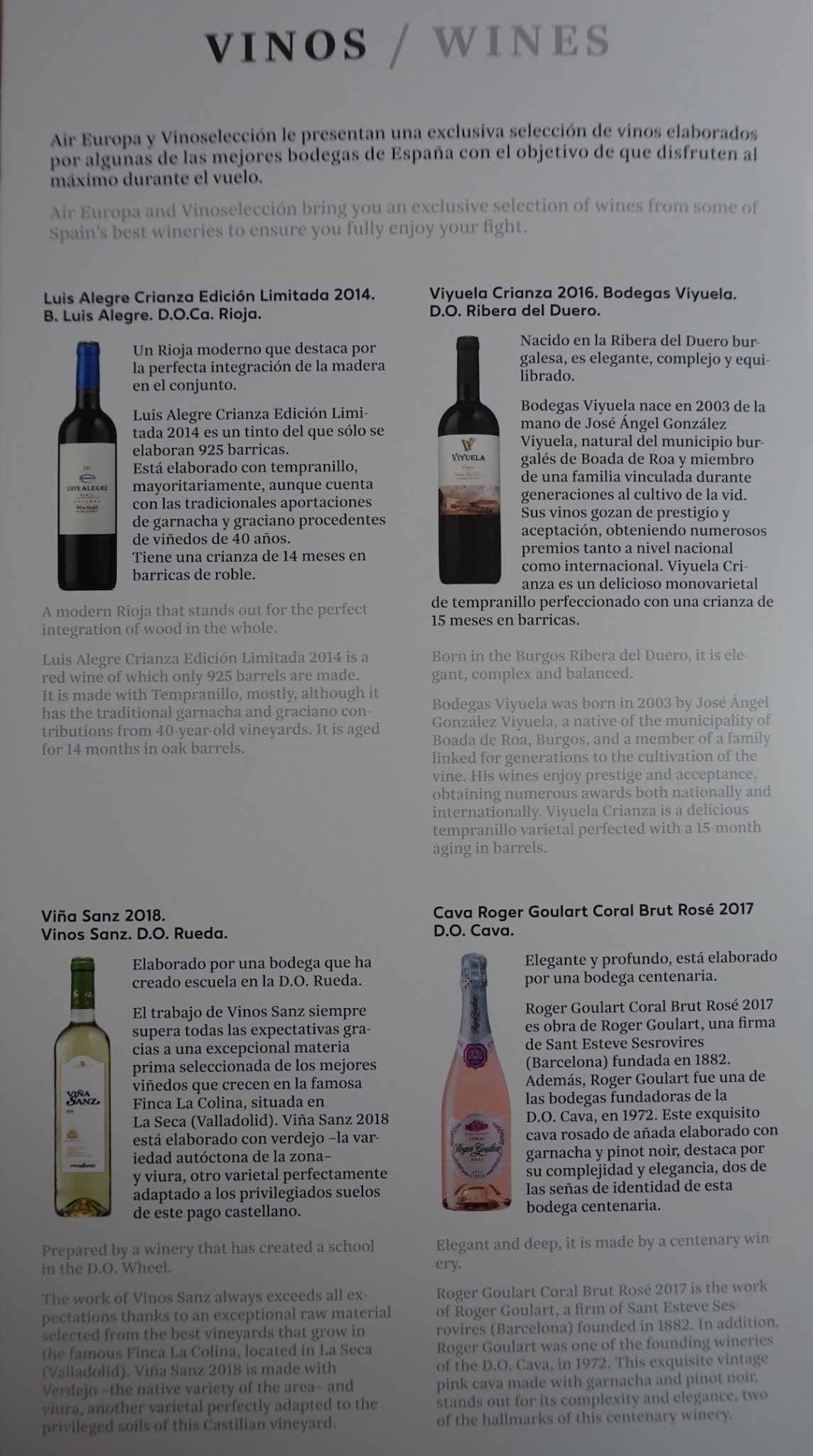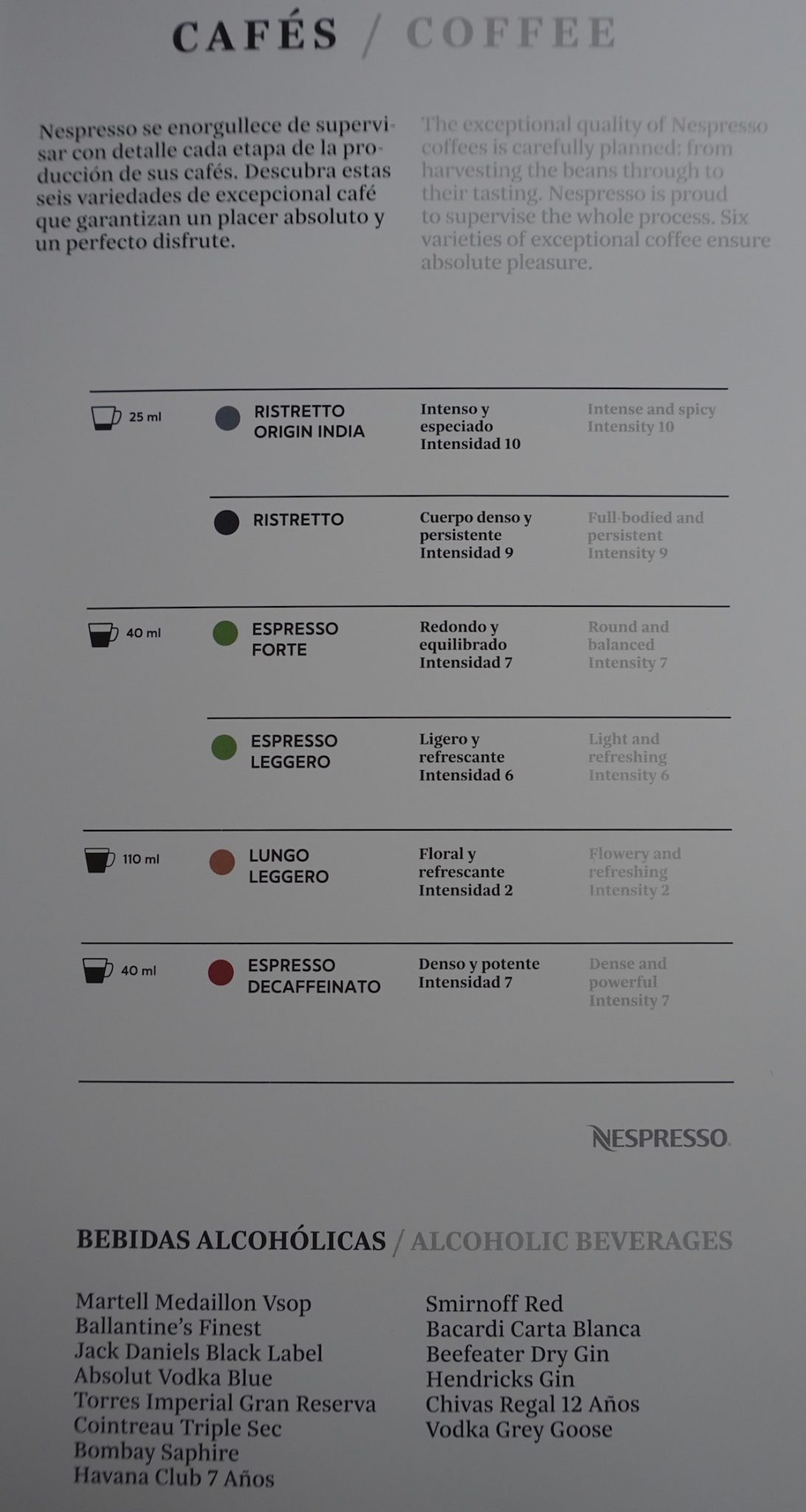 While the crew was quick to take meal orders, it was only 50 minutes after takeoff when warm towels were distributed.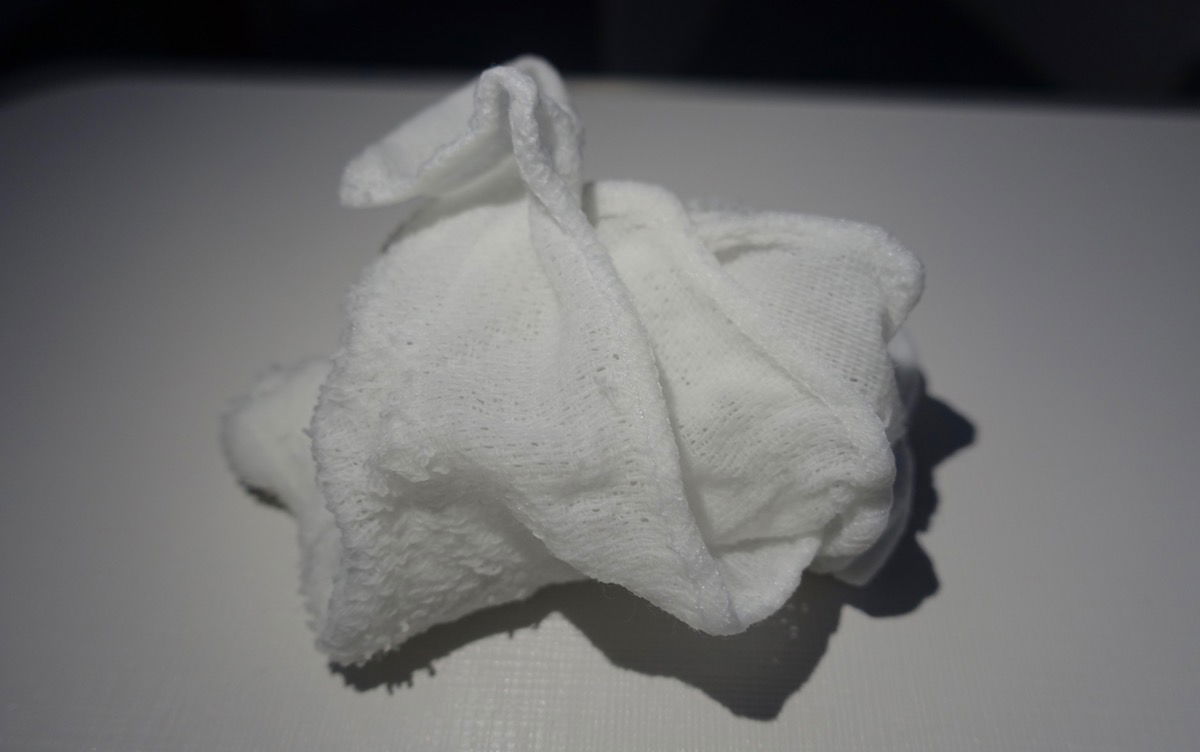 Air Europa business class lunch — warm towel
Then a few minutes later a cart was rolled down the aisle with drinks.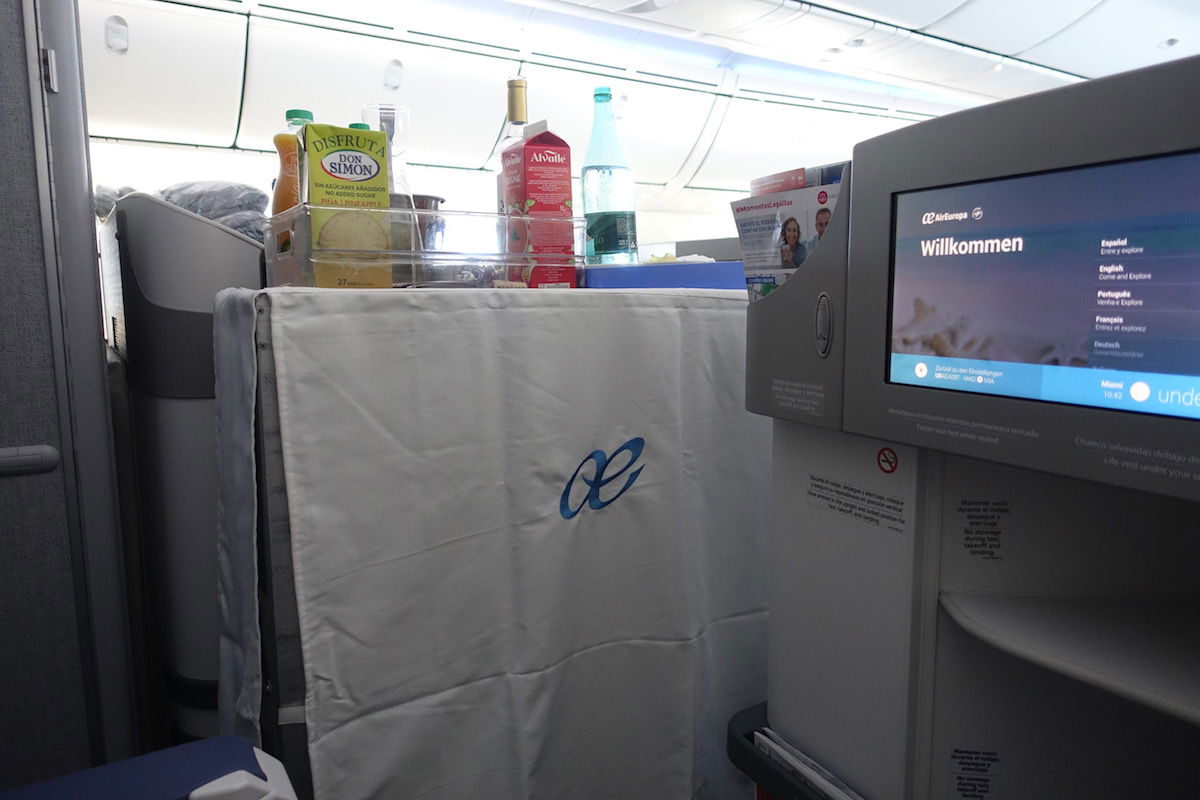 Air Europa business class lunch — drink cart
I ordered one of the Spanish white wines, and was also offered either nuts or chips, and gazpacho. I selected the nuts and gazpacho.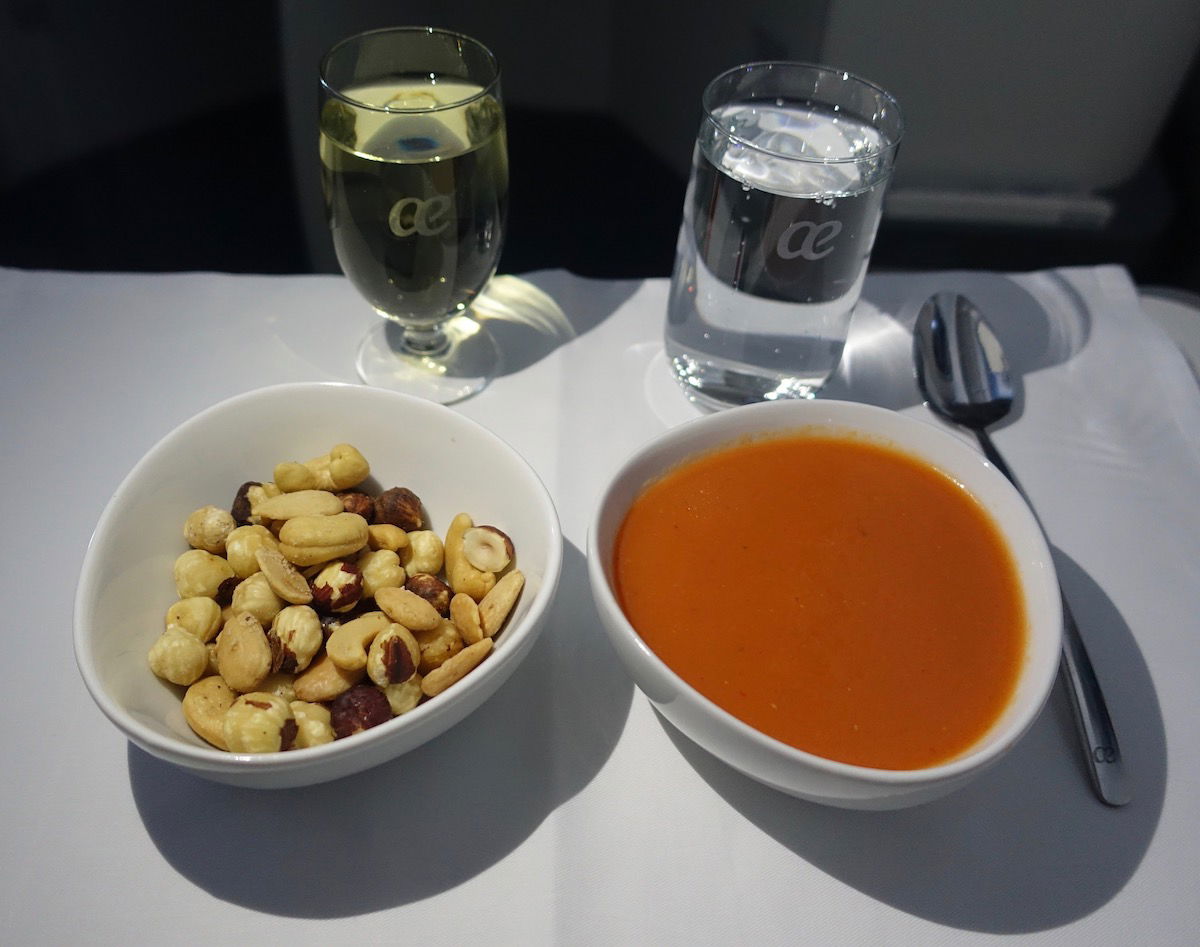 Air Europa business class lunch — gazpacho and nuts
The nuts and gazpacho were pretty good. While minor, I'd note that the gazpacho was poured directly out of a branded carton (it looked like a juice carton). It would make the presentation a bit classier if they at least poured it out of a canister or something, so we can at least pretend that some sweet grandmother in the Gate Gourmet kitchen is using her family recipe to make it. 😉
75 minutes after takeoff the next course was served, which consisted of the appetizer and salad.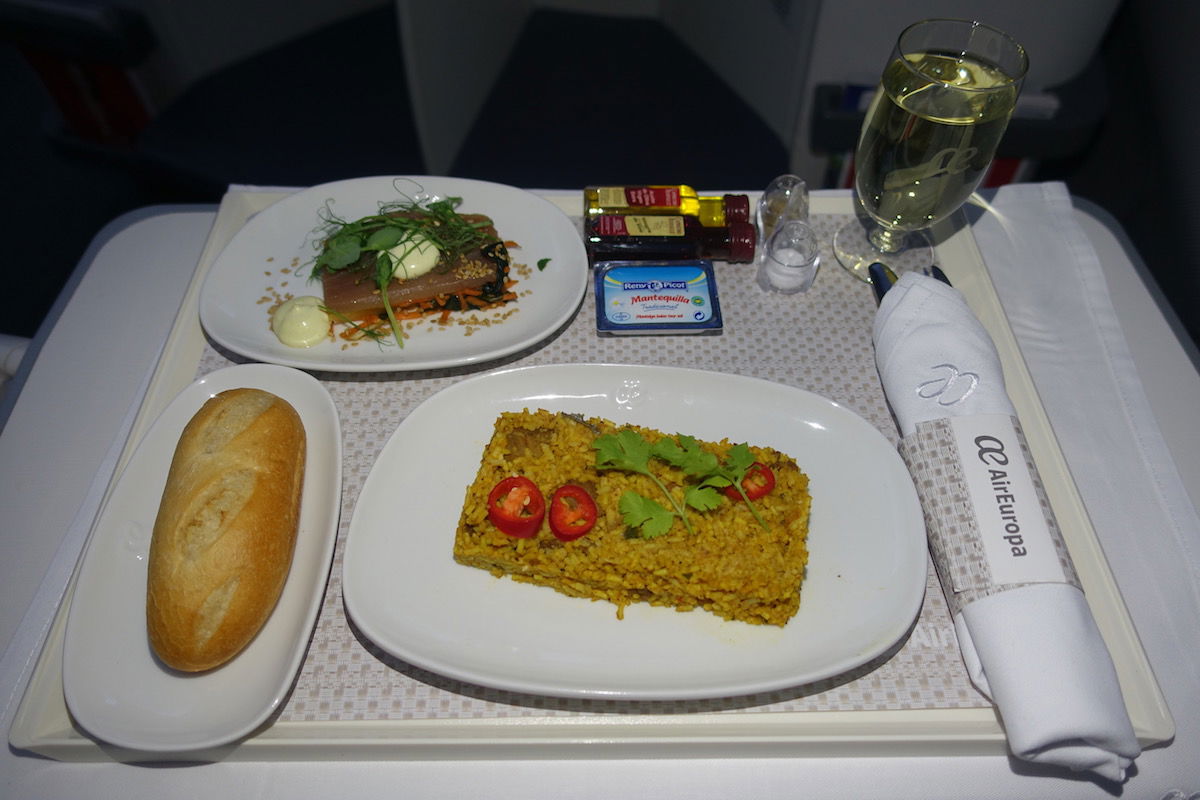 Air Europa business class lunch — appetizer
This was described as a smoked tuna block on salad with vegetables and seaweed, served with a light mayonnaise and ginger and sesame seeds. It was quite good, in my opinion.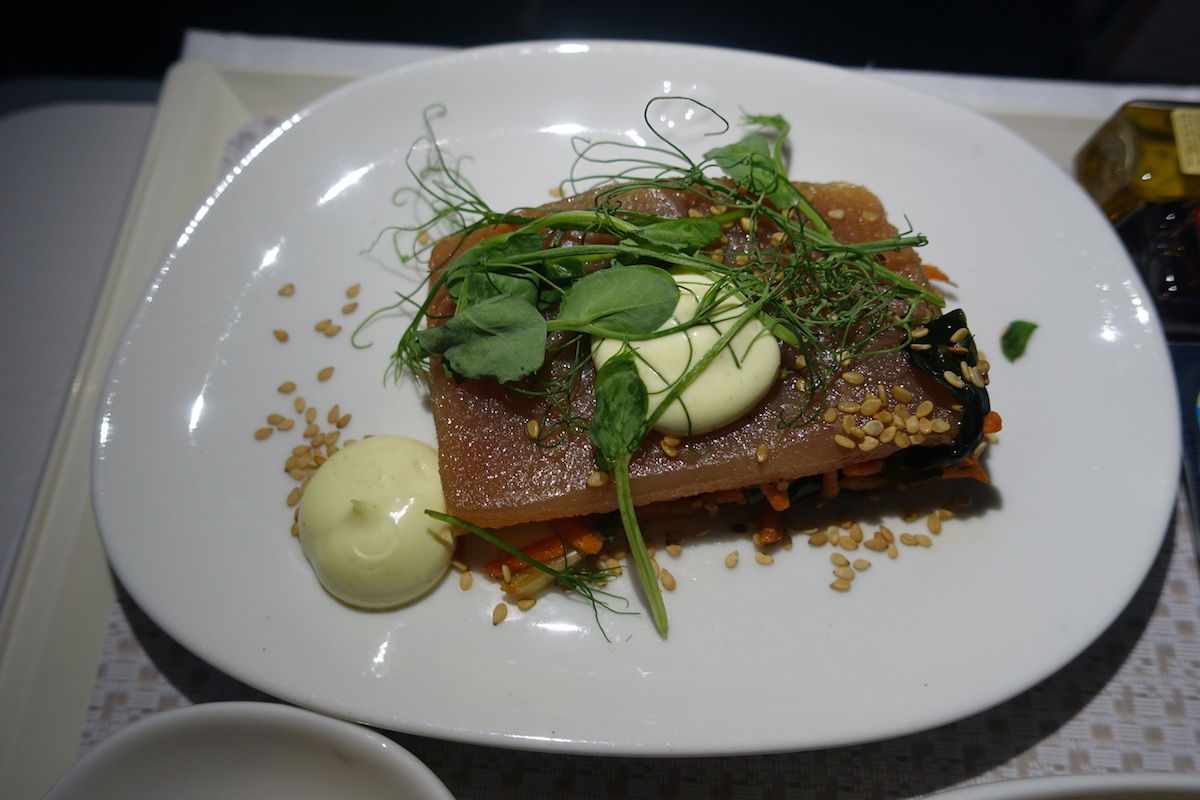 Air Europa business class lunch — appetizer
Then there was also what was described as Oriental style cold salad of basmati rice and chicken. This wasn't as good — it tasted dry, and the chicken was tough.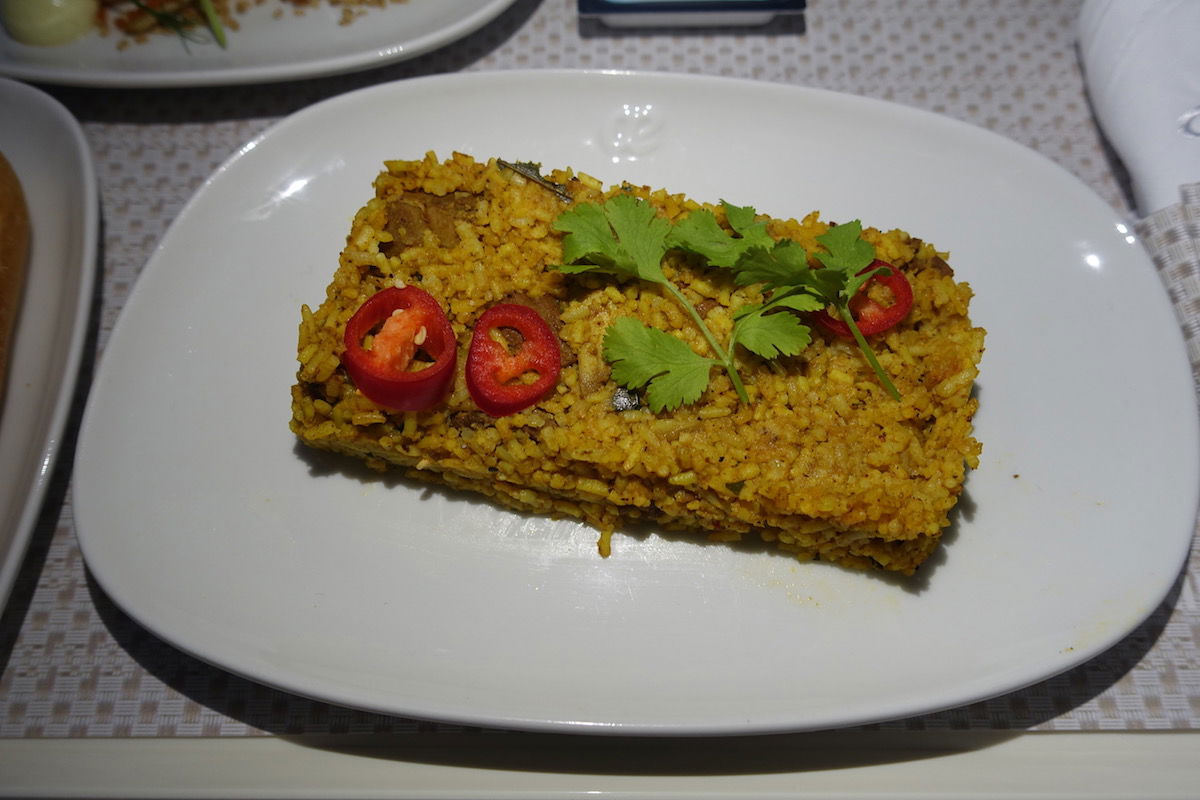 Air Europa business class lunch — appetizer
The appetizers were quickly cleared, and just 80 minutes after takeoff my main course was brought out. This was a cod fillet confit in virgin olive oil garnished with rolled potatoes and cold vinaigrette mussels. Despite the simple presentation, it tasted quite good.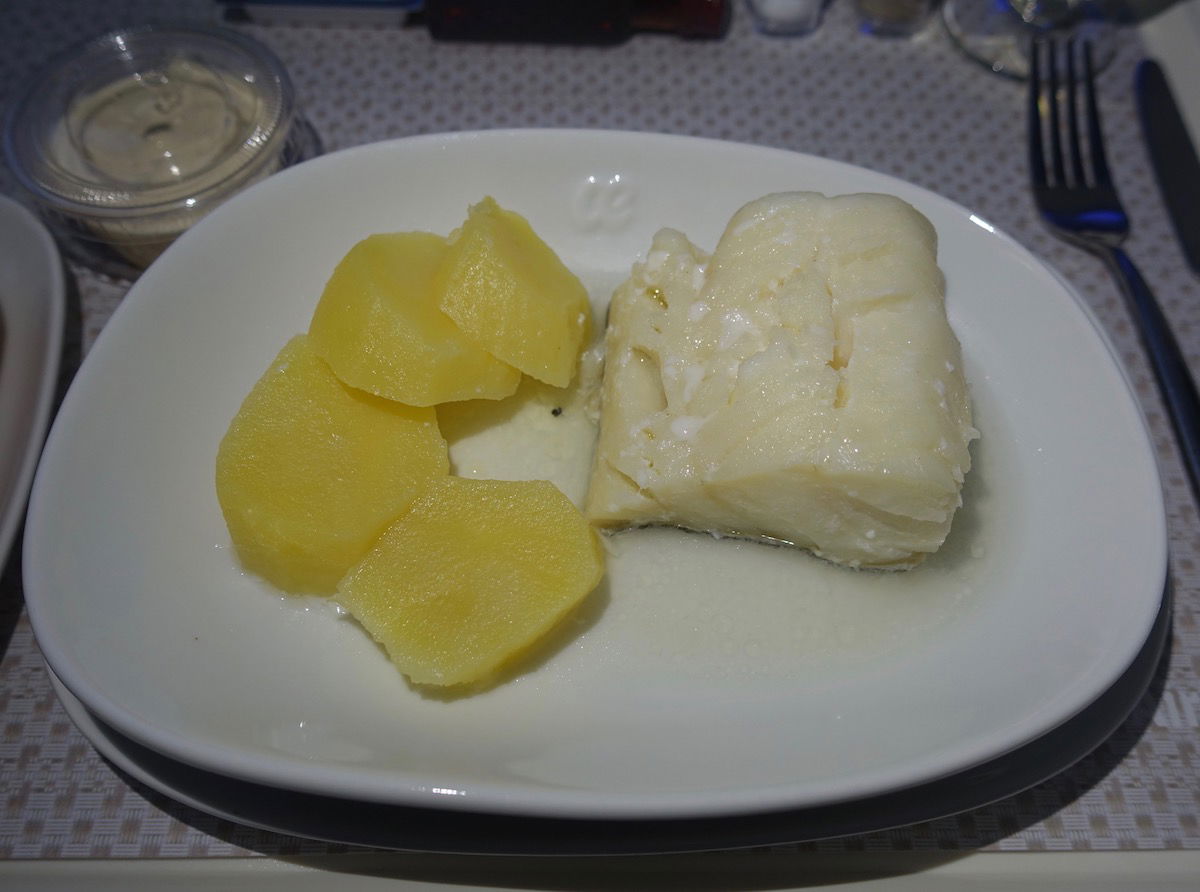 Air Europa business class lunch — main course
Then about 100 minutes after takeoff dessert was served on a separate tray. There was the choice of either a cheese plate or chocolate and vanilla cake, and I went with the latter. The cake was rich and tasty.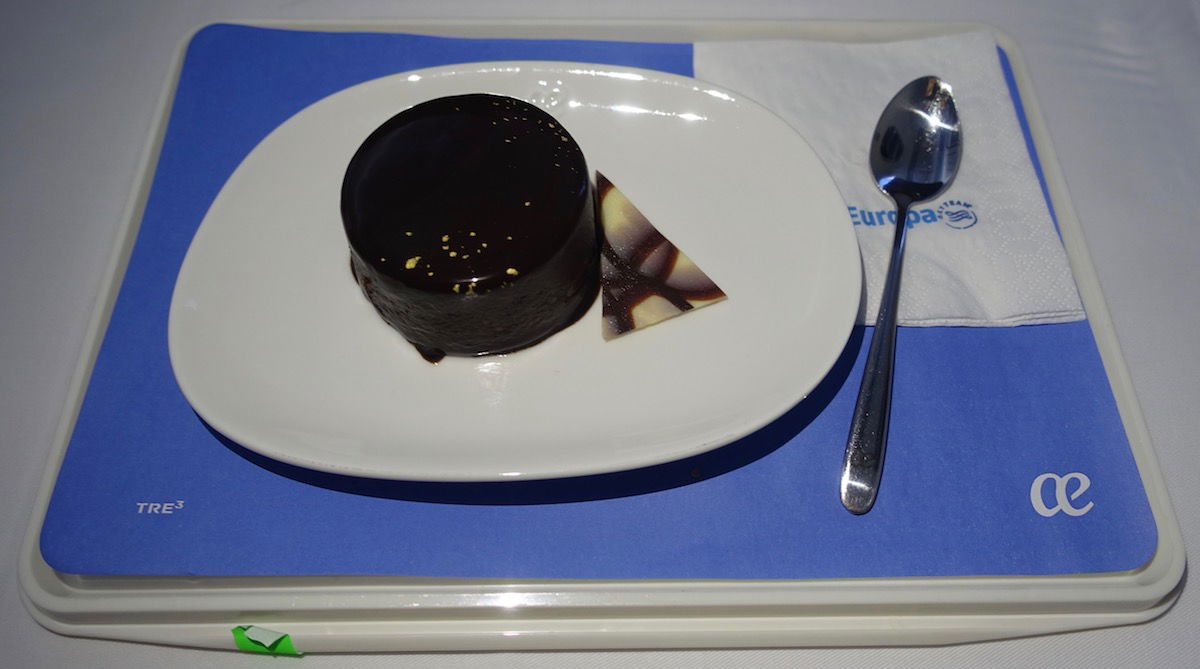 Air Europa business class lunch — dessert
After the meal I also ordered an espresso.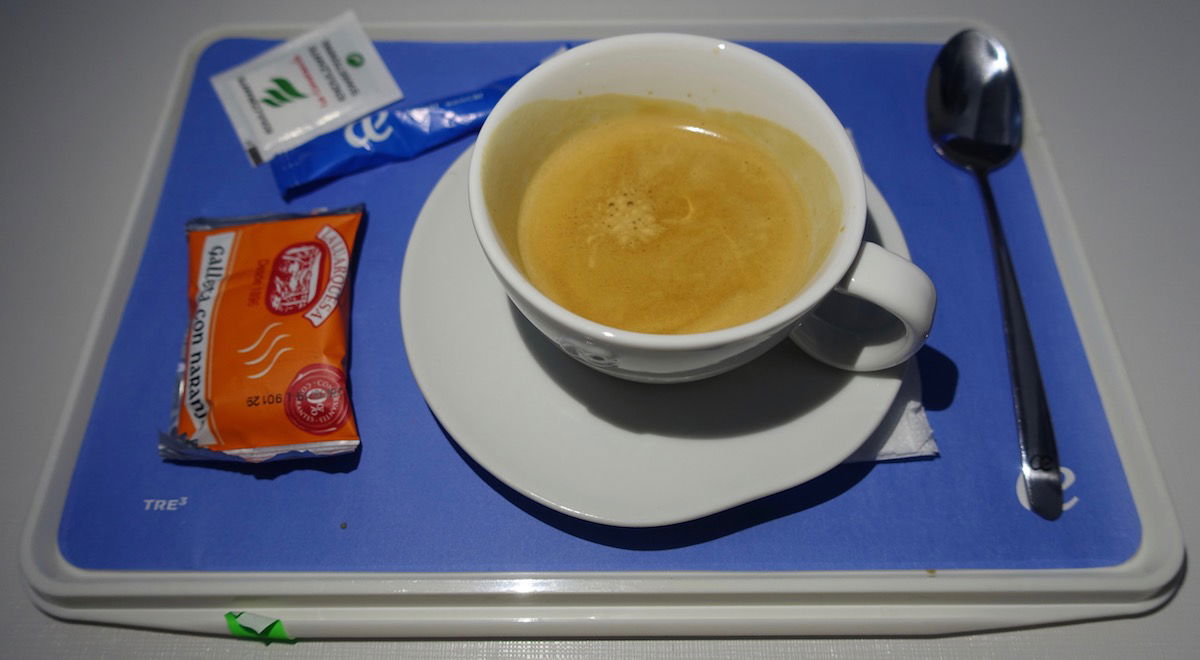 Air Europa business class lunch — coffee
I'd say the meal was filling, decent, and unmemorable. The food wasn't amazing, but it was edible, and there was a lot of it, should you be hungry.
What stood out to me was the service. The flight attendants were genuinely friendly and attentive, and that's not something I was necessarily expecting.
With about 6hr30min remaining in the flight I tried to rest for a bit, figuring I should try to get some sleep.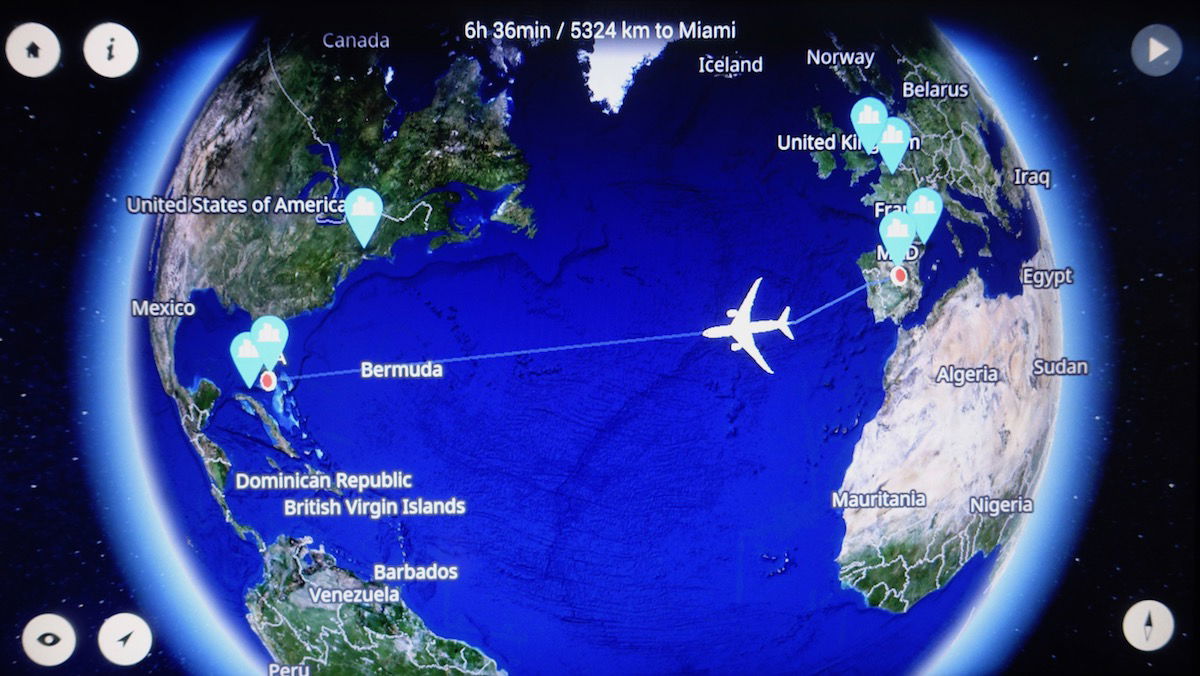 Moving map enroute to Miami
I made my bed and reclined my seat. The seat is definitely on the narrow and hard side, but still comfortable, especially with an empty seat next to me.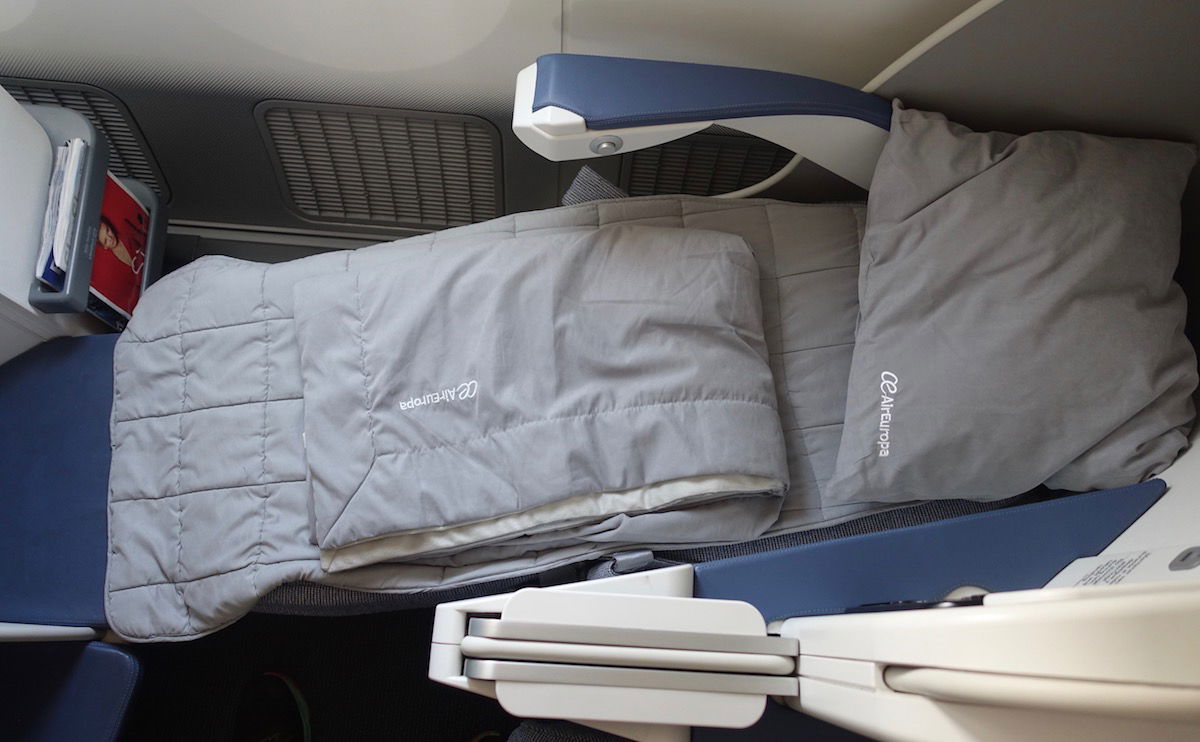 Air Europa 787 business class bed
While the last row has the disadvantage of having a missing window, the advantage is that your seat will shake less. That's because the footrest for most seats is located in the back of the seat in front. So since there's no one seated behind you, they won't be shaking your seat.
I ended up napping for about 90 minutes, which is more sleep than I was expecting to get on a daytime flight.
At the halfway point of the flight the crew passed through the cabin with ice cream and sandwiches.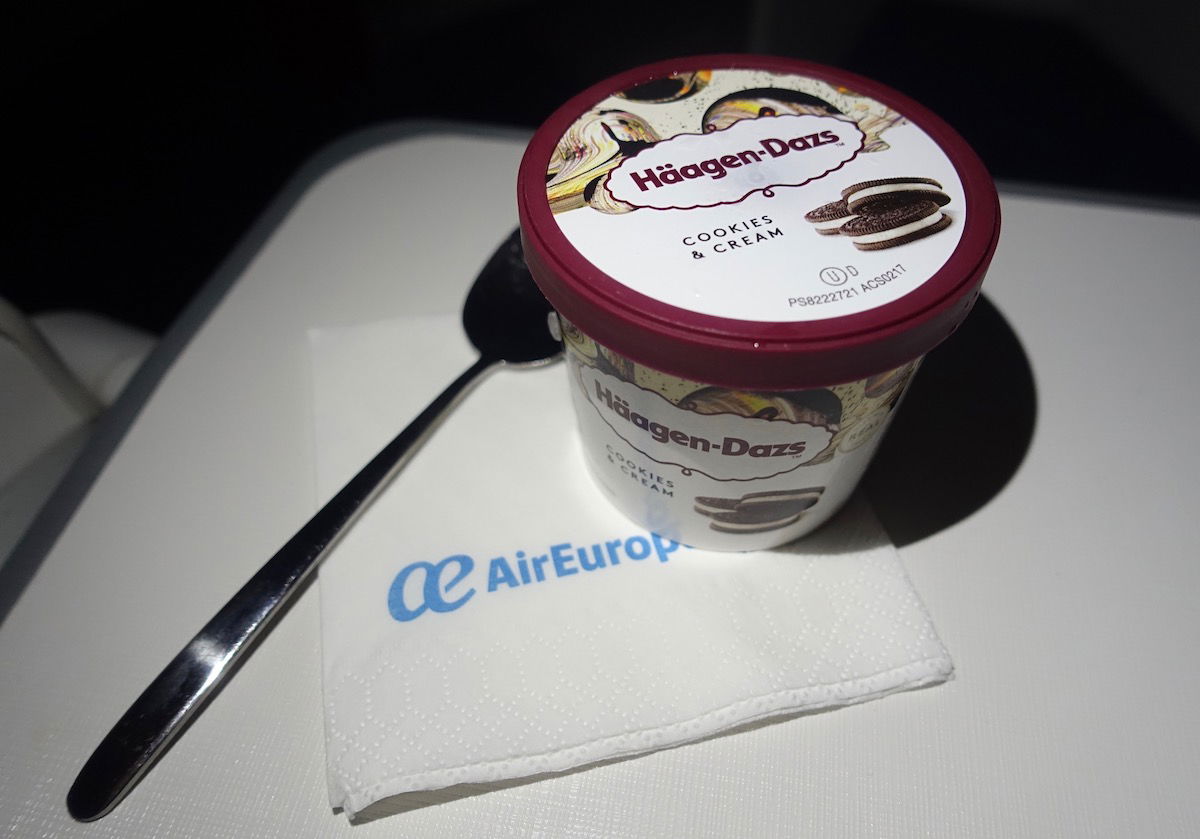 Air Europa business class snack
About 2hr45min before landing the crew turned on the lights in the cabin and distributed warm towels.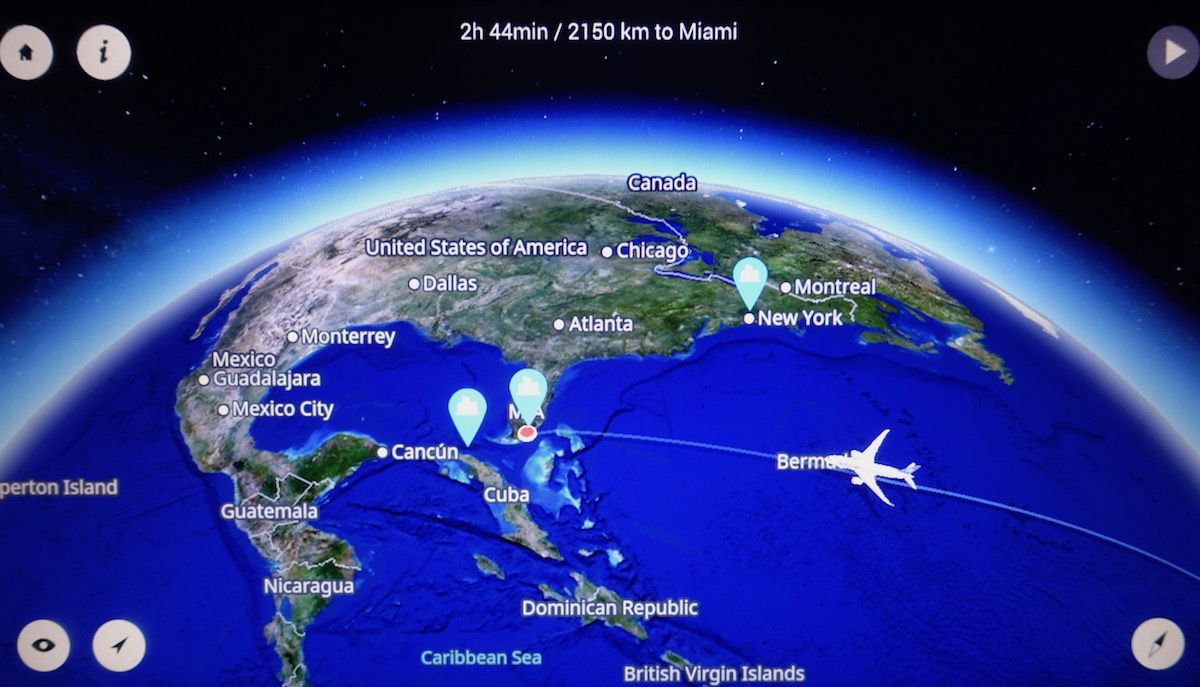 Moving map enroute to Miami
Then about 2hr30min before landing they started the lunch service, right as we were flying over Bermuda.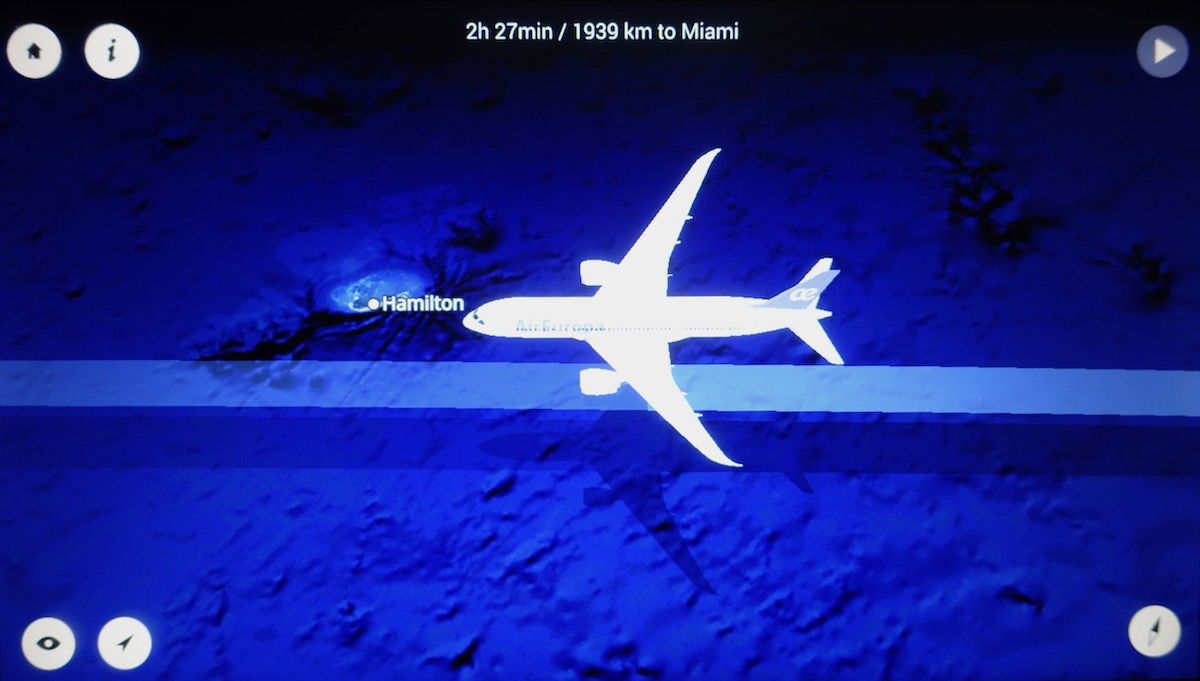 Moving map enroute to Miami
The pre-landing menu read as follows: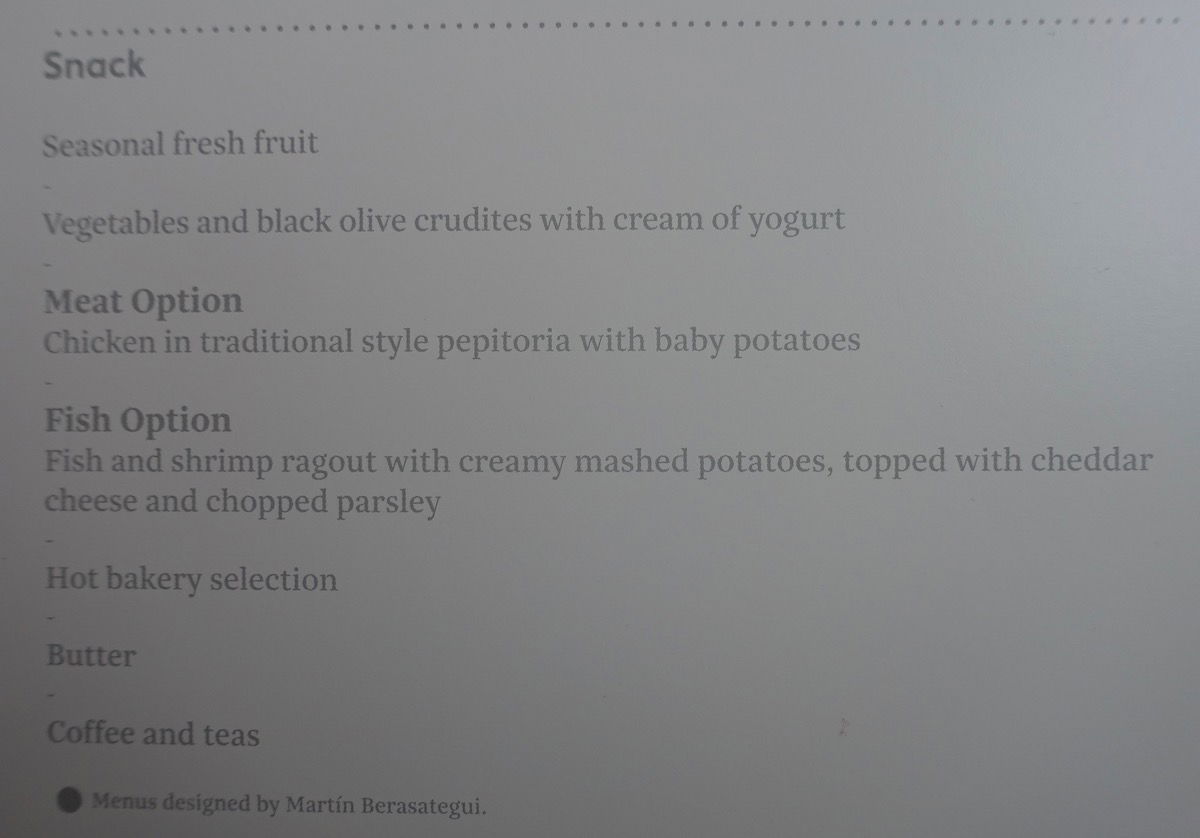 The presentation for the meal was similar to what I was served in business class from London to Madrid. I found the presentation to be cute. This included some fresh fruit, vegetables, and bread.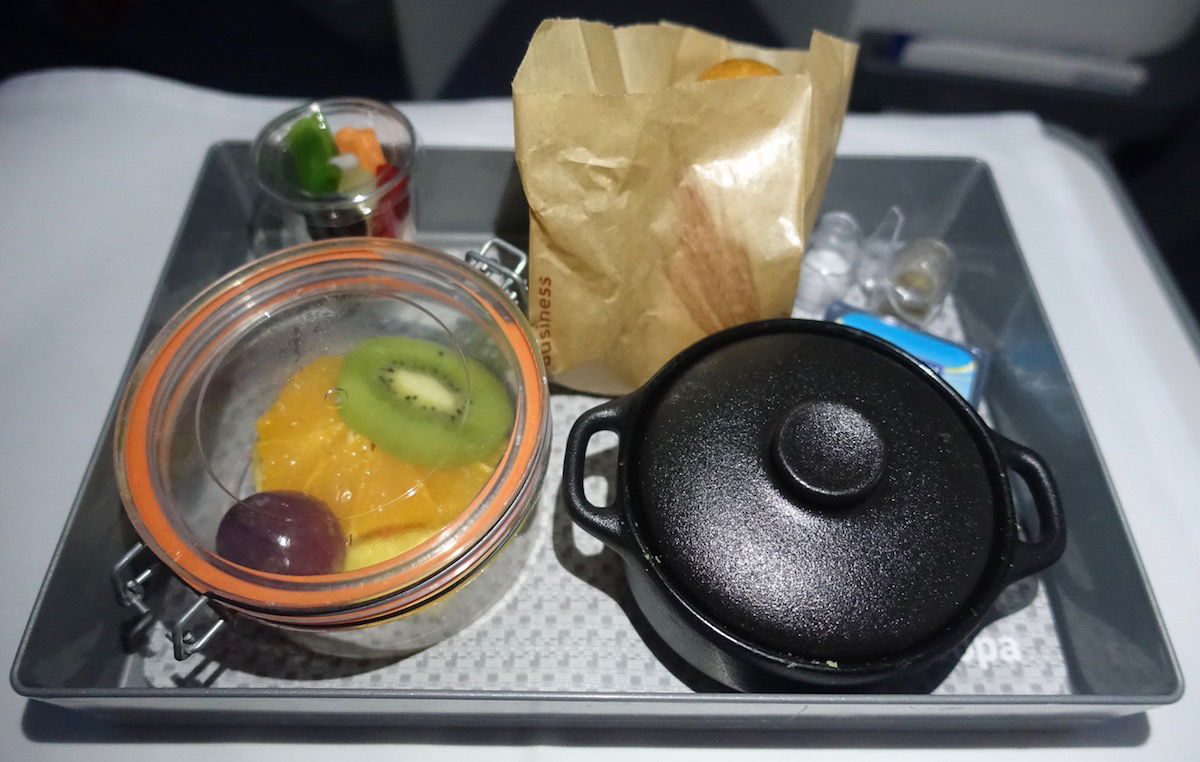 Air Europa business class snack
There were two choices for the main, both served in a mini-skillet — you could have either a chicken or fish option. I chose the fish, which was described as fish and shrimp ragout with creamy mashed potatoes, topped with cheddar cheese and chopped parsley. It was… not particularly to my liking.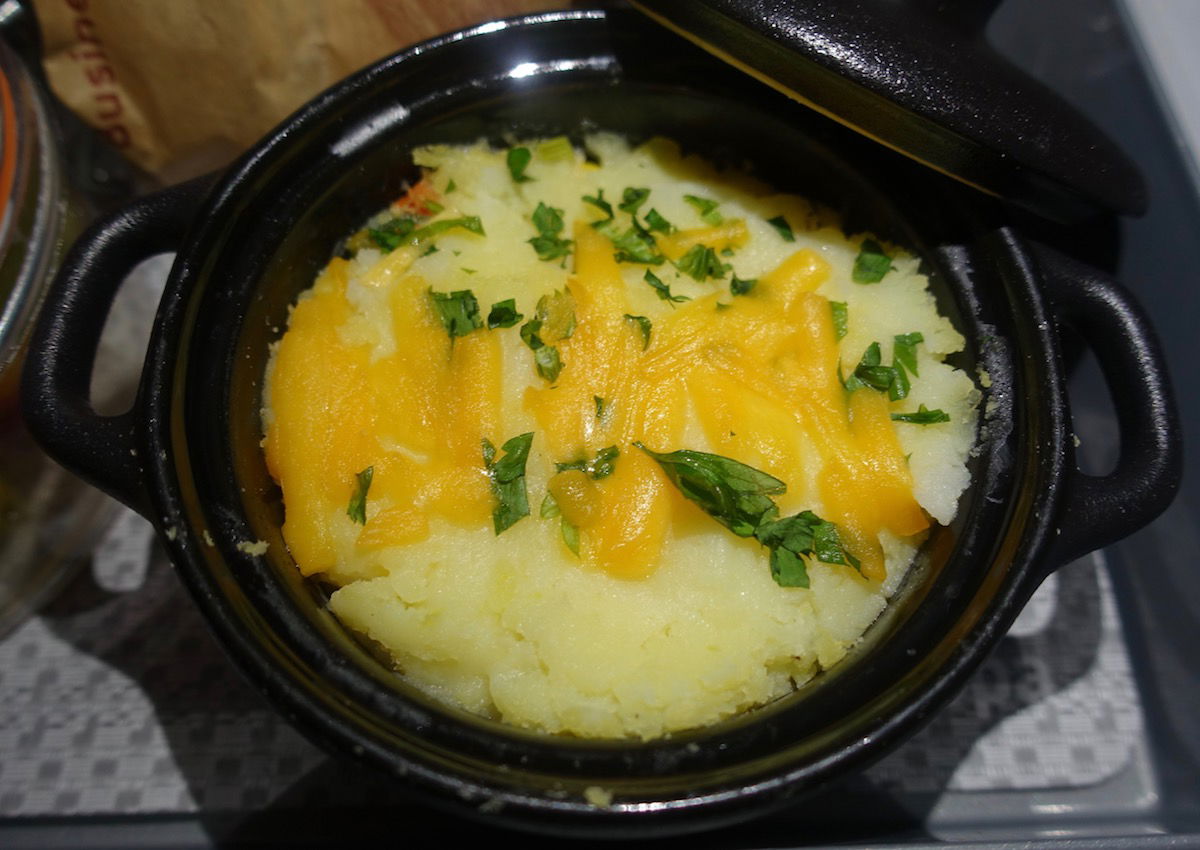 Air Europa business class snack
I spent about an hour working after the snack.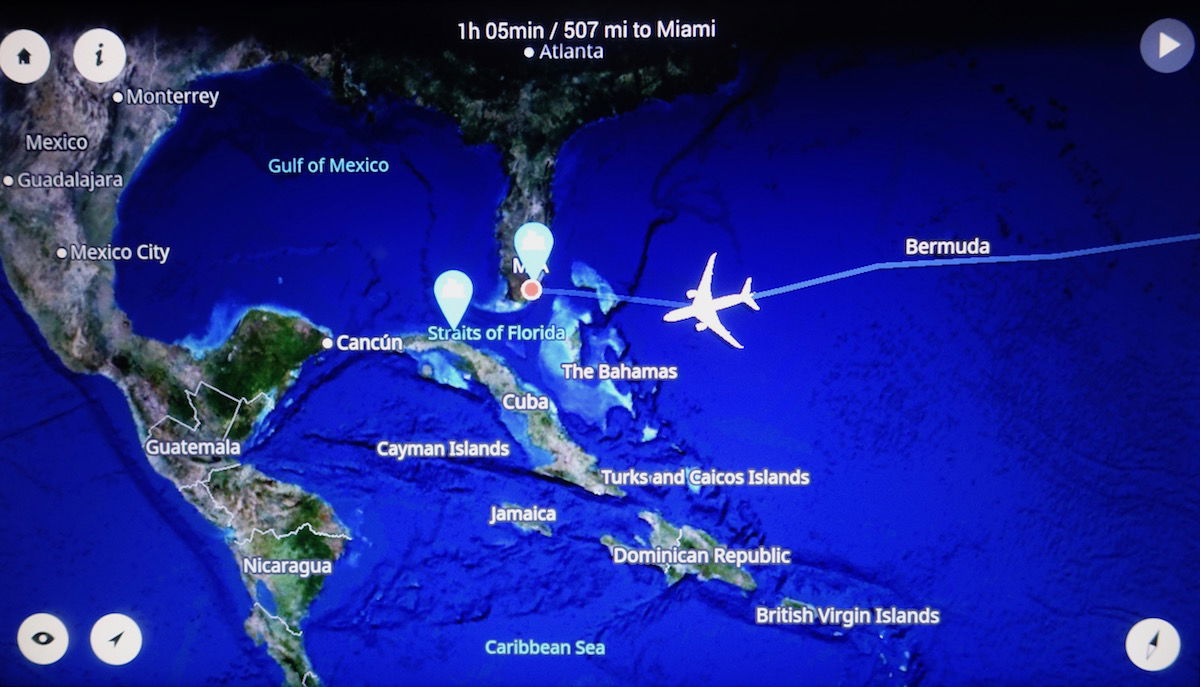 Map approaching Miami
About 30 minutes before landing the captain announced that we'd soon be descending, and the seatbelt sign was turned on. As we descended the crew handed out packaged towels and mints, which was a nice touch.
We had some great views of the coast as we flew in over Miami.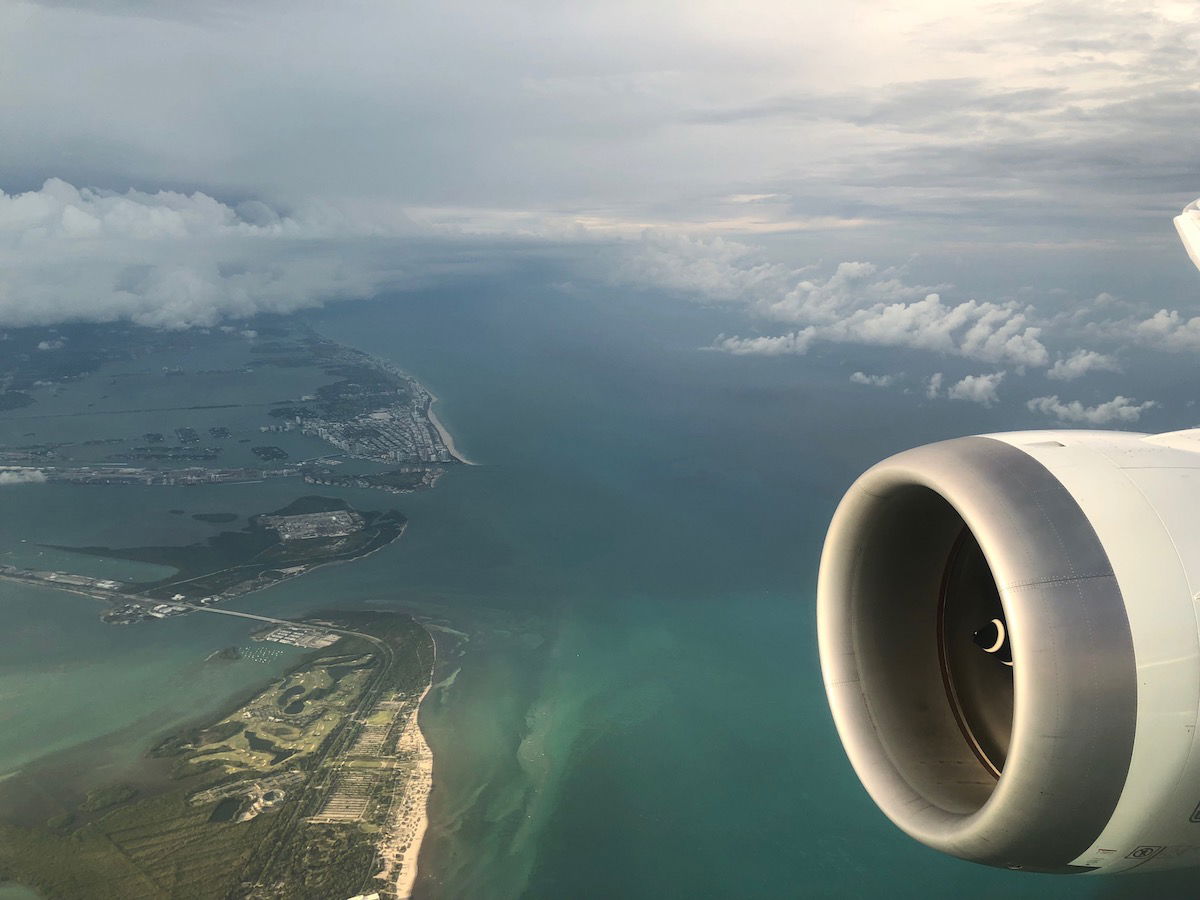 View approaching Miami
While the weather was nice on approach initially, we flew right into heavy rain as we flew inland and turned east, and the plane experienced significant turbulence for about 30 seconds.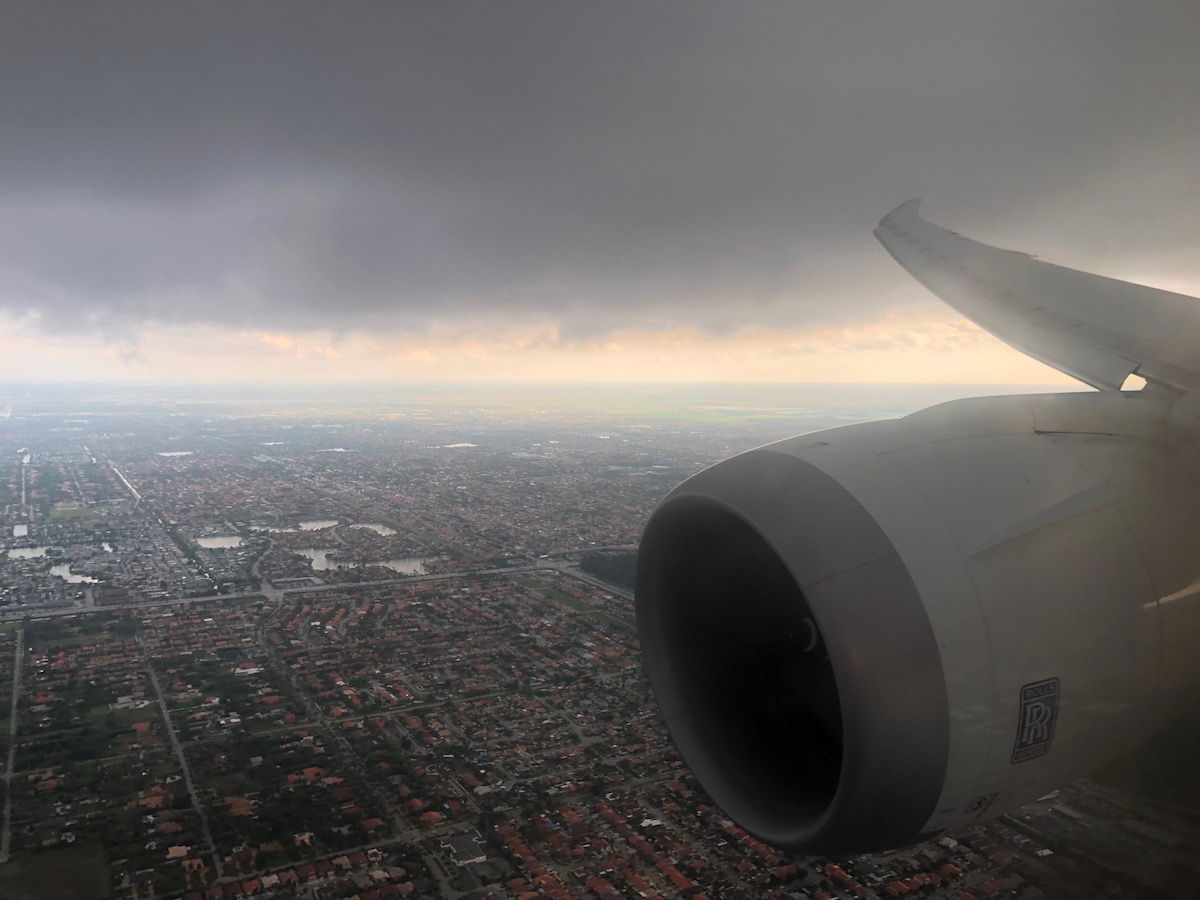 View approaching Miami
We touched down in Miami at 6:50PM, and from there had a roughly five minute tax to our arrival gate, where we parked next to a Swift Air 737 (you've gotta love the variety of traffic in Miami).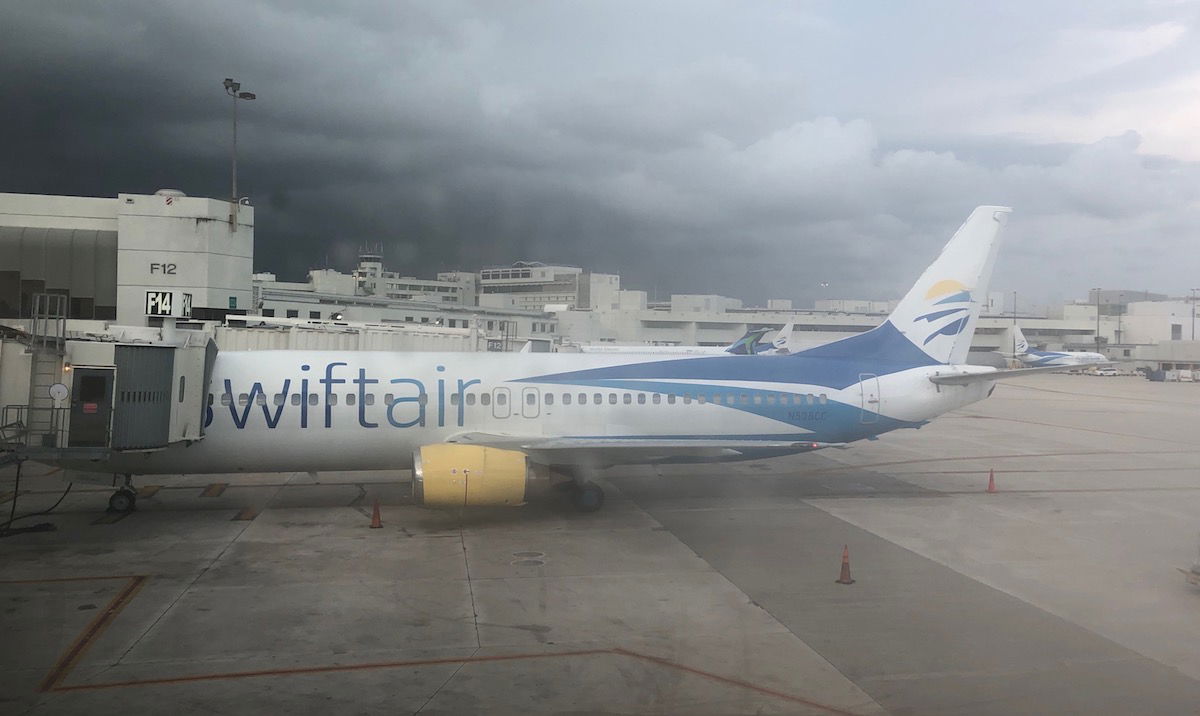 Arrival gate at MIA
Air Europa 787 business class bottom line
Maybe I just had really low expectations coming in, but Air Europa exceeded them.
While I don't love Air Europa's business class seats, they're fully flat and comfortable enough, and with an empty seat next to me it was especially pleasant.
The food on Air Europa was fine and plentiful, the entertainment and Wi-Fi good, and the service very friendly.
While I wouldn't go out of my way to fly Air Europa again, I also wouldn't avoid them. They're not bad at all.