---
I got to Gatwick Airport at around 7:30AM, plenty early for my 9:55AM flight to Madrid. My flight on Air Europa was departing from Gatwick's South Terminal. The first stop at the airport was The Grain Store, which is the Priority Pass restaurant at the airport. I had an avocado toast and cappuccino, which hit the spot.
After that I visited the No1 Lounge London Gatwick South Terminal, which is the lounge that Air Europa uses for their business class passengers. This is a fairly nice lounge though tends to get way overcrowded. It's quite small, and they serve a lot of passengers. When I got to the lounge I managed to grab the last empty seat.
While the lounge is open to Priority Pass members, you'll typically only get in if you've made a reservation in advance.
This lounge also has a different vibe than most in terms of the guests. While most airline lounges are primarily filled with quiet business travelers, this has to be one of the most leisure-oriented lounges out there. Everyone seems to be going on a beach holiday, and is anxious to start with a few drinks early in the morning.
The lounge does have great views of the apron…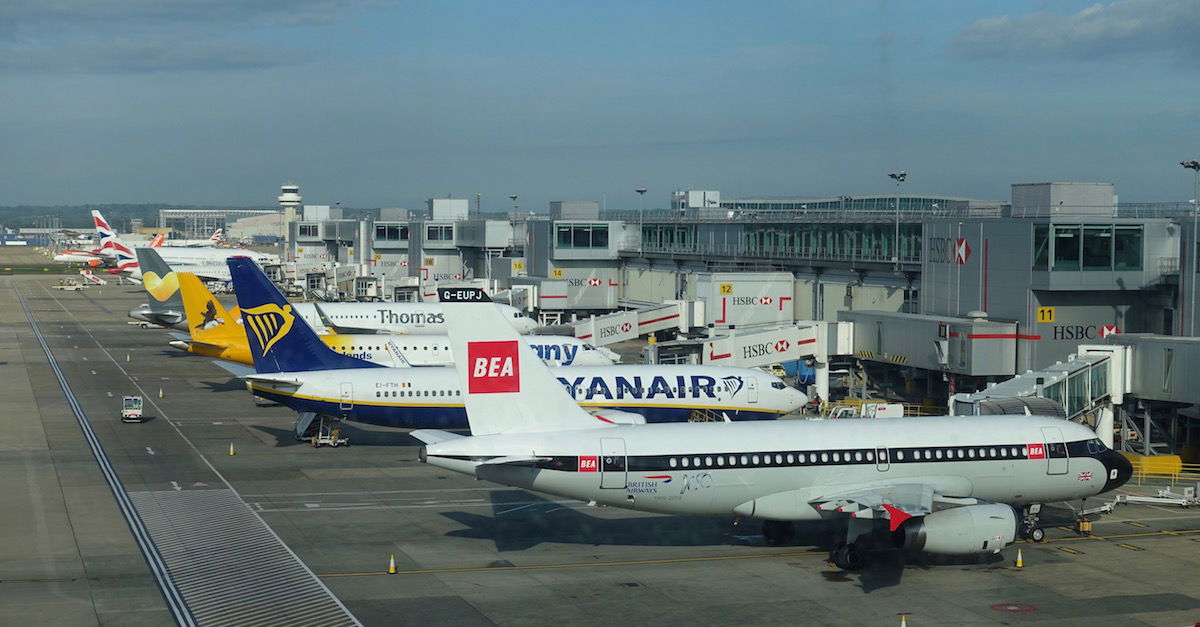 Traffic at Gatwick Airport
My flight was scheduled to depart at 9:55AM. At Gatwick they only post departure gates shortly before boarding is supposed to start. My boarding pass indicated boarding was to start at 9:05AM, and the departure monitor indicated the gate would be posted at 9AM. Sure enough, at 9AM it was posted that my flight was departing from gate 24, about a five minute walk away.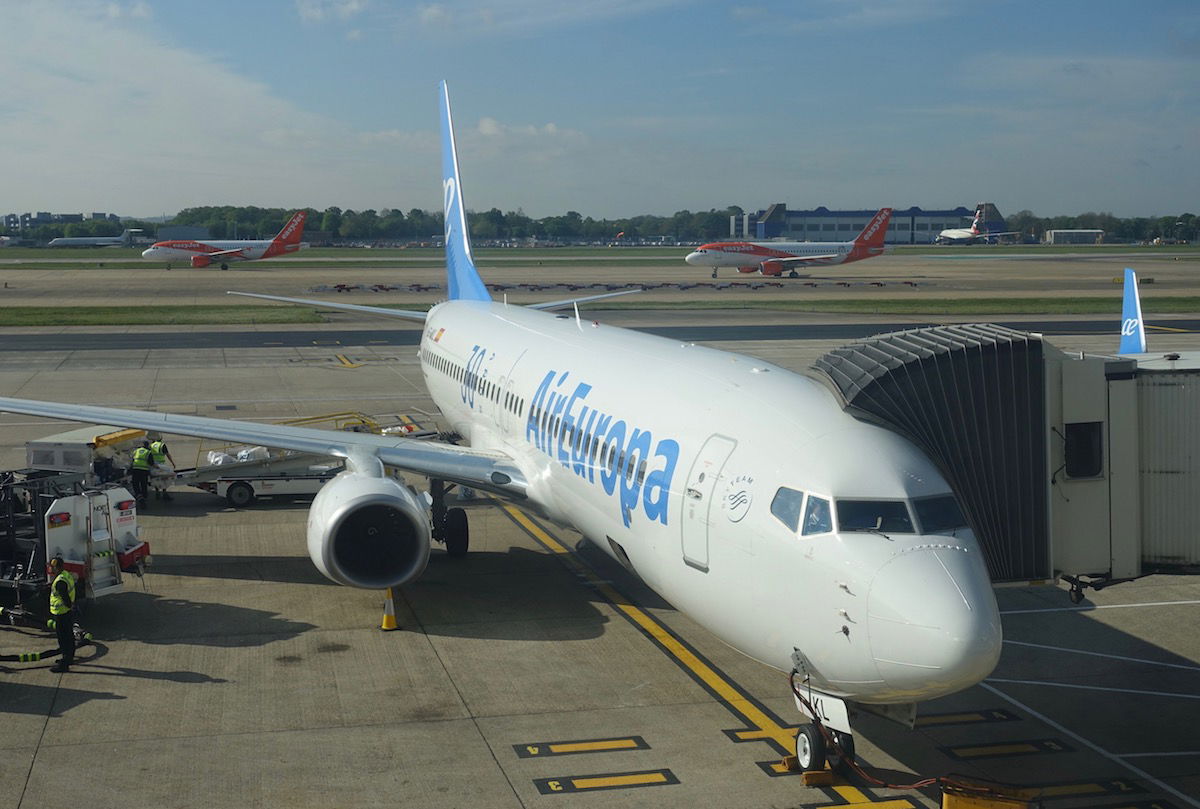 Air Europa 737 Gatwick Airport
This was a fairly small gate area, and boarding ended up starting at 9:20AM.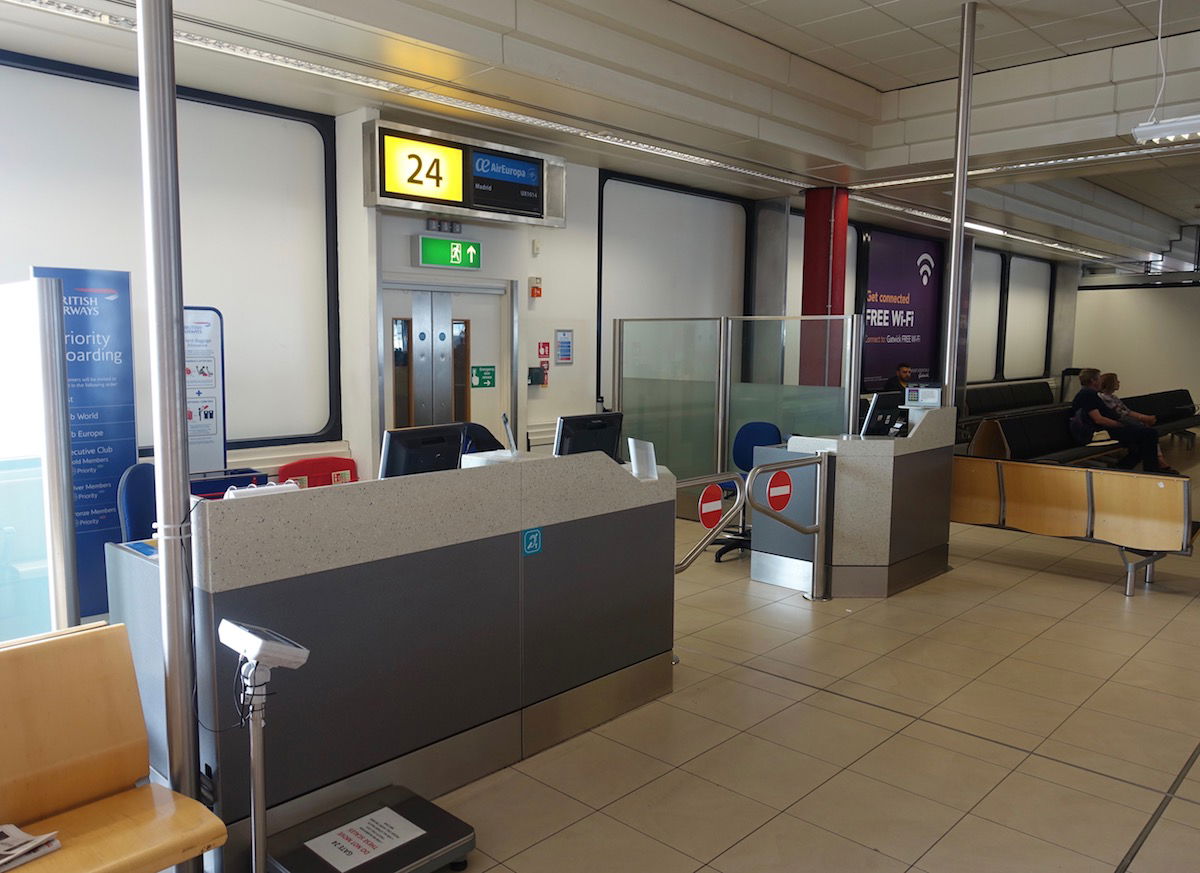 Air Europa departure gate Gatwick Airport
Air Europa 1014
London (LGW) – Madrid (MAD)
Thursday, May 2
Depart: 9:55AM
Arrive: 1:25PM
Duration: 2hr30min
Aircraft: Boeing 737-800
Seat: 2A (Business Class)
While intra-Europe planes are nothing to get excited about, my first impression was positive — the cabin looked brand new, and I quite liked the design.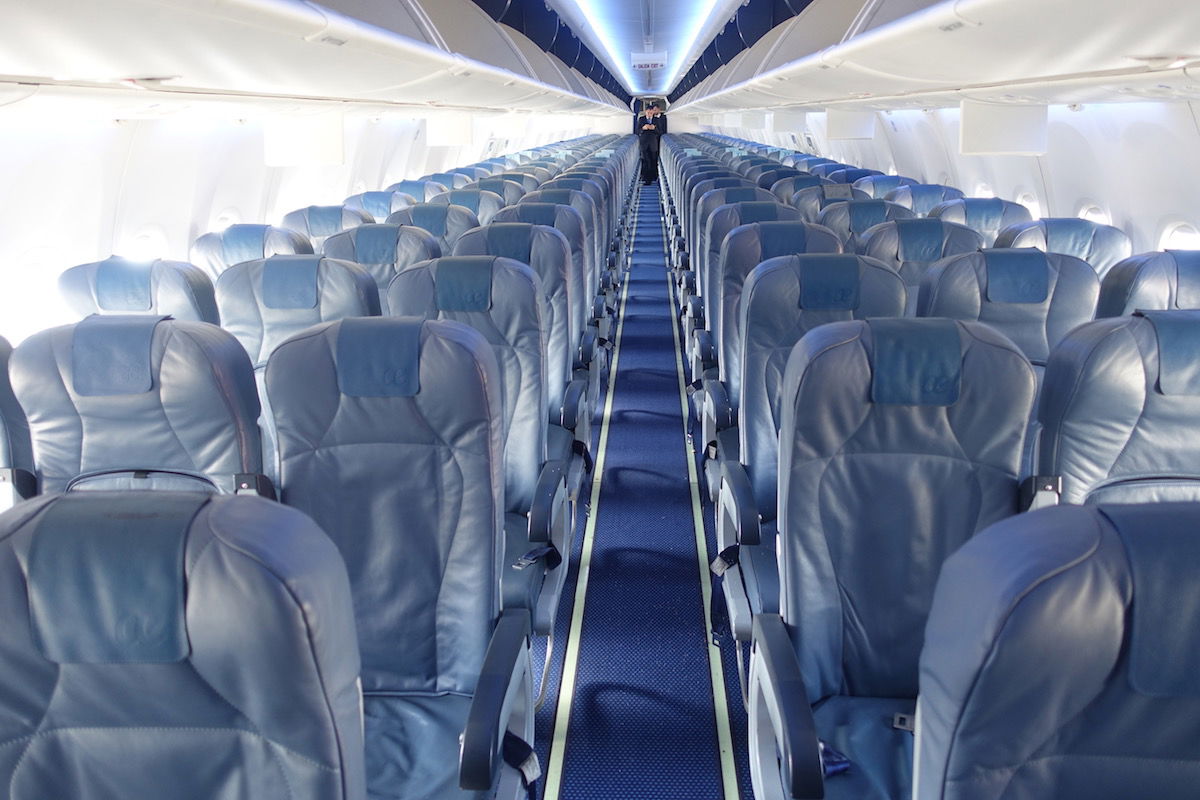 Air Europa 737 cabin
As is the norm on intra-Europe flights, business class consisted of economy seats with blocked middles. On this flight there were two rows of business class. There's a lot of flexibility so that the airline can adjust the size of the cabin with each flight.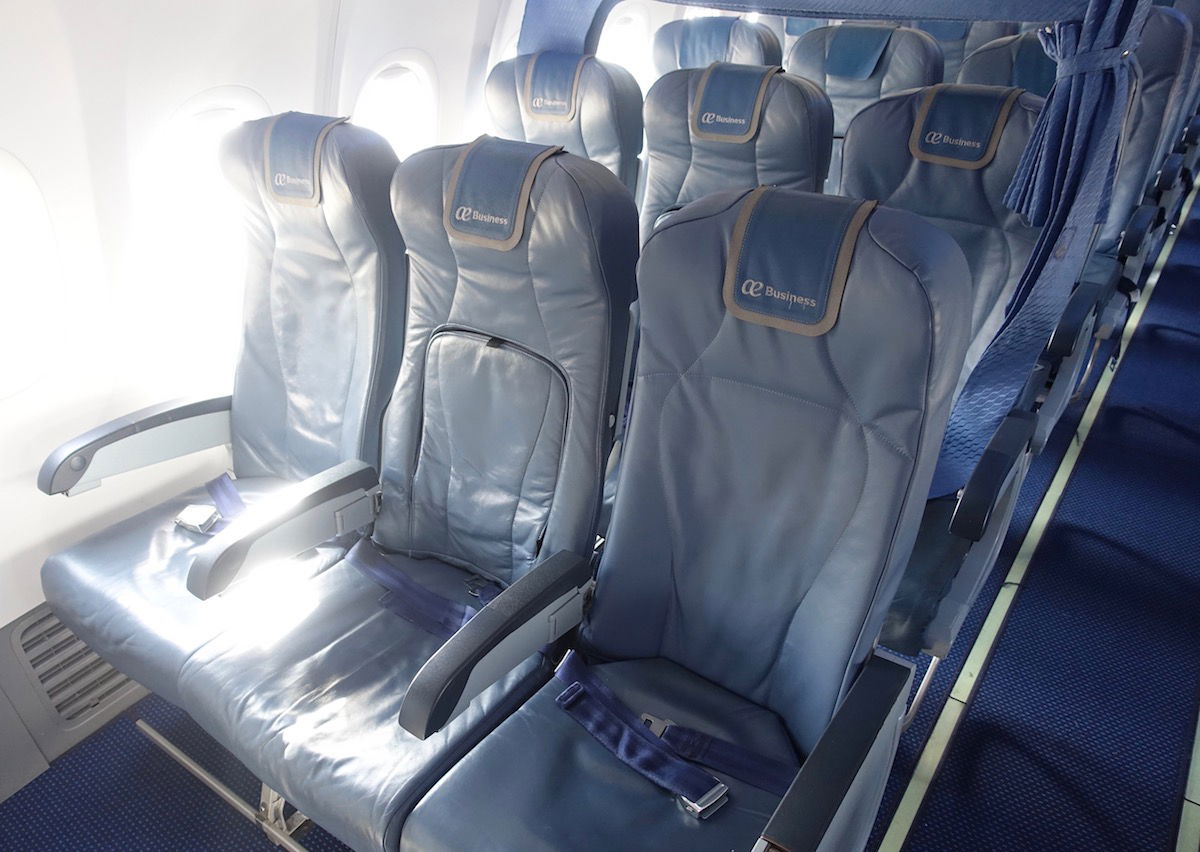 Air Europa 737 business class
I had assigned myself seat 2A, the window seat on the left side in the last row of business class.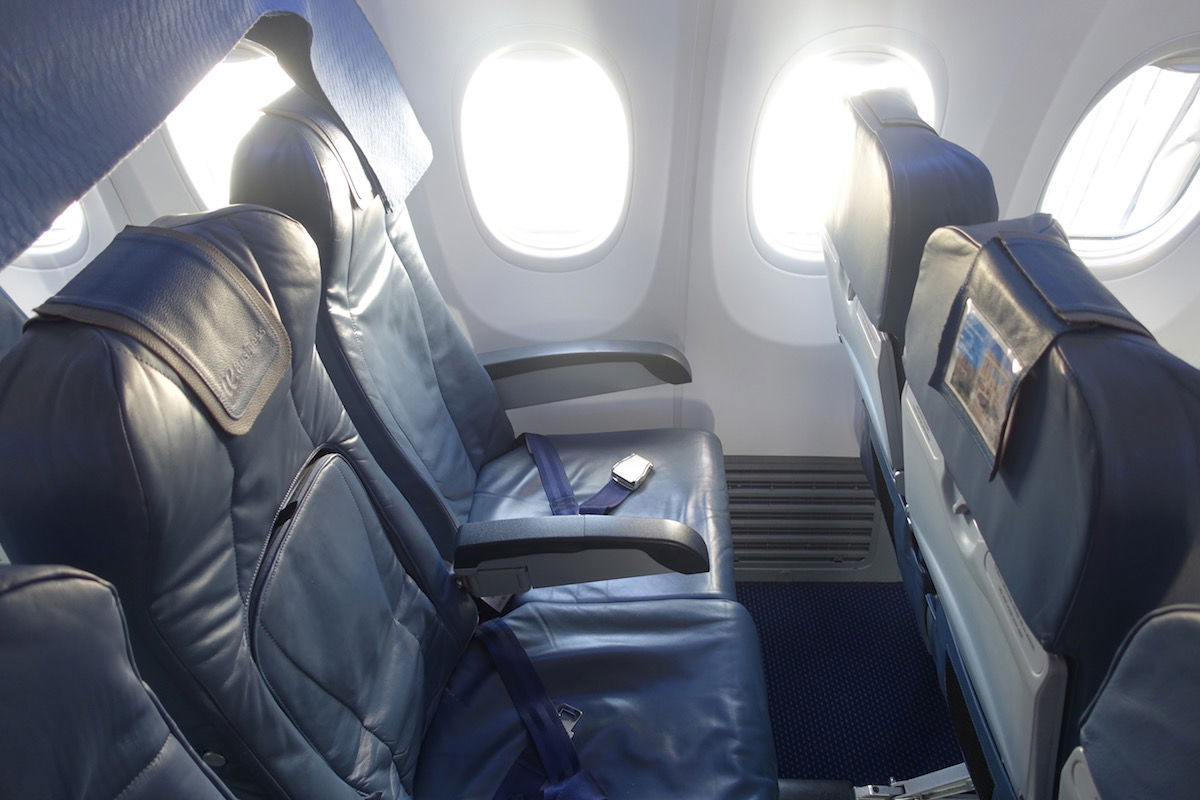 Air Europa 737 business class seat
As far as intra-Europe flights go, the legroom was quite good — the bulkhead had a fair amount of legroom, and the second row didn't have bad legroom either. I believe Air Europa allocates a bit of extra legroom for the first few rows, so you get some more legroom and also the blocked middle.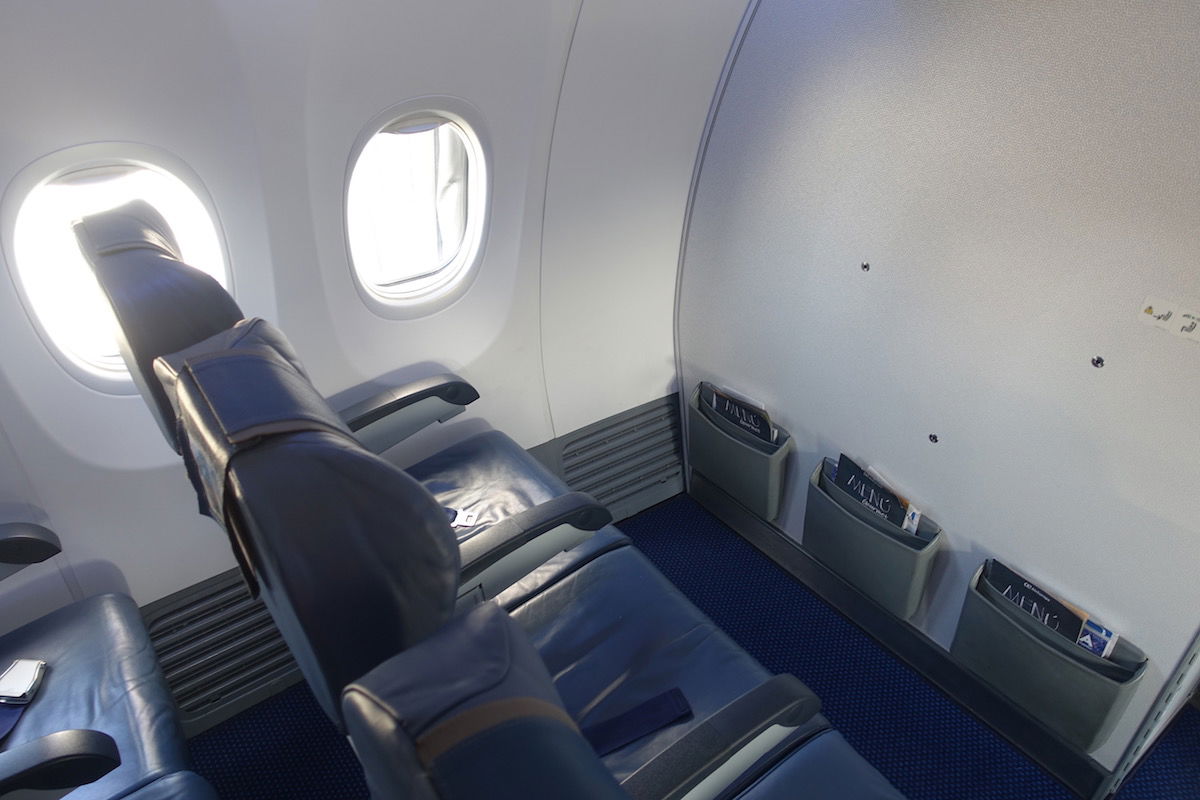 Air Europa 737 business class bulkhead seats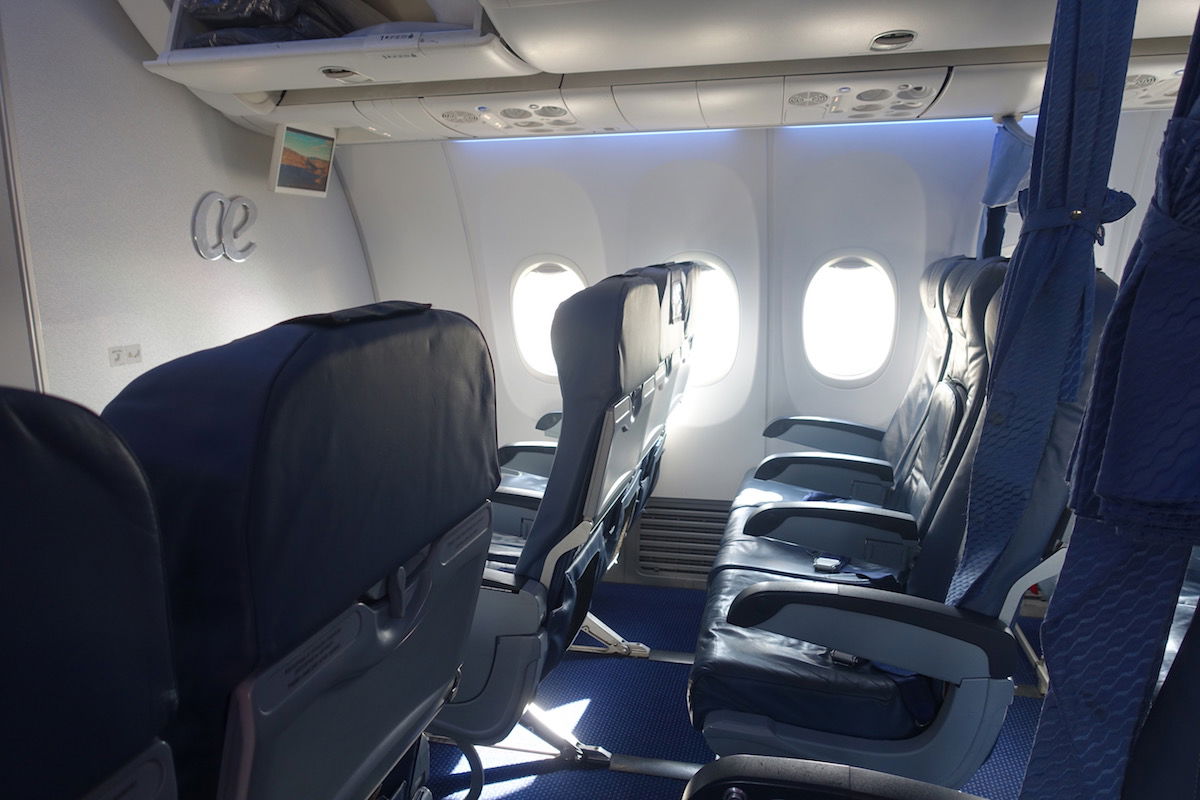 Air Europa 737 business class cabin
The seat had a standard tray table that folded down from the seat in front.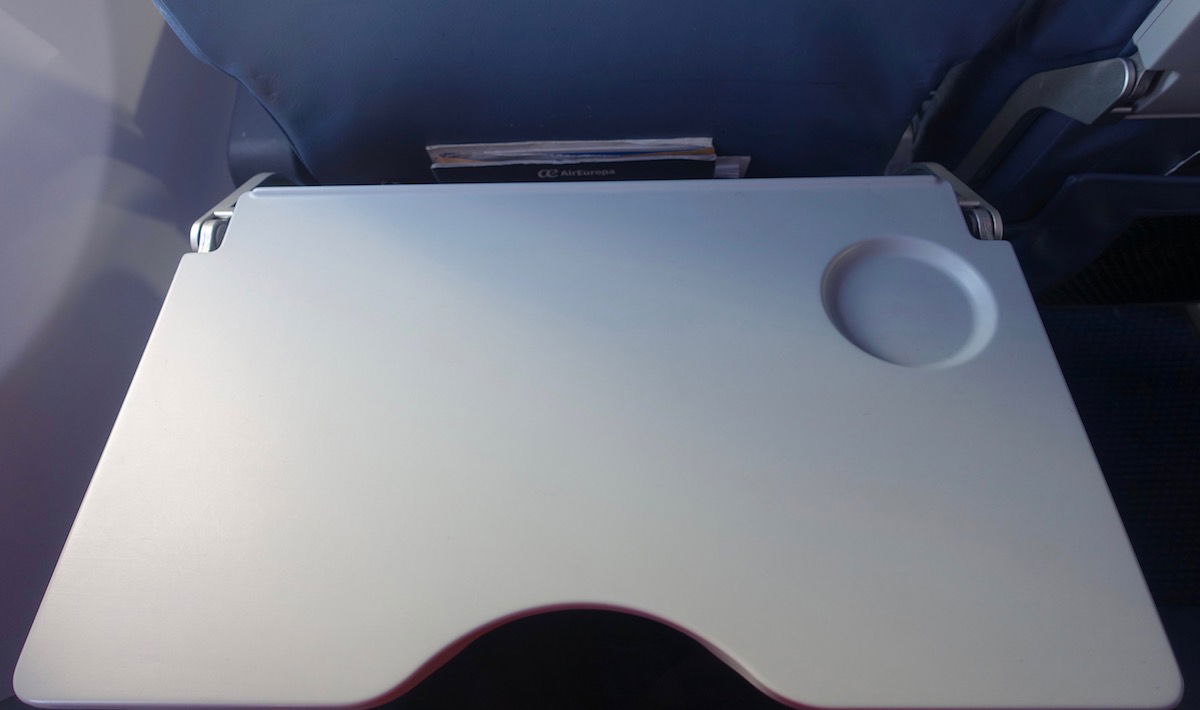 Air Europa 737 business class tray table
The cabin had the Boeing Sky Interior, with air nozzles at every seat.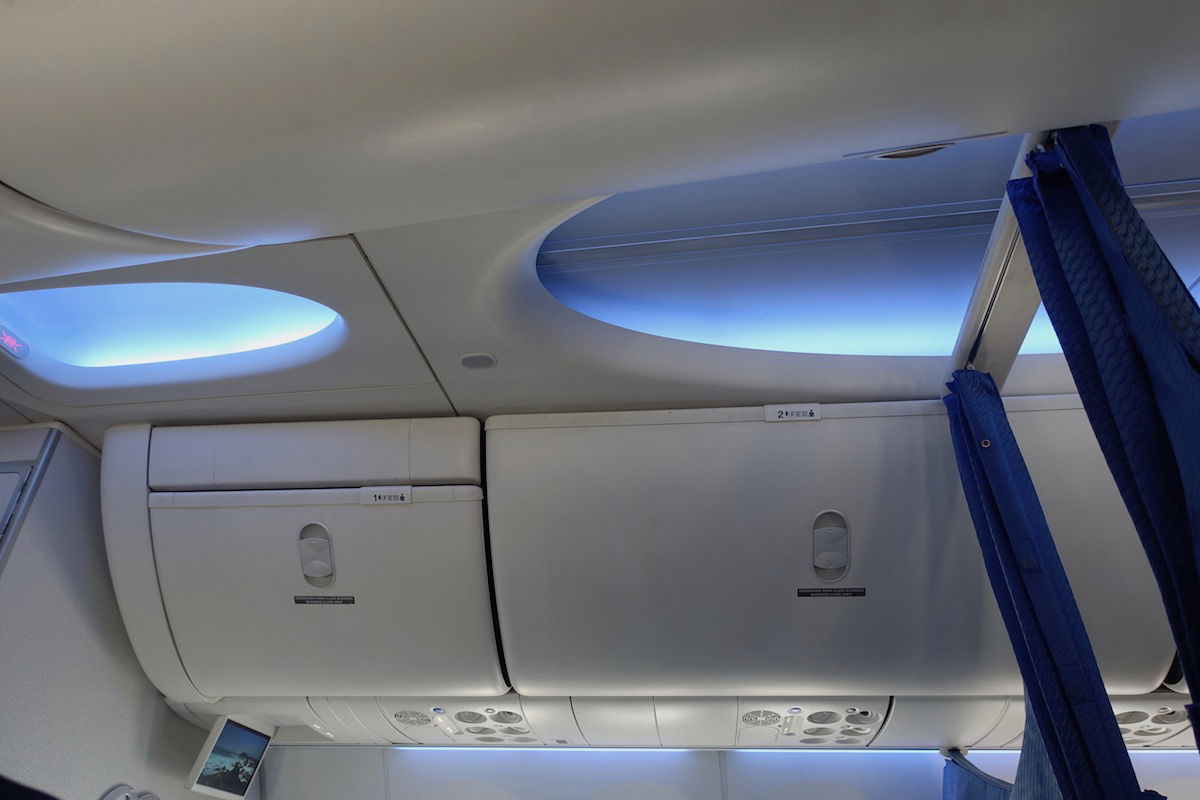 Air Europa 737 cabin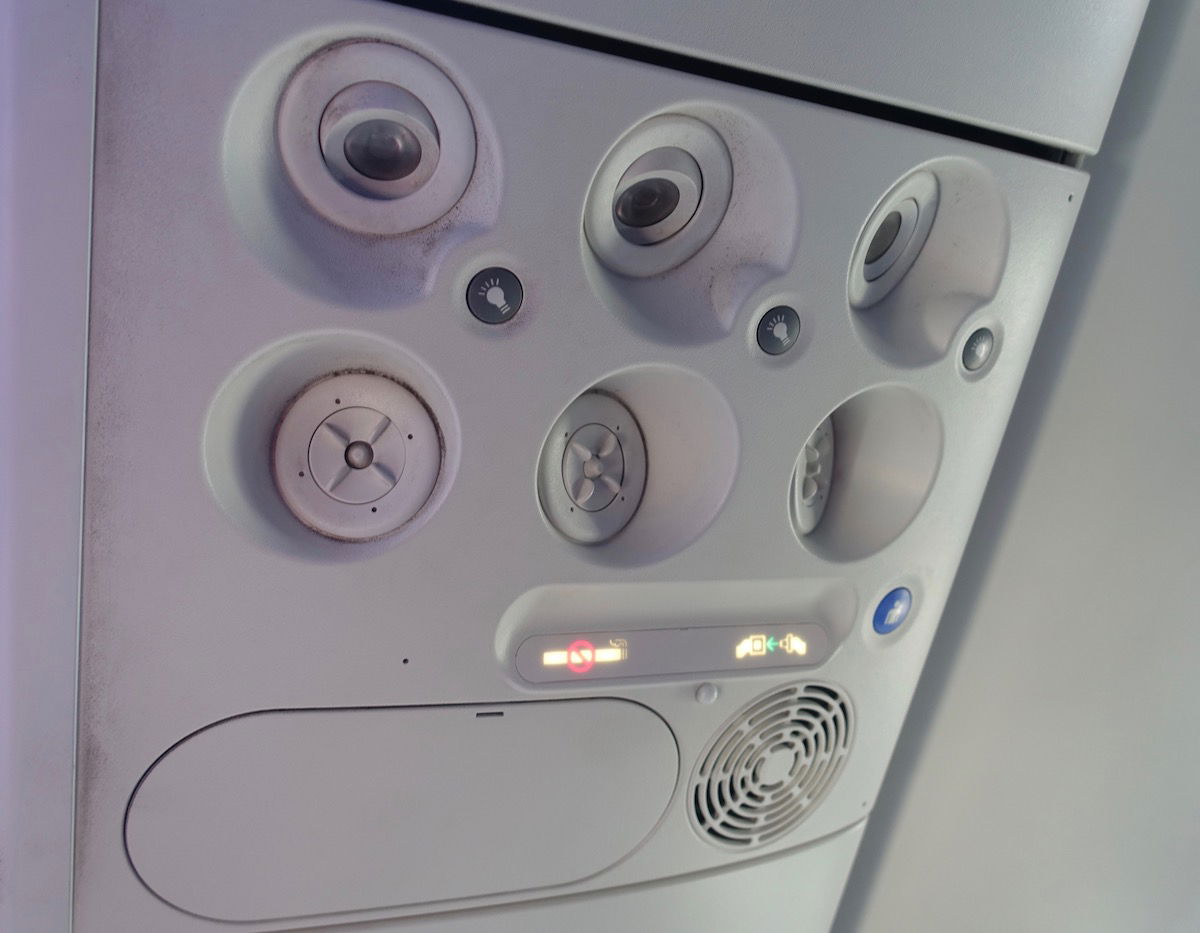 Air Europa 737 air nozzles
While the plane was new and in great condition, I was disappointed it didn't have outlets.
I was very impressed by the crew — not only did they take pride in their appearance (their uniforms had no wrinkles, and they looked very well put together), but they were friendly. A couple of minutes after settling in I was asked if I wanted anything to drink. Most airlines don't offer pre-departure beverages within Europe at all, while on this flight I was offered a drink of choice and even a refill.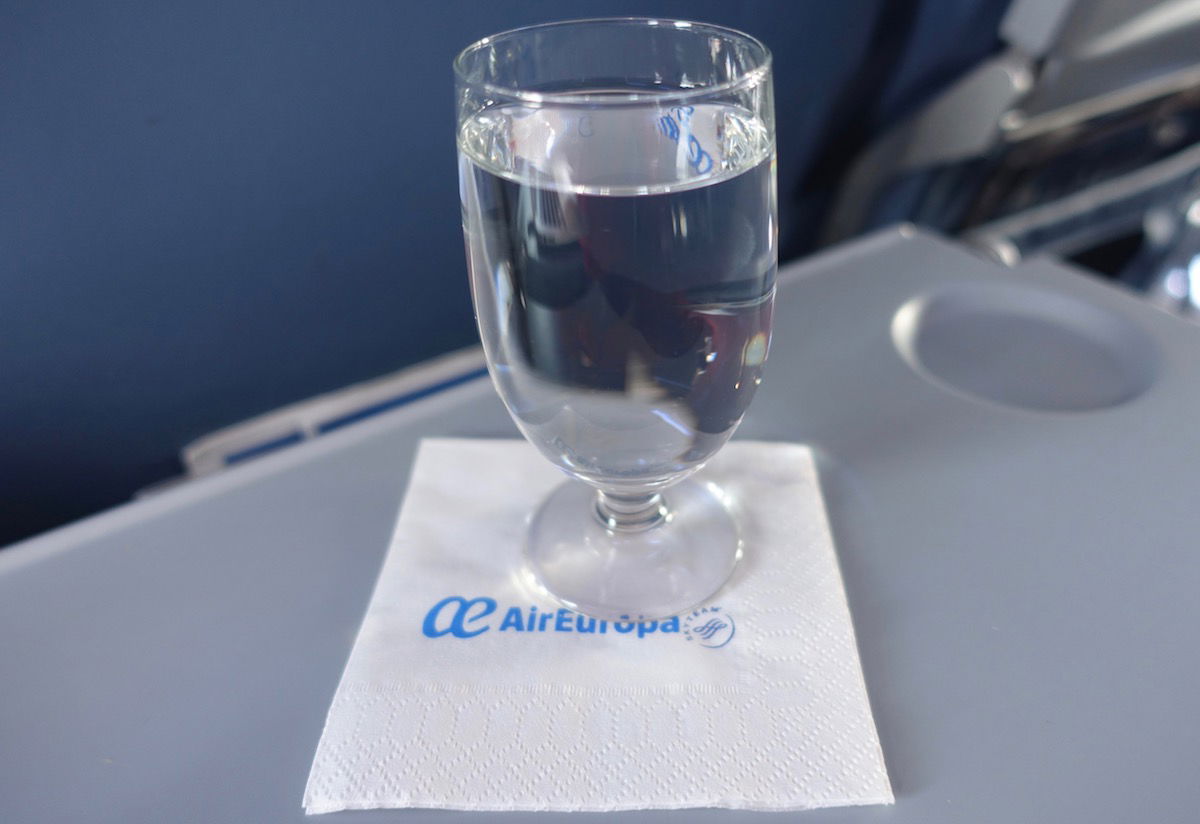 Air Europa business class pre-departure drink
I was also offered magazines and newspapers.
The flight was quite full in economy, so boarding took a while. In business class only three seats were taken — there were two people in the bulkhead row, while I had the second row all to myself.
At 9:40AM the captain made his welcome aboard announcement, informing us of our flight time of 1hr50min, and expected on-time departure and arrival. A few minutes later the senior cabin crew, Lucy, made her welcome announcement.
As we waited for departure a Norwegian 737 pushed back next to us, and then a Ryanair 737 took its place, with a British Airways 777 in the distance.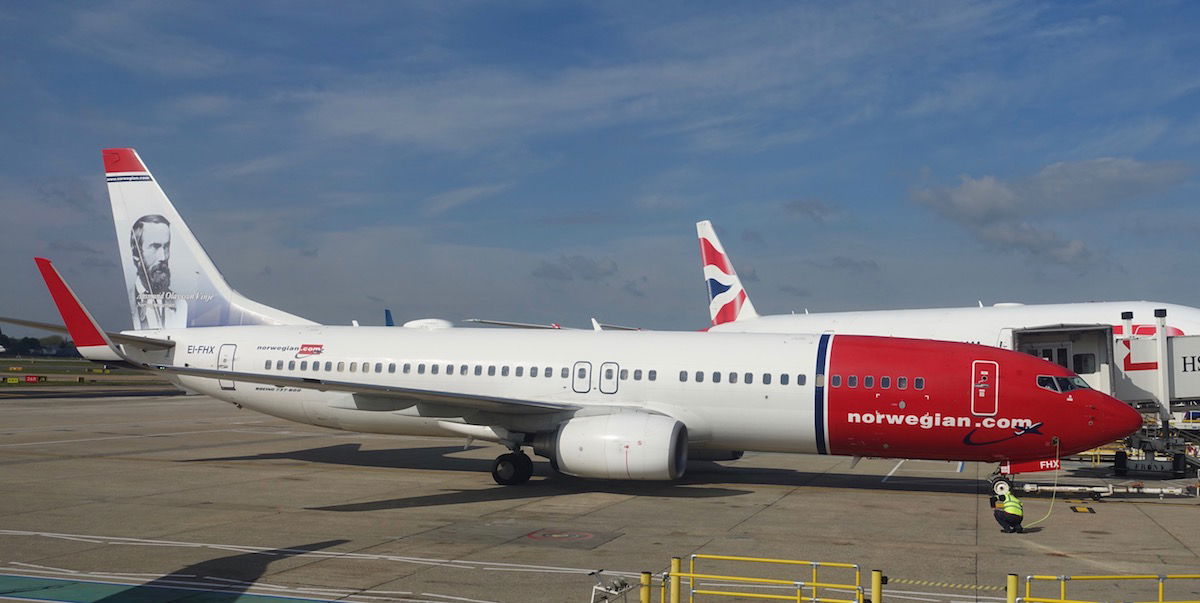 Norwegian 737 Gatwick Airport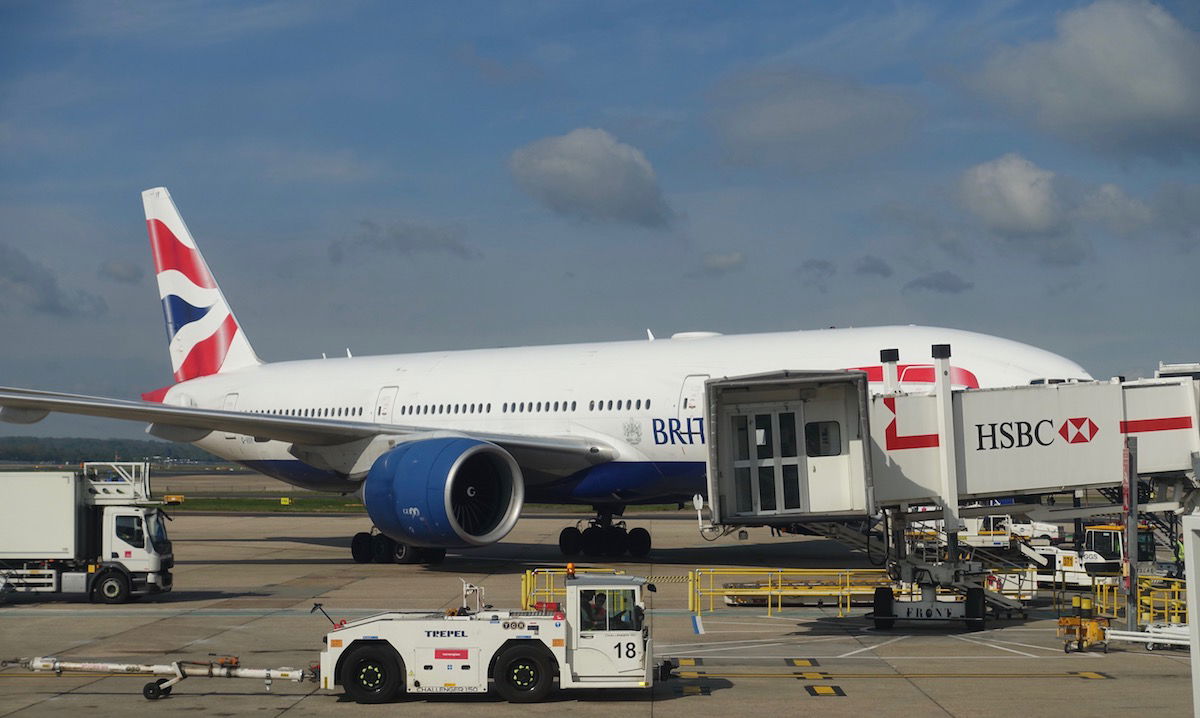 British Airways 777 Gatwick Airport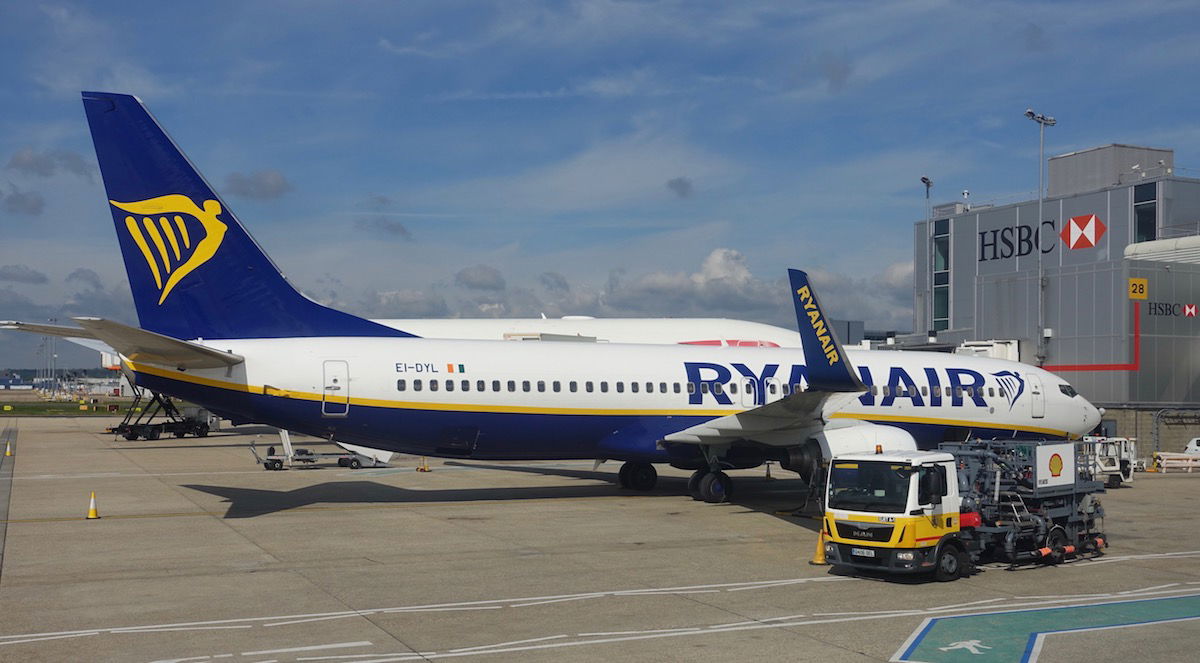 Ryanair 737 Gatwick Airport
At 9:50AM the door closed, and at 10AM we began our pushback, at which point the safety video was screened.
As we taxied out there was a WestJet plane also taxiing — this time it was a 737, and not the 787 I had flown the day before!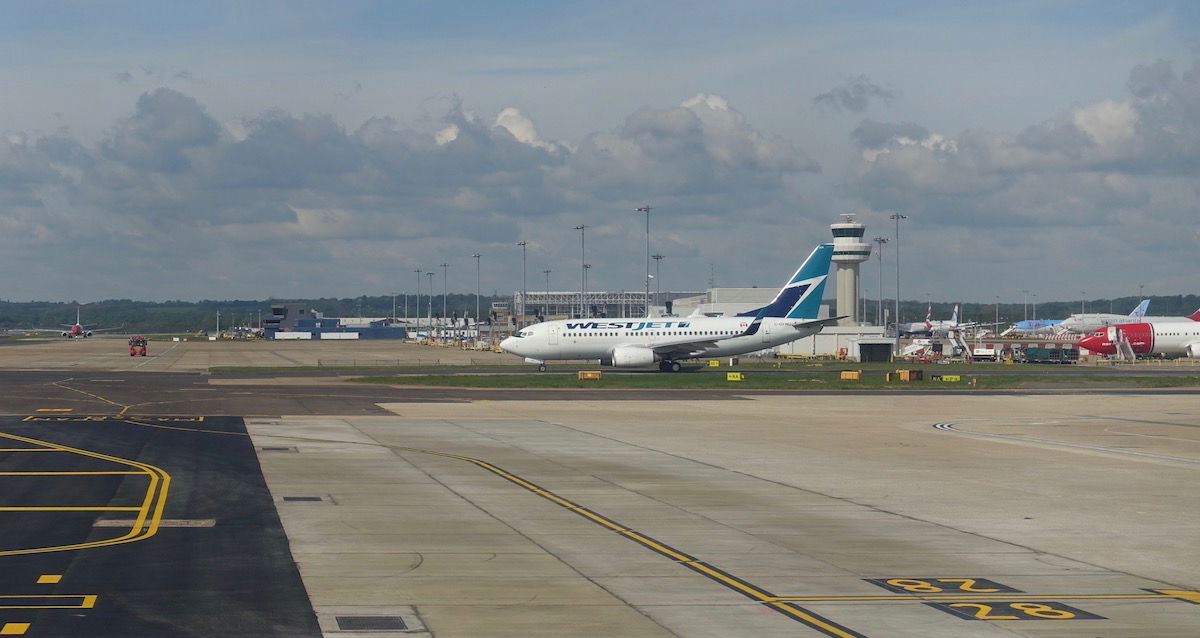 Taxiing Gatwick Airport
Our taxi to the runway took just a minute, but then we had to wait for other planes to take off first, including a Vueling A321 and airBaltic A220.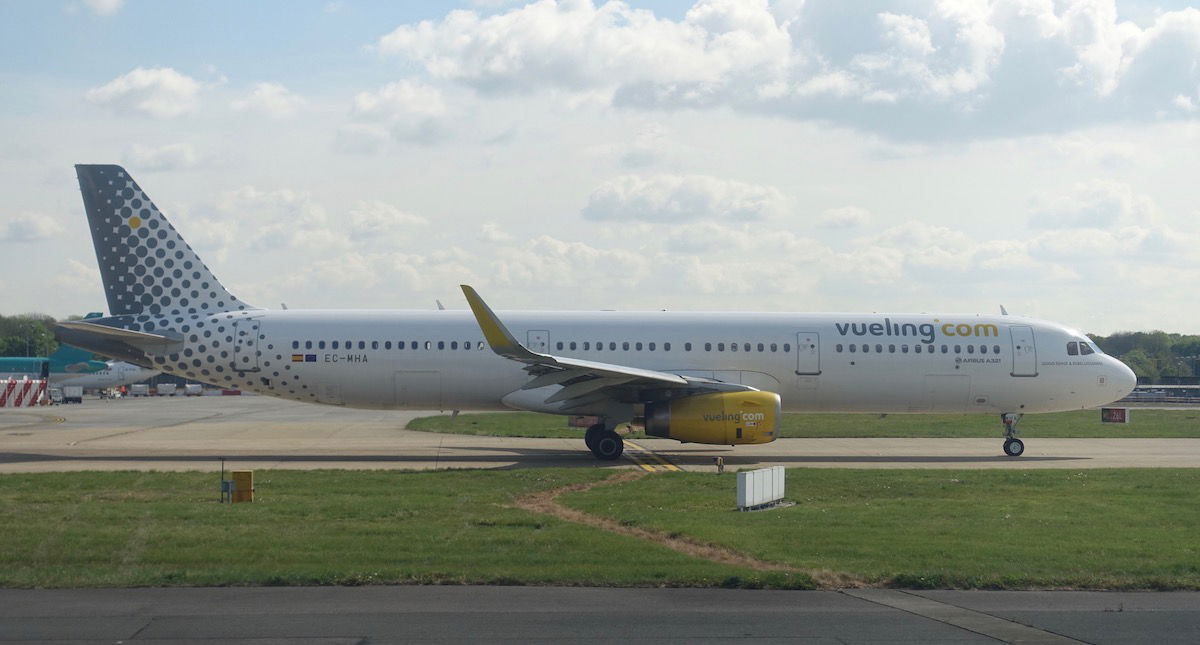 Vueling A321 Gatwick Airport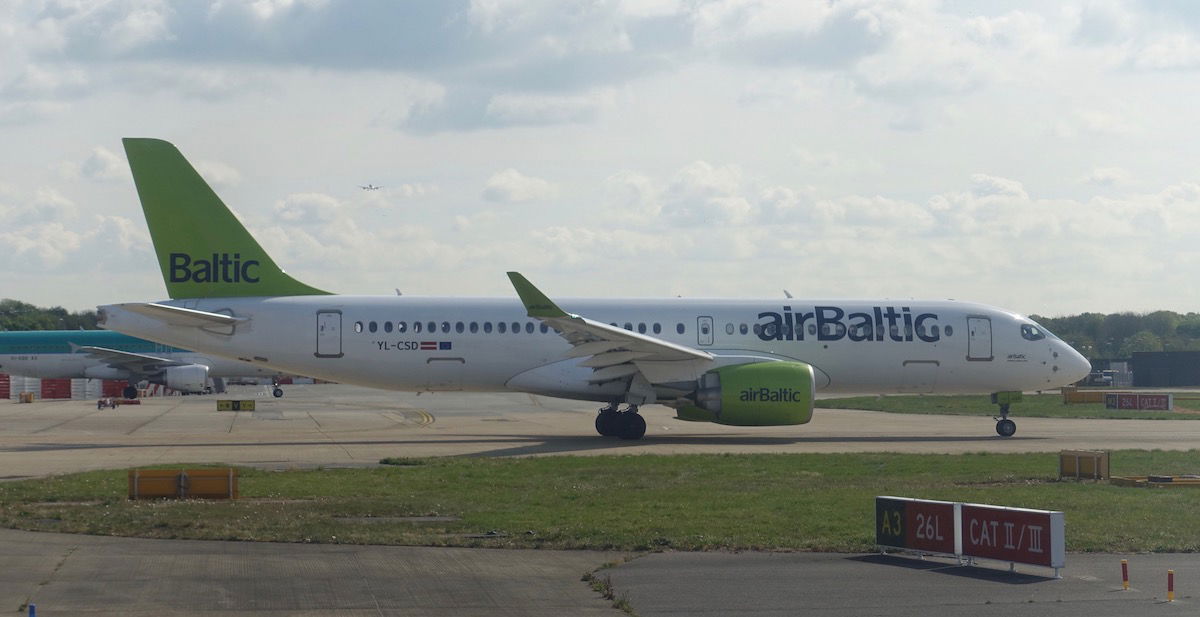 AirBaltic A220 Gatwick Airport
By 10:10AM we were cleared for takeoff on runway 26L.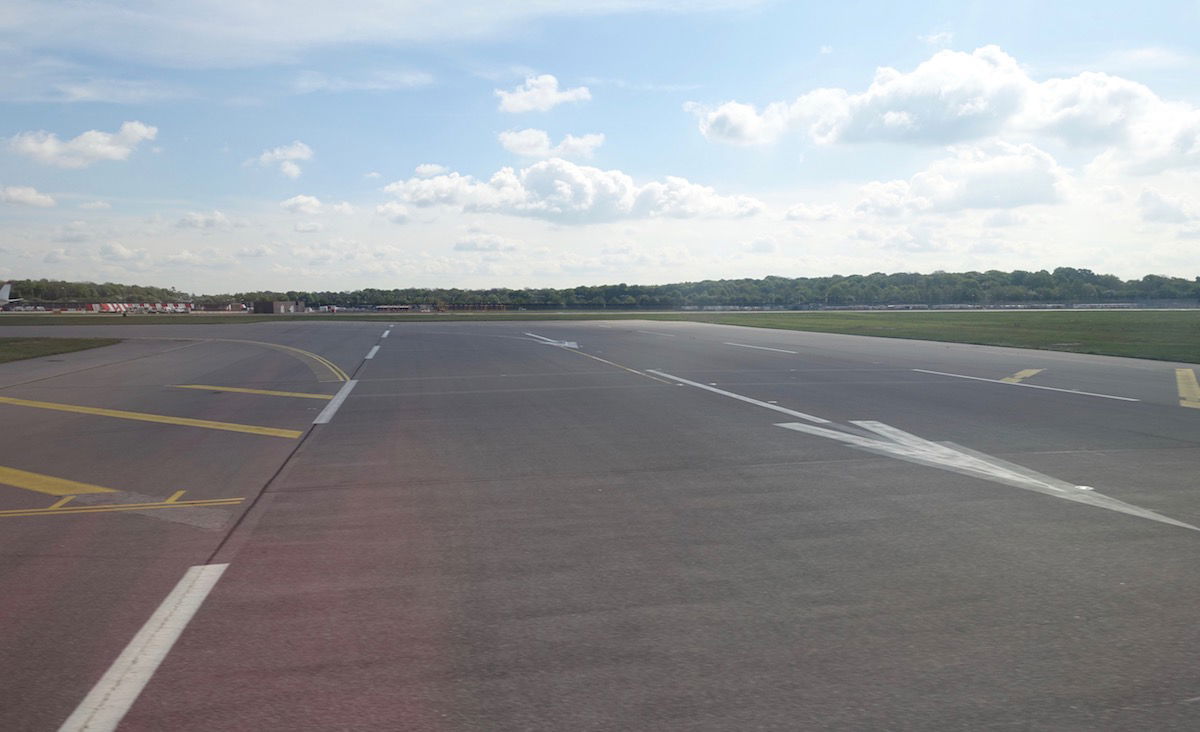 Taking off from Gatwick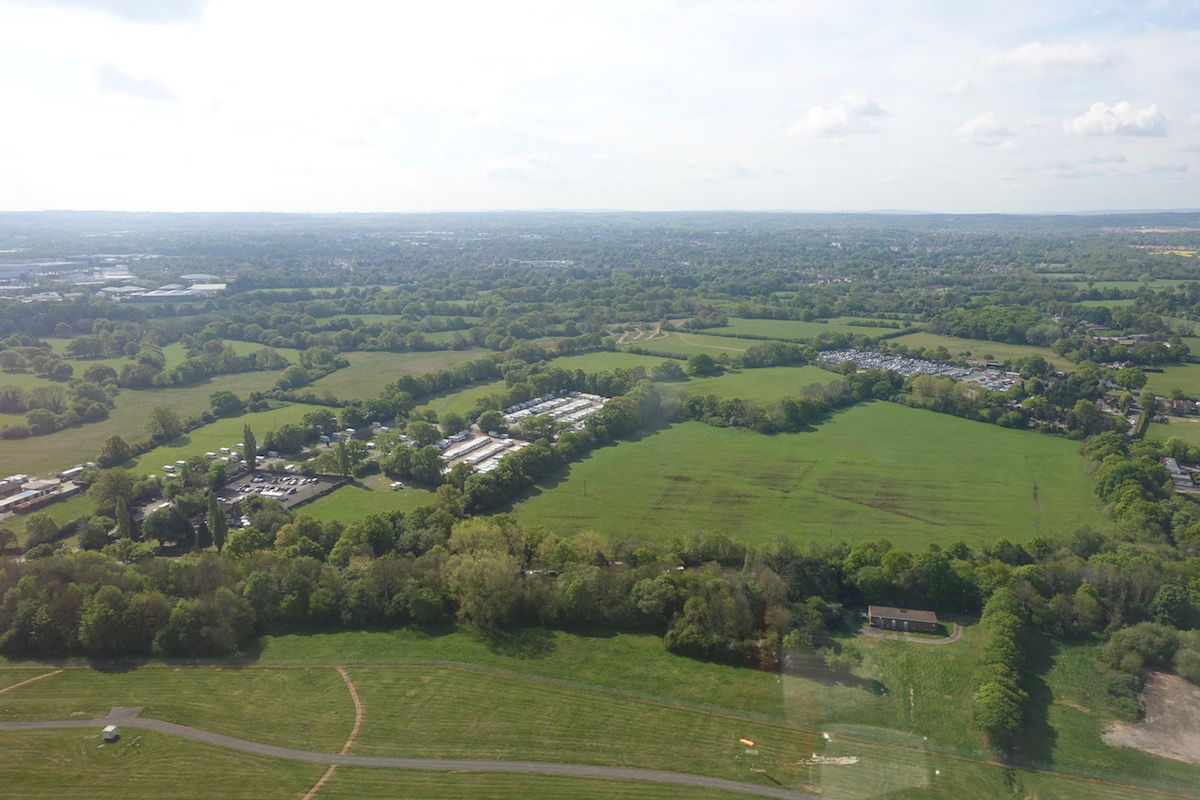 View after takeoff from Gatwick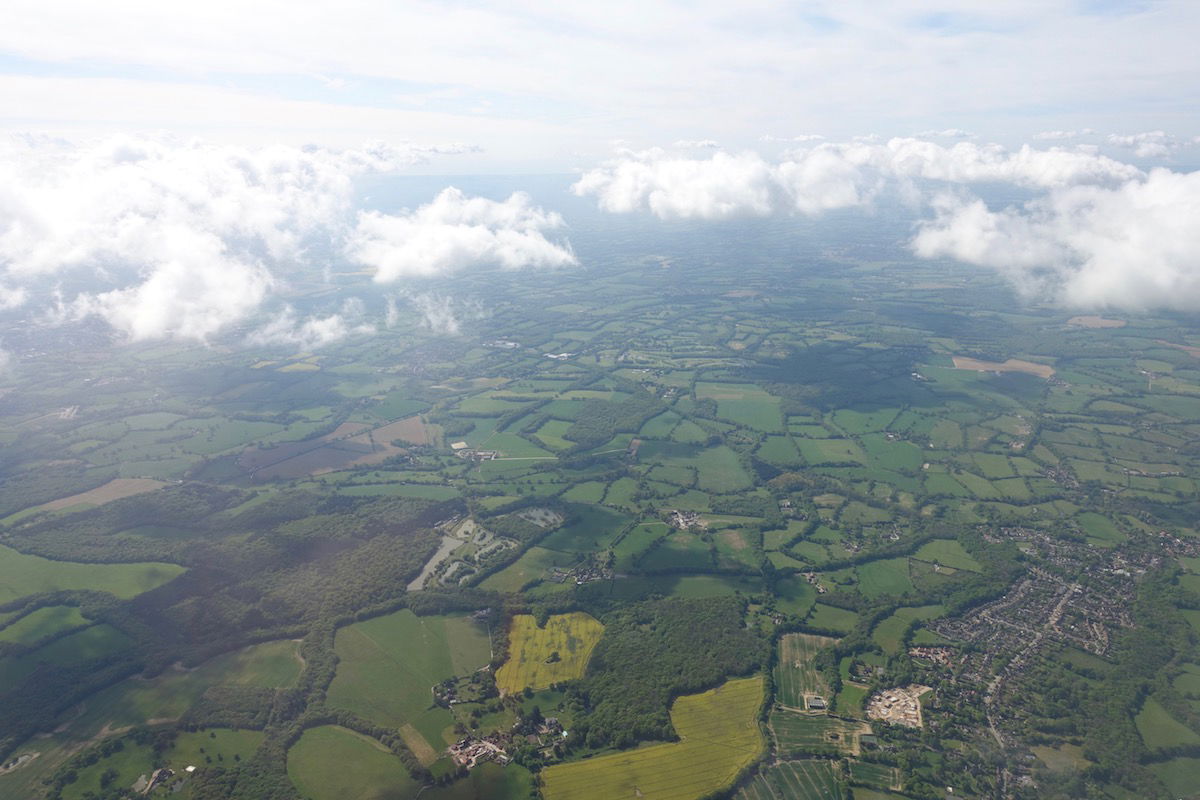 View after takeoff from Gatwick
The views on the climb out were beautiful, and about 10 minutes after takeoff the seatbelt sign was turned off. At that point the curtains between cabins were closed, and the monitors popped out from the overheads. They had some TV programming on there throughout the flight, mixed in with the moving map.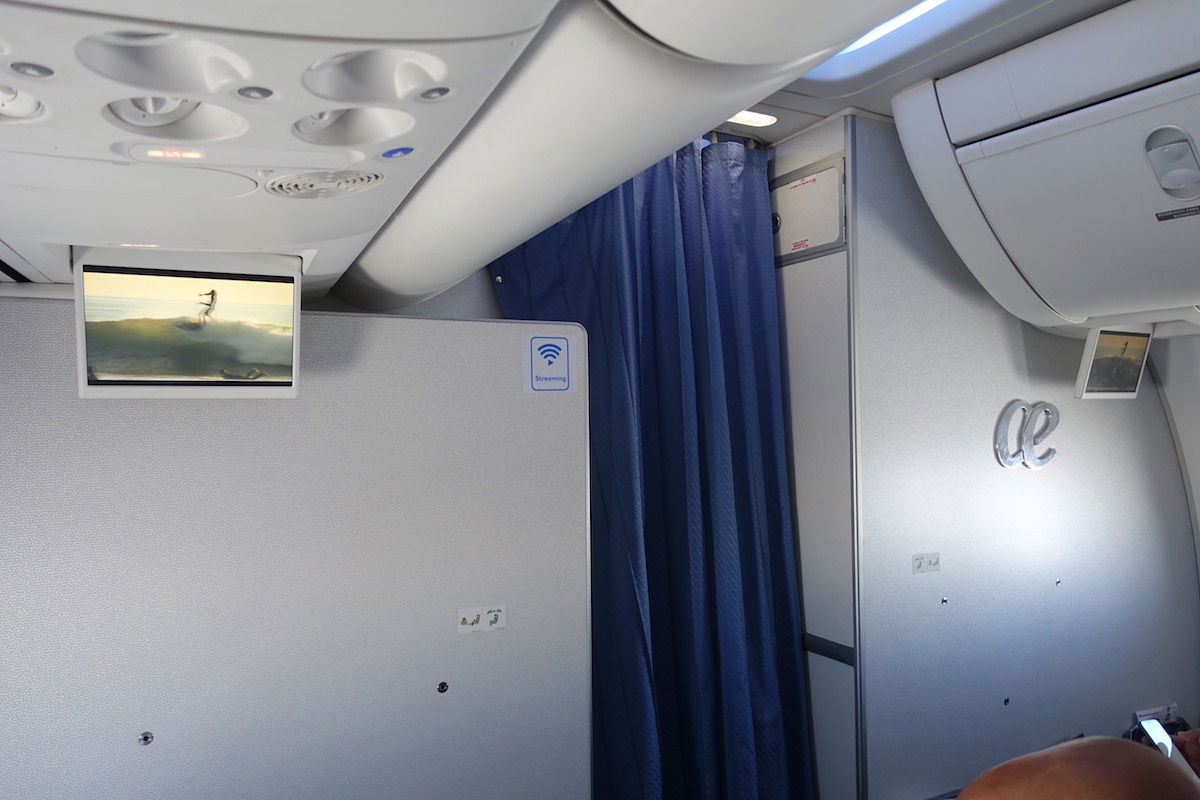 Air Europa business class cabin
While Air Europa doesn't offer Wi-Fi on their 737s, they do have streaming entertainment, which is better than nothing.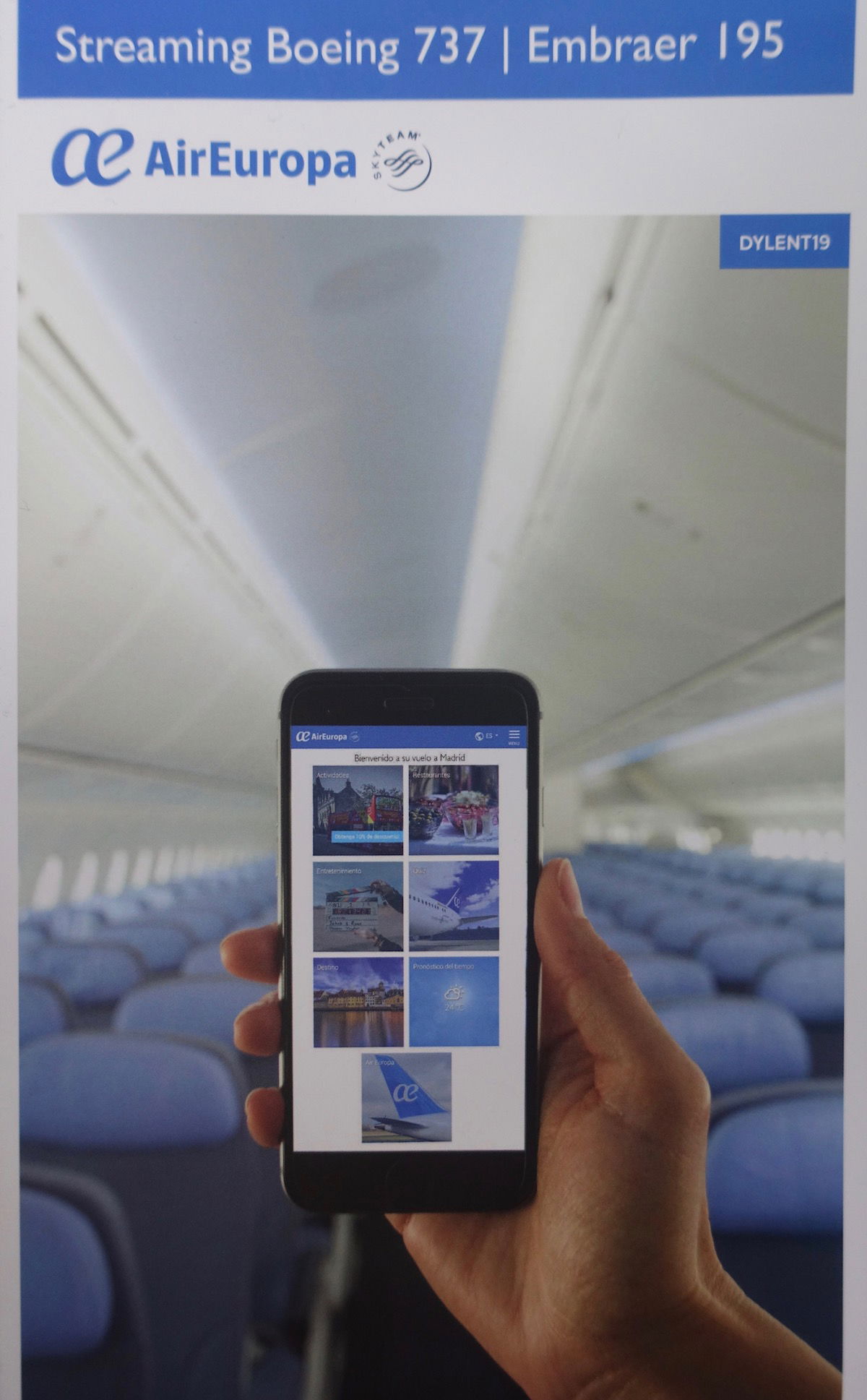 Air Europa streaming entertainment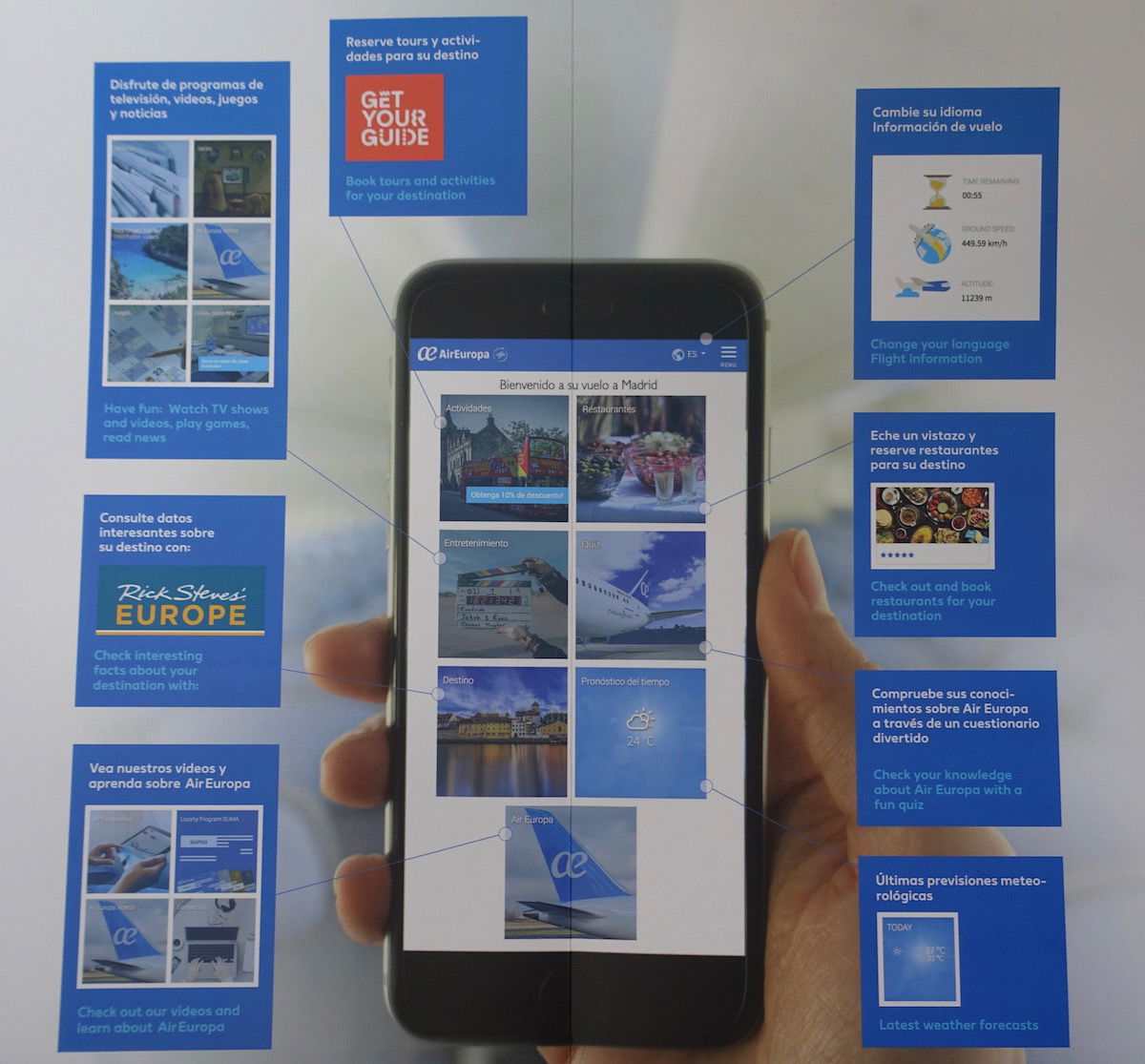 Air Europa streaming entertainment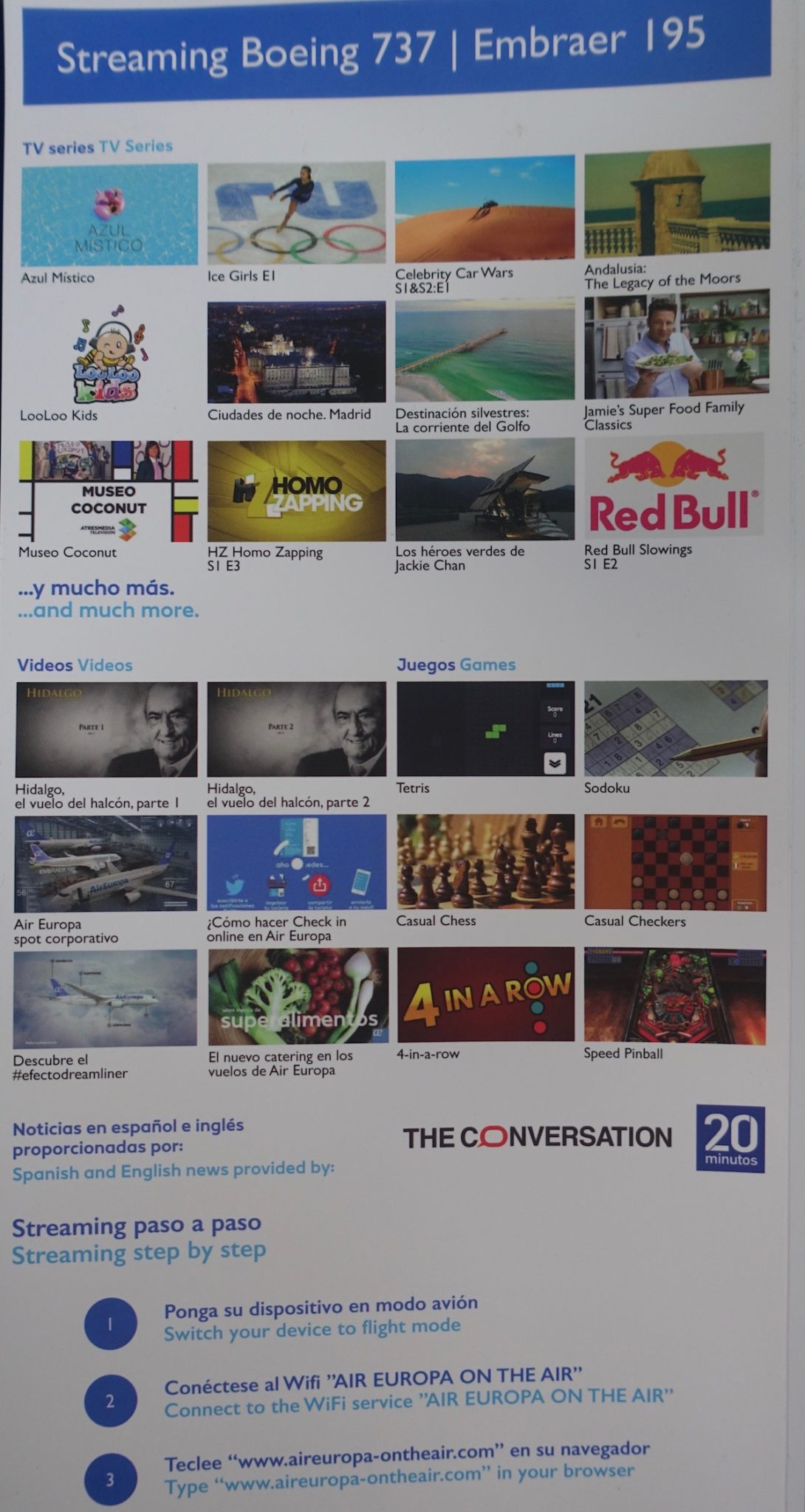 Air Europa streaming entertainment
About 15 minutes after takeoff the crew distributed packaged towels.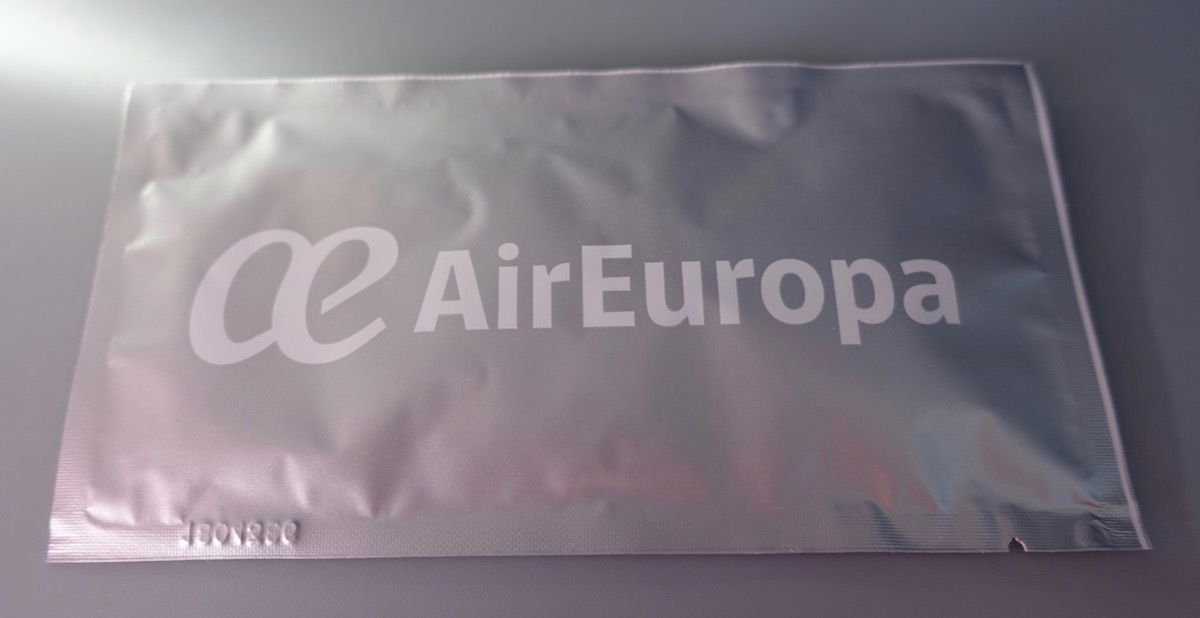 Air Europa business class refreshing towel
After that drinks were served off a cart. I ordered a coffee, which was served in a plastic up, along with a sparkling water, which was served in a glass. I was also given a small chocolate on the side.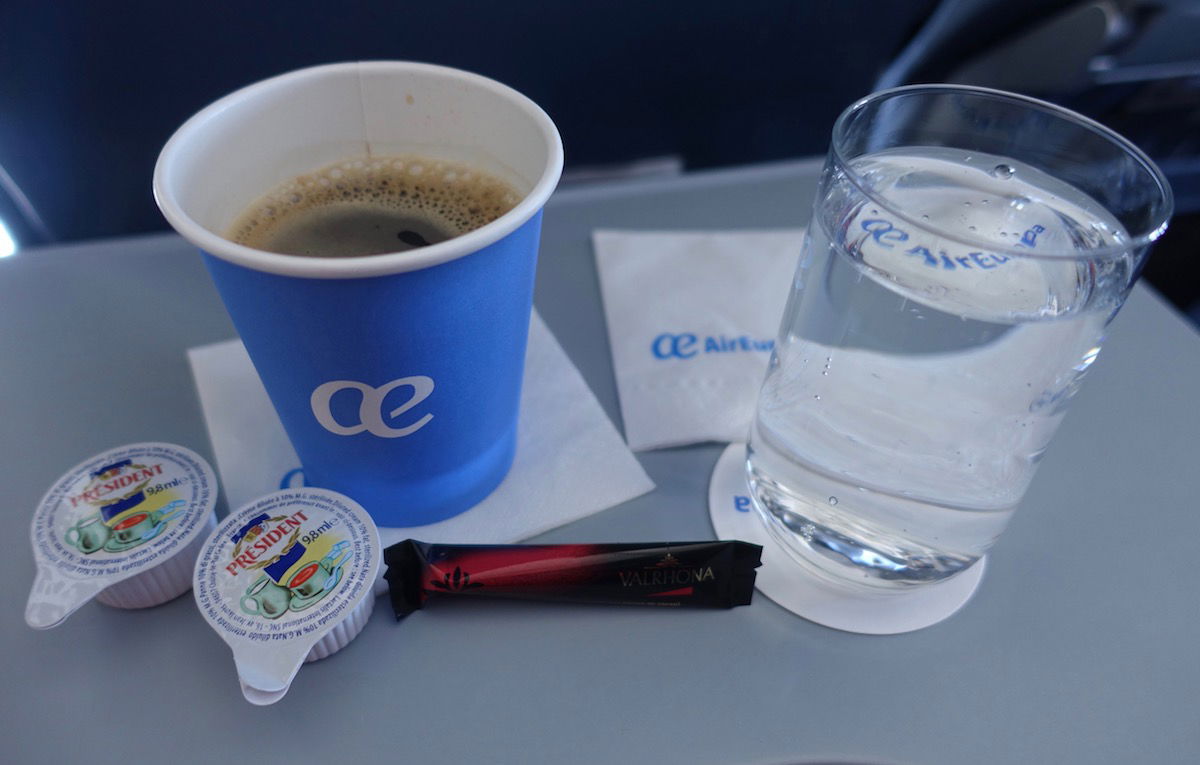 Air Europa business class drinks
Then about 10 minutes later breakfast was served — there was just one choice. I appreciated that the tray had a card describing everything being served.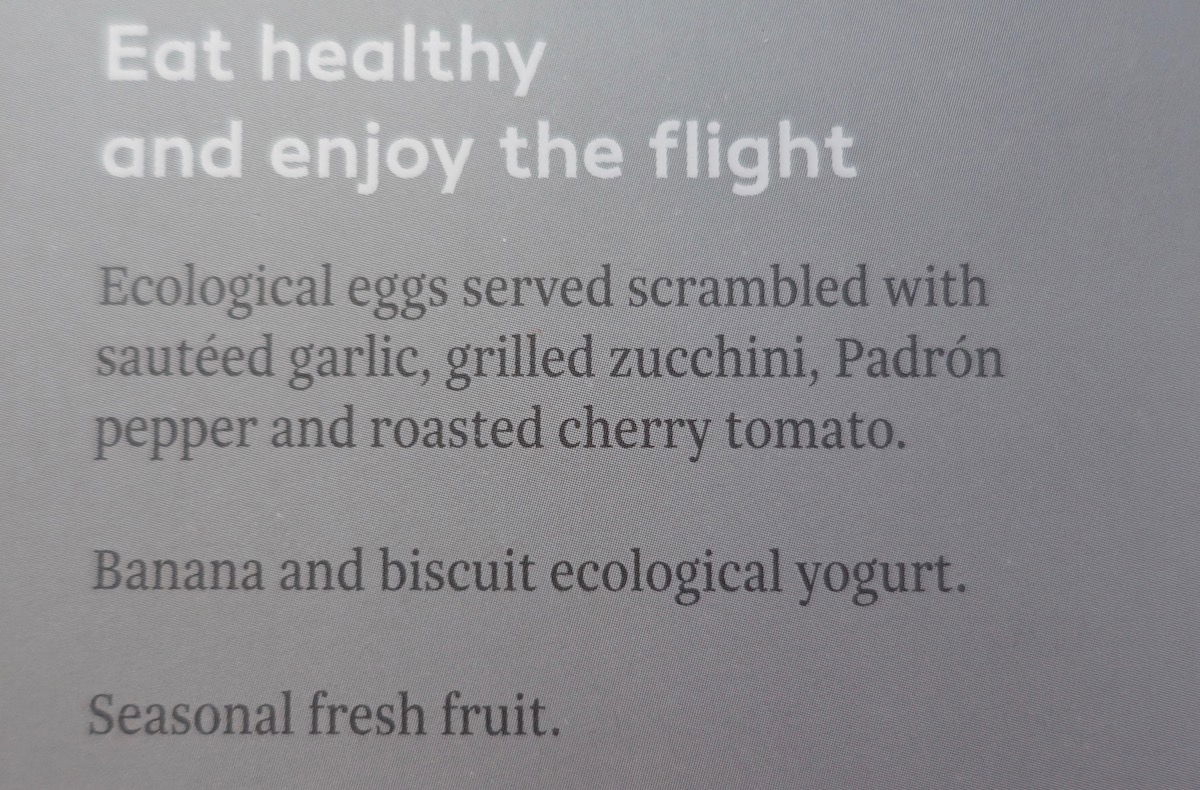 Air Europa business class breakfast menu
I thought the breakfast presentation was super cute, with the warm part of the dish being served in a "pan" with a lid.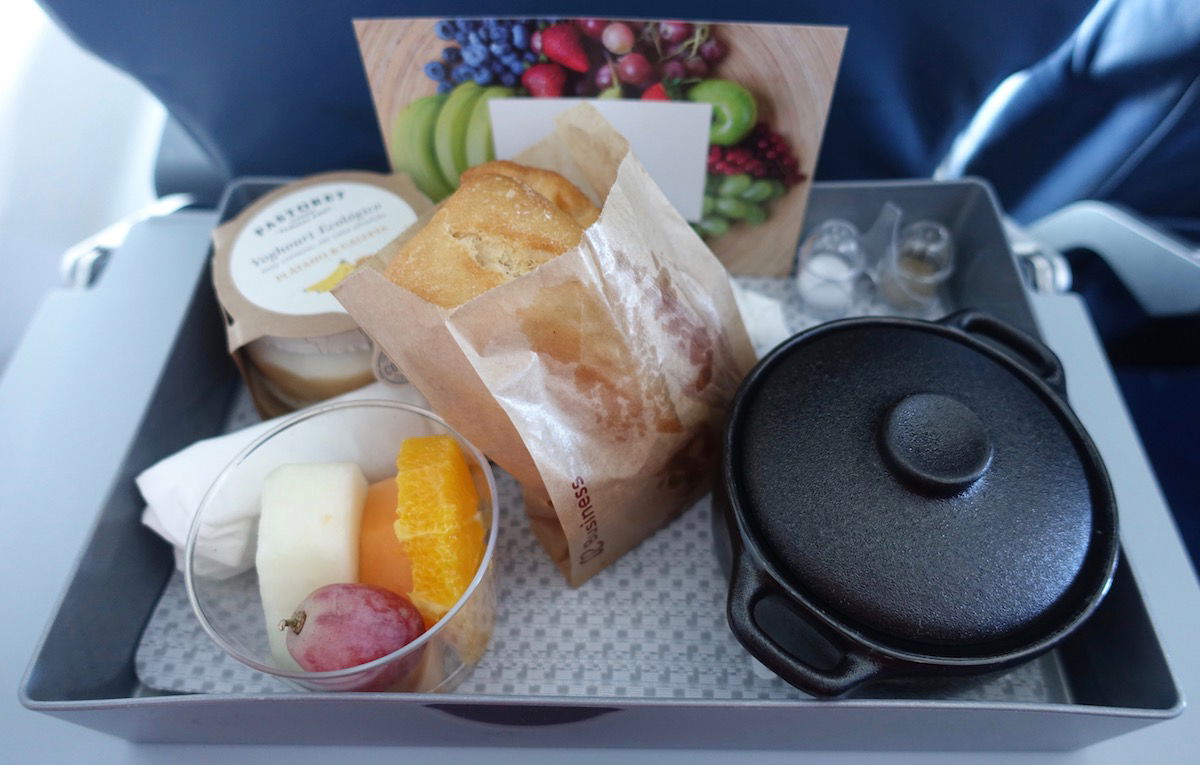 Air Europa business class breakfast
Breakfast included scrambled eggs with sautéed garlic, grilled zucchini, Padron pepper, and roasted cherry tomato. Then there was banana and biscuit yogurt, as well as fresh fruit and warm bread.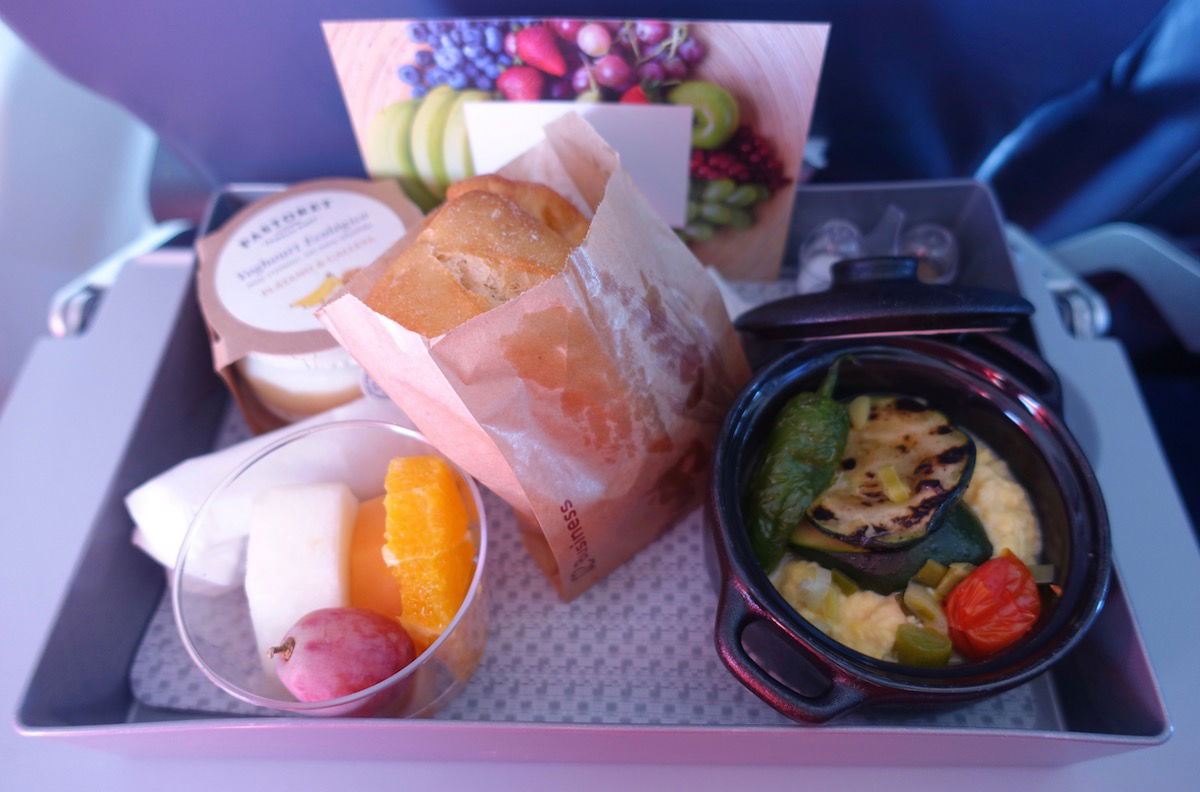 Air Europa business class breakfast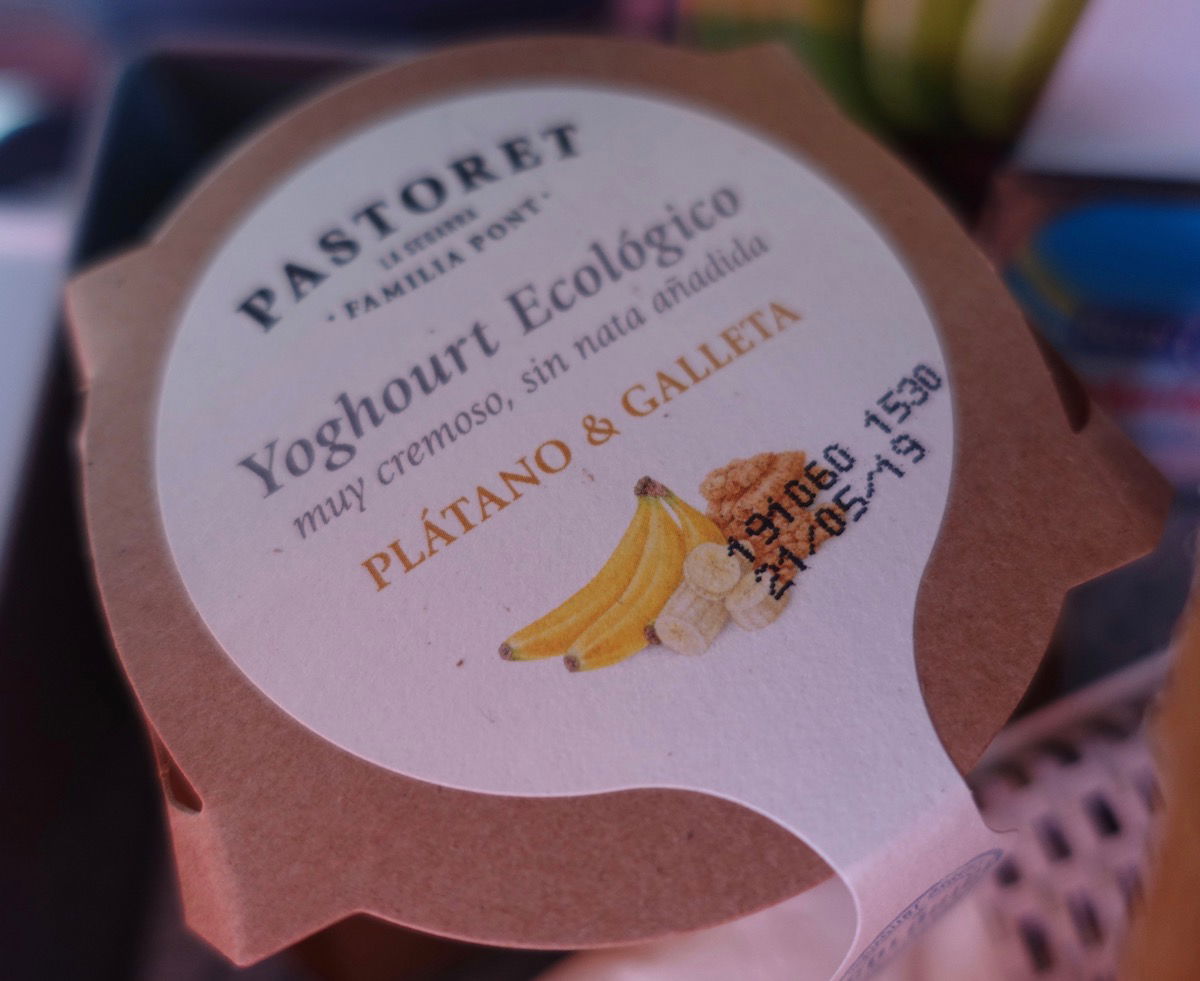 Air Europa business class breakfast
The breakfast was tasty, and the crew passed through the cabin several times to offer drink refills. The entire crew was extremely friendly.
About halfway through the flight I checked out the lavatory at the front of the cabin, which had no frills but was clean.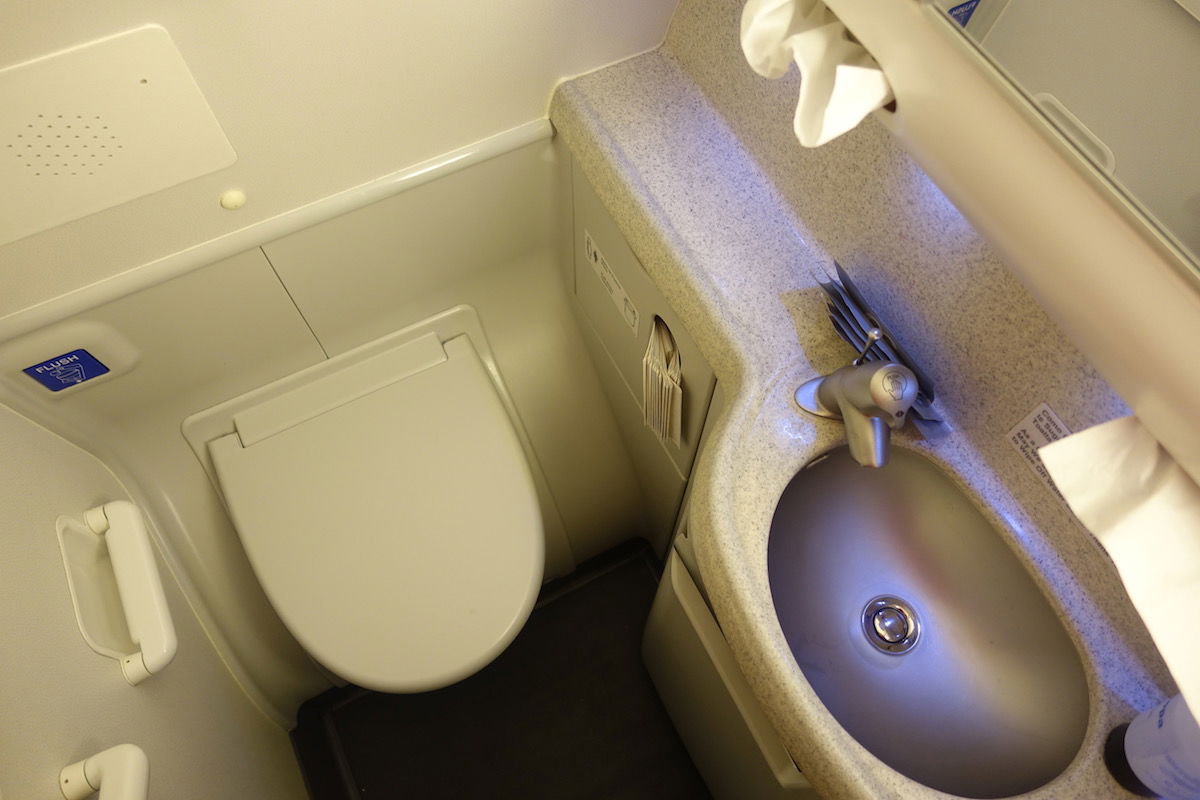 Air Europa 737 lavatory
45 minutes before landing it suddenly got really bumpy, and that lasted for a few minutes.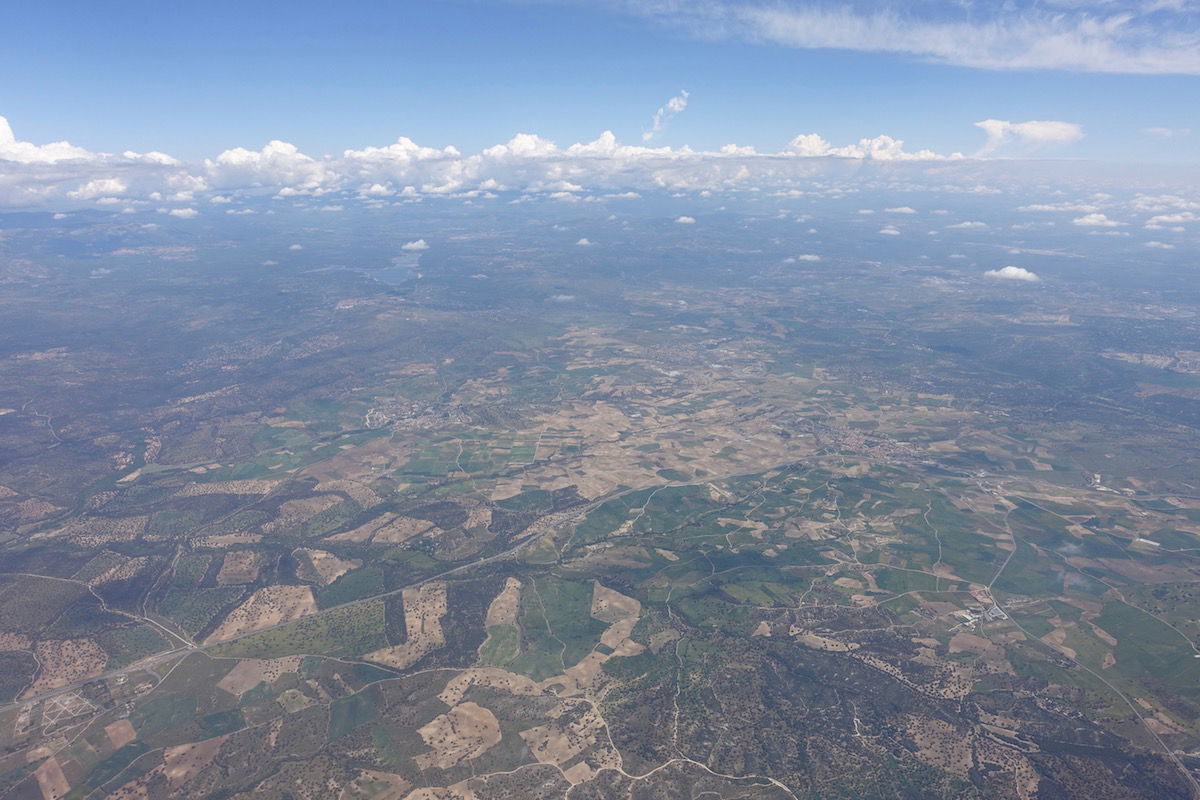 View enroute to Madrid
At 12:35PM Madrid time we began our descent, and five minutes after that the seatbelt sign was turned on. The views on our descent to Madrid were beautiful.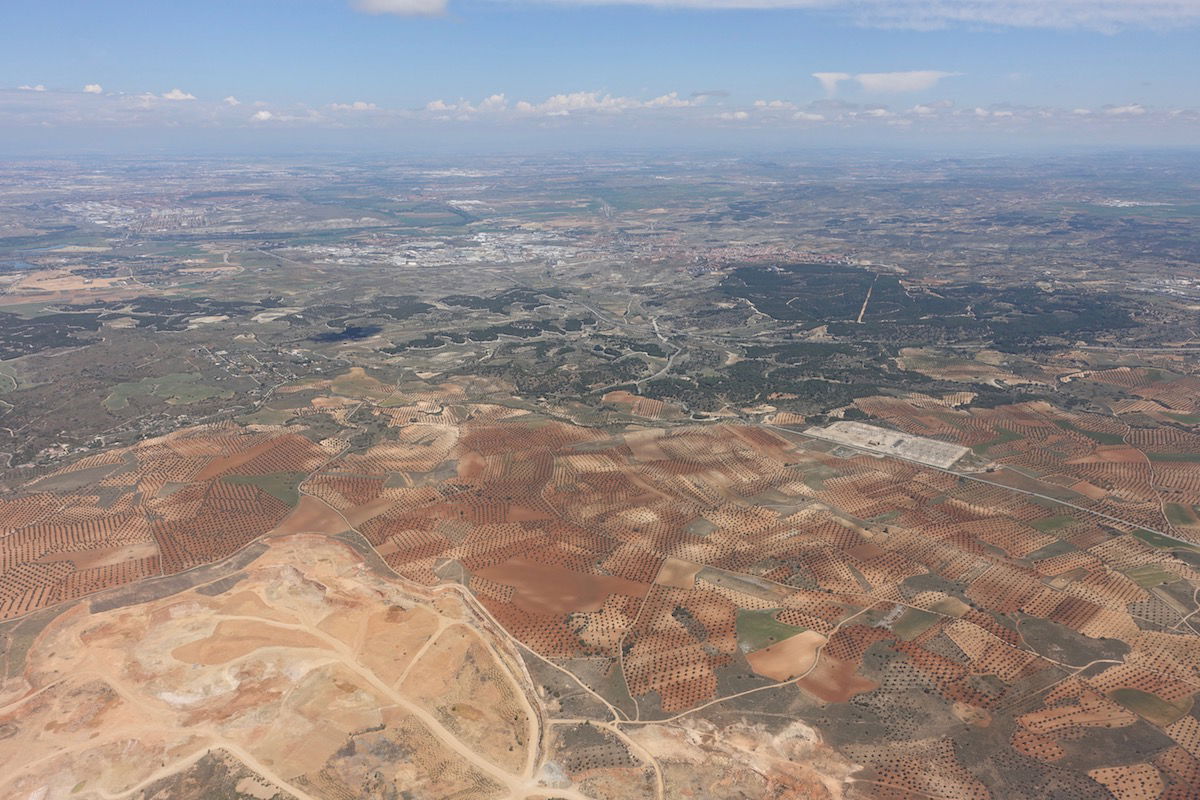 View enroute to Madrid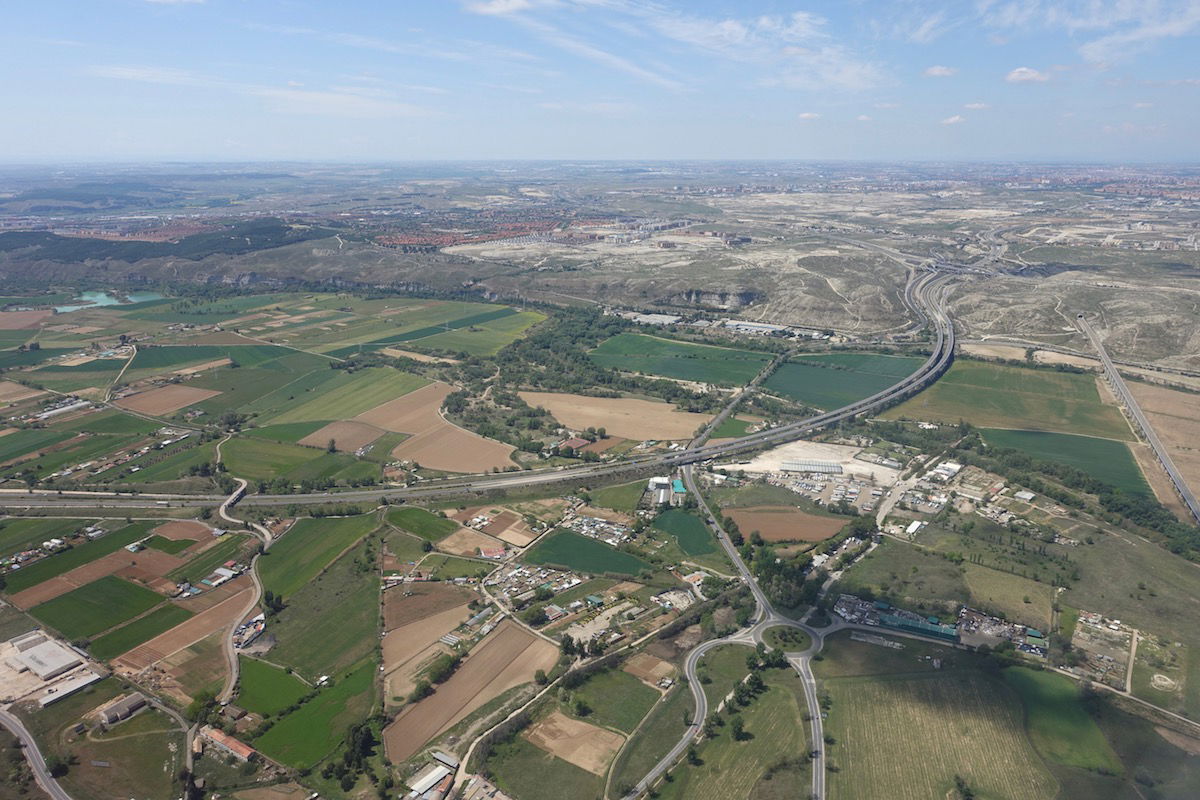 View enroute to Madrid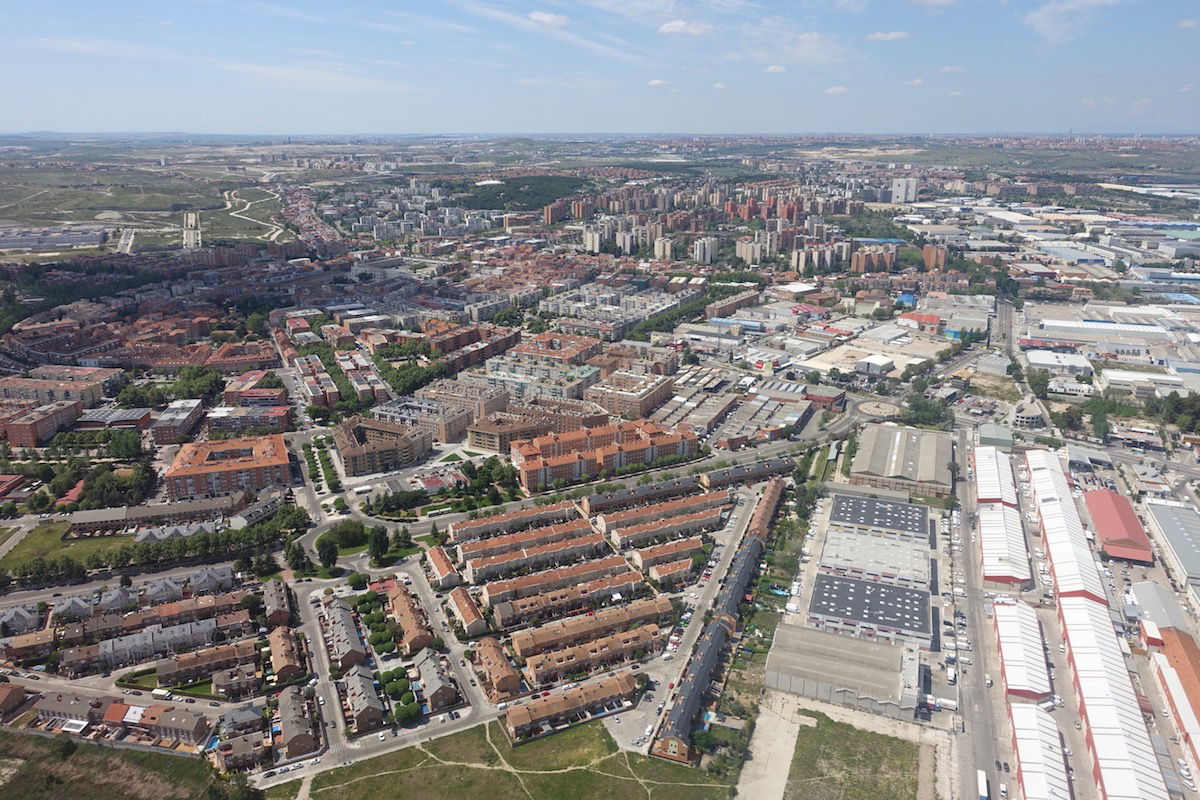 View enroute to Madrid
We touched down in Madrid at 1PM, and had a five minute taxi to our arrival gate.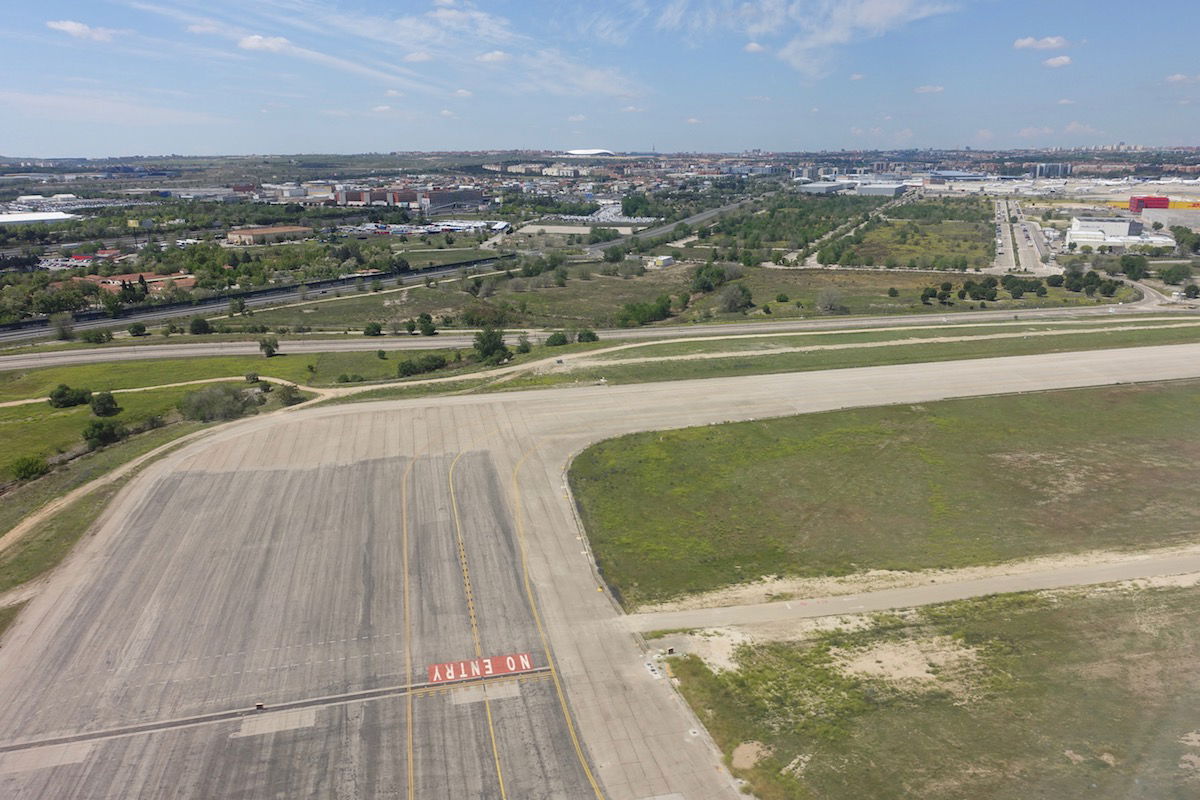 View approaching Madrid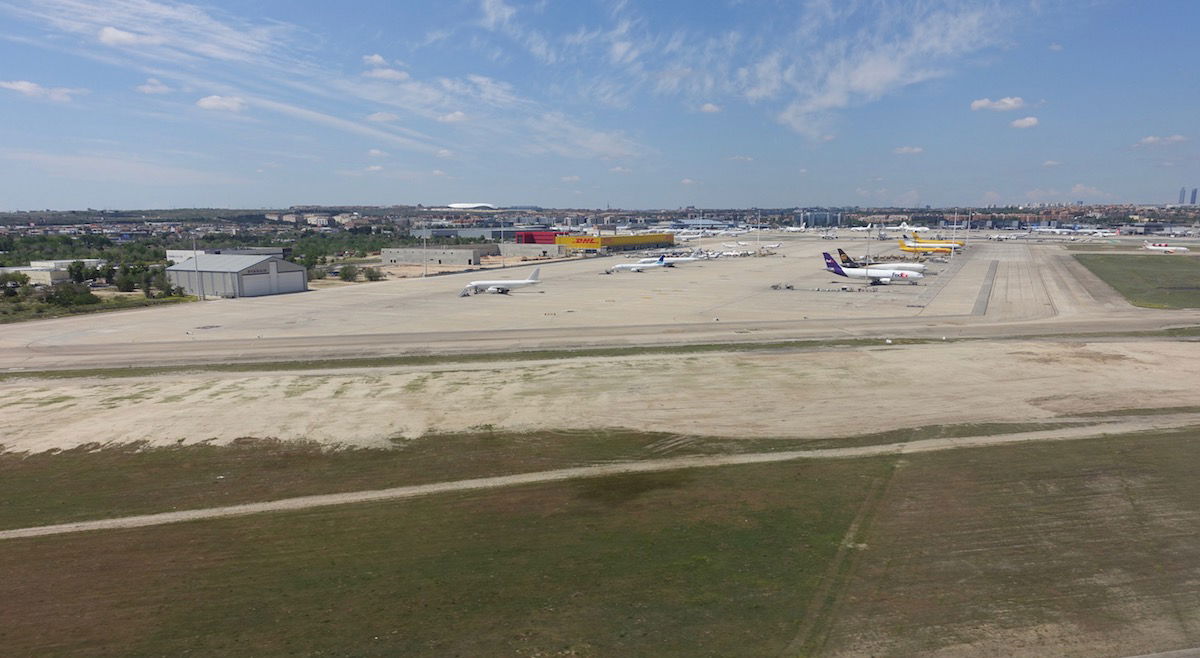 View approaching Madrid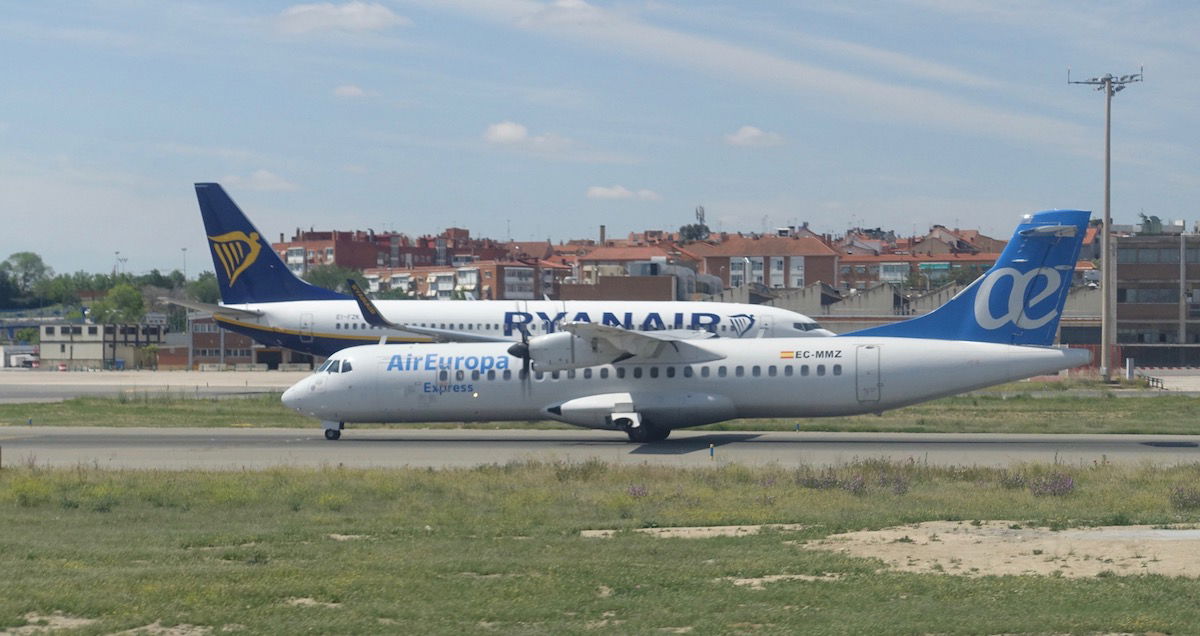 Taxiing Madrid Airport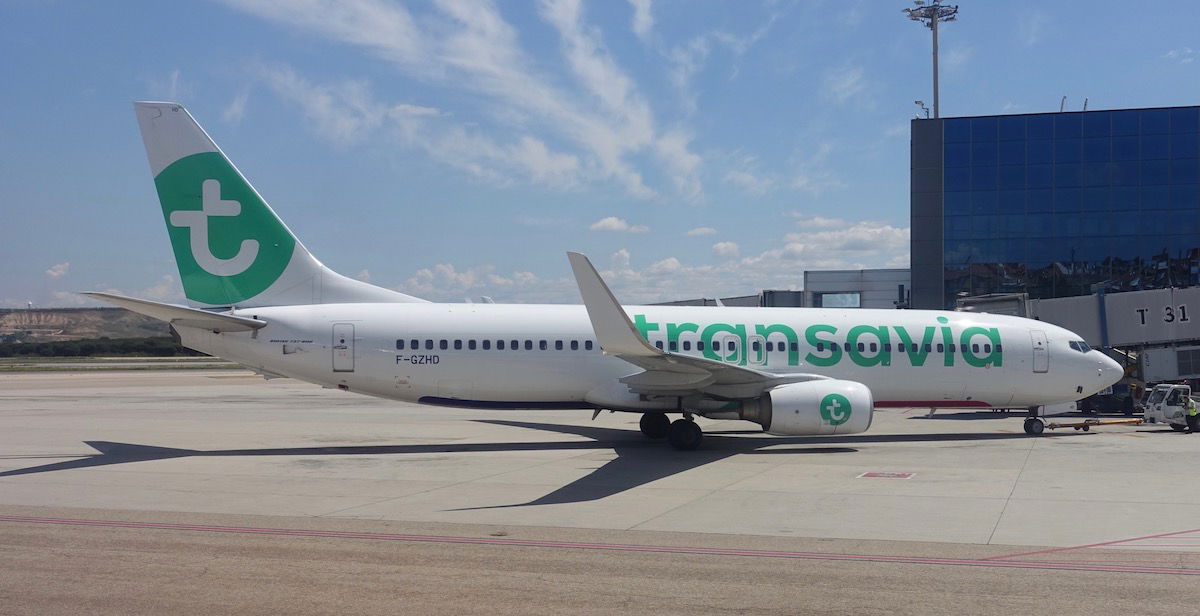 Transavia 737 Madrid Airport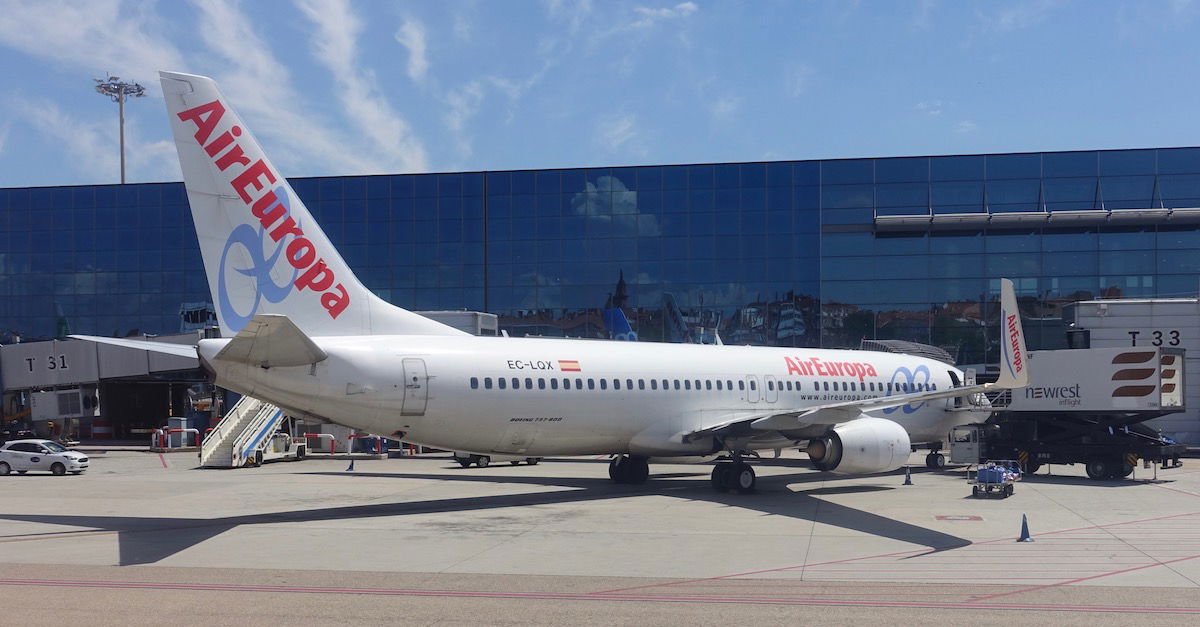 Air Europa 737 Madrid Airport
The catch is that while we got to our gate at 1:05PM, it took over 20 minutes before we could deplane. They weren't using the jet bridge for the flight, but rather had to set up air stairs so that we could be bussed to the terminal. I'm not sure if this was because there was a problem with the jet bridge, or if it was an issue of us not arriving at the right part of the terminal for immigration purposes.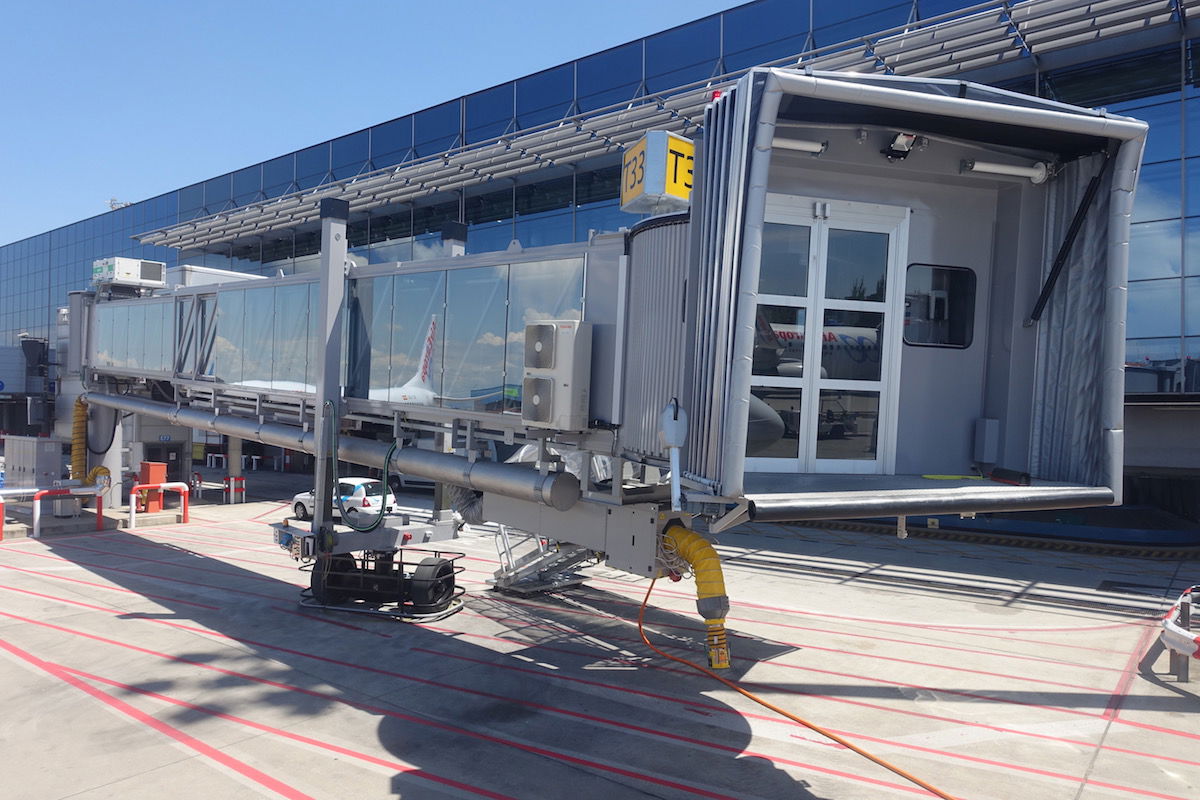 Arrival gate Madrid
Furthermore, due to how close we parked to the jet bridge (I'd guess), we could only deplane through the rear door, so business class passengers were the last off.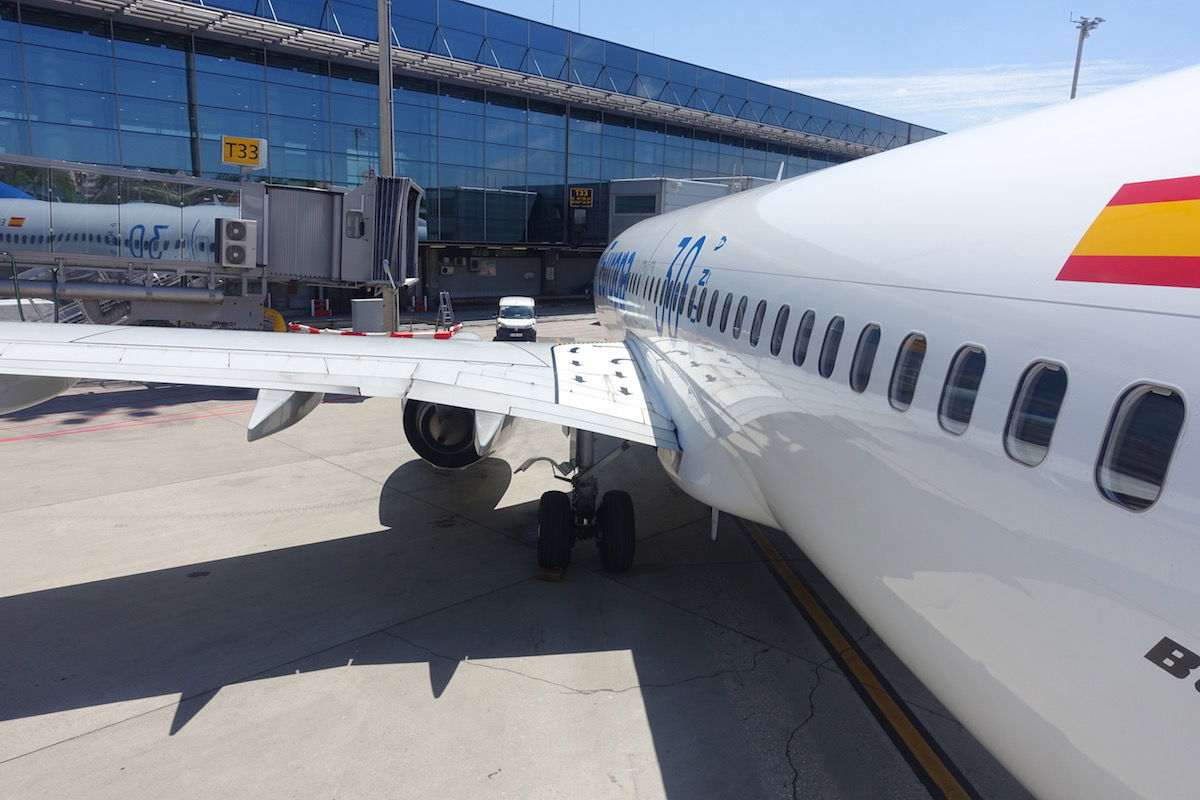 Air Europa 737 Madrid Airport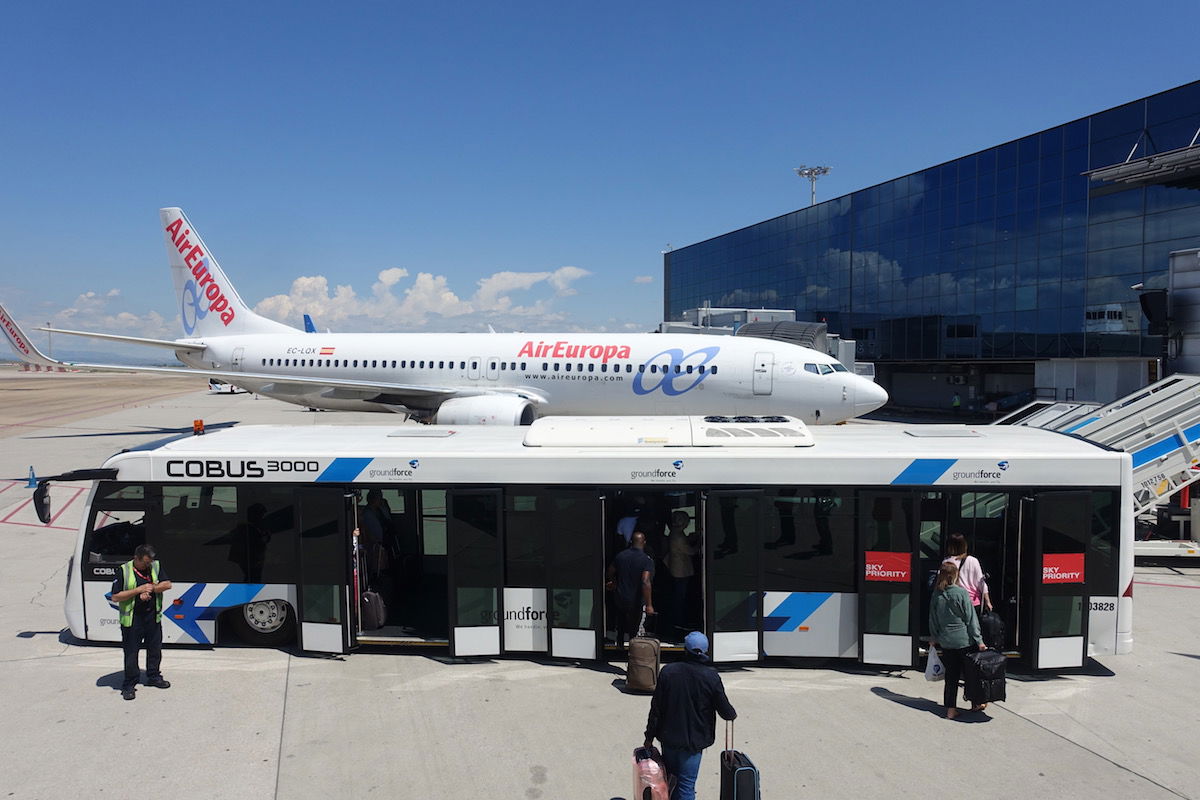 Bus to terminal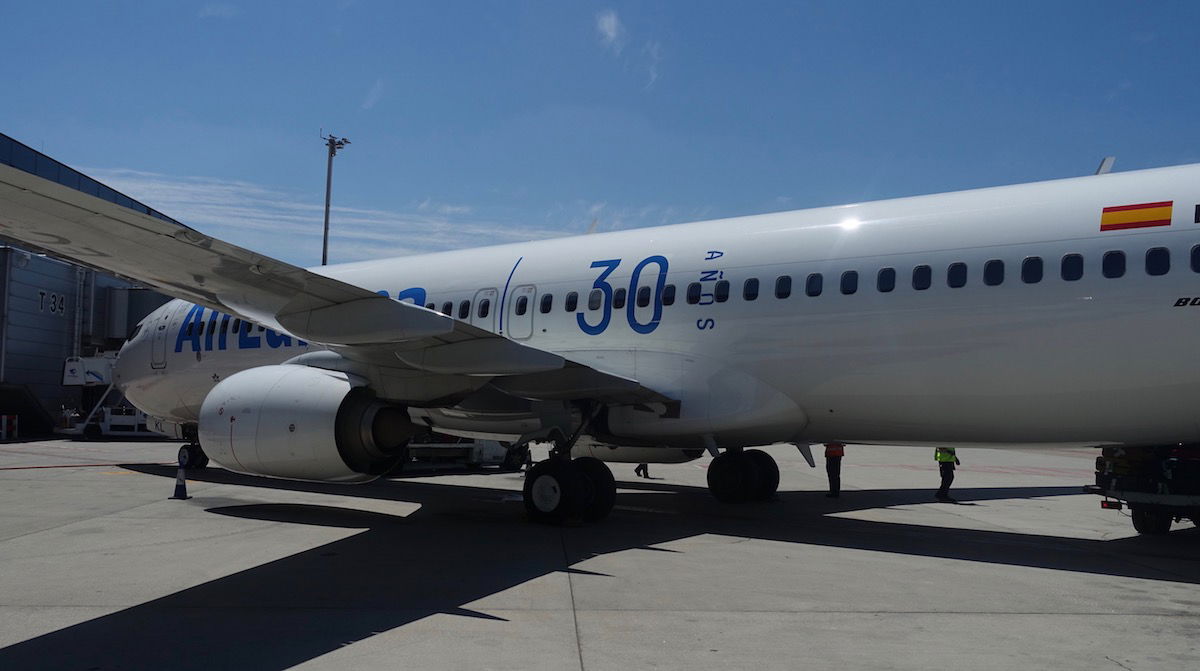 Air Europa 737 Madrid Airport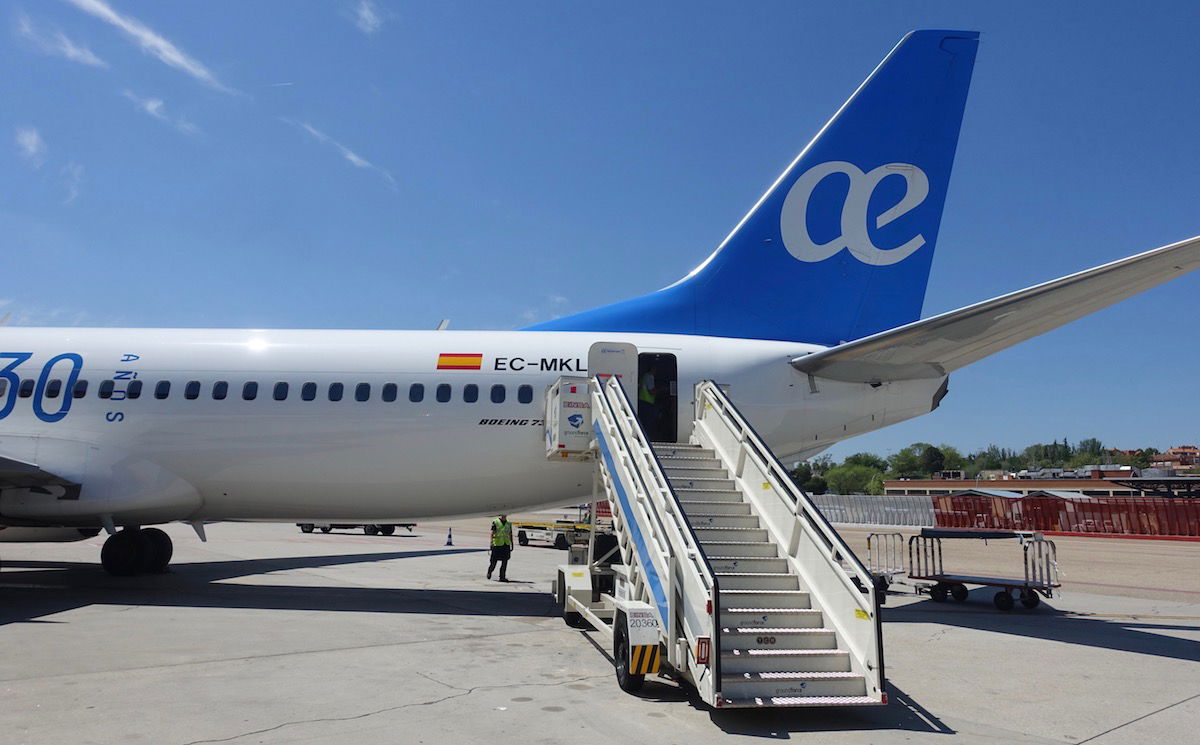 Air Europa 737 Madrid Airport
From there we had a five minute drive to the terminal.
Air Europa 737 business class bottom line
Air Europa greatly exceeded my expectations. I've always viewed them as being the second rate Spanish airline (after Iberia), which isn't exactly saying a whole lot. However, the cabin was comfortable and new, crew friendly, and food good. I wouldn't hesitate to fly Air Europa again within Europe.