As Ben pointed out yesterday, if there's a silver lining to the brutal treatment of a United Airlines passenger forcibly kicked off a Louisville-bound plane Sunday evening in order to accommodate deadheading crew, it's that suddenly the casually callous method of customer service perfected by United Airlines (although surely in one-off instances mirrored by American, Delta, and others) is starting to receive major pushback from the general public, and not just the insular miles-and-points community. People are outraged, and rightly so.
Now that this outrage is part of the national conversation, it seems more people are feeling like it's worthwhile to come out of the woodwork — that their individual stories of customer treatment might collectively create a critical mass that might finally result in a sea change in terms of customer service.
The consumer affairs columnist for the Los Angeles Times published a piece yesterday which is infuriating, though not nearly in comparison to the horrific ejection of Dr. David Dao on Sunday. Per the Times:
Geoff Fearns, 59, is president of TriPacific Capital Advisors, an Irvine investment firm that handles more than half a billion dollars in real estate holdings on behalf of public pension funds. He had to fly to Hawaii last week for a business conference.

Fearns needed to return early so he paid about $1,000 for a full-fare, first-class ticket to Los Angeles. He boarded the aircraft at Lihue Airport on the island of Kauai, took his seat and enjoyed a complimentary glass of orange juice while awaiting takeoff.

Then, as Fearns tells it, a United employee rushed onto the aircraft and informed him that he had to get off the plane.

"I asked why," he told me. "They said the flight was overfull."

Fearns, like the doctor at the center of that viral video from Sunday night, held his ground. He was already on the plane, already seated. He shouldn't have to disembark.

"That's when they told me they needed the seat for somebody more important who came at the last minute," Fearns said. "They said they have a priority list and this other person was higher on the list than me."

Apparently United had some mechanical troubles with the aircraft scheduled to make the flight. So the carrier swapped out that plane with a slightly smaller one with fewer first-class seats.

Suddenly it had more first-class passengers than it knew what to do with. So it turned to its "How to Screw Over Customers" handbook and determined that the one in higher standing — more miles flown, presumably — gets the seat and the other first-class passenger, even though he's also a member of the frequent-flier program, gets the boot.

"I understand you might bump people because a flight is full," Fearns said. "But they didn't say anything at the gate. I was already in the seat. And now they were telling me I had no choice. They said they'd put me in cuffs if they had to."
Now, look: obviously this isn't a sob story. We're talking about a very wealthy man who was kicked out of his first class seat at the Kauai Airport. And he wasn't, in fact, kicked off the plane; when he deboarded and spoke to a gate agent, he was given a middle seat in economy instead.
What he wasn't given? A refund.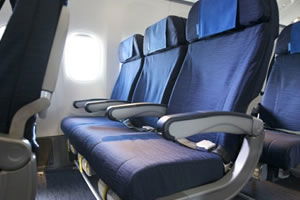 What's resonant about this story is simply that United doesn't seem to have a very good way of handling its customers.
Threatening any customer with handcuffs because the airline has an inventory management issue is despicable, but it seems particularly ill-advised of United Airlines to actually threaten a paid first class passenger — who, it sounds like, wasn't putting up a fight, just arguing at the necessity of his move — with handcuffs. Were the police going to be called? Who knows, but the fact that United trains its staff and crew to use the word "handcuffs" as a way to get a passenger to shut up is beyond deplorable.
Of course, I'm taking this passenger's account with a grain of salt for many reasons, but what's clear from the article is:
Geoff Fearns purchased a $1,000 last minute first class fare from Kauai to Los Angeles
When he was seated on the plane and enjoying a pre-departure beverage, a gate agent boarded and asked him to leave the plane in order to accommodate a customer with higher status
Fearns had to proactively ask to be accommodated on the scheduled flight rather than bumped to the next one, so he was placed in a middle seat in economy
Fearns asked United for a refund but was only given the difference in fare between first and economy…again, only at his request was the airline even offering to give him a partial refund
Those are all bad things. Now, I would imagine they would have preferred to accommodate him on the next flight in his paid fare class where he would have flown in first, but it seems like that wasn't an option.
What would have been an option? For a gate agent to discreetly ask if any one passenger in the first class cabin wanted to get on a later flight in exchange for a voucher. That would have avoided having to demand that a passenger leave because his status wasn't high enough on the totem pole.
I do think it's important to continue sharing stories and experiences like this, not to garner sympathy for a multimillionaire financial adviser but instead to drive home the point that enough is enough, that "we're gonna put you in handcuffs" to enforce a business issue has the whiff of a criminal shakedown, and that offering passengers cash to voluntarily deboard should be Step No. 1, Step No. 2 and Steps No. 3-10, and that involuntary boarding should perhaps be prohibited altogether. (As it's been said before, everyone has a price, so there's no way that one more customer won't voluntarily deboard even if it takes $2,000.)
I suspect that this story won't gather much outrage in these parts, nor should it, but it does pile on to the depressing conclusion that United has no idea how to run a business that cares about its customers. Bottom line, an airline ought to treat its passengers with the same respect that, say, Tiffany & Co. might treat a customer who throws down $400 for a set of cufflinks.
---
This has been a quickly-moving story with myriad updates. The full coverage of the United incident from the One Mile at a Time team is as follows: