On April 15, United discontinued the largely unpublished policy of "inherited" status on award tickets. This meant that the person flying on the award ticket would no longer have the benefits associated with the Premier from who's account the ticket was booked. As I discussed at the time, this basically amounted to the end of free Economy Plus seats, free checked bags, and the potential for upgrades. Not great news for many.
On the other hand, award tickets booked from the accounts of Global Service, Premier 1K, or Premier Platinum accounts have always been exempt from change fees, cancellation fees, and redeposit fees. And that was not supposed to change.
Unfortunately, that's not what's been happening.
There are many reports that the United website is now charging the $200 award redeposit fee based on the status of the passenger, not the account holder.

It Happened To Me
I had booked an award ticket for a General Member (non-status) family member to come visit us. The ticket was booked after April 15, so I knew that they would not inherit my baggage allowance or seating benefits. But I certainly expected that I would be able to cancel the ticket without a penalty, a benefit that comes in handy if you have flaky friends and family.
It turned out, the family member couldn't make the trip, so I needed to cancel. As anyone who has ever cancelled an award ticket on united.com knows, it requires clicking through multiple screens that keep asking basically the same thing over and over again. So if you do this occasionally, it's pretty easy to fall asleep and just go through the motions. Click, click, click and the ticket is eventually cancelled.  
And then I eventually looked at my credit card statement and noticed a $200 fee from United.
Was I Informed Of The Fee?
Like I say, I've cancelled award tickets a few times, so I generally know what the process looks like and what the screens say. I'm sure I was busy at the time and didn't pay much attention. But I honestly don't believe I saw any mention of the fee. If so, that's really concerning.
But when I go back and pretend to cancel a similar award ticket now, I get the following as one of the screens.
Below this message is a field for the credit card information. It would be nice to think that you can't actually be charged the fee without entering your credit card number, but of course if you have a credit card on file, United pre-populates the box with it for your convenience. And then you're charged.
So maybe I was informed of the fee, or maybe I wasn't. Either way, it's bogus.
Getting The Refund
Long story short, I called the Premier line. At first the agent claimed that the benefits had changed as of April 15 and that the fee was legit. When I politely advised that the fee waiver had not changed, she relented.
Then it was a matter of determining how to get a refund. She called the refunds desk on my behalf, but they insisted that they couldn't do this over the phone and that I would have to apply for a refund via the United refunds website. Are you kidding me? You just hit me with a bogus charge, which even your agent says is wrong, and you have no way to remedy the problem in real time?
I complained to the agent that this was ridiculous and she said she'd walk me through the web form. She didn't get very far. There's actually no option in the first drop down for "award redeposit fee".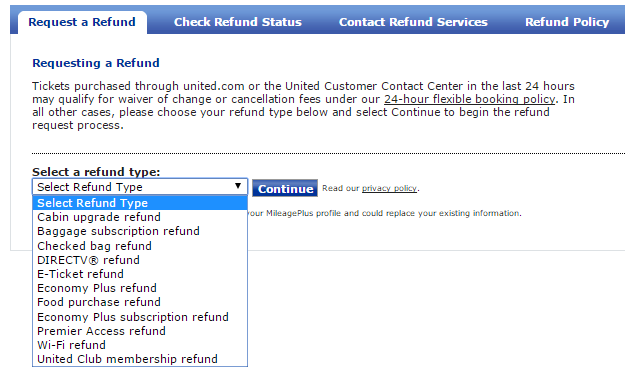 By then, I think even she was annoyed at their system and offered to actually fill it out for me. I accepted. I'm not sure if she used a special form or shoehorned it into one of the existing categories, but apparently it worked. A few minutes later I had an automated email telling me the request would be reviewed in 7-10 business days.
For good measure, I then called my credit card and disputed the $200 charge, because hey, the charge was bogus and United still hadn't fixed it.
Today I received an email from United informing me that my request for a refund had been approved. 
Beware
This bug has been ongoing for about a month according to this FlyerTalk thread. Supposedly United is working on a fix. But the cynic in me wonders if this isn't just a nice little revenue generator for United, and thus there is no real urgency to remedy this bug. I mean, why not just charge the $200 fee? Worst case, a few customers notice it and for those you issue refunds. If they don't notice…
Bottom Line
If you are a GS, 1K, or Platinum member and cancel an award ticket for someone else, make sure you aren't being charged the fee. I would suggest calling in to cancel the ticket, as I think the agent can override the fee. Otherwise you may end up dealing with the refund process just like I did.
---
Has anyone else experience this bogus $200 fee?