Hello from Los Angeles! I just flew Turkish Airlines all the way from the Seychelles to Istanbul to Los Angeles. In a previous post I shared my thoughts on Turkish's A330 business class between the Seychelles and Istanbul, which was a pleasant flight. In this post I wanted to share my thoughts on Turkish's 777 business class, for the 13hr15min flight back to the US.
Turkish's 777 business class consists of flat beds in a 2-3-2 configuration. This is obviously not an ideal hard product, though on the plus side I was traveling with Ford. I mind these seats a lot less when I'm traveling with someone and can select the set of two seats, rather than having to sit next to a stranger.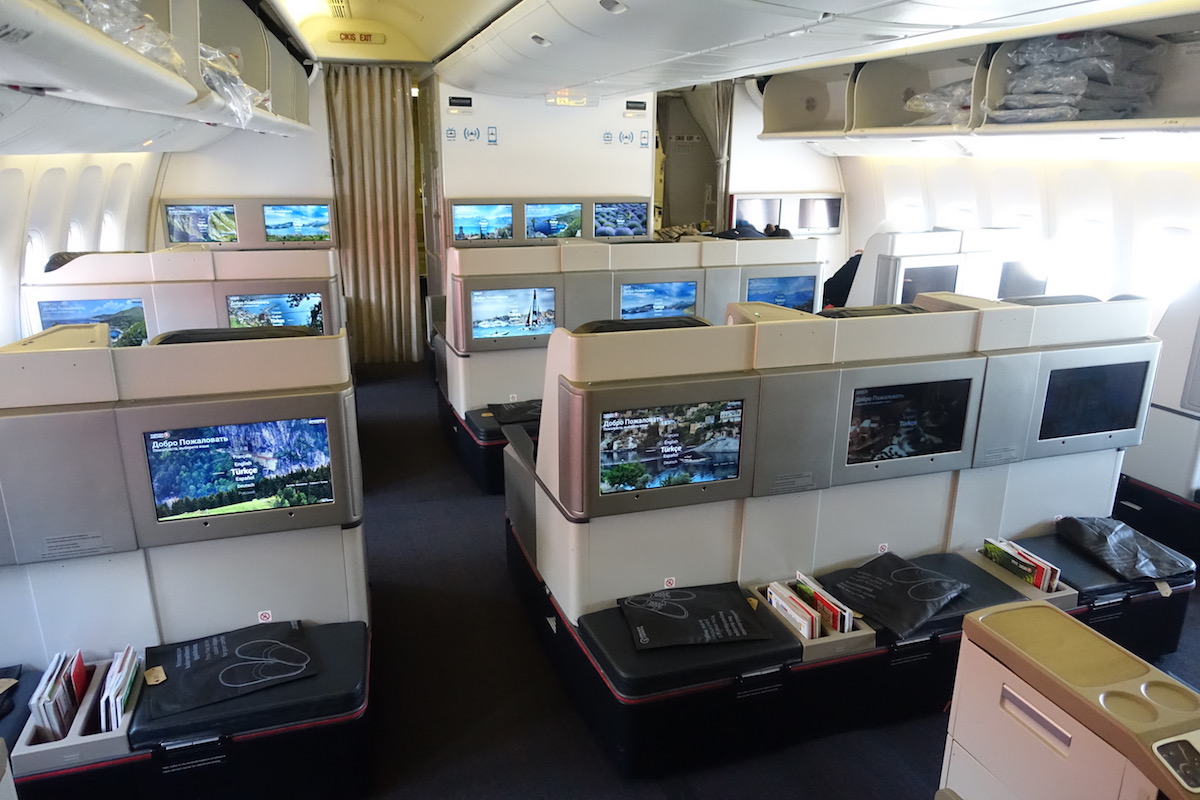 If you are traveling alone I recommend selecting a window seat, as there's a substantial privacy partition between seats. Turkish's hard product is obviously a weak point, and I hope with their future new planes that they finally get more competitive in that regard.
The amenities on the flight were excellent, including a Molton Brown amenity kit, slippers, two pillows, two blankets, Molton Brown toiletries in the lavatories, and more.
But really what stood out to me was the food. Turkish has Do & Co catering, and this flight had the full "experience." I had heard that Turkish did some cost cutting with their business class catering, though it looks like they brought it back to their initial offering recently.
There were two chefs in business class, and the appetizers and dessert were all custom plated from a trolley. This was hands down the best business class meal I've had in my life. I think Qatar Airways is the other best airline for business class catering. Qatar has the advantage of offering dine on demand, while the Turkish meal was the most delicious food I've had in business class.
The main meal service began with mixed nuts and canapés.
Next came the appetizer trolley, which had so many options to choose from, including marinated prawns, salmon tartare, roast beef caesar salad, hunter's borek, carrot hummus, stuffed red peppers in olive oil, smoked eggplant salad, homemade yogurt with walnut and fresh mint, and sweet pumpkin soup.
The food was so good. As you can see, I tried six different appetizers and the soup, and all were exceptional.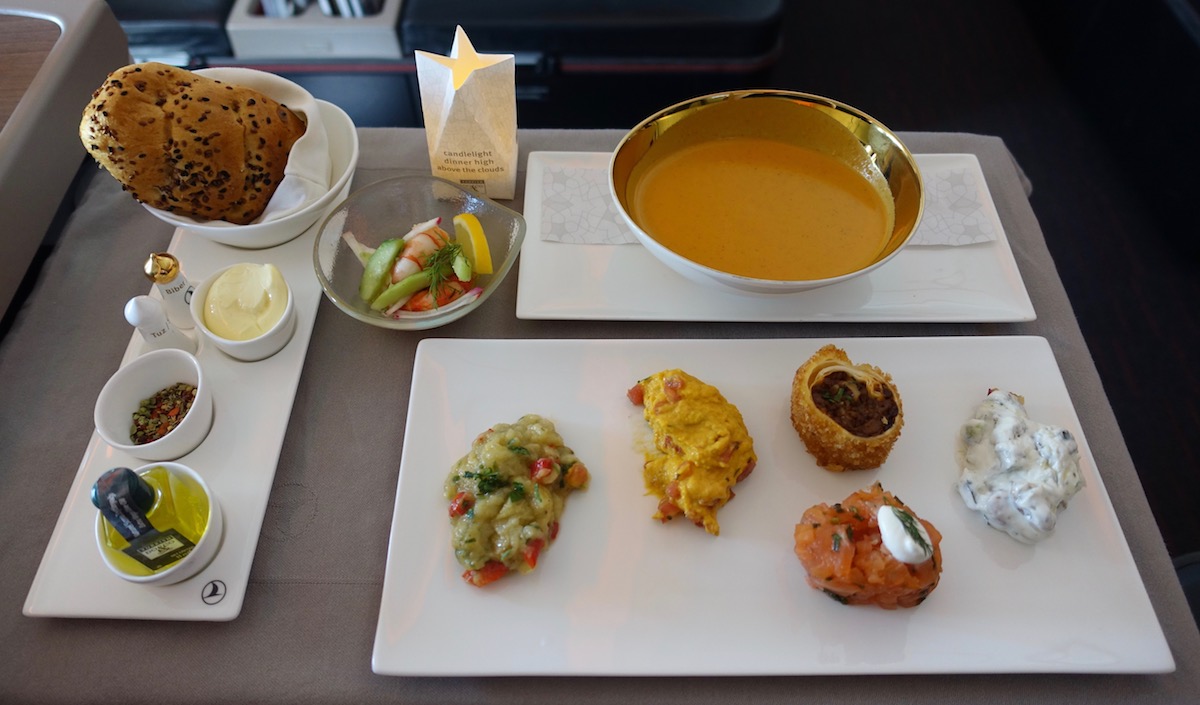 For the main course I ordered the Turkish homemade ravioli ("manti"), with minced beef, tomato sauce, and yogurt. I almost never order the pasta option on a plane, but since this was the Turkish dish, I figured it was worth trying. It was excellent.
Then there was the dessert trolley, with traditional Turkish desserts, fig chocolate mousse, apple & raspberry strudel, pistachio ice cream, cheese, and fruit salad. This was so good as well.
In addition to a large tea selection, there were also cappuccinos, espressos, Turkish coffee, and more.
The service was great as well, and almost identical to what I experienced on my previous flight. The crew was genuinely well intentioned and seemed happy to be there.
I managed to get a few hours of sleep, and then spent much of the rest of the flight working. Business class passengers get free wifi, though I found it to be quite slow, so I mostly worked in offline mode.
Turkish business class exceeded my expectations by a long shot. I'd argue this is probably the best business class soft product offered by any airline between the US and Europe. The added treat is that Turkish mostly offers "real" business class seats on intra-Europe flights, while other airlines mostly just block a middle seat and call it business class.
I'd still avoid Turkish if traveling alone, as I'd rather not sit next to a stranger, but when traveling with someone I really, really like this product.
Well done, Turkish!