Thai Airways is in bankruptcy protection and on the verge of liquidation, as the airline will run out of cash within weeks without further funding.
The airline has just listed well over two dozen planes on sale, including 10 Boeing 747s and 12 Boeing 777s. Well, the airline will now shortly be acquiring three new 777s, even though most of its fleet is grounded.
Thai Airways taking delivery of three new 777s
Thai Airways will be taking delivery of three new Boeing 777-300ERs shortly, the first of which will potentially be in the carrier's possession within weeks. Thai Airways committed to leasing these planes back in 2018, though this is the first I've heard of it. Below you can already see some of the purple of Thai Airways' livery on the tail of the 777 in Boeing's Everett line.
Thai Airways 777 line 1683 HS-TTA is being painted in the Everett 45-04 pic.twitter.com/M7mfv7D8QL

— Paine Airport (@mattcawby) December 8, 2020
Of course there's a certain irony to a bankrupt airline with a grounded long haul fleet taking delivery of new 777s, especially as the airline has just retired a dozen 777s.
But of course that's a story at many airlines nowadays. The airline still has to follow through on its commitments, assuming it can't negotiate its way out of them.
Now, I can't help but wonder why Thai Airways decided in 2018 it made sense to lease three more 777s:
The airline was already a financial mess
The airline already had a ridiculously varied long haul fleet; Thai Airways' approach to fleet planning is kind of like someone trying to design a free dinner from Costco samples (except I doubt Thai Airways was getting as good of a deal)
What will the interiors be like of Thai Airways' new 777s?
One big question is how Thai Airways will configure these newly delivered Boeing 777-300ERs:
The airline last took delivery of a 777-300ER in 2015, and a lot has advanced with premium cabin airline seats in five years
With Thai Airways retiring all of its 747s, which offered a majority of the carrier's first class capacity, will Thai Airways use these planes to replace those 747s, and therefore offer first class?
This can't help but make me think back fondly on Thai Airways' old 777-300ER first class, back when the airline leased these planes from Jet Airways (RIP to everything about this)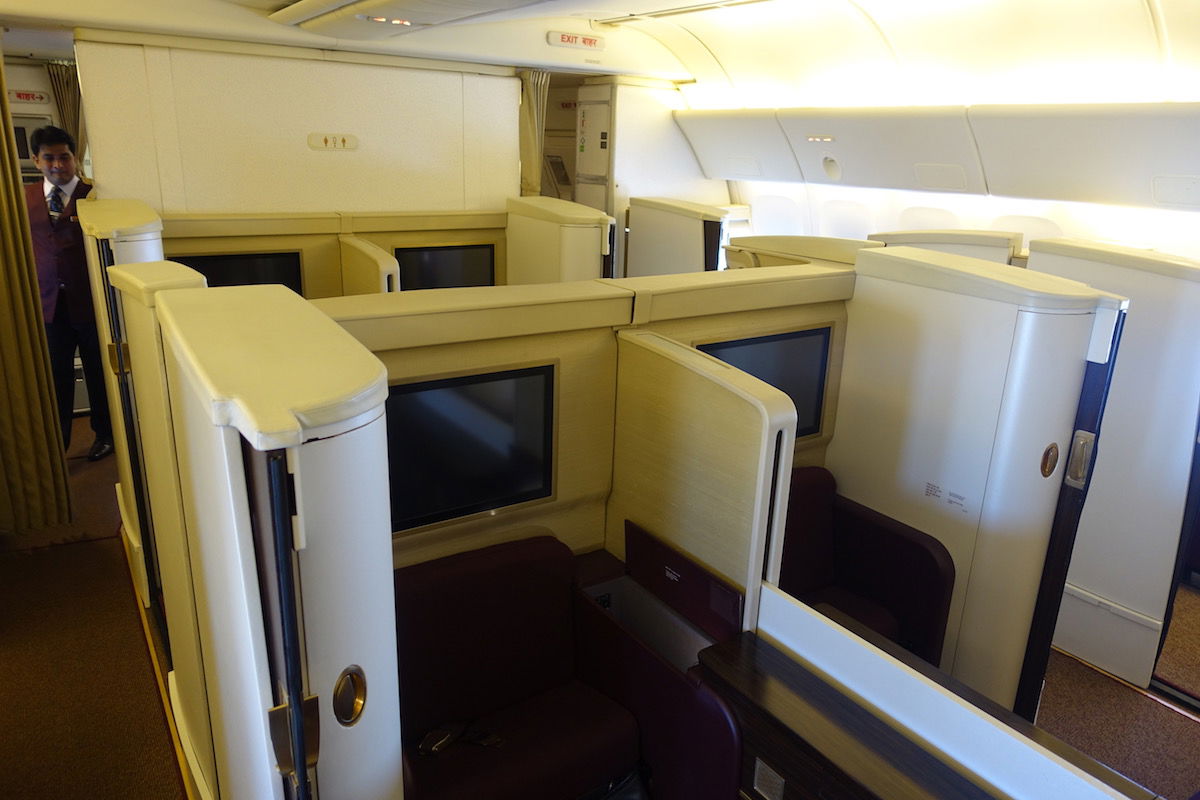 First class on Thai Airways' leased Jet Airways 777s
It's being suggested on airliners.net that this might be Thai Airways' first class for these 777s: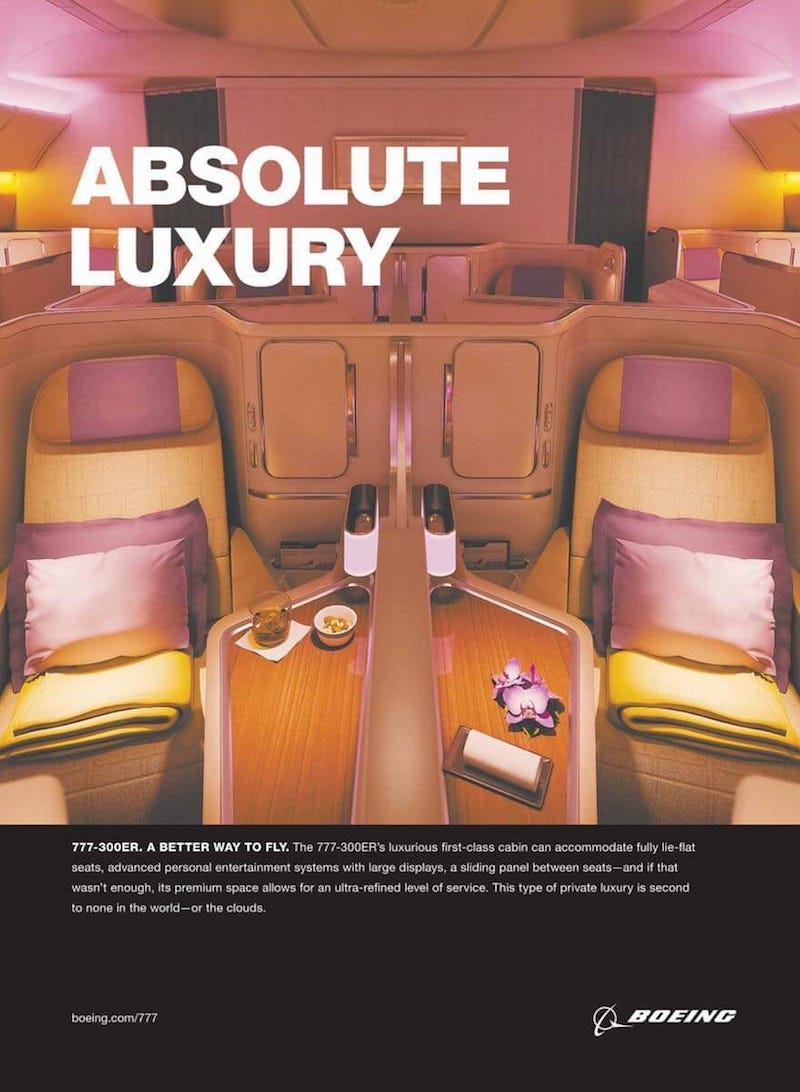 Could this be Thai Airways' 777 first class?
To that I say:
This looks a whole lot like British Airways' 787 first class, just with different finishes
On the one hand, this does have Thai Airways' cabin finishes
On the other hand, this picture has been floating around for years, even before Thai Airways announced intentions to lease these three 777s, and is also being used generically by Boeing
We'll have to wait a bit longer to find out more about the interiors of these planes. Or who knows, maybe we'll have to wait a lot longer. I could see Thai Airways taking delivery of these planes without interiors, given that the airline may not be flying these planes for quite a while. Similarly, it's my understanding that Qatar Airways' new 787-9s don't yet have the new (modified) Qsuites installed.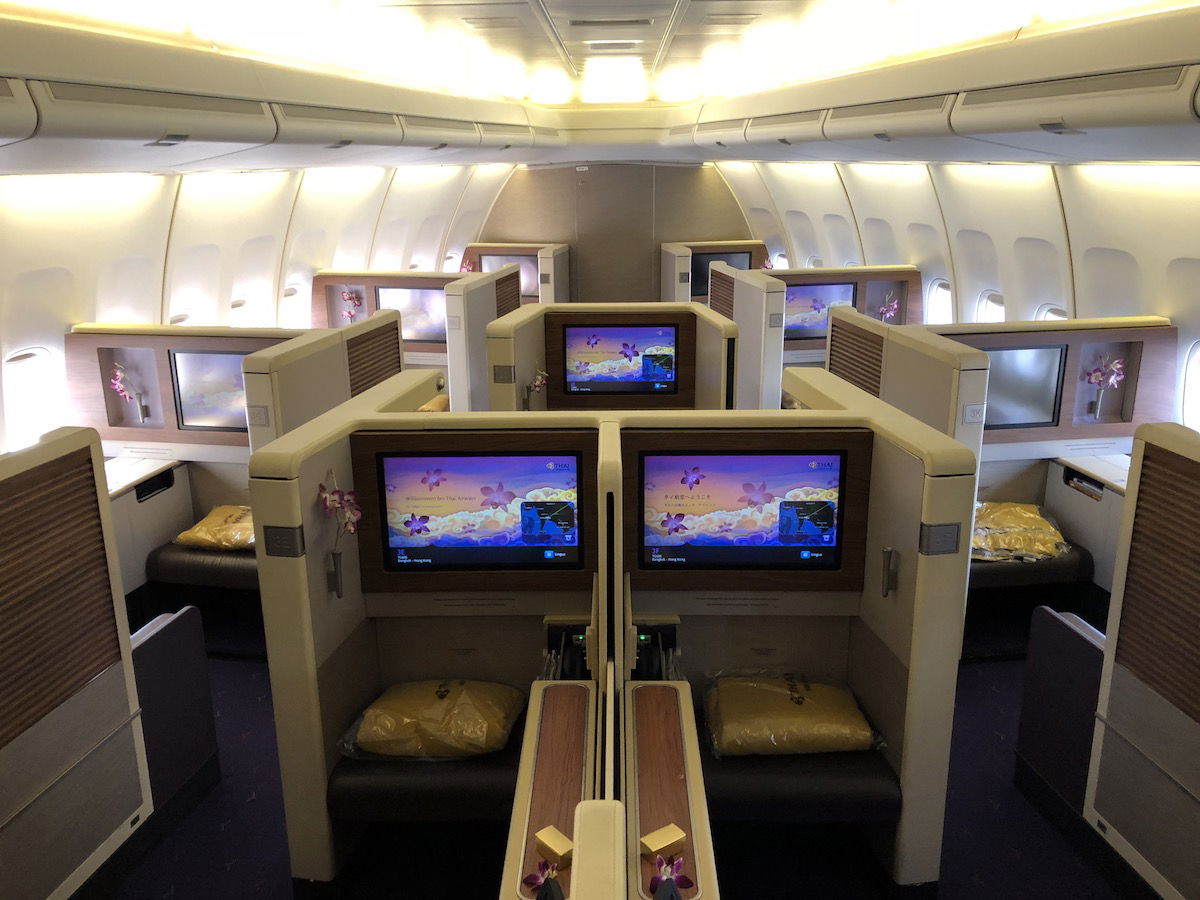 Thai Airways' beautiful former 747 first class
Bottom line
Thai Airways will shortly be taking delivery of three new Boeing 777s, even though the airline is in bankruptcy protection and has just retired a dozen 777s. Or perhaps more accurately, there's a 777 that's nearing completion in Everett with Thai's colors on it. 😉
It'll be interesting to see what Thai Airways does with these planes, and also how they're configured. If the airline is retiring 10 747s, I could see these three 777s being used to replace some former 747 routes, and in that case I could see these planes having first class.
But Thai Airways also works in mysterious ways, so let's mark this as "developing" for now. If anyone has any more intel, please do share!