Earlier in the year I wrote a post about the airlines that offer complimentary chauffeur service on first and business class award tickets in select markets. At the time the list included the following airlines:
While it probably shouldn't sway a purchase decision one way or another, it is a pretty awesome feature that makes the travel experience more seamless.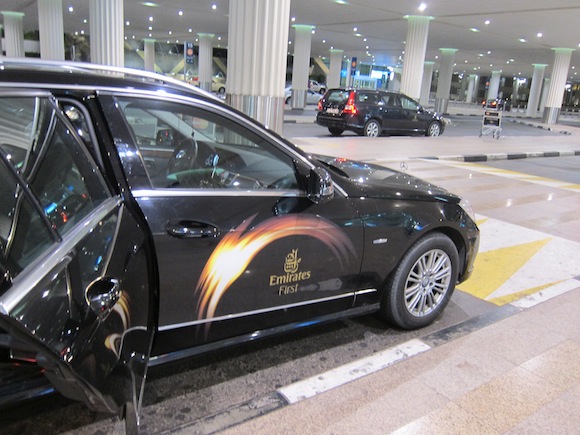 First class chauffeur service
Anyway, I've just found out that TAM also offers complimentary chauffeur service on first class award tickets. Up until recently this was a moot point given that TAM virtually never released first class award space, though that policy drastically changed as of several weeks ago, as TAM has begun making almost all of their first class seats available for awards.
I had assumed the complimentary chauffeur service was limited to revenue passengers, but based on calling TAM regarding my upcoming itinerary, award passengers qualify as well.
Here are the details regarding the TAM chauffeur service:
Complimentary Transfers are available only to First Class passengers who have tickets with confirmed reservations in their respective fare categories. This service is not available to passengers that are wait-listed on some TAM Airlines flights or for those who choose to collect their tickets at check-in.

The service is not available for tickets issued for flights operated by other companies (JJ*), complimentary tickets (AD and ID) and pass a barter arrangement.

Passengers may request to use the airport transfer service on a private vehicle on trips from the airport to a hotel, home or office, and from such places to the airport. No stops are allowed.

The service must be requested in advance, as follows:
– Airport Transfer Requests for TAM flights to/from North America: 24 hours prior to flight departure
– Airport Transfers Requests for TAM flights to/from Europe: 48 hours prior to flight departure

There will be no vehicles available at the airport if they were not reserved in advance.

Passengers are required to pay for additional distances that exceed the routes provided by the Complimentary Airport Transfer according to usual fees at each location. Such fees are to be settled directly with the driver. Click here for any restrictions to Complimentary Airport Transfer routes;

The pick-up time scheduled for a Complimentary Airport Transfer must be strictly followed – no exceptions will be made to this rule. The scheduled pick-up time for this service is non-negotiable. Drivers will wait for a maximum of 30 minutes. After that, the driver will notify the passenger that he/she will no longer be able to wait.
So if you managed to snag a first class award seat on TAM, be sure to call to reserve your chauffeur service at least 24 hours before your flight. TAM's USA phone number is (888) 235-9826. I realize the above says that complimentary tickets aren't eligible, but it specifically refers to "ID" (interline discount) and "AD" (airline discount) tickets, and award tickets don't fall into either of those categories.
(Tip of the hat to Chris)