None of these companies are paying us for exposure, and don't offer us a commission or anything, though a few are owned by some of our OMAAT contributors (and noted accordingly).
Over the past few weeks we've seen lots of companies start rolling out discounts, statement credits with credit card issuers, and other purchasing incentives — there are some great deals out there. And a natural side-effect of that is that a lot of ink is going towards promoting some pretty big businesses.
At the same time, when we did our OMAAT Reader Survey a few weeks ago:
16% of readers noted that they were self-employed / small business owners
Of that group, 27% of them were not confident or only mildly confident that their businesses would survive past September
Running a small business is never easy, and (at least for us) it's particularly difficult during a pandemic. So we thought it would be nice to take a moment to highlight some small and independent businesses that are either getting creative in tricky times, making the best of a complicated situation, or could just use a signal boost in general.
Given how broad and diverse the OMAAT community is, we're hoping to showcase a range of businesses — maybe some people can patronize now, maybe others get bookmarked for a future trip or project. We'll kick off the list with some of our favorites (in no particular order), but would love for everyone to share others in the comments!
---
Independent restaurants
This restaurant is a local institution, with a caliber of meat that is often hard to find outside of big cities (NYC and CA people will be shocked at the prices). Before you dismiss a restaurant outside of your town as being impractical to patronize, let me tell what they are doing during Covid.
The couple that owns the (tiny) steakhouse felt that running a takeout operation for what is often a special-occasion restaurant wasn't going to be successful, so shifted their energy into selling their aged Prime steaks and other items online. If you're local to Spokane, they'll deliver (and you can add bakery items or liquor), or can ship nationwide. They even have gift boxes (because it's a restaurant, this is how I'll likely use my Amex restaurant credit from my Aspire card).
Small retailers
With their shared love of all things aviation, the folks at 08 Left have popped up in a few of our gift guides previously. They have fun, modern aviation-inspired products, with everything from clocks to mugs to apparel to art pieces. I have a pair of more dramatic prints in my hallway: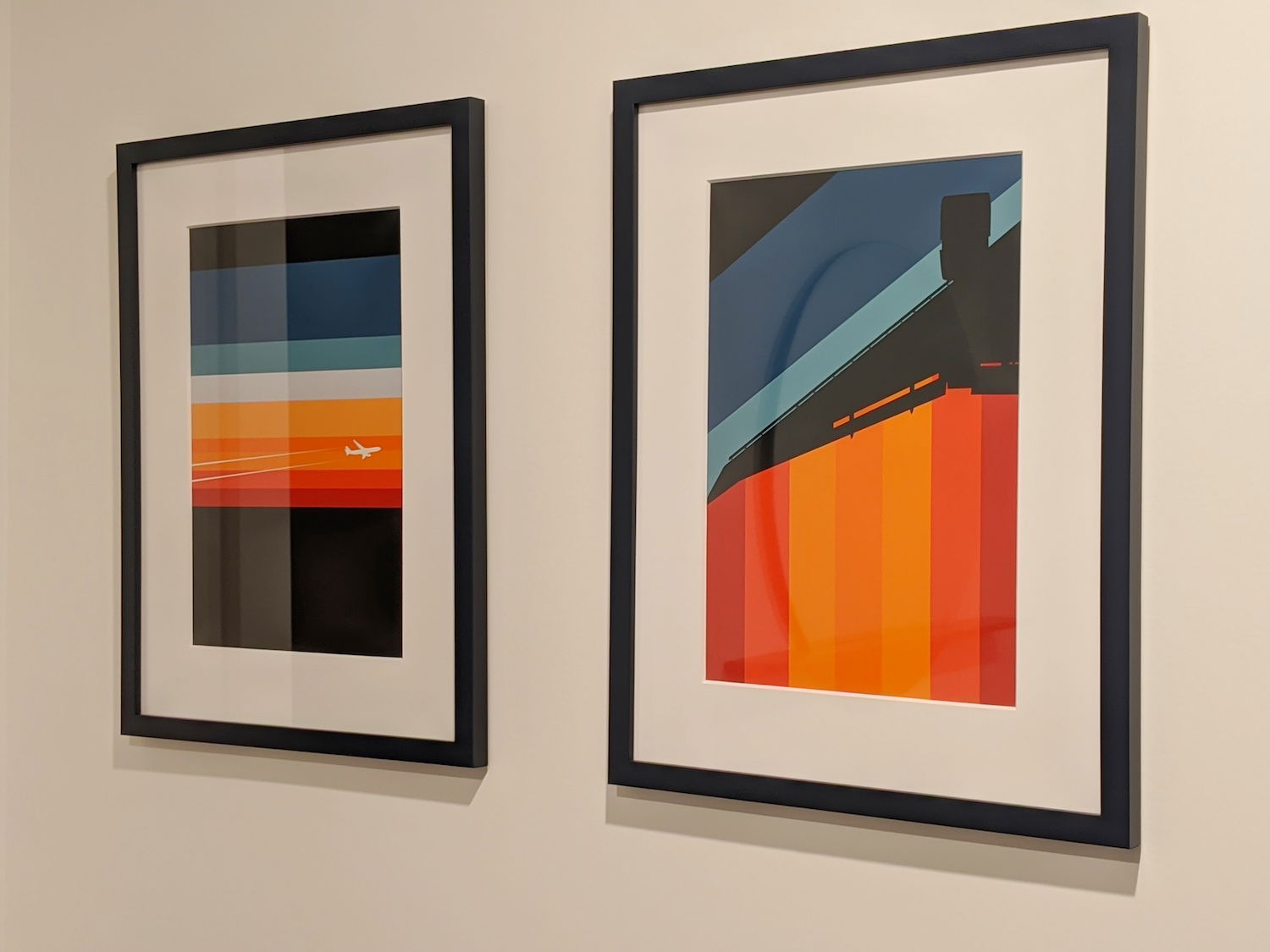 They have fun designs of air traffic control towers, airport diagrams, and all sorts of things, and are generally great to work with.
This two-person company makes hand-poured soy candles in Spokane, but stocks their candles in small boutiques around the country, and ships anywhere in the U.S. Lots of places sell candles of course, but I've been really pleased with the fragrances and burn times (the "Don't Bug Me" is great for patios/balconies), and like being able to customize jars with scents.
And that was before they doubled-down on the whole coronavirus thing and started offering new scents of "Cabin Fever" and "Quarantine and Chill".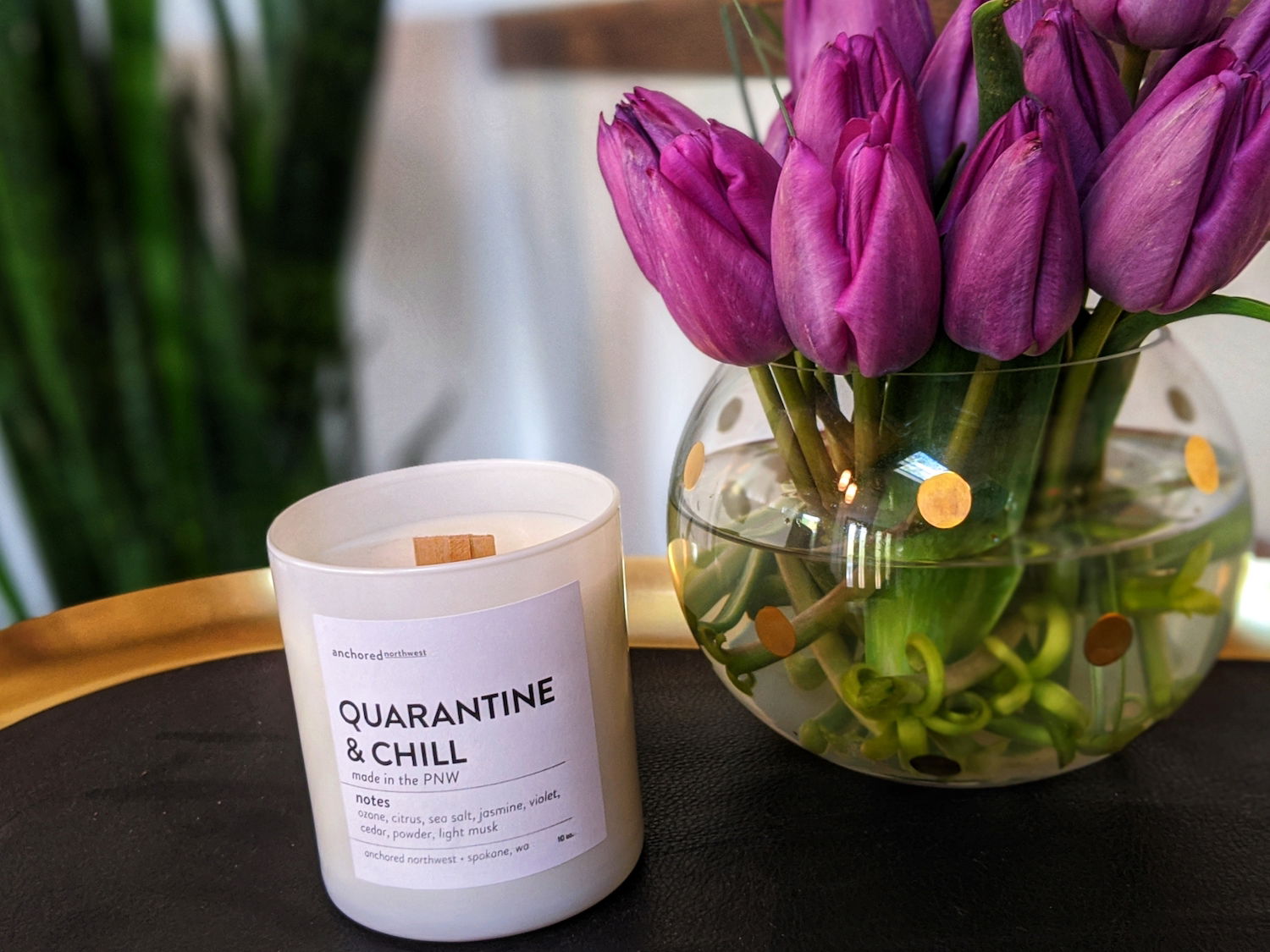 Which makes me laugh, and laughter is good.
So check them out — they're having a sale on the "Rustic Vintage" jars at present.
With places like spas and salons that depend on in-person visits shut in many states, it's been tricky for those small businesses to eek out any revenue at all (as much as many of us would love to, it's hard to get an eyebrow wax for takeaway).
The two sisters who have owned Cashmere for the past decade moved quickly, making a massive effort over the first week of closures to set up an entire ecommerce site from scratch. In addition to selling skincare products online (the Tuel cleansers are amazing for travel), they've been posting tutorials and useful tips for taking care of your skin from home.
Art and Artists
From Mike — this has been my go-to frame shop for nearly 20 years. Robert and Pat are artists themselves, which really helps when deciding on frames and mats (especially if you're colorblind like me). And Ron always does impeccable work. You're greeted by name and their emails are signed by the three employees and the shop dogs. It's exactly the kind of business that can use a boost right now.
I can't wait for the shop to reopen because I have several tubes with prints in them that need to be framed. Esprit has been selling gift cards to use down the road. And it's not just framing – they have a gallery full of wonderful art. So, if you need to up your game for your video conferencing corner, see if Esprit can help you do something about a bare wall or two.
From Mike — Jacqueline is the incredibly talented photographer that has been shooting my family for nearly 5 years. I generally prefer to be behind the camera but when it's time for Christmas card photos or we have an important event to document, Jacqueline has always provided amazing images. My girls love her and she's just silly enough to get natural smiles out of them instead of those frozen, forced grins that look stiff and ruin shots. She managed a shoot with our extended family of 13 — trust me she deserved a medal after that one.
Jacqueline was supposed to shoot my father-in-law's 70th birthday. Unfortunately, like so many other events, it was cancelled when the nursing home he lives in went into lockdown. Back in March, Jacqueline said the month started normally and then completely dried up with COVID. She's currently doing specials that can be purchased now and booked later. My family has bought a couple and are looking forward to booking a session when things return to normal. If you're in the Phoenix area, I highly recommend her. If you're outside of Phoenix, you might still want to get in touch, she's willing to travel.
Other artists
(also from Mike, are you sensing a trend?) – COVID has upset the typical business model for many artists who rely on art fairs this time of year. Jacqui Ramrayka, a ceramicist I've admired for some time, started offering pieces on Instagram as part of an artists support pledge. The idea is to offer reasonably priced pieces with a commitment to use some of the proceeds to support other artists. Seeing new works and other artists supported has been a bright spot when the news is so damn depressing. The artist Matthew Burrows founded the idea and he's absolutely right when he says generosity is infectious.
The pieces I bought from Jacqui are lovely and I'm sure you can find something fun by following the tag #artistsupportpledge on Instagram.
Business-to-business
January Third is a full-service branding, creative, design, UX, and marketing agency run by a group of seasoned professionals that split off from bigger agencies to found their own firm. Having a small team with a boutique approach is something we can certainly appreciate, and allows them to work nimbly and quickly. They produce great and creative stuff, and are comfortable running strategy and research sessions remotely.
Their approach is geared towards somewhat larger businesses, and particularly those recently-funded startups that are expected to push full branding and marketing campaigns out rapidly and from scratch, without the budgets and in-house resources an established company might have.
Normally Steph and her team deliver workshops, simulations, and learning events to companies and organizations worldwide. They provide a "soup to nuts team building service," along with activities to help develop skills in communication, project management, problem solving, and feedback/coaching.
One of their pre-Covid workshop options focused on managing remote and distributed teams — something that is obviously now more relevant than ever! They've created virtual trainings for many of their other programs, so whether you're anticipating leading a group remotely for the foreseeable future, or still want to continue key development programs while everyone is working from home, they likely have a module that fits.
If you've ever wondered what some of the contributors at OMAAT do in their day jobs, meet muGrid Analytics, the company that Travis (remember him?) started three years ago.
muGrid helps commercial businesses, non-profits, Native American tribes, municipalities, and other organizations meet their resilience and sustainability goals while also saving money on their utility costs. muGrid provides bankable techno-economic analysis, system design, and economic optimization of renewable energy technologies including solar, wind, battery energy storage, combined heat and power, and more.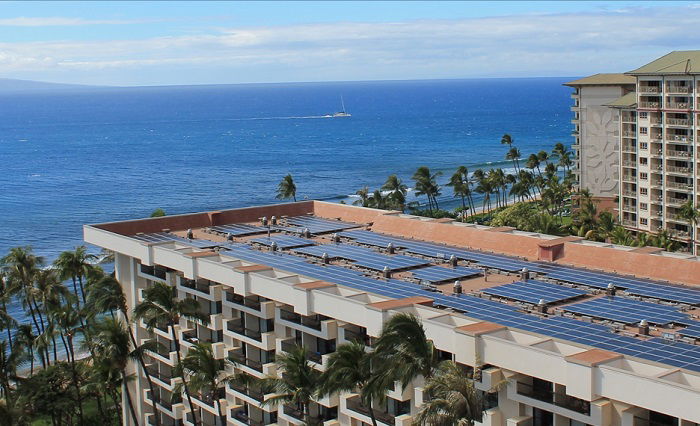 Rooftop solar photovoltaic array on the Hyatt Regency Maui
Merging the energy and travel worlds, muGrid provided the design analysis for the solar arrays at the Fairmont Kea Lani and the Hyatt Regency Maui — the latter of which was the largest privately-owned rooftop solar installation on the island at the time it was built — and continues to provide performance monitoring of those systems today.
Pets
From the owner — Uptown Pup normally offers boutique dog boarding, daycare, grooming, training, and fitness. We are just launching online training classes, as well as private video consultations and training sessions worldwide. We are also a registered dealer of FitPAWS exercise equipment, and can drop ship anywhere in the US.
What am I proud of? Our company-wide philosophy of positive reinforcement. Not only does this mean that we treat every dog with respect and gentleness while rewarding the good behavior, we also model our philosophy in the way we hire, train, and treat all team members. We have built such an excellent team that works hard every day to give the dogs a great experience and to build each other up. We work with dog owners to teach them how to build a relationship with their dog in which dog and human can both love the learning and training process. Uptown Pup is a wonderful place for dogs and humans alike!
From Ricky — Luv My Pet is a dog-walking and pet sitting company that services the Baltimore area. We've used pet care services in multiple cities over the years, and the service we receive from Luv My Pet here in Baltimore is second to none. As soon as a walk wraps up, we get a text message and photo, which always brightens up an afternoon.
Any traveler knows one of the hardest things about leaving home is the animal (and humans) we leave behind. Thankfully, even if we're just gone for the day, we know our puppy is in the best hands with Luv My Pet.
Travel
This is who we go to when we are buying tickets and have a complicated itinerary — Brett and his team of airline dorks are magical at being able to price nearly any ticket. They've even set up a refund hunter to help people figure out their options for canceled flights.
So you might not need them now, but when you (or your business) start booking travel again, it's worth thinking about using a human rather than just a website. Cranky Concierge has a flight monitoring service that has been invaluable when operations went awry, and will likely be even more beneficial as route networks fluctuate in the next year.
Luxury Travel Agents
Speaking of using humans to book travel — Ford, Katie, and every other Virtuoso agent we know has spent the past two months navigating policies and fighting for refunds for their clients. The nature of the business is that their commissions are paid by hotels (long) after the stays are completed, so in some cases they've been working to undo reservations they made a year ago, and won't be compensated for the time spent on either end.
When you're ready to book travel again — whether that's an easy Hyatt Privé or Four Seasons Preferred stay, a luxury city hotel, or a safari — booking through an established agent doesn't cost you anything extra, you typically get additional benefits on your stay, and you're supporting small/independent businesses along the way.
---
Have a small business you'd like to give a shout-out to? Please tell us:
The name of the business (obviously), and their website if they have one
Where they are located (OMAAT readers are everywhere), and/or if they ship products or help clients remotely
What you appreciate, or think they do well (or, if it's your business, what you're proud of)
And if folks like this, maybe we'll do some more in-depth profiles of some of these businesses at some point.