This past weekend I spent a couple of nights at the Hyatt Regency Maui using "Big Welcome Back" nights from Hyatt's second quarter promotion. I had a handful more I had to use, and since they expire at the end of August, I figured this would be a good opportunity to burn them. I was surprised to find "Big Welcome Back" availability for the nights I wanted, and was even more surprised to see the hotel retailing for $400 per night.
I arrived at around 7PM using the Maui Executive Shuttle, which cost around $50. There seems to be a bit of a shuttle monopoly in Maui, so shuttle prices are insanely high. Where's Super Shuttle when you need them?
The exterior of the hotel was very nice, lit up with torches and all kinds of fun lighting. The lobby was open air, as was the tree filled atrium.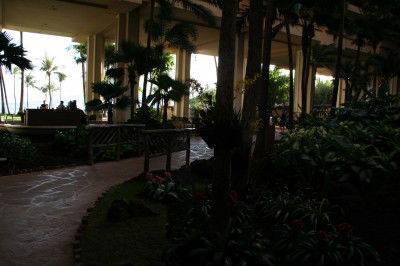 Lobby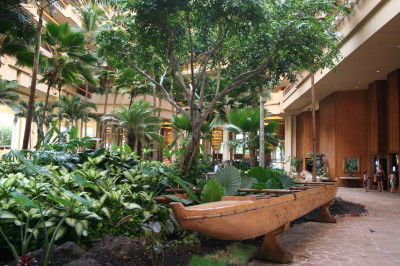 Atrium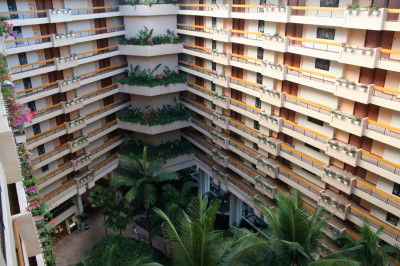 Atrium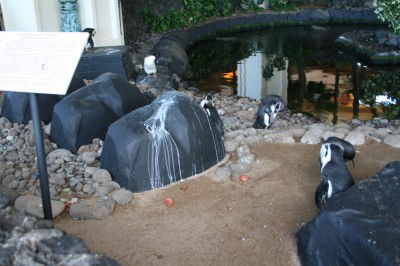 Cute penguins near the lobby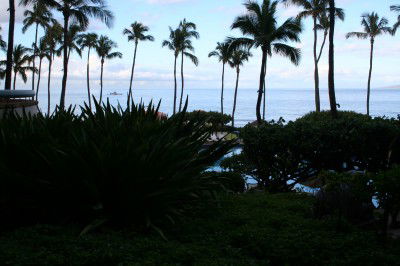 View of the ocean from atrium
I was helped immediately at the front desk by a very friendly agent, who was almost overly enthusiastic. She explained everything about the resort to me, and said I had been upgraded to an ocean view room. Instead of selecting the points as my amenity I went with the food and beverage amenity, and chose Diet Pepsi and some of those tasty chocolate covered Hawaiian nuts.
The hotel has three towers — a main tower, and then one building on each side of the main tower. My room was in one of the buildings on the side, on the 6th floor.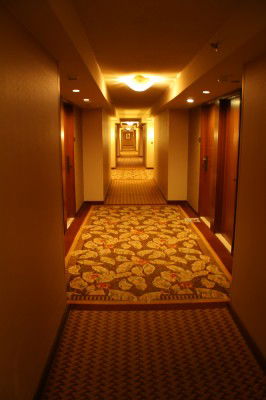 Hallway
While the room was by no means super-modern, it was perfectly sufficient and large. It had a king sized bed, couch, chair, desk, and flat screen TV.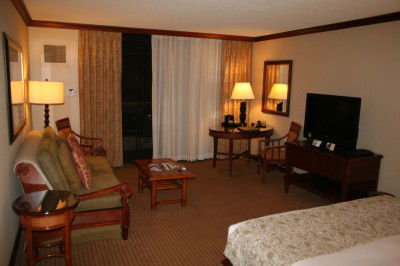 Room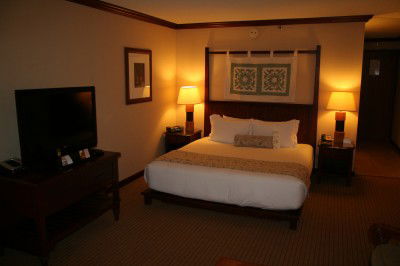 Bed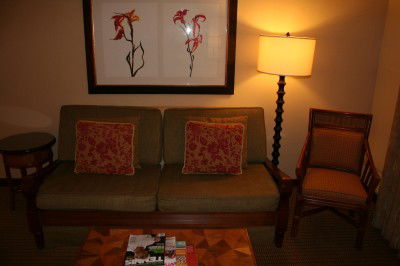 Couch
As far as the bathroom goes, the sink area was actually in the room, while the toilet and shower were separated by a door.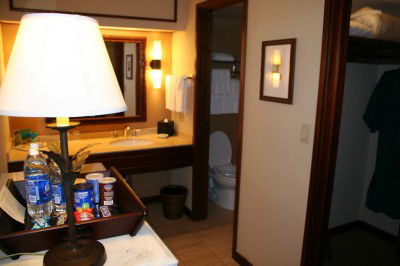 Bathroom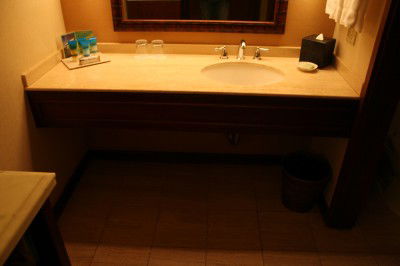 Bathroom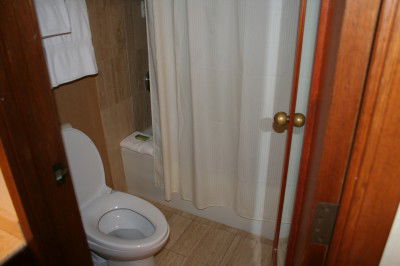 Shower and toilet
There was a large walk-in closet as well.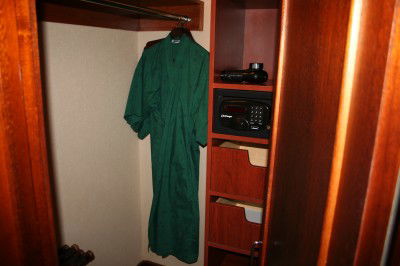 Closet
The views from the balcony were very nice, overlooking the rest of the resort and ocean.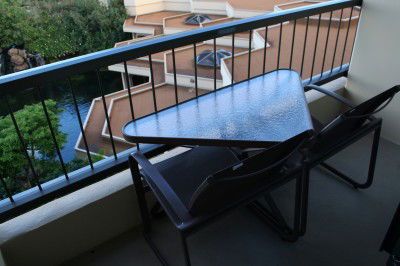 Balcony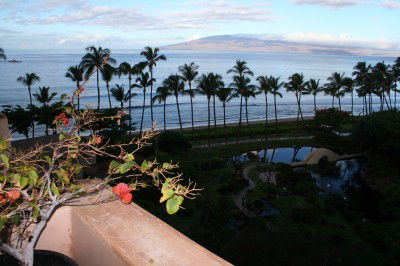 View from balcony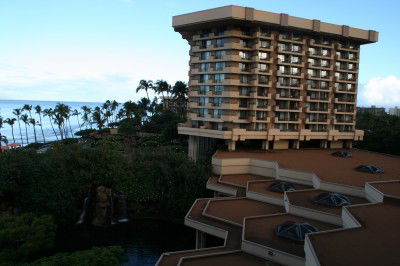 View from balcony
I had to call the front desk twice to remind them to deliver my Diamond amenity, so I guess as "compensation" they threw in an extra can of Diet Pepsi and some cookies.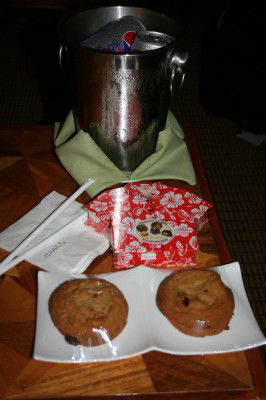 Diamond welcome amenity
The club lounge is located in the main tower on the 22nd floor (which is really only about the 9th floor, since the building only starts on the 14th floor). The lounge is quite large, with three separate rooms, though it was always packed.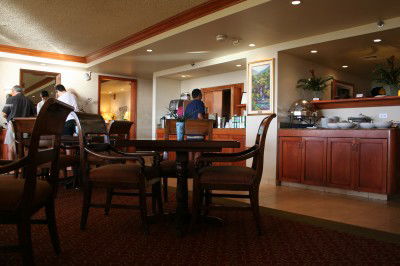 Regency Club
Appetizers were served between 5PM and 7PM daily, and the spread was decent. They had fruits, veggies, cheese, one hot option (the night I was there, it was a chicken skewer), etc. For those that drink, it's worth noting that alcohol is free at this property, which isn't the case at most US Hyatt properties.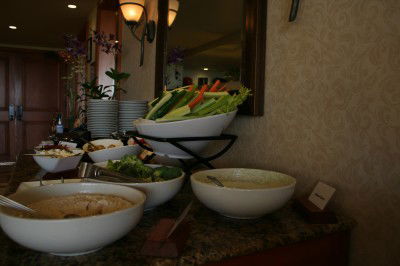 Evening spread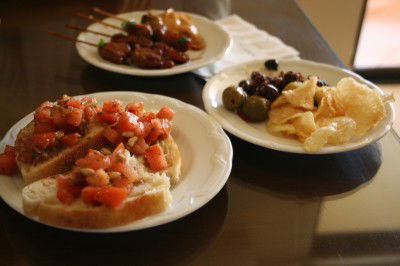 Evening spread
Dessert was served from 7:30PM till 8:30PM and was insanely good.

Dessert
The views from the club lounge were quite nice as well, overlooking a golf course, the other resorts in the area, the hills, and ultimately the ocean.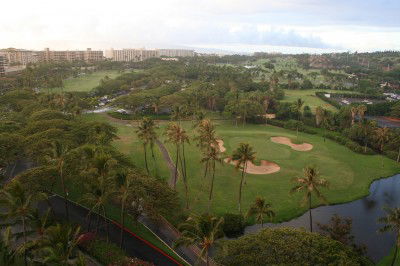 View from Regency Club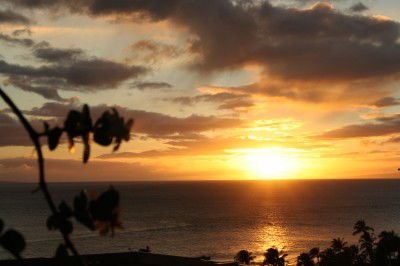 Sunset from Regency Club
Breakfast was served daily from 6:30AM till 9:30AM, and had a better than average spread as well. They had all kinds of cereal, fruit, bagels, and a nasty, nasty egg dish.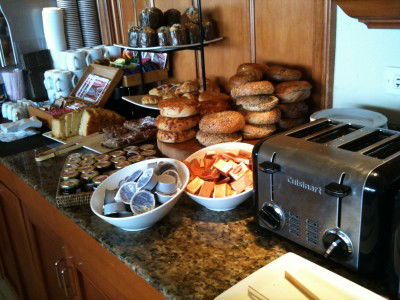 Breakfast spread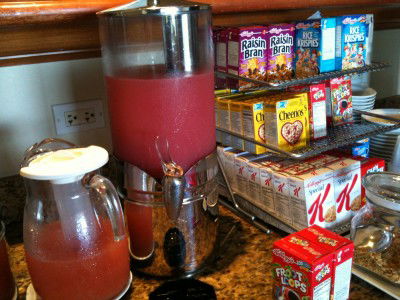 Breakfast spread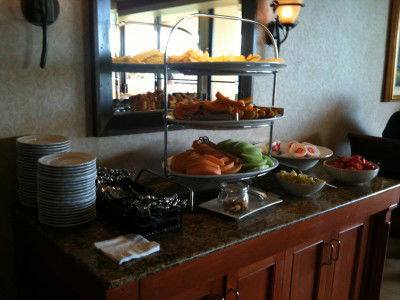 Breakfast spread
Now, here comes my club lounge rant. First of all, most of the staff in the club lounge were top notch. Especially Karen, who couldn't have been nicer. But this was the absolutely most cattle call club lounge I've ever been in. I felt like I was at an Embassy Suites during a 6th grade cheerleading convention where everyone dragged along their Hannah Montana loving younger sister.
Where do we begin? First of all, the club lounge was always packed to the brim. Why? Not because there are too many Diamonds or people paying for access, but because the hotel doesn't do anything to control how many people are brought into the club lounge. Most of the time, people entered the club lounge in groups of 8-10. Since it only takes one key to open the door, there are no other controls in place.
Second of all, the level of class displayed in the club lounge was just horrible. People weren't taking care of their kids, so they were running around freely yelling, jumping up and down, and grabbing food from the buffet with their hands, only to put it back. Beyond that, while there's technically a dress code in the lounge, it wasn't in any way enforced. Even during cocktail hour, people walked in shirtless or with dripping wet bathing suits and no shoes.
While some blog readers like to insult me by calling me a "lounge rat," it's something I take pride in. I love club lounges on many levels. First of all, they save me a lot of money, meaning I don't have to spend a lot on food otherwise. Second, when I have to work, I prefer working from the club lounge instead of my room, because I seem to concentrate better there.
I'm probably just spoiled with InterContinental and their relaxing, business-like club lounges, but the whole experience was just comically bad. This place made the Golden Corral look sophisticated.
Anyway, now on to the resort. I really liked it. I spend far too much time on the computer working, so I literally just disconnected for two days and spent the whole time outside. Unfortunately I didn't once take along my phone or camera, so forgot to snap pictures.
But the pools at the hotel are great. They're huge with caves, waterfalls, etc. There's even a waterslide that's actually kind of fun (if not a bit scary). And there's a very nice hot tub too.
The beach wasn't that great, though. Admittedly I'm a bit spoiled being in Florida, but the sandy area was rather limited, and there were quite a few rocks on the beach.
Unfortunately since I hadn't rented a car, I couldn't leave the hotel. The hotel is located in Lahaina, and is adjacent to several other chain hotels. While I tried, there's unfortunately no way to walk anywhere nearby, so I was stuck at the hotel, though that made for a relaxing weekend.
My verdict? The hotel was a great use of "Big Welcome Back" nights. Is the hotel worth the $400 revenue rate it would have cost otherwise? No way. For that price I would have stayed at the Four Seasons and would have booked through "Fine Hotels & Resorts," especially since they have some third and fourth night free offers right now. But overall the Hyatt was a pretty nice resort and a great value using my free night vouchers!